Pages 301-308
A History of the County of York East Riding: Volume 6, the Borough and Liberties of Beverley. Originally published by Victoria County History, London, 1989.
This free content was digitised by double rekeying. All rights reserved.
TICKTON
The village of Tickton, lying about 1 km. east of the river Hull and 4 km. north-east of Beverley, has in the 20th century greatly expanded as a dormitory for Beverley and Hull. The name, meaning either 'Tica's farm' or 'kid farm', is Anglian. (fn. 1) Tickton was among the 'water towns' of Beverley. (fn. 2) It stood on the chief road giving access to Beverley from Holderness, which at Tickton crossed the river by what was the only bridge between Kingston upon Hull and North Frodingham until the 20th century. Beside the crossing the hamlet of Hull Bridge was established in the 18th century. (fn. 3) The township was later known as Tickton and Hull Bridge and by c. 1800 formed a parish for local government purposes; it contained 775 a. in 1852. (fn. 4) In 1935 it was combined with Eske, Storkhill and Sandholme, and Weel civil parishes as Tickton civil parish, with a total area of 3,314 a. (1,341.2 ha.). (fn. 5)
The whole township lies at less than 7 m. above sea level; much is covered with alluvium, but in the northern half deposits of boulder clay, sand, and gravel form slightly higher ground. The village and the open fields lay on the higher ground, while the rest was occupied by common meadows, pastures, and carrs. (fn. 6) Most of the commonable lands, including the open fields, were inclosed in 1664 but the carrs not until 1792.
The low-lying grounds in Tickton were often flooded and, like Eske, the township shared the drainage problems common to the whole of the eastern side of the Hull valley. (fn. 7) In the Middle Ages a drain running along the southern boundary of the township discharged water directly into the river. A drain along the eastern boundary was a continuation of the boundary drain in Eske. (fn. 8) Among improvements made in Tickton was the installation of a wind pump near the river by 1662, (fn. 9) but the drains were defective in the 18th century, (fn. 10) when much permanent water remained in the carrs. By the drainage award of 1775 as many as 460 a. in Tickton were rated to the work of the new Holderness Drainage Board. (fn. 11) By 1791 a minor drain leading from Eske carried water west and south of Tickton village and through the carrs. (fn. 12) Soon afterwards the carrs were inclosed and there was a wind pump there in 1828. (fn. 13) By the drainage award of 1838 there were 527 a. of rateable low grounds in Tickton. (fn. 14) A pumping station was built in 1970-1 on the main drain on the eastern boundary of Tickton. (fn. 15) The flood banks alongside the river Hull, which forms the entire western boundary of the township, were overflowed at Hull Bridge as recently as 1977, (fn. 16) but after the demolition of the warehouses there in 1984 (fn. 17) a flood wall was built on their site.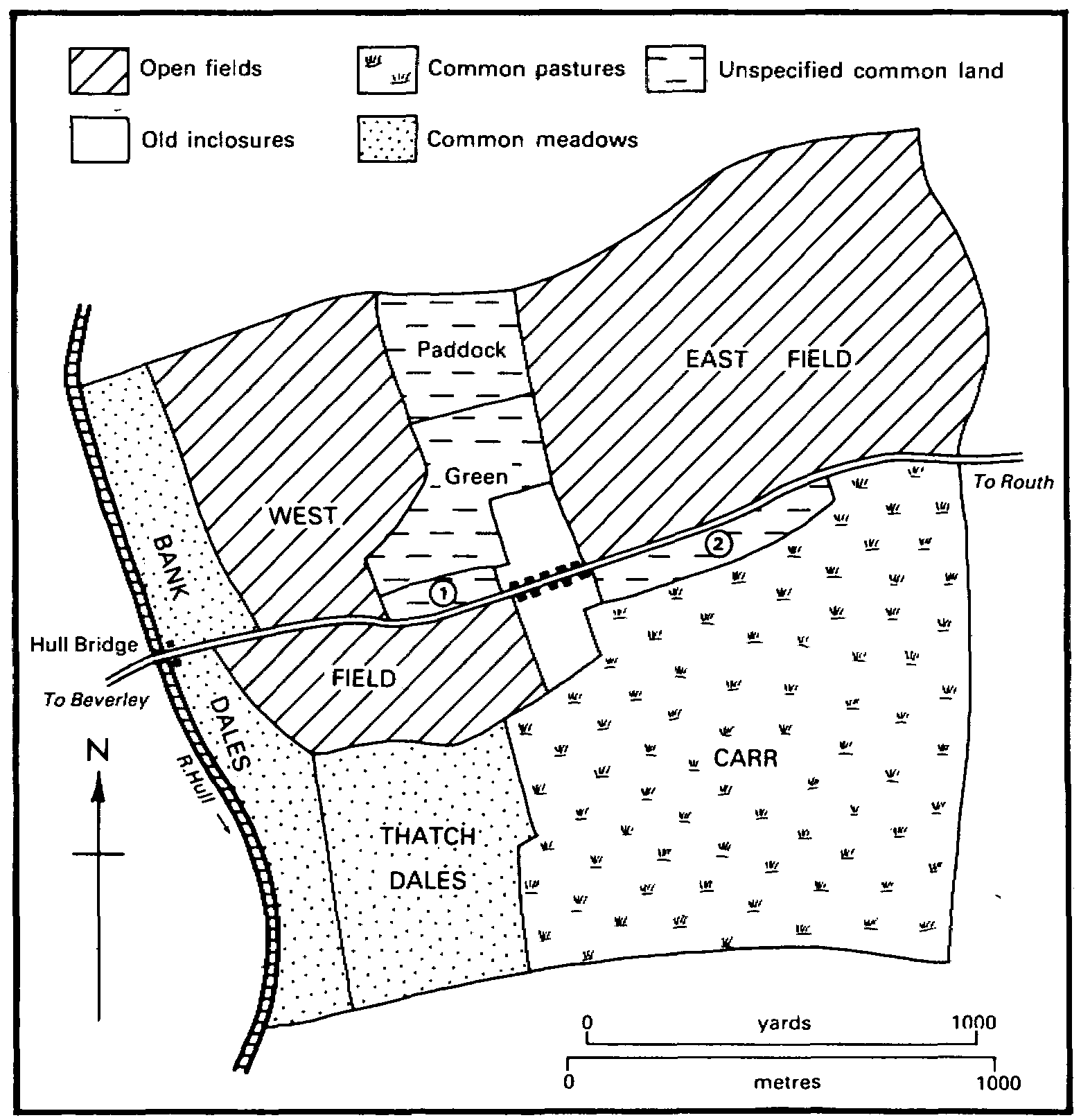 The main road through Tickton crossed the river by Hull bridge and the eastern boundary drain by the small Tickton bridge. Much of the road was replaced by a bypass that was completed north of the village in 1974. (fn. 18) Minor roads lead northwards from Tickton to Eske and southwards from Hull Bridge to Weel. Carr Lane, running southwards from the village, was made at inclosure in 1792, incorporating an existing lane. (fn. 19)
The small compact village of Tickton stood on a street formed by the old main road. South of the road a back lane formerly called Carr Butts Road is now Butt Lane. (fn. 20) Soon after 1850 about ten houses known as New Tickton were built beside the road east of the village. (fn. 21) The building of more houses began in the earlier 20th century and Main Street became continuously built up from the old village to New Tickton. The major development of the village in the 1970s and 1980s took place between Main Street and the new bypass and in a large estate south of Main Street. There are 25 council houses. A sewerage scheme for Tickton, with a treatment works south-east of the village, was completed in 1962. (fn. 22) The older houses, of which few are noteworthy, include several almshouses. (fn. 23) Outlying buildings include Tickton Grange and Tickton House. (fn. 24)
The New Inn at New Tickton had been built by 1861 (fn. 25) and a beerhouse in the old village was called the Board in 1892. The latter was closed c. 1905 but the New Inn still existed in 1987. From 1878 a former chapel was used as a reading room, known as the Working Men's Institute. (fn. 26) Nearly 3 a. acquired by the parish council in 1929 were used for a village playing field and as the site of a parish hall, built in 1948. (fn. 27)
There was apparently already one building on the east side of Hull bridge in 1662 (fn. 28) but in the 18th century a largely industrial and commercial hamlet began to grow up on either side of the main road there. By the mid 19th century there were a few houses, besides warehouses and a mill. (fn. 29) Several more cottages were built by 1890, including on the Weel road a row of four, later converted to two, and a pair further south. (fn. 30) The pair, together with their outbuildings and a now ruinous building beside the river, are built of West Riding limestone, (fn. 31) perhaps brought in as ballast. Many of the buildings north of the road were removed in the 20th century. (fn. 32) Of the surviving houses, that formerly called Hull Bridge House, (fn. 33) standing on the south side of the road, dates from the 18th century. A house and a cottage beside the road east of the hamlet were built in the earlier 19th century, probably on the Tickton Hall estate. (fn. 34)
An innkeeper at Hull Bridge was mentioned in 1759 (fn. 35) and the Crown and Anchor there was named from 1823 (fn. 36) and still existed in 1987. A lodge of the Ancient Order of Foresters, founded in 1850, met at the inn. It was last mentioned in 1958. (fn. 37) A boating club established at Hull Bridge in the 1930s (fn. 38) still existed in 1984.
At Tickton 11 households were liable to hearth tax in 1672. (fn. 39) From 134 in 1801 the population of the township fell to 110 in 1821 and 1831, rose rapidly to 251 in 1841 and steadily to 369 in 1881, and fell again to 229 in 1901. There were 296 inhabitants in 1931, when Eske, Storkhill, and Weel together had 532. The population of the new civil parish fell to 609 in 1951 and 533 in 1971, but there were 874 residents in 1981; (fn. 40) the increase was largely accounted for by house-building in Tickton itself. Hull Bridge contributed 77 to the total in 1851 and 57 in 1861. (fn. 41)
ESTATES.
In 1086 the whole of Tickton, comprising 1 carucate and 4 bovates, was held by St. John's college as a berewick of the archbishop of York's manor of Beverley. (fn. 42) Most of the estate later passed to the archbishop, who had 1 carucate and 2 bovates in Tickton in 1346. (fn. 43) It belonged to the archbishop until 1542 and later formed part of the manor of Beverley Water Towns, passing to C. A. Pelham in 1775. (fn. 44)
Most of the land in the manor was copyhold, in 1792 as much as 556 a. (fn. 45) and still 395 a. in 1899. (fn. 46) The lord of the manor had the only bovate of freehold, for which he received 33 a. at inclosure in 1664, (fn. 47) as well as a freehold garth and 4 beast gates. At the inclosure of the carrs in 1792 Pelham was allotted 24 a. for the gates. (fn. 48) In 1805 the Pelhams sold the estate to Edward Stickney. (fn. 49) By 1814 it belonged to Joseph Stephenson, (fn. 50) who in 1837 sold it in three lots. (fn. 51) One of the sales, of 17 a., was to John Williams, who also bought copyhold land and in 1838 had at least 86 a. (fn. 52) Williams (d. c. 1855) was succeeded by his widow Mary and by the Revd. Robert Williams, who was dealing with some of the property in the 1860s. (fn. 53) The estate passed in the 1870s to Thomas Crust (fn. 54) (d. 1884) and to his widow Mercy (d. 1900). (fn. 55) By a partition of 1900 it evidently fell to the share of Crust's daughter Marian Nolloth, (fn. 56) who in 1910 had some 160 a. in Tickton. (fn. 57) Mrs. Nolloth (d. 1935) was succeeded by her nephew the Revd. W. H. Rigg and by E. A. Rigg, and they sold the estate between 1949 and 1964. (fn. 58) The largest lot, the 105-a. Tickton farm, was sold in 1958 to W. H. Scott, the owner in 1984. (fn. 59)
That part of Tickton which remained with St. John's college was used to endow a prebend before 1311, when a grant of Tickton tenants by one of the canons was confirmed by the chapter. (fn. 60) The prebend of St. Andrew later included rent from Tickton, worth £1 7s. 2d. a year in 1535. (fn. 61) After the suppression of the college in 1548 its property was held by the Crown as part of the manor of Beverley Chapter. (fn. 62) The manor included 2 copyhold bovates in Tickton in the 1660s and 126 a. of copyhold land c. 1835. (fn. 63) Modern estates in the township include those belonging to Tickton Grange and Tickton Hall, which originated as modest copyhold estates.
The Grange estate had its origin in allotments of 95 a. and 43 a. made at inclosure in 1664 to Nicholas Fisher and his wife and John Fallowdowne respectively. (fn. 64) Parts of both allotments passed to another Nicholas Fisher, a Beverley wool merchant (lanius), c. 1700 (fn. 65) and then to Nicholas Browne (d. by 1733), whose brother John sold most of the estate to John Smith in 1734 and 1737. (fn. 66) Smith (d. by 1764) (fn. 67) was succeeded by his brother Lambert and widow Elizabeth (d. c. 1785), and then by his daughter Mary Hall and grandson John Smith Hall. (fn. 68) The Halls sold 80 a. and pasture gates in 1790 to Christopher Keld, who was lord of the Chapter manor as Crown lessee. (fn. 69) Keld made several other purchases, including a further 21 a. from the Halls, (fn. 70) and after the inclosure of the carrs in 1792 his 227-a. estate was the largest in Tickton. (fn. 71) His family had held a small copyhold estate there in the earlier 18th century. (fn. 72) Keld (d. 1806) (fn. 73) left part of the estate to his widow Elizabeth and daughter Jane, wife of Peter Coates, and in 1812 they sold the chief house and 149 a. to William West. (fn. 74)
Most of West's estate was bought in 1826 by Frederick Campbell the elder, who later had 216 a. in the township. (fn. 75) Campbell died in 1833 and his devisees (fn. 76) sold the 136-a. Grange estate in 1836 to Smith Wormald. (fn. 77) It was sold to William Watt in 1847 (fn. 78) and in 1857 (fn. 79) to William Grayburn, who later sold c. 65 a.; (fn. 80) Grayburn (d. 1866) was succeeded by his widow Eliza (d. 1869) and then by his nephew John Grayburn. In 1879 Ernest Hudson bought the estate, then of 75 a., and sold it in 1892 to W. H. HarrisonBroadley, (fn. 81) who bought some 60 a. more in 1894. (fn. 82) The Grange estate was enfranchised in 1856 and 1897. (fn. 83) Harrison-Broadley (d. 1896) left Tickton to his nephew Broadley Harrison, (fn. 84) who sold it in 1897 to his brother H. B. HarrisonBroadley, (fn. 85) succeeded in 1914 by his son J. B. Harrison-Broadley (d. 1944). The estate, which had been enlarged by 39 a. in 1938, (fn. 86) was conveyed by J. B. Harrison-Broadley's administrators in 1960 to his son John HarrisonBroadley, (fn. 87) who sold it in 1963 to G. L. Cullington (d. 1983). (fn. 88) The house and c. 3 a. were sold separately in 1979 (fn. 89) and converted into an hotel by 1981. (fn. 90)
The fabric of Tickton Grange suggests that an earlier house was remodelled by Christopher Keld (d. 1806). (fn. 91) It was called Mount Pleasant in 1823 and the Grange or Tickton Grange from 1829, and later had c. 35 a. of grounds. (fn. 92) The two-storeyed house, of colour-washed brick with stone quoins, was altered several more times, the last substantial change being the addition of a new south-east wing by J. B. HarrisonBroadley in 1926-7. (fn. 93)
The rest of Christopher Keld's estate, comprising 124 a. in 1838, was left in 1806 to his other daughter Elizabeth Foster (d. 1846). (fn. 94) It passed to her sister Jane Coates (d. 1847) and was later held in undivided shares by Jane's children and their heirs. (fn. 95) In 1873 it was sold to William Bainton (d. 1901). (fn. 96) In 1894 Bainton had given his freehold property to his son A. W. Bainton, who succeeded to the copyhold and sold c. 180 a. in Tickton, as part of New Holland farm, Weel, to W. C. Kirkwood in 1921-2. (fn. 97) Kirkwood died in 1929 and in 1933 the estate was sold to G. H. Scott, (fn. 98) who conveyed it to R. M. I'Anson and F. W. Scott in 1942. (fn. 99) I'Anson, who became sole owner in 1950, (fn. 100) was succeeded by his son George I'Anson. The farm was sold c. 1983 to G. L. Cullington. (fn. 101)
The Tickton Hall estate was based upon 51 a. held by Edward W. Smith, who obtained the enfranchisement of the property in 1846 (fn. 102) and enlarged it before 1870, when 65 a. were sold to Charles Telford. (fn. 103) Henry Telford already had 23 a. in Tickton by 1845, when they were enfranchised. (fn. 104) The estate, comprising the Hall and Hall farm, descended with the Telfords' estate at Eske and the owner in 1987 was Mrs. Cullington. (fn. 105)
Tickton Hall was built by E. W. Smith between 1846 and 1849, evidently on the site of a smaller house. (fn. 106) The Hall was demolished in the 1960s and its outbuildings were converted into the present Tickton House. (fn. 107)
After the suppression of St. John's college, to which they had belonged, (fn. 108) the tithes of Tickton were evidently granted by the Crown to Sir Michael Stanhope but forfeited on his attainder in 1552. They were later let to Michael Warton and in 1591 were granted in fee to Edmund Downing and Roger Rante. (fn. 109) The grant was evidently ineffective for in 1613 the tithes were granted to Francis Morrice and Francis Phillips and sold by them in 1615 to Sir William Cope, Bt., from whom Michael Warton bought them in 1627. (fn. 110) In 1650 the tithes of Tickton, Stork, Sandholme, and Hull Bridge belonged to Michael's father, Sir Michael Warton, and were worth together £23 a year. (fn. 111) At the partition of the Warton estates in 1775 the tithes of the demesne estate passed to C. A. Pelham; they were later sold with the land and were eventually merged. (fn. 112) The rest of the tithes fell to the share of Michael Newton. (fn. 113) At the inclosure of Tickton in 1664 Michael Warton had substituted a rent charge of £1 10s. for the tithes of each bovate and by an arbitration award of 1791 those rents were held to extend to the tithes of pasture in the carrs. Thus only 16 a. of garths then remained titheable. (fn. 114) Both before and after the award Michael Newton unsuccessfully attempted to overturn the commutation of 1664. (fn. 115) In 1813, after Newton's death, the tithes and tithe rents were sold to John Lockwood. (fn. 116) The tithes of about half of the garths were sold to the landowners the same year (fn. 117) and most of the rest were bought in 1818 by Joseph Stephenson, who sold some of them. (fn. 118) All were later merged.
Grant's chantry in St. John's college was endowed with 1 bovate and 2 houses in Tickton. After the suppression of the chantry the estate was held for life by the last incumbent and was then let by the Crown; (fn. 119) it was probably the same estate that was granted to Beverley corporation in 1585. (fn. 120) Rent of 3s. a year from Tickton belonged to St. James's chantry at Hull bridge, in Storkhill, in 1535. (fn. 121)
ECONOMIC HISTORY.
Rents from tenants at Tickton contributed modestly to the value of the manor of Beverley. In 1340, for example, bond tenants' rents produced nearly £1, and their works were worth 9s. (fn. 122) In 1542-3 ten customary tenants owed rents of nearly £1 10s. for 9 bovates and other property and paid 3s. in lieu of 18 hens, while a tenant at will paid £1 for another bovate. Profits of courts held at Tickton were c. £3. (fn. 123) In 1622 customary tenants held 9¼ bovates, two having 2-3 bovates each, two 1-2 bovates, and 4 less than a bovate; they rendered 16 'lake hens'. The 2 bovates in Tickton which lay in the Chapter manor were then held by 3 tenants. (fn. 124)
In the 17th century the arable land lay in East and West fields, the latter including land called Tofts. The fields also contained leys. (fn. 125) Common meadow land lay beside the river in Bank or Hay dales, (fn. 126) and probably also in Thack or Thatch dales. (fn. 127) Shares in Bank dales evidently extended to the flood bank and, after inclosure, land there was anachronistically called 'a bank and dale'. (fn. 128) Common pasture was largely provided by the carrs, and a stinted pasture called the cow pasture was mentioned in the 17th century. (fn. 129)
Much of Tickton was inclosed by an agreement of 1664. (fn. 130) Allotments made totalled 491 a., comprising 180 a. from East field, 141 a. from West field, 74 a. from Bank dales, 71 a. from Thatch dales, and 26 a. from Green. The East field allotments included 11 a. in Carr butts and 11 a. in Paddock, and the West field allotments 13 a. in Paddock, 6 a. in Green butts, and an unspecified acreage in Tofts. Michael Warton, lord of the Water Towns manor, received 33 a., Edward Grey and his wife 117 a., and Nicholas Fisher and his wife 95 a. (fn. 131) There were also two allotments of 50-79 a., three of 20-49 a., and one of under 10 a. The carrs, then put at 249 a., remained uninclosed and 4 horse and cow gates were later enjoyed there for each former bovate; geese were allowed in the carrs in summer. (fn. 132) When the carrs were inclosed in 1792, under an Act of 1790, (fn. 133) they comprised only 234 a. (fn. 134) Allotments in the carrs totalled 230 a., and 9 a. elsewhere were involved in an exchange. Christopher Keld received 84 a. and C. A. Pelham, lord of the Water Towns manor, 31 a., and there were two allotments of 20-39 a., three of 10-19 a., and five of under 10 a.
There were usually half a dozen farmers in Tickton in the 19th and earlier 20th century, of whom one or two in the 1920s had 150 a. or more. (fn. 135) Two market gardeners were recorded from 1905, and in 1987 glasshouses stood beside the Eske and Weel roads. There was a cowkeeper at Hull Bridge in the late 19th century and a dairyman c. 1930, (fn. 136) when over half of the township was under grass. (fn. 137)
A windmill at Tickton, mentioned in 1622, (fn. 138) was described as decayed in the 1660s. (fn. 139) It may have stood near Mill close, adjoining Crookled Hill. (fn. 140)
The fishing and fowling of the river and carrs mostly belonged to Beverley, and later to the Water Towns, manor. (fn. 141) They were let to the tenants of open-field land, who enjoyed proportionate shares of them, as well as the right to take 'dumbles' or reeds. (fn. 142) Boats and fishing and fowling tackle were left by Tickton men in the 17th and 18th centuries, (fn. 143) and in 1671 a man was presented for hanging pike hooks in the carrs against the bylaw. (fn. 144) Land in East field was called Fishhouse leys in the 17th century. (fn. 145)
Commercial activity near Hull bridge, on the Tickton side of the river, evidently began in an attempt to evade the tolls payable under the Beverley Beck Acts of 1727 and 1745, (fn. 146) and one or two warehouses and a staith were built before the end of the 18th century. (fn. 147) One of the earliest traders may have been Robert Parker, who kept an inn at Hull Bridge by 1759. (fn. 148) By c. 1780 Elizabeth Parker had a granary and a warehouse as well as the inn, and a few years later the business passed to her son-in-law William Booth. While Booth was there more warehouses were built. (fn. 149) He was bankrupt in 1818. (fn. 150)
Samuel Marshall, maltster, was working at Hull Bridge by the 1820s. (fn. 151) Robert Stephenson & Son were recorded there, as coal merchants, in 1834 and they later also dealt in seed and had a malting. (fn. 152) Their main concern by 1840 was, however, seed and bone crushing at Hull Bridge mill. (fn. 153) The manufacture of fertilizers began in 1853. (fn. 154) The mill was altered and enlarged in the 1860s and 1870s to designs by the Beverley architect William Hawe, (fn. 155) and a fertilizer works was built on the east side of the Weel road c. 1890. (fn. 156) Seed crushing ceased in 1942. Warehouses for the storage of fertilizers were built in 1947, 1952, and 1962. (fn. 157) The business was sold by the Stephensons to Associated Chemical Companies (Fertilisers) Ltd. in 1960, to Albright & Wilson Ltd. in 1971, and to Q Feeds Ltd. in 1972. (fn. 158) Part of the premises was occupied by subsidiary firms concerned with agricultural analysis and pharmaceuticals in 1987. (fn. 159) Until their demolition in 1984 the buildings next to the riverside wharf included warehouses of the 18th and early 19th century, and another with decorative brickwork and a tall cupola that may have been part of Hawe's work. (fn. 160)
Non-agricultural employment in Tickton itself has included brickmaking, at a works west of the village c. 1850, chicory-drying, recorded in 1851, (fn. 161) haulage contracting in the 1930s, (fn. 162) and light engineering in 1987.
LOCAL GOVERNMENT.
A constable to serve Tickton was appointed by Beverley corporation in the late 16th century. (fn. 163) Officers were later appointed at Beverley Water Towns and Beverley Chapter manorial courts. Those regularly chosen at the Water Towns court in the 17th and 18th centuries were one or two bylawmen, a constable, and a pennygrave, and in the 17th century also one or two surveyors of highways and a pinder. The Chapter court appointed a constable for Tickton in the 1820s and 1830s. (fn. 164)
In 1802-3 poor relief was given at Tickton to 52 vagrants from outside the parish. (fn. 165) Tickton joined Beverley poor-law union in 1836 (fn. 166) and remained in Beverley rural district (fn. 167) until 1974, when it became part of the Beverley district of Humberside. In 1967 a parish council was set up for Tickton and Routh together. (fn. 168)
CHURCH.
The township, part of St. John's parish, Beverley, may have been served in the Middle Ages by the prebendary of St. Andrew in the collegiate church, who enjoyed the tithes there. (fn. 169) Baptisms, marriages, and burials usually took place in the minster. (fn. 170) There was no chapel at Tickton until the 19th century. (fn. 171)
A chapel of ease at Tickton was licensed temporarily in 1844 and consecrated, together with its chapelyard, the following year. (fn. 172) It was licensed for marriages in 1846. (fn. 173) The chapelyard was used for burials from other townships of the parish. (fn. 174)
The chapel was served by assistant curates from the minster. Two services were held each Sunday by 1865 and communion was celebrated on two Sundays in three in 1868, monthly by 1877, and on three Sundays in five in 1931; there were usually up to a dozen communicants. (fn. 175) The so-called church of St. Paul, built in 1843-4 (fn. 176) in the Perpendicular style, is of ashlar and consists of chancel and nave with north vestry, north porch, and west bellcot. The building was restored in the 1880s and 1890s. (fn. 177) Additions to the chapelyard were consecrated in 1877 and 1908, (fn. 178) and another, acquired in 1956, was in use from 1967. (fn. 179)
NONCONFORMITY.
A room at Tickton registered for dissenting worship in 1818 was presumably used by Wesleyan Methodists, who had begun to hold services in the village in 181415. (fn. 180) They built a chapel in 1828 (fn. 181) and replaced it with another in 1877, (fn. 182) which was renovated in 1927. (fn. 183) The red-brick chapel in a plain Classical style was still used in 1987. The old chapel became a Sunday school and a reading room; it was sold in 1953 and used as an office in 1987. (fn. 184)
A house at Hull Bridge was registered for dissenting worship in 1791 (fn. 185) and Wesleyan Methodists held services in the hamlet in the early 19th century. (fn. 186)
EDUCATION.
A school at Tickton, begun in 1832, was attended the following year by 20 girls and 10 boys, all taught at their parents' expense. (fn. 187) A National school was built in 1847 on land given by Edward W. Smith. (fn. 188) It was supported by subscriptions and school pence and from 1866-7 by an annual government grant. (fn. 189) Infants were taught by the 1860s. (fn. 190) There were 52 children in attendance on inspection day in 1871, including pupils from Eske, Storkhill and Sandholme, and Meaux, in Wawne. (fn. 191) The school was altered and enlarged c. 1870 to designs by William Hawe of Beverley. (fn. 192) Between 1906 and 1938 there were usually 65-85 children in attendance. (fn. 193) The school was described as overcrowded in 1914, (fn. 194) when there were some 20 children from Routh and, before their transfer that year, 16 from Weel. (fn. 195) Additional accommodation was provided in 1915. (fn. 196) Senior pupils were transferred to Molescroft County Secondary school in 1958 (fn. 197) but the village hall was used by the school from that date. (fn. 198) A new 100-place school was built in 1979 (fn. 199) and the old one was used for a private kindergarten in 1984 and an old people's home in 1987. There were 120 pupils on the roll in 1986, when temporary accommodation was also used. (fn. 200) Income from Anne Routh's charity was shared with other elementary schools in St. John's parish. (fn. 201)
CHARITY FOR THE POOR.
Elizabeth Stephenson, by deed of 1871, settled on trustees a site for almshouses at New Tickton and two houses at Sculcoates; (fn. 202) five almshouses were built for her in 1872 to designs by William Hawe of Beverley (fn. 203) and they were occupied rent free. (fn. 204) By her will proved in 1908 Mrs. Stephenson evidently made further endowment. In 1910 the charity was ordered to be administered with Susannah Fearnsides's charity for needy farmers in Yorkshire, and stipends were to be paid to the elderly agricultural labourers who lived in the almshouses. The endowment then comprised the houses at Sculcoates and £3,091 stock. (fn. 205) Later the houses were sold and the almshouses were converted into two units. In 1985 the charity had £6,081 stock, mostly in an accumulation account; to the £161 interest from the rest of the stock were added contributions amounting to £550 from the two tenants, who from that year paid £8 a week each. (fn. 206)