Pages 123-128
A History of the County of York East Riding: Volume 7, Holderness Wapentake, Middle and North Divisions. Originally published by Victoria County History, London, 2002.
This free content was digitised by double rekeying. All rights reserved.
BILTON
THE expanded village of Bilton, now barely separate from Hull's suburbs, lies c. 4 km. southeast of Swine village. The name, meaning Billa's farm, is probably Anglian. (fn. 1)
Bilton township, later civil parish, contained 1,204 a. (487 ha.), (fn. 2) of which 485 a. (196 ha.) were lost in 1930 and 7 a. (3 ha.) in 1935 to Sculcoates civil parish. The remaining 713 a. (289 ha.) were added in 1935 to Ganstead and Wyton civil parishes and 3 a. (1.2 ha.) of Preston civil parish to form a new parish of Bilton with 2,317 a. (938 ha.). (fn. 3) Extensions to Hull claimed 60 a. (24 ha.) more in 1955 and c. 100 a. (41 ha.) in 1968, leaving Bilton with 872 ha. (2,155 a.). In 1984 some 8 ha. (20 a.) were added to Bilton's civil parish from Coniston, and in 1991 Bilton's area was 879 ha. (2,172 a.). (fn. 4)
The 69 poll-tax payers recorded under Bilton in 1377 may have included inhabitants of neighbouring Ganstead, which was not noticed separately. (fn. 5) In 1672 Bilton had 26 houses assessed for hearth tax. (fn. 6) During the 19th century the population was c. 100, and in 1911 there were still only 89 inhabitants. Thereafter numbers began to grow as a consequence of suburban development, to 127 in 1921 and 219 in 1931, when the combined population of the areas united in 1935 was 435. The new civil parish had 1,249 inhabitants by 1951 and 2,380 in 1961, of whom c. 450 lived in the area taken into Hull in 1968. The reduced parish, nevertheless, had a population of 2,452 in 1971; in 1991 there were usually 2,305 residents but only 2,259 were then present. (fn. 7)
In the mid 19th century the few farmhouses and other buildings of bilton village stood along a single street leading south to the church and in side lanes to Wyton and Hull, later parts of the Hull-Aldbrough road. (fn. 8) The street was called Back Lane, possibly in relation to the main road, in the late 19th and earlier 20th century, but by 1954 it had been renamed Lime Tree Lane. (fn. 9) The growth of the village in the earlier 20th century was achieved in part by the infilling of the street and the building of 44 council houses off it, in Highfield Crescent, c. 1950. Away from the village, the north side of the main road was lined with bungalows and houses, and a side road from it, Holmes Lane, was similarly developed. (fn. 10) The pace of building quickened later, when much of the land behind the ribbons of houses was covered by housing estates. (fn. 11) In 1994 the engulfing of the old street was being completed by the building of houses on Old Hall farm. The south side of the main road remains much less built-up, except in the west, where land on either side, lost to Hull in the 1960s, has been used for more housing estates and a suburban superstore. (fn. 12) Older buildings include Old Hall Farm, under renovation in 1994, the outbuildings of High Farm, by then converted into housing, and the former school, no. 189 Main Road, and another 'estate' building, both with decorative bargeboards. In 1927 Hull corporation built a pumping station near the village which was transferred to the Yorkshire Water Authority in 1979, (fn. 13) and c. 1955 the corporation put up an automatic telephone exchange at Bilton. (fn. 14)
A house was licensed at Bilton in the later 18th century, (fn. 15) but later the village had no public house. A village hall, built north of the main road in the early 1930s, (fn. 16) was replaced in 1985 by a hall for Bilton, Ganstead, and Wyton; the new hall was built on part of the 7-a. Memorial Playing Field, which had been bought by the parish council to commemorate the Second World War dead in 1948 and enlarged in 1953. (fn. 17) The former village hall, adjoining the playing field, was used as a sports clubhouse in 1994. (fn. 18) Other meeting places then included the British Legion hall, rebuilt in 1969, (fn. 19) and a wooden Church hall, erected by 1949. (fn. 20) Another hall built in 1936 for the recreation of the village men has been used since 1953 by an amateur dramatic society as its theatre in succession to the village hall. (fn. 21) Since 1940 a county library has been held in the successive village halls. (fn. 22) A youth centre was provided near the primary school c. 1970. (fn. 23) Allotment gardens provided by 1908 were still used in 1994. (fn. 24)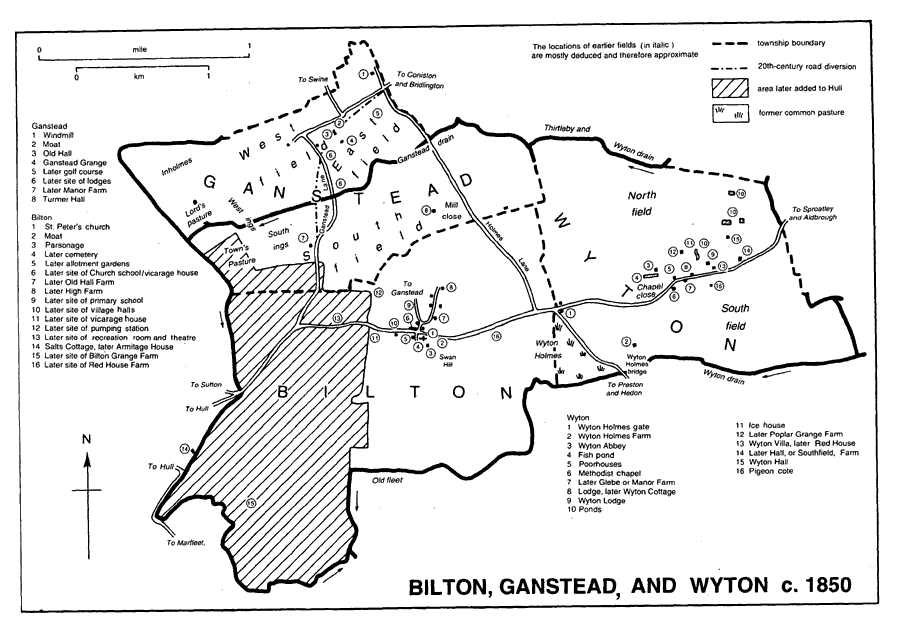 MANOR AND OTHER ESTATES
A carucate at BILTON, belonging in 1066 to Halfdan, had passed by 1086 to Drew de Bevrère (fn. 25) and was later part of the Aumale fee. In 1367 land at Bilton was held by knight's service under Burstwick, the chief manor of that fee. (fn. 26)
Drew's undertenant in Bilton in 1086 was Franco, (fn. 27) ancestor of the Fauconbergs. (fn. 28) W. de Fauconberg, tenant in the mid 13th century, was probably Walter de Fauconberg, later Lord Fauconberg (d. 1304), (fn. 29) and the estate in Bilton later descended, as an appurtenance of Rise manor, to the Nevilles. (fn. 30) It was held of the Fauconbergs by free tenants, (fn. 31) one of whom may have been Sir Walter de Fauconberg of Bilton, evidently a cadet, mentioned in 1341. (fn. 32) Another member of the family, John de Fauconberg (d. 1366), held ½ carucate of Walter de Fauconberg's widow Isabel, besides other land of the Aumale fee; John was succeeded by his son (Sir) Walter (d. by 1392). (fn. 33)
In 1086 the archbishop of York's church of St. John at Beverley had 3 carucates at Bilton. (fn. 34) All were held of the provost of Beverley by Stephen of Marfleet, who granted the estate to his daughter Avice's husband, Walter of Lincoln. It later passed to Walter's son-in-law, William of Bilton, who held it as BILTON manor; he and his tenants then occupied 2 of the 3 carucates. William was possibly succeeded by his son Saer of Bilton, and Saer's son Sir John of Bilton was lord in the earlier 14th century. From Lady (Joan) of Bilton, presumably John's widow, the manor descended to her daughter, wife of Sir Walter Fauconberg (fl. 1370s). The Fauconbergs left two children, evidently daughters who married Richard Butler and William Plessington. (fn. 35) In 1391 half of Bilton, Bewholme, in Nunkeeling, and Catwick manors was settled on Butler and his wife Catherine, evidently in her right, (fn. 36) and her share clearly descended to Isabel Holme, on whom the so-called manors of 'Bilton' and 'Fauconberg', with part of the land there, were settled in 1463. (fn. 37) Isabel Holme's interest probably descended to her son Edward (fl. c. 1480). (fn. 38) The Plessingtons' share descended to Sir Henry Plessington (d. 1452), his son William (d. 1457), and William's cousin Isabel, wife of (Sir) John Francis. (fn. 39) In 1463 part of the landed estate at Bilton was settled on the Francises' daughter Alice Worsley, (fn. 40) later Alice Staveley (fl. 1519). The Staveley share of Bilton and other manors descended to Alice's son George (d. 1525) and then to his son John. (fn. 41) Another part of the Plessington estate passed by the marriage of Isabel and Sir John Francis's daughter Jane and Roger Flower to their grandson Roger Flower (d. 1527), who settled it on his son George. (fn. 42) The shares of the manor were later bought by Sir William Knowles, who had an estate at Bilton from the 1520s. (fn. 43) John Staveley and John Flower sold their shares in or about 1539, (fn. 44) and by 1553 Knowles also had Edward Holmes's lands. (fn. 45) Knowles (d. 1557 or 1558) was succeeded in the manor by his widow Joan (d. 1571) and then by his son-in-law John Stanhope (fl. 1582). Knowles's grandson, William Alford, may have inherited soon after. (fn. 46) Sir William Alford (fn. 47) was succeeded by his daughter Dorothy Grantham, who sold the manor to Anthony Bedingfield in 1649. (fn. 48) Robert Lowther apparently had it later and then Anthony Lowther, (fn. 49) who sold the manor to William Ramsden in 1678. (fn. 50) John Ramsden, who bought the rectorial estate at Bilton in 1681, had the manor in 1716 (fn. 51) and, after him presumably, his daughter Elizabeth Roundell. It certainly later belonged to Elizabeth's daughters Catherine Dawnay (d. 1769) (fn. 52) and Mildred Bourchier (d. by 1797). (fn. 53) Mrs. Bourchier devised the manor and rectorial estate to her nephew Richard Thompson (d. 1820), with remainders in tail successively for the younger sons of John Dawnay, viscount Downe (d. 1780). (fn. 54) Thompson was duly succeeded in turn by the Revd. William Dawnay, later Lord Downe (d. 1846), and his brother Marmaduke Langley (d. 1851). A third brother, the Revd. Thomas Dawnay (d. 1850), had devised his reversionary interest to his great-nephew Lewis Dawnay, who succeeded on his majority in 1867. (fn. 55) In 1909 Lewis Dawnay conveyed the Bilton estate, of 1, 172 a., to his younger son Alan, who sold it in many lots in 1911. George and William England bought Bilton Grange farm, with 313 a., William England alone c. 220 a., William Ingram 262 a., and J. R. Woods 99 a. (fn. 56) George England died in 1922, and his moiety of Bilton Grange farm was later held for his beneficiaries, George and Sarah England, evidently his son and widow. (fn. 57) In 1936 George England and Abraham Leonard, presumably heir to the moiety of William England (d. 1932), sold 286 a. of Bilton Grange farm to Hull corporation which used it for a housing estate. (fn. 58) William England left the estate he bought alone to his son Frank, who, after several sales in the 1930s, sold High farm, then of 180 a., and a few acres more to Arthur Wastling in 1944. (fn. 59) The farm was bought in 1948 by E. M. and G. R. Cooper, who later sold it piecemeal for house-building. (fn. 60)
An early, fortified house may have stood at the south end of Bilton on an earthwork later called Swan hill, and a manor house replacing it on the nearby moated site. (fn. 61) The manor house was recorded in 1557. (fn. 62)
Another provostry tenant was Sir William of Carthorpe (d. by 1296), who held 1½ carucate at Bilton and may have been succeeded by his son John and later by Thomas of Carthorpe. (fn. 63)
Swine priory held 2 bovates at Bilton in the Middle Ages. (fn. 64) A proposal to grant land at Bilton to North Ferriby priory in 1379 (fn. 65) may have been ineffective. Ann Watson's charity of neighbouring Sutton bought a few acres in Bilton in 1910, Armitage farm with 64 a. there from Alan Dawnay in 1911, and 46 a. more in 1931. (fn. 66) The estate was reduced by small sales in the mid century, (fn. 67) Armitage farm was bought by Hull corporation in 1946, and the trust had no land in Bilton in 1995. (fn. 68) Trinity House, Hull, bought Red House farm at Bilton with 187 a. in 1927 and sold it in 1952. (fn. 69)
The rectorial tithes and dues of Bilton were bought by John Ramsden in 1681, (fn. 70) and they later descended with that manor. (fn. 71) Payn Dawnay, possibly as agent for his uncle Marmaduke Langley, was awarded a rent charge of £15 in 1848 for the few unmerged tithes at Bilton. (fn. 72)
ECONOMIC HISTORY
Common lands and inclosure. Later field-names suggest that the open fields at Bilton included North and East fields, (fn. 73) and ridge and furrow evidence shows that much of the tillage also lay south of the village. (fn. 74) In 1304 there was pasture land in Bilton stinted for 312 sheep, (fn. 75) and Low common was named in 1602. (fn. 76) Dorothy Grantham's husband Thomas is said to have inclosed at Bilton in the earlier 17th century, (fn. 77) and 'new laid ground' was mentioned there in 1666. (fn. 78)
MEDIEVAL HOLDINGS
In 1086 thirteen villeins worked two ploughlands on the archbishop's estate at Bilton and four a ploughland on Franco's estate, which also included 10 a. of meadow. (fn. 79)
LATER AGRICULTURE
In 1987 of 543 ha. (1,342 a.) returned under Bilton civil parish, 384 ha. (949 a.) were arable land and 152 ha. (376 a.) grassland; nearly 85,000 poultry, some 700 pigs, and more than 500 cattle were then kept. (fn. 80)
There were about six farms at Bilton in the 19th and earlier 20th century; in 1851 the four largest were of c. 250-300 a. each, and in the 1920s and 1930s all or most of the holdings were of 150 a. or more. By 1929 British Oil & Cake Mills Ltd. had an experimental farm at Bilton, which later included a poultry department, and in the 1930s one of the larger farms was also a poultry unit. (fn. 81) One or two cowkeepers or dairymen at Bilton were recorded in the earlier 20th century, and one of the larger farms there, Red House farm, was used for dairying. (fn. 82) In 1987 of 16 holdings returned under Bilton, one was of 100-199 ha. (247-492 a.), four of 50-99 ha. (124-245 a.), five of 10-49 ha. (25-121 a.), and six of under 10 ha. (fn. 83)
MILL
There was a windmill at Bilton in the 16th and 17th centuries. (fn. 84)
LOCAL GOVERNMENT
At Bilton 2 people were relieved permanently and 3 occasionally in 1802-3, and there were 4-5 on permanent and 3-4 on occasional relief between 1812 and 1815. (fn. 85) Bilton joined Skirlaugh poor-law union in 1837, (fn. 86) and the township, later civil parish, remained in Skirlaugh rural district until 1935. As part of the enlarged civil parish of Bilton, it was then included in the new Holderness rural district and at reorganization in 1974 was taken into the Holderness district of Humberside. (fn. 87) In 1996 Bilton parish became part of a new East Riding unitary area. (fn. 88) Bilton parish council, established in 1932, (fn. 89) opened a cemetery south of the church in 1962. (fn. 90)
CHURCH
Swine parish evidently included a chapel at Bilton in 1285, when its burial ground was mentioned. (fn. 91) The curacy there became perpetual (fn. 92) after endowment in 1794, and, following further grants in 1859, (fn. 93) the townships of Bilton, Ganstead, and Wyton were taken from Swine parish to form a district chapelry, or parish, in 1867. (fn. 94) The benefice was thereafter a vicarage. (fn. 95) In 1952 and 1960 parts of Bilton parish scheduled for development as suburbs of Hull were added respectively to the parishes of Marfleet and St. Michael's, Sutton. (fn. 96)
In the Middle Ages the chapel contained or comprised a chantry. The chaplain was admitted by the prioress of Swine, apparently after nomination by the provost of Beverley. (fn. 97) The first perpetual curate was presented in 1794 by Archbishop Markham, who then transferred the patronage to Mildred Bourchier in return for her benefaction to the living; the right to present later descended with the manor. (fn. 98) Lewis Dawnay conveyed the advowson in 1909 to his son Alan, who sold it to F. A. Scott in 1910, and in 1911 Scott transferred it to the archbishop of York, the present patron. (fn. 99)
The curate of Bilton chapel had £4 a year in 1525; (fn. 100) part may have come from a house, 1 bovate, and a few acres which belonged to the chapel until they were confiscated by the Crown under the Chantries Act, (fn. 101) but a stipend paid from the rectory probably accounted for most of the sum. In the mid 17th century the stipend for serving Bilton chapel was £3 6s. 8d.; the curate was then also said to receive the Easter offerings (fn. 102) and his living may have been augmented from Burstwick and Paull rectories in the 1650s. (fn. 103) The stipend was later lost, probably at or after the sale of the rectory in 1681. (fn. 104) In 1794 the curacy was endowed with £400 granted from Queen Anne's Bounty by lot and another £400 to meet a benefaction of that amount from Mildred Bourchier. (fn. 105) The net income averaged £45 a year between 1829 and 1831. (fn. 106) In 1859 Lydia Dawnay, the lord of the manor's sister, gave stock of £1,575 and £500, the latter to obtain a grant of £200 Bounty money, (fn. 107) and in 1883 the gross income was £259. (fn. 108)
Mildred Bourchier had built a house for the curate by 1795, when she devised it and nearly 5 a. adjoining for the living. (fn. 109) In 1968 the house was sold, and the converted school building bought instead; (fn. 110) that vicarage house was in turn replaced by another on Main Road, bought c. 1975. (fn. 111) By 1998 the last house had been demolished, and one of the newly-built houses to the north of Main Road bought for the incumbent.
The augmentations were used to buy 26 a. at Wyton and an adjoining 18 a. at Preston in 1795. (fn. 112) A farmhouse built by 1842 was rebuilt in 1898. (fn. 113) Glebe farm was sold in 1910, (fn. 114) and in 1978 only c. 4 a. of glebe remained at Bilton. (fn. 115)
In 1575 sermons were lacking in Bilton chapel. (fn. 116) Baptism, marriage, burial, and communion services were held there in the mid 17th century, (fn. 117) when the curate, Samuel Sinclair, was a puritan. (fn. 118) From the late 16th century the curacy was held with that of neighbouring Wyton chapel, and it was served with Swine vicarage and other Holderness livings in the 17th and 18th centuries. (fn. 119) In 1743 there was a service every other Sunday at Bilton, and Holy Communion was celebrated three times a year, with c. 16 communicants. (fn. 120) The first vicar, H. K. Quilter (d. 1905), served for 38 years. (fn. 121) He provided two Sunday services, celebrated Communion monthly in 1865 and later weekly, and held an evening school from the 1860s until the 1880s; there were usually 16-17 communicants in 1865 and later up to a dozen. The church was for many years 'High Anglican' (fn. 122) but by 1994 had become Evangelical.
The church, formerly of ST. MARY MAGDALEN but by 1823 dedicated to ST. PETER, (fn. 123) was rebuilt by Payn Dawnay, lord of the manor, (fn. 124) with, or for, his sister Lydia Dawnay, and re-opened in 1852. (fn. 125) The plan and style of the old church, which was of ashlar, (fn. 126) was followed by G. T. Andrews's design, which comprises undivided nave and chancel with north vestry and south porch and western double bellcot, all in a 13th-century style. The rich paving of encaustic tiles in the chancel is well-preserved. By 1868 a stone communion rail dividing chancel and nave had been installed, (fn. 127) and a stone reredos was added in 1886. (fn. 128) Other fittings include an elaborate, wooden, hanging rood with figures of St. Mary and St. John.
There were two bells in 1552 and later. (fn. 129) The Dawnays replaced the plate with a silver-gilt service at rebuilding in 1852. (fn. 130) The registers of baptisms, marriages, and burials begin in the 1690s but lack entries then and in the earlier 18th century. (fn. 131) Transcripts for Bilton and Wyton survive from 1600. (fn. 132)
A lich-gate gives access to the churchyard, additions to which were consecrated in 1905 and 1938. (fn. 133)
NONCONFORMITY
A house registered for worship by protestants in 1824 may have been at Bilton in the West Riding. (fn. 134) The Primitive Methodists used an unlocated house at Bilton from 1848, c. 20 attending services on Sunday evenings in 1851. (fn. 135) The congregation was mentioned again in 1865, (fn. 136) but evidently ceased to meet soon afterwards.
EDUCATION
The curate kept a school at Bilton in 1604, (fn. 137) and in 1818 Richard Thompson supported a dame's school with five pupils. (fn. 138) The same or another school was attended by 10-20 boys and girls at their parents' expense in 1833. (fn. 139) The school was evidently refounded c. 1864 as Bilton Church school and run on National lines, and in 1868 the curate shared the teaching with a mistress. Lewis Dawnay built a new schoolroom and master's house in 1869. The school was supported by subscription, school pence, and from 1872-3 by an annual, government grant. Average attendance was 16 in 1865, (fn. 140) 22 boys and girls were present at inspection in 1871, including children from Ganstead, Thirtleby, and Wyton, (fn. 141) and infants were accommodated by 1877. (fn. 142) A classroom was added in 1893, (fn. 143) but by 1911, when Alan Dawnay transferred the school to the county council, (fn. 144) it was overcrowded with children from outside Bilton ecclesiastical parish, notably from the suburban parish of Sutton, which contributed 28 of the 69 pupils in 1911. Children from Preston had been excluded in 1909, and those from Sutton were refused admittance from 1912. (fn. 145) From 50-60 in the early 20th century, average attendance had fallen by the end of the First World War to c. 30, but grew again as a consequence of new building to 73 in 1935-6 and 103 in 1938. (fn. 146) The inadequacy of the building, which had been further enlarged and altered in 1912, (fn. 147) led to the hiring of accommodation in the village hall (fn. 148) and the opening on another site of a new school in 1938. The former school was later a centre for instruction in domestic science and joinery, (fn. 149) and from the 1960s served as the vicarage house. (fn. 150) In 1954 senior pupils at Bilton school were transferred to South Holderness County Secondary School. (fn. 151) The primary school was enlarged with two classrooms and a hall in 1964-5, during which work the village hall was used again, (fn. 152) and in 1974 it was completed to accommodate 400 pupils. (fn. 153) In 1990 there were 309 on the roll. (fn. 154)
Evening classes were held at Bilton in the 1940s. (fn. 155)