Pages 118-123
A History of the County of York East Riding: Volume 7, Holderness Wapentake, Middle and North Divisions. Originally published by Victoria County History, London, 2002.
This free content was digitised by double rekeying. All rights reserved.
BENNINGHOLME
The half a dozen, dispersed farmhouses and cottages of Benningholme mostly stand on the higher ground, overlooking the valley of Lambwath stream, c. 3 km. NNW. of Swine village. Granges of Swine priory were established at Benningholme and, on lower-lying ground, at Fairholme, in the south-west corner of the township. (fn. 1) The name Benningholme, meaning 'Benna's water meadow', is an Anglo-Scandinavian hybrid, as may be Fairholme, or 'fair water meadow'. (fn. 2)
Benningholme township, later Benningholme and Grange civil parish, was of 1,471 a. (595 ha.) (fn. 3) until it was enlarged by the transfer of c. 35 a. (14 ha.) from South Skirlaugh in 1885. (fn. 4) In 1935 it and Swine civil parish were combined as the new civil parish of Swine. (fn. 5)
Benningholme had 69 poll-tax payers in 1377 (fn. 6) and 17 houses assessed for hearth tax in 1672. (fn. 7) The hamlet comprised a dozen houses, then closely-built, in 1772. (fn. 8) The population grew from 78 in 1801 to 108 in 1841 and thereafter fluctuated, reaching 120 in 1881 and standing at 93 in 1931. (fn. 9)
The scattered houses of Benningholme hamlet include four cottages of 1904 and a house of the 1960s, all built by the Crown (fn. 10) which owns the place. Benningholme Hall and the other older houses are discussed below. (fn. 11)
MANORS AND OTHER ESTATES
In 1066 Ulf held 2 carucates and 5 bovates at BENNINGHOLME as soke of his manor of Aldbrough. The estate had passed to Drew de Bevrère by 1086 and later formed part of the Aumale fee. (fn. 12)
Two carucates at East Benningholme, with other land in Holderness, were evidently granted by a count of Aumale to his butler. (fn. 13) In 1221 Amand the butler's daughters Beatrice de Friboys and Hawise de Surdeval, their overlord William de Forz, count of Aumale, and others were disputing Benningholme manor. (fn. 14) Land at East Benningholme was given to Swine priory by Hawise and to Nunkeeling priory by Beatrice. (fn. 15) In 1252 the butler's fee was evidently held by Beatrice and John de Surdeval, presumably Hawise's heir. (fn. 16) The Surdeval share seems to have descended to John de Surdeval, named as a lord at Benningholme in 1316, (fn. 17) and then to his son Amand (fl. mid 14th century). (fn. 18)
Much of the butler's fee was held by Geoffrey Berchaud (d. by 1276) and then by his son John. (fn. 19) Geoffrey Berchaud's heir was recorded as tenant of the count of Aumale at Benningholme and in other parts of the fee in 1287, (fn. 20) but by that date Simon Constable seems to have bought Berchaud's interest and possibly another share of the butler's fee from Geoffrey Vernon and Gillian de Friboys's daughter Joan Verder. (fn. 21) Constable held 3 bovates in demesne at Benningholme in 1287, (fn. 22) and the lordship of 2 carucates there later descended in his family. (fn. 23)
The Rouths held a manor of Benningholme under the Constables. William of Routh had land at Benningholme in 1250, and Sir Amand of Routh's manor was recorded c. 1300. (fn. 24) John of Routh (d. by 1311) was succeeded by his son Amand, who was named as a lord of Benningholme in 1316. (fn. 25) By 1377 the estate seems to have been enlarged with land belonging to another Amand's wife Christine. (fn. 26) It later descended, like Tansterne, in Aldbrough, (fn. 27) in the Rouths, (fn. 28) before passing to the Cutts (fn. 29) and Michelbournes. (fn. 30) In 1483 the estate, sometimes called a manor, was said to comprise only six houses and 2¼ bovates at Benningholme. (fn. 31) In 1552 John Michelbourne settled his moiety of Benningholme manor on his son John, but it evidently later passed under that settlement to another son Thomas and then once again descended with Tansterne. (fn. 32) At the partition of the Michelbournes' estate in 1614, Sir Richard Michelbourne received Benningholme manor with lands in Swine and Coniston. (fn. 33) Two houses, 3½ bovates, and other land were sold shortly afterwards. (fn. 34) Sir Richard Michelbourne died in 1638, and in 1647 his sons sold the rest of the estate at Benningholme, comprising 3 houses, 2 bovates, other land, and pasture rights, as an appurtenance of Routh manor, to Thomas Chatt (d. by 1661). (fn. 35) The estate has not been traced further.
Another manor of BENNINGHOLME was held by Sir Peter Buckton in 1401, and Peter Buckton, presumably another, was recorded as a tenant of the Constables at Benningholme in 1447. (fn. 36) The manor descended to William Buckton (d. 1506), who left it to his sons Robert and Ralph Buckton; it then comprised 1½ carucate. (fn. 37) It was perhaps the same manor which William Layton and Ralph Holtby granted to Lancelot Holtby (d. 1561). Holtby's son George (fn. 38) sold it to James Wayte and John Metcalfe in 1585. (fn. 39) That manor, held of the Constables and comprising ½ carucate in Bennningholme, was sold by Metcalfe to William Thompson in or shortly before 1617, by him in 1625 to Alexander Emerson, father and son, and by the younger Emerson in 1629 to Sir John Lister and his son Hugh (fn. 40) (d. by 1678), who was probably succeeded by his son John. (fn. 41) From John's son Lutton (fl. 1714) (fn. 42) the manor descended in turn to Lutton's son William (d. 1760), (fn. 43) his widow Grace (fl. 1796), and their daughter Harriet Green. The Greens sold the manor with c. 285 a. to Robert Harrison in 1807, (fn. 44) and it later descended with Harrison's larger estate. (fn. 45)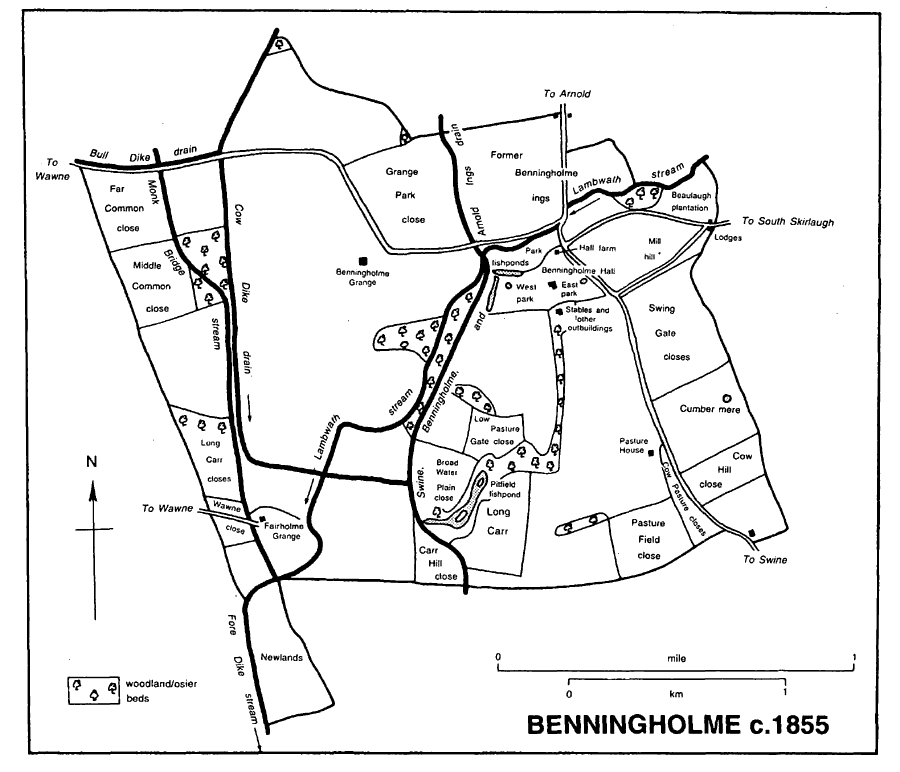 In 1625 the manor house site was recorded as Hall garth. (fn. 46) The manor house sold in 1807 (fn. 47) was replaced as the chief house by Benningholme Hall, built by Robert Harrison (d. 1821) (fn. 48) and provided with grounds of c. 30 a. which included a small lake, islands, and a temple. (fn. 49) The white-brick house has a five-bayed entrance front with an Ionic porch and windows set in blank arches, and a garden façade with bows rising through both storeys and a cast-iron verandah to the ground floor. A red-brick, northern wing was demolished and a smaller, south wing added in 1974. (fn. 50) Hall Farm which stood nearby was probably the old manor house; of two storeys with attics and dating from the 18th century or earlier, it was demolished c. 1985. (fn. 51)
Peter of Benningholme gave Swine priory land at West Benningholme, and the house had a grange there by 1235 (fn. 52) and was named as one of the lords at Benningholme in 1316. (fn. 53) After the Dissolution, the Crown let Benningholme grange to Sir Richard Gresham in 1541 and in 1554 sold it, as 1/40 knight's fee, to Lady (Joan) Constable and her son Sir John Constable. (fn. 54) It comprised 236 a. in 1578. (fn. 55) Benningholme grange and land formerly belonging to the priory at Ganstead (fn. 56) descended to Sir Henry Constable, viscount Dunbar, who settled them on a younger son Matthew. (fn. 57) Matthew forfeited his estate to the Commonwealth for treason (fn. 58) but regained it before his death in 1667, when his brother John Constable, viscount Dunbar, gave it to another brother Henry (d. 1700). Henry left his estate, which also included a former grange of the priory at Fairholme, (fn. 59) to his nephew William Constable, later viscount Dunbar. (fn. 60) The granges descended with the rest of the Constable family's estate to William Constable, who sold the Benningholme and Fairholme estate, then comprising 690 a. in four farms, to Thomas Harrison in 1769. (fn. 61) Harrison had bought another estate at Benningholme, of 439 a., in 1767. (fn. 62) He died in 1795 or 1796, (fn. 63) and his estate passed to Robert Harrison, who bought another farm with at least 94 a. at Benningholme in 1800 (fn. 64) and Benningholme manor in 1807. (fn. 65) Harrison (d. 1821) devised his Holderness estates to his daughter Ann (d. 1836), with remainder to his grandson Robert Harrison. In 1859 Robert Harrison's assignees in bankruptcy sold his estate in Swine parish to the Crown; it then comprised, besides Benningholme manor, 1,578 a. there and at Fairholme, North and South Skirlaugh, and Arnold, mostly in four farms. (fn. 66) The Benningholme estate later descended with the Crown's manor of Swine, bought in 1866. (fn. 67) In 1995 the Crown had 602 ha. (1,487 a.) at Benningholme. (fn. 68)
Benningholme Grange farmhouse is modern; the earlier house was demolished in 1967, (fn. 69) but its outbuildings, including an 18th-century cottage, remain.
Swine priory's grange of Fairholme was recorded from the early 13th century. (fn. 70) The Crown sold it in 1558 to William Edrington and Edward Beseley, (fn. 71) from whom the 70-a. estate passed, perhaps in 1594, to Marmaduke Langdale (d. 1611) (fn. 72) and later to Henry Constable (d. 1700). Thereafter Fairholme descended like Benningholme grange. (fn. 73)
William de Ros, later Baron Ros of Helmsley (Yorks. N.R.), held 1 carucate at Benningholme as mesne lord in 1287, (fn. 74) and the lordship later descended like Roos manor in the Ros family and their successors. (fn. 75) The land was evidently subinfeudated to a cadet of the Ros family, together with Thorpe manor, in Aldbrough, with which it later descended. (fn. 76) In the 1550s the estate included only 2¼ bovates. (fn. 77) It has not been traced beyond its sale to John Eldred and William Whitmore in 1611. (fn. 78)
Peter Hildyard's manor of BENNINGHOLME, mentioned in the 1370s, and the manor of 'Swine' left by Martin Hildyard (d. 1544 or 1545) were perhaps the same, (fn. 79) but no more is known of it.
Beatrice de Friboys gave Nunkeeling priory 2½ bovates and other land at East Benningholme in the earlier 13th century, and in 1535 its estate there was valued at just over £3 10s. a year. (fn. 80) After the Dissolution, a house, 3 bovates and other land, and pasturage there were granted to Sir Richard Gresham in 1540, (fn. 81) and the estate later descended with Nunkeeling manor. (fn. 82)
Meaux abbey was given 1 bovate, 10 a., all of 'Tyrnyngholmum', and three tofts at East Benningholme by Amand the butler between 1210 and 1220; part of that estate was later granted to Sir Simon Constable. (fn. 83) After the Dissolution, the abbey's land at Benningholme descended with its manor of Arnold to the Micklethwaites. (fn. 84)
Thornton abbey was recorded as a lord at Benningholme in 1316, perhaps for land attached to its manor of Woodhouse, in Arnold. (fn. 85)
The rectorial tithes of Benningholme Grange were sold by William Thornton to Cuthbert Constable in 1738 and by William Constable to Thomas Harrison, with the landed estate there, in 1769. (fn. 86) Harrison already had other tithes in Benningholme township, (fn. 87) and, at the inclosure of Benningholme ings in 1778, he was awarded 6 a. and a rent charge of £3 for his tithes there. (fn. 88) Robert Harrison merged the remaining tithes in his Benningholme and Fairholme estate in 1843. (fn. 89)
ECONOMIC HISTORY
Common lands and inclosure
Little is known of the commonable lands of Benningholme. The tillage was reduced by Sir John Cutt, who inclosed land there and at Skirlaugh for pasture before 1517, (fn. 90) but West field was named in 1616, and in 1748 East, Great, and Little fields were recorded. The location of some of the open-field land is evident from the ridge and furrow which survives near Benningholme Hall and Pasture House Farm. (fn. 91) Some grassland lay in the fields, but most of the commonable meadow land was in the ings, (fn. 92) which after mowing were grazed between August and March. (fn. 93) Rough grazing was provided largely by the carrs, or marshlands. In the earlier 13th century Swine priory and Meaux abbey resolved a dispute over marshland lying between their two houses by agreeing to inclose part of the waste, leaving the rest as a common pasture for both houses and their tenants. (fn. 94) The common pastures, which were overcharged c. 1600, (fn. 95) also included a pasture in the south of the township; (fn. 96) High and Low pastures, mentioned in 1767, were presumably divisions of the southern pasture. (fn. 97)
Swine priory's intake from the carrs adjoined its grange at Benningholme, and Fairholme grange may have been established to exploit it; (fn. 98) Newland near Fairholme was named in 1367. (fn. 99) Other early inclosures made from the commonable lands probably included a 67-a. pasture close called New field, which was shared by two farmers in 1653. (fn. 100)
Much of the commonable land remaining in the 18th century was then inclosed. Out carr, or Wawne common, c. 400 a. extending alongside Benningholme grange from Arnold in the north to Newlands in the south, was presumably all or part of the medieval common pasture. It was partitioned by the owner of the former granges, William Constable, and the lord of Wawne manor, in 1751 or 1752, and soon after divided into closes. The ditch and bank made then to separate Constable's eastern half from the rest was later part of the Benningholme-Wawne boundary. (fn. 101) Benningholme ings were inclosed with the adjoining meadows of Arnold in 1778 under the Long Riston and Arnold inclosure Act of 1771; they then comprised 95 a. Thomas Harrison received 57 a., Mrs. Lister 24 a., and there were three other allotments of under 10 a. (fn. 102) Despite the inclosures, some pasture in Benningholme seems to have remained commonable into the 19th century. (fn. 103)
Benningholme Grange had its own pinfold in 1554, (fn. 104) but it is not known whether its grounds constituted an agricultural system separate from the rest of the township. Ridge and furrow evidence shows that Park, or Grange Park, close, so called since the 17th century, was once part of the open fields, and there is no other record of a park there. (fn. 105)
FISHERIES
Fisheries at Benningholme included one in Out dyke, let by John Constable in 1551, (fn. 106) and another in a former turbary, at Benningholme Turf pits; (fn. 107) it was perhaps the same pool which was called Pitfield Fish pond in 1852. (fn. 108) Possibly another pool was the 'broad water', from which rushes, or 'dumbles', and fish were taken without licence in the 17th century. (fn. 109) There were over 100 a. of willow beds and other woodland at Benningholme in the 1850s, (fn. 110) but much had been cleared by the early 20th century. (fn. 111)
FARMS
There were usually three or four farmers at Benningholme in the 19th and earlier 20th century; in 1851 all four farms exceeded 200 a. and the largest was of nearly 500 a. Two smallholdings were also recorded c. 1930. (fn. 112) In 1995 three of the Crown's farms at Benningholme were of over 121 ha. (300 a.), the largest holding being of 296 ha. (732 a.), and there was one small farm. (fn. 113)
MILL
Nothing is known of the mill which stood on Mill hill in the north-east of the township. (fn. 114)
LOCAL GOVERNMENT
View of frankpledge at Benningholme and the regulation of agriculture there belonged to Burton Constable court in the 16th and 17th centuries. Officers appointed in the court included a constable, an aletaster, a pinder, and a bylawman for Benningholme. (fn. 115) Fourteen people were relieved permanently in the township in 1802-3, and between 1812 and 1815 there were 6-8 on permanent and 5-8 on occasional relief. (fn. 116) Benningholme township, later civil parish, joined Skirlaugh poorlaw union in 1837 (fn. 117) and remained in Skirlaugh rural district until 1935. As part of Swine civil parish, Benningholme was taken into the new Holderness rural district in 1935 and the Holderness district of Humberside at reorganization in 1974. (fn. 118) In 1996 Swine parish became part of a new East Riding unitary area. (fn. 119)
ROMAN CATHOLICISM
There may have been a dozen papists at Benningholme in the 1580s, but any other record of recusancy there was presumably made under Swine. (fn. 120)