Pages 107-118
A History of the County of York East Riding: Volume 7, Holderness Wapentake, Middle and North Divisions. Originally published by Victoria County History, London, 2002.
This free content was digitised by double rekeying. All rights reserved.
SWINE
The ancient parish of Swine was the largest in Holderness, even after the probable early loss of land to Sutton parish and the separation in the 17th century of Drypool chapelry. (fn. 1) In 1852-3 it still had 14,695 a. (5,947 ha.), and at its greatest extent it was above 5 miles (8 km.) long and broad; (fn. 2) in 1867, however, the chapelries of Bilton and Skirlaugh were made separate parishes, leaving Swine ecclesiastical parish with just over 7,000 a. (2,833 ha.). (fn. 3) The parish was situated in the centre of the Middle division of Holderness wapentake, and most of its land was in that division. Its northern end extended into the North division across Lambwath stream, which, as well as forming much of the parish boundary there, also separated the two divisions.
Apart from Swine village, the ancient parish included almost twenty villages or hamlets, half a dozen of which are now represented by isolated farmhouses and may always have been very small. By contrast, the former hamlet of Bilton, at the southern end of the parish, has grown into a virtual suburb of Hull, the built-up area of which lies c. 3 km. south-west of Swine village.
The boulder clay which covers most of the parish produces a gently-rolling landscape in the eastern half, where the ground is over 15 m. above sea level, reaching 27 m. at Ellerby. Along the northern parish boundary the higher ground falls sharply into the valley of Lambwath stream, but in the west and south it shelves down into the Hull and Old fleet valleys to less than 8 m. above sea level, falling as low as 3 m. at Swine village. Scattered sand and gravel deposits include those chosen as sites for Coniston and Thirtleby. (fn. 4)
The parish was drained by Lambwath stream, which continued south-westwards across the parish towards the river Hull, and by southern boundary streams carrying water into Old fleet and eventual outfall into the Humber. Lambwath, perhaps meaning 'lamb ford', is an AngloScandinavian hybrid name. (fn. 5) Early in the 13th century Meaux abbey made a drain from Lamb wath stream across Benningholme to the abbey mill; it was later called Monk dike and part of its course may be followed by Bull Dike drain. Other drains made or improved by the abbey probably included those along the western boundary called Moor dike and Forge, later Forth or Fore, dike. (fn. 6) Poor drainage is evident from the names Benningholme, Fairholme, and Marton, (fn. 7) where 'mere' field-names were common in 1322. (fn. 8) There were permanent pools at Swine, Wyton, and Bilton in 1367, (fn. 9) and two remained at Swine in 1735, after the failure of the plan of Joseph Micklethwaite, Viscount Micklethwaite, to drain c. 140 a. of low grounds there with windmills. (fn. 10) Inadequate drains caused flooding, and low ground in the south of the parish was also vulnerable to inundation from the river Humber; in the mid 17th century lands in the parish were rated to the maintenance of protective banks at Drypool. (fn. 11) A drain awarded in 1778 to drain Long Riston and Arnold carrs had evidently still to be made in 1783, when a revised award extended it through the existing Cowdike drain in Benningholme. (fn. 12) As elsewhere in the Hull valley, (fn. 13) effective drainage of the marshy, low grounds, or carrs, only began after the formation in 1764 of the Holderness Drainage Board, notably by the cutting of a new outfall to the Humber in the 1830s. Other new drains included Swine, Benningholme, and Arnold ings drain, which was made in the earlier 19th century. (fn. 14) Just over 1,720 a. of low grounds in the west of the parish were rated to the drainage in 1775 (fn. 15) and some 2,000 a. in the 1830s. (fn. 16) Nevertheless, flooding remained a problem, particularly on the higher ground in the narrow Lambwath valley between Aldbrough and Rise parishes. Attempts to enlarge the Lambwath drain were blocked repeatedly by the Holderness Drainage Board, which feared the overloading of its system. About 1830 the Lambwath proprietors petitioned unsuccessfully to have their 'unhappy valley' included in a new Holderness Drainage Bill, claiming that normal rainfall resulted in 400 a. being flooded for two or three weeks, and that heavier falls covered all 600 a. or more to the east of Rise with 2-3 ft. of water, besides overflowing to the west. (fn. 17) The Holderness Board's responsibilities were later exercized by the Yorkshire Ouse and Hull River Authority, which widened Swine Church drain c. 1970, (fn. 18) by the National Rivers Authority, and in 1998 by the Environment Agency. (fn. 19)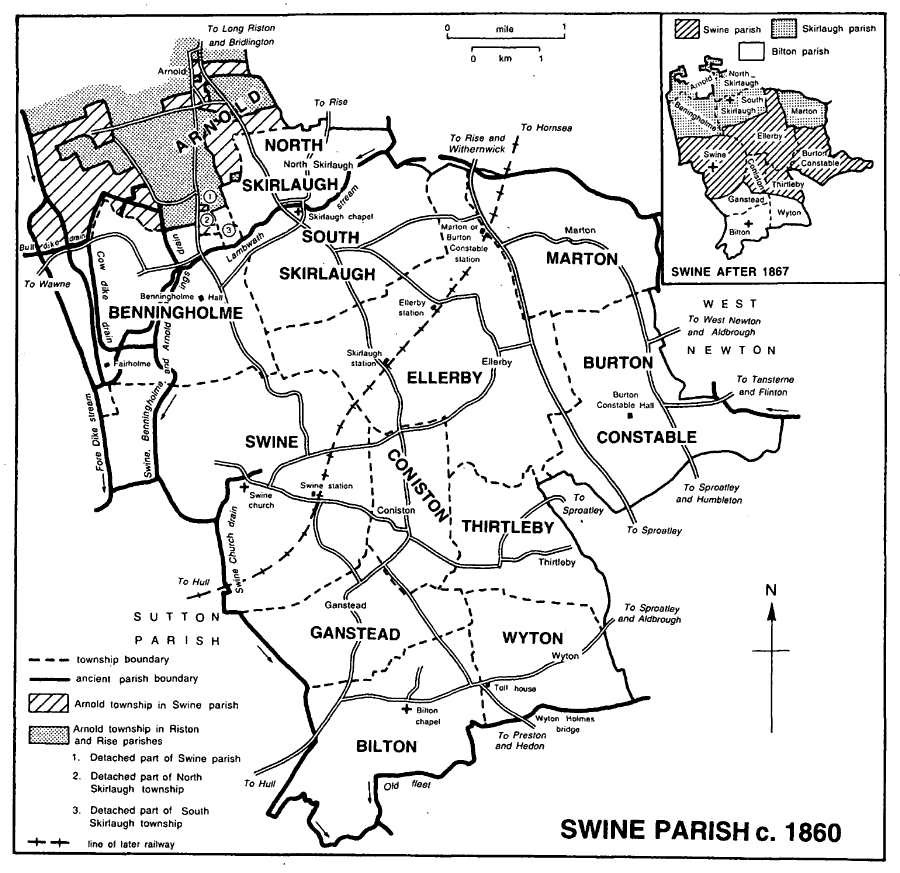 The ancient parish had more than 3,275 a. under crops in 1801, when much of the land in the south was occupied by pastures. (fn. 20) In the mid 19th and early 20th century there was generally almost twice as much arable land as grassland, 9,935 a. and 5,360 a. respectively being recorded in 1905. (fn. 21) Grassland and woods were, however, relatively predominant in and around Burton Constable, where in 1963 the Chichester- Constables had a compact estate of c. 5,000 a. (fn. 22) Otherwise the grassland was generally dispersed among the arable land, with slightly larger areas in the low-lying parts of Benningholme, Bilton, Ganstead, and Swine. (fn. 23) Proximity to Hull and Beverley has encouraged dairying and, perhaps to a lesser extent, market gardening and nurserying, (fn. 24) but in 1994 the area was overwhelmingly arable.
The main roads of the parish are those from Hull leading north to Bridlington by way of Ganstead, Coniston, and South Skirlaugh, and north-eastwards through Bilton and Wyton to Aldbrough. Minor roads connect the other settlements, including Swine village, with the main routes. The Bridlington road crosses Lambwath stream by a bridge, for which Swine priory was responsible in 1367. (fn. 25) The road was much improved after designation as a main road in 1921. (fn. 26) The Lambwath stream bridge was rebuilt by the county council in 1926, (fn. 27) and the road was widened and straightened in the later 20th century; much work was done in Skirlaugh village, by-passes were made for Coniston and Ganstead, (fn. 28) and another bridge, carrying the road over a drain in Ganstead, was widened in 1954. (fn. 29) The Aldbrough road was carried over Old fleet and a tributory stream respectively by Wyton Holmes bridge, recorded in 1367, and Bilton bridge, mentioned from the 13th or 14th century. (fn. 30) In 1745 the Aldbrough road as far as Wyton and a side road thence leading south to Preston and Hedon were turnpiked, and in 1767 the rest of the Aldbrough road in the parish was included in the Hull-Hedon trust, which was discontinued in 1878. (fn. 31) Wyton Holmes toll house stood in the junction of the Aldbrough and Preston roads until its demolition c. 1950. (fn. 32) Mile stones remain beside both the Aldbrough and Preston roads. The Aldbrough road was staightened at Wyton c. 1850, (fn. 33) and in 1884 the part between Hull and the western boundary of Wyton was declared a main road. (fn. 34)
The Hull-Hornsea railway line, opened in 1864, (fn. 35) crossed the parish. Swine station was built between the village and Coniston, Skirlaugh station beside the Bridlington road between Coniston and South Skirlaugh, Ellerby station north-west of that hamlet, and Marton or Burton Constable station west of Marton. (fn. 36) Ellerby station was closed for passengers in 1902 but continued as a goods depot until its closure in 1959; Burton Constable station was renamed Ellerby in 1922. Skirlaugh station was closed to passengers in 1957 and entirely in 1963, and Swine and Ellerby to goods in 1963 and entirely in 1964. (fn. 37) The line was closed in 1965; (fn. 38) the track has been lifted and its course designated a footpath. Station and other buildings were used as houses in 1994.
In the mid 19th century Swine parish lay, for the purposes of civil government, in thirteen townships, later civil parishes, of which Arnold and West Newton also contained parts of neighbouring ancient parishes. The number of civil parishes was later reduced by amalgamation, mainly in 1935, and there was further adjustment in 1952. Those changes are detailed below, where treatment is according to the earlier arrangement of townships, beginning with the history of Swine village itself.
The small village of Swine, formerly the site of a Cistercian priory and in the 19th century mostly rebuilt by the Crown, lies near the western boundary of the extensive parish, only 3 km. north and north-east of the built-up area of Hull. Its name is Anglian and alludes to a creek, possibly of the river Humber. (fn. 39)
There were 2,286 a. (925 ha.) in Swine township. (fn. 40) In 1935 Swine civil parish was combined with that of Benningholme and Grange as the new civil parish of Swine, with an area of 3,792 a. (1,535 ha.). (fn. 41) There were 240 poll-tax payers at Swine in 1377, (fn. 42) the village had at least 40 houses in 1536, (fn. 43) and 30 were assessed for hearth tax in 1672. (fn. 44) Of the 171 families recorded under the parish in 1743 and 144 in 1764, (fn. 45) a substantial minority presumably lived in Swine township, but during the 19th century its population of c. 200 was overtaken by other places in the parish. The population, 204 in 1801, rose to 231 in 1831, fell to 180 in 1871, recovered to 212 in 1921, and fell again to 176 in 1931. Swine and Benningholme together had 269 inhabitants in 1931. That population continued to decline after their union in 1935, to 222 in 1961, 185 in 1971, and 167 in 1981. In 1991 the usual population was 182, of whom 173 were present. (fn. 46)
Early roads in Swine included Skirlaugh gate and West Carr gate, both recorded in 1454-5, when wine was carried to the village from Hull along navigable drains by way of 'Fishhouse'. (fn. 47) There was evidently a road to Wawne in 1618 but that to Benningholme seems to have been made in the earlier 19th century. (fn. 48)
Swine village formerly stood on a long street leading south-eastwards to Coniston. On the south side of the street the buildings, which included the church, the manor house, and the priory, extended for only about ½ km. but on the north side houses were spaced all the way to the Coniston boundary. A few more stood in northern side lanes, (fn. 49) one of which, leading towards the main road and Benningholme, was called Dancing Lane in the 1850s. (fn. 50) Many cottages were said to have been demolished at Swine in the earlier 17th century, (fn. 51) and the priory buildings (fn. 52) had been removed by 1700, when the village was described as 'very mean and inconsiderable'. (fn. 53) The priory site was marked in 1994 by traces of fishponds and other earthworks, some in the misnamed Abbey Garths. In 1994 the village comprised a dozen houses set back behind the grass verges of its street; most of the buildings, one or two with tile-hung walls, dated from the Crown's rebuilding of the village and outlying farms in the 1860s. (fn. 54) The Crown sold half a dozen houses c. 1965, (fn. 55) and in 1967 a sewage disposal works which the Crown Estate Commissioners had built for the village was adopted by Holderness rural district council. (fn. 56) Swine village was designated a conservation area in 1991. (fn. 57) Part of a village cross survived in Coniston Lane. (fn. 58)
There were up to three licensed houses at Swine in the later 18th century but only one in the 1820s, then called the White Lion or the Black Bull, its later name. (fn. 59) The Black Bull was evidently closed c. 1870. (fn. 60)
OUTLYING BUILDINGS
The reduction of the village in the 17th century was in part compensated for by the building of outlying farmhouses following inclosure in the 1650s. By 1735 the Micklethwaites had put up Kelwell, Hill, Carr House, Woodhouse, Great Stanks, and Bridge House Farms, Sleightings Farm, beside the Ellerby road, and possibly other outlying houses. (fn. 61) Like those in the village, the outlying farmhouses were rebuilt by the Crown in the 19th century, and a few cottages have been added since then.
Roman coin hoards have been found in the township. (fn. 62) The origins of an embanked enclosure on the northern boundary, described in the early 19th century, (fn. 63) are unknown.
MANORS AND OTHER ESTATES
In 1066 and 1086 the archbishop of York had SWINE manor, comprising 7 carucates and 7 bovates there and berewicks at Danthorpe, in Humbleton, Marfleet, Skirlaugh, and Sproatley. (fn. 64) Swine was evidently held of the archbishop with Winestead by the Verlis. (fn. 65) The first known tenants were Richard de Verli (fl. 1115) and Hugh (fl. later 12th cent.). (fn. 66) The same or another Hugh de Verli (d. by 1227) left as heirs two sisters, one of whom, Agnes de Verli, wife of Sir Alexander of Hilton (d. 1242), was succeeded by her son (Sir) Robert of Hilton. Robert, who was granted free warren in Swine in 1256, (fn. 67) was then co-tenant with Nicholas de Piselegh, who had married Verli's other sister Amabel. (fn. 68) He evidently later succeeded to the whole manor, and entailed it on a younger son Sir William of Hilton (d. c. 1290) and William's wife Maud. (fn. 69) Maud married secondly Sir Robert de Tilliol, (fn. 70) who in her right was named joint lord of Swine in 1316. (fn. 71) She died in 1343 and was succeeded in the manor by her son Sir Robert Hilton. (fn. 72) He was followed about 1351 by his son Sir Robert, whose widow Maud held the manor in 1363. (fn. 73) The manor then descended from father to son to two further Sir Robert Hiltons, (fl. 1393) (fn. 74) and died c. 1430. (fn. 75) After the death in 1459 of the last Sir Robert's brother, Sir Godfrey Hilton, who seems to have held Swine manor for life, it fell to the share of one of Robert's daughters and coheirs, (fn. 76) Elizabeth wife of (Sir) John Melton, Lord Lucy. (fn. 77) In 1472 Melton (d. 1474) settled more than 2 carucates at Swine on his grandson and heir John and John's wife. (fn. 78) The latter John, later Sir John Melton, Lord Lucy (d. 1510), (fn. 79) was succeeded by his son Sir John, Lord Lucy (d. 1544), whose heir was his daughter Dorothy (d. 1557), wife of Sir George Darcy, Lord Darcy. (fn. 80) Swine later descended in the Darcys. (fn. 81) In 1639 Anne Savile, sister and heir of John Darcy (d. 1635), Lord Darcy, sold Joseph Micklethwaite the manor, (fn. 82) in which Lord Darcy's widow and her husband Sir Francis Fane had an interest for her life. (fn. 83) In 1653 Joseph (d. 1658) and his son John (d. 1660) acquired the former priory's manor of Swine, and in 1681 John's son Joseph bought the rectorial estate there and at Ganstead. (fn. 84) From the last Joseph the estate descended in turn to his sons Thomas (d. 1718) and Joseph Micklethwaite, later Viscount Micklethwaite. (fn. 85) Lord Micklethwaite, who enlarged the estate by purchase in 1720, (fn. 86) died in 1734, leaving nearly 2,200 a. in Swine to Ann Ewer. (fn. 87) She (d. 1739 or 1740) devised it to her nephew Anthony Ewer (d. by 1756), (fn. 88) who was succeeded by his daughter Elizabeth, later wife of Sir Francis Wood, Bt. (fn. 89) From Lady Wood (d. 1796), the estate descended to an Ewer relative, Cropley Cooper, later earl of Shaftesbury (d. 1851). (fn. 90) In 1866 Cropley's son Anthony Cooper, earl of Shaftesbury, sold Swine manor with 2,165 a. in ten farms to the Crown, (fn. 91) which had bought Benningholme manor and 1,578 a. in 1859 and in 1870 added just over 600 a. more at Oubrough and Dowthorpe. (fn. 92) In 1995 the Crown's Swine estate comprised 1,869 ha. (4,618 a.), of which 933 ha. (2,306 a.) belonged to farms in the former township of Swine but evidently included a small area elsewhere. (fn. 93)
Hugh de Verli's house at Swine was recorded in the later 12th century. (fn. 94) In the mid 15th century the manor house of the Meltons included a hall, outer hall, great chamber, and 'knight chamber'; (fn. 95) it seems to have stood on the east side of the church. (fn. 96) The amalgamation of the chief manor of Swine and the former priory's estate in 1653 makes later identification of the manor house uncertain. The 'mansion house of Swine' whose contents were sold by John Micklethwaite to John Dalton in 1660 (fn. 97) was perhaps the manor house, and it may have been the same house, the largest in Swine, which had 13 hearths in 1672. (fn. 98) By the mid 19th century Swine Hall, standing near the church, was regarded as the 'old manor house'; it was probably demolished in or soon before 1868, when a vicarage house was built on the site. (fn. 99)
In the late 13th century deer were taken from Robert of Hilton's park at Swine. (fn. 100) The park, which had evidently been disparked by the mid 15th century, (fn. 101) may have lain south and west of the church around Giant hill, an artificial mound thought to date from the 14th or 15th century and possibly made as a look-out for hunting and fowling; (fn. 102) in 1618 the mound stood in a large close called the Pighill and Appleyard which adjoined Park close. (fn. 103)
Swine manor evidently included land held of the Hiltons by the Sutton family and later reckoned part of Sutton parish. Saer of Sutton (d. by 1290) was succeeded in Bransholme and other land by his son John, Lord Sutton (d. by 1338), (fn. 104) and John's daughter-in-law Aline (d. 1363) was said to have c. 400 a. in Swine, including the site of the Suttons' house, Bransholme castle. (fn. 105) Bransholme descended, with Sutton manor, to Thomas Sutton, Lord Sutton, (fn. 106) and then to his heirs. (fn. 107) The formerly moated Castle hill (fn. 108) remained in 1994.
Besides the church, Swine priory received gifts of land at Swine from Nicholas de Chevincourt and Thomas Riston. (fn. 109) The house was surrendered in 1539, (fn. 110) and much of its landed estate in the parish, including the priory site, was granted to Sir Richard Gresham in 1540 and returned to the Crown by exchange in 1544. (fn. 111) In 1557 Sir John Constable and his son Henry bought the priory site with 572 a. of demesne land in Swine, 297 a. in Oubrough grange, and land called Ganstead Inholmes, all of which was to be held in chief as 1/40; knight's fee. (fn. 112)
Henry Constable sold the priory estate at Swine in 1583 to Robert Dalton (d. 1626), who was succeeded in turn by his son Thomas (d. 1639) and grandson John. (fn. 113) John exchanged it in 1653 with Joseph Micklethwaite (d. 1658) and his son John (d. 1660); the PRIORY manor then included the priory site, a chief house, and c. 3½ carucates. (fn. 114) The estate later descended with Swine manor. (fn. 115)
Thornton abbey (Lincs.) was named as joint lord of Swine and its members in 1316, (fn. 116) and premises in Swine, appurtenant to the abbey's manor of Woodhouse, in Arnold, were granted after Thornton's dissolution to its short-lived successor, Thornton college, in 1542. (fn. 117) It may have been the abbey's estate at Swine which belonged to William Whitmore and then to Francis and Samuel Barlow. The Barlows sold it in 1718 to Joseph Banks and Michael Pierrepoint, from whom Joseph Micklethwaite, Viscount Micklethwaite, bought it in 1720. (fn. 118) It evidently later descended with Swine manor. (fn. 119)
The RECTORY belonged to Swine priory until its dissolution. In 1546 the Crown granted it to Sir Richard Gresham. (fn. 120) He (d. 1549) devised it to his daughter Elizabeth (d. 1552) and then in turn to his sons Sir John (d. by 1563) and Sir Thomas (d. 1579). (fn. 121) It later descended with Sir Thomas's share of Nunkeeling manor, (fn. 122) George Feilding, earl of Desmond, and Leices ter Devereux, viscount Hereford, being named as impropriators for the co-heirs in 1650, (fn. 123) and Lord Hereford's executors selling the rectory in lots in 1681.
Much of Swine rectory was bought in 1681 by Arthur Thornton, the purchaser at Nunkeeling, and descended with that estate to William Thornton, (fn. 124) who sold many of the tithes in the mid 18th century. The parsonage house, glebe lands, and all the tithes and dues of Swine township were, however, sold as another lot in 1681, to Joseph Micklethwaite. (fn. 125) His title descended with Swine manor to Cropley Cooper, earl of Shaftesbury, who in 1848 was awarded a rent charge of £13 6s. for the few unmerged tithes in Swine. (fn. 126)
ECONOMIC HISTORY
Common lands and inclosure
The open fields of Swine township were called North, South, East, and West fields in the mid 15th century. East field, which included land at North croft, was by 1618 part of North field, and South field was known by the mid 16th century as Mill field. The boundary between North and East fields would seem to have been the Skirlaugh road, on either side of which a different rotation was followed in the 15th century. West field had an outlying part south of the village in 1618, when other ground, called Gildums Arable, may have been a detached part of Mill field. (fn. 127) The commonable lands also included meadow land in Town ings and stinted pasture in West and North carrs, and perhaps also in a cow pasture called the Firth or Frithes in the 15th century. (fn. 128) Town ings presumably lay south of the village, where 'meadow doles' were recorded in 1618 and later Ings closes, and the Firth to its north, where land which may then have been tilled was named 'common pasture' and 'cow gate' in 1618. (fn. 129)
Swine priory may have been engaged in the wool trade c. 1200, (fn. 130) wool was stored in the church c. 1300, (fn. 131) and before 1517 the house was said to have inclosed arable land for pasture with the loss of one plough. (fn. 132) The remaining commonable lands in Swine were mostly inclosed by agreement between Joseph Micklethwaite and the other proprietors in or soon after the Micklethwaites' acquisition of the former priory's estate in 1653. (fn. 133) Great ings, comprising c. 130 a., remained commonable, however; (fn. 134) after mowing, the meadows were grazed, from August to November in 1729 and from May until Christmas in 1760, at the rate of a gate for each 2 a. held there. (fn. 135)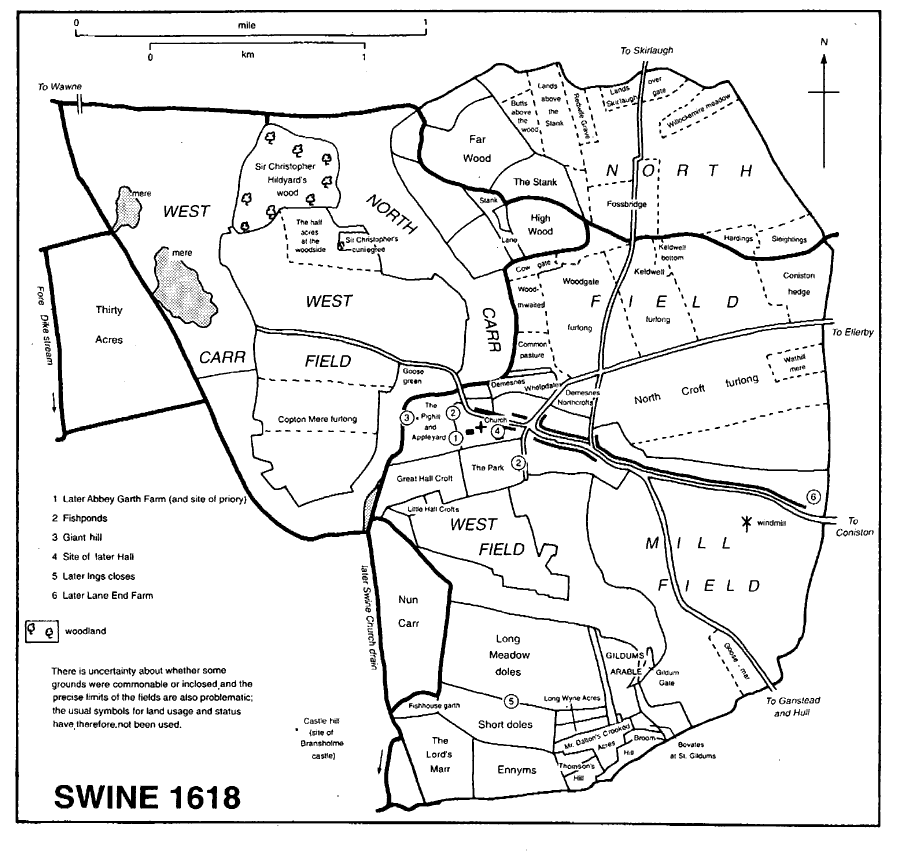 THE MANOR
The income from Swine manor in 1447-8 was c. £60 gross. (fn. 136) Tenants' rents totalled £44. The cottagers also owed a small sum as 'boonsilver' in lieu of works, and they and the tenants at will rendered fowls, 'lakehens' and 'tethering' hens, the latter paid for the right to tether horses in the lord's meadow, perhaps Hall croft, after mowing. Wood sales were worth £6 and leases of pasturage c. £4. The rest of the income came mostly from sales of meadow, hay, rushes, hides, and fleeces, and from fines for infringments of the ale assize and other court perquisites. The demesne was then farmed directly under the supervision of a manorial reeve, a hayward, a forester, a mill- and wood-reeve, and two supervisors of pasturage (agistati), whose responsibilty presumably extended to the manor as a whole. A small, permanent staff was enforced by casual labourers, of whom as many as 410 were hired for the harvest of 1448. The demesne had been leased by 1544. (fn. 137)
At the end of the 15th century 16 tenants at will on Swine manor held nearly 2 carucates between them, and 44 cottagers occupied 13 a. of meadow and pasture gates. (fn. 138) In 1735 the manor, then of c. 2,200 a. and comprising practically the whole township, lay in 14 holdings, of which three farms were of just over 200 a. each, six of 150-199 a., three of 100-149 a., and two of under 30 a. (fn. 139)
WOODLAND
The manorial demesne included extensive woodlands north of the village, part of them named in the 15th century as the Stanks. (fn. 140) Much of the woodland had been cleared and divided into closes by 1618, when field names included the Stank, Stank Lane, High Wood, and Far Wood. There then remained a large wood, called Sir Christopher Hildyard's wood, and nearby the smaller Sir Christopher's 'cuniegree'. (fn. 141) In 1735 the 'woodground remaining unstubbed called Swine wood' comprised 14 a.; it was felled between 1781 and the early 19th century. (fn. 142) Other old inclosures at Swine included Thirty Acres pasture, which was part of the priory's demesne. (fn. 143)
FISHERIES
The fishing of a stream between Fairholme and Swine mere, presumably part of Lambwath stream, was released to Swine priory in 1236, (fn. 144) in the 14th century fisheries at Swine belonging to the priory and to the Crown were said to have been trespassed upon, (fn. 145) and a fishery on Swine manor was let in the 1440s. (fn. 146)
LATER AGRICULTURE
Of 1,373 ha. (3,393 a.) returned under Swine civil parish in 1987, 1,240 ha. (3,064 a.) were arable land, 107 ha. (264 a.) grassland, and 12. 1 ha. (30 a.) woodland; more than 14,000 pigs, 300 sheep, and 200 cattle, and nearly 30,000 poultry, were then kept. (fn. 147) One or two market gardeners and a cowkeeper worked at Swine in the later 19th and earlier 20th century, (fn. 148) and in 1987 vegetables were grown on 20.3 ha. (50 a.) of Swine civil parish. (fn. 149)
In the mid 19th century there were a dozen farmers at Swine, and later that century and in the earlier 20th usually 7-8; most of the farms were of 150 a. or more. (fn. 150) In 1995 there were eight holdings on the Crown's estate at Swine; the largest was of 170 ha. (420 a.), three were of 121-162 ha. (300-399 a.), three of 81-121 ha. (200-299 a.), and one of 28 ha. (69 a.). (fn. 151)
INDUSTRY
Gravel has been dug at Swine, (fn. 152) the Swine estate included a brick kiln in 1866, (fn. 153) and there was a small engineering concern in the village in 1993.
MILLS
Swine manor included a windmill in the 1440s, (fn. 154) and there was possibly another on the priory's estate in 1536, when a millhouse was recorded. (fn. 155) In 1618 a windmill stood south of the lane to Coniston in Mill field. (fn. 156) There was also a water mill on a small stream on the boundary with Benningholme into the 19th century, (fn. 157) but no more is known of it.
LOCAL GOVERNMENT
Swine manor court was held twice a year in the mid 15th century. (fn. 158) Surviving records include an estreat of 1536, a record of a session in 1624, (fn. 159) by-laws made in the court between 1729 and 1764, (fn. 160) and brief minutes for 1759-64. (fn. 161) The jurisdiction of the court included the view of frankpledge and the ale assize, but it was mostly concerned with drainage and the regulation of common grazing by the 18th century, and then seems to have met only once a year. Two affeerors, a constable, and a pinder were appointed in the court c. 1760, and a pinder as late as 1866. (fn. 162) Courts were also held at Swine by the priory. (fn. 163)
A poorhouse was maintained at Swine. (fn. 164) Nine people were relieved permanently and 5 occasionally in the township in 1802-3, and 8-15 were on permanent and 9-11 on occasional relief between 1812 and 1815. (fn. 165) Swine joined Skirlaugh poor-law union in 1837, (fn. 166) and the township, later civil parish, remained in Skirlaugh rural district until 1935. As part of an enlarged civil parish of Swine, it was then included in the new Holderness rural district, and at reorganization in 1974 was taken into the Holderness district of Humberside. (fn. 167) In 1996 Swine parish became part of a new East Riding unitary area. (fn. 168)
CHURCH
There was probably a church at Swine in 1086, when a priest was recorded on the manor, (fn. 169) and certainly one c. 1150, when the Verlis gave it to Swine priory at that house's foundation. (fn. 170) The priory was cited before the archbishop for failing to provide a perpetual vicar for the parish church in 1308-9, (fn. 171) and an ordination for Swine church, which does not survive, was made soon afterwards, the first known vicar being presented in 1323. (fn. 172) Another ordination was made in 1539, just before the priory's surrender. (fn. 173) The ancient parish included chapels at Bilton, Drypool, Ganstead, Marton, Skirlaugh, and Wyton. Ganstead chapel may have been abandoned before the 16th century and Marton in the 17th; Wyton chapel was lost c. 1660. Drypool chapelry became a separate parish in or soon after the mid 17th century and those of Bilton and Skirlaugh in 1867. Thereafter the reduced parish comprised Swine township, Burton Constable, Coniston, Ellerby, and Thirtleby. A mission chapel was built at Ellerby in 1889. (fn. 174)
The patronage of Swine vicarage remained with the priory in the Middle Ages. (fn. 175) After the Dissolution the Crown granted the advowson to Sir Richard Gresham in 1546, (fn. 176) and it later descended with the rectory in the Greshams and their successors, the Crown presenting in 1625 during the minority of Bridget Stanhope, later Feilding. (fn. 177) (Sir) William Thornton evidently sold the advowson c. 1700. In 1705 Ann Tadman presented John Moorhouse, and he (d. 1740) and his heirs later had the advowson, it falling to Sarah Brown at partition in 1791. (fn. 178) The patronage was bought by William Wilberforce (d. 1833), the philanthropist, and descended to his son William. (fn. 179) Later in the mid century it was vested in G. T. Woodroofe, the family's lawyer, because of their Roman Catholicism, and Woodroofe and his successors kept the patronage until the 1970s, when it was evidently returned to the Wilberforces. In 1994 the joint patrons were W. J. A. Wilberforce and Baroness de Stempel. (fn. 180)
Swine church was valued at £53 6s. 8d. in 1291. (fn. 181) On the eve of the Dissolution the priory was paying the vicar a stipend of £5 6s. 8d. a year, besides providing him with board valued at £2 13s. 4d.; about £8 may also have been spent on the salaries and board of the parish priest and a deacon. (fn. 182) By the ordination of 1539 the vicar was to receive £13 6s. 8d. a year from the rectory, besides his house and grazing or fodder for two horses. (fn. 183) By 1546 the vicar's stipend had been increased to £14 13s. 4d. and an allowance of £2 made for providing bread and wine for services in the parish. (fn. 184) After the loss of Marton chapel, the share of the tithes there previously enjoyed by its chaplain passed to the vicar; they were evidently compounded for £13 6s. 8d. a year by the late 17th century (fn. 185) and in 1849 were commuted for a rent charge of £18. (fn. 186) That charge was annexed to Skirlaugh benefice in 1867. (fn. 187) The vicar also received a modus of 3s. 4d. a year for tithes at Ellerby, a rent charge of that amount being substituted in 1849. (fn. 188) The vicarage was augmented with £200 from Queen Anne's Bounty to meet a benefaction of that sum in 1783, with a Parliamentary grant of £1,200 in 1816, and with another £200 of Bounty money to meet benefactions totalling £200 in 1842. (fn. 189) Further benefactions, comprising the 4-a. parsonage site (fn. 190) and £1,050, had been received by 1867, when £40 a year to meet them was granted from the Common Fund. (fn. 191) The annual net income was £102 between 1829 and 1831 and c. £165 in 1882. (fn. 192)
The augmentations were used to buy almost 20 a. at South Skirlaugh in 1785 and the same at Thorngumbald, in Paull, in 1827. (fn. 193) The land at South Skirlaugh was sold in 1925. (fn. 194)
At the Dissolution the vicar shared one of the priory's houses, formerly used for visitors, with four or five priests serving the parish and priory churches, and, as the 'Guest Hall', that house was assigned to him by the ordination of 1539. (fn. 195) Another house seems to have been used later, however, when the vicarage house was described as a small building north of the church. The house, which was in disrepair in 1567 and again c. 1700, had evidently been abandoned by the vicar by 1717, when it was used as an alehouse, (fn. 196) and was demolished before 1726. There was later no house, and the vicar was living at Coniston, presumably in a rented house, in 1842-3, when a vicarage house was built with Bounty money and benefactions on the glebe land at South Skirlaugh. (fn. 197) That house was replaced by another in Swine village, built in 1868 with aid from the Common Fund on 4 a. granted by the Crown. (fn. 198) A new vicarage house was built nearby about 1967, when the redundant house was sold, as Priory House, with nearly 3½ a. (fn. 199) After 1868 Holyrood House, the former vicarage house at South Skirlaugh, was used as a farmhouse; it was sold in 1925. (fn. 200)
In the 14th century Swine priory mostly presented members of its community or of other religious houses as vicar, but later, presumably because of the removal of the canons from Swine, secular priests were appointed. (fn. 201) The medieval church included a chantry (fn. 202) and a guild (fn. 203) of St. Mary. A chapel of unknown purpose stood in the churchyard in the 1440s. (fn. 204) One of the chapels at Swine was endowed with two houses and an acre in 1548. (fn. 205) At the Dissolution the vicar was assisted by a parish priest and a deacon. (fn. 206) Robert Read, vicar from 1540, married and was deprived in 1554. (fn. 207) Sermons were lacking in the mid 16th and early 18th century. (fn. 208) In the mid 18th century the incumbent lived at Sproatley, one of his other livings, and employed a curate to reside and do his duty at Swine. One Sunday service was then held in the parish church and Holy Communion was celebrated three or four times a year, with 70-80 recipients. (fn. 209) Curates were again employed in the earlier 19th century, (fn. 210) but the archbishop ordered a vicar to reside in 1836 and later removed him for refusing to comply. (fn. 211) There was still only one Sunday service in the parish church in 1865 but two services were provided by 1868, and celebrations of communion were monthly by 1871, fortnightly in 1884, and weekly by the early 20th century; in the later 19th century only a dozen usually received. Mission services at Coniston and Ellerby and cottage lectures were adopted in the 1870s and 1880s to meet the problem of a still-large parish with a marginally-placed church, and a mission chapel was built at Ellerby in 1889. (fn. 212) William Cobby was vicar from 1875 to 1930. (fn. 213) In 1994 when the living was vacant there were regular celebrations of communion but few other services.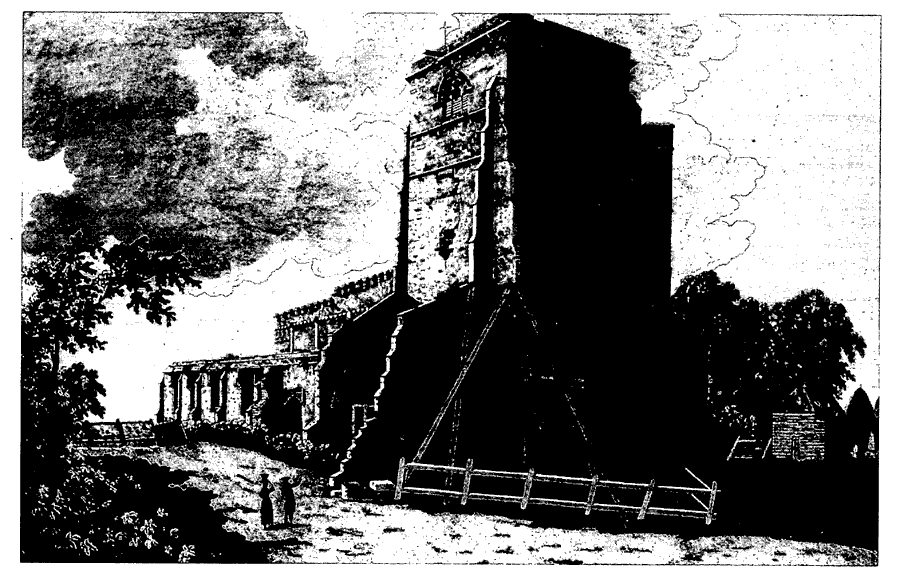 The church of ST. MARY, so called from the 12th century, (fn. 214) was formerly a cruciform building, the eastern arm of which was occupied by the parish church and the part west of the crossing tower by the priory church. That unusual disposition of priory and parish churches is also found, however, at Nunkeeling. (fn. 215) The nuns' church was evidently demolished soon after the Dissolution, apart from some fragments which remained in 1784; (fn. 216) its site and that of the claustral buildings was occupied in 1998 by the large yard and outbuildings of the neighbouring farm.
The parish church comprises a structurallyundivided chancel and clerestoried nave, with north chapel and south vestry to the chancel, and aisles, south porch, and west tower to the nave. It may have been rebuilt late in the 12th century, following the completion of the priory church and tower, whose western arch was of slightly earlier date. (fn. 217) Part of a 13th-century window head, with nailhead on its former external face, survives in the chancel, and is evidence for alterations to the east end at that date. In a dispute with the priory c. 1300 the parishioners made good their claim to a chapel called the North Crouch, which was situated in the north transept and housed St. Andrew's altar. (fn. 218) Both aisles of the parish church were rebuilt, and presumably widened, in the 14th century, a monolithic window head, reused in the south aisle wall, providing evidence for an earlier church on the site. The north aisle was also then extended eastwards to form the chapel, which was probably used as a burial place for the lords of the manor and was later called the 'lord's aisle'. (fn. 219) The tower was heightened at about the same time. (fn. 220) In the 15th century the east end was remodelled, principally by the insertion of new windows into the end of both aisles and the east and south sides of the chancel. The fabric was neglected after the Dissolution, (fn. 221) and the chancel roof had been lowered and part of the east window stopped up by the end of the 18th century. (fn. 222) In 1787 the truncated tower was rebuilt on a smaller base but slightly higher using much of the old stone. (fn. 223) The church was restored in the early 1870s. (fn. 224) A west gallery built in 1722 was then removed, the south vestry evidently rebuilt, (fn. 225) and it was perhaps then that the fittings were rearranged to bring the easternmost bay of the nave into the chancel. The north aisle and chapel were restored in the 1980s, (fn. 226) and in 1994 the church was being repaired by Community Action volunteers. (fn. 227)
The fittings include eight stalls with misericords of c. 1500; they were evidently moved from the priory church at its destruction and were formerly more numerous and canopied. (fn. 228) The north chapel is divided from the aisle by a screen put up in 1531 by the Darcys and later mutilated. The screen bears a now incomplete inscription referring to St. Mary's chantry, which was founded by Walter Skirlaw, bishop of Durham (d. 1406) (fn. 229) and presumably held in the chapel. Also of the 16th century is the low, chancel screen, which was cut down in the 18th century. (fn. 230) A 14th-century chest tomb bearing effigies of a knight and lady, all of stone, is built into the south aisle wall. The north chapel, now called the Hilton chapel, has three similar tombs, of alabaster and representing three knights and two ladies of the 14th and 15th centuries; all are believed to commemorate Hiltons, and they almost certainly include the tomb of Sir Robert Hilton (d. c. 1430) and his wife. (fn. 231) The tombs in the chapel have been rebuilt and renovated in the present century. (fn. 232) The chapel formerly also contained brasses commemorating John Melton (d. 1458) and his wife. (fn. 233) Stone coffins discovered during the 19th-century restoration (fn. 234) were kept in the aisles in 1994. The church also has a pulpit of 1619, a small font, comprising a late 18th-century bowl of Coade stone with Gothick ornament on a possibly medieval shaft, and an iron chest, with the initials J. M., possibly those of one of the Micklethwaites. (fn. 235)
There were two bells in 1552 and later four, which were refounded or replaced in 1800 by James Harrison of Barton upon Humber (Lincs.). (fn. 236) The plate includes a cup of 1570, (fn. 237) a paten of 1681, and a flagon and a remade cup, both of 1819. (fn. 238) The registers begin in 1706 and are complete; transcripts survive from 1600. (fn. 239)
Land on the south side of the church was added to the churchyard in 1923 and consecrated in 1924. (fn. 240)
The parish clerk of Swine was entitled to sheaves of wheat from Arnold, Benningholme, and Coniston, besides his Easter dues. At inclosure in 1790 an annual rent of £1 12s. was substituted for those from Coniston, and the Benningholme sheaves had been compounded for a rent of £1 1s. by 1857. (fn. 241)
NONCONFORMITY
The Daltons of Swine were Roman Catholic, and 25 papists were recorded under the village in the 1660s and 17 in 1735. (fn. 242) Eight protestant dissenters were recorded under Swine in 1676, (fn. 243) when the prominent Quaker John Whitehead lived in the parish. (fn. 244) In Swine township unidentified prot estants registered buildings in 1804, 1811, 1816, and 1827. (fn. 245) They probably included Independents, who fitted up premises there c. 1800, encouraged by Fish Street chapel, Hull. (fn. 246) A house at Swine used by that congregation later passed to Wesleyan Methodists, who were in turn succeeded in 1846 by the Primitives. The last mentioned congregation numbered c. 30 in 1851. (fn. 247) The location of the house and further history of the congregation are unknown. A Wesleyan chapel being built at Swine in 1892 was probably opened in 1894. (fn. 248) It was closed in 1940, (fn. 249) evidently sold in 1957, (fn. 250) and used as a house by 1993.
EDUCATION
A schoolroom built at Swine with the bequest of Ellen Dunn (d. 1691), a servant of the Micklethwaites, (fn. 251) was presumably that later standing on the north side of the street. (fn. 252) An unlicensed schoolmaster was teaching in Swine in 1693, (fn. 253) and in 1743 the school had over 20 pupils and was supported by the villagers. (fn. 254) The boys' school recorded c. 1820 was probably the same; it then received £6 from £200 stock given in 1798 by Mrs. Elizabeth Lamb, a native of Swine, for the teaching of six children of Swine township and £5 5s. from the earl of Shaftesbury to support five pupils. (fn. 255) The school had 25 pupils, including the 11 taught free, in 1833. Twenty girls were then taught at their parents' expense in two other schools at Swine. (fn. 256) Swine school was closed following the earl of Shaftesbury's sale in 1866, but in 1868 the Crown built a new school with master's house on another site and opened it as a National school for boys and girls, including infants. (fn. 257) It was supported by subscription and from 1869 by an annual government grant. (fn. 258) On inspection in 1871 there were 28 pupils, among them children from Coniston, Ellerby, Ganstead, and Thirtleby. (fn. 259) Between 1906 and the early 1930s average attendance usually exceeded 50, and a classroom was added in 1934. (fn. 260) Numbers fell soon after to an average of 38 in 1937-8, (fn. 261) and in 1954 senior pupils were transferred to South Holderness County Secondary School. (fn. 262) Swine school was closed in 1968, the pupils being transferred to the new school at Skirlaugh at its opening. (fn. 263) The teacher's house had been sold in 1960; (fn. 264) the school building, which was returned to the Crown in 1973, was used for a village hall before being converted into a house. (fn. 265)
Lamb's charity became Lamb's Educational Foundation by Scheme of 1933, when its area was redefined as Swine (civil) parish. The income, then £5 but £9 c. 1980, could be spent in assisting children in secondary education, and that object was met after 1933 by grants or payment of pupils' travelling expenses. (fn. 266)