Pages 95-107
A History of the County of York East Riding: Volume 7, Holderness Wapentake, Middle and North Divisions. Originally published by Victoria County History, London, 2002.
This free content was digitised by double rekeying. All rights reserved.
SPROATLEY
THE village of Sproatley is situated some 4 km. north-east of the city of Hull and 8 km. southwest of the North Sea at Aldbrough. Just to the north, across the parish boundary in Swine, is Burton Constable Hall and its park, (fn. 1) but the estate's influence on the character of Sproatley has been much diluted by the recent development of the village as a dormitory for Hull. The name Sproatley is Anglian, and may mean a clearing in which brushwood is growing. (fn. 2) The area of the parish was 1,372 a. (555.3 ha.) in 1852, and has not been changed. (fn. 3) In the south of the parish the boundaries are mostly formed by watercourses. In the north, the parish was formerly separated from the grounds of Burton Constable Hall by a pale walk which was extinguished at inclosure in 1763, when another way, to Lelley, ran along part of the eastern boundary. (fn. 4)
There were 129 poll-tax payers at Sproatley in 1377, (fn. 5) and 29 houses there were assessed for hearth tax in 1672 and 8 discharged. (fn. 6) There were just over 30 families in the parish in 1743 and 1764. (fn. 7) From 232 in 1801, the population of Sproatley rose sharply in the 1810s and 1840s to stand at 357 in 1821 and 463 in 1851. It later declined, to 331 in 1881 and 272 in 1911. Numbers recovered to 325 in 1951, but then fell back to 264 in 1971. A rapid growth in the population followed Sproatley's development as a dormitory village for commuters working in Hull; by 1981 there were 1,289 inhabitants, and 1,442 were usually resident in 1991, when 1,424 were present. (fn. 8)
The parish is covered by boulder clay, except in the south where there is alluvium alongside the drains, and a large deposit of sand and gravel. (fn. 9) The land lies mostly between 15 and 23 m. above sea level. A ridge rising above 23 m. provided the village with its site, and there is also a little higher ground in the north-west corner of the parish; south and east of the village the ground falls to c. 9 m. The north-west of the parish was used as a common pasture, and the rest very largely for the village's open fields and commonable meadows. Sproatley was inclosed in 1763. (fn. 10)
Sproatley is drained largely by a sequence of streams which flow westwards along the southern boundary towards Old fleet and outfall into the river Humber. The southern drains were insufficient in 1367, when another stream running down the western boundary was also mentioned. (fn. 11) From the village lesser streams carry water south and south-eastwards to the boundary drains, and another minor watercourse drains westwards into Thirtleby, in Swine. Improvements to the drainage under the Keyingham Level Drainage Acts of 1772 and later evidently included work on the southern streams, later known as Lelley, Sproatley, and Nuttles drains. (fn. 12)
From Sproatley village, roads lead north to Burton Constable and West Newton in Aldbrough, east to Flinton in Humbleton, south to Preston and Hedon, south-west to Wyton in Swine and Hull, and north-west to Thirtleby in Swine. The roads to Wyton and Flinton were added to the Hull-Hedon turnpike trust at its renewal in 1767; the trust was discontinued in 1878, (fn. 13) but those roads have since been improved as parts of the Hull-Aldbrough road. From the late 19th century Sproatley was served by buses running along it between Hull and Aldbrough and Garton. (fn. 14) Roads called Wringland and Castlegate were recorded in 1367; the latter, leading to Lelley, (fn. 15) was perhaps the way running along the eastern parish boundary which was awarded at inclosure in 1763 but apparently abandoned as a highway by 1827. (fn. 16)
A footpath between Sproatley church and Burton Constable was awarded at inclosure in 1763, but soon afterwards it was evidently replaced by the new main drive to the Hall; a gatehouse was built just across the boundary on the new route c. 1785. (fn. 17)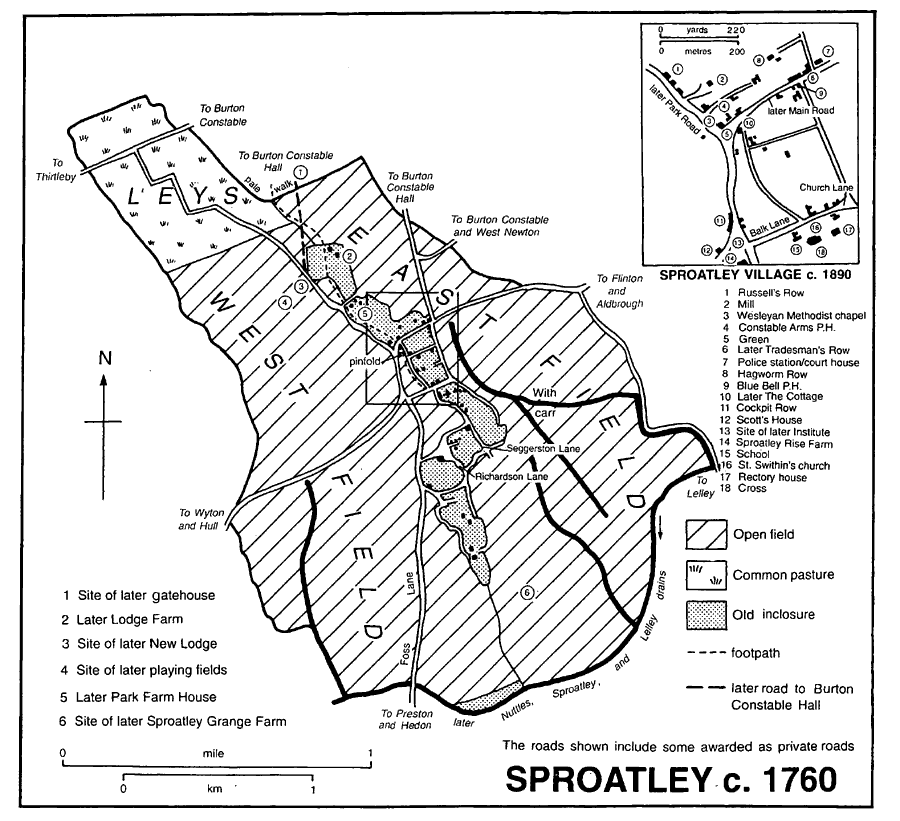 Sproatley village was built along the ridge of higher ground lying roughly north-west to south-east through the centre of the parish. (fn. 18) To either side of the line of garths, almost 2 km. long, lay the open fields of the settlement, and to the north-west its chief common pasture. The thinly-built village was served by lanes running alongside and across the garths. Among the side lanes was one which was continued by the roads to Aldbrough and Hull; at its western end, at the foot of the slope, the lane crossed a small green, which still exists. Another of the side lanes, Church Lane, was extended to the Preston road by the making, or improvement, almost certainly at inclosure in 1763, of the way later named Balk Lane. A medieval cross stood in the garths south of the church before its removal in the 19th century to the rectory-house garden or the churchyard. (fn. 19) After inclosure the village was extended onto lower, formerly commonable, land by the building near the junction of the Hull and Preston roads of two houses, later called Scott's House and Sproatley Rise, and a terrace of cottages, Cockpit Row. Thomas Simpson built the six cottages, probably soon after 1814, when he sold the adjacent site to Joseph Scott 'gardener', and certainly by 1822, (fn. 20) and Scott's House and Sproatley Rise had both been put up by 1827. (fn. 21) There was also building in the old garths, notably beside the main side lane, now Main Road, where Tradesman's Row and other cottages had been put up by the 1850s. (fn. 22) The still small village was then little changed until the later 20th century. Some 30 council houses were put up in Chestnut Grove and Church Mount c. 1950, (fn. 23) and from the 1970s the village was greatly enlarged by the building of private housing estates. Some 100 houses were then built between Main Road and Balk Lane, in Gallands Road and its side streets; c. 120 more to the north of Main Road, in Mill and Hall Roads, and more than 200 houses to the west of the village green, most of them in Westlands Road. (fn. 24)
The village is brick-built. Most of the buildings are recent, and the majority of them are bungalows. A few larger modern houses stand in Ash Grove, off Westlands Road, in Raleigh Drive, off Burton Constable Road, and in Church Lane.
The oldest of the other buildings is perhaps The Cottage, formerly two houses, (fn. 25) opposite the Constable Arms; the L-shaped building, of brick and pantiles, comprises a range of one storey with an attic, built on a lobby-entry plan, and a rear wing, and is thought to date from the early 18th century. (fn. 26) Lodge Farm is a rebuilding of a near-by farmhouse, bought by the Constables in 1774. (fn. 27) The Constable Arms was probably also built or rebuilt in the 18th century, (fn. 28) and the adjacent row of cottages has a datestone marked I.T. 1782. Park Farm House may also be 18th-century in origin; the house has been heightened from one storey to two, and the gables of both phases have tumbled-in brickwork. Nineteenth-century buildings include the church, rectory house, and school, all then rebuilt; the police station, an addition of 1849, (fn. 29) and a second lodge for Burton Constable Hall and park, the neo-Jacobean New Lodge, which was put up on the northern edge of Sproatley village in the 1860s. (fn. 30) The part of the village near the church was also improved in 1860 by the planting of an avenue of chestnut trees along Church and Balk Lanes by Sir Thomas Constable, Bt., and the rector, the Revd. C.J. Wall. (fn. 31) Besides Cockpit and Tradesman's Rows, (fn. 32) the 19th-century cottages also include Russell Row (fn. 33) and Jalna, a lodge-like building, both in Park Road. Most of the houses in the village belonged to the Chichester-Constables in 1910. (fn. 34) Housing was allegedly very poor c. 1920, when 18 of the cottages were said to be unfit for families. (fn. 35) The Burton Constable estate built a group of unusual houses, the slate-roofed Chichester Bungalows on Main Road, in 1937. (fn. 36) A conservation area for the older parts of Sproatley village was established in 1987. (fn. 37)
The number of licensed houses in Sproatley declined from five in 1754 to two in the 1780s, when one of them was named as the Blue Bell. (fn. 38) That house belonged from 1835 to the Revd. Thomas Galland (d. 1843), a Wesleyan Methodist minister in the West Riding and owner of the adjacent land, and after 1847 to Sir Thomas Constable, Bt., and his successors. (fn. 39) A second house, the Constable, sometimes Constables', Arms may have been one of the two beerhouses operating in 1840, and it was named from 1846. It was also part of the Burton Constable estate. (fn. 40) Both houses still traded in 1999. Allotment gardens were provided on the Burton Constable estate in Sproatley, possibly by 1802, when the new tenants of 9 a. were described simply as 'labourers'. (fn. 41) By the 1850s a field beside the Hull road belonging to Sir Thomas Constable, Bt., perhaps the same ground, had been divided into 28 allotment gardens of a rood each. (fn. 42) The allotments were used until c. 1920. (fn. 43) Sproatley Floral and Horticultural Society was newly formed in 1837, when it met at the Blue Bell. (fn. 44) A friendly society branch, the Burton Constable Lodge of the United Ancient Order of Druids, was founded in 1861, and had 212 members in 1910 and 124 in 1938. (fn. 45) The annual Sproatley feast was presumably organised by the friendly society, and other social events in Sproatley included the meetings of the local hunt. (fn. 46) A village meeting place, Sproatley Institute, was opened in 1912. (fn. 47) Outside, in the junction of the Preston and Hull roads, those who served between 1914 and 1918 are commemorated, and a Second World War memorial was placed inside the Institute, which has since been called Sproatley Memorial Village Hall. The cruciform building, with a small louvred spire at its centre, was of corrugated iron until the mid 1990s, when that shell was replaced by one of steel. (fn. 48) Sproatley Cricket Club had been founded by 1897, and there was also a cycling club in 1901. (fn. 49) Land off Park Road belonging to the Burton Constable estate was leased c. 1975 for a village playing field, and a football pitch, tennis courts, and a children's play area were later laid out there. A shelter provided about 1980 was replaced in 1996-7 by a sports pavilion funded largely by grants from the Lottery and the Sports and Arts Association. (fn. 50)
A police station and magistrates' room for the Middle Division of Holderness was built in 1849 on the edge of the village, the site, at the junction of the Burton Constable and Aldbrough roads, being given by Sir Thomas Constable, Bt. Designed by H. F. Lockwood of Hull, the building is largely of cream brick with slate roofs, and comprises a central block, of two storeys and three bays, flanked by a single-storeyed wing to the west and on the eastern side by a recessed wing of two low storeys. The main block has a round-arched stone doorcase and round-headed windows, and the yard contains a small stable in red brick. (fn. 51) The removal of the petty sessions for the Middle Division from Hedon to the new station at Sproatley was opposed unsuccessfully, (fn. 52) and sessions were subsequently held at Sproatley, in 1872 every three weeks and later monthly. (fn. 53) The magistrates last met at Sproatley in 1995. (fn. 54) A superintendent was based at Sproatley before and after the formation of the E.R. constabulary in 1857, and later also a constable, but in 1893 the policing of South and Middle Holderness was amalgamated, and Hedon station became the headquarters of the new area. (fn. 55) The police station was discontinued c. 1970. The police house continued in occupation and part of the premises were later used briefly as a clinic, (fn. 56) but in 1999 the whole building stood empty.
OUTLYING BUILDINGs include Sproatley Grange Farm, built by the Constables soon after inclosure in 1763, (fn. 57) and one or two houses put up beside Hull Road in the 20th century. A waste tip begun in disused gravel pits near Sproatley Grange Farm in the 1970s was extended in the early 1990s. (fn. 58)
MANORS AND OTHER ESTATES. In 1066 Basinc, Forni, and Thor held three manors of SPROATLEY comprising 4 carucates; Earl Tosti 1 carucate in Sproatley as sokeland of his manor of Burstwick, and Morkar 5 bovates of sokeland there belonging to his manor of Withernsea. All of those lands may have been the same as the manor of Sproatley comprising 6 carucates which William Malet was said to have held in succession to Thorsten; the holdings at the Conquest and Malet's estate had, moreover, all passed to Drew de Bevrère by 1086. (fn. 59) Drew's estate later descended with the lordship of Holderness and with Burstwick manor, (fn. 60) of which Sproatley was a member. The holding, occasionally described as SPROATLEY manor, thus passed to the counts of Aumale, (fn. 61) then to the Crown and its grantees, of whom Margaret de Gavaston, countess of Cornwall, was recorded as lady of Sproatley in 1316. (fn. 62) In 1521 it was forfeited by Edward Stafford, duke of Buckingham, to the Crown, which granted it to Henry Neville, earl of Westmorland, in 1558. (fn. 63) He sold it to his son-in-law, Sir John Constable, in 1560, and Sproatley thereafter descended, with the seigniory of Holderness, in that family, later viscounts Dunbar, and their successors. (fn. 64)
The Constables, who already held land in Sproatley, (fn. 65) made other purchases there. In 1555, before the acquisition of the manor, a half share in a 5-bovate farm in Sproatley was conveyed to Lady (Joan) Constable and her son Sir John; (fn. 66) Sir John and his son, Sir Henry Constable, later bought land in Sproatley to extend the grounds of Burton Constable Hall, (fn. 67) and in the 1660s several farms were bought from Christopher Ridley's heirs. (fn. 68) By 1693 Robert Constable, Lord Dunbar, had, besides the manor, more than 3 carucates in the parish, (fn. 69) and William Constable was awarded 567 a. for his commonable land at inclosure in 1763. (fn. 70) The later Lodge farm, with c. 125 a., was bought from James Dealtry in 1774, (fn. 71) but 122 a. was sold to John Raines in 1778, and in 1779 Constable had 593 a. in all in Sproatley. (fn. 72) Sir Thomas Constable, Bt., enlarged the estate, (fn. 73) by buying in 1847 the Galland family's holding, of nearly 200 a., and in 1853 a 114-a. farm formerly belonging to Ripley school (Yorks. W.R.). (fn. 74) In 1912 the Chichester-Constables had, besides the manor, 934 a. in Sproatley. (fn. 75) Grange farm with 346 a. was sold to Rawsons (Partners) Ltd. in 1964, and c. 40 a. for private housing estates in the earlier 1970s, (fn. 76) and c. 550 a. remained part of the Burton Constable estate in 2000. (fn. 77)
In 1086 Drew's man Roger occupied part of the estate formerly belonging to Basinc and his fellow tenants. He is believed to have been Roger de Montbegon, and Ernald de Montbegon held land in Sproatley of the count of Aumale in the 12th century. (fn. 78) It may have been the Montbegons' holding which was later occupied by a family named from its estate in Goxhill (Lincs.). Ralph of Goxhill, and apparently also his brother Erneis, gave Sproatley church and land in Sproatley to Bridlington priory in the earlier 12th century. (fn. 79) Erneis had a son Robert (d. by 1185), he a son Adam of Sproatley or Goxhill (d. by 1205), and Adam a son (Sir) Walter, who was known by his mother's surname, de Ver. (fn. 80) In 1210 or 1211 Walter de Ver obtained 1 carucate and 3½ bovates in Sproatley by exchange with Saer of Sutton for land there and in Goxhill. (fn. 81) Walter was dead in 1213, when his relict was claiming dower in 6 bovates and other land in Sproatley. (fn. 82) Walter's son, (Sir) Simon de Ver (d. c. 1264), was claiming 1 carucate there in 1230, (fn. 83) and his son, Simon, was later said to have held 6 or 7 carucates of the Aumale fee in Sproatley. (fn. 84) The younger Simon, a rebel against the Crown in the 1260s, divided and sold his estate. His manor of SPROATLEY was bought by Roger Darcy, who, apparently under pressure, re-sold it to the king in 1275 or 1276, in which latter year a de Ver widow also released her right in land in Sproatley to the king. (fn. 85) The Crown's estate may later have been subsumed in the chief manor. (fn. 86) Much of de Ver's land was, however, sold to the Constable, Gilt, and Lund families, (fn. 87) and by the 1280s free tenants occupied most of the holding and only 1 carucate and 2 bovates was held by the king in demesne. (fn. 88) Some land seems to have been retained by the de Vers, one or more John de Vers of Sproatley being recorded in the late 13th and mid 14th centuries. (fn. 89)
Robert of Goxhill was apparently enlarging the site of his house in the 12th century, (fn. 90) and the chief house formerly belonging to Sir Simon de Ver was mentioned in 1293. (fn. 91)
Simon de Ver granted Roger of Lund 5 bovates and the services of the tenants of 5½ bovates in Sproatley, which estate Roger had given to his nephew, or grandson, Simon of Lund by 1287. (fn. 92)
Robert Gilt, a Hedon burgess, bought an estate in Sproatley, comprising almost 1 carucate and 2 bovates, other land, and bond tenants, from Simon de Ver in 1270, and by 1287 he had granted that holding to his son Hugh. (fn. 93) Hugh (d. by 1323) was succeeded by his son, Roger Gilt (d. 1349), who held almost 2 carucates and other land in Sproatley, (fn. 94) and Roger probably by another Hugh Gilt (Gyk) of Sproatley, who was licensed to choose a confessor in 1358. (fn. 95) A Robert Gilt had granted his chief house and other property in Sproatley to Robert Goxhill by 1391, when the estate was given by Goxhill to his son John. (fn. 96) Another John Goxhill (d. 1529) held a little land in Sproatley. (fn. 97)
Simon de Ver sold c. 50 a. in Sproatley to Simon Constable in 1276, (fn. 98) and an estate there, probably the same, descended from Sir John Constable (d. 1489) to his brother Ralph. (fn. 99) It was presumably later held with the manor. (fn. 100)
In 1287 John of Preston held 1 carucate of the Aumale fee in Sproatley. (fn. 101) It was perhaps another John of Preston who by 1334 had died holding the estate and leaving as heir a son John. (fn. 102) The land later passed to a John of Preston's daughter Isabel (d. 1349), whose heir was Gillian Stedeman. (fn. 103)
In 1210 or 1211 Saer of Sutton granted 1 carucate and 3½ bovates in Sproatley to Walter de Ver, receiving in exchange ½ carucate and tofts there, and other land in Goxhill (Lincs.). (fn. 104) The land in Sproatley evidently descended like Sutton manor in the Suttons, later Lords Sutton, and then to the heirs of Agnes Sutton by Sir Ralph Bulmer. (fn. 105) By the attainder of Sir John Bulmer, it passed in 1537 to the Crown. The farm, with ½ carucate of open-field land and several closes, seems later in the century to have been occupied, or claimed, by the heirs of Sir John's son, Sir Ralph Bulmer (d. 1558), (fn. 106) and Sproatley premises continued to be recorded, apparently in error, as appurtenances of Sutton manor. (fn. 107) A Crown grant of the estate to Hugh Counsell and Robert Pistor in 1570 seems also to have been ineffective. (fn. 108) The holding, then including three houses, 1 carucate and 1 bovate, and other land in Sproatley, was granted by the Crown in 1616 to Edward Mercer and Christopher Ridley the younger of Beverley. (fn. 109) Ridley (d. by 1664) became the sole owner of the premises granted in 1616, besides holding other land in Sproatley. (fn. 110) Part of his estate, including some of the Bulmers' former land and comprising in all about 1 carucate, descended to his daughters, Deborah Monckton and Rebecca Pickard, who, with their husbands, sold their interests in 1664 and 1666 to John Constable, Lord Dunbar. (fn. 111) The rest, a 5-bovate farm, passed to Ridley's other daughters, Anne and Margaret, who in 1668 sold their shares to Robert Constable, Lord Dunbar. (fn. 112) The purchases later descended with the chief estate in the Constables and their heirs. (fn. 113)
The archbishop of York held 1 bovate in Sproatley as a berewick of his manor of Swine in 1086. (fn. 114)
The Ingilbys, later knights and baronets, held land in Sproatley by the 16th century; and later used it to endow Ripley school (Yorks. W.R.). (fn. 115) At inclosure in 1763 Sir John Ingilby, Bt., trustee of the school, was awarded 151 a. for its commonable lands in Sproatley. (fn. 116) William Raines bought the 161-a. estate in 1853, (fn. 117) and then re-sold it in lots. Sir Thomas Constable, Bt., bought the farm, later Park farm, with 114 a. (fn. 118)
Before he made his gift of the church, Ralph of Goxhill gave Bridlington priory 2 bovates in Sproatley, and later in the 12th century the house held 4 bovates of the Aumale fee there, apparently besides the glebe land of Sproatley church. (fn. 119) Ralph's nephew, Robert of Goxhill, gave 2 tofts in exchange for another belonging to Sproatley church, and his grandson, Sir Walter de Ver, added another bovate and 3 tofts. (fn. 120) The priory's former estate in Sproatley, then comprising 3 bovates, was granted by the Crown in 1601 to John Thynne and Henry Best, who then sold it to Sir Henry Constable. (fn. 121)
A chantry in Thearne chapel, in Beverley, was endowed with a cottage, a close, and 1 bovate in Sproatley. After the chantry's suppression, the Crown let the premises in Sproatley, and in 1586 it granted them in reversion to Sir Christopher Hatton. (fn. 122)
The Suddaby family c. 1600 charged land in Sproatley with a rent, or rents, for the poor of Bishop Wilton, and sums were paid in consequence until the mid 19th century. (fn. 123)
ECONOMIC HISTORY. Common lands and inclosure. The tillage lay on either side of the village, in East and West fields, which were named from the later 13th century. (fn. 124) The area of arable land was said to have been reduced by conversion to pasture in the 1480s, two houses falling into disrepair and eight people being ejected as a result. (fn. 125) A description of commonable lands made in 1650 may reflect internal divisions within the two fields, rather than a re-ordering of the common lands: land on the east side of the village, adjoining Humbleton and Lelley in Preston, and to its west, extending to Wyton, was then said to lie in South field; grounds bordering Thirtleby in Swine in the west and Flinton in the east were parts of North field, and next to Flinton and Humbleton there was a possibly small East field. (fn. 126) East and West fields were named again soon afterwards, moreover, (fn. 127) and on the eve of inclosure in the mid 18th century they contained 119 bovates and odd lands. (fn. 128) A meadow adjoining East field called Wadinfal, mentioned c. 1275, may have been common, (fn. 129) and in 1650 meadow in the lower and Town carrs, and in Wyton Scarf, was recorded. (fn. 130) Later the bovaters shared grassland in Rake carr, their shares in that meadow determining the number of pasture gates each enjoyed after mowing. Rake carr adjoined the southern boundary, close to the later Sproatley Grange Farm, and was evidently regarded as part of East field. (fn. 131) The lack of ridge and furrow on land alongside a stream in East field locates another probable meadow. (fn. 132)
The chief common pasture was the Leys, (fn. 133) which had almost certainly once been cultivated occasionally. In the 1570s and 1580s several owners sold their 'ley lands' in East Leys pasture, and at least one strip in or bordering that pasture, to Sir John Constable and his son (Sir) Henry, who then inclosed the land, amounting to over 30 a., in Burton Constable park. (fn. 134) In 1650 the reduced Leys pasture contained grassland, or leys, belonging to bovates, and lands covered with furze, or gorse, bushes, lying together in areas called falls. (fn. 135) In the mid 18th century the Leys was stocked one year according to the number of bovates held, and the next by reference to each proprietor's acreage in the pasture. Those without open-field land seem to have depended for their grazing on the fallow and other pasture afforded by the open fields. (fn. 136)
Sproatley was inclosed in 1763 under an Act of 1762. (fn. 137) Allotments totalled 1,237 a., of which 571 a. came from West field, 536 a. from East field, and 130 a. from the Leys. The totals for East field and the Leys included an extinguished field road. William Constable, lord of the manor, received 567 a., and there were two allotments of c. 150 a. each, one of 118 a., three of 50-99 a., one of 33 a., and three of less than 10 a. Most of the land was freehold, but 71 a. was awarded as 'copyhold free' and 16 a. as 'copyhold bond'. (fn. 138)
THE DEMESNE AND OTHER FARMS. The largest estate in Sproatley had land for 4 ploughs in 1086, when there was one plough on the demesne and another worked by 4 villeins. Forty acres of meadowland was also recorded on the holding, which was said to have been worth £2 10s. a year before the Conquest but only £1 in 1086. (fn. 139) Between the 14th and 16th centuries the estate produced an income of some £11-12 a year. (fn. 140) The assized rents of the free and customary tenants were worth c. £5, and smaller sums were recorded for the tenants' poultry renders, tallage, chevage, and court fines. In the late 16th and early 17th century some of the copyholders at Sproatley paid the lord of Burstwick manor sums for confirmation in their holdings and definition of their rights and obligations, particularly with regard to wood growing on their farms, and their entry and court fines. (fn. 141) The land governed by such agreements was perhaps that later termed 'copyhold free'. Poultry may still have been rendered to the Constables in the early 18th century, when their tenants in Sproatley also owed the duty of carrying coal and wood to Burton Constable Hall. (fn. 142)
Five bovates of demesne land, a cultura called Milldale, of about 1 bovate, and the chief house were occupied by a tenant at will in 1292, and from the early 14th century that farm was leased for £4 a year. (fn. 143)
PARK. By the 1290s the Crown also had a park at Sproatley, which was then enlarged by almost 30 a., mostly obtained by the exchange of demesne land with six freeholders. The park may have been in the north-west of Sproatley, adjoining Woodhall in Ellerby and Thirtleby. The lord of those places, Sir Herbert de St. Quintin, gave 7 a. for enclosure in the park, in return for which the Crown assigned him pieces of the lands obtained from the other five freeholders but not required for the park, ground which Sir Herbert seems to have intended adding to his woods in Ellerby and Thirtleby. (fn. 144) A parker was employed in the early 1300s, when there was said to have been poaching in the park, and the king's free warren in Sproatley was allegedly breached again in 1345. (fn. 145) Grazing for horses, cattle, and sheep in the park was being leased c. 1305, and in 1306-7 the whole park was let to Hugh Gilt for £2 5s. a year. Between the mid 14th century and early 16th rents amounting to almost £2 a year were received for 61 a. in the park, perhaps its total area. (fn. 146)
EARLY WOODLAND. In the early 13th century Walter de Ver's estate in Sproatley included an evidently large wood. (fn. 147) It may have included ill-drained scrub: 52 a. of woodland bought from Simon de Ver by Simon Constable in 1276 was later decribed as a mere. (fn. 148) It was perhaps the rest of the de Ver woodland which formed part of the Crown's estate in the 1292, when the grazing there was valued at £1 a year. That woodland may have been cleared for cultivation soon afterwards. (fn. 149)
FISHING. The fishing of With carr, east of the village, and North carr, which was probably in the north-eastern corner of the parish, belonged to Walter de Ver in the early 13th century. (fn. 150)
LATER AGRICULTURE. In 1801 Sproatley was reckoned to have almost 500 a. under crops. (fn. 151) The division between arable land and grassland was fairly even in the earlier 20th century, 707 a. and 456 a. respectively being returned in 1905, for instance. (fn. 152) Some of the grassland was used from the later 19th century by one or two cowkeepers, or dairymen, and in 1909 one of the farms specialized in poultry. (fn. 153) A nurseryman was working in Sproatley in 1892, (fn. 154) and a century later there were nurseries in Boggle Lane and on Hull Road. (fn. 155) In 1987 of 395.7 ha. (978 a.) returned for Sproatley civil parish, 331.4 ha. (819 a.) were arable and 47.7 ha. (118 a.) grassland. Nearly 1,000 pigs and almost 500 sheep were then kept. (fn. 156) One of the proprietors, John Raines (d. by 1808), was said to have planted c. 1,000 trees in Sproatley, (fn. 157) and 21 a. of woodland were also returned in 1905 and 1.3 ha. (3 a.) in 1987. (fn. 158)
The largest estate in Sproatley, that of the Constables, comprised more than 3 carucates divided into nine farms in 1693. (fn. 159) In 1779 the almost 600-a. estate was, apart from 30 a. in hand, let to 19 tenants; the largest farm was of 231 a., and there were two others of c. 130 a. each, one of 49 a., and 15 holdings of under 10 a. each. (fn. 160) In the 1820s the estate in Sproatley comprised two holdings of c. 200 a. each, one of 121 a., one of 33 a., four of 5-9 a. each, and some 20 smaller tenancies. (fn. 161)
The whole parish usually contained six farms in the 19th century and the earlier 20th; four were of 150 a. or more in 1851, and all or most were larger farms c. 1930. There were two holdings of under 20 a. in 1851, and several smallholdings were recorded in the earlier 20th century. (fn. 162) The area returned for Sproatley in 1987 was divided between five holdings, three of 100-199 ha. (247-492 a.) and two of under 5 ha. (12 a.). (fn. 163)
INDUSTRY AND TRADE. Predominantly an agricultural place, Sproatley also provided employment for craftsmen and tradesmen in the 19th century and earlier 20th. (fn. 164) The requirements of Burton Constable Hall probably account for the numbers involved and the nature of some of the occupations. In 1851, for instance, residents in Sproatley included seven shoemakers, eight dressmakers, a milliner and a straw-bonnet maker, a carver and gilder, eight grooms, a groom cum whipper-in, a coachman, and three gardeners. A few men then employed as brick and tile makers probably worked in the yard in Burton Constable. (fn. 165) Less usual occupations also included rope-making, recorded in 1823. Shops in 1897 included a grocer's, a grocery cum drapery, and probably two butchers', and a tailor then kept the post office. A cycle shop had been opened by 1921, and a garage by 1929. Commercially, the village was also served during the period by up to three carriers to Hull. In 1999 a post office and grocery shop, a butcher's, and a joinery concern were trading in Sproatley.
Sand and gravel was dug from pits in the south of the parish before the 1970s, when more commercial extraction was begun there and the older workings were approved as a waste tip. Some sand was evidently also taken from a pit in the north of Sproatley, close to Lodge Farm. (fn. 166)
MILLS. A windmill at Sproatley was recorded in the later 13th century, (fn. 167) and a mill, perhaps the same, in 1391. (fn. 168) In the 19th century corn was ground in a windmill to the east of Park Road. (fn. 169) John Rank, the miller in 1840, was presumably a member of the Hull milling family. (fn. 170) The mill was evidently given up c. 1895. (fn. 171)
LOCAL GOVERNMENT. The court rolls of Burstwick manor (fn. 172) record conveyances of copyhold in Sproatley, the election of a rent collector for the village, orders to repair buildings on holdings, and brief references to the view of frankpledge in Sproatley; the copyhold there was not extensive and the evidence is therefore relatively slight.
Churchwardens' accounts survive from 1801, (fn. 173) and a book of accounts of the late 18th and early 19th century apparently includes those of an overseer of the poor, churchwarden, assessor and constable, and surveyor of highways. (fn. 174) Permanent out-relief was given to c. 10 people in Sproatley in the early 19th century, and about 15 others were then helped occasionally. (fn. 175) From 1824 to 1834 the care of the poor was undertaken by a select vestry appointed for the parish. During that period medical help was provided to individuals, and at least one person was maintained in Sutton parish's workhouse. (fn. 176) Sproatley joined Skirlaugh poor-law union in 1837, (fn. 177) and remained in Skirlaugh rural district until 1935, when it was incorporated into the new rural district of Holderness. It became part of the Holderness district of Humberside in 1974, (fn. 178) and of a new East Riding unitary area in 1996. (fn. 179)
CHURCH. Sproatley church had been built by the earlier 12th century. (fn. 180) The living, which remained a rectory, was united with that of Preston in 1980, but the two parishes were left separate. (fn. 181)
Ralph of Goxhill, and perhaps also his brother Erneis, gave Sproatley church to Bridlington priory in the earlier 12th century; the first reliable confirmations indicate that the gift had been made by 1140. (fn. 182) The priory, or its grantees, presented to Sproatley until the house's dissolution in the 16th century, except in 1446, when the archbishop of York collated by lapse, and possibly also in 1495, when Agnes Constable presented for an unknown reason. (fn. 183) After the dissolution, the advowson belonged briefly to the Crown, before being granted to Edward Fiennes, Lord Clinton and Saye, in 1553. (fn. 184) It had passed to the Constables by 1570, and, except for a short confiscation by the Commonwealth in the mid 17th century, (fn. 185) remained with them and their successors until the later 19th century. Ralph Rand, trustee of the Roman Catholic Robert Constable, viscount Dunbar, presented in 1714, and later in the 18th century and in the early 19th the patronage was exercised, probably for the Constables, by their grantees and relatives, George Brudenell, earl of Cardigan and later duke of Montagu (d. 1790), and his son, James Brudenell, earl of Cardigan (d. 1811). (fn. 186) A turn was later evidently sold to a Mrs. Wall, who in 1858 presented C. J. Wall, then the curate. (fn. 187) In 1878 the advowson was sold to J. B. Barkworth, from whom D. B. Kendell, son-in-law and trustee of Samuel Stocks, bought it in 1883. (fn. 188) Stocks had had c. 175 a. in Sproatley in 1827, and in 1844 he was described as a retired cotton manufacturer living in the West Riding. (fn. 189) Kendell, who evidently presented a relative, Samuel Hall, in 1889, (fn. 190) died in 1902. He was succeeded in turn by his widow Frances (fn. 191) (d. by 1908) and Anna Kendell (d. 1929), presumably their daughter, who left the advowson to her niece, Jeannie Peirson. (fn. 192) In 1953 Mrs. Peirson transferred the advowson to the archbishop of York, (fn. 193) who, since 1980, has been the sole patron of the united benefice. (fn. 194)
The annual value of Sproatley church was put at £10 in 1291 (fn. 195) and at £70 s. 10d. net in 1535. (fn. 196) In 1650 the improved net value was £60 a year. (fn. 197) Net income averaged £230 a year between 1829 and 1831, (fn. 198) and was £283 in 1883. (fn. 199)
The Goxhill family's gift of the church included land, variously said in the mid 12th century to comprise 4-6 bovates. (fn. 200) Including the rectory house, the glebe was worth £2 a year gross in 1535. (fn. 201) There were said to be 4½ bovates of glebe land in the 1680s, but other references in the later 17th and earlier 18th century put the open-field glebe at 9 or 10 bovates, and it was for 9 bovates that 73 a. was allotted to the rector at inclosure in 1763. The total area of glebe land, including the churchyard and the rectory house garden, was later c. 80 a., (fn. 202) and the rental was £170 a year in 1878. (fn. 203) Two acres was sold in 1924, (fn. 204) 1 a. in 1933, (fn. 205) and the rectory house with 77 a. to Geoffrey Hope in 1946. (fn. 206)
The tithes were worth £7 9s. gross a year in 1535, (fn. 207) and at inclosure in 1763 the rector was awarded annual composition rents amounting to £105 for them. (fn. 208)
The rectory house was mentioned in the early 13th century, (fn. 209) and again, as decayed, in 1578. (fn. 210) George Bewe, rector, repaired and altered the house in 1661, and in the 1670s he planted the grounds and the churchyard with trees. (fn. 211) The house then had three hearths. (fn. 212) In 1764 it was partly built of brick and tile and partly of clay walls covered with thatch, and included a dining room, hall, and parlour on the ground floor, and three bedrooms and two attic rooms. (fn. 213) It was repaired and enlarged in 1793 or 1794, (fn. 214) and in 1809 there were six ground-floor rooms and six bedrooms. (fn. 215) It was said in 1828 to have been 'lately improved and enlarged', (fn. 216) and an earlier 19th-century illustration shows a three-bayed house with an off-centre doorway with Gothic moulding above it, and to the side a three-bayed wing, presumably of service rooms. (fn. 217) Brick walling of the 18th-century house remains in the back of the present building. In 1869 the house was again remodelled and enlarged. The work was done by John Atkinson & Son, probably to designs by Alfred Brown of Hull, and involved the extension of the north-western part of that house, internal re-arrangement of the northeastern rooms, and much alteration to the south front, which was given a new entrance, a large bay, and new windows. (fn. 218) The house was altered in 1899 by John Bilson, who hung tiles on parts of the red brickwork of the south front, and incorporated Queen Anne features there, including a porch surmounted by a balustrade. Lesser changes were made in 1907 by Brodrick, Lowther, & Walker. (fn. 219) The rectory house was sold in 1946, (fn. 220) and rectors later lived in Preston. (fn. 221) The Old Rectory was being restored in 1999.
Early clergy may have included Benedict the chaplain of Sproatley, recorded c. 1200. (fn. 222) From the 14th to the 17th century the living was evidently often held by non-resident pluralists. (fn. 223) John of Carnaby (Kerneteby), rector from 1310, was also official of the archdeacon of the East Riding (fn. 224) and was abroad in 1322, and the preferments of John Bransby, B. Th., rector 1528-34, included the mastership of the college of Sutton on Hull and the rectory of Settrington. In the 17th and 18th centuries Sproatley was similarly held with other, but more local, churches. A curate was employed at Sproatley in 1721. (fn. 225) George Goundril, rector from 1740, lived at Sproatley, but he was also curate of Nunkeeling, c. 15 km. distant, in 1743 and vicar of Swine, where he employed an assistant curate. In 1743 he provided a service at Sproatley each Sunday in winter and two on alternate Sundays in summer, besides a daily service when at home. In the mid 18th century Holy Communion was celebrated three to four times a year, with c. 45, about half of the total number of confirmed parishioners, usually receiving. (fn. 226) Charles Wapshare, rector from 1806 to 1858, lived on his other rectory in Berkshire and employed curates, one of whom, Joseph Hatfield, had the church rebuilt about 1820; (fn. 227) he also interested himself in the erosion of the Holderness coast, taking many measurements in the 1830s. (fn. 228) C. J. Wall, curate by 1851 and rector from 1858 to 1889, (fn. 229) resided, and at the end of his incumbency, when he was rebuilding the church, also employed a curate. One service was held each Sunday at Sproatley in 1851, (fn. 230) but by 1865 there were two, and in the late 19th and early 20th century morning prayers were also read daily. Communion was monthly by the 1860s, fortnightly by 1884, and weekly in the earlier 20th century. In 1884 of the 743 confirmed Anglicans in the parish, 25 usually received, and in 1931 up to 12 communicated. A winter night school for men was tried in the 1860s, and later a library was run from the school; neither was very suc cessful. (fn. 231) The church was 'High Anglican' c. 1930. (fn. 232) Sproatley was held with, and served from, Preston before the union of the two benefices in 1980. (fn. 233) In 1999 there was usually a service, or a celebration of communion, in the church each Sunday. (fn. 234)
The church was dedicated to ST. SWITHIN by the early 13th century. (fn. 235) Little is known about the medieval church. Its steeple was recorded in 1552, (fn. 236) and the chancel was rethatched in the 1660s and repaired in 1670. (fn. 237) In general, though, the building seems to have been poorly maintained in the 16th and 17th centuries. (fn. 238) In the early 19th the curate, Joseph Hatfield, had the small 'much decayed' building demolished, and a larger church built on its site. The old church was said to have been 'lately taken down' in December 1819, (fn. 239) and rebuilding was complete in 1820. Services were held in the interim in an old schoolroom in the rectory house. (fn. 240) The new church was apparently dedicated to ALL SAINTS, but by 1840 it seems once again to have been ST. SWITHIN'S. (fn. 241) It was a plain building, of cream brick with slate roofs and round-headed sash windows, comprising chancel, aisled nave, and short west tower. The tower, of three stages with parapet and pinnacles, was flanked by two small porches. Inside, to comply with the conditions of a grant from the Church Building Society, a large west gallery was built to provide free seating. (fn. 242) The cost was otherwise largely met by subscriptions, including one from Francis Constable. (fn. 243) William Hutchinson of Hull is recorded as 'planning the new church', but he may have been merely the surveyor, and other evidence suggests that the design was by Peter Atkinson of York. (fn. 244) In 1885 and 1886 most of the church was taken down and rebuilt again at the promotion of the rector, C. J. Wall. The rebuilding was in a 15th-century style by Smith & Brodrick of Hull. A north porch was added in place of the western ones; a northern organ chamber was also built onto the chancel, and inside the west gallery was removed. During the rebuilding services were held in the school. (fn. 245)
The church contains part of the incised coffin lid of a medieval priest, (fn. 246) and in the chancel a late 19th-century white marble memorial depicting a young girl commemorates a rector's sister. An oak altar by John Bilson of Hull was installed in 1910 in memory of the patroness of the living, Frances, daughter of Samuel Stocks and wife of D. B. Kendell. (fn. 247) A stone font, in the form of a small bowl on a baluster support, was evidently fixed in the rebuilt church c. 1820, replaced in 1879, (fn. 248) and then used as an ornament in the garden of the rectory house, later the Old Rectory, where it remained in 1999. The organ is said to have been built c. 1710 by 'father Smith' for Temple Newsam house, near Leeds, bought c. 1825 by J. Kendell, and given to the church in 1886, during the restoration, by his son, D. B. Kendell, the patron. (fn. 249) In the early 20th century Samuel Hall, rector, and his wife provided oak panelling in the chancel, and also gave several pieces of their work as woodcarvers.
The church has two 14th-century bells, which were restored in the late 1980s, (fn. 250) and a set of eight tubular bells, presented to the rebuilt church by the rector in 1888. (fn. 251) A clock was placed in the tower in 1898. (fn. 252) Elizabeth Biggs, or Briggs, daughter of George Bewe (d. 1680), rector, gave two salvers, which were later exchanged for another salver which serves as a paten. The salvers were given or exchanged in 1739. The plate also includes a cup of 1796 and a 19th-century flagon. (fn. 253) The registers of baptisms begin in 1657, and of marriages and burials in 1669; with the possible exception of some marriages c. 1750, they are complete. (fn. 254)
A little land, hitherto occupied by the school, was added to the churchyard and consecrated in 1869, (fn. 255) and another small addition was made in 1927. (fn. 256) The large yard, shaded by many mature trees, is entered through a lich-gate, of massive timber covered with slate, which was built in 1899 to commemorate Queen Victoria's reign to a design by John Bilson. (fn. 257) A memorial incorporating a draped urn and enclosed still within iron railings marks the vault of William Wilkinson of Hull (d. 1834) and his relatives. The base and part of the shaft of a medieval cross, formerly standing in the south of the village, may have been removed to the rectory-house garden by the 1840s, and they were later kept in the churchyard, their location in 1999. (fn. 258) Stonework said to come from the same or another cross was kept in the garden of the former rectory house in 1999. The churchyard also contains a rock thought to have been deposited during the Ice Age; it was restored and fenced by Sproatley W.I. for European Heritage Year in 1975. (fn. 259)
Besides 1s. from each house and 5d. from each cottage at Easter, (fn. 260) the parish clerk was entitled to three sheaves of wheat from each bovate, and grazing in the open fields and pastures, until inclosure in 1763, when he was allotted 8 a. instead. (fn. 261) The allotment was called Amen field in the late 19th century, when it was leased for £12 a year. (fn. 262)
NONCONFORMITY. Despite the lordship of the Constables and the proximity of Burton Constable Hall, Roman Catholicism seems to have had little influence in Sproatley. The rector was still saying requiem masses, and a holywater stoup had been kept in the church, in 1567, and 16 recusants at Sproatley were named in 1669. Fewer Roman Catholics were usually recorded in the parish, however, before the later 18th century, and they then numbered only about 20. (fn. 263)
There were said to be no protestant dissenters in the parish in 1743 and 1764. (fn. 264) The Wesleyan Methodists built a chapel on the east side of Park Road in 1804. (fn. 265) In 1818 it was alleged that the schoolmaster, who was Methodist, had established a Sunday school, and was refusing to allow children and teachers to attend Anglican services, (fn. 266) but in the mid century most of the chapel's congregation was said also to attend church. (fn. 267) The chapel was largely rebuilt in 1904, and, as Sproatley Methodist Church, was still used in 1999. (fn. 268)
EDUCATION. Bridget Biggs, daughter of George Bewe (d. 1680), rector of Sproatley, (fn. 269) left the reversion of an estate in Sheffield, Penistone, and Ecclesfield (all Yorks. W.R.) for education in Sproatley by her will of 1733 or 1734. (fn. 270) The churchwardens and overseers of the poor, supervised by the rector and the vicar of Holy Trinity, Hull, were to use the rents to build a school, and were to pay a master and mistress to teach 10 boys reading, writing, and arithmetic and 10 girls reading, writing, and sewing. The rest of the income was to be spent on apprenticeships and the like. The charity had taken effect by 1742, when a house for the master and mistress was built in the north-west corner of the churchyard and on adjacent waste ground. (fn. 271) About 30 children were said to attend the school in 1743, (fn. 272) and in 1764 the schoolmaster was paid £25 a year for teaching reading, writing, and arithmetic to the 20 boys and girls taught free, and the mistress £20 for instructing the 10 girls in knitting, sewing, and other 'female accomplishments'. (fn. 273) A schoolroom was added in 1777. (fn. 274) Mrs. Biggs's charity was enlarged by John Raines's bequest of £200, (fn. 275) received in 1808. The numbers taught free were increased then, and again in 1818 and 1819, in return for an increase in the teachers' stipends. In 1818 the school was said to be attended by 14 boys and 10 girls, and 16 boys and 15 girls were apparently taught free c. 1820. (fn. 276) Besides their shares of the schoolhouse, the master received £33 a year and the mistress £24 from Biggs's and Raines's charities c. 1820, when the poorly-built schoolroom, the lack of oversight by the nonresident rector, and the conduct of both the overseers and the master, who also kept a shop, were all causing concern. In 1833 the charity school was attended by 40 boys and 30 girls, of whom 18 in each department were then paid for by the trustees, and the rest were taught either at their parents' expense or freely by the teachers. (fn. 277)
In 1868 the school was rebuilt on adjacent glebe land, part of the former site, also belonging to the rectory, being then returned to the churchyard. (fn. 278) The new school, incorporating houses for the master and mistress, was designed by R. G. Smith of Hull. His building, of red and cream banded brickwork with Gothic windows, a small bell-turret, and an ornate metal weather vane, was re-roofed in slate and one of the houses adapted as an infants' classroom in the 1880s, both to designs by Smith & Brodrick of Hull. (fn. 279) In the 1860s the boys' department was attended by 41 boys and 6 senior girls and the girls' school by 33 girls and 13 'little boys'. (fn. 280) At inspection in 1871 there were 41 boys and 26 girls in attendance. (fn. 281) In 1873 average attendance was 38 for the boys and 30 for the girls, 14 of each sex then being supported from the charity funds. (fn. 282) Average attendance was usually c. 65 between 1906 and 1938. (fn. 283) In 1921 the buildings were improved (fn. 284) and the school became a NonProvided school under the county council. (fn. 285) The trustees of the school charity provided a playing field in 1924, and in 1933 they further enlarged the site. (fn. 286) The senior pupils were transferred to South Holderness County Secondary School at its opening in 1954, and Sproatley Endowed School was thereafter a primary school. (fn. 287) The first phase of a new school, built beside Balk Lane and near the existing building, was opened in 1974; it comprised accommodation for 60 pupils and a school hall. (fn. 288) The old school continued in use, and two mobile classrooms were also employed to cope with the growing numbers. (fn. 289) The second instalment, providing five more classrooms, was completed, and the old school vacated, in 1979, (fn. 290) and an office for the headteacher was added in 1984. The bad state of Marton school led to its staff and pupils being moved in January 1984 to Sproatley school, which was again enlarged with a mobile classroom; Marton school was officially closed at the end of that year, and its pupils integrated into Sproatley school. There were 228 on the roll at Sproatley in 1990, and 204 in January 2000. (fn. 291) The redundant school buildings were sold in 1987, (fn. 292) and in 1999 they were occupied as two houses, called The Old Classrooms and The Old School House.
The value of Biggs's charity was increased by the discovery of coal on the estate. (fn. 293) The rental was c. £55 a year in the mid 18th century, (fn. 294) and nearly £90 a year c. 1820, when another £9 was received from Raines's bequest. (fn. 295) In 1884 the income comprised just over £100 a year in rents, and £230 interest on £7,335 stock and cash in hand. (fn. 296) The landed estate in the West Riding was mostly sold in the later 19th and early 20th century; in the East Riding 54 a. in Hollym was bought in 1899, (fn. 297) and in or soon after 1912 a farmhouse and other buildings were put up there. Following the change in the school's management in 1921, a Scheme was obtained in 1922 creating the Sproatley School Foundation to maintain the school and provide vocational training, or access to secondary education, for its pupils. The endowment then comprised, besides the school, the farm at Hollym, let for £71 a year; some unsold land in the West Riding, let for £22, and over £11,000 stock pro ducing more than £250 a year. Medical help for pupils, (fn. 298) grants for further education, and extra books for the school were later provided from the income, which c. 1980 was said to be £1,400 a year. (fn. 299)
Part of the income of Bridget Biggs's charity was used in the early 19th century to provide a few apprenticeship premiums of £4-8 each, and more clothing allowances of up to 4 guineas for those going into service. (fn. 300) The provision of apprenticeships was given up in 1850, (fn. 301) and in the late 19th and early 20th century the income was spent in cash grants to pupils on leaving school and on completion of the first year's work. (fn. 302) In 1933 the trustees were also proposing to provide boys and girls with training in domestic work and handicraft. (fn. 303)
Other schools in Sproatley have included one begun by the parish clerk in 1702, (fn. 304) a girls' school with 20-30 pupils in 1818, and a small boarding school for boys kept by the Revd. Joseph Hatfield, curate, in the early and mid 19th century. (fn. 305)
In the 1870s the schoolmaster tried an evening school but it was unsuccessful. (fn. 306)
CHARITIES FOR THE POOR. Elizabeth Berrier by will of 1686 gave c. 1½ a. in Fitling in Humbleton for the poor of Sproatley. Ten shillings a year was, however, to be paid during his life to Benjamin Hardy, then rector, for a sermon on Mrs. Berrier's birthday. The rent of the land was £1 6s. a year in 1764, and just over £2 a year in 1821, when nine payments of 3-11s. were made to widows and the old. (fn. 307) Alice Johnson left £1 a year in Lelley in Preston; it was not known where the sum was charged in 1764, but in the early 19th century it was being collected and distributed in doles of 2-8s. (fn. 308) The two charities were administered together in the early 20th century. Berrier's charity had by then been converted into a rent charge, of £2 a year, and the joint income of £3 was used to help the sick, either in the form of cash doles or goods such as tea and coal. There were usually about 20 recipients. (fn. 309) In the later 20th century the rent charge from Lelley ceased to be collected and that charity was lost. (fn. 310) Berrier's charity became a relief in need trust benefiting parishioners of Sproatley by Scheme of 1982, which also allowed it to be administered with a larger charity for Burton Constable in Swine. (fn. 311)