Pages 152-156
A History of the County of York East Riding: Volume 7, Holderness Wapentake, Middle and North Divisions. Originally published by Victoria County History, London, 2002.
This free content was digitised by double rekeying. All rights reserved.
MARTON
THE hamlet of Marton lies 6 km. north-east of Swine village and 8 km. west of the coast at Aldbrough. The name, meaning 'farm near the mere', is Anglian and almost certainly alludes to Lambwath mere which extended into Aldbrough and Withernwick parishes. (fn. 1) Lambwath stream, which flowed through the mere and formed the northern boundary of Marton, had been diverted near the western boundary by the late 18th century. Of 946 a. (383 ha.), (fn. 2) Marton civil parish and that of West Newton with Burton Constable were united in 1935 as Burton Constable civil parish. (fn. 3) Marton, which was not recorded separately in 1377, had 14 houses assessed for hearth tax in 1672. (fn. 4) In 1801 Marton's population was 127; later it declined to 68 in 1901, recovered to 87 in 1911, and stood at 73 in 1931. (fn. 5)
MORTON is loosely built along one side of a street which at its western end joins the Ellerby-Rise road and in the east turns south to Burton Constable and Sproatley. The short Pipers Lane, leading east from the street, existed by the late 18th century, when it was probably continued, as later, by a footpath to Fosham and West Newton, in Aldbrough, and another path then led to Withernwick. (fn. 6) The hamlet formerly had distinct east and west 'ends'. (fn. 7) Since the 18th century the pattern of settlement has changed little but only one or two of the dozen farm- and other houses have not been rebuilt. New buildings have included White House Farm, added on the west side of the street c. 1800. (fn. 8) Close to the southern boundary stand a Roman Catholic church and a former school, (fn. 9) where a lending library was run in 1833. (fn. 10) A licensed house traded at Marton from the later 18th century; it was last recorded in 1858. (fn. 11)
MANORS AND OTHER ESTATES
In 1066 Sven held MARTON manor, of 1 carucate; it had passed to Drew de Bevrère by 1086 and was later part of the Aumale fee. Drew's undertenant was Franco, (fn. 12) ancestor of the Fauconbergs. (fn. 13)
The estate, later put at 2-3 carucates and located at EAST MARTON, was held in succession by Peter de Fauconberg, (fn. 14) William de Fauconberg (fl. mid 13th century), (fn. 15) and by the 1280s by Walter de Fauconberg, later Lord Fauconberg (d. 1304), (fn. 16) whose son Walter was named as a lord of Marton in 1316. (fn. 17) Free tenants held the land of the Fauconbergs, whose mesne lordship later descended as an appurtenance of their manor of Rise to the Nevilles and the Crown. (fn. 18) The demesne of Rise manor later included houses and land at East Marton; with Rise they passed to Roger Bethell (d. 1626), his sons Robert and Hugh, and later to Hugh Bethell (d. 1752). (fn. 19) A cottage and c. 10 a. were granted to William Constable in exchange in 1766. (fn. 20)
An estate at East Marton, probably regarded as a manor, belonged to the Hedon family, before passing to the Constables. (fn. 21)
Drew de Bevrère also succeeded to the 2 carucates at Marton which Ulf had held in 1066 as sokeland of his manor of Aldbrough. (fn. 22) In 1284-5 they were held of the Crown, as successor to Drew and the counts of Aumale, apparently as ¼ knight's fee, (fn. 23) though later the same estate was perhaps more correctly reckoned as 1 1/24 fee. (fn. 24)
By the 13th century the Constables held the 2 carucates, (fn. 25) which were at WEST MARTON. William Constable claimed in 1231 that his estate there had been damaged by his overlord, the count of Aumale. (fn. 26) In 1294 the land was held by bond and free tenants of Sir Simon Constable, (fn. 27) whose son Robert was named as a lord of Marton in 1316. (fn. 28) The Constable family later had a demesne estate at Marton; it was said to comprise 352 a. in 1498 and 278 a. in 1578, (fn. 29) and was later enlarged by purchase, notably c. 1600. In 1599 Sir Henry Constable bought a farm of c. 80 a. at East Marton (fn. 30) and in 1602 a smaller farm at West Marton from Sir William Knowles's heirs, the Alfords. (fn. 31) His son Sir Henry and grandson John bought Henry Hedon's estate at East Marton, comprising East Hall Garth, another three houses, and c. 140 a., in 1618. (fn. 32) Later reckoned to include manors at East and West Marton, the enlarged estate descended with Burton Constable manor. (fn. 33) A 150-a. farm, formerly belonging to the Wartons and their heirs, was bought in 1843 by Sir Thomas Constable, Bt., (fn. 34) who then owned the whole of Marton township. (fn. 35) The ChichesterConstables' estate there, of 936 a. in 1963, belonged to Mr. John Chichester-Constable and his daughter, Rodrica Straker, in 1995. (fn. 36)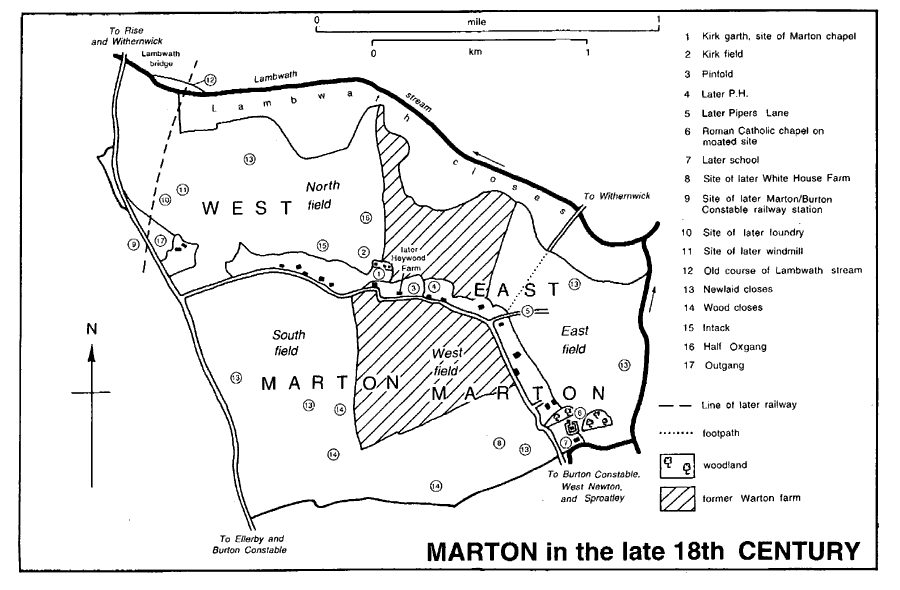 The lordship of Holderness which passed with Burstwick manor to the Crown (fn. 37) included a mere at Lambwath. (fn. 38) As LAMBWATH manor, it was granted in 1538 to Sir John Russell, later baron Russell and earl of Bedford, (fn. 39) who sold it to Lady (Joan) Constable and her son (Sir) John Constable in 1549. (fn. 40) Most of the mere had evidently gone by the mid 16th century, (fn. 41) and in 1609 the manor was described as including 600 a. of meadow ground, of which 341 a. were said in 1693 to be in Withernwick. (fn. 42) Lambwath descended in the Constables with the rest of the family's estate in Marton, in 1719 under the joint description of the manor of Lambwath with Marton. (fn. 43) In the late 18th century Lambwath closes at Marton contained 122 a., and in 1827 the Constables had 108 a. of Lambwath closes at Carlton and Fosham, in Aldbrough, and 185 a. in Withernwick. (fn. 44)
Other medieval estates at Marton included those of William Hautayn, Amand of Routh, and Walter Whittick, all named as lords there in 1316. (fn. 45)
Simon of Marton gave a toft and tillage at East Marton to Meaux abbey, which between 1221 and 1235 granted the land away. (fn. 46) Other land at Marton was held of the abbey in the 13th century by descendants of Geoffrey of Bilton. (fn. 47)
Swine priory held 4½ bovates at Marton of Sir Simon Constable in 1294. (fn. 48) After its dissolution, Sir Thomas Heneage and William Willoughby, Lord Willoughby, bought houses there formerly belonging to the priory in 1548 and sold them to Lady (Joan) Constable in 1549. (fn. 49)
The rectorial tithes of Marton were sold by William Thornton to Cuthbert Constable in 1738 (fn. 50) and were later merged in the freehold. (fn. 51)
ECONOMIC HISTORY
COMMON LANDS AND INCLOSURE. East and West Marton had separate agricultural systems. The boundary between the two 'ends' was mentioned in the 13th century, and West Marton apparently had its own pinfold in 1610; (fn. 52) it was possibly where Marton's pinfold was later. (fn. 53) At East Marton, where in 1086 the ploughland on Franco's estate was worked by a villein with one plough and there was 8 a. of meadow land, (fn. 54) the open fields lay on the east and west sides of the settlement. Both East and West fields included meadow land, and there was a stinted pasture called le Frithes in 1322. (fn. 55) West Marton's tillage evidently lay in North and South fields. (fn. 56) An outgang leading north-westwards from the settlement may have given access to pasture of West Marton, either in Lambwath or in Langthorpe, in Ellerby. (fn. 57) East Marton's fields had been inclosed at least in part by 1590 (fn. 58) and those at West Marton evidently by 1616, when Marton included a 53-a. South field close and a North field close of 34 a. (fn. 59) Long, curved closes in the north and east of the township locate some of the former open-field land, (fn. 60) while close-names recorded in the late 18th century included Intack, Half Oxgang, and several Newlaid closes, all testifying to a probably lengthy process of reorganization. (fn. 61)
LAMBWATH MERE. The fishery of William le Gros (d. 1179), count of Aumale, at Withernwick was probably in Lambwath mere, which also lay in Aldbrough parish and Marton. (fn. 62) The mere was managed for the lord by a fisherman and warreners, or keepers. (fn. 63) Valued for its eels and reeds in 1260, (fn. 64) it also supported pike and bream and in 1348-9 a flock of c. 20 swans. The seigneurial right to fowl and other game in the mere may account for a reference to Lambwath park in 1275. (fn. 65) Pasture at Lambwath was let and rushes sold from the mid 13th century, but both were claimed by the keeper c. 1350, when the grazing was valued at £3 a year. (fn. 66) By the 15th century the fishery, grassland, and rushes were all let; Withernwick farmers, who had earlier paid for watering rights in the mere, occupied much of the grassland, and tenants of East and West Marton rented the grazing of other parts of the mere. The area of water had evidently been reduced by the 1550s, when Sir John Constable, lord of Lambwath manor, bounded and inclosed Lambwath with a ditch and hedge, (fn. 67) and closes had been made there by 1584, when his son (Sir) Henry Constable sold c. 70 a. of Lambwath in Aldbrough and Withernwick parishes. (fn. 68) Despite the sales, Lambwath manor still included 600 a. of meadow land in 1609. (fn. 69) Unlicensed fishing and fowling in Lambwath were occasionally mentioned in the 16th and 17th centuries (fn. 70) but the oversight of the drainage and regulation of the meadows were much more important concerns of the manor court there. Parts of Lambwath, including West Newton's Cottager, or Cotcher, Lambwath, were evidently used in common, pains being laid to ensure that those meadows were mown by all the occupiers before they were opened for grazing. (fn. 71) In 1827 the Lambwath closes in Aldbrough parish included Cottagers' Lambwath, of 18 a., and those in Withernwick West and East Cottinger closes, each of c. 7 a. and held by several men. (fn. 72)
WOODLAND. The south of Marton township was evidently once wooded, like adjacent ground in Burton Constable; nearly 50 a. of Wood closes were recorded in the late 18th century and c. 5 a. of woodland then remained around the Roman Catholic chapel. (fn. 73) By 1849 there was 27 a. of woodland at Marton, and plantations of the Burton Constable estate remain near the southern boundary. (fn. 74)
HOLDINGS AND TENURES IN THE 16TH CENTURY.Ploughing and most carting works owed by the Constables' tenants at Marton had been commuted for fowls, eggs, and money rents by the 1540s, when the lord still claimed the right to buy his tenants' farm produce before it was taken to market. (fn. 75) There were in the earlier 16th century four farms of 2-3 ½ bovates each on the estate. (fn. 76)
LATER AGRICULTURE. There were usually 6-8 farms at Marton in the 19th and 20th centuries, 3 of which in 1851 and 1-2 in the 1920s and 1930s were of 150 a. or more. Cowkeeping and nurserying gave employment to a few at Marton in the late 19th century and early 20th, and one or two smallholdings were recorded c. 1930. (fn. 77)
MILLING AND INDUSTRY. Robert and Francis Grasby built a windmill at Marton in or soon after 1834. By 1840 they were also working as wheelwrights, and an iron and brass foundry had been added near by by 1846. Milling was apparently abandoned c. 1865 but agricultural engineering continued until c. 1970. (fn. 78)
LOCAL GOVERNMENT
The view of frankpledge and regulation of agriculture at Marton mostly belonged in the 16th and 17th centuries to Burton Constable court. In the mid 16th century 1-2 bylawmen for Marton were elected there and later the constable and an aletaster for the hamlet. (fn. 79) The regulation of the meadows alongside Lambwath stream in Marton, Fosham, in Aldbrough, and Withernwick was, however, the chief business of Lambwath manor court, which also had leet jurisdiction. Records of its proceedings survive for 1593-1625, c. 1650, and 1705-89. The court usually met twice a year and regularly appointed 2 ditch supervisors each for east and west Lambwath, and later for the north and south sides instead. (fn. 80) Both courts seem to have been held in Marton. (fn. 81)
At Marton 2 people were relieved permanently and 10 occasionally in 1802-3, and 5 were on permanent and 1 occasional relief between 1812 and 1815. (fn. 82) Marton joined Skirlaugh poorlaw union in 1837, (fn. 83) and the township, later civil parish, remained in Skirlaugh rural district until 1935. As part of Burton Constable civil parish, it was then included in the new Holderness rural district and at reorganization in 1974 was taken into the Holderness district of Humberside. (fn. 84) In 1996 Burton Constable parish became part of a new East Riding unitary area. (fn. 85)
CHURCH
Marton chapel was recorded from c. 1240 (fn. 86) and its dedication to St. Leonard in 1474. (fn. 87) Swine priory assigned its rectorial tithes at Marton, except for those of corn, to the curate as a stipend, (fn. 88) and there was also a landed endowment until its confiscation by the Crown at the suppression. (fn. 89) In 1525-6 the chaplain's income was £3 6s. 8d. a year. (fn. 90) The chapel was served until the end of the 16th century, (fn. 91) but by 1650 the building was in disrepair (fn. 92) and by the late 17th century the Marton tithes had been annexed to Swine vicarage, presumably because of the abandonment of the cure at Marton. (fn. 93) The remains of the chapel were demolished c. 1740 and its yard was later called Kirk Garth. (fn. 94) A bell from the chapel was kept in Burton Constable Hall in 1998. (fn. 95) After the discontinuance of the chapel, parishioners at Marton were evidently served in Swine church (fn. 96) until 1867, when Marton became part of the new parish of Skirlaugh. (fn. 97)
ROMAN CATHOLICISM
There may have been c. 30 papists at Marton in the 1630s, and 14 were recorded there in the 1660s and in 1735. (fn. 98) Tenants of the Constables at Marton and elsewhere in Holderness probably worshipped in the family's chapel at Burton Constable Hall until the later 17th century, when a mission, partly funded by the Constables, was established at Marton. (fn. 99) A house occupying a moated site (fn. 100) near the southern boundary was evidently used for the chapel. A small burial ground outside the moat was provided c. 1700. (fn. 101) Sometimes called 'Burton' chapel from its proximity to Burton Constable, (fn. 102) Marton chapel was very probably one of the two Roman Catholic chapels, each with its own priest, recorded in Swine parish in 1743, (fn. 103) and by the mid 18th century the mission was serving the general neighbourhood, including at least part of Hull. (fn. 104) The house had been rebuilt early in the 18th century, and in 1788-9 William Constable remodelled the building, adding a purpose-built chapel alongside the house, which was later used as a presbytery. The chapel, designed by Thomas Atkinson of York, (fn. 105) comprises a plain, rectangular room, with round-headed windows in the north wall, a shallow, apsidal bay at the east end, and a west gallery. It has been dedicated successively to St. Mary and the Most Holy Sacrament. (fn. 106) Memorials there include a Neoclassical wall monument to Mary Chichester (d. 1815), and there is a Constable hatchment. The chapel was registered for marriages in 1837, (fn. 107) and in 1851 it had a congregation of c. 180. (fn. 108) Later in the 19th century there was only a monthly service supplied by a priest from Hedon, but Marton again had a resident priest in the earlier 20th century. (fn. 109) Since then the church has been served from Hornsea. (fn. 110)
EDUCATION
A non-communicant schoolmaster was recorded at Marton in 1600. (fn. 111) St. Mary's Roman Catholic school at Marton was begun by Francis Constable in 1816, (fn. 112) probably in the building it later occupied near the chapel. (fn. 113) The mixed school had 50-60 pupils in 1833. (fn. 114) Separate accommodation for the boys was built in 1839. In 1856 Sir Thomas Constable, Bt., paid the teachers and provided them with their house and 5 a.; the only other income was then from school pence. (fn. 115) There were just 18 boys and girls in attendance at inspection in 1871, and the school was evidently closed later in the decade. (fn. 116)
A Church school for boys and girls, begun in 1875, took over the building of the former Roman Catholic school. Average attendance was 23 in 1878. The income was entirely from school pence (fn. 117) until 1879-80, when an annual government grant was first received. (fn. 118) The school, which was run on National lines, (fn. 119) was transferred to the county council in 1920, after criticism of the building. (fn. 120) Marton school also served, and was rated to, West Newton with Burton Constable civil parish, (fn. 121) and it was later called Burton Constable-Marton school. Average attendance between 1906 and the early 1930s was usually 20-30; it had risen to 47 by 1938, (fn. 122) about which date the school was enlarged. (fn. 123) In 1954 senior pupils were transferred to South Holderness County Secondary School. (fn. 124) For the whole of 1984 Marton school was housed at Sproatley primary school because of the dangerous state of the building at Marton. Marton school was officially closed at the end of that year, and the pupils were integrated into the Sproatley school. (fn. 125) In 1994 the two-storeyed building, which dates from the late 18th century (fn. 126) and has a dentilled eaves course and a pantile roof, was being converted into a house.
CHARITY FOR THE POOR
Land in Fitling, in Humbleton, belonged to the poor of Marton in the 18th and 19th centuries. (fn. 127)