Pages 160-167
A History of the County of York East Riding: Volume 7, Holderness Wapentake, Middle and North Divisions. Originally published by Victoria County History, London, 2002.
This free content was digitised by double rekeying. All rights reserved.
SOUTH SKIRLAUGH
THE large village of South Skirlaugh lies 4 km. north from Swine village. Its name is discussed above. (fn. 1) South Skirlaugh township, later civil parish, was of 1,102 a. (446 ha.) until 1885, when c. 35 a. (14 ha.) were transferred to Benningholme. (fn. 2) Renamed Skirlaugh civil parish in 1935, it was enlarged in 1952 with 627 a. (254 ha.) at North Skirlaugh and Arnold, transferred from Riston civil parish, and 9 a. (3.6 ha.) from Rise civil parish, and the area remains 690 ha. (1,705 a.). (fn. 3) South Skirlaugh had 87 poll-tax payers in 1377 (fn. 4) and 17 houses assessed for hearth tax in 1672. (fn. 5) Numbers there grew from 123 in 1801 to 364 in 1861 but had fallen to 261 by 1891. They recovered after 1901 to reach 294 in 1921 but were only 264 in 1931 and little different in 1951. In 1952 some 160 people were gained by the incorporation of North Skirlaugh into the reconstituted parish, which had a population of 522 in 1961, 808 in 1971, 1,575 in 1981, and 1,578 in 1991, when there were usually 1,626 resident. (fn. 6)
SOUTH SKIRLAUGH village is mostly built on the valley side of Lambwath stream but a small group of its buildings stands isolated some ½ km. to the south-east. That division of South Skirlaugh into north and south ends probably explains why its chapel was sometimes erroneously recorded under North Skirlaugh. (fn. 7)
Formerly South Skirlaugh's main street was probably Church Lane, which continues northwards over the stream into North Skirlaugh and then on to Rise. (fn. 8) At its southern end Church Lane joins Hull Road, the present main street. Part of the main Hull-Bridlington road, Hull Road leads north-westwards through North Skirlaugh to Long Riston and eventually to Bridlington and south-eastwards through the south end to Coniston and Hull. From that road, side lanes lead to Benningholme, Ellerby, Langthorpe, and Marton. Since 1852, and notably in the mid and late 20th century, South Skirlaugh has been built-up along Hull Road and in and behind Church and Benningholme Lanes, and similar development in North Skirlaugh has virtually made the two Skirlaughs into one. The rural district council built c. 90 houses, mostly beside Hull Road, in the mid 20th century but the greater part of the modern housing is private; (fn. 9) sewerage for the council houses was provided in the 1950s. (fn. 10) Another addition was a telephone exchange. Conversely, some village buildings were demolished for the widening of the main road in the early 1960s. (fn. 11) At the south end, the dozen houses include a cottage, possibly of the 18th century, and several farmhouses.
Up to four houses were licensed at South Skirlaugh in the later 18th century, and the Sun and the Duke of York were named from the 1820s. (fn. 12) The latter was briefly called the Royal in the 1840s, (fn. 13) and both existed in 1994. A third house, run by a wheelwright from 1840, was presumably the Carpenter's Arms, at the south end; named in 1852, (fn. 14) it was closed in or soon after 1968. (fn. 15) A lodge of the United Ancient Order of Druids was founded at South Skirlaugh in 1859; it met at the Duke of York and flourished until at least 1938. (fn. 16) An annual summer feast was held in the village in the late 19th century. (fn. 17)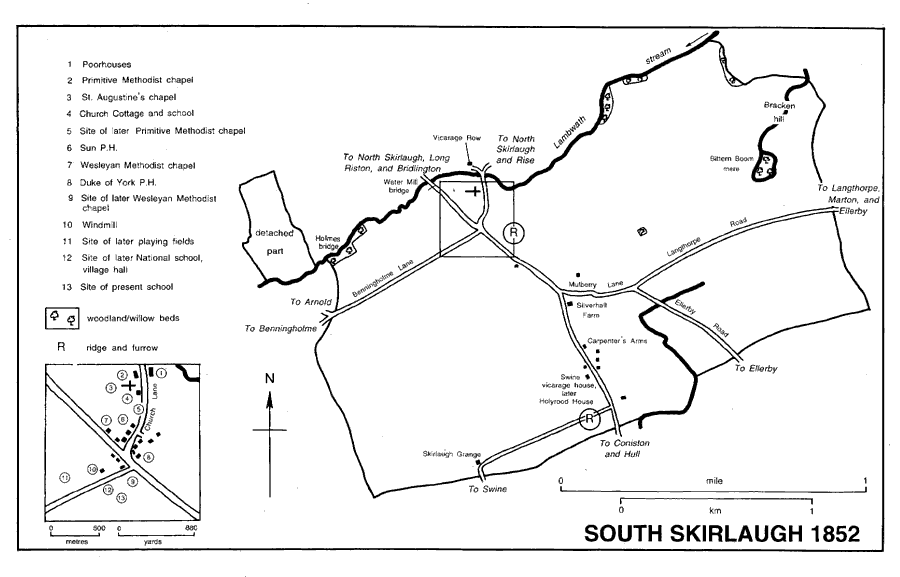 A reading room and Working Men's Institute for North and South Skirlaugh was opened in 1886 in a former Primitive Methodist chapel; (fn. 18) by 1908 it had been removed to an old Wesleyan Methodist chapel, (fn. 19) which in the 1960s was demolished for road widening and replaced by a new building nearby. (fn. 20) A lending library was recorded in 1892, and later a county library branch was held at the Methodist church until 1960, when it was transferred to the reading room. (fn. 21) About 1972 a former school building was adapted for a village hall. (fn. 22) Youth clubs have included one held successively in the Church hall, in North Skirlaugh, and the village hall until it was discontinued c. 1990. (fn. 23)
The village supported two cricket and two football teams in the earlier 20th century. Football was played successively on grounds behind Church Lane and off the Rise road, in North Skirlaugh, and cricket on fields off Church Lane and at Dowthorpe Hall, in Ellerby, until a village playing field was provided beside Benningholme Lane c. 1970. (fn. 24) Allotment gardens have been provided by the parish council on part of the land bought for a cemetery in 1975. (fn. 25)
Skirlaugh was the birthplace of Walter Skirlaw, bishop of Durham (d. 1406) and of the topographer John Bigland (d. 1832). (fn. 26)
MANORS AND OTHER ESTATES
The 5 carucates and 6 bovates recorded at 'Skirlaugh' in 1086 evidently included land at South Skirlaugh, which, like that at North Skirlaugh, later became part of the Aumale fee. (fn. 27)
Most of the Aumale fee at South Skirlaugh was held by the Wytons. Adam of Wyton, the first known tenant there, (fn. 28) had been succeeded by the mid 13th century by W. of Wyton (fn. 29) and by the 1280s by Henry of Wyton, whose holding, of 2½ carucates, was wholly held by tenants. (fn. 30)
By 1260 Thornton abbey (Lincs.) had been given ½ carucate and a close by Adam of Wyton, and 1 carucate and several tofts by two other donors. (fn. 31) The land was later an appurtenance of the abbey's manor of Woodhouse, in Arnold, with which it was granted after the Dissolution to the short-lived Thornton college in 1542. (fn. 32) It presumably continued to descend with Woodhouse manor.
Swine priory had land at South Skirlaugh by 1240, (fn. 33) and in 1352 it shared the Wytons' holding there with Thornton abbey. (fn. 34) Its estate at South Skirlaugh was probably enlarged in or soon after 1415 by grant from bishop Walter Skirlaw's executors, (fn. 35) and in 1535 the house had land at North and South Skirlaugh worth £11 a year. (fn. 36) After the priory's dissolution, its so-called manor of SOUTH SKIRLAUGH was let in 1541 to Sir Richard Gresham. (fn. 37) Part of the estate was granted as concealed land to John and William Marsh in 1576. (fn. 38) The Crown later sold 13 houses, nearly 2 carucates, and closes at South Skirlaugh, agents of Sir John Carey, Lord Hunsden, buying most, including the chief house, in 1604 and Edward Bates and Henry Elwes the rest in 1609. (fn. 39) Other land at South Skirlaugh, formerly belonging to the priory, was sold in 1609 to Robert Angell and John Walter. (fn. 40)
The Constables held land of the Crown in Skirlaugh, possibly as an appurtenance of their lordship of Holderness, (fn. 41) and it was perhaps on that account that they and their successors were later reckoned lords of SOUTH SKIRLAUGH manor. (fn. 42)
William James (d. by 1723), vicar of Burstwick, endowed his hospital at Cawood (Yorks. W.R.) with a farm of 58 a. at South Skirlaugh, which was sold to Harry and Clive Jackson in 1970. (fn. 43)
In 1838 W. V. Norman bought a farm at South Skirlaugh of c. 140 a., formerly part of the estate attached to Langthorpe Hall, in Ellerby. (fn. 44) Another farm, of almost 150 a. and formerly belonging to the Hildyards, was bought in 1846, (fn. 45) and the Langthorpe Hall estate in 1857. (fn. 46) Mr. Norman (d. 1861) (fn. 47) was succeeded in one of the farms at South Skirlaugh by his daughter Elizabeth (d. 1900) and she by Marmaduke Rees-Webbe, who sold Poplar farm in 1919 to R. J. Kirkwood. (fn. 48) The other farm passed to Mary Norman (d. by 1898), presumably another daughter, and then in turn to Elizabeth as her devisee and Elizabeth's heir, Marmaduke Rees-Webbe, who sold Silverhall farm to the county council in 1919 for smallholdings. (fn. 49)
The Crown's estate in Swine parish included c. 125 a. in South Skirlaugh in the early 20th century. (fn. 50)
Rectorial tithes at South Skirlaugh were bought from William Thornton in 1737 by Hugh Bethell (d. 1752), in 1764 by Sir Robert Hildyard, Bt., and in 1765 by William Langdale and John Moorhouse's widow Ann; (fn. 51) Thomas Thornton sold others in 1792 to Robert Wood. (fn. 52) In 1839 the tithes of the Cawood charity farm were commuted for a rent charge of £4 4s., (fn. 53) and tithes from over 400 a. were merged in 1849. (fn. 54)
ECONOMIC HISTORY
COMMONABLE LANDS AND INCLOSURE. Little is known about the commonable lands of South Skirlaugh. East field was named in 1645. (fn. 55) Ridge and furrow remains beside the main road near the southern boundary and at the south end of the village, and the location of other parts of the open fields is suggested by the shapes of some of the later closes. (fn. 56) Bracken hill, in the north-eastern corner of the township, and an ill-drained area to its south, may have been used as common pasture. (fn. 57) The commonable lands had been inclosed by 1722. (fn. 58)
16TH-CENTURY HOLDING. Swine priory had seventeen tenants at South Skirlaugh in 1536; three of the holdings were of over 3 bovates each and four of 1-3 bovates, and there were 10 smaller holdings with little or no open-field land. (fn. 59)
LATER AGRICULTURE. In Skirlaugh chapelry 443 a. was returned as arable land in 1801. (fn. 60) Of the 415 ha. (1,026 a.) returned under Skirlaugh civil parish in 1987, 320 ha. (791 a.) were arable land, 88 ha. (218 a.) grassland, and 1 ha. (2.5 a.) woodland; livestock kept in the area then included just over 200 cattle. (fn. 61)
There were usually 6-8 farmers at South Skirlaugh in the 19th century and earlier 20th, one or two of whom had 150 a. or more. (fn. 62) The Crown let 49 a. at South Skirlaugh from 1909 and two cottages and 75 a. more from 1914 to the county council, which provided ten smallholdings there until the mid 1930s. Other council holdings were made from the 135-a. Silverhall farm, bought in 1919; three of the holdings there, amounting to 39 a., were let that year to Skirlaugh parish meeting. Humberside county council still held the estate in 1995. (fn. 63) Up to five market gardeners found employment at South Skirlaugh in the later 19th and early 20th century, and a cowkeeper worked there in the 1870s. (fn. 64) In 1987 eight holdings were returned under Skirlaugh civil parish; two were of 100- 199 ha. (247-492 a.), one of 50-99 ha. (124-245 a.), three of 20-49 ha. (49-121 a.), and two of under 2 ha. (5 a.). (fn. 65)
MILL. Swine priory had a windmill at South Skirlaugh which was rebuilt in the 1560s and sold by the Crown in 1611. (fn. 66) Perhaps the same was the windmill recorded in 1750 (fn. 67) and the later post mill, off Benningholme Lane, which ground until c. 1910 and was demolished in 1944. (fn. 68)
TRADES. There was small-scale commercial activity in South Skirlaugh village in the 19th and earlier 20th century, c. 30 tradesmen and shopkeepers working there in 1851, for instance, and the two public houses also playing their part. Craftsmen included a weaver in 1851. (fn. 69) A motor engineering concern was begun c. 1920, and in 1994 there were two garages beside the main road and a workshop in Church Lane. (fn. 70)
LOCAL GOVERNMENT
Chapelwardens' and churchwardens' accounts survive from 1746 and include details of the Chapel Estate charity. (fn. 71) Poorhouses were maintained by South Skirlaugh. (fn. 72) Seven people were relieved there permanently in 1802-3 and 5 occasionally between 1812 and 1815. (fn. 73) South Skirlaugh joined Skirlaugh poor-law union in 1837, (fn. 74) and the township, later civil parish, remained in Skirlaugh rural district until 1935, then became part of the new Holderness rural district, and at reorganization in 1974 was taken into the Holderness district of Humberside. (fn. 75) In 1996 Skirlaugh parish became part of a new East Riding unitary area. (fn. 76) Skirlaugh obtained a parish council in 1949. (fn. 77) In 1982 a cemetery adjoining the churchyard was consecrated for Skirlaugh and Ellerby civil parishes. (fn. 78)
CHURCH
Parishioners of Swine living at North and South Skirlaugh, Arnold, and Rowton were served by the 14th century in South Skirlaugh chapel, (fn. 79) sometimes erroneously described as in North Skirlaugh. (fn. 80) The curacy was annexed to Swine vicarage by the later 17th century, (fn. 81) but in 1867 a separate parish of Skirlaugh was created, comprising North Skirlaugh, South Skirlaugh, Benningholme, and Marton townships, together with the part of Arnold until then in Swine parish. The living was a perpetual curacy in 1867 (fn. 82) but soon afterwards became a vicarage. (fn. 83) Skirlaugh vicarage was united with Long Riston in 1956, when the archbishop of York, the patron since 1867, (fn. 84) was given alternate presentations to the united benefice. (fn. 85) He obtained the share of the other patron, the Crown, by an exchange of patronages in 1961. (fn. 86) In 1989 Skirlaugh parish was reduced by the transfer of its part of Arnold to Riston parish. (fn. 87)
Before the mid 14th century Swine priory and the inhabitants of North and South Skirlaugh, Arnold, and Rowton agreed on the maintenance of a chantry in South Skirlaugh chapel. In 1337 a dispute, allegedly occasioned by the priory's withdrawal of the chantry, was settled by the archbishop, who made a new ordination. The priory was to present a chaplain to celebrate daily in the chapel and to pay him £1 13s. 4d. a year, and its earlier assignment to him of 2 bovates at South Skirlaugh and 1d. a year from each of the priory's bovates at Skirlaugh was ratified. For their part, the inhabitants were to provide all necessities for services and to repair the chapel, 5s. a year, hitherto owed to the priory, being allowed them towards their costs. (fn. 88) Walter Skirlaw (d. 1406), bishop of Durham, a native of Skirlaugh and brother of a prioress of Swine, (fn. 89) rebuilt the chapel (fn. 90) and in 1404 refounded and augmented the chantry to support two chaplains; one was to receive £6 a year as warden and curate and the second chaplain a stipend was £5 6s. 8d. Skirlaw then presented the first incumbents, who included as second chaplain William Skirlaw; (fn. 91) thereafter Swine priory was patron. (fn. 92) A third chaplain was mentioned in 1525-6. (fn. 93) The chantry was recorded in 1535, but had evidently been suppressed by 1542, when pensions were being paid to two chantry priests at Skirlaugh for their lives. There seems only to have been a curate at Skirlaugh in 1546. (fn. 94) In 1337 the priory had given land on the north side of the chapelyard as the site for a house for the chantry priest, (fn. 95) and in 1576 the Crown sold the chantry house to Andrew Palmer and Alexander King. (fn. 96) An almshouse recorded in 1573 may also have been associated with the chantry. (fn. 97)
From the 1540s the curate of Skirlaugh, and later the vicar of Swine as curate, received a stipend of £3 6s. 8d. a year from the rectory. (fn. 98) By the early 19th century the stipend had been increased by subscription to £26 5s. (fn. 99) A curate was deprived in the 1550s, (fn. 100) and later the duty seems to have been neglected. There were no sermons in 1575 and 1582, (fn. 101) and services were often infrequent in the 18th century. (fn. 102) In 1743, however, when the vicar had an assistant curate, a service was held every other Sunday and there were three celebrations of communion, at which c. 50 received. (fn. 103)
At the creation of the new parish in 1867 the curate's stipend and an £18 rent charge for tithes at Marton, until then also received by the vicar of Swine, were annexed to Skirlaugh. (fn. 104) Two sums of £1,500 each were raised by subscription and met in 1867 and 1876 respectively by annual grants of £46 13s. 4d. and £50 from the Common Fund, (fn. 105) and in 1883 the net annual income was £187. (fn. 106) A further £6 a year was granted from the Common Fund in 1909. (fn. 107) A parsonage for the new parish was built at North Skirlaugh in 1869-70, (fn. 108) and that house was designated the parsonage house of the united benefice in 1956. (fn. 109)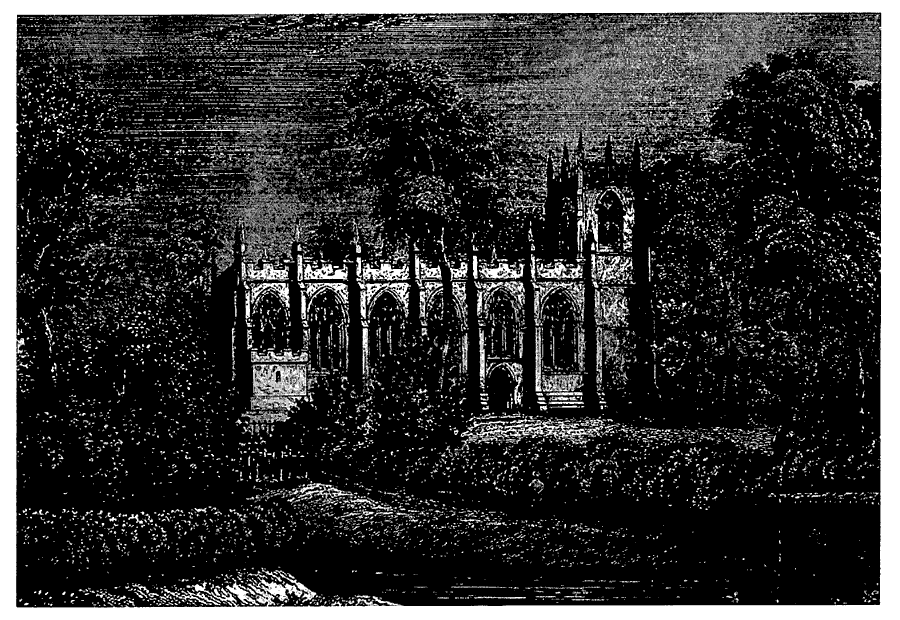 In 1865 the vicar of Swine provided a weekly service in the chapel, besides another in the workhouse at North Skirlaugh. After the separation from Swine parish, cottage lectures and classes were started at Arnold and Marton and in Skirlaugh school, and by 1871 there were two Sunday services in Skirlaugh church. Holy Communion was quarterly in 1865 and monthly from 1868, with usually up to a dozen communicants in the later 19th century; in 1931, when communion was weekly, five usually received. (fn. 110) The congregations of Skirlaugh parish church and of Skirlaugh Methodist church were united in 1982. (fn. 111)
The church of ST. AUGUSTINE is largely of ashlar, and has an undivided nave and chancel with north vestry, all of c. 1400, and south porch and west tower of slightly later date. (fn. 112) Similar in plan to a college chapel, the nave, chancel, and vestry were built for Walter Skirlaw (d. 1406), bishop of Durham. Of six bays with traceried windows and prominent, pinnacled buttresses, it is a well-known example of early Perpendicular architecture. Skirlaw's arms occur often in chancel and nave, and their absence from the tower and south porch suggests that they were not part of his gift. The tower is partly built of rubble. The interior of the church was originally fitted with a screen and stalls. The rood loft with images remained in 1567, (fn. 113) and the screen survived into the 19th century, being sold c. 1835 with the stalls. (fn. 114) The church was repewed in 1819 (fn. 115) and restored in the late 19th century. Much of the restoration was done by William Botterill & Sons of Hull in 1879-80 and included the removal of a west gallery, the renewal of stonework in the windows and the tower, and reglazing. (fn. 116) The chancel was altered and refitted in the mid 1880s, (fn. 117) and the church again reseated in 1893. (fn. 118) Restoration work in the later 20th century has included the replacement of the original roof by one of lower pitch with a ceiling of timber panels in the 1960s, reglazing and the resetting in the windows of fragments of medieval glass in 1981, and the removal of Victorian panelling and pew platforms in 1990. Over several years Mr. Edward Brown of Skirlaugh repointed all the stonework. (fn. 119)
The fabric of the earlier chapel was the parishioners' responsibility in the 14th century, (fn. 120) and in 1404 Walter Skirlaw provided for his new chapel by assigning 6s. 8d. a year of the existing chantry's income to them. (fn. 121) By 1623 there was a landed endowment, (fn. 122) later the Chapel Estate or Bishop Skirlaw's charity. In the mid 18th century it comprised two houses and c. 3 a. at North and South Skirlaugh, rent charges amounting to 9s. 4d., and a common right in Arnold carr, for which 8 a. there were allotted at inclosure in 1778. (fn. 123) In 1823 the total income was just over £36 a year, of which c. £5 was subscribed towards the curate's stipend. (fn. 124) Four cottages called Vicarage Row were built at North Skirlaugh in 1862, increasing the income to c. £53 a year. (fn. 125) By 1930 the income was added to that from Langdale's charity and other sources and spent generally to support the church and its services. (fn. 126) The land at Arnold was sold in 1943. (fn. 127) In 1963 the income from the Chapel Estate was only £127, (fn. 128) but rents were later revised and the site of the Church hall, after the removal of the building in the 1970s, and adjoining land at North Skirlaugh sold for housing. In 1995 the annual income was c. £9,000, which continued to be spent on the church and its services. (fn. 129)
The chapel was also maintained under the will of Marmaduke Langdale, (fn. 130) just over £5 a year being received by the chapelwardens c. 1800 and £60 of unspent income being used for repewing in 1819; (fn. 131) in the mid 19th century the trustees allowed the church £5-40 a year. (fn. 132) By Scheme of 1900 the church was assigned ¼ of the net income of the charity for the fabric, fittings, and services of the church, and c. £6-9 a year were received in the earlier 20th century (fn. 133) and £30 in 1963. (fn. 134)
There were two bells in 1552 and later. (fn. 135) The plate includes a paten and a 17th-century cup and cover. (fn. 136) The registers of baptisms begin in 1711, of marriages in 1720, and of burials in 1719; baptism entries are lacking for 1712-18 and marriage entries for the 1750s. (fn. 137) Transcripts for Skirlaugh and Marton survive, however, from 1600. (fn. 138)
The chapelyard, mentioned from the 14th century, (fn. 139) was closed partly in 1882 and wholly soon after 1883. (fn. 140) Ground adjoining the old yard was bought for an addition in 1883 and then licensed for burials; it was eventually consecrated in 1927, with another addition bought that year. (fn. 141)
For his service in Skirlaugh chapel the clerk of Swine parish was entitled to 32 sheaves of wheat from Arnold until inclosure in 1778, when 16s. 6d. a year was substituted. (fn. 142)
ROMAN CATHOLICISM
There were a dozen Roman Catholics at 'Skirlaugh' in the 1660s, some of them possibly connexions of the Langdales of neighbouring Langthorpe, in Ellerby. (fn. 143)
PROTESTANT NONCONFORMITY
In 1776 an unidentified, protestant congregation worshipped in a house at 'Skirlaugh'. (fn. 144) Wesleyan Methodists registered a house there in 1800 and built a chapel on the east side of the main road at South Skirlaugh in 1821. (fn. 145) The chapel had evidently been enlarged by 1869, (fn. 146) and in 1893 it was replaced by a new chapel on the other side of the road. (fn. 147) The former chapel was later used as a reading room, in succession to one held in an old Primitive Methodist chapel, before being demolished. (fn. 148) The new chapel, later the Methodist church, was closed in 1982, when the Methodist and Anglican congregations at Skirlaugh were amalgamated at St. Augustine's. The former church was sold in 1984 and later converted into a house. (fn. 149) The Primitive Methodists also built a chapel in 1821, presumably that at the north end of Church Lane attended in 1851 by a congregation of c. 55. (fn. 150) That chapel was replaced in 1859 by one built further south. (fn. 151) The former chapel was a reading room for a few years from 1886; (fn. 152) it seems to have been demolished. The Primitive Methodist chapel was closed in or shortly before 1928, when the building was sold, and in 1995 it was used as a motor engineering workshop. (fn. 153)
EDUCATION
There may have been a school at South Skirlaugh before 1582, when it was complained that there was no curate to teach the young, (fn. 154) and in 1609, when Marmaduke Langdale (d. 1611) left money for teaching there. (fn. 155) There was certainly one in 1615, when a servant of Langdale's heir was teaching without licence. (fn. 156) Langdale's school was later held in a schoolhouse on the south side of the chapelyard. The building incorporated a cottage belonging to the Chapel Estate, now called Church Cottage and used for church meetings. (fn. 157) In the mid 18th century the Church school had c. 20 pupils, four of them taught free for £2 a year from Langdale's charity; (fn. 158) the trustees paid £10 10s. a year for the teaching of 10 boys and girls about 1820, (fn. 159) and they supported 17 pupils in 1833, when the other 20 paid school pence. (fn. 160) Langdale's charity helped in the building of a new National school with master's house on Benningholme Lane in 1860. (fn. 161) It was supported by school pence, subscriptions, including £20 from Langdale's charity, (fn. 162) and from 1863-4 by an annual government grant. (fn. 163) There were 49 in attendance at inspection in 1871, (fn. 164) and infants were accommodated in 1877. (fn. 165) Average attendance at the school declined from 115 in 1906-7 to 59 in 1937-8, (fn. 166) but c. 20 pupils were received from Ellerby school in 1947 (fn. 167) and, despite the transfer of the senior pupils to South Holderness County Secondary School in 1954, (fn. 168) additional accommodation had to be hired for the school in the 1960s. (fn. 169) A new Church school was built nearby and opened in 1968; Swine school was then closed and its pupils transferred to Skirlaugh. (fn. 170) There were 268 on the roll at Skirlaugh in 1990. (fn. 171) The old school buildings were used from c. 1972 as a village hall. (fn. 172)
By Scheme of 1900 South Skirlaugh school was assigned ¼ of the net income of Langdale's charity and the ½ then allocated for appenticeships might, in their absence, be used to encourage education in the form of prizes and grants. In the earlier 20th century the school's share was £6-9 a year and the trustees spent c. £10 on prizes. (fn. 173)
There were evidently also one or two dame schools at South Skirlaugh in the mid 19th century. (fn. 174)
CHARITY FOR THE POOR
Marmaduke Langdale (d. 1611) left £100 for the poor of North and South Skirlaugh, Rowton, and Arnold, and £100 to maintain South Skirlaugh chapel and for education. A permanent endowment for the charities, comprising 33 a. at Dowthorpe, in Ellerby, was settled in 1657 and produced an income of £10 a year then, £18 about 1800, and £26 in 1823. The eleemosynary share was intended for marriages and apprenticeships but in 1781 Langdale's bequest was said to be doubtful in its purpose and 'perpetually disputed', and in the early 19th century grants were rare and applications for assistance to marry were discouraged. (fn. 175) By Scheme of 1900 half of the clear income was allocated for apprenticeships or in default to education. (fn. 176) In the earlier 20th century the gross income was some £30-40 a year, from which grants of up to £10 were made for training and apprenticeship. (fn. 177) In 1995 the income was £1,900 a year. (fn. 178)