Pages 205-213
A History of the County of York East Riding: Volume 7, Holderness Wapentake, Middle and North Divisions. Originally published by Victoria County History, London, 2002.
This free content was digitised by double rekeying. All rights reserved.
NORTH DIVISION
ATWICK
THE village of Atwick lies 24 km. NNE. of Hull, 3 km. NNW. of the resort of Hornsea, and c. 500 m. from the coast, which forms the eastern parish boundary. (fn. 1) The ancient parish also included the hamlets of Arram, c. 3 km. south-west of the village, and Skirlington, c. 2 km. north. The name Atwick, 'Atta's dairy farm', is Anglian but was not recorded until the 12th century. Arram is a Scandinavian name meaning 'at the shielings', presumably an allusion to pasture there. Skirlington, which may mean 'Scirela's farm', is an Anglian and Scandinavian hybrid. The suffix 'in Holderness' was sometimes used, presumably to distinguish Atwick from Adwick le Street and Adwick upon Dearne (both Yorks. W.R.) and Arram from Arram in Leconfield. (fn. 2)
In 1852 the ancient parish contained 2,298 a. (930 ha.), comprising 1,430 a. (579 ha.) in Atwick, 539 a. (218 ha.) in Arram, and 329 a. (133 ha.) in Skirlington. (fn. 3) During the 19th century the sea consumed on average 2–3 yd. of the parish each year. By 1911 its area had been reduced to 2,244 a. (908 ha.) and by 1991 to 2,189 a. (886 ha.). (fn. 4)
In 1377 there were 103 poll-tax payers in Atwick. Arram was then and later assessed jointly with Bewholme, in Nunkeeling. (fn. 5) By 1517 inclosure had resulted in the ejection of 17 people in Atwick. (fn. 6) In 1672 there were 25 houses listed in the hearth-tax return for the parish, excluding Arram. (fn. 7) There were 35 families in the parish in 1743 and 33 in 1764. (fn. 8) From 368 in 1801 the population fell to 286 in 1811 and thereafter fluctuated around 300, standing at 284 in 1901. It was almost the same in 1971 but 360 were counted in 1991, of whom 323 were usually resident. (fn. 9)
The parish is largely on boulder clay and much of the ground exceeds 15 m. above sea level. Along the coast the higher ground ends in an unbroken line of steep cliffs, and at Arram, where the land rises to 24 m., it provided the site of the hamlet. Lower land in the west is partly alluvial, and small deposits of lacustrine clay mark the sites of former meres. (fn. 10) At Atwick the higher ground north and south of the village was mostly occupied by the open fields and the lower ground in the west by common meadows and pastures; the commonable lands there were inclosed in 1772.
The parish is drained by Stream dike, which flows northwards along the western boundary towards the Skipsea and Barmston drains and eventual outfall into the North Sea. It was evidently Stream dike which was in disrepair in 1367. (fn. 11) Tributary streams form part of the southern boundary of Atwick and Arram's eastern boundary. Lesser drains include that which flows west along part of the southern boundary of Arram into Catfoss drain. (fn. 12)
The principal road in the parish, from Hornsea to Skipsea, has been upgraded and improved as part of the main Holderness coast road. From the village a minor road leads west to Bewholme, whence others run south and east through Arram to Seaton and Hornsea respectively.
ATWICK village has a linear plan extending across the centre of the parish. The plan was evidently determined by a stream which rises close to the sea and flows through the village to Stream dike. The main village street is that leading west to the church, now comprising Cliff Road and Church Lane. Cross lanes connected it with northern and southern back lanes, the southern one continuing as the Bewholme road. A large irregular green in the centre of the village is crossed both by the main street and one of the side lanes, which forms part of the Hornsea to Skipsea road. The shaft of a medieval cross with a stepped base stands on the green, and there is a pond, named Holy Well, by the Bewholme road. Four council houses were built on Bewholme Road after 1937 and a dozen more, together with a dozen bungalows, in Church Lane in the 1950s and 1960s. Those served to end the isolation of the church and former vicarage house at the west end of the village. The district council also built and subsequently operated a sewage disposal works on Church Lane for the bungalows. (fn. 13) In the earlier 20th century the village was also extended by the building on the cliffs of a dozen bungalows and chalets. A caravan site, opened there c. 1945, accommodated c. 30 static caravans in 1992, when there were two smaller sites nearer the village. (fn. 14) Most of the village buildings date from the 19th century and are of brick. Boulder construction co-exists with brick in several buildings, among them The Cottage, on Bewholme Road, the former Primitive Methodist chapel, and the outbuildings of Cliff Farm. Atwick Hall, overlooking the green, is a large farmhouse of the 19th century. Conservation areas were designated in Atwick in 1991. (fn. 15)
HOLDERNESS WAPENTAKE
Up to three houses were licensed at Atwick in the later 18th century, and the Black Horse, named in 1822, (fn. 16) still traded in 1991. The school, closed in 1960, was later used as a village hall. (fn. 17)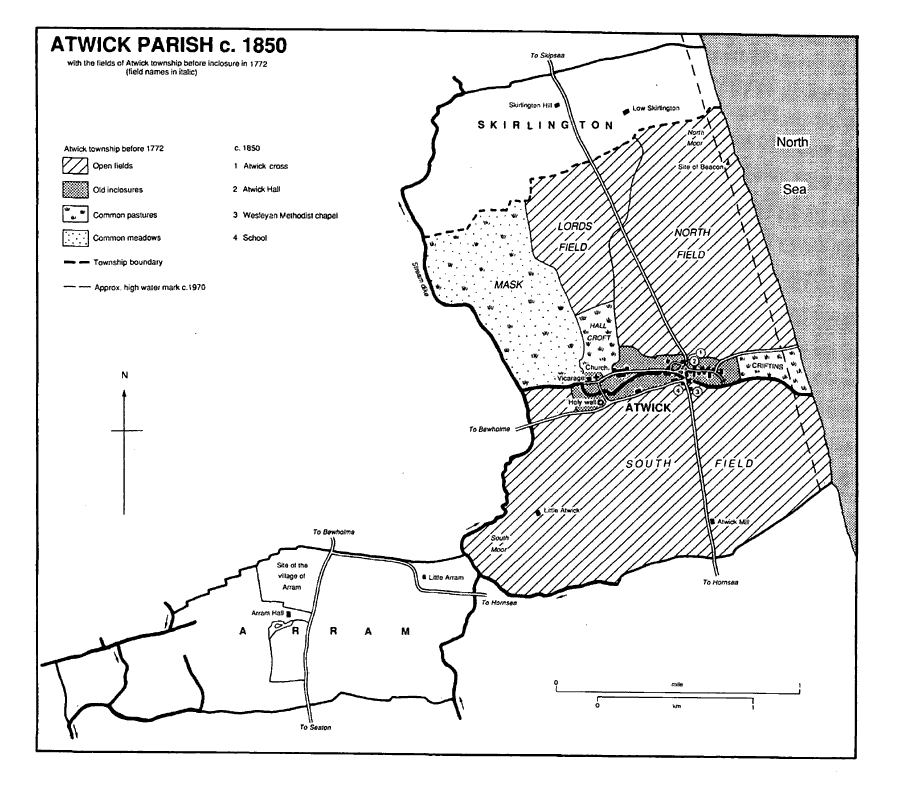 ARRAM. At Arram there is thought to have been a medieval settlement, of unknown size, lying north of Arram Hall, which was built in the 17th century and by the mid 18th was the only remaining building. (fn. 18) Little Arram Farm, added between 1828 and 1852, (fn. 19) was rebuilt c. 1990.
SKIRLINGTON hamlet comprises two farms. High Skirlington Farm, known as Skirlington Hill in 1922, had been built by 1772 and Low Skirlington Farm by 1828. (fn. 20) Low Skirlington leisure park, which includes a golf course, was opened in 1965; a caravan park and most of the present buildings date from 1973, and in 1986 a swimming pool was added. About 1990 a Sunday market began to be held on the site, and later large car boot sales were started there. In 1992 the site accommodated c. 800 static caravans. (fn. 21)
OUTLYING HOUSES include Little Atwick, also known as Moor House by 1852, and Atwick Mill Farm, both built by 1828 on ground inclosed in 1772. (fn. 22) A beacon stood on high ground close to the sea in the late 18th and early 19th century. (fn. 23) Land at Atwick was used by the military authorities during both World Wars, and several military buildings put up c. 1940 remain on the cliffs. (fn. 24) A gas terminal between Atwick and Skirlington was constructed in 1973–5 and extended in 1983. (fn. 25)
MANORS AND OTHER ESTATES
Land at Atwick and Arram was evidently included in Morkar's manor of Hornsea in 1066 and had passed with it to Drew de Bevrere by 1086; (fn. 26) it was later part of the Aumale fee. In the mid 13th century William de Ros held 12 carucates at Atwick, which holding descended in the Ros family, later Barons Ros of Helmsley (Yorks. N.R.), and their successors. (fn. 27) Robert de Ros was named as undertenant in 1284–5. (fn. 28)
In 1300 John of Barton and his wife Joan held 4 carucates at Atwick of Nicholas de Meynell as "⅓" knight's fee, (fn. 29) and in 1316 Joan Barton was named as lord of Atwick, together with Richard and Stephen Thorpe, Simon of Goxhill, and Alice of Bushby. (fn. 30) In 1318 Joan sold ATWICK manor to Sir John Sutton, later Lord Sutton, who held it as ¼ knight's fee from William de Ros, Lord Ros. John (d. by 1338) was succeeded in turn by his sons, John Sutton, Lord Sutton (d. 1356) and Thomas Sutton, Lord Sutton (d. by 1395). (fn. 31)
The estate was later divided between Thomas's three daughters. Constance Sutton's second husband, Sir John Godard, held "⅓" of the manor at his death in 1420, (fn. 32) and her share passed to the Ughtreds by the marriage of the Godards' daughter Margaret to Thomas Ughtred. That share then descended in the Ughtreds to Sir Robert Ughtred, who in 1527 sold it, as Atwick manor, to Cardinal Wolsey. (fn. 33) After Wolsey's attainder the estate was granted to Sir Marmaduke Constable in 1535. (fn. 34) It descended in the Constables of Everingham to Sir Philip Constable, Bt., who in 1653 sold the estate, containing c. 120 a., to John Rushworth. (fn. 35) That share of the manor has not been traced further.
Another "⅓" share descended to Thomas Sutton's daughter Margery (d. 1391), who married Peter de Mauley. (fn. 36) The Mauleys' daughters Constance and Elizabeth married Sir John Bigod (d. 1427) and George Salvan (d. 1418), whose sons Ralph Bigod and John Salvan later held 2/9 and 1/9 shares of the manor respectively. (fn. 37) The Bigod share had evidently passed by 1491 to William Babthorp, who sold it to John Pickering that year. In 1510 Pickering's son William sold the estate to John Wensley and Robert White, later the sole owner. It was bought in 1525 by William Longford and others, who conveyed it to St. John's college, Cambridge, in 1527. The college acquired other land in Atwick township as part of Marfleet manor in 1530. (fn. 38) It had 238 a. there at inclosure in 1772 and 216 a. in 1910. (fn. 39) In 1979 it sold College farm to the Hornby family, the owners in 1991. (fn. 40)
From Thomas Sutton's daughter Agnes, wife of Sir Ralph Bulmer (d. 1406) and Sir Edmund Hastings (d. 1448), "⅓" of Atwick manor descended to the Bulmers. (fn. 41) Sir Ralph had also inherited 2 carucates and 2 bovates, part of the Ros fee at Atwick, from his father Ralph (d. 1366). (fn. 42) John Bulmer (d. 1537) forfeited the estate for his part in the Pilgrimage of Grace, but it was restored to his son Sir Ralph (d. 1558). The "⅓" share was divided between his daughters, one of whom, Anne Welbury, sold her interest to George Creswell in 1575. (fn. 43) Creswell had bought the shares of the other daughters, Frances Constable, Joan Cholmeley, and Millicent Grey by 1585. (fn. 44) At his death in 1592 Creswell's estate at Atwick included 15 houses and evidently comprised land of both the Ros and Aumale fees. (fn. 45) In 1613 the estate was divided and sold by George's son Ralph Creswell and Ralph's son George. (fn. 46) Part bought by Thomas Acklam may have descended to Jonathan Acklam, who was awarded 140 a. at inclosure in 1772. (fn. 47) The Bulmers' share of the manor has not been traced further.
A modern estate at Atwick originated in purchases made by Robert and George Gale (both d. 1824). (fn. 48) It comprised c. 180 a. in 1856 when it belonged to G. M. Gale. He (d. 1887) was succeeded by his son, also G. M. Gale. (fn. 49) The son already had land in Atwick. In 1863 a half share in a 111-a. farm there had been settled on him, as G. M. Gale the younger, and George Ogle's coheir Mary Ogle shortly before their marriage, and in 1877 the other heir sold her moiety to Gale. (fn. 50) He bought 63 a. more in 1903 and at his death in 1916 held c. 350 a. at Atwick. (fn. 51) In 1926 the estate was divided and sold in several lots. The 130-a. Cliff farm was conveyed to E. A. Williams and Susannah Gale, (fn. 52) and Church farm, of 217 a., was sold to Tom Catton (d. 1950) and Charles Catton (d. 1957). (fn. 53) Charles was succeeded by J. B. Catton and his mother Isabella (d. c. 1975), and in 1991 Church farm was owned by J. B. Catton and Son. (fn. 54)
In 1066 Thorkil held ARRAM, comprising 1 carucate. It had passed by 1086 to Drew de Bevrere, whose tenant Rayner then occupied part of it. (fn. 55) Other land at Arram was probably included in Hornsea manor in 1086, (fn. 56) and in the mid 13th century 2 carucates at Arram were held by Ralph of Sherburn. (fn. 57)
About 1200 donors including Sir Stephen of Arram and Richard son of Peter gave Meaux abbey an estate in ARRAM, which was described as a grange by 1202. (fn. 58) Comprising 1 carucate and other land, it was granted to Sir Nicholas de Stuteville soon afterwards; Stuteville gave it to John of Meaux and it later passed to his son Peter, who had granted it back to the abbey by 1235. (fn. 59) Members of the Skirlington family and others made further gifts during the 13th century, and by 1269 the abbey had more than 1 carucate and 3 bovates in desmesne and 4 bovates held by tenants. (fn. 60) After the Dissolution Meaux abbey's manor, then comprising two houses, 1 carucate and 6 bovates, and other land, was granted to Sir Christopher Hatton in 1586. It was bought the same year by Ralph Creswell, who succeeded on his father George's death in 1592 to other land at Arram. (fn. 61) In 1618 Creswell sold his estate to Nicholas Waller. (fn. 62) Waller's daughter or granddaughter Susan married Gervase Bosville (d. 1621), and their son Thomas sold the manor in 1654 to William Dobson (d. 1666). (fn. 63) Dobson's daughter Esther (d. 1716) married Christopher Hildyard (d. by 1685) and the manor later descended in the Hildyards. (fn. 64) In 1804 Sir Robert D'Arcy Hildyard, Bt., sold the Arram Hall estate, of c. 490 a., to Thomas Bainton (d. 1842). Bainton was succeeded by his son John (d. 1891) and John by his son Thomas. (fn. 65) The mortgagees sold the estate to Thomas Reed in 1899. After Reed's death in 1942, it was bought by Stanley Rhodes in 1944, by Harold Carbutt in 1947, and by George Walton in 1951. (fn. 66) In 1954 Walton sold Arram to Lady (Ernestine) StricklandConstable and it remained part of the Strickland-Constable estate in 1990. (fn. 67)
Arram Hall was built in the early 17th century, possibly by Nicholas Waller. (fn. 68) It is of red brick with black brick diapering to the upper storey and has shaped end-gables and a twostoried porch with a broken segmental brick pediment to the doorway. The house was enlarged in the 19th or 20th century with two lower wings and bay windows, and the interior has been remodelled. It retains an 18th-century staircase.
In 1066 Morkar held 5 carucates at SKIRLINGTON as soke of his manor of Hornsea. The sokeland had passed with the manor to Drew de Bevrere by 1086. (fn. 69) Much of Skirlington was granted to Bridlington priory. Simon father of Emma (Emeline) of Skirlington had given 1 carucate there by the mid 12th century, Emma's son Ralph of Skirlington 1 carucate and 2 bovates by 1232, and Ralph's neices 2 bovates by 1229. (fn. 70) By the earlier 13th century the priory had also been given land at Skirlington by William d'Oyry and an estate in Arram by Henry le Nayre. It added other land at Skirlington by purchase from Newburgh priory (Yorks. N.R.) and appropriated Atwick rectory. (fn. 71) The priory had 5 carucates in Skirlington and Arram by 1285, and in 1290 it was granted free warren in Skirlington. (fn. 72) In 1537 the prior was attainted for his role in the Pilgrimage of Grace and the manor was forfeited to the Crown. (fn. 73)
The Crown sold Skirlington manor in 1609 to George Salter and John Williams, who then resold it to (Sir) George Etherington (d. 1627). His son George sold the manor in 1631 to Robert Crompton (d. 1646). (fn. 74) Crompton devised it to Walter Crompton, possibly his son, who was succeeded in turn by his nephews Walter Crompton (fl. 1742) and William Crompton. William left the estate to Miles Smith, whose son, also Miles, sold it to John Etherington in 1799. (fn. 75) The estate was later held by George Etherington (d. 1854), his son Thomas (d. 1868), and then by another Thomas Etherington, possibly the son of Thomas (d. 1868). (fn. 76) G. B. Tonge bought Skirlington in 1879 and held it until his death in 1922, when it passed to his daughter Ruth Danby (d. April 1957). (fn. 77) Marion Clements (d. Feb. 1957) had also had an interest in the estate, and in 1973 her trustees sold High Skirlington farm to the British Gas Corporation. (fn. 78)
The RECTORY belonged to Bridlington priory by 1228, when the vicar agreed that the priory should have some of the hay tithes. The rectory evidently also included the 6 bovates given with the church c. 1130. (fn. 79) By another agreement, made in 1277, the hay tithes due from Meaux abbey's estate at Arram were compounded for 16d. a year. (fn. 80) The rectory was valued at £6 13s. 4d. in 1291 and c. £10 in the early 16th century. (fn. 81)
The rectory passed by the priory's forfeiture to the Crown, (fn. 82) which granted it to Henry Best and Thomas Holland in 1600. By 1605 it had evidently been bought by William Green. (fn. 83) Green's daughter Elizabeth, wife of Sir John Buck (d. 1648), was named as impropriatrix in 1650; the rectory was then valued at £46 net. (fn. 84) It later descended to Robert Buck, whose widow Mary and eldest son John sold the rectory in 1692 to a younger son Robert (d. 1731). Robert's daughter Elizabeth sold the estate in 1768 to Fountayne Osbaldeston (d. 1770). (fn. 85) At inclosure in 1772 Osbaldeston's great-nephew Humphrey Osbaldeston received 165 a. for his commonable land and 34 a. for tithes. He (d. 1835) left the estate to Bertram Osbaldeston-Mitford (d. 1842), (fn. 86) whose brother Robert and trustees under the Mitford Estate Act of 1854 sold the rectory to J. T. and George Dickinson in 1855. (fn. 87) They sold it in 1869 to John Holmes, from whom Harriet Brigham bought it in 1871. (fn. 88) It was sold again in 1889 to H. W. Bainton and then passed to Edward Bainton (d. 1945) and to Edward's sister Sybil Bainton. (fn. 89) She sold it, as Grange farm, in 1952 to the Vickerton family, the owner in 1991. (fn. 90)
There were several small ecclesiastical estates in the parish in the Middle Ages. At Skirlington, Newburgh priory had land in the 12th century and Swine priory was given 2 bovates; both holdings later passed to Bridlington priory. (fn. 91) Robert de Scures gave the Knights Templar 70 a. and pasturage there in 1286, and St. Leonard's hospital, York, had 2s. rent at Skirlington in 1535. (fn. 92) At the Dissolution the Knights Hospitaller had land at Arram rented for 3s. a year, and in 1558 the refounded order briefly regained that estate. (fn. 93)
Trinity House, Hull, bought c. 230 a. at Atwick in 1868–9; (fn. 94) sales and coastal erosion had reduced its estate to c. 100 a. by 1991. (fn. 95)
ECONOMIC HISTORY
COMMON LANDS AND INCLOSURE. Atwick. Atwick village had open fields called North and South fields in 1653. (fn. 96) Lord's field, named from 1546, may have been a third field or merely part of North field. (fn. 97) The tillage had been reduced by inclosure by 1517. (fn. 98) The common meadows lay away from the village on the edge of the open fields in 1653, possibly in North and South moors, which were later regarded as parts of North and South fields respectively. (fn. 99) Low-lying land west of the village called Mask, perhaps meaning 'marsh', may also have been used for meadow, and part of it was called Ing Mask in 1525. (fn. 100) Mask was, however, probably used mostly as rough grazing, stinted pasture there being recorded in 1546, and in the mid 17th century there was another common pasture at Criftins, sometimes regarded as part of South field. (fn. 101) Haw croft, called Hawe field in 1546 and known also as Hall croft in the mid 19th century, may once have been part of the tillage but by 1546 it was evidently a common pasture and was then described as containing 2 bovates of tethering ground. (fn. 102) In 1653 the appurtenances of a holding of c. 120 a. in Atwick included 27 beast gates in Mask and 3½ in Criftins; the occupier also enjoyed 14 beast gates in Ing Mask, presumably after the taking of the hay, and 11 in the common fields. Early inclosures in Atwick may have included Haver, East, and House fields, all recorded in 1607. (fn. 103)
The commonable lands of Atwick village were inclosed by an award of 1772 under an Act of 1769. (fn. 104) There were 1,436 a. to be dealt with. Allotments made totalled 1,405 a., and 3 a. of old inclosures were involved in exchanges. Allotments amounting to 472 a. were made from South field, 169 a. from North field, 144 a. from Mask, and 26 a. from Criftins. St. John's college, Cambridge, received 238 a., Humphrey Osbaldeston 199 a., and the Revd. William Mason 163 a. There were also three allotments of 100–149 a., three of 50–99 a., five of 15–49 a., and four of 1 a. each.
Skirlington. Skirlington's West field was named in the 13th century, and there was then stinted pasture for at least 180 sheep. (fn. 105) The common lands there were evidently inclosed early, largely perhaps by Bridlington priory for pasture. The priory's estate included a great close by the early 13th century and pastures named Ing close and West field in the 16th century, when grazing worth £5 a year was let. (fn. 106)
Arram. The ploughland at Arram was being worked by a plough in 1086. (fn. 107) East field was named in 1367 and South field in 1519. (fn. 108) The common lands, which still included stinted pasture in the 17th century, were evidently inclosed piecemeal. (fn. 109)
LATER AGRICULTURE. In 1801 there was reckoned to be 844 a. under crops in the parish. (fn. 110) In the smaller area of Atwick township, 568 a. were arable and 284 a. grassland in 1841; (fn. 111) in the parish as a whole, there was roughly the same proportion of arable to grassland in the earlier 20th century, when the grassland lay mostly around the village and close to the farms at Skirlington and Arram. Small plantations of woodland also stood close to Arram Hall. (fn. 112) In 1987 some 683 ha. (1,688 a.) were returned as arable land in Atwick parish, 144 ha. (356 a.) as grassland, and 6 ha. (15 a.) as woodland. (fn. 113)
In the 19th and earlier 20th century there were usually a dozen farmers in the parish, of whom 6 in 1851 and up to 4 in the 1920s and 1930s had 150 a. or more. From the late 19th century one or two men were also described as cowkeepers. (fn. 114) In 1987 of 16 holdings returned for Atwick, one was of 100–200 ha. (247–494 a.), seven were of 50–99 ha. (124–245 a.), and eight were of under 30 ha. (74 a.); more than 3,000 pigs and over 400 sheep were then kept. (fn. 115)
INDUSTRY There has been little non-agricultural employment in Atwick. Lime-burning was carried on around the village in the mid 19th century, and then and later sand and gravel was extracted from the shore. A gravel merchant was recorded at Atwick c. 1920, but in 1925 extraction was prohibited to avoid worsening coastal erosion. (fn. 116)
MILLS. A windmill was built at Atwick on former common land between 1772 and 1828; it was assisted by steam by 1889, ceased to be used c. 1900, (fn. 117) and was later demolished. At Arram a windmill was recorded on Meaux abbey's estate in the 13th century. (fn. 118)
LOCAL GOVERNMENT
In the 15th century breaches of the assize of ale at Atwick were presented in Roos manor court. (fn. 119) Constables' accounts for Atwick survive for 1782–1847 and churchwardens' accounts for 1684. (fn. 120) An almshouse recorded in 1764 may have been a poorhouse. (fn. 121) Regular poor relief was given to 7–10 people in the early 19th century and occasional relief to 1 person in 1803–4 and 29 in 1812–15. (fn. 122) The parish joined Skirlaugh poor-law union in 1837. (fn. 123) It remained in Skirlaugh rural district until 1935 and then in Holderness rural district until 1974, when it became part of the Holder ness district of Humberside. (fn. 124) In 1996 Atwick parish became part of a new East Riding unitary area. (fn. 125)
CHURCH
Everard de Ros gave Atwick church to Bridlington priory c. 1130. It was evidently then served by a chaplain. By 1228 the priory had appropriated the rectory and a vicarage had been ordained. (fn. 126) The advowson of the vicarage remained with the priory until its forfeiture in 1537. (fn. 127) The Crown granted the advowson to the archbishop of York in 1558 but that grant was evidently ineffective. (fn. 128) The patronage remained with the Crown until 1937, when Atwick vicarage and that of Nunkeeling with Bewholme were united; the Crown and the archbishop of York, the former patron of Nunkeeling, then had the right to present alternately until 1958, when the archbishop gave up his right. (fn. 129) In 1972 Atwick was united instead with Hornsea, the Crown becoming the sole patron of the new benefice. (fn. 130)
The vicarage was worth £4 6s. 8d. in 1291 and £4 7s. 10d. net in 1535, when the income included an augmentation of £2 from the priory. (fn. 131) In 1650 the improved annual value was £30, and in 1829–31 the average net income was £149 a year. (fn. 132) The living was augmented in 1837 with £200 from Queen Anne's Bounty to meet benefactions totalling £200 from the vicar and Mrs. Pyncombe's trustees. In 1883 the annual net value was £145. (fn. 133)
The vicar had no glebe in the Middle Ages. After dispute with Bridlington priory, it was agreed in 1228 that he should have hay tithes from those parts of the parish where he already enjoyed corn tithes. (fn. 134) The vicar also enjoyed wool, lamb, and small tithes from Atwick township. Hay and other tithes were compounded for by the 18th century. (fn. 135) At the inclosure of Atwick township in 1772 the vicar received 27 a. and an annual rent charge of £15 for his tithes there. (fn. 136) Nearly all of the allotment was sold in 1911. (fn. 137) In 1930 the 17-a. Atwick Mill farm was devised to the living, but it was sold later that year and in 1978 less than 2 a. of glebe remained. (fn. 138)
In Arram and Skirlington the vicar had all the tithes, except for those from the former estate of Meaux abbey in Arram. The tithes of the hamlets were compounded for only £22 8s. a year in the mid 18th century, but c. 1820 the vicar successfully claimed payment in kind. The tithes of Skirlington and Arram, except for the exempt 490 a. in Arram, were commuted for a rent charge of £210 11s. in 1841. (fn. 139)
A vicarage house at Atwick, recorded from 1685, (fn. 140) was rebuilt in 1837 to designs by Cresser Hebb of Leven. (fn. 141) The house was sold in 1911, and later incumbents lived at Bewholme or Hornsea. (fn. 142)
Atwick was frequently served with neighbouring parishes from the 18th century and vicars were often non-resident. (fn. 143) Complicated arrangements for doing the duty of the pluralist incumbent of Hornsea, Riston, and Rise involved the curate at Hornsea and Long Riston serving Atwick and the vicar of Atwick taking the services at Long Riston and Rise in 1743. (fn. 144) An increase from one to two Sunday services in the 1750s was reversed when the vicar also became curate of Hornsea and a resident there. Communion was celebrated four times a year in the mid 18th century with c. 35 recipients in 1743 and up to 20 in 1764. (fn. 145) There were again two Sunday services in the mid and late 19th century; communion was then monthly, with up to a dozen recipients. (fn. 146) The former school was used as a mission room c. 1900, presumably in part because of the church's position at the end of the village. (fn. 147)
The church of ST. LAWRENCE was rebuilt in the 19th century. The earlier building was dedicated to St. Peter in 1295, but the modern dedication was in use by 1461. (fn. 148) Before the 19th century, the church comprised chancel, nave with south porch, and west tower. (fn. 149) The chancel was in disrepair in 1575. (fn. 150) The tower was rebuilt in brick in 1829 and other parts of the building then repaired. The church was rebuilt in 1876 to designs by Hugh Roumieu Gough of London. It is of bright red brick with a red-tile roof, is 13th-century in style, and has an urban character. It comprises chancel, north-east tower with saddleback roof, north vestry, and nave with south porch. (fn. 151) Gothic windows at Grebe House (no. 27 Westgate), Hornsea, are said to have come from the old church. (fn. 152)
The fittings include a drum-shaped medieval font and a lectern formerly belonging to a Hull church and given in 1959. (fn. 153) There were two bells in 1552 and later; by 1910 there was one. (fn. 154) The plate includes a cup made in 1784, two patens, one of 1763, and a flagon of 1848. (fn. 155) The registers of baptisms, marriages, and burials date from 1538 and have been printed to 1728. Those of baptisms are complete, marriages largely so, and burials lack only a few years in the mid 17th century and early 18th. (fn. 156) Part of the churchyard was closed for burial in 1931. (fn. 157)
NONCONFORMITY
Up to 18 Roman Catholics were recorded in Atwick in the early and mid 17th century but very few later. Prominent among them were members of the Constable and Caley families, whose estates were sequestered in the mid 17th century. (fn. 158)
The protestant dissenters who registered a house at Atwick in 1802 and a house or chapel there in 1812 (fn. 159) were presumably Wesleyan Methodists, for they built a chapel in the village in 1821. (fn. 160) The Primitive Methodists had a room at Atwick by 1851, and in 1856 they also built a chapel there. (fn. 161) It was said in 1865 that almost half of the families in the parish were nonconformist and in 1877 that most of the farmers and all of the labourers were dissenters. (fn. 162) The Primitive Methodist chapel had been closed by 1932, when the building was sold; (fn. 163) it was later used as a house but was derelict in 1991. The former Wesleyan Methodist chapel was closed in 1987; it stood empty in 1991 but was later converted into a house. (fn. 164)
EDUCATION
In 1689 Edward Fenwick gave 1 bovate in Beeford partly for the schooling and apprenticing of a poor boy of Atwick. (fn. 165) About 1715 a school was built by subscription beside the village green. (fn. 166) Ralph Burton (d. c. 1725) devised ½ bovate in Hornsea partly for teaching poor children and repairing the school. (fn. 167) After inclosure, Fenwick's endowment comprised 33 a. and Burton's 14 a. (fn. 168)
Atwick school had c. 20 pupils in 1743. (fn. 169) About 1820 it was attended by some 35 boys and girls, 22 of whom were taught reading, writ ing, and arithmetic by the master in return for c. £25 a year from the two charities. The charities then also subscribed to the Sunday school, and Fenwick's provided apprenticeship premiums of about £15 for one or two boys a year. (fn. 170) On inspection day in 1871 there were 34 pupils. (fn. 171)
A school board was formed in 1876, and a new school on another site was opened in 1877. (fn. 172) The board, later council, school was named Etherington school, presumably after Thomas Etherington, the first chairman. (fn. 173) It was enlarged in 1910, when the mission room and the Primitive Methodist schoolroom were used as temporary accommodation. (fn. 174) Average attendance rose from 43 in 1906–7 to 60 in 1911–12 but later fell steadily to 32 in 1937–8. (fn. 175) In 1946 there were 43 on the roll, 18 of them infants and 25 boys and girls of up to fourteen years old, but from 1948 pupils were transferred at eleven to Hornsea primary school. (fn. 176) Atwick school was closed in 1961, when most of its 25 pupils were transferred to Bewholme school. (fn. 177)
Fenwick's and Burton's charities had been amalgamated by a Charity Commission Scheme of 1878, which assigned "2/3 of the net income to the promotion of the elementary education of the children of Atwick. (fn. 178) The old school, and a master's house built in 1822, were sold in 1880; (fn. 179) the premises were later used as a church mission room, before being converted to a house, called Bewholme Cottage in 1991. (fn. 180) The proceeds of the sale, c. £70, were invested for the Old School and Schoolmaster's House Foundation, created by Scheme of 1879. That charity and the Fenwick and Burton Educational Foundation, established by Order of the Charity Commissioners in 1904, were united under the latter title by Scheme of the Board of Education in 1923. Assisting pupils from Atwick to receive secondary education was made an object of the Foundation, which then had an income of £40 a year. (fn. 181) In the earlier 20th century money was spent on fees, prizes, and other benefits for children at Atwick school, on the Sunday school, on grants for secondary education, and the provision of evening classes. (fn. 182) The farm at Beeford was sold in 1921 and the land at Hornsea in 1930, (fn. 183) and more stock was bought. In 1985–6, when the educational branch's share of the net income was £152, twelve grants of £15 each were made. (fn. 184)
A Charity Commission Scheme of 1981 established the Atwick Educational Charity to maintain the buildings of the recently-closed school and provide amenities for schools serving Atwick parish. It was to be administered by the Fenwick and Burton trustees. (fn. 185) The former school was let for use by a play-group in the 1970s and later as a village hall. (fn. 186) The charity had an income of nearly £550, mostly comprising rents, in 1985–6. (fn. 187) The master's house was sold in 1991. (fn. 188)
A dame school was also recorded in Atwick in 1877. (fn. 189)
CHARITIES FOR THE POOR
The charities of Edward Fenwick and Ralph Burton were primarily for education, but Fenwick's might be used to relieve widows and nearly £8 a year of the income of Burton's charity was spent on bread for widows c. 1820. The Poor's Stock, a sum of £10 held by the overseers, was spent about 1810 on inclosing the allotment made for Burton's endowment. (fn. 190) The Scheme of 1878 assigned "⅓" of the joint income of Fenwick's and Burton's charities to the poor of Atwick, (fn. 191) and another Charity Commission Scheme, of 1921, separated the eleemosynary branch as Fenwick's and Burton's Charities for the Poor. (fn. 192) The income was spent in the earlier 20th century on coal, clothing, food, nursing, and Christmas doles. (fn. 193) The poor's share of the income was nearly £77 in 1985–6, when nothing was spent. (fn. 194)