Pages 261-269
A History of the County of York East Riding: Volume 7, Holderness Wapentake, Middle and North Divisions. Originally published by Victoria County History, London, 2002.
This free content was digitised by double rekeying. All rights reserved.
NORTH FRODINGHAM
NORTH Frodingham parish lies in the Hull valley, the river and a tributary called Frodingham beck forming the western boundary of the parish. (fn. 1) The other boundaries are mostly formed by lesser drains. North Frodingham village, linear in form, is in the north of the parish, 22 km. north of Hull and some 7 km. south-east of Driffield and WSW. of the coast at Skipsea. The Anglian name Frodingham, meaning the 'settlement of Froda's people', was from the mid 13th century distinguished from South Frodingham, in Owthorne, by the prefix North. Emmotland, comprising half a dozen houses, lies 2 km. south-west of the village, close to the junction of the beck and the river; the name, meaning 'river confluence', was used by 1569. (fn. 2) In 1850-1 the ancient parish contained 3,147 a. (1,274 ha.). (fn. 3)
North Frodingham had 196 poll-tax payers in 1377, (fn. 4) and 64 houses were assessed for hearth tax and 21 discharged in 1672. (fn. 5) The parish had c. 70 families in 1764. (fn. 6) From 365 in 1801, its population increased markedly in the early 19th century, reaching 711 in 1831 and exceeding 800 in the middle years of the century; numbers fell from the 1860s to stand at 555 in 1901 and remained at that level until the 1970s. In 1981 the population had risen to 647, and in 1991 it was usually 716, of whom 699 were present. (fn. 7)
The higher ground in the east of the parish reaches 16 m. above sea level and is covered with boulder clay, while in the west the land lies at less than 7 m. and is mostly alluvial. The farmhouses of Emmotland stand on deposits of sand and gravel, (fn. 8) which have been much reduced by extraction. The open fields of North Frodingham lay north, south, and east of the village and its common pastures in the south and south-east of the parish. The common meadows seem to have been in the fields and carrs. The commonable lands were inclosed in 1808. (fn. 9)
The parish was mostly drained by the river Hull, Frodingham beck, and the beck's tributary streams, a drainage system which was improved under the Beverley and Barmston Drainage Act of 1798. The meandering course of Old Howe drain, the stream flowing along the northern and north-western boundary into Frodingham beck, was evidently straightened, and much of Frodingham's water was diverted into new drains made beside Old Howe, the beck, and the river. In North Frodingham and Emmotland 971 a. were assessed by the drainage award of 1811. (fn. 10) Despite the changes, and later improvements downstream at Hempholme, in Leven, the carrs remained liable to flooding (fn. 11) until the mid 20th century, when the water level in the river was reduced by the construction of reservoirs on the west bank in Watton parish. (fn. 12) Land was evidently gained from the watercourses by earlier accretion and drainage improvements, 'new lands' being referred to in 1674 and New ings later. (fn. 13) Lesser drains in North Frodingham include Moor drain, which flows into Moor Town, in Brandesburton, and was evidently the drain said to be in disrepair in 1367, (fn. 14) and Constable drain leading from the west end of the village towards the beck.
Frodingham beck was navigable in the mid 13th century, when Thornton abbey (Lincs.) was said to have prevented boats from passing up the 'Old Hull', possibly Howe, at North Frodingham and to have removed a bridge there. (fn. 15) In the 18th century there was a landing place at Emmotland. (fn. 16) Under Acts of 1767 and 1801 Frodingham beck was made a branch of the Driffield navigation. Dredging operations under the latter Act were associated with the improvement of a tributary stream, Foston beck, as a private navigation by the proprietor of mills in Foston on the Wolds. In 1825-6 a new wharf and a swing bridge were built at the junction of the Foston and Frodingham navigations, (fn. 17) and coal and lime were carried to Frodingham Bridge until c. 1960. (fn. 18)
From North Frodingham the principal road runs east to Beeford and west to Wansford and Driffield. Minor roads lead south from the village to Emmotland, Brandesburton, and the main Hull-Bridlington road, which forms the south-eastern parish boundary. The Emmotland road may formerly have continued to Hempholme, in Leven, the abbot of Thornton being held responsible for an unrepaired road between North Frodingham and 'Holme' in 1362. (fn. 19)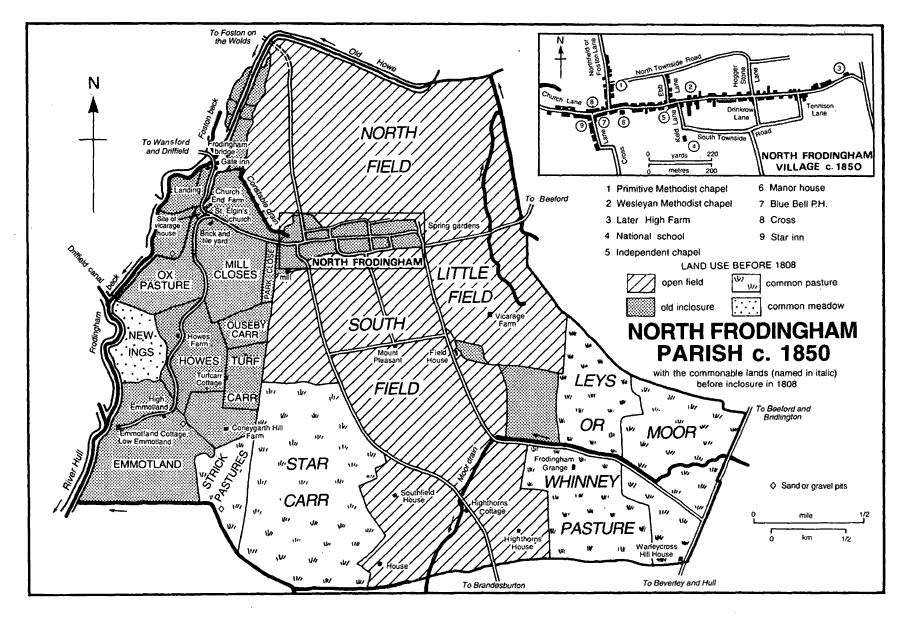 North Frodingham village is sited mid way across the northern half of the parish, its buildings lining both sides of an east-west main street from which cross lanes lead to northern and southern back lanes. The main street is continued north-westwards by Church Lane and at its end, c. ½ km. from the rest of the village, stand the church and former vicarage house; that location, close to the beck, may have been the original site of the village. (fn. 20) A medieval stone cross formerly stood at the junction of the main street and the lane to Brandesburton. It was allegedly destroyed by navvies working on the Beverley and Barmston drains c. 1800, and a replacement cross was set up on the original base in 1811 and given a new shaft in 1991. (fn. 21) A 19th century pump also survives in the main street. The buildings are of brick and include several farmhouses. Church End Farm may be medieval in origin (fn. 22) but otherwise the oldest buildings are probably 18th-century and the village mostly dates from the 19th and 20th centuries. Few of the buildings are noteworthy but one or two single-storeyed cottages remain and others are evident in enlarged and heightened houses. In the 19th century a school was built in the southern lane and chapels added to the main street and a northern cross lane. (fn. 23) In the 20th century the village has grown to the south and east, the new buildings including two dozen council houses. (fn. 24) The district council also provided a sewage works beside Old Howe drain c. 1960. (fn. 25)
Half a dozen alehouses were recorded at North Frodingham in the later 18th century, and the Red Lion, Gate, and Star were named in 1823. (fn. 26) The Red Lion was closed soon afterwards, or renamed the Blue Bell, which was trading by 1834 and was closed c. 1930. The Gate, at Frodingham Bridge, ceased to trade c. 1915. In 1994 the Star still existed, as did the Blue Post, which had been named since 1910. (fn. 27) The village had several friendly societies. The earliest recorded was founded in 1798, had 66 members in 1803, and existed until at least 1852. A lodge of the Independent Order of Oddfellows was founded in 1837 and had 91 members in 1845; it left the order c. 1850 and no more is known of it. The Driffield branch of a Primitive Methodist preachers' provident society was founded in fact at North Frodingham in 1856, had 27 members in 1866, but was discontinued in 1873. The Ancient Shepherds and Shepherdesses had lodges at North Frodingham c. 1840. The Rising Star Benefit Society, founded in 1869, was recorded until 1926. (fn. 28) In the earlier 20th century a reading room was held in a former school, and a Methodist Sunday school was also used for recreation. (fn. 29) A prisoner-of-war camp was established during the Second World War beside South Townside Road, and one of the huts was later used as a village hall and the site as a recreation ground. A new village hall was built in or soon after 1972, and the old one has been demolished. A second recreation ground, on the northern edge of the village, was opened c. 1980. (fn. 30) At the east end of the village, land named Spring gardens in 1851 was probably already occupied by allotment gardens, as it was c. 1900, when there were other gardens south of the village. (fn. 31)
Outlying Buildings include the farmhouses of Emmotland, of which High Emmotland Farm existed by 1772 and Low Emmotland and Coneygarth Hill Farm by 1828. (fn. 32) Farmhouses built on land inclosed in 1808 include Carr House, Vicarage, later Eastfield, Farm, Field House Farm, Frodingham Grange, Highthorns House, and Southfield House, all put up by 1828. (fn. 33)
MANOR AND OTHER ESTATES
In 1066 Ulf had a manor of NORTH FRODINGHAM, comprising 12 carucates; it had passed by 1086 to Drew de Bevrère, (fn. 34) and was later part of the Aumale fee.
In the mid 12th century William le Gros, count of Aumale, granted the manor and church of North Frodingham to Thornton abbey (Lincs.), (fn. 35) and the abbot was lord in 1316. (fn. 36) After the Dissolution the Crown let the manor, (fn. 37) before alienating it in 1628 to Edward Ditchfield and others, trustees for the city of London, as security for a loan from the city. It was sold by the city in 1667 to William Harpham and by his nephew, William Harpham, in 1673 to Christopher Wilkinson. Robert Bethell of Hull, merchant, bought the manor in 1674, and it was probably he who, as Robert Bethell the younger of London, mariner, conveyed it in 1680 to his uncle, Robert Bethell the elder of Beverley. The last Robert (d. 1689) left the manor to his second cousin, Hugh Bethell of Rise (d. 1717), and it later descended, like Rise, in the Bethells. (fn. 38) At inclosure in 1808 Charlotte Bethell was awarded 161 a., and in 1854 Richard Bethell had c. 230 a. at North Frodingham. (fn. 39) The Bethells' estate was divided and sold, mostly in 1865, but not until 1877 were the manorial rights sold to Henry Walker. He sold them in 1898 to H. W. Bainton (d. 1907), who devised them to E. C. Bainton (d. 1945) and J. H. Bainton (d. 1951) as tenants in common. (fn. 40)
The manor house was recorded from the 16th century. (fn. 41) Standing in the main street, it was rebuilt c. 1810. (fn. 42) As part of Manor House farm, the house was separated from the manor in 1865. (fn. 43)
In 1808 the largest estate at North Frodingham was evidently that assembled by Thomas Duesbery. He was then awarded 672 a. with his wife Sarah and Thomas Hinderwell and 113 a. with other co-tenants. (fn. 44) The Duesberys and Hinderwell sold nearly 500 a. to Jonathan Harrison, father and son, in 1810 and 1812; (fn. 45) it was presumably the father who already had 140 a. at North Frodingham at inclosure. (fn. 46) Parts of the enlarged estate were evidently settled on other members of the Harrison family. (fn. 47) The elder Jonathan Harrison died in 1828, leaving c. 150 a. at Emmotland to his son Richard and the rest of his land to his son Jonathan, whose estate later included c. 220 a. of copyhold. (fn. 48) Harrison (d. 1867) was succeeded by his son J. S. Harrison, who had bought a 142-a. farm, from W. F. Bethell in 1865 and added 48 a. more in 1870 and c. 76 a. in 1876. (fn. 49) He (d. 1884) was succeeded by his son James, who had 637 a. at North Frodingham in 1910. (fn. 50) James Harrison bought the 154-a. High Emmotland farm in 1913 (fn. 51) but in 1918 sold High farm of c. 230 a. and Manor House farm with 80 a. to Thomas (d. 1946) and Annie Rafton. (fn. 52) The rest of the land was held after Harrison's death in 1923 by his widow Mary (d. 1932) (fn. 53) and was eventually sold off in lots in 1947. (fn. 54) After the death of Thomas Rafton's executrix Edith Rafton in 1957, the Manor House estate, then comprising c. 100 a., was sold in 1958 to William Nicholson. (fn. 55) In 1965 Nicholson bought the 104-a. Howes farm, and his family held both farms in 1994. (fn. 56)
After the ordination of a vicarage, (fn. 57) North Frodingham RECTORY remained with Thornton abbey until the Dissolution. The tithes of corn and hay were let with land at North Frodingham in the earlier 16th century. (fn. 58) The rectory was sold to Henry Best and Francis Jackson by the Crown in 1600, (fn. 59) to George Hunter in 1610, and in 1631 to Christopher Pasley. (fn. 60) In 1650 the rectorial tithes and 6 bovates of glebe land were valued at £74 gross. (fn. 61) Most of the glebe land seems to have been sold later. Pasley was succeeded by his son Charles (d. by 1685), who devised the rectory and 1 bovate to his daughter Frances (d. by 1711). (fn. 62) The estate then passed to a kinsman, Christopher Blakiston (d. by 1735), who left it to his goddaughter Dorothy Neville (d. 1785). She devised the rectory to Christopher Blakiston's cousin, Philip Saltmarsh (d. 1796). Saltmarsh was succeeded by his great-nephew, Philip Saltmarsh (fn. 63) (d. by 1847), and he by his son Philip. (fn. 64) At inclosure in 1808 the rectorial tithes were commuted for 360 a. and £1 17s. 9d. a year, and 12 a. were received for the bovate of glebe. (fn. 65) The estate comprised the 412-a. Frodingham Grange farm in 1872, when Philip Saltmarsh sold it to the trustees of Beaumont Hotham, Baron Hotham, (d. 1870). It was later transferred to John Hotham, Baron Hotham. He bought 38 a. more in 1874 and died in 1907. (fn. 66) In 1910 his successor, Frederick Hotham, Baron Hotham, sold Frodingham Grange farm, then of 454 a., to George Meadley (fn. 67) (d. 1928). Meadley was succeeded by his son George (d. 1937) and he in turn by his widow Ann (d. 1957) and their son Philip. (fn. 68) The Meadleys still held the farm in 1994. (fn. 69)
Church End Farm was formerly the chief house of the rectory. The north-south range incorporates an ashlar building which appears to have been the medieval cross wing to an eastern hall. The house was remodelled in brick for George Hunter in 1619, when two chimney stacks were built up from the original bases on the west side. (fn. 70) It may have been then that the hall range was demolished; a 19th-century wing now occupies part of its site. Church End Farm was replaced as the chief house by a new farmhouse built on the rectorial allotment soon after 1808 and known successively as Pasture House and Frodingham Grange. (fn. 71)
In 1285 William de Lascelles held land at North Frodingham, which had descended to his son John by 1303. (fn. 72) No more is known of the estate.
Meaux abbey may have had a small estate in the parish in the 16th century. (fn. 73)
ECONOMIC HISTORY
Common Lands And Inclosure. The tillage lay in North, South, and Little fields, all named in 1609. North and Little fields were evidently rotated as one before inclosure in 1808. (fn. 74) Enlargement of the fields at the expense of the waste in the Middle Ages may account for the later distinction made between bovates of the old and new tenures. (fn. 75) In 1659 copyholders had 5 carucates and 2 bovates, or 462 a., of 'old land' and 5 carucates, or 440 a., of 'new land', (fn. 76) and at inclosure in 1808 there were 6 carucates and 7 bovates of 'old land', each bovate of which was charged with a poultry render to the lord of the manor. (fn. 77) Common meadowland lay in the fields and the carrs, 'wands' of meadow in Hill carr and hay in West carr being mentioned in 1598, and New ings, beside the beck, being commonable at inclosure. The village's chief common pastures were probably Star carr, which was stinted by the mid 16th century, (fn. 78) and a moor, which was intercommoned with Beeford until the inclosure of that township in 1768. An allotment of 186 a. was then made to the commoners of North Frodingham as their share of the moor, and that remained as a common pasture until North Frodingham was inclosed in 1808. (fn. 79) Adjoining the moor, commonable land called Leys or Whinney pasture evidently provided more rough grazing, besides whins or gorse, which were taken there without licence in 1660. (fn. 80) Milnecroft, in which beast gates were held in the mid 16th century, was presumably another piece of the commonable grazing. (fn. 81) Star carr also included a turbary by 1588, and turves were presumably dug from the c. 30-a. Turf carr, which seems to have been inclosed by the mid 16th century, and was then and later occupied in undivided thirds. (fn. 82)
Turf carr and much other land near the river and beck was clearly inclosed early, possibly as part of the demesne, and by 1588 the adjoining Howesbie, later Ouseby, carr had been divided, one of the farms in North Frodingham including half of it. (fn. 83)
The commonable lands were inclosed by award of 1808 under an Act of 1801. (fn. 84) Allotments made totalled 2,303 a., of which 39 a. were from old inclosures; 1,609 a. were copyhold and 694 a. freehold of the manor of North Frodingham. Many allotments were from more than one area, and, apart from New ings, which contained 48 a., only minimum acreages can be calculated for the commonable lands; there were at least 561 a. in North field, 310 a. in South field, 184 a. in Little field, and 38 a. in the moor. The Act accommodated manorial custom by allowing allotments to mortgagees and other co-tenants. Thomas Duesbery, his wife Sarah, and Thomas Hinderwell acquired many holdings before inclosure when they received 672 a.; another allotment, of 113 a. and awarded to Duesbery with Elizabeth Dealtry and William Thompson, was evidently later Duesbery's. (fn. 85) Philip Saltmarsh was awarded 372 a. for the rectorial tithes and glebe land, William Dobson and others 252 a., and Charlotte Bethell, lord of the manor, 161 a., which included compensation for the hay of the balks and her right in the soil of the waste. The vicar received 109 a. There was also one allotment of 57 a., twenty-two of 10-49 a., and twenty-seven of less than 10 a.
The demesne and other holdings In 1086, when there was reckoned to be land for 12 ploughteams and 30 a. of meadow at North Frodingham, one plough was worked on the desmesne and four more by villeins. (fn. 86) In 1541-2 the manor was reckoned to be worth nearly £82 a year. All or much of the demesne was then let for £31 a year; the premises included part of Emmotland, tithes, turves, fishing rights, and the 'heybones' and 'heiloodes', presumably works owed by the tenantry. Except for just over £1 from the profits of the manor court, the rest of the value was composed of rents, the largest sums being the £31 and £7 owed respectively as the 'old' and 'new' rents, evidently another reference to some earlier enlargement or reordering of land in North Frodingham. (fn. 87) Houses and land at Emmotland, and Cow pastures, both then held by a single tenant for rents amounting to £7 a year, and the park, Ouseby carr, and Ox pastures, all in multiple occupation, may have been other parts of the former demesne. (fn. 88)
Fishing, fowling, and rabbit warren.Three fisheries were recorded in 1086, (fn. 89) and in 1588 ditches in Star carr were used for fishing. (fn. 90) A fishery was sold with the rectory in 1610, and another was recorded at Emmotland in 1659. (fn. 91) The carrs and river were also valued for their birds. A swanner of Frodingham was mentioned in 1609, a swannery evidently existed at Emmotland in the 18th century, (fn. 92) and two 'lake hens', presumably wildfowl, were owed to the lord of the manor annually from each of 55 bovates until that due was commuted at inclosure in 1808. (fn. 93) There seems to have been a rabbit warren at North Frodingham: the 'coneygarth' was let with other demene land there in the 16th century, and it was later commemorated by Coneygarth hill. (fn. 94)
Later Agriculture. In 1801 the parish was said to have c. 490 a. under crops. (fn. 95) In 1905 there were 2,284 a. of arable land and 522 a. of grassland in the parish, and the ratio was still much the same in the 1930s, when most of the grassland lay around the settlements and outlying farms. (fn. 96) In 1987, when information for only 969.5 ha. (2,396 a.) of North Frodingham was returned, 544 ha. (1,344 a.) were arable land and 414 ha. (1,023 a.) grassland. Over 7,000 pigs and 1,000 cattle, nearly 3,000 poultry, and some 600 sheep were then kept. (fn. 97)
In the 19th and the earlier 20th century there were usually one to two dozen farmers in North Frodingham, of whom 4 in 1851 and 7-8 in the 1920s and 1930s had 150 a. or more. A market gardener was also recorded in the late 19th and early 20th century, and a cowkeeper c. 1930. (fn. 98) In 1987 of 27 holdings returned under the civil parish, one was of 200-299 ha. (494-739 a.), two of 100-199 ha. (247-492 a.), four of 50-99 ha. (124-245 a.), and twenty of less than 50 ha. (fn. 99)
In the late 19th century North Frodingham had merchants dealing in coal, corn, lime, and stone, presumably from beck-side premises at Frodingham Bridge, and there was a fertiliser works at Emmotland in the early and mid 20th century. (fn. 100) Small amounts of sand and gravel had been dug in the west of the parish before the 1940s; larger-scale extraction begun then was ended c. 1960, (fn. 101) leaving a string of water-filled pits. Bricks and tiles were being made at a yard at Church End by the mid 19th century; production seems to have ceased c. 1905. (fn. 102) In 1994 small businesses trading in the parish included motor engineering firms in North Frodingham village and beside the main Hull-Bridlington road.
Market And Fairs. Thornton abbey probably established the market and fairs held later at North Frodingham. The weekly market was removed to Driffield in the mid 18th century. (fn. 103) Fairs for haberdashery, held on 24th June and 21st September in the mid 17th century, had been altered, partly in response to the change of calendar in 1752, to 10th July and 2nd October by the mid 19th century; they ceased to be held c. 1900. (fn. 104) Tolls were paid at North Frodingham in the late 18th century. (fn. 105)
Mill. A windmill, recorded at North Frodingham in the 16th century, (fn. 106) probably stood where the later mill did, on the south-west edge of the village. Milling was evidently given up c. 1915, (fn. 107) and the mill was later demolished.
LOCAL GOVERNMENT
In 1293 the abbot of Thornton claimed sac and soc and toll and team at North Frodingham. (fn. 108) A pillory later stood near the cross and stocks at the end of Cross Lane. (fn. 109) Court rolls and papers of North Frodingham manor survive for 1574-1937, with some lost years, notably in the late 17th century. The court, which had view of frankpledge, usually met twice a year from the later 17th century. Officers regularly appointed included 3 affeerors, 2 constables, and, in the late 18th and early 19th century, 4 carr-reeves, two dike-reeves, 4 bylawmen, and a pinder. (fn. 110) A custumal of 1569 has been printed. (fn. 111)
The East Riding constabulary, established in 1857, had a constable based at North Frodingham. (fn. 112)
Regular poor relief was given to 7 people in 1802-3, and about the same number each received regular and occasional relief in 1812-15. (fn. 113) Half a dozen poorhouses were recorded at North Frodingham in the mid 19th century. (fn. 114) The parish joined Driffield poor-law union in 1837 (fn. 115) and remained in Driffield rural district until 1974, when it was taken into the North Wolds district, later borough, of Humberside. In 1981 the borough's name was changed to East Yorkshire. (fn. 116) In 1996 North Frodingham parish became part of a new East Riding unitary area. (fn. 117)
In 1883 a cemetery with a chapel was provided off South Townside Road by a burial board. (fn. 118) The old shaft of the village cross was re-erected there in 1991. (fn. 119)
CHURCH
A church and a priest were recorded at North Frodingham in 1086. (fn. 120) In 1115 Stephen, count of Aumale, gave it to Aumale priory, later abbey (Seine Maritime). The grant was revoked by his son William, who gave it instead to Thornton abbey (Lincs.). (fn. 121) The abbey appropriated the church, and by 1292 a vicarage had been ordained. (fn. 122) The patronage remained with Thornton until the Dissolution. (fn. 123) The Crown granted the advowson to the archbishop of York in 1558, evidently without effect, (fn. 124) and sold it in 1600 to Henry Best and Francis Jackson. (fn. 125) George Hunter bought the advowson in 1610, (fn. 126) and it evidently descended to Samuel Hunter (d. 1729), (fn. 127) who was succeeded by his son, the Revd. Samuel Hunter. There were few or no institutions in the 17th century, and in 1768 the Crown presented by lapse. (fn. 128) Hunter left the advowson to George Acklam (d. 1793), (fn. 129) and later the patronage was sold repeatedly. In 1797 the Revd. John Atkinson and the Revd. Rowland Croxton bought it, Croxton presenting Atkinson in 1799 and Atkinson the Revd. Francis Drake in 1809. (fn. 130) Drake bought the advowson in 1810 and in 1832 resigned the living to his son William Drake, who also succeeded his father as patron. (fn. 131) The advowson belonged to the Revd. John King before 1856, when the Revd. Henry West bought it and presented himself. (fn. 132) He sold the advowson to T. S. and Eliza Upton in 1890, and, after subsequent transfers in the early 20th century, it came in 1919 to the Church Association Trust. (fn. 133) In 1977 North Frodingham was united with Beeford and Foston on the Wolds, and the Church Society Trust, the successor to the Church Association Trust, has since been joint patron with the archbishop of York. (fn. 134)
The church was worth £8 in 1291. (fn. 135) In 1308 Thornton abbey was cited because of the insufficiency of the vicar's portion, which in 1535 was valued at only £5 net. (fn. 136) The living was augmented from Queen Anne's Bounty with £200 in 1777 and £400 in 1786, of which £200 was to meet Christopher Blakiston's benefaction of £20 a year. (fn. 137) The net income averaged £96 a year in 1829-31 and was £272 in 1883. (fn. 138)
By 1535 the vicar had four beast gates in North Frodingham, but there was no glebe land until 1779, when Bounty money was used to buy 19 a. at Driffield. (fn. 139) The wool, lamb, and small tithes belonging to the vicar were valued at £4 6s. 8d. a year net in 1535 and £20 gross in 1650. At inclosure in 1808 he received 94 a. and £1 17s. 9d. a year for them, besides 15 a. for the beast gates. (fn. 140) The allotments later comprised Vicarage, afterwards Eastfield, farm, which was sold in 1920. Nine acres at Driffield had been sold in 1919, (fn. 141) but the rest remained in 1978. (fn. 142)
A vicarage house, recorded in 1535, had been demolished by 1685. (fn. 143) A new house was built c. 1860. (fn. 144) It was evidently sold before the union of 1977, when the parsonage house of Beeford was designated the residence of the new benefice. (fn. 145)
A guild of St. Helen was recorded in 1519 and a guild house in 1581. (fn. 146)
There was no vicar at North Frodingham in 1650 (fn. 147) or in 1743, when the living was served by the rector of Catwick. There was then one service each Sunday at North Frodingham, (fn. 148) and in 1764 communion was quarterly with 30-40 recipients. (fn. 149) In the later 19th century the then resident vicar provided two Sunday services, and from 1868 there were monthly celebrations of communion, with up to a dozen recipients. (fn. 150)
The church was dedicated to ST. HELEN in 1519 and 1545, but c. 1700 Torre transcribed wrongly the latter record and his attribution to the otherwise unknown ST. ELGIN has been accepted. (fn. 151) The medieval church comprised chancel, nave with north aisle and south porch, and west tower; it was evidently of boulders and rubble with stone dressings. (fn. 152) The chancel and nave may have been 12th-century in origin. The north aisle was added in the 14th century and the tower in the 15th. The nave was in disrepair c. 1600, and in the early 18th century the chancel was repaired and its screen taken down. (fn. 153) By the mid 19th century the church was very decayed, and in 1871 the school was being used for services. (fn. 154) The chancel, nave, and north aisle were restored to designs by Hugh Roumieu Gough of London in 1877-8; the tower, then repaired, was heightened in 1891-2 with an ashlar belfry to designs by Temple Moore at the expense of Sir Tatton Sykes, Bt. (fn. 155) In 1938 the sanctuary was panelled in oak by Mr. Arwidsson, presumably Adolph Arwidsson, the patron 1913-19, and his wife. (fn. 156)
The church contains part of a 10th-century cross, the 'most decorative and stylish . . . in the East Riding', (fn. 157) a fragment of a 14th-century cross depicting Atlas, and a 16th-century parish chest. Outside, a heavily-restored, 14th-century, image niche has been inserted in the nave wall. There were three bells in 1552 and later. (fn. 158) The plate includes a cup of 1617 and a modern service given by the Revd. Solomon Isaacson, vicar 1890-1936. (fn. 159) The registers of marriages and burials date from 1559 and of baptisms from 1579; the record of baptisms and especially of burials is incomplete before 1677, and marriages lack entries in the mid 17th and earlier 18th century. (fn. 160) The churchyard was closed in 1883 and replaced by a cemetery. (fn. 161)
The parish clerk had two sheaves of wheat a year for every bovate until inclosure in 1808, when 5 a. were awarded instead. (fn. 162)
NONCONFORMITY
Several recusants and non-communicants were recorded at North Frodingham in the late 16th and 17th century, (fn. 163) but in 1676 only one papist was returned for the parish. (fn. 164)
Ten protestant dissenters were recorded in 1676, (fn. 165) and unidentified congregations regis tered buildings at North Frodingham in 1779, 1809, 1818, 1819, 1820, and 1826. (fn. 166) The missionary efforts of members of Fish Street chapel, Hull, included visits c. 1800 to North Frodingham, and the Independents built Bethesda chapel in the main street in 1820 or 1821, when it was registered. In 1827 a chapel at Foston and later Beeford and Skipsea chapels were affiliated to that of North Frodingham, which in 1915 became part of the Driffield pastorate. North Frodingham chapel was altered in 1858, restored in 1878, and closed in 1976; the building was sold in 1979 (fn. 167) and has been demolished. The Wesleyan Methodists registered a chapel in the main street in 1801, and in 1891 replaced it with a new building nearby, which was still used for services in 1995. The old chapel was later the Sunday school (fn. 168) but in 1995 it stood disused. (fn. 169) The Primitive Methodists built a chapel in Foston Lane in 1842 and registered it the next year. (fn. 170) After union with the Wesleyans, the former Primitive Methodist chapel was closed in 1954 and sold in 1956; (fn. 171) part has been demolished and the rest was a workshop in 1994. A Sunday school, built by the Primitive Methodists at the junction of the street and Foston Lane in 1865, was used as a recreation room for the village in the mid 20th century, before being demolished. (fn. 172)
EDUCATION
There was probably already a school at North Frodingham in the mid 18th century, when the Revd. Samuel Hunter gave £25 for teaching children there. The school was not held between 1803 and 1807, when unspent income increased the capital to £30, but c. 1820 it had 50 pupils, four of whom were taught at reduced rates in return for £1 10s. paid to the schoolmaster from the charity. The endowment was later lost. (fn. 173) The mixed school was held in 'North Lane', presumably Northfield Lane or North Townside Road, (fn. 174) until 1845, when a new school was built on land on South Townside Road given by the Bethells. Run according to the National plan, (fn. 175) the school received an annual government grant from 1856. (fn. 176) At inspection in 1871 there were 102 in attendance, including children from Moor Town, in Brandesburton. (fn. 177) The school was evidently also supported by subscription before 1900, when the vicar complained about the farmers' refusal to contribute. (fn. 178) Average attendance in the early 20th century was c. 100. (fn. 179) In 1915 a new council school on North Townside Road was opened to replace the by then inadequate earlier building. (fn. 180) The former school was used as a men's reading room c. 1920, later fell into disrepair, and was demolished in 1961; the site was sold for £260 which was invested to benefit the Church Sunday school. (fn. 181) Numbers at the council school, which was intended also to accommodate children from Brigham, in Foston on the Wolds, averaged 135 in 1922 but only 92 by 1938. (fn. 182) In 1990 there were 48 on the roll. (fn. 183)
In 1833 a second village school had 30 pupils, all taught at their parents' expense. (fn. 184)
CHARITIES FOR THE POOR
Francis Smith (fl. 1812) bequeathed £10 for bread. (fn. 185) The charity had about £17 stock in the early 20th century, when the annual income of c. 9s. was still applied, some 20 people benefitting at Christmas in 1901. Distribution ceased in 1918 for lack of claimants and the income later accumulated; (fn. 186) in 1973 the charity had nearly £27 stock. By will proved in 1936, the Revd. Solmon Isaacson, vicar, gave £100 for coal. An almshouse charity benefitting North Frodingham was created by Charles Alfred Swift's will, proved in 1936, and by Scheme of 1937 for Lily Swift; in 1973 the charity had £1,425 stock and £110 in cash. The three charities were amalgamated as the North Frodingham Church Relief in Need Charity by Scheme of 1973, and in the 1990s the combined income of c. £70 a year was used to provide medical services and equipment. (fn. 187)