Pages 255-261
A History of the County of York East Riding: Volume 7, Holderness Wapentake, Middle and North Divisions. Originally published by Victoria County History, London, 2002.
This free content was digitised by double rekeying. All rights reserved.
CATWICK
The parish lies 18 km. NNE. of Hull and 10 km. WSW. of Hornsea, with the small village of Catwick close to the northern boundary. (fn. 1) The name Catwick is Anglian and probably means 'the dairy farm of Catta and his people'. (fn. 2) In 1851 the ancient parish contained 1,570 a. (635 ha.); (fn. 3) its boundary has since remained unchanged.
The number of poll-tax payers at Catwick in 1377 is not known but in 1672 the parish had 24 houses assessed for hearth tax and 9 discharged. (fn. 4) There were 18 families in 1743 and 15 in 1764. (fn. 5) From 132 in 1801 the population rose sharply in the 1810s to 190 in 1821 and grew again in mid century to 248 in 1861 and 273 in 1871. From the 1880s it fell to 195 in 1901 and thereafter fluctuated around 200, before falling again to 173 in 1961. There were 197 inhabitants by 1981 but only 171 were recorded in 1991, when 174 were usually resident. (fn. 6)
The parish is on boulder clay, sand, and gravel, and much of the land exceeds 7 m. above sea level, rising to 15 m. at the eastern boundary. (fn. 7) Sand and gravel deposits in the north and west form some of the higher land, including Gildholm hill, Catwick hill, and Westlands hill; much of the gravel north-east of the village has been extracted. (fn. 8) Lower, mostly alluvial, land borders the main drains, which flow west into the Holderness drain. The northern boundary is formed by a stream comprising Catfoss drain, Stream dike, and New drain, and another drain, also called Stream dike and then Bowlams dike, runs through the southern half of the parish. The former existence of meres in Catwick is evident from the names Bramer, Star mere, and Great mere, all recorded in 1685. (fn. 9) The open fields and common meadows lay east, south, and west of the village, with the common pastures in the north-west and south-east corners of the parish; the commonable lands were inclosed in 1732.
The principal road is that crossing the parish from Beverley and Leven in the west to Hornsea in the east. The western stretch was improved in the 1930s and the eastern part c. 1980. (fn. 10) From the Leven-Hornsea road minor roads run south to Long Riston, south-east to Rise, north-west to Brandesburton, and north to Catfoss, in Sigglesthorne. The Long Riston road was diverted in 1811. (fn. 11) At the east end of the village the road from Rise formerly crossed the main road and continued north-eastwards to join the Brandesburton road; as a public road that course was discontinued in 1878, but it continued to be used as a field track. (fn. 12)
Catwick
village is built along both sides of the principal road, called Main Street, in a southern back lane, and in Little Catwick, lying further south beside the Long Riston road. Most of the buildings are of brick and were built in the 19th and 20th centuries. Older buildings include Catwick House, in Main Street, which dates from the late 18th century and retains a contemporary stable block. Willow Croft Farm, in Little Catwick, was put up in 1792, and its outbuildings include a wheelhouse. (fn. 13) Houses stood on the sites of both Manor Farm, on the Long Riston road, and Old Hall at Little Catwick by 1772. (fn. 14) The church and former rectory house stand in the back lane, where Wesleyan and Primitive Methodist chapels were added in the mid 19th century. (fn. 15) Modern in-filling has included the building in the mid 20th century of half a dozen council houses in Main Street and that part of the back lane called Rowpit Lane. Sewage pumping stations in Rowpit Lane and beside the Brandesburton road were also built and operated by the district council. (fn. 16) An alehouse was licensed at Catwick in the later 18th century, (fn. 17) but there is no later record of a public house there. A recreation hut, opened c. 1920, was replaced by a village hall built on the same site in 1987. (fn. 18) The village formerly included a holy well, named Lady well, in the grounds of Manor Farm. A moated site, north of Catwick House, may have been the site of a medieval manor house. (fn. 19)
Outlying buildings
include three farmhouses built on land inclosed in 1732: Catwick Mill Farm had been put up by 1772, and Cobble Hall and Catwick Grange date from between 1772 and 1829. (fn. 20)
MANORS AND OTHER ESTATES
In 1066 two manors of CATWICK, comprising 5 carucates, were held by Sven and Murdoch. Four of the carucates, belonging before or after 1066 to Ealdwif, passed to William Malet, who was deprived c. 1070. By 1086 all 5 carucates were held by Drew de Bevrère and were later part of the Aumale fee. The manors of Catwick were occupied in 1086 by two of Drew's knights. (fn. 21)
One of Drew's knights was probably the Ralph who in 1086 held Carlton manor, in Aldbrough, which had also been Sven's, and he or another, as Ralph of Catwick, gave a moiety of Catwick church to Pontefract priory before 1127. Like Carlton, Catwick descended in the Whittick family and then passed apparently to the Meltons and Darcys. (fn. 22) Simon Whittick held 3 carucates of the Aumale fee at Catwick in the mid 13th century, and in the 1280s his successor William Whittick had 3½ carucates in demesne. (fn. 23) Walter Whittick was named as a lord of Catwick in 1316. (fn. 24) John Melton (d. 1458) held the manor. (fn. 25) John Darcy, Lord Darcy, was dealing with the manor in the 16th century, and, after his death in 1602, his successor, also John Darcy, Lord Darcy, sold it, then comprising only 6 bovates, to Robert Escrick the elder (d. 1621) and the younger. (fn. 26) Robert Escrick the elder enlarged the estate by purchase in 1608 and 1617. The younger Robert (d. 1643) was succeeded by his sons Robert (d. by 1690) and Ralph (d. 1728). (fn. 27) Ralph's heirs sold the manor in 1729 to Hugh Bethell, who already had an estate in the parish, bought in 1654 by his greatuncle Sir Hugh Bethell. Bethell (d. 1752) (fn. 28) was awarded 289 a. at the inclosure of Catwick in 1732 and bought 83 a. more in 1746. (fn. 29) The estate later descended, like Rise, in the Bethells to William Bethell, who had 422 a. in the parish in 1910. (fn. 30) After his death in 1926, Manor farm, comprising 237 a., was sold to James Mewburn in 1929; most of the remaining land was sold in several lots in 1943, and only 14.6 ha. (36 a.) in the parish remained with the Bethells in 1990. (fn. 31) From Mewburn (d. 1935) Manor farm passed to his widow and son Robert, who divided and sold the estate in 1948 and 1953, c. 230 a. going to Arthur and Kenneth Newton. (fn. 32) The Newtons already owned c. 180 a. in the parish and were still the owners of Manor farm in 1992. (fn. 33) Manor Farm House, formerly Manor House, was evidently rebuilt in the 19th century. (fn. 34)
Drew de Bevrère's second knight in 1086 was evidently succeeded by the Fauconbergs. W. de Fauconberg, who held 2 carucates in Catwick in the mid 13th century, (fn. 35) was probably Walter de Fauconberg, later Lord Fauconberg, tenant of the estate at Catwick in the 1280s. (fn. 36) It later descended, as an appurtenance of their manor of Rise, in the Fauconbergs, Lords Fauconberg, before passing to the Nevilles. (fn. 37)
The Fauconbergs' estate was held by their free tenants, (fn. 38) who were apparently cadet members of the Fauconberg family. In 1316 Henry de Fauconberg and Walter son of John de Fauconberg were named as lords of Catwick, (fn. 39) and John de Fauconberg (d. 1366) was succeeded by his son (Sir) Walter in 1 carucate there, held of Isabel, dowager Lady Fauconberg, under Rise manor. As a manor of Catwick, the estate evidently later descended like Bilton manor, in Swine. (fn. 40) It thus passed in shares from Sir Walter Fauconberg to his heirs, the Butlers and Plessingtons, and from them to the Holmes, Francises, Staveleys, and Flowers. (fn. 41) A manor of Catwick being dealt with by Alexander Balam in 1527 was part of the same estate. (fn. 42) Part of the manor had been bought by (Sir) William Knowles by the 1540s, when his manor of Catwick was recorded, and that estate descended to his daughter, Mary Stanhope (d. 1567), and son-in-law, John Stanhope (fl. 1582). Knowles's grandson William Alford probably inherited the manor soon after. (fn. 43)
One of the half shares in the Fauconbergs' manor evidently passed to the Hildyard family. The Hildyards held 130 a. in the parish under Burstwick, the chief manor of the Aumale fee, by the 15th century, (fn. 44) and it was presumably an enlarged estate, then described as including a moiety of the manor, which Christopher Hildyard sold in 1571-2 to Robert Shippabotham. Shippabotham (d. 1579) was succeeded by four sisters. (fn. 45)
Nunkeeling priory received an estate in the 12th and 13th centuries from Eustace de Fauconberg, Simon Whittick, Peter of Bilton, and others. It comprised c. 1 carucate and was valued at £2 14s. in 1535. (fn. 46) After the Dissolution the land was granted in 1541 to Sir Richard Gresham (d. 1549) and later descended, with Nunkeeling manor, to William Thornton and William Hudson, who were jointly awarded 107 a. at inclosure in 1732. (fn. 47) Hudson (d. 1734) was succeeded in his half share by his son Joseph. Joseph's nephew John Hudson bought the other moiety from William Thornton in 1761 and conveyed it to Joseph. (fn. 48) In 1764 Joseph sold the reunited estate to William Wells, and it had passed by 1787 to Well's devisees Richard Hood and his brother William (d. 1852). (fn. 49) The estate was sold in 1853 to William Norman and in 1862, after Norman's death, to William Wright (d. 1884). (fn. 50) Comprising c. 110 a., and later identified as Lane End farm, it was sold in 1918 by Wright's trustees to Edmund Broumpton (d. 1938) and vested in 1939 in Broumpton's sister Margaret (d. 1943). (fn. 51) The farm was bought in 1944 by Alfred Smith and in 1953 by James Calvert, who enlarged it in 1965. (fn. 52) Calvert's daughter Heather and her husband Arthur Clubley succeeded to three quarters of the estate and in 1989 sold most of it in several lots. (fn. 53)
Peter de Fauconberg gave Meaux abbey a rent in Catwick in the late 12th century. (fn. 54)
The largest modern estate was that of Philip Wilkinson, who was awarded 359 a. at inclosure in 1732. (fn. 55) From Wilkinson (d. by 1762) the estate descended to his daughter Jane (d. by 1770) and then in turn to Philip's grandsons John Wilkinson and Henry Wilkinson (d. 1788). (fn. 56) Henry's children sold c. 220 a. of the estate in 1792 to Marmaduke Constable of Wassand, in Sigglesthorne, who made further purchases c. 1800. (fn. 57) The estate descended, with Wassand, in the Constables and Strickland-Constables to Frederick Charles Strickland-Constable, who had c. 370 a. in the parish in 1910. (fn. 58) In 1990 Lady (Ernestine) Strickland-Constable owned 320 a. in the parish and 132 a. more were held by the Strickland-Constable trustees. (fn. 59)
In 1086 the archbishop of York had 1 carucate in Catwick; the holding may already have been assigned to his church of St. John at Beverley, and it later belonged to the provost of Beverley minster. A knight occupied the estate in 1086, and c. 1370 it was held of the provost by Sir Amand of Routh. (fn. 60)
ECONOMIC HISTORY
Agriculture before 1800. In 1086 there was land for 5 ploughteams on Drew de Bevrère's estate at Catwick and 3 teams were then worked, one of them by 2 villeins and 2 bordars; the estate also included 40 a. of meadow. One plough was worked on the archbishop's estate, which also supported 3 villeins and 4 bordars. (fn. 61)
East and West fields were named in 1654 (fn. 62) but their relationship to the four open fields, or parts of open fields, recorded later is uncertain. In 1716 the tillage east and north-east of the village lay in North and Mill fields, all or most of the former West field was contained 'in the field to Leven', and there was a South field. (fn. 63) Those areas were differently described at inclosure in 1732. Mill field was then known as Clay field, North field as Mill Gravels, West field as Gravel field, and South field as Far Bowlams; (fn. 64) land called 'Bowlands' had earlier been recorded in South field. (fn. 65)
The open fields included common meadowland, South field containing a furlong of eight 'gadds' called Paddock in 1716. (fn. 66) Hundow, lying between the village and Stream dike, and the unlocated Mill Holme, recorded in 1685, may also have been meadows. (fn. 67) Grazing was probably also provided in the open fields; in Gravel field land called Mask, probably for marsh, may have been permanent pasture. (fn. 68) The main common pastures lay, however, in the north-west and south-east corners of the parish. Mill pasture was recorded from 1654, and Hurds, later Holds, pasture from 1685. (fn. 69)
The commonable lands of Catwick were inclosed by award of 1732 under an Act of 1731. Allotments totalled 1,417 a. They included 290 a. in Clay field, 286 a. in Gravel field, 278 a. in Far Bowlams, 245 a. in Holds pasture, 129 a. in Mill pasture, 98 a. in Mill Gravels, 22 a. in Westlands, adjoining Mill Gravels, and 20 a. in Hundow. Philip Wilkinson received 359 a. and Hugh Bethell, lord of the manor, 289 a. There were also three allotments of 100-199 a., three of 50-99 a., four of 10-49 a., and four of less than 10 a. (fn. 70)
Later agriculture
In 1905 there were 1,078 a. of arable land and 426 a. of grassland. The proportion of arable to grass was much the same in the 1930s, when the grassland lay mostly around the village. (fn. 71) The 14 a. of woodland recorded in 1905 lay in a fox cover and small plantations. (fn. 72) For Catwick civil parish 709 ha. (1,752 a.) were returned as arable land and 45 ha. (111 a.) as grassland in 1987. (fn. 73)
In the 19th and earlier 20th century there were usually a dozen farmers in the parish, of whom 3 in 1851 and 5 in the 1920s and 1930s had 150 a. or more. Two market gardeners were also recorded in 1892. (fn. 74) In 1987 eight holdings were returned for Catwick civil parish, one of 200- 299 ha. (494-739 a.), two of 100-199 ha. (247- 492 a.), one of 50-99 ha. (124-245 a.), and four of less than 50 ha.; there were then over 250,000 fowls and more than 6,000 pigs in the parish. (fn. 75)
Mills
There was a mill at Catwick in 1086. (fn. 76) Early mills presumably stood in or near Mill Gravels and Mill pasture. A windmill was recorded on the Hildyard estate in the late 16th century, and the same or another mill stood in Mill Gravels by 1772. (fn. 77) Shortly before 1910 the mill fell into disrepair and it was demolished in 1911. The miller replaced the windmill with a steam engine at his house and continued to grind corn until c. 1925. (fn. 78)
Industry and trade
By 1852 bricks and tiles were being made at a yard owned by the Bethells in Little Catwick; it was closed c. 1915. (fn. 79) Sand and gravel was dug before the 1850s from small pits in the north-east of the parish, one of which was used as a landfill site from c. 1975 to 1993. (fn. 80) Larger-scale extraction, extending into Brandesburton parish, was begun c. 1930, and in 1992 a site near Catwick Grange was being worked by Sandsfield Gravel Co. (fn. 81) From c. 1970 motor engineering and haulage firms operated in Catwick, and a Sunday market was begun east of the village in 1989. (fn. 82)
LOCAL GOVERNMENT
Surviving parish records include churchwardens' accounts for 1722-1807 (fn. 83) and overseers' accounts for 1773- 1838. The parish maintained poorhouses at Catwick in the late 18th and early 19th century. (fn. 84) Regular poor-relief was given to two people in 1802-3 and to about ten in 1812-15; one person in the earlier year and up to five a year in 1812-15 were aided occasionally. (fn. 85) The parish joined Skirlaugh poor-law union in 1837. (fn. 86) It remained in Skirlaugh rural district until 1935 and then in Holderness rural district until 1974, when it became part of the Holderness district of Humberside. (fn. 87) In 1996 Catwick parish became part of a new East Riding unitary area. (fn. 88)
CHURCH
A church recorded at Catwick in 1086 belonged in moieties to Drew de Bevrère's undertenants and their successors. (fn. 89) Pontefract priory was given one of the moieties by Ralph of Catwick before 1127 and the other by Peter de Fauconberg by 1160. (fn. 90) The priory successfully defended its right of patronage against Everard of Catwick in 1224 (fn. 91) but, as a dependency of the alien priory of La Charité-sur-Loire (Nièvre), temporarily lost the advowson to the Crown during the wars with France in the 14th century. (fn. 92) The Crown was patron from the Dissolution until 1901, when the advowson passed by exchange to Henry Strickland-Constable. (fn. 93) Catwick rectory was united with Long Riston vicarage in 1922 and with Leven rectory instead in 1956; the Strickland-Constables presented alternately from 1922. (fn. 94) Leven with Catwick was united with Brandesburton in 1997. (fn. 95)
The rectory was worth £7 in 1291 and £14 4s. 10d. gross in 1535; on each occasion a pension of £2 was owed to Pontefract priory. (fn. 96) The improved annual value was £53 0s. 2d. net in 1650. (fn. 97) The net annual income averaged £149 in 1829-31 and was £170 in 1883. (fn. 98) Tithes, worth more than £11 in 1535 and £50 gross in 1650, were mostly commuted at inclosure in 1732 for a rent charge of £90. The remaining tithes, from Catwick mill, were dealt with in 1843, when the rector was awarded 15s. a year for them. (fn. 99) The 5 bovates which Pontefract priory held in Catwick in the mid 12th century may have been glebe. In 1535 the glebe was valued at £2 and in 1650, when it was said to include 4 bovates, at more than £7. In 1732 at inclosure 61 a. were awarded for the commonable glebe. (fn. 100) Some 20 a. were sold in 1936 and the rest in 1963 and 1964. (fn. 101) The rectory house, recorded in 1650, was in disrepair in 1768, when the outbuildings were rebuilt. (fn. 102) The house itself was enlarged c. 1800 and mostly rebuilt in 1862 to designs by George Wilkinson of Hull. (fn. 103) Its grounds were enlarged by exchange in 1855. (fn. 104) The rectory house was sold in 1954, (fn. 105) and the rector later lived at Leven.
In the mid 16th century the rector also served Hornsea, and in the 1560s sermons were lacking at Catwick. (fn. 106) In 1743 and 1764, when the rector was also curate of North Frodingham, a service was held weekly and communion was administered four times a year with c. 30 recipients. (fn. 107) In the mid and late 19th century, when Catwick was served alone, there were two Sunday services and monthly communion, with usually a dozen recipients. (fn. 108)
The church of ST. MICHAEL, so called in 1555, (fn. 109) stands on elevated ground. A small stone figure, of the 11th century or early 12th and perhaps representing St. Michael, is set in the north wall of the chancel. The medieval church comprised chancel, nave with transeptal chapels and south porch, and west tower. The chapels were added in the earlier 14th century and the nave partly refenestrated in the 15th. (fn. 110) The chancel was neglected in the 16th and 17th centuries. (fn. 111) The nave and tower were restored c. 1720, (fn. 112) and sash windows had been fitted in the chancel by the 19th century. (fn. 113) Except for the tower, the church was rebuilt in 1863 to designs of Mallinson & Healey of Bradford. (fn. 114) The new church, of boulders with ashlar dressings, incorporates some of the medieval windows. It largely follows the earlier plan, the probable exception being the addition of a north vestry to the chancel. The external stonework was cleaned in 1992-3. (fn. 115)
There were two bells in 1552 and later, cast by Thomas Deacon, probably in Beverley or Hull in the 14th century. (fn. 116) The plate includes a cup, possibly of the mid 16th century, and a paten of 1766. (fn. 117) The registers of baptisms, marriages, and burials date from 1586; baptisms lack entries for 1670-8 and 1712-21, marriages for 1616-78 and a few years in the 18th century, and burials for 1662-78. (fn. 118) In 1962 the churchyard was enlarged with glebe land but the extension had yet to be brought into use in 1992. (fn. 119)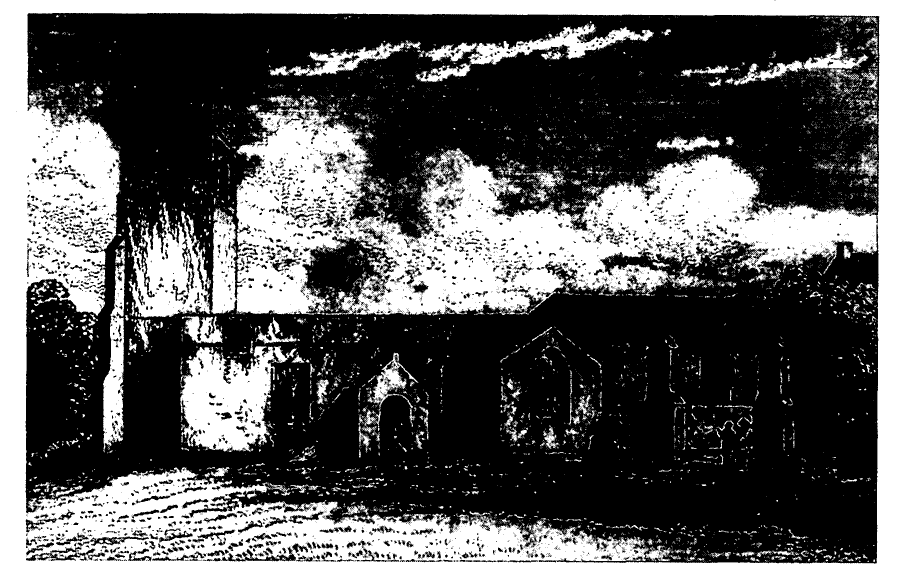 The parish clerk had beastgates in the common pastures and open fields until their inclosure in 1732, when a yearly rent charge of 18s. 4d. was substituted. (fn. 120)
NONCONFORMITY
An unidentified congregation of protestant dissenters used a house at Catwick from 1812. (fn. 121) The Wesleyans registered a room there in 1817 and in 1835 built a chapel, (fn. 122) which was closed in 1986 (fn. 123) and stood derelict in 1992. The Primitive Methodists registered a house in 1820 and built a chapel in 1839. (fn. 124) The chapel was closed in the 1930s and later converted into a private house. (fn. 125)
EDUCATION
A school in the village attended by c. 15 children in 1743 was not mentioned in 1764, (fn. 126) and in 1818 Catwick children were taught in an adjoining parish, probably Leven. (fn. 127) Hannah Smith (d. by 1792) left £20 for education, and the income was evidently being used in 1833 to support a school attended by half a dozen boys and girls. (fn. 128) It was presumably the same school for which a building was put up in 1847, on land given by the Revd. Charles Constable. (fn. 129) It was run on the National plan and was supported with 13s. from the charity, by subscription, and by school pence. (fn. 130) An annual government grant was first received in 1859. (fn. 131) The school took infants and on inspection day in 1871 was attended by 37 children. (fn. 132) The building was enlarged in 1882 and further extended in 1911. (fn. 133) Average attendance fell from 48 in 1906-7 to 33 in 1913-14; numbers recovered in the 1920s but later fell to 34 in 1937-8. (fn. 134) The school was closed in 1949, the younger of its 33 pupils being transferred to Leven school and the elder ones to Hornsea County School. (fn. 135) The former school building at Catwick was sold c. 1960 (fn. 136) and later used as a private house.
CHARITIES FOR THE POOR
James Young (d. 1768), rector, left £50 for poor widows and other parishioners. In the early 19th century the income of £2 10s. was distributed twice a year. James's wife Mary (d. 1786) left a rent charge of £2 12s. 6d. from a house in Hornsea for the poor at Christmas. (fn. 137) In 1902 the joint income of the Young charities was nearly £4 10s. and was distributed in doles. (fn. 138)
George Gibson (d. 1774) and an unknown benefactor left £5 and £20 10s. respectively for the poor. The town stock thereby created produced an income of £1 5s. 6d. in the early 19th century, when cash doles were given annually. (fn. 139) Hannah Smith (d. by 1792) left £20 for education, with the relief of the poor and sick as a secondary object. (fn. 140) Her charity was later applied to the elemosynary object. In 1901 the income was combined with that of the town stock, and cash doles amounting to £1 6s. were distributed. (fn. 141)
By a Scheme of 1981 the charities were amalgamated as the Catwick Relief in Need charity, and the rent charge was then redeemed. In 1992 the charity was, however, inactive. (fn. 142)