Pages 245-254
A History of the County of York East Riding: Volume 7, Holderness Wapentake, Middle and North Divisions. Originally published by Victoria County History, London, 2002.
This free content was digitised by double rekeying. All rights reserved.
Brandesburton
The parish of Brandesburton lies 18 km. north of Hull, 9 km. west from the coast at Hornsea, and is bounded on the west by the river Hull. (fn. 1) Brandesburton village is situated towards the southern boundary; 2 km. north is the small settlement of Moor Town and 2 km. WNW. is Burshill hamlet; Baswick, 5 km. to the west, was partly in Leven and its history is dealt with under that parish. The name Brandesburton is an Anglian and Scandinavian hybrid, meaning 'fortified farmstead belonging to Brandr', and Burshill, 'broken hill', is an Anglian name. (fn. 2)
In 1851-2 the ancient parish contained 5,185 a. (2,098 ha.), comprising 4,672 a. (1,891 ha.) in Brandesburton township and 513 a. (208 ha.) in that of Moor Town. (fn. 3) In 1885 Heigholme, with c. 300 a., was transferred from Hempholme, in Leven, to Brandesburton civil parish, but in 1895 it was added instead to Leven civil parish. Brandesburton contained 4,659 a. (1,885 ha.) by 1901. (fn. 4) In 1935 Hempholme civil parish, with 1,048 a. (424 ha.), was united with the civil parishes of Brandesburton and Moor Town to form the new civil parish of Brandesburton, containing 6,220 a. (2,517 ha.). (fn. 5) Some 28 ha. (70 a.) of Brandesburton were lost to Bewholme civil parish and about 2 ha. (4 a.) to Seaton civil parish in 1984, but c. 9 ha. (23 a.) were then gained from Seaton. (fn. 6) The area of Brandesburton was 2,494 ha. (6,163 a.) in 1991. (fn. 7)
There were 271 poll-tax payers in Brandesburton parish in 1377, (fn. 8) and 66 houses were assessed for hearth tax and 19 discharged in 1672. (fn. 9) The parish had 58 families in 1764. (fn. 10) In 1801 Brandesburton township had 432 inhabitants; its population increased steadily to 784 in 1861, fell to 658 in 1871, 604 in 1901, and 568 in 1931. The population of Moor Town rose from 32 in 1801 to 40 in 1811; thereafter it was usually c. 30 until the 1880s when numbers fell to 19 in 1891. There were only 17 people there in 1931. At that date 654 people lived in the area of the civil parish formed in 1935, whose population increased sharply to 1,011 in 1951, reflecting the development of Brandesburton hospital and an R.A.F. camp. The population was about the same in 1971, but had risen to 1,106 in 1981 and in 1991 was usually 1,362, of whom 1,332 were actually counted. That increase was partly due to Brandesburton's development as a dormitory village for Beverley and Hull. (fn. 11)
The higher ground in the east reaches 18 m. above sea level, while in the west the land lies at less than 5 m. The northern half of the parish is covered with boulder clay and the south and west with sand and gravel or alluvium. The settlements of Brandesburton and Burshill were sited on the sand and gravel, (fn. 12) which has been extensively extracted. The open fields of Brandesburton lay north-east and north-west of the village and the common pastures on the lowlying land to the south and west and on moorland to the north-east. Most of the commonable lands of Brandesburton, Moor Town, and Burshill were inclosed by agreement in 1635 and those remaining in 1847. (fn. 13)
The northern half of the parish mostly drains towards the river Hull in Hempholme through Frodingham and Holm drains, which run along the parish boundary, and Catchwater drain. Another drain running along Black bank marks the boundary between Brandesburton and Moor Town. (fn. 14) The southern half of Brandesburton was evidently once drained by small streams flowing south into Leven, one of which rose near Burshill and another close to the village. The Burshill stream was later improved as the Burshill and Barf drain and the other streams connected to it by the southern boundary drain, at least part of which, called New drain, was probably man made. The alterations to the drainage may have been carried out in the mid 17th century. In the 1630s, just before inclosure, the carrs in Brandesburton were described as 'good grounds . . . continually drowned', and a scheme for their drainage was then agreed with people described as Dutchmen. (fn. 15) In 1743, however, despite earlier drainage work, the river was higher than fourfifths of Ing carr, which was regularly flooded. (fn. 16) As elsewhere in the Hull valley, (fn. 17) effective drainage of the carrs only began to be achieved after the formation in 1764 of the Holderness Drainage Board, which made or improved a drain through the carrs in Brandesburton and, more importantly, provided a new outfall to the Humber in the 1830s. Over 1,000 a. in the west of the parish were rated to the Holderness Drainage in 1775 (fn. 18) and about the same in the 1830s. (fn. 19) The drainage of the parish was also improved under the Beverley and Barmston Drainage Act of 1798, primarily by the making of a new drain along the west bank of the river in Watton parish; 318 a. in Brandesburton and Moor Town were assessed to the work by the award of 1811. (fn. 20) Regular flooding of the carrs, neverthelesss, continued until the 1950s, when water levels in the river were reduced by the making of two reservoirs on its west bank. (fn. 21) In 1993 the river banks between Baswick and Hempholme were strengthened. (fn. 22)
From Brandesburton the principal road of the parish runs north to Beeford and south to Leven. It later became part of the main road connecting Bridlington with Hull and Beverley. Improvements to the road included the building of a bypass, called New Road, along the southeastern edge of the village c. 1925, (fn. 23) and in 1994 a larger bypass for Brandesburton and Leven was opened further east. Minor roads connect the village with Nunkeeling, Catwick, Burshill, and North Frodingham. A road over Brandesburton moor, linking the Beeford and Nunkeeling roads, was made at inclosure in 1847. (fn. 24) From Burshill minor roads through the carrs lead to Baswick, Heigholme, and Hempholme; the course to Hempholme was diverted in 1956 to extend sand and gravel workings. (fn. 25) The parish's communications have also included the river Hull and there was a landing at Baswick. (fn. 26)
Brandesburton
The main street of Brandesburton village bends to make an L, one part having an east-west alignment and the other running north-south, and both also forming a stretch of the old Beeford to Leven road. The church, rectory house, Old Manor House, and school stand north of the eastern arm of Main Street, which formerly had almost no other houses on that side; on the south side, in the angle formed with Boardman Lane, is a small green called Cross Hill, on which stands the shaft of a medieval stone cross with part of the head. Houses were grouped along the southern arm of Main Street and in cross and back lanes. The name Little Burton, formerly given to the west end of the village, is now attached to one of the lanes there. Church Lane, which connected Main Street and a northern back lane, had been stopped up by the late 19th century, and the back lane, earlier and later also called Church Lane, (fn. 27) was discontinued in 1994. The buildings are of brick and mostly date from the 19th and 20th centuries. The older houses include Manor House, Brandesburton Hall, (fn. 28) and the Black Swan public house, which dates from the mid 18th century. Home Farm, probably rebuilt c. 1700, has a plat band and dentil eaves course; it belonged to George Noel (d. 1701) of Heigholme, in Leven, in the 1730s to his heirs, the Hunters, and in the earlier 19th century to the Revd. W. H. Dixon. (fn. 29) About 1975 the 18th-century hall fittings of no. 42 Blanket Row, Hull, including a staircase by George Schonswar, were used in the enlargement of Rectory Cottage. (fn. 30) A conservation area was designated in 1977. (fn. 31) The growth of the village in the 19th century included the building of a school in Main Street and chapels in Stockwell Lane and Little Burton. (fn. 32) In the mid 20th century c. 40 council houses were built at the north end of the village. (fn. 33) Later, houses were put up on either side of New Road and estates built at the west and south ends of the village. The district council also provided a sewage works beside New drain c. 1970. (fn. 34)
An alehouse called the Anchor was recorded in 1743, two licensed houses later in the 18th century, and the Black Swan and the Cross Keys in 1823. (fn. 35) The Cross Keys had been renamed the Dacre Arms by 1872. (fn. 36) Both still traded in 1993. A lodge of the Benevolent Society was founded in 1811 and mentioned until 1837. It may have been replaced by the Emanuel Hospital Lodge, founded in 1837 by the Independent Order of Oddfellows; it had 33 members in 1845 but was closed c. 1850. The Franklin Death Brief was founded c. 1844, had 92 members in 1905, (fn. 37) and still existed in 1993. (fn. 38) A Mutual Instruction, or Improvement, Society, formed in 1852 and with c. 60 members in 1892, operated a reading room and library in the village. (fn. 39) Allotment gardens were provided west of the village in the late 19th and early 20th century. (fn. 40) Land south-west of the village was allotted to the churchwardens and overseers of the poor at inclosure in 1847 for a recreation ground, which was evidently used until at least the late 19th century. (fn. 41) A cricket club played in the grounds of Brandesburton Hall until 1933, when a new recreation ground, named after the donor, Elizabeth Riall, was opened off New Road; it was also used for bowling from 1938. (fn. 42) The parish council was given a former R.A.F. building on the Catwick road by the Mewburn family c. 1950 for a village hall, (fn. 43) and a football club played on a field opposite it in 1993. The council also provided a children's playground in Mill Lane in 1973. (fn. 44) Several business have been established to exploit the former gravel workings: Humberside Shooting Ground was opened c. 1975, Billabong Water-sports c. 1980, Dacre Lakeside Park in 1985, and Fosse Hill Jet Ski Centre c. 1987. (fn. 45) Hainsworth Park golf course was opened in 1982 on the former parkland of Brandesburton Hall. (fn. 46)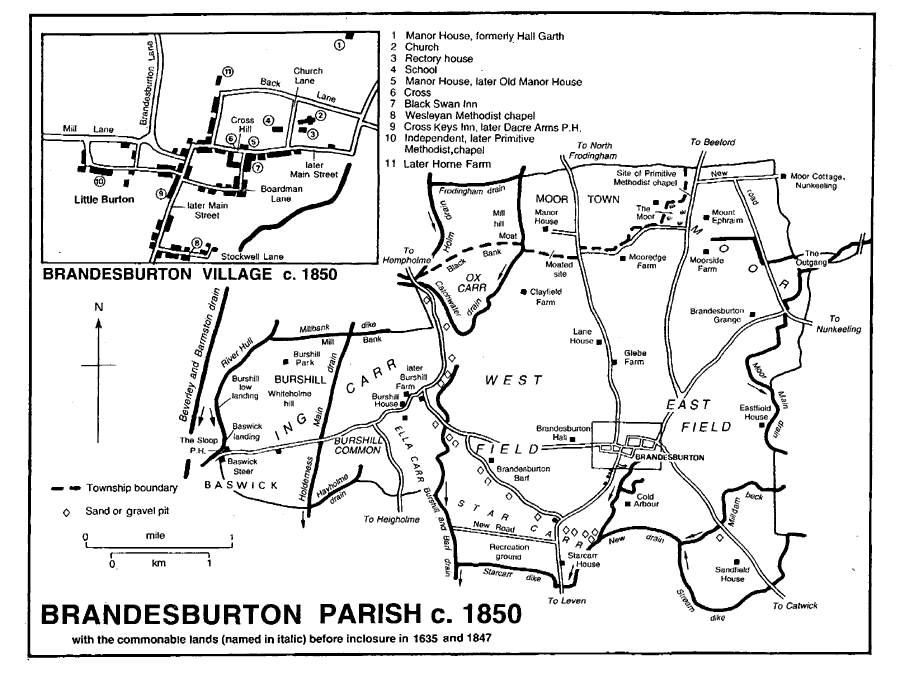 Brandesburton Hall was a hospital for the mentally incapacitated from 1932. The accommodation provided by the Hall and the converted stable block was enlarged by the building of three houses in the grounds in the mid 1930s, and in 1937 there were 192 patients. During the Second World War, the patients were evacuated and the buildings used to house R.A.F. personnel from Catfoss airfield, in Sigglesthorne. Mill Cottage remains from the military occupation, and following the re-occupation of the hospital many other additions were made. The hospital was closed in 1995. (fn. 47) A private children's home, opened c. 1935 on the Frodingham road, was later bought for the hospital and used as a children's ward and, by 1993, as staff accommodation; (fn. 48) it was sold in 1995. A Special School was opened by the L.E.A. in Brandesburton hospital in 1971; the children went to school in Beverley from 1972 until a new building in the hospital grounds was opened in 1977, but falling numbers led to its closure in the early 1980s. (fn. 49)
From 1938 the Air Ministry bought or obtained rights over c. 330 a. in the east of the parish for the enlargement of Catfoss airfield. An associated camp was built at Brandesburton in or soon after 1948. The airfield was finally closed in 1963; (fn. 50) the land and buildings in Brandesburton were sold between 1960 and 1970 and have since been returned to agriculture or used industrially. (fn. 51)
Burshill
hamlet comprises half a dozen farmhouses and cottages. Burshill House dates from the 18th century but was enlarged, remodelled, and refitted c. 1830. (fn. 52) About six scattered farmhouses make up Moor Town. Other outlying buildings in the parish include Brandesburton Barf, Brandesburton Grange, Glebe Farm, and Lane House, all built by 1772 (fn. 53) and later remodelled or rebuilt.
Thomas Keith, mathematician (1759-1824), was born at Brandesburton. (fn. 54)
MANORS AND OTHER ESTATES
In 1066 seven manors of Brandesburton, comprising 12½ carucates and evidently including Burshill, were held by Sven, Ulfkil (Ulchil), Vek (Waih), Ketilfrith (Chilvert), Earnwig (Arnui), and two men called Ulf. Four of the manors and 11 carucates, then described as belonging to Ealdwif, Ulf, Ulf's brother, and Ulf kil, passed to William Malet, who was deprived c. 1070. By 1086 Drew de Bevrère held all 12½ carucates, (fn. 55) which were later part of the Aumale fee.
Part of Drew's estate was occupied in 1086 by a knight, (fn. 56) and Richard de St. Quintin probably held much of BRANDESBURTON in 1166. (fn. 57) Richard's son Herbert de St. Quintin had inherited the estate by 1194, and in 1202 William of Rochford and his wife Beatrice released their rights in Brandesburton to him in exchange for land at Thirtleby, in Swine. (fn. 58) Herbert (d. by 1223) was succeeded by his son Anselm, who had 9 carucates in Brandesburton. (fn. 59) By the mid century Anselm's estate had descended to his nephew (Sir) Herbert de St. Quintin (d. 1302), who held 7 carucates in Brandesburton and 1 carucate in Burshill. (fn. 60) John de St. Quintin was recorded as lord of Brandesburton in 1316. (fn. 61) Herbert's grandson and heir Sir Herbert de St. Quintin (d. 1339), later had the manor. It then passed in turn to his son Sir Herbert (d. 1347), that Herbert's relict Margery (d. 1361), later wife of Sir Roger Hussey, (fn. 62) and to Herbert and Margery's daughter Laura (d. 1369), wife of Robert Grey (fn. 63) and Sir John de St. Quintin (d. 1397). Laura may have been succeeded by her son Herbert de St. Quintin (d. 1398) and certainly was by her daughter Elizabeth Grey (d. 1427), wife of Henry FitzHugh, Lord FitzHugh. (fn. 64) The manor descended in the FitzHughs to George FitzHugh (d. 1513), whose heirs were his aunt Alice FitzHugh, wife of Sir John Fiennes, and Sir Thomas Parr, the son of another aunt, Elizabeth FitzHugh. (fn. 65) It was evidently assigned to the Fienneses, who held the estate, except during periods of forfeiture in the mid 16th century, until Gregory Fiennes, Lord Dacre, died in 1594. (fn. 66) His wife Anne (d. 1595) devised the manor to Emanuel hospital, Westminster, founded under her will. (fn. 67) George Goring, Lord Goring, later earl of Norwich, (d. 1663) was the lessee at inclosure in 1635, when he was awarded 1,714 a. for 10 carucates and 2 bovates; he held besides old inclosures at Baswick and elsewhere in the parish. Goring's interest was assigned to his son George Goring (d. 1657), Lord Goring, who was succeeded by his brother Charles (d. 1671), later earl of Norwich. (fn. 68) Lessees of London corporation, which was governor of the hospital, later held the manor. (fn. 69) It comprised 3,634 a. in 1743 and 3,164 a. in 1910. (fn. 70)
In 1920 the Brandesburton estate was sold in many lots. (fn. 71) Manor House and Eastfield House farms, together comprising c. 400 a., were bought by Francis Richardson, (fn. 72) who sold c. 70 a. in the mid century. (fn. 73) After his death in 1955, his executors, F. W. O. Richardson and J. E. S. Richardson, held the estate, and it still belonged to the Richardsons in 1993. (fn. 74)
Manor House, on the north-eastern edge of the village, has also been known as Hall Garth and Hall Farm. (fn. 75) The present building probably dates from the early 18th century but was remodelled in the early 19th. (fn. 76) The panelled, 18th-century hall retains its original staircase.
Manor farm, of 106 a., was bought in 1920 by John Speed. (fn. 77) He sold 23 a. in 1924 and the house and 83 a. in 1934 to Frank Bell. (fn. 78) In 1940 Bell sold the farm to George (d. 1944), William (d. 1948), Frank, and Thomas Broumpton. (fn. 79) In 1948 Frank and Thomas Broumpton sold most of the land, and in 1954, after their deaths, the farmhouse was sold. (fn. 80) The estate has not been traced further. The farmhouse, said to have been rebuilt in 1715 and again in 1818, was called Manor House in the mid 19th century and later Old Manor House. (fn. 81) The two-storeyed, brick farmhouse stands on the street facing the village green.
Part of the Fienneses' estate was excepted from the gift to the hospital and passed to George Goring, Lord Goring, who c. 1630 had 6 bovates at BURSHILL and 1 bovate at Brandesburton, besides closes and common rights at Burshill. (fn. 82) That estate evidently passed with the leasehold to Goring's son Charles Goring (d. 1671), earl of Norwich, whose heirs sold part of it in 1674 to Sir Hugh Bethell (d. 1679) and the rest in 1686 to Bethell's nephew Hugh (d. 1717). (fn. 83) The Bethells' estate descended, like Rise, to Richard Bethell, who had 347 a. at Burshill in 1842. (fn. 84) A little land was sold in 1932 and the rest after the death in 1941 of W. A. V. Bethell. (fn. 85) The largest lot, Burshill farm, of c. 230-a., was bought in 1942 by John Rawson (fn. 86) and sold in 1948 to Richard and Kenneth Deighton. (fn. 87) The Deightons still farmed it in 1993. (fn. 88)
Jonathan Midgley bought a farm at Brandesburton in 1729, and between the 1750s and his death in 1778 he made other purchases there. (fn. 89) Midgley built a chief house which he left to his wife Mary; his daughter Mary, later wife of William Beverley, succeeded to most of the land and on her mother's death in 1791 evidently also to the house. In 1837 the Beverleys' son Robert conveyed c. 230 a. to Jonathan Harrison, who had almost 300 a. in Brandesburton in 1842. (fn. 90) Harrison (d. 1867) was succeeded by his son J. S. Harrison, who bought c. 260 a. at Brandesburton in 1869 and 290 a. at Moor Town in 1874. (fn. 91) After Harrison's death in 1884, his estate descended to his son James, who had 583 a. at Brandesburton in 1910. (fn. 92) James died in 1923, and c. 125 a. was sold in small lots that year and the next. (fn. 93) The chief house, known by 1840 as Brandesburton Hall, (fn. 94) and 98 a. were bought for a hospital in 1931 by the East Riding and York Joint Board for the Mentally Defective; (fn. 95) it later passed to the East Riding Hospital Management Committee and in 1974 to the Humberside Health Authority. (fn. 96) The rest of the Harrisons' estate at Brandesburton descended like Moor Town and was sold in 1947; (fn. 97) the largest lot, Westfield farm of 271 a., was bought by Richard and John Dore. (fn. 98) It has not been traced further.
Jonathan Midgley is said to have built his house in 1772, and it was much enlarged for J. S. Harrison in 1851; of red brick with stone quoins, the house then comprised a main block with two wings. (fn. 99) The house was again rebuilt as a large Italianate mansion for Harrison in 1872 by William Hawe of Beverley, who was also responsible for the stable block of 1874 and a new kitchen block to the north, put up in or soon after 1881. Much of the ornamental planting of shrubs and trees around the house remained in 1998. About 1910 Brandesburton Hall was further enlarged with a west wing, comprising a large saloon and additional first-floor rooms, the existing exterior was enriched with more stonework, and the interior was generally refurbished. It was probably then that the several 18thcentury fire surrounds, presumably rescued from other houses, were installed. The early 20th-century work for James Harrison was to designs by W. H. Brierley of York, with plasterwork by G. P. Bankart of London. (fn. 100) By the late 19th century the Hall stood in a large park. (fn. 101) James Harrison travelled in South America, Africa, and the Far East, and between 1905 and 1907 he had half a dozen pygmies from the Ituri forest, Zaire, living in the park. (fn. 102) After the Hall was opened as a hospital in 1932, several buildings were added in the grounds. (fn. 103)
Herbert de St. Quintin's estate in the parish included land at Moor Town in 1285. (fn. 104) It was evidently held under the St. Quintins by a family named after the settlement. Robert Moore was granted free warren in the moor in 1309, (fn. 105) the manor of MOOR next to Brandesburton was settled on the same or another Robert Moore and his wife in 1323, Roger Moore held 1 carucate there of Sir Herbert de St. Quintin in 1347, (fn. 106) and another Robert Moore probably had the estate in 1408. It passed to the Ellerkers by the marriage of Isabel, daughter of Sir Robert or Sir John Moore, and John Ellerker. She (d. 1478) was apparently succeeded by her son Ralph Ellerker, (fn. 107) but later the estate, called MOOR TOWN manor in 1539, descended in the senior line of the Ellerkers, like Risby, in Rowley, passing eventually to the Bradshaws and Mainwaring Ellerkers. (fn. 108) In 1789 Roger M. Ellerker's heirs sold the estate of c. 450 a., together with an adjacent holding over the boundary in Beeford parish, to (Sir) George Wood (d. 1824), who devised both to his nephew John Stocks. (fn. 109) In 1842 Stocks had c. 500 a. at Moor Town. (fn. 110) He died in 1872, and his devisees sold the estate in 1874; the manor and Manor House Farm, of 290 a., were bought by J. S. Harrison of Brandesburton Hall and the rest by the rector, John Hymers, on his own behalf. (fn. 111) After James Harrison's death in 1923, his widow Mary (d. 1932) retained the farm at Moor Town. (fn. 112) In 1947 James Aconley bought it, and the Aconleys still had it in 1993. (fn. 113) The medieval manor house may have occupied one or other of the moated sites to the west and south-east of Manor House Farm, (fn. 114) which is a 19th-century building.
In 1086 the archbishop of York had a berewick of 1 carucate at Brandesburton. It was already assigned to his church of St. John at Beverley, which was later patron of Brandesburton church. (fn. 115) Land later belonging to Brandesburton rectory may account for part of the archbishop's estate, about which nothing further has been found.
Some of the Aumale fee had evidently passed to the Ros family by 1347. The estate, then 2 carucates, descended as an appurtenance of Roos manor. (fn. 116)
In 1371 St. Leonard's hospital, York, was licensed to acquire almost 1 carucate in Brandes burton and Seaton, in Sigglesthorne. (fn. 117) Nunkeeling priory had land at Burshill, (fn. 118) which was worth 10s. a year in 1535. (fn. 119)
ECONOMIC HISTORY
Common lands and inclosure. The tillage at Brandesburton was divided between East field, named from 1458, (fn. 120) and West field. (fn. 121) Common meadow land lay in Ing, later Inn, carr, (fn. 122) where 'wandales' of meadow were mentioned in 1630, and the illdrained carrs also provided much rough grazing. Farmers at Moor Town probably shared the commonable lands of Brandesburton, and all parishioners had rough grazing on Brandesburton moor, an unstinted pasture of nearly 500 a. (fn. 123) which was probably intercommoned with Nunkeeling. (fn. 124) At Burshill at least 6 bovates remained of the hamlet's open fields in 1630; other land there, including desmesne land of Brandesburton manor at Baswick and Whiteholme, was evidently already inclosed. Much of Brandesburton and probably also part of Burshill were inclosed by agreement between 1630 and 1635, when the process was ratified by Chancery decree. West field was said to contain 1,321 a. and East field 1,174 a., Ing carr 307 a., West carr 250 a., and Ox carr 171 a.; North and Ella carrs, also mentioned, may have been parts of the quantified carrs. Star carr, variously put at 58 a. and 173 a., was awarded with an adjacent 90 a. from West field as a common pasture to support c. 120 gates, (fn. 125) hitherto enjoyed in Star carr and the open fields.
In 1743 the continuing pastures comprised, besides the moor, Ing carr of 557 a., which supported 240 beast gates and probably represented the former West and Ing carrs, Star carr of 246 a., and 35 a. in Ella carr and Burshill common enjoyed by the tenants of Burshill. Ing carr was then very poorly-drained and liable to flooding from the river Hull, (fn. 126) and all or part of Star carr was ploughed in 1749 after an outbreak of cattle plague and only returned to grass in 1754. (fn. 127) The inclosure of the remaining commonable lands was delayed partly by the poor drainage of the carrs. (fn. 128) Before final inclosure in 1847, the higher ground on Brandesburton moor was described as a 'rough uncultivated spot' on which 'many a thing' died. (fn. 129)
An award of 1847 under an Act of 1844 allot ted 1,324 a. in all and there were c. 150 a. of exchanges, including 18 a. at Heigholme, in Leven, and 11 a. at Burshill. There were 549 a. to be inclosed in Ing carr, 457 a. on Brandesburton moor, 242 a. in Star carr, 28 a. in Ella, then Alley, carr, and 5 a. in Burshill common. Emanuel hospital received 814 a., Richard Bethell 126 a., and there were four allotments of 20-99 a., five of 10-19 a., and twenty of less than 10 a. (fn. 130) After inclosure 12 tenants of Emanuel hospital occupied 20 a. of 'cottagers' cow pastures', possibly as a continuing common pasture, and much of the land allotted to the hospital in the carrs was parcelled out among its smaller tenants. (fn. 131) Part of the moor remained unimproved c. 1850. (fn. 132)
Holdings to the 17th century
In 1086 there was land for 12½ ploughteams on Drew de Bevrère's estate at Brandesburton, and 3 teams were then worked, one of them by 6 villeins. One team was worked on the archbishop's estate, which also supported one villein and where 8 a. of meadow were recorded. (fn. 133) In 1630, besides the estates of Emanuel hospital and Lord Goring, amounting to over 11 carucates, freeholders held 3 carucates and 2 bovates; one had 1 carucate and 5 bovates and the other six holdings were of 1-4 bovates each. (fn. 134)
Agriculture since 1800
In 1801 the parish was said to have 847 a. under crops. (fn. 135) In 1842 there were 2,214 a. of arable land and 1,711 a. of grassland in Brandesburton, and 428 a. and 65 a. respectively in Moor Town. (fn. 136) Some of the grassland was ploughed after inclosure, and in 1905 the parish had 3,067 a. of arable land and 1,107 a. of grassland. (fn. 137) The proportion of arable to grassland was much the same in the 1930s, when most of the grassland was around the settlements and outlying farms. (fn. 138) For Brandesburton civil parish 2,091 ha. (5,167 a.) were returned as arable land in 1987 and 568 ha. (1,404 a.) as grassland. (fn. 139) Woodland covered 56 a. in 1905, but by 1987 there was only 11 ha. (27 a.) in small plantations. (fn. 140)
In the 19th and earlier 20th century there were usually two to three dozen farmers in Brandesburton, of whom 10 in 1851 and half a dozen in the 1920s and 1930s had 150 a. or more. At Moor Town there were 2-4 farmers, one or two of whom had larger farms. One or two cowkeepers, a cattle-dealer, and a market gardener were also recorded in the late 19th and early 20th century. (fn. 141) In 1987 of 35 holdings returned under Brandesburton civil parish, three were of 200-499 ha. (494-1,233 a.), eight of 100-199 ha. (247-492 a.), six of 50-99 ha. (124-245 a.), and eighteen of less than 50 ha.; there were then more than 14,000 pigs, 1,700 sheep, and 1,300 cattle in the parish. (fn. 142)
Market and fair
In 1286 Sir Herbert de St. Quintin was granted a weekly market on Thursdays and an annual fair on the eve, day, and morrow of the Invention of the Holy Cross (3 May). (fn. 143) A market and fair were still held c. 1840 but had ceased by the 1890s. (fn. 144)
Mills
A windmill and another mill stood on the St. Quintin estate at Brandesburton in 1223, (fn. 145) and a windmill was recorded there until the late 18th century. (fn. 146) The location of a water mill is indicated by the name Milldam beck, and that of the windmill perhaps by Mill Lane. There was evidently also a windmill at Moor Town, where Mill hill was recorded. (fn. 147)
Industry
Chicory was dried in a kiln near Brandesburton Hall c. 1850. (fn. 148) Sand and gravel were dug from small pits in the parish before the 1920s, when larger-scale working was begun. (fn. 149) Extraction was continuing in the south-east of the parish in 1993, when some of the water-filled former workings were used for leisure pursuits. (fn. 150) There was then a small industrial estate on the Catwick road, and several small businesses, including a motor engineering firm, traded in the village.
LOCAL GOVERNMENT
A bylawman was recorded at Brandesburton in the early 18th century. (fn. 151) The village had stocks near the cross. (fn. 152)
In Brandesburton township, including Burshill, 12 people in 1802-3 and two dozen in 1812-15 received permanent out-relief; 3 and 15-20 respectively were helped occasionally. Moor Town gave occasional relief to c. 20 in 1812-15. (fn. 153) Both townships joined Skirlaugh poor-law union in 1837 (fn. 154) and remained in Skirlaugh rural district until 1935, when, as part of the enlarged civil parish of Brandesburton, they were incorporated in the new Holderness rural district. Brandesburton civil parish was taken into the Holderness district of Humberside in 1974 (fn. 155) and in 1996 became part of a new East Riding unitary area. (fn. 156)
CHURCH
There may have been a church at Brandesburton in 1086, when a clerk was recorded on the archbishop of York's estate, (fn. 157) and there was certainly one by 1251, when the first known rector was mentioned. (fn. 158) The archbishop's church of St. John at Beverley was patron until its suppression in 1548. Its successor, the Crown, presented in 1603, but evidently later sold the advowson. A dozen men presented between 1603 and the end of the century; some or all of them were exercising turns granted by the owner of the advowson, whose identity is thus obscured. (fn. 159) In 1650 Richard Lawson, rector, was said also to be patron, (fn. 160) and the advowson evidently passed to his son-in-law the Revd. Samuel Bromsgrove. Bromsgrove sold it in 1707 to Thomas Watson, bishop of St. David's, (fn. 161) who gave it to St. John's college, Cambridge, in 1710. A right of nomination in certain circumstances was reserved to Hull corporation until it released its interest to the college in 1909. (fn. 162) The college exercised its patronage, except in 1954 and 1988, when the archbishop presented by lapse. (fn. 163) The ecclesiastical parish was enlarged by the transfer of Hempholme from Leven in or soon after 1982. (fn. 164) In 1997 Brandesburton was united with Leven with Catwick. (fn. 165)
The rectory was worth £13 6s. 8d. in 1291, after payment of a pension of £2 to the provost of Beverley, and almost £25 net in 1535. (fn. 166) The improved annual value was £150 14s. net in 1650. (fn. 167) Between 1829 and 1831 the net income averaged £895 a year, and in 1897 it was £836. (fn. 168) In 1635 the tithes of the lands then inclosed and of the old inclosures at Brandesburton and Burshill were compounded for £128 a year; those of Moor Town were already paid by a modus of £12 a year. (fn. 169) The tithes of the whole of Brandesburton township were commuted for a rent charge of £993 6s. 6d. by awards of 1842 and 1845 and apportionment of the latter year. Those of Moor Town were extinguished for a rent charge of £90 5s. by award of 1842 and apportionment of 1846. (fn. 170)
The glebe land included 4 bovates, for which c. 90 a. were evidently awarded at inclosure in 1635. (fn. 171) In 1650 the glebe was valued at £20 gross a year. (fn. 172) There were 105 a. of glebe land in 1842. (fn. 173) At the inclosure of 1847 the rector received 38 a. more for common rights. (fn. 174) Glebe farm was sold in 1930, (fn. 175) and in 1978 less than 8 a. of glebe land remained. (fn. 176) A rectory house was recorded from 1535. (fn. 177) The present house dates mostly from the 18th century, as does its stable building. In the early 19th century the house was enlarged, (fn. 178) but in 1958 a wing was demolished. (fn. 179) In 1989 a new rectory house was built nearby and the old one was sold. (fn. 180)
In the 16th century rectors of Brandesburton often served other cures and were nonresident. (fn. 181) In the mid 18th century the resident rector provided two Sunday services and quarterly celebrations of communion for 40-50 recipients. (fn. 182) Assistant curates were employed in the 19th century, in the later part of which 7-8 communions were celebrated each year, with two dozen people usually receiving. (fn. 183) Hymers college, Hull, was founded in 1889 in fulfilment of the wishes of John Hymers, rector of Brandesburton from 1852 until his death in 1887. (fn. 184) A wooden mobile chapel was built in 1888 with the intention of moving it between Burshill and Moor Town, but the difficulty of that operation caused it later to be stationed permanently at Moor Town. Although licensed for baptisms and communion, it was used almost entirely for a fortnightly service on Wednesday evenings until that was discontinued in the mid 20th century. The chapel was given to Brandesburton football club for a changing room in the late 1950s. (fn. 185)
The church of ST. MARY, so called by 1311, (fn. 186) is mostly of boulders and brick with stone dressings; it comprises chancel with north vestry, aisled and clerestoried nave with south porch, and west tower. A 12th-century doorway in the chancel and fragments of similar date rebuilt into the tower and south aisle wall suggest that there was a church on the site at that time. Chancel, arcades, aisles, and tower all seem to be of 13th-century origin. The chancel was remodelled in the 14th century and again early in the 16th, and the aisles were refenestrated in the 15th century, perhaps at the same time as the clerestory was added and the tower altered. (fn. 187) A squint and a niche with a crocketed, ogee canopy remain in the chancel and an ogee headed piscina in the south aisle. The tower was decayed in 1600. (fn. 188) The north side of the church and the tower were repaired c. 1720, when the chancel screen was also removed. (fn. 189) In 1892 the church was restored by W. S. Weatherley; the work included the rebuilding of the tower with a staircase turret and the replacement of a south vestry, added in 1857 by John Hymers, by that on the north side of the chancel. (fn. 190) New fittings then installed included a carved, wooden reredos.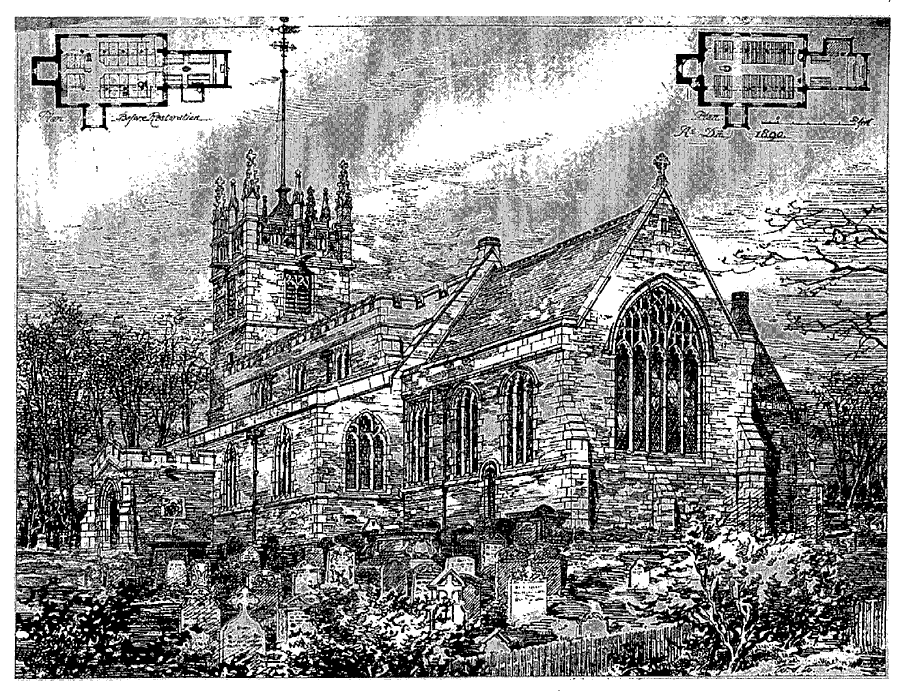 Memorials in the chancel include a brass for Sir John de St. Quintin (d. 1397) and his wife Laura (d. 1369) and the only example in the East Riding of a 'bracket' brass, (fn. 191) commemorating William Darrell, rector (d. 1364). A wall monument to Charles Richardson, rector, and Thomas Richardson (both d. 1755) has a heavy, stone border crowned by a broken pediment and another, pyramidal in shape, commemorates Jonathan Midgley (d. 1778) and his wife Mary (d. 1791). Royal Arms of George IV remain. There were three bells in 1552, but only two from the late 18th century. (fn. 192) The plate includes an early 17th-century chalice and a new service given by the rector in 1862. (fn. 193) The registers of baptisms, marriages, and burials date from 1558 and are complete; they have been printed to 1804 for baptisms and burials and to 1753 for marriages. (fn. 194) Churchyard additions were consecrated in 1867, 1913, and 1955. (fn. 195)
NONCONFORMITY
Several recusants and non-communicants were recorded at Brandesburton in the 16th and 17th centuries, (fn. 196) and in 1676 there were said to be 9 recusants in the parish. (fn. 197)
Ten protestant dissenters were recorded in 1676, (fn. 198) and unidentified protestant congregations registered houses at Brandesburton in 1795 and 1819. (fn. 199) Independents, encouraged by Fish Street chapel, Hull, registered a house there in 1805 and built a chapel in the lane called Little Burton in 1809. (fn. 200) The chapel was rebuilt in 1842, but its congregation was only c. 20 in 1851 and in 1856 it was sold to the Primitive Methodists. (fn. 201) That congregation, which had used a house for worship since 1839, (fn. 202) enlarged the former Independent chapel in 1863. (fn. 203) The Wesleyans built a chapel in Stockwell Lane in 1809, registered it in 1810, and restored it in 1888. (fn. 204) A new Methodist church was built in Main Street c. 1937, after the union of the Methodist congregations, (fn. 205) and it was still used in 1993. The former Primitive and Wesleyan chapels were sold in 1938 (fn. 206) and later used as private houses. At Moor Town the Primitive Methodists built a small chapel in 1870. (fn. 207) It was closed in 1976 (fn. 208) and was derelict until converted into a crematorium for small animals c. 1985. (fn. 209)
EDUCATION
There was an unlicensed schoolmaster at Brandesburton in 1604, (fn. 210) the curate had a school there in 1640, and a boys' school was attended by c. 40 pupils from Brandesburton and neighbouring places in the mid 18th century. (fn. 211) The school benefited from a bequest of £100 for the teaching of poor children of Brandesburton, made by Frances Barker in 1729. The interest on the sum was paid at first to the schoolmaster as a salary. In the early 19th century the same or another school, then mixed, was held in a room rented from London corporation. By then 11 a. at Sutton had been bought with Barker's bequest, and c. 1820 the £25 rental was being used mostly to support pupils; 17 were then paid for, parents supporting the other 53. (fn. 212) The boys and girls were taught separately by 1833. The boys' school, with 42 pupils, then received £37 a year from Barker's charity, for which 30 were taught free. At the girls' school about half of the 34 pupils were paid for by London corporation and 3 by donations. (fn. 213)
In 1843 the corporation of London built a new school in the village with departments for boys and girls; the brick building is of one storey with a symmetrical, six-bayed elevation. In 1855 a separate building was being used for 42 infants. (fn. 214) The former boys' and girls' schools were converted into houses. (fn. 215) At inspection in 1871 there were 61 boys and 26 girls at the school, (fn. 216) which was enlarged by the building of another block in 1877, possibly to accommodate the infants. (fn. 217) Besides the sum from Barker's charity, subscriptions, and school pence, the school was funded by an annual government grant from 1876. (fn. 218)
The boys' and girls' departments were amalgamated in 1904, and in 1921 the school was transferred to the county council. (fn. 219) Average attendance from 1906 was usually c. 90 but fell to 78 in 1932. Numbers recovered with the admittance of pupils from the childrens' home. (fn. 220) By 1955 a room in the rectory house was used for a classroom, and in 1960 the school was again enlarged. (fn. 221) Senior pupils were transferred to Hornsea County Secondary School in 1958. (fn. 222) There were 110 on the roll in 1990. (fn. 223) In 1999 the school was extended with three classrooms, a hall, a computer room, and staff rooms. (fn. 224)
The income from the Barker charity land was £24 a year in 1901. (fn. 225) The land was sold in 1921, and by Scheme of 1923 the School Land Foundation was established to support children from the parish in secondary and further education; c. 1980 the income from stock was £152 a year. (fn. 226)
Children from Moor Town went to Brandesburton and North Frodingham schools in the 19th century. (fn. 227)
CHARITIES FOR THE POOR
The Revd. William Mason (d. by 1720) left the poor £50, for which his daughter Frances and her husband Thomas Barker substituted an annual rent charge of £2 10s. The income was distributed as doles c. 1820 (fn. 228) and in the early 20th century, (fn. 229) but the charity was later lost. (fn. 230)
John Holme, rector 1755-75, bequeathed a quarter of the income from stock for Christmas doles at Brandesburton, and £3 7s. 6d. a year was distributed c. 1820. (fn. 231) In 1985 the income of just over £1 was added to an unspent balance of £21. (fn. 232)
One Boswell gave £20 in the 1760s for the inclosure of Barker's charity land at Sutton. Interest of £1 a year from an unspent part was being given to the poor by the rector c. 1820. (fn. 233) John Chapman (d. by 1729) left £10 to the poor of Brandesburton, the income from which was to be distributed annually on May Day. (fn. 234) No more is known of either charity.