Pages 223-245
A History of the County of York East Riding: Volume 7, Holderness Wapentake, Middle and North Divisions. Originally published by Victoria County History, London, 2002.
This free content was digitised by double rekeying. All rights reserved.
BEEFORD
THE large, irregularly-shaped parish of Beeford comprises the village, which is c. 10 km. ESE. of Driffield and 5 km. west of the coast at Skipsea, the hamlet of Dunnington, some 3 km. south-east of the village, and that of Lissett, 4 km. NNE. of Beeford. (fn. 1) Beeford is a large village with many of its residents working in nearby towns but the other settlements are very small. The names are Anglian, Beeford alluding to the proximity of a ford, Dunnington, which was Dodinton in 1086 and later Dudinton, meaning 'Dudda's farm', and Lissett probably signifying 'the dwelling near pastureland'. (fn. 2)
In 1851 the ecclesiastical parish of Beeford contained 5,747 a. (2,325.8 ha.), of which 3,753 a. (1,518.8 ha.) were in Beeford township, later civil parish, 1,150 a. (465.4 ha.) in that of Lissett, and 844 a. (341.6 ha.) in Dunnington township. (fn. 3) In 1935 Beeford civil parish was combined with that of Gembling, in Foston on the Wolds, to form a new civil parish of Beeford with an area of 4,990 a. (2,019.5 ha.). Lissett civil parish was then added to the whole of Ulrome and part of Barmston to form a new civil parish of Ulrome, while Dunnington was combined with Bewholme and Nunkeeling civil parish and that of Bonwick, in Skipsea, as Bewholme civil parish. (fn. 4) In 1953 Gembling was transferred to Foston civil parish, leaving Beeford with 3,754 a. (1,519 ha.). (fn. 5)
In 1377 there were 162 poll-tax payers at Beeford, 83 at Dunnington with Bonwick, and 84 at Lissett with Little Kelk. (fn. 6) At Beeford 63 houses were assessed for hearth tax and 20 discharged in 1672; Lissett then had 17 houses and Dunnnington and Bonwick 12 between them. (fn. 7) In 1743 there were said to be 76 families in the parish, that figure possibly including the 13 then returned for Lissett chapelry. (fn. 8) The parish had 80 families in 1764. (fn. 9) From 378 in 1801 the population of Beeford township rose sharply in the earlier 19th century to 731 in 1831 and 808 in 1851 and 1861; thereafter numbers declined to 648 in 1901, 582 in 1931, and 543 in 1961, before growth was resumed. By 1971 the village had 639 inhabitants and in 1991 there were 874 residents, 845 of whom were then counted. (fn. 10)
At Lissett the population fell from 122 in 1801 to 94 in 1811 but then grew, particularly in the 1830s, to stand at 132 in 1841, before declining to 90 in 1881; there were still only 95 there in 1931. From 67 in 1801 the population of Dunnington fluctuated upwards to 86 in 1861 and 98 in 1891; numbers thereafter fell and in 1931 there were only 55 inhabitants. (fn. 11)
In Dunnington and the south-east corner of Beeford township most of the land exceeds 15 m. above sea level and a little 23 m.; to the west and north the land shelves down to c. 10 m. at Beeford village and c. 6 m. in the north of Beeford township and in Lissett. Apart from alluvium in the valleys of the main drains and scattered deposits of sand and gravel, on one of which Lissett hamlet was sited, the parish is on boulder clay. (fn. 12) The commonable lands of Dunnington were inclosed in the later 17th century and those of Beeford village and Lissett in 1768 and 1772 respectively.
The parish drains westwards into the valley of the river Hull and eastwards to the North Sea. One of the seabound streams, running along the northern boundary of Lissett, was very probably improved long before 1353, when it was called Earl dike. (fn. 13) Formerly much water was carried to the river Hull by a stream known by 1768 as Old Howe, (fn. 14) which flowed from Skipsea parish along the northern and western boundaries of Beeford township. (fn. 15) It was fed by a drain flowing southwards along the eastern boundary of Lissett which was in disrepair in 1367 (fn. 16) and by streams in Beeford township. One of the latter skirted the south side of Beeford village and another, flowing from Dunnington, passed through its east end as Beeford beck. (fn. 17) The drainage as described at inclosure in 1768 (fn. 18) was altered under the Beverley and Barmston Drainage Act of 1798. (fn. 19) Much of the water carried by Old Howe drain was then made to flow in the contrary direction towards the sea at Barmston through the Lissett boundary drain, a barrier being made in Beeford to separate the truncated Old Howe and the 'new' drain, later Barmston Main drain. The works probably also included the improvement of the sea drain's tributories, among them Earl dike, sometimes called Gransmoor drain. (fn. 20) The water which continued to pass through Old Howe drain was, moreover, separated from that of its tributary streams, improved as Pitwherry, Inholms, Braemar, and Sedgemire drains, by the construction of side drains in North Frodingham. Pitwherry drain was a new drain made to carry the water of the stream from Dunnington to a new junction with Old Howe. (fn. 21) By the drainage award of 1811 the owners of 269 a. in Beeford were to support the works of the part of the Beverley and Barmston level draining southwards, and 170 a. there and 225 a. at Lissett were similarly assessed to the sea part. (fn. 22) The drainage of the rest of the parish remained the responsibilty of the Court of Sewers. (fn. 23) Other drains have included one near Moor grange, recorded c. 1230, when its maintenance was the responsibility of Meaux abbey and Nunkeeling priory. (fn. 24)
Side lanes leading north to Lissett and south to Brandesburton from the east end of Beeford village later became part of the main Bridlington to Beverley and Hull road. The main road was straightened and diverted away from Lissett hamlet c. 1925 and further improved there c. 1970. (fn. 25) The road is carried over Barmston Main drain on the Lissett-Beeford boundary by Lissett bridge, which was rebuilt in 1774, 1929–30, and 1961, (fn. 26) and on the Lissett-Ulrome boundary by Lissett New bridge, built in 1924 with the new stretch of road. Near Lissett New bridge part of the replaced main road crosses the drain by Fisher bridge, named in 1590 and rebuilt in 1913 (fn. 27) and later. Sandwath, or Hull, bridge, described in the late 12th century as in Beeford marsh, (fn. 28) is perhaps to be identified with Lissett bridge. Minor roads lead from Beeford village east to Dringhoe and Skipsea, north to Foston on the Wolds, and south-west to North Frodingham, and others connect Dunnington to the main road and Lissett to Gransmoor, in Burton Agnes. There was formerly a road from Lissett to Gembling. (fn. 29) Several roads were given new courses or straightened at inclosure in 1768, ridge and furrow in the verges of the Dunnington road testifying still to its creation in the 1760s. (fn. 30) Beeford was connected by omnibus with Beverley, Bridlington, Driffield, and Hornsea from the late 19th century, and there was a service to Hull by 1925. (fn. 31)
BEEFORD village extends east-west across the middle of the township for almost its whole width. Most of the buildings lie on or behind a single street, which is crossed near its east end by the main Hull and Beverley to Bridlington road. The eastern part of the main street almost certainly followed a more northerly course until inclosure in 1768, when extensions of the street, later Green and Dringhoe Lanes, were awarded on either side of the Beverley road. (fn. 32) The former course of the street would seem to be represented by Church Lane, Breeze Lane, named in the 17th century, (fn. 33) and a lane to Crow Garth, in Skipsea, which was discontinued in 1768 and later bordered by former house sites and land called Old Garths. (fn. 34) South of the church the village street formerly crossed or skirted a green, (fn. 35) and Main Street is still bordered by grass verges. A side lane leading north from the street towards Lissett was formerly called Water Lane, after the beck there; (fn. 36) with the southern lane opposite, it has since been incorporated into the main road.
In the mid and late 20th century many new houses were built in gaps in the village street and in small estates behind it, and many of the older houses were remodelled. There was also development alongside the main road, where the new houses included a dozen built by Driffield rural district council. (fn. 37) A telephone exchange had been added by 1956, and sewage pumping stations for the new housing were built c. 1960. (fn. 38) The older buildings of the largely brick-built village date from the 18th and 19th centuries. They include the single-storeyed Cottage, Bridlington Road, mainly 19th-century but incorporating one of the few surviving mud-walled houses in Holderness, probably of the 18th century. Also 18th-century are the brick and pantile Alton and Town Farms and their barns. The older part of Alton Farm is single-storeyed with a central lobby entrance and a spiral chimney stack. The main block of Town Farm has two storeys with attics and the street range of its L-shaped barns is also of two storeys. (fn. 39) Boulder construction in the village is found mostly in the walls of outbuildings but also in Ivy House, dated 1823. In 1996 the remains of a pump survived at the intersection of the street and the main road.
There were up to four alehouses at Beeford in the later 18th century. In 1823 the Ship, the Tiger, and the Black Swan were named, and in the 1840s there were besides three unnamed beerhouses. The Ship was closed after 1937 and the house demolished in 1996. The Black Swan was rebuilt in the earlier 20th century and had been renamed the Yorkshire Rose by 1996, when the Tiger, also standing beside the main road, still traded. (fn. 40) A lodge of the Ancient Order of Foresters was founded in 1838 and recorded until 1851. Beeford Friendly Society, founded in 1865, was meeting at the Tiger in 1892; it was perhaps the sick benefit club which held an annual feast day, including a church service, sports, and an evening dance, c. 1930. (fn. 41) A former school building at Beeford was bought in 1884 by Catherine Blanche Trevor, the rector's daughter, for a hall and reading room associated with the Church of England Temperance Society. Billiards and other games were later provided there but interest had waned by the 1920s, when the village men were said to go instead to the neighbouring towns for entertainment. The building later became St. Leonard's Church Rooms. (fn. 42) The lack of meeting places in the parish was remedied by the use of the schools at Beeford and Lissett for social events in the earlier 20th century. (fn. 43) The village had a cricket club in 1931, (fn. 44) and playing fields, including areas for bowls and tennis and a children's playground, were later provided on 7 a. north of Main Street, bought in 1949. (fn. 45) Beeford Community Centre, built on the other side of the street, was opened in 1989. (fn. 46) Among youth groups at Beeford was a girls' club which functioned in the mid 20th century. (fn. 47)
A field of 17 a. had been divided into 68 allotment gardens for labourers by 1867, when each garden was let at 8s. 6d. a year, (fn. 48) and by the 1890s the Pricketts, the chief landowners, had extended the scheme by setting aside 48 a. of pasture and 36 a. of arable land for letting as ½-a. or 1-a. holdings. The allotment gardens then comprised Hunger Hills, Pannierman Hills, and the 18-a. Spring Gardens. (fn. 49) Beeford parish council later administered the smallholdings and allotment gardens, which covered 107 a. in 1914 and 38 a. in 1936. (fn. 50) A few allotments remained in Spring Gardens in 1996. (fn. 51)
OUTLYING BUILDINGS include several farmhouses put up on land inclosed in 1768. (fn. 52) Moorgate House or Cottage may have existed by 1772, (fn. 53) Woodhouse Farm, of brick and pantile with stone dressings, is late 18th century, (fn. 54) and Rectory Farm was built in 1819. (fn. 55) Other post-inclosure farmhouses were Beeford Grange, (fn. 56) Northpasture Farm, Westfield Farm, Inholms Farm, and Pinderhill Farm, all built by 1829, (fn. 57) and Breeze House, Syke Farm, and Wisefield Farm, added by 1851. (fn. 58) Another farmhouse, Moor Grange, was rebuilt in 1813 beside the moated site of an earlier house. (fn. 59) Some farmhouses have been rebuilt or replaced in the 20th century. Gas pumping stations stood beside the Frodingham and Dunnington roads in 1996.
LISSETT hamlet stood along both sides of a north-south street, which later formed part of the main Hull and Beverley to Bridlington road until the by-pass was made in the 1920s. (fn. 60) By the mid 19th century, when there were 20 houses, one or two buildings, including the newly-built school, also stood in side lanes, called Fisher Lane (fn. 61) and Tythe Lane. Later infilling has included the building in the mid 20th century of eight council houses in and off Main Street and four more on the southern side of the new main road. (fn. 62) A sewage pumping station was built near the Barmston Main Drain at Lissett in the 1960s. (fn. 63) In 1996 the c. 35 houses almost all dated from the 19th and 20th centuries. They included one or two farmhouses but only Manor Farm, which may be 17th-century, (fn. 64) was noteworthy. Two cottages in Fisher Lane were perhaps among those built by Joseph Dent soon after his purchase of the manor in 1836. (fn. 65) There is boulder walling in the remodelled Old Shop, Main Street, and in a farmyard opposite.
There were one or two licensed houses at Lissett in the later 18th century, and the Board, named in 1823, traded until the mid century. (fn. 66) A former airfield building served as a village hall c. 1950. (fn. 67)
OUTLYING BUILDINGS at Lissett included Tithe Farm, built in 1804, (fn. 68) until the Second World War, when much of Lissett was taken over for an airfield. (fn. 69) Lissett was opened as a relief landing ground for Catfoss airfield, in Sigglesthorne, in 1942, became a bomber airfield for 158 Squadron in 1943, and was closed in 1945. (fn. 70) The disused airfield, of c. 560 a., was sold in 1962. (fn. 71) Most of the land has been returned to agriculture but some of the buildings were used industrially in 1996. (fn. 72)
DUNNINGTON hamlet stands mostly on the eastern side of the deeply-incised stream which flows north to Beeford village. The settlement was probably once larger, and in 1840 there was said to be evidence of earlier buildings close to the manor house. (fn. 73) There were 15 houses in 1851 (fn. 74) and 9 in 1996. The hamlet was rebuilt in brick in the 19th and 20th centuries, and its buildings, loosely strung along a lane bordered near Dunnington Manor and Dunnington House by clumps of mature trees, include four farmhouses and one or two 'estate' houses. Lodge Farm has a cobble-built, garden wall. Near the northern boundary, isolated from the rest of the houses, stands Dunnington Grange. (fn. 75)
An alehouse was recorded at Dunnington in the 1750s. (fn. 76)
MANORS AND OTHER ESTATES
In 1066 Ulf had BEEFORD manor, comprising 12½ carucates there and 13 carucates and 2 bovates of sokeland in Dunnington, Nunkeeling, and Winkton, in Barmston. By 1086 the manor had passed to Drew de Bevrère, (fn. 77) and it was later part of the Aumale fee. Beeford manor comprised over 3,000 a. in the mid 19th century. (fn. 78)
In the 12th century Ernald de Montbegon held 6 carucates of the Aumale fee at Beeford and 6 carucates more at Dunnington. His service for the estate was given by a count of Aumale to the Knights Templar, to whom Ernald later granted the land at Beeford for quittance of service at Dunnington. (fn. 79) The grant is said to have been made before 1185 and to have included a chief house and 1 carucate and 4 bovates, possibly Ernald's demesne holding. (fn. 80) On the suppression of the Templars in 1312, (fn. 81) their estate was transferred to the Knights Hospitaller, who were returned as one of the two lords of Beeford in 1316 (fn. 82) and retained their manor there until they too were suppressed in the 16th century. (fn. 83) In 1544 the Crown granted the order's former estate, as BEEFORD manor, to John Bellow and others, who were then licensed to sell it to Richard Empringham. (fn. 84) An attempt made in 1558 to restore the estate, including premises at Dunnington, to the Hospitallers at their refoundation (fn. 85) had little effect. Possibly in error, Thomas Empringham was said to have the manor in 1558, (fn. 86) but Richard Empringham was the tenant at his death in 1559. Then held of the Crown as 1/20; or 1/28 knight's fee, it descended to Richard's son Michael (d. 1578) and grandson Michael. (fn. 87) In 1598 Michael Empringham sold the manor to William Green (fn. 88) (d. 1600), who was succeeded by his brother Thomas; it then comprised 22 houses and almost 2 carucates. (fn. 89) Thomas's son James Green may have had the manor before William Shercliffe, who divided and sold the estate between 1613 and 1616; the manor was bought by Thomas Naylor in 1613–14. (fn. 90) Naylor (d. 1627) left the manorial rights to his son Edmund (fl. 1641) and houses and lands at Beeford to each of his other sons, Matthew and Richard; some of the land may have belonged to Naylor's other estate at Beeford. (fn. 91) In the mid 17th century the manor once belonging to the Hospitallers was called ST. JOHN'S or the FRANCHISE FEE, the latter probably because of the testamentary jurisdiction which had descended from the order with that manor. Another manor, then known as the LAY FEE, may have been that held by the Creswells; by 1658 it perhaps formed part of the Naylors' estate, and it was certainly later held with the Franchise Fee by the Naylors' successors, the Acklams. (fn. 92) A manor of Beeford was sold by Joshua Naylor in 1689 to Peter Acklam, described in 1693 as lord, (fn. 93) and his brother Thomas. In 1716 Peter bought 6 bovates and other land at Beeford, and by 1721 he had evidently succeeded Thomas and held a large estate there and at Dringhoe, in Skipsea. In 1724 Peter, as the surviving purchaser, released the manor bought from Naylor to Thomas's son Thomas. (fn. 94) The last Thomas (fl. 1750) was succeeded by his son Thomas, who was lord of the Franchise Fee manor, and presumably also the Lay Fee, by 1760. (fn. 95) He was followed in turn by his sons, Thomas, a minor in 1768, (fn. 96) and Peter, lord from 1771. (fn. 97) Peter Acklam had c. 650 a. at Beeford in five farms in 1777 (fn. 98) and bought another farm, of 125 a., in 1802. (fn. 99) He (d. by 1805) was succeeded by his son Peter (fn. 100) (d. c. 1825), whose trustees sold the manors with c. 550 a., mostly in three farms, to Marmaduke Prickett in 1828. (fn. 101) The Pricketts had had a small estate at Beeford in 1768, and before Marmaduke's death in 1837 that had been enlarged to become the 556-a. Beeford Grange farm. Prickett's son Thomas thus succeeded to c. 1,100 a. of Beeford. (fn. 102) After Thomas Prickett's death in 1885, (fn. 103) the estate was held in undivided shares by members of the Prickett family (fn. 104) until its sale in lots in 1914.
T. D. Reed and his brother George bought 874 a., mostly in Beeford Grange and Woodhouse farms, in 1914. George (d. 1923) was evidently succeeded in his share by T. D. Reed (d. 1927), whose widow Alice conveyed the farms in 1935 to their son Charles (d. 1977). In 1996 the farms, managed as C.C. Reed and Co. Ltd., were occupied by Mr. Reed's daughter Diana and her husband David Blanchard. (fn. 105)
F. R. Wharram, his wife Jane, and R. S. Wharram bought the 254-a. Manor farm in 1914. After the deaths of Francis and Jane Wharram, R. S. Wharram conveyed the farm to his daughter Mary and her husband J. W. P. Curtis in 1954, (fn. 106) and the Curtis family still occupied it in 1994. (fn. 107) The farmhouse was rebuilt in the earlier 19th century and by 1851 was called Manor House. (fn. 108)
Another part of the Aumale fee at Beeford was held by the Goxhill family. The overlordship of the successors of the counts of Aumale was recorded until 1593. (fn. 109) Ralph of Goxhill gave ½ carucate there to Bridlington priory before 1154, (fn. 110) and it was presumably another Ralph who was recorded in the late 12th century. (fn. 111) Sir Ralph of Goxhill, who bought land at Beeford c. 1230, (fn. 112) was probably succeeded by his brother Giles of Goxhill. (fn. 113) From Giles's son Peter of Goxhill (fl. by 1241) (fn. 114) the 3 or 4-carucate estate at Beeford descended c. 1280 to his son Ralph (fn. 115) and from Ralph (d. by 1294) to his daughter Margaret. (fn. 116) Margaret, wife of Philip le Despenser (d. 1313) and John de Ros, Lord Ros of Watton (d. 1338), (fn. 117) died in July 1349 and was succeeded in the Goxhills' holdings at Beeford and Dunnington by her son Sir Philip Despenser (d. Aug. 1349) and then by Philip's son Philip Despenser, Lord Despenser of Goxhill (d. 1401). In the mid 14th century the Beeford estate was said to comprise 6 carucates, held as 1/8 knight's fee. (fn. 118)
The Goxhills' estate at Beeford was occupied by the family's free tenants, (fn. 119) one of the holdings probably having originated in a grant to a junior member of the Goxhill family. John of Goxhill (d. by 1301) was succeeded by his brother Peter in an estate comprising a chief house and c. 1 carucate at Beeford, held as 1/48 knight's fee of Peter of Goxhill's heir. (fn. 120) In the 1340s land at Beeford was held of John of Goxhill, (fn. 121) and another John Goxhill of Beeford was a tax commissioner in 1413. (fn. 122) Robert Goxhill (d. 1529), grandson of another Robert, was succeeded in the estate at Beeford by his son Henry (d. 1550), whose heirs were his daughters Joan and Gertrude, minors; in 1550 besides the chief house, the carucate, and other land, then said to be held directly of the lord of the Aumale fee as 1/40 knight's fee, the estate included a further 8½ bovates, of which 2½ were held of the Crown's manor of Beeford as a former possession of Meaux abbey. (fn. 123)
Joan Goxhill probably married James Dolman, who, with his wife Joan, sold the Goxhills' estate, then including 11 houses and extending into Dunnington, as a manor of BEEFORD to George Creswell in 1579. (fn. 124) At Creswell's death in 1592 his estate at Beeford included just over 2 carucates. He was succeeded by his son Ralph, (fn. 125) who divided and sold all or much of his estate at Beeford and Dunnington between 1620 and 1623. Purchases included houses and land at Beeford bought in 1620 by George Acklam, Beeford manor bought by Edward and John Nelthorpe in 1622, and houses and land at Beeford and Dunnington purchased by Ralph Brigham and Anthony Nevill in 1623. (fn. 126) The later history of the estate is unknown, but part may have passed to the Acklams. (fn. 127)
Between 1160 and 1182 Meaux abbey was given almost ½ carucate on Beeford moor by Osbert of Frismarsh, and a grange had been established there by 1172. (fn. 128) Moor grange was later enlarged by grant, purchase, and exchange. (fn. 129) A grant of free warren there was received in 1293, (fn. 130) and the manor of MOOR GRANGE was recorded in the mid 14th century. (fn. 131) In 1545 the Crown granted Moor grange to Sir Ralph Ellerker and his male heirs. (fn. 132) Ellerker (d. 1546) was succeeded by his son Sir Ralph (d. 1558), (fn. 133) and the estate evidently later descended like the Ellerkers' manor of Risby, in Rowley. (fn. 134) Ralph Ellerker, a younger son, was dealing with the estate in 1656 and 1676, possibly as trustee for his nephew John Ellerker (d. 1676). (fn. 135) Also in 1676 the entail on the estate was removed by an enlarging grant from the Crown, (fn. 136) and Moor Grange farm later passed, with Risby, through a daughter to Ellerker Bradshaw (d. 1742) and then to the Mainwaring Ellerkers. Eaton Mainwaring Ellerker received 217 a. at the inclosure of Beeford in 1768. (fn. 137) In 1789 the three sisters of Roger M. Ellerker (d. 1775) and the former husband of the fourth sister and co-heir sold Moor Grange with 447 a. and nearly 450 a. across the boundary at Moor Town, in Brandesburton, to George Wood. Later Sir George Wood, he bought c. 315 a. more in 1802 and 1803, and the estate was also enlarged with 120 a. purchased by Thomas Wood in 1810. (fn. 138) Sir George (d. 1824) left the entire estate in Beeford, Brandesburton, and North Frodingham to his nephew John Stocks (d. 1872). In 1874 Stocks's trustees sold Moor Grange and Pinderhill farms with 654 a. in Beeford and 38 a. in North Frodingham to John Hotham, Baron Hotham (d. 1907), and the trustees of the Hotham family. (fn. 139) Frederick Hotham, Baron Hotham, sold the farms in 1910 to Thomas Broumpton (d. 1915), who was succeeded by Francis Broumpton. St. Andrew's Steam Fishing Co. Ltd. bought the estate in 1948 and sold Moor Grange farm with 484 a. to J. A. Smith Stafford in 1953. (fn. 140) Some land had been sold by 1984, when J. D. T. Megginson bought the house and 268 a. and Nigel Robinson the remaining 138 a. (fn. 141) The farmhouse was sold to Gregory Atkin in 1988. (fn. 142)
In the Middle Ages Moor Grange farmhouse presumably occupied the moated site which remained there in 1996, but evidently long before the 19th century it was removed to a site outside the moat. In 1813 the existing house was demolished and a new one built by Sir George Wood. (fn. 143)
Besides Moor grange, Meaux abbey established another farm at Beeford. Roger of Grimsby had sold ½ carucate to the abbey before 1197, and other parts of his holding, which included mills and extended into Dringhoe, in Skipsea, had been granted to Meaux by 1241 and were used about that date as the site for a grange. Half a carucate at Beeford, presumably Roger of Grimsby's, and 6 bovates at Dringhoe were assigned to the grange, the buildings of which were put up just across the boundary in Dringhoe. The farm was surrounded by many trees and was said to have taken its name Crow grange, occasionally CROW manor, from the birds there; later in the Middle Ages a tenant was allowed to cut down the trees expressly to get rid of crows. (fn. 144) In 1570–1, after the Dissolution, the Crown granted Crow grange in fee farm to Henry Scrope, Lord Scrope, and he or a succeeding Lord Scrope is said to have sold it to Robert Naylor. Thomas Naylor (d. 1627) was described as of that place, (fn. 145) and it was included in Joshua Naylor's sale of Beeford manor to Peter Acklam and his brother Thomas in 1689. Thomas was probably dead by 1721, and in 1724 Peter conveyed Crow Grange farm, with Beeford manor, to Thomas's son Thomas. (fn. 146) It evidently later descended with the manor. In 1786 Peter Acklam, grandson of Thomas (fl. 1724), sold Crow Grange farm, with c. 150 a. in Beeford and 13 a. in Dringhoe, and 63 a. more in Beeford to William Jarratt. (fn. 147) Jarratt died in or soon after 1823 and Crow Grange was later held in undivided shares by his heirs (fn. 148) until 1835, when they sold it to William Crooke and his brother John. (fn. 149) In 1842 William Crooke conveyed his moiety to John (fn. 150) (d. 1848), whose eventual heirs were his two daughters, Jane, who married Albert Iveson, and Priscilla. (fn. 151) The Crow Grange estate was later held in moieties. By 1903 it comprised 216 a. in Beeford and Skipsea parishes. (fn. 152) Mrs. Iveson's part passed eventually to her son Lancelot. (fn. 153) Priscilla Crooke probably married G. W. Harrison, and her moiety descended to Frederick Harrison (d. 1913) and his sister and heir Mabel Weatherill. (fn. 154) In 1927 Lancelot Iveson, Mrs. Weatherill, and their trustees sold Crow Grange farm to Thomas Storey. (fn. 155) Storey was succeeded in 1950 by William, Thomas, and Beatrice Storey, (fn. 156) and the family still had Crow Grange farm in 1994. (fn. 157)
Crow Grange was enlarged in 1849 by the building onto the existing house of a new threebayed front range. (fn. 158) Ponds remain from the moat which once enclosed the grange, (fn. 159) and whale bones set up at the entrance also survive. (fn. 160)
Another part of Meaux's former estate in the parish, comprising the rents of four freeholders and five other tenants holding land at Beeford, was granted by the Crown as BEEFORD manor to John Wells and Henry Best in fee farm in 1595. (fn. 161) It was perhaps that manor which was bought by Thomas Crompton and descended to his son Thomas (fl. 1602). (fn. 162)
Ralph of Goxhill gave Bridlington priory ½ carucate at Beeford before 1154, and the priory's estate there was later enlarged by smaller gifts. (fn. 163) The estate was valued at nearly £2 10s. a year in 1535. (fn. 164) Houses and land at Beeford, formerly belonging to the priory and including 3 bovates, were let by the Crown later in the 16th century, (fn. 165) and part of its estate was mentioned again in 1745. (fn. 166)
Swine priory had been given 2 bovates and other land at Beeford by 1249 (fn. 167) and retained that estate until the Dissolution. (fn. 168)
Nunkeeling priory was granted 1 bovate and other land at Beeford by Ernald de Montbegon and Thomas of Beeford, and in the earlier 13th century the house's estate there was altered by further grant and exchange with Meaux abbey. (fn. 169) In the 16th century the priory had a toft and 1 bovate at Beeford, let for 13s. 4d. a year. (fn. 170)
Newsham abbey (Lincs.), founded by Peter of Goxhill in 1143, was given 1 bovate and other land at Beeford by Adam of Beeford before 1291. That gift was apparently confirmed by Ralph of Beeford, perhaps the same as (Sir) Ralph of Goxhill (fl. c. 1230), and in 1303 by Peter son of Sir Ralph of Goxhill. (fn. 171) The land was granted, with Newsham, to Charles Brandon, duke of Suffolk, in 1539 and later descended in his heirs. (fn. 172)
In 1235 Maud daughter of Henry quitclaimed ½ carucate and tofts in Beeford to Thornton abbey (Lincs.) (fn. 173) but no more is known of the estate.
Other estates at Beeford have included the 2 carucates of the Aumale fee which Geoffrey le Breton held in the 12th century and which was later divided among his daughters. (fn. 174) The St. Quintins held 1 carucate there in 1275–6, when the Templars occupied it under them. (fn. 175) The unidentified Richard de Cotes was returned as the other lord of Beeford in 1316. (fn. 176) Henry de Fauconberg was granted free warren there in 1324. (fn. 177) For unknown reason, c. 150 a. of Beeford were awarded as copyhold of North Frodingham manor at inclosure in 1768. (fn. 178)
The sokeland of Beeford manor included 6 carucates at Dunnington which passed with the manor from Ulf to Drew de Bevrère, (fn. 179) and later formed part of the Aumale fee.
In the 12th century a count of Aumale granted the lordship of Dunnington and part of Beeford to the Knights Templar. (fn. 180) On the suppression of the order in 1312, (fn. 181) the Templars' manor of DUNNINGTON was transferred to the Knights Hospitaller. By their suppression, the lordship passed to the Crown. (fn. 182) Two houses, 3 bovates, and other land at Dunnington, formerly belonging to the Hospitallers, were later let by the Crown, and in 1586 were granted in reversion to Sir Christopher Hatton. (fn. 183)
In the 12th century Ernald de Montbegon held all 6 carucates at Dunnington of the count of Aumale and later of the Knights Templar as the count's grantees. (fn. 184) Much of his estate passed to Ralph of Goxhill (d. by 1294), who was succeeded in 3 carucates and other land at Dunnington by his daughter Margaret. (fn. 185) The Goxhills' estate, later held of the Hospitallers and itself reckoned a manor, descended like Little Cowden in Margeret's heirs, the Despensers, and their successors, the Wentworths. (fn. 186) In 1539–40 Sir Richard Wentworth's heirs held 2½ carucates of the Hospitallers. (fn. 187) Thomas Wentworth, Lord Wentworth, sold Dunnington manor in 1556 to Walter Jobson and Thomas Dalton the younger. (fn. 188) Jobson sold his moiety to George Creswell in 1569. (fn. 189) Creswell probably also bought land formerly belonging to Meaux abbey in or soon after 1586, (fn. 190) and at his death in 1592 he held a chief house, 12 others, and 4 carucates at Dunnington under the Crown's manors of Beeford and East Greenwich. His son Ralph (fn. 191) sold part of the estate in 1623. (fn. 192) Ralph's son George Creswell (fl. 1659) devised his estate at Dunnington to his wife Catherine (d. c. 1672), (fn. 193) and they were succeeded by George's nephew John Brigham. (fn. 194) The estate, described as Dunnington manor in 1709, descended from John Brigham (d. 1710) to his son Roger and then to Roger's son William, who sold it in 1745 to Robert Bell (d. by 1759) and his son John. (fn. 195) In 1767 James Shutt, cousin and devisee of John Bell, sold Dunnington manor to William Taylor and John Garnett. They bought more land there jointly in 1771 and 1786, and Taylor bought c. 50 a. alone in 1790. (fn. 196) After Taylor's death his estate was divided into shares which were bought by Thomas Pearson (Peirson) in 1809, 1810, and 1814. (fn. 197) Garnett's heirs similarly sold their interests in 1813, 1817, and 1819 to Pearson (d. by 1819) and his trustees, Robert and George Pearson. The estate then comprised 269 a., including c. 30 a. in Beeford. (fn. 198) In 1840 it was conveyed because of George Pearson's incapacity to James Wilkinson and Thomas Richardson. (fn. 199) The beneficiary in 1856 was (the Revd.) Thomas Pearson Richardson. (fn. 200) In 1868 he, Thomas Richardson, and others conveyed the manor, then comprising 297 a. at Dunnington and 33 a. at Beeford, to the Revd. John Richardson, who sold it to T. C. Dixon in 1869. (fn. 201) Dixon conveyed the estate in 1895 to Robert Dixon (d. 1937). (fn. 202) Muriel Dixon and the other trustees sold the chief house in 1946, (fn. 203) and in 1955 she sold Dunnington Manor farm, comprising a former hind's house used as a farmhouse and 316 a. in Dunnington and Beeford to R. J. and C. G. Kirkwood. (fn. 204) In 1996 Manor farm belonged to R. J. Kirkwood & Son.
The estate of the Goxhills and their heirs at Dunnington included a house from 1294, (fn. 205) and the house of eight hearths occupied by John Brigham in 1672 was presumably the manor house. (fn. 206) Robert Dixon's trustees sold the chief house, called Dunnington Manor, with the manor and c. 20 a., to Cyril Smith in 1946. The house was bought by Charles Longstaff and his wife in 1948; (fn. 207) it was occupied in 1977 by A. C. Longstaff and in 1995 by Robert and Wendy Flood. (fn. 208) The present house probably dates from the 18th century but was refronted and enlarged in the 19th.
It was probably another part of the Creswells' estate at Dunnington which Michael Warton (d. 1645) held and which later descended like Beverley Water Towns manor. (fn. 209) At the partition of the former Warton estates in 1775, the 312-a. farm at Dunnington fell to the share of Michael Newton (d. 1803). (fn. 210) It was sold in 1813 to James Hopkinson. (fn. 211) Hopkinson died in 1854 or 1855, (fn. 212) and the estate was divided and sold in 1856. George Ansley (d. 1879) bought Dunnington House with 157 a. (fn. 213) The farm passed to Ansley's widow Sarah (d. 1897), (fn. 214) and in 1930 the trustees of her will sold it to F. J. and J. M. Robinson (d. 1938). It was bought in 1939 by A. E. Saunders (d. 1968) and in 1970 by C. G. Kirkwood. The land was later held with Manor farm by the Kirkwoods. (fn. 215)
The second farmhouse built on his estate by James Hopkinson between 1817 and 1853 was perhaps Dunnington House. (fn. 216) The large 19th-century farmhouse and a few acres were separated from the rest of the farm by their sale in 1970 to E. A. and A. J. Hickson. (fn. 217)
The other part of Hopkinson's estate, comprising the 159-a. Dunnington Grange farm, was bought in 1856 by Jeremiah Lamplugh. (fn. 218) Situated in the north of the township and called Collina's Cottage in 1829, Dunnington Grange may have been the chief house of the estate before the 19th century. (fn. 219) The house was evidently remodelled then and has a canted bay to the entrance front.
Between 1160 and 1182 Meaux abbey was given 1½ carucate at Dunnington by Isaac of Skeffling, and other land there by Ernald de Montbegon. The land seems to have been farmed as part of Moor grange before being let to tenants. (fn. 220) In 1581 Ralph Creswell obtained a lease from the Crown of part of the estate, and in 1586 all the abbey's estate at Dunnington, comprising 1 carucate and 3 bovates, was granted in reversion to Sir Christopher Hatton. (fn. 221) It was probably bought soon afterwards by George Creswell, who later held land in Dunnington under the Crown's manor of East Greenwich. (fn. 222)
Hawise, countess of Aumale (d. 1214), granted Fulk d'Oyry free warren in Dunnington, (fn. 223) and in 1223 he had 2 carucates there. (fn. 224) The estate evidently passed to Sir Geoffrey d'Oyry and then to Fulk's grandson Sir William Constable and his successors. (fn. 225) In 1282 William's son Sir Simon Constable settled DUNNINGTON manor on his son Robert and his wife, (fn. 226) and their son Sir John (d. 1349) held a house and ½ carucate there of the Hospitallers by knight service. (fn. 227) In 1542 the estate apparently included eight houses. (fn. 228) Sir John Constable sold land at Dunnington to George Creswell in 1566, and it presumably descended with the rest of Cresswell's estate there. (fn. 229)
Ernulf de Montbegon gave Thornton abbey (Lincs.) ½ carucate in Dunnington before 1190, (fn. 230) and in 1396 a rent was being paid to the abbey from Meaux abbey's estate at Dunnington. (fn. 231) No more is known of Thornton's estate.
In 1066 Ulf also held LISSETT manor, of 3 carucates; like the rest of his estate it passed to Drew de Bevrère (fn. 232) and later became part of the Aumale fee.
The manor evidently passed to the Monceaux family. (fn. 233) In the late 12th century (Sir) Ingram de Monceaux acquired ½ carucate in Lissett by exchange, (fn. 234) and he was succeeded there by his son Sir Robert and Robert's widow Hawise. Their supposed son, Sir Ingram de Monceaux, held Lissett manor, comprising in 1287 an unquantified area in demesne and 3 carucates more occupied by undertenants. (fn. 235) Ingram (d. 1292) was succeeded in turn by his sons John (d. by 1297) and Thomas (d. 1345), (fn. 236) who granted the manor to his son (Sir) John and John's wife. In 1353 Sir John settled an estate at Lissett including 1 carucate, besides a little land at Beeford, on his son John (d. 1381) and daughter-in-law, (fn. 237) and by 1386 the last John had evidently been succeeded by his son John. (fn. 238) From John Monceaux (d. by 1428) Lissett manor descended to his son William (fn. 239) (d. 1446) and then to William's sister Maud, wife of Brian de la See. The de la Sees' son Sir Martin de la See (fn. 240) left two daughters as heirs, and Lissett manor fell to the share of Joan or Jane (d. 1526), wife of Sir Peter Hildyard, (fn. 241) and later descended with Winestead in the Hildyards. In 1527 it was said to comprise 13 houses and 240 a. (fn. 242) Sir Christopher Hildyard (d. 1634) settled the Lissett estate on his son Christopher, a Royalist, whose estate was sequestered c. 1645. The restored estate passed after that Christopher's death in 1694 (fn. 243) to his son Francis (d. by 1703), who had settled parts of it on his brother Gilby and sister Elizabeth Hildyard (d. by 1721). (fn. 244) Gilby succeeded to the shares of his brother and sister, and in 1725 he settled the manor, 1 carucate and 2 bovates, and other land at Lissett on his son Christopher (d. 1728) and Christopher's wife Anne. (fn. 245) Gilby evidently retained four farms with 7 bovates and other land at Lissett in which he (d. by 1733) was succeeded in turn by his widow Elizabeth (d. 1733) and her brother the Revd. Richard Cressy. (fn. 246) After dispute between claimants, the whole manorial estate, with 2 carucates and 1 bovate, was transferred in 1739 to John Saunderson and FitzWilliam White, and in 1766 their sons, John Saunderson and Charles White, sold it to Jonathan Midgley. (fn. 247) In 1771 Midgley also bought estates at Lissett from Hugh Bethell and John Rickaby, (fn. 248) and at inclosure in 1772 he received 877 a. there. (fn. 249) Midgley (d. 1778) devised his estate at Lissett to his daughter Anna (d. 1795), whose husband William Norton, Baron Grantley, enjoyed it until his death in 1822. Lissett manor then passed to William Beverley, husband of Anna's sister Mary (d. 1802). (fn. 250) In 1836 the Beverleys sold the manor to Joseph Dent. The estate then comprised 980 a., mostly in three farms. (fn. 251) Dent was succeeded between 1861 and 1878 by his son John Dent Dent (d. 1894) (fn. 252) and John by his son J. W. Dent. He sold the estate in 1935 to Samuel Tennant. (fn. 253) Some 440 a. were sold to the Air Ministry in 1942 and 1949. (fn. 254) The c. 520 a. remaining after those and other sales passed from Samuel Tennant (d. 1955) to Stanley Tennant, who bought c. 560 a. of the disused airfield in 1962. (fn. 255) In 1967 he gave Church and Manor farms at Lissett to trustees for his nephew James Tennant, who succeeded in 1974 and still owned the farms in 1996. (fn. 256)
Manor Farm probably dates from the late 17th century and has the initials CH in tie plates, perhaps for Christopher Hildyard (d. 1728). (fn. 257) The Hildyards lived in the chief house in 1725 but by 1840 it was used as a farmhouse. (fn. 258)
Part of Lissett, held in 1558 under Lissett manor by service of ¼ knight's fee, (fn. 259) was itself occasionally regarded as a manor. The tenant in 1316 was Hugh Moore, who was then returned as lord of Lissett and Little Kelk. (fn. 260) His estate at Lissett evidently descended, like Moor Town in Brandesburton, in the Moores and their successors the Ellerkers. Isabel Ellerker (d. 1478) devised it to her son Thomas Ellerker. Later owners were probably Thomas's son Robert Ellerker (d. 1508) (fn. 261) and Ralph Ellerker (d. 1543). (fn. 262) The heir of Thomas Ellerker (d. 1558) was his son Ralph, (fn. 263) presumably the Ralph Ellerker who divided and sold the estate, which included 6 bovates, in the early 1590s. The so-called manor of LISSETT was bought in 1593–4 by John Mattison, clerk. (fn. 264) Part of the land was resold by Mattison and others in 1648 to John Pearson (Peirson). (fn. 265) The same or another John Pearson held 4 bovates and other land at Lissett in 1674, (fn. 266) and the reputed manor later descended from John Pearson (d. by 1718) to his son John, who sold it in 1743 to Hugh Bethell (d. 1752). Bethell's son Hugh sold it to Jonathan Midgley in 1771, and it later descended with Midgley's manor of Lissett. (fn. 267)
In the 13th century Sir Ingram de Monceaux's tenants included Ingram son of Sir Geoffrey of Lissett, possibly another member of the Monceaux family. (fn. 268)
ECONOMIC HISTORY
Common Lands And Inclosure Beeford. The tillage of Beeford lay separated by the village in North and South fields, named in 1535. (fn. 269) Both fields evidently had an infield and an outfield; in the southern field the infield was alternatively known as West field and the outfield as East field. Enlargement of the arable area by the taking in of waste is suggested by the occurrence in North and South fields of forby, or extra, lands, which had no appurtenant meadow or pasture rights. (fn. 270) As in other East Riding parishes, the fields contained broad and narrow strips. (fn. 271) Three of the bovates were said to have been inclosed c. 1500. (fn. 272) Common meadowland lay in Bramer, Reed, later Red, carr, and in Sike meadow, all mentioned in the 17th century. (fn. 273)
There was pasture for 300 sheep in the north of the township in the 12th century and more common grazing in the south, on Beeford moor. (fn. 274) The moorland grazing was restricted by Meaux abbey's establishment of a grange there in the mid 12th century, (fn. 275) and later that which remained was intercommoned with North Frodingham. (fn. 276) The pastures were overcharged and turves dug on the moor without licence in the 17th century. (fn. 277) Moorheads, Inholms (Inhams, Enholmes), North pasture, and West carr were named as stinted pastures in 1726, when the grazing rights were expressed in gates and divisions of gates called bands. (fn. 278) Ridge and furrow evidence suggests that Inholms had once been part of the tillage. (fn. 279)
Beeford was inclosed in 1768 under an Act of 1766. (fn. 280) Allotments made totalled 3,397 a., including 186 a. in North Frodingham. (fn. 281) South field then contained more than 849 a., North field more than 652 a., and the moor at least 405 a.; North pasture was of at least 97 a. and Inholms of at least 78 a. An allotment of 186 a. was made from the moor to the commoners of North Frodingham for their grazing rights there and evidently continued as a common pasture. (fn. 282) Thomas Acklam received 600 a., William Aubrough 415 a., the rector 297 a., and Robert Grimston and Eaton Mainwaring Ellerker 217 a. each. There were also five allotments of 100–199 a., three of 50–99 a., twenty-one of 10–49 a., and the same number of under 10 a.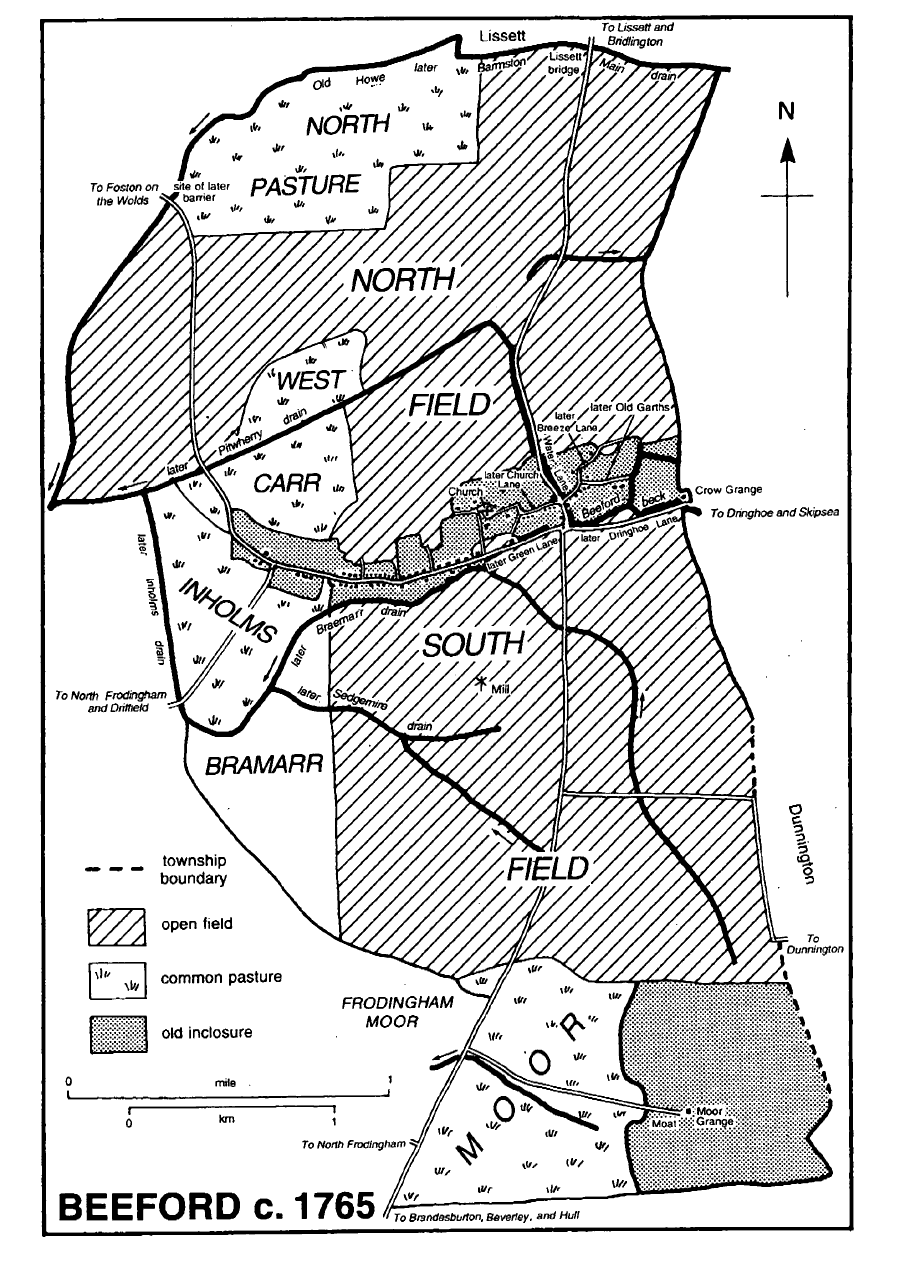 Lissett. The open fields of Lissett, which included extra, or forby, lands, (fn. 283) were named as North and South fields in 1591. (fn. 284) Ridge and furrow south and west of the village in the 1940s presumably once belonged to South field. (fn. 285) Common meadowland lay in New ings, named in 1353, and the hamlet's rough grazing in two pastures, of which Old pasture was certainly stinted and New pasture probably so. (fn. 286) New pasture may have been taken from the tillage, and in 1748 four butts of land there were described as lying in a flatt. (fn. 287)
Lissett was inclosed in 1772 under an Act of 1771. (fn. 288) Allotments totalled 1,016 a., of which 877 a. were awarded to Jonathan Midgley, 134 a. to the rector of Beeford for tithes, and 4 a. to the only other proprietor. Except for 87 a. from North field and 52 a. from Old pasture, the former locations of the grounds inclosed are not given.
Dunnington. Open-field land was recorded at Dunnington in 1650 (fn. 289) but the commonable lands were evidently inclosed soon afterwards, it is said by vestry order. (fn. 290) Closes called Great and Little West field and North field were recorded there in 1745, (fn. 291) two North pasture closes in 1813, and areas called East field, South field, and South pasture in the 1850s. (fn. 292) In the mid 20th century ridge and furrow marked the location of much of the settlement's former open-field land, (fn. 293) and ridge and furrow was still very apparent near Dunnington House and Dunnington Grange in 1996.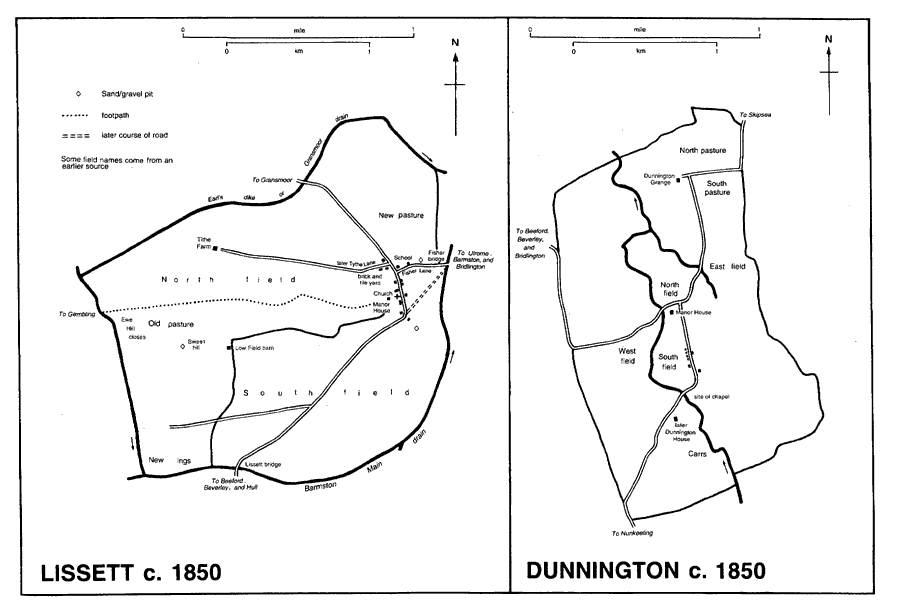 The demesne and other farms to the 16th century. Beeford. Only one plough, on the demesne, was recorded in 1086, when there were reckoned to be 12 ploughlands at Beeford. Most of the sokeland was apparently also out of cultivation then, and the manor's value had fallen greatly. (fn. 294)
The ½ carucate on Beeford moor given to Meaux abbey in the 12th century was presumably part of Beeford's southern field. (fn. 295) Soon afterwards the abbey established a grange on the moor, a development which was opposed by Thornton abbey and the other commoners there. (fn. 296) Some of the abbey's tillage may then have been separated from that of the village, and Moor grange was later said to comprise 129 a. in Moor field, 58 a. in the carrs, and 18 a. near the house, presumably in closes. Other land was farmed from the grange, which was also recorded as having 7½ bovates 'in the field of the town called Moor', possibly meaning a remaining share of Beeford's field belonging to Moor grange, 6 bovates in the field of the grange, and apparently also 12 bovates in Dunnington. Another undated record gives the land assigned to the grange as 314 a. of arable land, 58 a. of pasture, and 56 a. of meadow land lying on the moor and in Beeford and Dunnington. (fn. 297) Crow, or Dringhoe, grange was said to have had 203 a. of arable land in Dringhoe's open fields, 68 a. in those of Beeford, and a total area of c. 320 a. (fn. 298) The abbey gave up direct exploitation of its granges in the parish in the later 14th century. (fn. 299) In 1396 Crow grange, or manor, with 6 bovates in Dringhoe and 4 in Beeford, and Moor grange were both let to Richard Stopes (fn. 300) and his wife for rents of £4 and £4 13s. 4d. a year respectively. Other lands in Beeford, including 2½ bovates, were then occupied by seven tenants for rents amounting to nearly £1 10s., and the 12 bovates at Dunnington by four tenants for rents totalling £3 a year. (fn. 301)
In 1539–40 the Hospitallers' estate at Beeford was entirely occupied by freeholders and other tenants for rents amounting to nearly £8 7s. a year. (fn. 302)
Lissett. At Lissett, where 3 ploughlands and 30 a. of meadow were recorded, the manor was waste in 1086. (fn. 303)
WARREN AND FISHERS. Fisheries at Sandwath, or Hull, bridge were mentioned in the late 12th century, Bridlington priory's estate at Beeford also included a fishery, (fn. 304) and in 1353 the demesne at Lissett included a rabbit warren and a fishery. (fn. 305)
LATER AGRICULTURE. In 1842 there were 623 a. of arable land, 179 a. of grassland, and 7 a. of woodland in Dunnington, and Moor Grange farm in Beeford included a further 48 a. of plantations. (fn. 306) In 1905 Beeford had 2,538 a. of arable land, 1,009 a. of grassland, and 31 a. of woodland, Dunnington 640 a. of arable and 177 a. of grassland, and Lissett 895 a. of arable and 207 a. of grassland. (fn. 307) The parish remained mostly arable in the 1930s, with concentrations of grassland around the settlements and on Beeford Grange and Moor Grange farms. (fn. 308) In 1987, when the 2,530 ha. (6,252 a.) returned under Beeford civil parish far exceeded its area, 1,887.8 ha. (4,665 a.) were arable land, 580 ha. (1,433 a.) grassland, and 20.3 ha. (50 a.) woodland. More than 27,000 fowls and 22,000 pigs, nearly 1,600 cattle, and 500 sheep were then kept. (fn. 309) In the 1990s Manor Farm, Beeford, was the head office of the National Pig Development Co. Ltd. which operated several pig farms in the area.
In the 19th century and the earlier 20th there were generally some twenty farms at Beeford, five at Dunnington, and three or four at Lissett. (fn. 310) Larger holdings, of 150 a. or more, accounted for nine of the Beeford farms in 1851 and six or seven in the 1920s and 1930s; Dunnington had three larger farms in 1851 and one or two in the 1920s and 1930s, and there were two or three at Lissett. There were also half a dozen smallholdings at Beeford in 1851 and more later; (fn. 311) some were probably used by the dozen cowkeepers recorded in 1892 and the four or five market gardeners in 1851 and c. 1910. In 1987 the area returned under Beeford civil parish was divided into 23 holdings; four were of 200 ha. (494 a.) or over, six of 100–199 ha. (247–492 a.), one of 50–99 ha. (124–245 a.), five of 10–49 ha. (25–121 a.), and seven of less than 10 ha. (fn. 312) An agricultural feeds concern was run from Manor Farm, Dunnington, in 1996.
TRADE AND INDUSTRY. Tolls were said in 1275–6 to have been increased without warrant at Beeford, apparently by Bridlington priory, (fn. 313) and the appurtenances of Beeford Franchise Fee manor, formerly belonging to the Templars and Hospitallers, also included tolls. (fn. 314) In the 18th century dues of 4d. from every waggon passing through Beeford, 4d. for each score of sheep, 1d. for every fisherman's horse, and ½d. for each beast were said, possibly mistakenly, to belong to the lord of the seigniory. (fn. 315) A fair was held in a field near the church before 1840, but no more is known of it. (fn. 316)
Beeford was typical of a large, primarily agricultural village in the number and type of its tradesmen in the 19th century and the earlier 20th, and in 1901 there were a dozen shops. Less usual occupations included rope-making and fish-carrying, both recorded in 1840, and watchmaking in the late 19th and early 20th century. (fn. 317) A hiring fair held in November was discontinued c. 1900. Non-agricultural concerns in 1996 included a firm of agricultural engineers, a garage in Main Street, and, beside the main road, another garage and a fish and chip shop.
Bricks and tiles were made at Lissett in the mid 19th century. (fn. 318) From the 1950s parts of the former airfield at Lissett were used by a haulage contractor (fn. 319) and for a caravan works; the latter premises were sold c. 1980 to a firm making prefabricated agricultural buildings (fn. 320) which still operated in 1996. Other concerns, some in former military buildings, then included one making furniture and a garage beside the main road.
MILLS. There were a water mill and a windmill in the late 12th century, both of which were later given to Meaux abbey. The water mill stood close to Crow grange, just across the boundary in Skipsea, and was powered by the stream from Dunnington until its insufficiency in summer caused the mill to fall into decay; the mill had apparently been removed by the 15th century. A replacement had perhaps been built nearby by the 1390s, when a 'Crow mill' was repaired. The windmill was moved by the abbey from Beeford to a higher site in Dringhoe, in Skipsea, partly to secure the tithes for its church of Skipsea, in the late 14th century. (fn. 321) The relationship between Meaux's mills and Mill hill, north of the village, and Mill House, on Beeford beck, is unknown. (fn. 322) By the late 16th century another windmill had been built in South field at Beeford. (fn. 323) A post mill, it was rebuilt as a tower mill in 1820 and ground until c. 1925, since when it has been a farm building. Commercial milling was continued in another building until the late 1960s using an engine powered successively by oil and electricity. (fn. 324) At Dunnington a windmill was recorded c. 1300, (fn. 325) and there was one at Lissett in 1353. (fn. 326)
LOCAL GOVERNMENT
A prison at Beeford in 1304 may have belonged to the Knights Templar. (fn. 327) Their successors, the Hospitallers, had testamentary jurisdiction over their tenants, and that right passed after the order's suppression to later lords of Beeford manor, which was presumably on that account called Beeford Franchise Fee. The privilege ceased in the later 18th century. A register of wills and inventories of the peculiar survives for the period from 1561 until 1768. (fn. 328) The jurisdiction of the Hospitallers' court evidently also included view of frankpledge in Beeford. (fn. 329) Surviving records of the court, or courts, of Beeford manor, by then comprising also the Lay Fee, include estreats of 1626–59, a list of pains of 1648, (fn. 330) and brief minutes of proceedings for 1641 (fn. 331) and years between 1762 and 1782. (fn. 332) By the mid 18th century the court of 'Beeford Franchise Fee manor' apparently met only once a year, when 4 bylawmen, 2 affeerors, 2 constables, and a pinder were appointed.
In 1293 Meaux abbey was claiming the profits of the ale assize on its estates at Moor Grange and Dunnington and (Sir) Ingram de Monceaux the same at Lissett. (fn. 333) After the Dissolution courts were held at Beeford for tenants on the abbey's former estate in or near Beeford. (fn. 334)
At Dunnington the Templars had a court in the 13th century (fn. 335) and Sir Philip le Despenser (d. 1401) one which met annually at Michaelmas. (fn. 336) View of frankpledge belonged to the Brighams' manor at Dunnington in the early 18th century. (fn. 337)
There was evidently a poorhouse at Beeford in which 3–4 were maintained between 1812 and 1815. Out-relief was given to 9–11 people permanently and 3–7 were helped occasionally there in the early 19th century, when 3 at Lissett and 6–8 at Dunnington were on regular or occasional out-relief. (fn. 338) At Lissett the overseers were renting five cottages for the poor in 1836, (fn. 339) and there may also have been poorhouses at Dunnington. (fn. 340) A select vestry was constituted for the parish in 1822 and its minute book survives. Stocks on the green at the east end of the village were joined in or soon after 1842 by a lock-up, built by subscription; the latter was removed c. 1890. (fn. 341)
Beeford township, later civil parish, joined Driffield poor-law union in 1836 and remained in Driffield rural district until reorganization in 1974, when it became part of the North Wolds district, later borough, of Humberside. In 1981 the borough's name was changed to East Yorkshire. Lissett joined Bridlington poor-law union in 1836 and remained in Bridlington rural district, after 1935 as part of Ulrome civil parish, until 1974, when Ulrome, too, was incorporated into North Wolds district, later East Yorkshire borough. Dunnington joined Skirlaugh poorlaw union in 1837 and remained in Skirlaugh rural district until 1935, when as part of Bewholme civil parish it was taken into the new rural district of Holderness. In 1974 Bewholme civil parish became part of the Holderness district of Humberside. (fn. 342) In 1996 Beeford, Ulrome, and Bewholme parishes became part of a new East Riding unitary area. (fn. 343) A joint parish council for Lissett and Ulrome had been established by 1997.
CHURCH. There was a church with a priest at Beeford in 1086. (fn. 344) An unnamed chapel, apparently at Beeford, was recorded in the 12th century, (fn. 345) and the parish includes chapels at Dunnington and Lissett. (fn. 346) In 1977 Beeford rectory was united with the benefices of North Frodingham and Foston on the Wolds to form the benefice of Beeford with Frodingham and Foston. (fn. 347)
Beeford church was given to Bridlington priory apparently by Ernald de Montbegon between 1157 and 1170 and to Thornton abbey (Lincs.) by Ernald or Ernulf de Montbegon before 1184. After dispute between the two houses, they agreed to share the fruits of the church, and it was probably in connexion with that agreement that c. 1200 Alan de Rowell, evidently the Montbegons' successor, charged the rectory with £4 a year payable to Bridlington and Thornton and bound himself and his heirs not to give the church to any other religious house. (fn. 348) Thornton abbey's interest in the church ceased very soon afterwards, possibly by cession to the Knights Templar, lords of Beeford by grant of the Montbegons. (fn. 349)
The Montbegons and their successors evidently retained an interest in the patronage after the 12th-century grants of the church to Bridlington and Thornton. (fn. 350) Alan, grandfather of Alan Rowell (fl. 1249), presented to the church, and he or another ancestor of Alan the grandson gave the advowson to the Templars as an appurtenance of a landed estate, possibly the manor. (fn. 351) In 1200, after dispute with Bridlington priory, the advowson was divided and assigned in half shares to the Templars and the priory, who later presented a rector jointly; by the agreement, which was confirmed by Thornton abbey, the priory and the order were also to receive pensions of 13s. 4d. a year each from the rectory. In 1249, after Alan Rowell had unsuccessfully claimed the right to present, (fn. 352) it was ordained that the two patrons should henceforward present alternately. (fn. 353) On their suppression in 1312, (fn. 354) the Templars' interest was transferred to the Hospitallers, who then presented in turn with the priory or its grantees until the mid 16th century. The dean and chapter of York presented by Bridlington's lapse in 1317, and in the earlier 14th century the Crown tried several times to present to Beeford as the Templars' successor, without effect. (fn. 355) In 1543 the Crown, as successor to the priory and the Hospitallers, granted the advowson to the archbishop of York, who had collated in 1539. Nevertheless, the Crown presented three times in the later 16th century and again in 1687 and 1811, in most cases apparently because of a vacancy in the see; Michael Empringham exercised a turn in 1576, possibly as the Crown's grantee, and the Commonwealth had the advowson in the mid 17th century. (fn. 356) Otherwise the patronage had remained with the archbishop. (fn. 357) Since 1977 the archbishop and the Church Society Trust, formerly patron at North Frodingham, have been joint patrons of the united benefice. (fn. 358)
In 1291 the church was valued at £20, after payment of the pension of 13s. 4d. to Bridlington priory. (fn. 359) In 1535 the annual value was £22 net, the deductions including, besides Bridlington's pension, that of 13s. 4d. paid to the Hospitallers as successors to the Templars. The rector of Beeford then received an annual pension of 10d. from Nunkeeling priory, about which nothing else is known. (fn. 360) The improved annual value in 1650 was almost £186 net. (fn. 361) Later in the 17th century the rectory was said to be worth £140. (fn. 362) The net income was £779 a year between 1829 and 1831 and £675 in 1883. (fn. 363) The gross value in 1918 was c. £865. (fn. 364)
Most of the value came from tithes. In 1535 the tithes of the whole parish were worth almost £23 a year gross. (fn. 365) Those of Beeford township were valued at £110 a year gross in 1650 and at £70 on average in the late 17th century. (fn. 366) Pasture gates were thought to have been given at unknown date to the rector for the herbage tithe. (fn. 367) At the inclosure of Beeford in 1768 the rector was awarded 192 a. and £80 a year for most of the tithes. The owners of the c. 570 a. in the Moor Grange and Crow Grange estates, as successors of Meaux abbey, owed no tithes when those farms were in hand but when they were let the land was titheable. By award of 1842 and apportionment of 1846 the tithes of the farms, whether let or in hand, were commuted for rent charges of £6 15s. 7d. for Moor Grange and £4 4s. 5d. for Crow Grange. (fn. 368)
The tithes of Lissett were valued at £34 a year gross in 1650 and at £24 a year in the late 17th century. (fn. 369) Other dues owed to the rector by parishioners at Lissett included a homage halfpenny and a St. Leonard's penny, both presumably recognitions of their chapelry's dependency on the mother church of Beeford. (fn. 370) The tithe on hay growing in the open fields was paid by a modus. (fn. 371) At inclosure in 1772 the rector was awarded 134 a. for tithes. (fn. 372) A cottage and outbuildings were put up there in 1804, and the house was enlarged in 1855. (fn. 373) In 1919 the 139-a. Lissett Tithe farm was sold to the Nettletons. (fn. 374) The farmhouse was later demolished when the airfield was made. (fn. 375)
In 1650 the tithes of Dunnington were valued at £20 a year gross. (fn. 376) By the late 17th century they were being paid by compositions amounting to c. £16 a year, possibly set at inclosure, (fn. 377) but c. 1820 the rector successfully applied to the Court of Exchequer for payment in kind. The tithes were commuted for a rent charge of £210 by award of 1842 and apportionment of 1843. (fn. 378)
The rectory house and the rest of the glebe at Beeford, including a dozen cottages, were valued at £3 10s. a year gross in 1535 and £16 gross in 1650. (fn. 379) In the 17th century the glebe land there comprised 3 bovates, with c. ½ bovate of forby, or extra, land, and c. 6 a. in a close. (fn. 380) At the inclosure of Beeford in 1768 the rector received 106 a. for glebe land and his pasture rights, besides the 192 a. for tithes. (fn. 381) Farm buildings were put up on the tithe allotment in 1793 and a farmhouse added in 1819. (fn. 382) The farm incorporated the glebe land at Dunnington in 1867, when it was called South Grange. (fn. 383) In 1919 Rectory farm with 222 a. at Beeford was sold to W. J. Hawkins and other sales made amounting to c. 80 a. (fn. 384)
The rectory included cottages and land held by Priesthold tenure, which involved the payment of a fine of one year's rent on each change of tenant or rector. (fn. 385) The rents at Beeford amounted to £1 10s. in 1535 and just over £2 a year in the 17th century, when there were twelve cottages. (fn. 386) In 1768 at inclosure 23 a. of Priesthold were awarded in Beeford. (fn. 387) Also Priesthold was a house at Dunnington. (fn. 388)
The glebe at Dunnington was valued at 15s. a year gross in 1535 and at £12 gross in 1650, when it comprised a house, two small closes, and 3 bovates. (fn. 389) The commonable lands were evidently inclosed soon afterwards, it is said by vestry order, (fn. 390) and later there was c. 45 a. of glebe there (fn. 391) until it was sold to W. J. Hawkins in 1919. (fn. 392) There had evidently been a curacy house at Dunnington before the late 17th century, when the glebe there included a 'vicarage garth' and farm buildings, one of which was later used as a house. (fn. 393)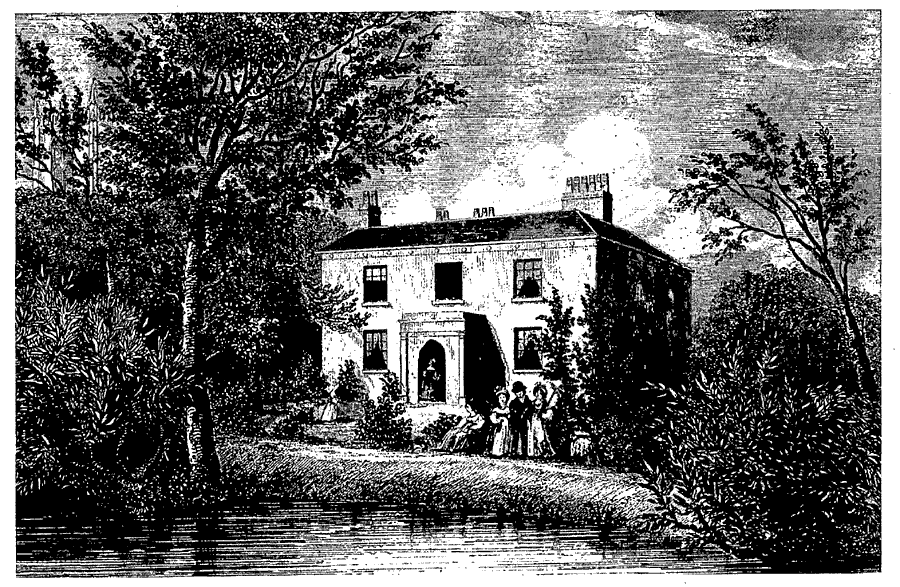 The glebe at Lissett was valued at 4s. a year gross in 1535 and at 11s. gross in 1650, when it comprised two cottages and 3 a. (fn. 394) Later in the 17th century the value was given as just over £1. (fn. 395) One of the cottages was described later as the 'vicarage house', presumably because it had been used by the curate. By the 17th century it was let to a tenant, and it was perhaps that cottage which was replaced by a new farmhouse in 1818. (fn. 396)
The small rectory house, of five bays in 1786 and with four living rooms in 1809, (fn. 397) was rebuilt in 1833–4 by Thomas Skelton of Filey. (fn. 398) It was much enlarged in 1845, a wing was added in 1863, and the house was extended again in the early 20th century by Brodrick, Lowther, and Walker of Hull. (fn. 399) The south wing was demolished and the north front remodelled by Francis Johnson c. 1940. (fn. 400) A new house was built in the garden c. 1975 and in 1977 was designated the residence of the united benefice. The 19thcentury house and outbuildings were demolished in 1995, (fn. 401) and in 1998 a new rectory house was being built on the site.
The rectors of Beeford have often been lawyers and theologians with other preferments who did not reside. (fn. 402) In their absence, the church and its chapels were served by stipendiaries. (fn. 403) The Oxford theologian Richard Ulverston, rector in 1406–7 and 1408–31, was excused in 1409, as a Crown servant, from becoming a priest for seven years and in 1413 he was allowed to hold another benefice with Beeford. (fn. 404) Several other rectors were only in minor orders at their presentation. The Marian bishop of Chester, Cuthbert Scott, was rector from 1549 until his deprivation in 1559, (fn. 405) and the curate in 1567 was allegedly saying masses for the dead. (fn. 406) A puritan, Griffith Briskin, prebendary of Osbaldwick in York minster, was rector 1594–1608. John Neile, chaplain to Charles II and a high officer in York and Durham dioceses, was rector from 1637 until his ejection c. 1645 and then again from his reinstatement in 1660 to 1669. The curates in the 1700s were allegedly of ill repute, John Wilkinson being described as 'more fit to be a swineherd than a parson'. (fn. 407) William Jackson, rector 1791–1811, was also Regius professor of Greek at Oxford and dean of Bath and Wells and later bishop of Oxford. (fn. 408) George Trevor, rector 1871–88, was a High Churchman and canon of York minster. (fn. 409)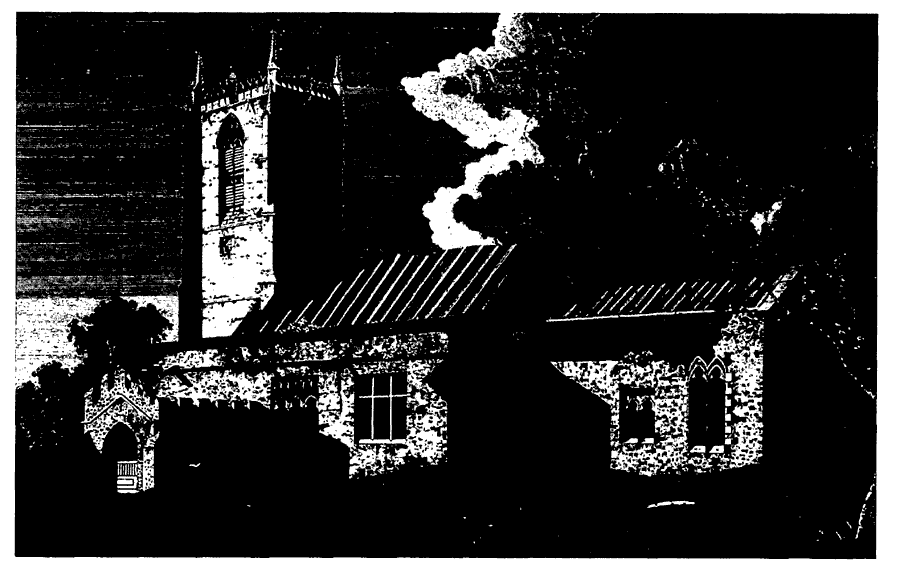 A cottage and land at Beeford were given to support lights and obits in the church before the mid 16th century. (fn. 410) Two Sunday services were held at Beeford c. 1750. There were then five celebrations of communion a year, with c. 50 receiving at Easter. (fn. 411) The parish was better served by resident rectors with assistant curates (fn. 412) from the 19th century. An evening school was provided in the mid century but was unsuccessful, and then and later many parishioners were said to attend both church and chapel. Celebrations of communion were once a month by 1865 and weekly by 1877; in the later 19th century 20–30 usually communicated but by 1931 only 5–6. (fn. 413)
The church of ST. LEONARD, so called by 1407, (fn. 414) stands in a large yard planted with mature trees which was enlarged by ½ a. in 1948. (fn. 415) The building comprises chancel with north chapel and vestry, wide, three-bayed nave with north and south aisles, south porch, and west tower. The church is largely built of boulders with stone dressings and later brickwork, but the tower and much of the south porch are of ashlar. There is little evidence of the 11thcentury building. The chancel was enlarged in the 13th century, when a pair of windows and a single-seat sedile were made in its south side; a possibly later piscina also survives there. In the 14th century the north doorway to the nave, now reset in the aisle, was made or remade and another window added in the chancel. Much work was done in the 15th century: the tower was built or possibly refaced externally then, the south aisle, and later the south porch, added, and the chancel again remodelled. The square, three-staged tower had a decorative parapet of open, pinnacled niches which was broken and worn away in 1996; it had been renewed by 1998. In a niche on the tower's west face stands a medieval statue of St. Leonard. (fn. 416) The fabric was later neglected (fn. 417) and 'churchwardenized', the chancel being partly rebuilt in brick in 1719 and some of the church's medieval windows destroyed. A west gallery had been fitted by 1831. (fn. 418) The church was enlarged and restored in the mid 19th century. The north aisle, whose arcade copies that on the south, and a one-bayed extension alongside the chancel to form the chapel were added by H. F. Lockwood at the expense of Mr. Bagge, the rector's son-in-law and curate, in 1846. (fn. 419) Other work included the restoration of the east window c. 1850, (fn. 420) the addition of the vestry in 1859, the refitting of the chancel in 1865 or 1866, and the reflooring and reseating of the nave in 1871. (fn. 421) The south aisle windows were evidently also restored. In 1904 the chancel arch was rebuilt and new choir stalls provided there. (fn. 422) The roof was given a ceiling and repaired in 1939, when the church was largely re-glazed using clear glass and some of the 19th-century stained glass. (fn. 423) The roofs of the chancel and nave were restored in 1953. (fn. 424)
An oak chancel screen and stalls were removed in the 1860s, (fn. 425) but an octagonal font, probably 15th-century, and Royal Arms of 1814 remain.
The church has a brass commemorating Thomas Tonge, rector 1431–72, (fn. 426) a 14thcentury effigy of another priest, and memorials to relatives of George. Trevor, rector 1871–88 and his son G. W. Trevor, rector 1905–19. (fn. 427)
There were three bells in 1552 and later, two being replaced in 1599 and the other in 1675. (fn. 428) The plate includes a covered cup of 1562. (fn. 429) The registers of burials begin in 1563, baptisms in 1564, and marriages in 1627; those of burials lack entries for some 30 years in the late 16th and early 17th century but the marriage registers are complete and those of baptisms and births more or less so. (fn. 430)
The church and its yard were closed for burials in 1883, (fn. 431) but extensions of the yard were consecrated in 1884, 1925, and 1970. (fn. 432) Robert Dixon of Dunnington (d. 1937) left £50 to maintain the churchyard. (fn. 433)
To help defray the cost of repairing the church, the churchwardens had balks in the open fields until inclosure in 1768, when 11 a., later called Church field, was substituted for them. The land was then valued at £3 10s. a year; (fn. 434) the income was £19 c. 1830 and £24 in 1892. (fn. 435) Church field was sold in 1919, (fn. 436) and in 1940 the charity had £606 stock. The income was used more generally for church expenses in the earlier 20th century. (fn. 437)
The parish clerk was entitled to 3 sheaves of wheat a year from each bovate in Beeford township until 1768, when he was awarded £3 10s. a year instead from the land then inclosed. (fn. 438) He was also owed 4d. a year from each inhabited house. (fn. 439)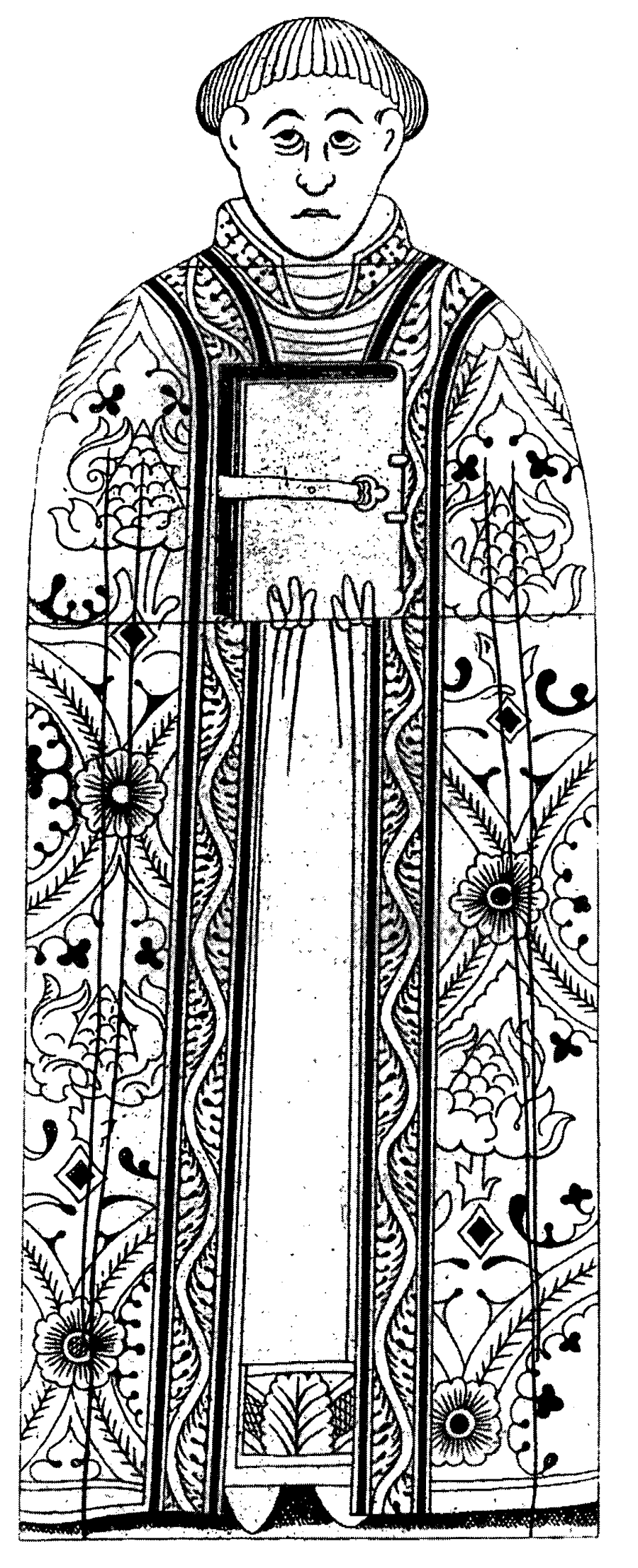 LISSETT. Alan the parson witnessed a Lissett deed in the 13th century, (fn. 440) and a chapel there with right of burial was recorded in 1407. (fn. 441) The chapel was served separately from the mother church by a curate in the 16th and 17th centuries. (fn. 442) In 1650 it was recommended that the existing parish of Beeford be reduced to Lissett chapelry and Beeford township. (fn. 443) That plan was not effected, but the chapel was later served from Beeford by the rector or his curate. (fn. 444) In the mid 18th century, and evidently for long before, there was only one service a fortnight in the chapel; communion there was then quarterly, with nearly half of the c. 30 confirmed members receiving at Easter 1743. (fn. 445) The assistant curate paid £108 a year c. 1830 probably had charge of Lissett chapel, (fn. 446) and a curate was certainly serving it about 1900, when J. W. Dent built a house for him. (fn. 447) Service was weekly by 1851 (fn. 448) and celebrations of communion monthly by 1877, fortnightly c. 1920, and monthly again in 1931. (fn. 449) In 1996 two services and a celebration of communion were provided each month at Lissett. (fn. 450)
The chapel of ST. JAMES was so called by 1407 and in 1996 was more fully styled ST. JAMES OF COMPOSTELLA. (fn. 451) It was built of rubble and boulders with ashlar dressings but has been much rebuilt in brick and largely rendered. The building comprises chancel and nave with south porch and bellcot above the chancel arch. The round-headed south doorway with zigzag decoration and a carved stone above it (fn. 452) suggest that the chapel was built in the 12th century. It was evidently remodelled in the 13th, when new windows were made in the chancel and the nave, and a pillar and capital of that period, reset in the chancel, are said to have come from the chancel arch. (fn. 453) The chapel was later largely rebuilt, notably after storm damage in 1740. (fn. 454) By 1840 a south porch had been added and sashes substituted for tracery in some of the windows, (fn. 455) and the building was later said to be in a 'discreditable condition'. (fn. 456) It was restored in 1876 by Hugh Roumieu Gough of London for John Dent Dent, lord of the manor, and George Trevor, rector. The work included the rebuilding of the chancel arch, the addition of the bellcot, refenstration, and the paving of the chancel with flowered quarry tiles inspired by the Arts and Crafts movement. (fn. 457)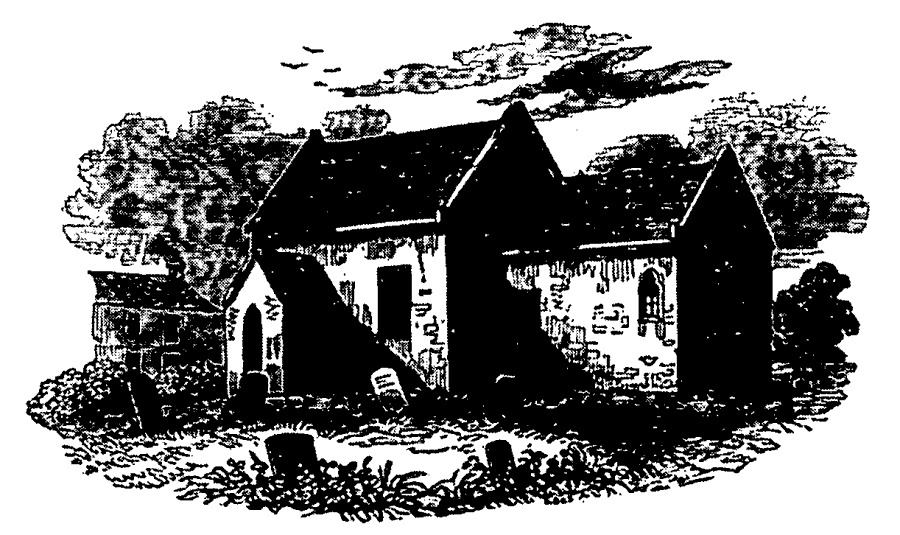 The fittings include a 12th-century circular font. Memorials include a stone in the chancel to Christopher Hildyard (d. 1728), the east window and altar rails for John Dent Dent (d. 1894), (fn. 458) and a window in the nave and a memorial in the chapelyard commemorating the R.A.F. squadron stationed at Lissett from 1943 to 1945.
Lissett chapel has two ancient bells, one of them, bearing the date 1254, said to be the oldest dated bell in England; they were restored in 1974. (fn. 459) Lissett's plate includes a cup and cover, given in 1671 and used in Dunnington chapel after its rebuilding, and a service given at the restoration in 1876. (fn. 460) Registrations of burials begin in 1653 and of baptisms in 1679. Marriages are recorded from 1663 but lack entries for a few years in the mid 18th century. (fn. 461)
A Christopher Hildyard had left a little land for repairs to Lissett chapel, evidently many years before 1743, when the trust was being fulfilled by his heirs. (fn. 462)
DUNNINGTON. Dunnington chapel probably existed by the mid 12th century, a chaplain of Dunnington witnessing the gift of Beeford church to Bridlington priory. (fn. 463) It was served by a curate in the 16th century, in 1595–6 with Nunkeeling church. The fabric was decayed in 1575, (fn. 464) the chancel was in disrepair in 1623, and in 1663 the chapel was said to be 'quite demolished' for lack of repairs and the parishioners at Dunnington were ordered to attend Beeford church instead. It was then claimed that there had been too few inhabitants to maintain the building; (fn. 465) in 1650 it had been proposed to provide the chapel with more support by making a parish for it comprising Dunnington and Bonwick township, in Skipsea parish. (fn. 466) 'Small remains' of the chapel, which had had a tower, survived later, and its yard continued to be used for burials. A house was used for services in the early and mid 19th century. (fn. 467) After the building of a new chapel, a Sunday service was held there; communion was usually monthly in 1884, fortnightly c. 1920, and monthly again in 1931. (fn. 468) In 1996 service was monthly at Dunnington. (fn. 469)
The present chapel of ST. NICHOLAS was built in 1879 on the site of the earlier building, possibly to designs by H. Roumieu Gough. The building, which was used from that year, was paid for largely by George Ansley (d. 1879). (fn. 470) Of red brick and vaguely 13th-century in style, the chapel evidently comprised an undivided chancel and nave with north porch and bellcot on the western gable. In 1903 H. J. Tebbutt, rector, had the interior remodelled, raising the floor of the chancel and extending it into the nave, and further raising the floor at the east end to mark the sanctuary. Both chancel and sanctuary are tiled. (fn. 471) Fittings include a small 19th-century font. There were two bells in 1552 but later only one. (fn. 472) Registrations for Dunnington were made in the Beeford registers and a few transcripts also survive from the earlier 17th century. (fn. 473)
NONCONFORMITY
In the 17th century about five people were regularly presented as Roman Catholics at Beeford and two at Lissett; at Dunnington, where adherents included the Creswells, numbers rose to 13 about 1640 and, as a papist, Roger Brigham registered his manor there c. 1715. (fn. 474) The Ellerkers of Moor Grange suffered as recusants c. 1630. (fn. 475)
A Quaker meeting said to have had 100 members was held in a house at Lissett in 1669. (fn. 476) Eleven protestant dissenters were returned for Beeford in 1676, (fn. 477) but there were said to be no dissenters in the parish in the mid 18th cent ury. (fn. 478) Houses were, nevertheless, registered at Beeford by unidentified protestant congregations in 1779, 1787, and 1788. (fn. 479)
The missionary efforts of members of Fish Street chapel, Hull, included visits c. 1800 to Beeford and Lissett, and in 1799 the Independents registered a barn at Beeford. (fn. 480) A preacher for Beeford, Skipsea, and Patrington was appointed in 1803, and an Independent chapel was built south of the street at Beeford in 1810. In 1851, when the chapel was connected with that at North Frodingham, a congregation of c. 50 attended the service at Beeford chapel on Sunday afternoons. (fn. 481) The building was enlarged in 1857 (fn. 482) and altered in 1880. (fn. 483) By the 1890s Beeford Congregational church was united with those at North Frodingham and Skipsea and a manse had been built at Beeford for the minister of the churches. (fn. 484) The Congregational church had been closed by 1922 (fn. 485) and was derelict in 1996. (fn. 486)
An unidentified protestant congregation at Beeford which registered a house in 1801 and a chapel in 1802 was probably Wesleyan Methodist, (fn. 487) and there was certainly a Wesleyan chapel by 1823. (fn. 488) Standing on the south side of the village street, (fn. 489) it was replaced by a new building further east in 1866. Later the Methodist church, (fn. 490) it was still used in 1996. (fn. 491)
The Primitive Methodists built a chapel and school on the south side of the street at Beeford in or soon after 1839 and registered the premises in 1842. The site had been greatly enlarged by 1866 (fn. 492) and other land was added in 1874, (fn. 493) following the rebuilding of the chapel in an Italianate style by Joseph Wright of Hull in 1873. (fn. 494) It was closed in 1964 and stood disused in 1996. (fn. 495)
A house at Dunnington was registered for protestant worship in 1807, (fn. 496) perhaps by the Wesleyan Methodists, who built a chapel there in 1858. (fn. 497) It was closed c. 1970, (fn. 498) and in 1996 was used as a storeroom.
Wesleyan Methodists registered houses at Lissett in 1807 and 1808. (fn. 499) Their services were still held in a house in 1851 (fn. 500) but by 1879 they had been moved to Lissett school. (fn. 501)
EDUCATION
Beeford. A school may have been held in the church in the mid 16th century. (fn. 502) The private school supported by parents recorded under Beeford parish in the mid 18th century was perhaps the same as that held in a schoolhouse in the north-west corner of the churchyard in 1786. (fn. 503) A National school supported by subscription and school pence had been established in the village by 1818. It was attended then by 53 children from Beeford and Lissett and in 1833 by 40 boys and 20 girls. (fn. 504) A new school had been provided on the south side of Dringhoe Lane in 1816, perhaps by remodelling an existing building; it may have been used from the outset, as it was later, for the boys. (fn. 505) An 'old school' was either continued or re-established in 1823, (fn. 506) and it was apparently its schoolhouse which Thomas Prickett, lord of the manor, gave to the trustees of the National school in 1846. Built on waste ground on the north side of Green Lane, (fn. 507) it may have been rebuilt soon after the conveyance and was later recorded as the girls' school. (fn. 508) The National school also included an infants' department by 1865. (fn. 509) In the mid century the school was supported by the rector, subscribers including the lord of the manor, school pence, and an annual government grant, first received in 1866, when the average attendance was 70. (fn. 510) The infants' school was apparently then kept in another building but its location is unknown; later the infants seem to have been taught in the girls' school. (fn. 511) At inspection in 1871 there were 101 pupils at the school. (fn. 512) The site of the boys' school was enlarged by gift of John Stocks in 1870. (fn. 513) A new National school for all departments was built in 1880 on land given by the rector on the south side of the street. The building was improved in 1890. (fn. 514) The former boys' school and its site were sold in 1883, (fn. 515) and in 1884 the former girls' school, 'lately called the infant school', was bought for a reading room. (fn. 516) The new school was enlarged in 1902. (fn. 517) In 1907–8 average attendance at Beeford Church school was 131, of whom 27 were infants. Numbers had fallen to an average of 113 by 1913–14 (fn. 518) but the infants' department was then reckoned to be overcrowded and in 1929 the building was altered and enlarged and a playing field was provided. (fn. 519) In the 1920s and 1930s there were usually c. 100 pupils in attendance, but by 1937–8 only 86. Senior pupils were transferred to Hornsea County Secondary School in 1958. (fn. 520) The primary school site was enlarged by 2 a. in 1965. (fn. 521) In 1990 there were 64 on the roll at Beeford. (fn. 522)
In 1833 Beeford also had two mixed day schools supported by parents, one begun in 1823 with 20 pupils and the other started in 1826 with 31 in attendance. (fn. 523)
LISSETT. At Lissett a Church school was built c. 1840, probably by Joseph Dent, whose family later owned the premises. (fn. 524) The mixed school, supported by subscription and school pence, had 10 pupils at inspection in 1871. (fn. 525) An annual government grant was received from 1882–3, when average attendance was 29. (fn. 526) The school accommodated infants and children from neighbouring settlements and farms, and in the 20th century it was called Ulrome, Lissett Church school. (fn. 527) The schoolhouse was restored by John Dent Dent in 1872, (fn. 528) and enlarged by J. W. Dent in 1901. (fn. 529) Average attendance at the school was usually c. 45 between 1906 and 1938 but in 1918–19 it was only 22 and in 1931–2 it stood at 58. (fn. 530) In 1934 the building and site were vested in the York Diocesan Board of Finance. (fn. 531) In 1951 there were 41 pupils aged between five and ten years old. (fn. 532) Ulrome, Lissett school was closed in 1968, the pupils then being transferred to a new primary school at Skipsea. (fn. 533) In 1996 the much-altered school building at Lissett was used as a house.
Children from Dunnington have gone to school at Bewholme, in Nunkeeling. (fn. 534)
CHARITIES FOR THE POOR. Sir George Wood (d. 1824) left an annual rent charge for the poor of Beeford, its value, of £10, being fixed by his executors. (fn. 535) The charge had been redeemed by 1901, when the endowment comprised £300 stock and the income of just over £8 was spent on coal. Later some 30 doles were given instead. (fn. 536) The charity had been in abeyance for several years in 1980, (fn. 537) but in 1985 a Scheme was obtained for the charity. (fn. 538)
Robert Dixon of Dunnington by will proved in 1938 left £250 for needy parishioners. The sum was invested in stock, producing an income of c. £8 a year, which was spent on coal and groceries in 1939 (fn. 539) and about 1980 was used for cash gifts at Christmas. (fn. 540)