Pages 273-295
A History of the County of York East Riding: Volume 7, Holderness Wapentake, Middle and North Divisions. Originally published by Victoria County History, London, 2002.
This free content was digitised by double rekeying. All rights reserved.
HORNSEA
THE town and seaside resort of Hornsea, 20 km. NNE. of Hull, lies between the waters of Hornsea mere and the sea. (fn. 1) The medieval town had some importance as a market centre, partly based on fishing and seaborne trade. The market town stood close by the end of the mere, with the seafaring settlement of Hornsea Beck further east; there were outlying hamlets inland at Northorpe and Southorpe and near the sea to the south at Hornsea Burton. The sites of Hornsea Beck and Hornsea Burton were later eroded by the sea, and the other hamlets were also depopulated. The establishment of a seaside resort began in the early 19th century and was quickened by the opening of a railway line from Hull in 1864, which from the first attracted commuters as well as visitors. In 1873 Hornsea was described as 'the quaintest mixture of a small country town and a callow sea bathing place. The better half of it is ... little more than a marine suburb of Hull'. (fn. 2) Those contrasting elements in its character were never lost.
The name Hornsea, perhaps meaning a peninsula projecting into a lake, is Scandinavian; (fn. 3) it may refer to ground called Kirkham or Kirkholme, which projects into the mere close to the town. In 1280 a causeway divided Hornsea mere from Hornsea Burton mere. (fn. 4) The mere, which covered 468 a. c. 1700, 361 a. in 1809, and 324 a. in 1890, (fn. 5) and its wooded surrounds give a picturesque aspect to the landward side of Hornsea. The belt of trees beside the mere along the Seaton road was planted in the later 19th century. (fn. 6) The western end of the mere, which was reserved for their own use by the StricklandConstables, owners of Wassand Hall, was managed with a concern for wildlife at the end of the 19th century, and about 1910 a cooperative association with the Yorkshire Naturalists Union was begun. (fn. 7) A reserve including the mere and adjoining land was established by the Royal Society for the Protection of Birds in 1970; it was given up in the late 1990s. (fn. 8)
Hornsea contained 3,332 a. (1,348.5 ha.) in 1852, of which 409 a. (165.5 ha.) were in Hornsea Burton township. (fn. 9) In 1894 the civil parish was made an urban district, which existed until 1974. (fn. 10) As the result of erosion by the sea, which accounted for 1–2 yd. a year in the later 19th century, (fn. 11) the area of the urban district in 1971 was only 1,332 ha. (3,292 a.). In 1991 it was 1,310 ha. (3,237 a.). (fn. 12)
There were 271 poll-tax payers at Hornsea, 264 at Hornsea Beck, 96 at Hornsea Burton and in the southern part of Hornsea Beck, 7 at Northorpe, and 28 at Southorpe in 1377. (fn. 13) In 1490 the vicar numbered his cure of souls as 340 at Hornsea, 240 at Hornsea Beck, 50 at Hornsea Burton, 14 at Northorpe, and 30 at Southorpe. (fn. 14) Hornsea had 83 houses assessed for hearth tax and 14 discharged in 1672. (fn. 15) There were 133 families in the parish in 1743 and 131 in 1764. (fn. 16) The population in 1801 was 533, increasing rapidly to 704 in 1811. There was another sharp rise between 1831 and 1841, from 780 to 1,005, although more than 50 holidaymakers were included in the latter figure. Numbers stood at 1,063 in 1861, but after the opening in 1864 of a railway they increased steadily to 1,685 in 1871, 1,836 in 1881, 2,013 in 1891, and 2,381 in 1901. (fn. 17) In the 20th century the rate of increase varied: numbers rose to 3,024 in 1911, 4,279 in 1921, 4,450 in 1931, 5,324 in 1951, 5,955 in 1961, 7,031 in 1971, and 7,301 in 1981. In 1991 of 7,934 usually resident only 7,831 were present. (fn. 18)
Much of the parish is on boulder clay and lies at between 15 and 25 m. above sea level. (fn. 19) It was mostly occupied by the open fields of Hornsea, which were inclosed in 1809; Hornsea Burton township had been inclosed as early as the 1660s. The town itself stands on gravel terraces. Lower-lying alluvial ground adjoins both the mere and Stream dike, which flows from the mere through the town to the sea. A sluice controlled the flow of water along the dike by the late 16th century. (fn. 20) Stream dike was straightened and given a more direct outlet in 1846, (fn. 21) and in 1979 Yorkshire Water Authority installed a system designed to prevent discharges from the mere into the dike when the water level in the mere fell below 12 ft. above sea level. (fn. 22) The modest North and South cliffs peter out to produce the so-called Hornsea Gap near Stream dike. (fn. 23) South bridge, which was mentioned c. 1400, (fn. 24) may have been that which carried Southgate over the dike. (fn. 25) The largest of several streams flowing into the mere is Foss dike, which forms the western boundary of Hornsea Burton township; it was recorded in 1682, along with Coye and Lund Wyke dikes. (fn. 26)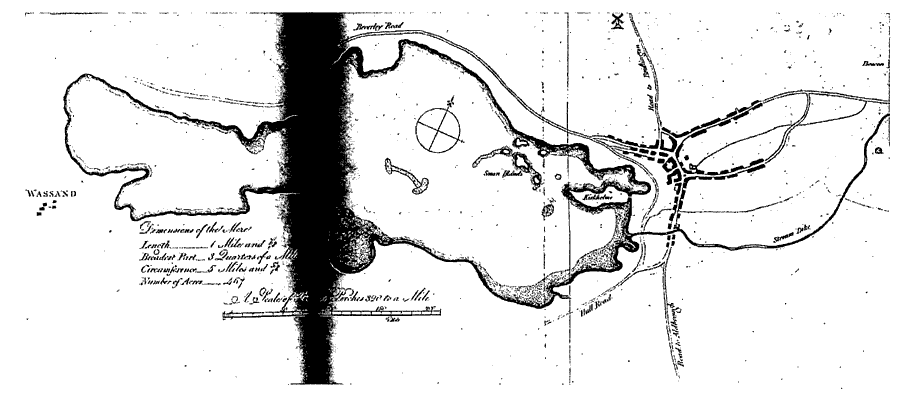 The main street of the old town, running roughly parallel to the shore of the mere, comprises Westgate, Market Place, and Southgate, the first recorded in 1539 and the last in the 1480s. (fn. 27) Behind the west side of the street lie Back Westgate, Mere Side, and Back Southgate, and several small lanes run from the street to join them, including Chambers Lane, Hillerby Lane, and Mere Walk, formerly Strait Lane. Before the inclosure of the common in 1809, the back lane extended to the Hatfield road. From the opposite side of the main street Eastgate and Newbegin, the latter recorded in the 1480s, (fn. 28) lead towards the sea. The cul-de-sac known as Football Green, on the east side of Southgate, takes its name from ground mentioned in 1539. (fn. 29) Access to the sea shore was formerly provided only by Eastgate and its continuation Sea Road or Sands Lane (later part of Eastgate), which was given a straight new course at inclosure in 1809. Newbegin crossed Sands Lane, and in 1809 a continuation of it northwards was set out as Cliff Lane or Road. (fn. 30) It was not until 1848 that New Road was made from Newbegin to the sea front. (fn. 31) A medieval cross stood in Market Place until the mid 19th century, when it was moved to Southorpe Hill Farm. (fn. 32) In 1898, after eight cottages adjoining the churchyard had been demolished as an improvement to com memorate the Diamond Jubilee, the cross was placed in the churchyard; (fn. 33) it has been restored with a new top. A second medieval cross stands beside Southgate. Since the late 19th century Newbegin has replaced Market Place as the shopping and service centre of the town.
Of the roads leading out of the parish the chief is that which runs westwards beside the mere to Seaton and on towards Beverley; parts of it are carried over the lowest ground by causeways. (fn. 34) Other roads lead northwards to Atwick and Bewholme and southwards to Hatfield and Rolston. Until inclosure in 1809 the Bewholme road left the Atwick road on the edge of the town. (fn. 35) The roads to Atwick and Rolston were later upgraded as parts of the main Holderness coast road, and that to Hatfield, formerly called Lelley Lane, became part of the main road to Hull. From the Rolston road the former Mill Lane (later Burton Lane and Hornsea Burton Road) leads to the sea.
The Wade family, Hull timber merchants, played a leading part in securing a railway line and in furthering the development of the town. It was probably no coincidence that John Wade completed his country house in Hornsea in 1846, (fn. 36) the year in which the York & North Midland Railway Co. was sanctioned to build a line from Beverley. (fn. 37) Wade was succeeded in 1850 by his nephew Richard William Wade (d. 1852), (fn. 38) who led unsuccessful efforts to force the company to fulfil its commitments. (fn. 39) The Wade estate then passed in turn to Richard's father Abraham (d. 1853) and another of Abraham's sons, Joseph Armytage Wade (d. 1896). (fn. 40) It was J. A. Wade who promoted a line from Hull, and the Hull & Hornsea Railway Co. was formed in 1861. It was originally intended that the line should end near the old town, but Wade, as chairman of the company, insisted that it should reach his land near the sea front and a viaduct was therefore needed to carry it across the low ground beside Stream dike, greatly increasing the cost. The line was opened in 1864 with a terminal station near the sea and another station at Hornsea Bridge, where the line crossed the Rolston road. The railway was not a financial success and in 1866 the company was merged with the North Eastern Railway. (fn. 41) The viaduct was later replaced by an embankment. (fn. 42) The terminus was closed entirely in 1964 and Hornsea Bridge station for passengers in 1964 and for goods the following year. (fn. 43) The red-brick terminal station has a porte-cochère of five arched bays and five-bayed side wings with roundheaded windows in blank arches; it has been converted to housing. Hornsea Bridge station and the bridge across the road have been demolished. The track has been lifted but its course has been designated a footpath and forms part of the Transpennine trail. (fn. 44)
The hamlet of Northorpe stood ½ mile north of Hornsea, where a house beside the Atwick road still bears the name. Its tax assessment was only 13s. 4d. in 1334. (fn. 45) Cottages there were recorded in the early 17th century (fn. 46) but all the garths were empty in 1809. (fn. 47) Southorpe, recorded from 1086, (fn. 48) stood close to the southeastern corner of the mere, where earthworks mark the site. Cottages were recorded in the early 17th century, (fn. 49) but a ruinous house was evidently all that remained in 1650. (fn. 50) and there were no houses in the garths in 1809. The site of Hornsea Beck, which presumably took its name from the watercourse later called Stream dike, has been eroded by the sea. The settlement was mentioned in the early 13th century and rivalled Hornsea itself for size in the late 14th. (fn. 51) More men were mustered there in 1539 than at Hornsea. (fn. 52) In 1609 it was said that 38 houses had been destroyed since 1547 (fn. 53) and in 1637 that 20 had gone within living memory; (fn. 54) by 1695 all but one or two houses had been washed away. (fn. 55) Hornsea Burton, the site of which has also been eroded, stood a short distance south of Stream dike. It was mentioned from 1086. (fn. 56) In 1663 there were still c. 8 houses, lying close to a small common or green, (fn. 57) but in 1697 the hamlet was described as wasted by the sea. (fn. 58)
GROWTH OF THE TOWN. The old market town lay close to the mere, its houses concentrated mainly in Market Place, Newbegin, Southgate, and Westgate, with a few in Eastgate. (fn. 59) It was evidently a place of many but modest dwellings: in 1672, for example, 58 out of 97 households had only one hearth, 34 had only two or three, and a mere 5 had between four and six, (fn. 60) while in 1784 there were 46 houses and as many as 82 cottages. (fn. 61) A storm in 1732 destroyed 24 houses and 14 barns close to the cross in Market Place. (fn. 62)
The surviving early houses are of the 17th century and are mostly single-storeyed with attics. (fn. 63) The walls are generally of boulders, with brick used sparingly for offsets, dressings, and tucked gables. (fn. 64) A full upper storey occurs only rarely, (fn. 65) and, as with single-storeyed houses of brick, (fn. 66) may be an indication of a later, that is early 18th-century, date. A feature of the older parts of the town is the use of boulders for garth walls, which often survive although the houses have been rebuilt in the 19th century.
In the earlier 19th century most of the new building in the town took the form of infilling with small houses and cottages in the existing streets. (fn. 67) At the same time several larger houses were built, one or two of them by Hull businessmen as country residences. Ivy Lodge, in Eastgate, was built between 1819 and 1831 by George Green of Hornsea. (fn. 68) Close by in Eastgate, Hornsea House, later called the Hall, was built in 1845–6 by John Wade (d. 1850), a Hull merchant. (fn. 69) The house, now demolished, was designed by Charles Hutchinson of Hull; only its later 19th-century entrance lodges remain. (fn. 70) Another house in Eastgate, formerly known as Holme Lea and the Lair and later as Burnside, was probably built by William Conway of Hornsea c. 1800 and enlarged after 1806 by William Whitehead of Hornsea, who sold it in 1819 to William Gibson (d. 1820), a Hull shipbuilder; it may have been rebuilt by Gibson's son Edward (d. 1859) and refronted later. (fn. 71) In Newbegin three houses were built in 1805 by John Bedell, a Hull customs officer. (fn. 72) One of them was sold in 1815 to John Marshall (d. 1825), a Hull shipowner, who lived there before moving to another Hornsea House, in Southgate, which he built after 1819. (fn. 73) Another of the houses built by Bedell was sold in 1829 to William Bettison, a Hull brewer, who built a folly tower in the garden and kept the house until 1853. (fn. 74) Also in Newbegin a house called Marine Villa was built by Thomas E. Collinson of Hull between 1806 and 1813. It was sold in 1827 to George Goodwin (d. 1850), a Hull merchant. Close by Goodwin built Swiss Terrace (fn. 75) (nos. 90–100 Newbegin) in a Swiss chalet style.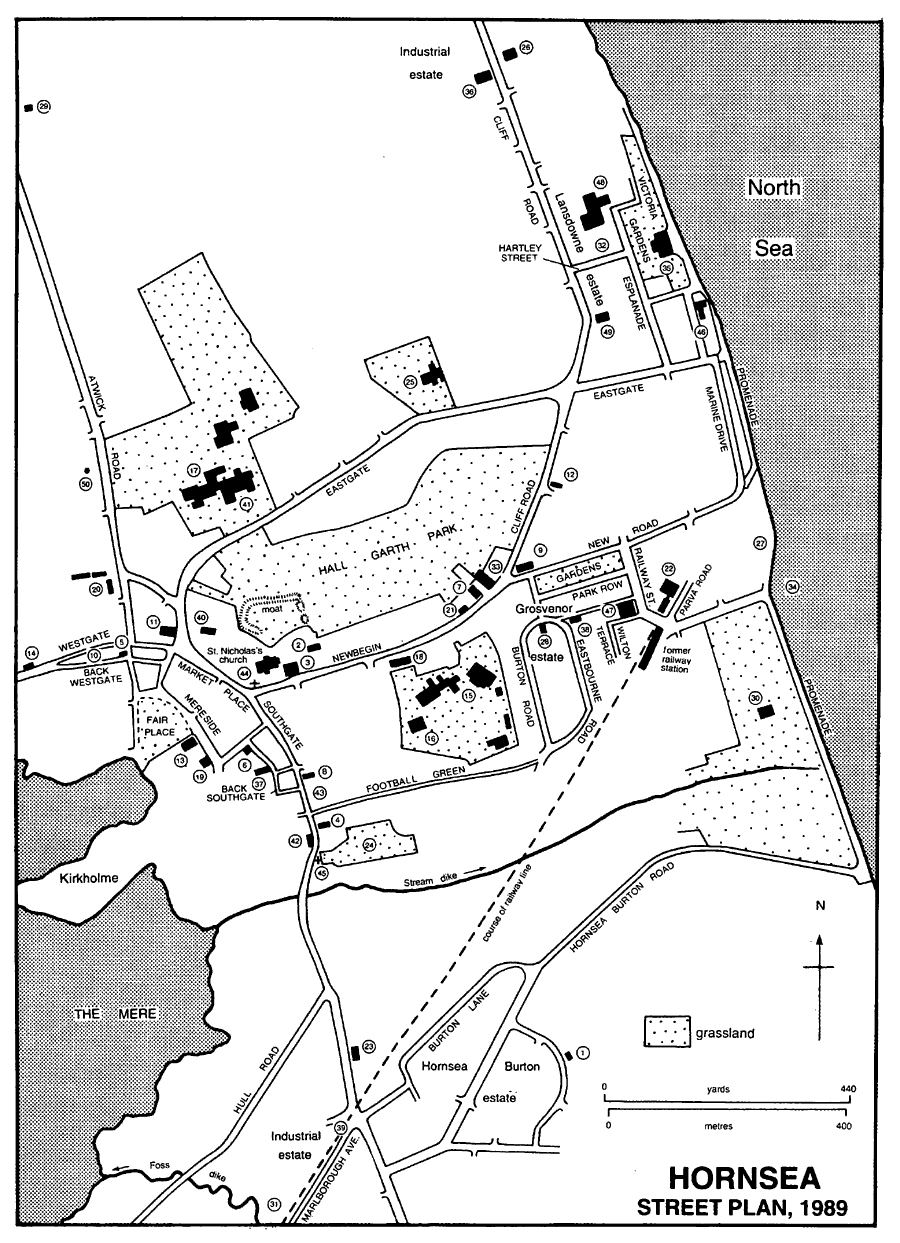 Early interest in the seaside also resulted in the erection of houses close to the cliffs. The Marine Hotel was built near the end of Eastgate in 1837 by Richard Casson, a Hull surgeon, who sold it in 1842 to Thomas Cunnington of Hull. (fn. 76) Further south, two houses, later part of Marine Terrace in Marine Drive, were built in 1835 by Thomas Wilson of Leven and five more in 1845–6 by Ralph Grantham, a Hull builder. (fn. 77) Access to Marine Terrace was improved in 1848 when New Road was made, by public subscription, from Newbegin to the shore, replacing a footpath nearby. (fn. 78) Away from the town, a cottage ornée, later known as Mushroom Cottage, was built near the Wassand boundary in 1812. (fn. 79)
The later 19th century saw a continuation of infilling in the main streets and of new building on the edges of the town. Infilling included the building of terraced cottages known as Ocean and Welbourne Terraces, behind Southgate. Westgate House, in Westgate, may have been built by Elizabeth Bainton of Hornsea c. 1865 (fn. 80) and the originally neighbouring house (nos. 26–8 Westgate, formerly Firbank House) by S. F. Simpson of Hornsea after 1866. (fn. 81) Ventnor House (no. 27 Westgate, now Grebe House) was built in the late 1870s, (fn. 82) and further out, on the Seaton road, Suffolk Terrace was put up in 1868. (fn. 83) Off Leys Lane, the first three houses in Northumberland Avenue were built in 1878–9. (fn. 84) In Mill Lane, off the Rolston road, Bank Terrace was erected between 1862 and 1874 by J. A. Wade. (fn. 85)
Greater changes took place on the seaward side of the town. During the 25 years after the opening of the railway in 1864 the resort developed in two areas: one around the railway station and New Road, the other further north between Cliff Road and the sea. By 1890 about 70 houses had been erected in the former and some 40 in the latter. (fn. 86) Several landowners played a prominent part in laying out streets and building plots, but numerous people, many of them from Hull, shared in the erection of houses. One of the leading figures was J. A. Wade; in 1866–8 he bought nearly 50 a. on both sides of New Road and southwards alongside the sea as far as Stream dike. (fn. 87) West of Wade's land on the south side of New Road was a 10-a. site bought in 1865 by Samuel and Thomas Haller, Hull shoemakers, (fn. 88) which later became known as the Grosvenor or Oval estate. (fn. 89) Beside Cliff Road the largest proprietor was William M. Jackson of Hull, who bought c. 17 a. in 1866–8; (fn. 90) it became known as the Lansdowne estate. (fn. 91) An attempt to develop land adjoining the sea in Hornsea Burton was made by Pierre H. M. du Gillon of Sheffield, who bought 59 a. there in 1875, but his grandiose plans for the South Cliff estate were not fulfilled. (fn. 92)
Houses erected on Wade's land included Alexandra Terrace (nos. 1–4 Railway Street), built in 1869, (fn. 93) the Alexandra Hotel (later for a time called the Mere Hotel), built in 1867, (fn. 94) Albert Villa, Grosvenor Terrace, and Wilton Terrace. Albert Villa, in Railway Street, later called Brampton House, is a large detached house put up by 1882 for John Hunt, a Hull music-hall proprietor, as his own residence. (fn. 95) Grosvenor Terrace, on the north side of New Road, consists of two rows of houses built in the late 1860s and 1870s. (fn. 96) Wilton Terrace, near the railway station, which comprises two-storeyed houses with a higher centrepiece, was built by 1868. (fn. 97) On the Hallers' estate the early houses included nos. 4–12 New Road (fn. 98) and Eastbourne Terrace (nos. 8–16 Eastbourne Road); (fn. 99) some of the occupiers had the use of the Grosvenor Garden, fronting New Road. (fn. 100) In the late 1870s Alfred Maw of Hull began to be involved in building on the Grosvenor estate; in 1881 he took over the remaining empty plots, c. 90 all told, but in 1886 he conveyed them to a Hull builder, John Emerson. (fn. 101) Four pairs of 3-storeyed, semi-detached houses (later nos. 18–32 Eastbourne Road) were being built by Emerson in 1890. (fn. 102)
Beside Cliff Road, on the Lansdowne estate, the first streets to be made were Hartley Street and Flamborough Terrace Road (later part of the Esplanade). Houses built in the 1860s and 1870s included Cliff Villas (fn. 103) and Carlton Terrace, (fn. 104) both in Cliff Road, Flamborough Terrace, (fn. 105) and a terrace in Headland View. (fn. 106) One much larger house was Elim Lodge, Cliff Road, built in 1871 by Thomas Keyworth of Hull but sold in 1873 to Thomas B. Holmes, a Hull tanner, who lived there himself until his death in 1913. (fn. 107) Holmes also bought other land from Jackson and built several houses. (fn. 108) Among houses built further north along Cliff Road, beyond Jackson's estate, were Mountain Villa (fn. 109) and Cliff Terrace. (fn. 110)
Between 1890 and 1908 most of the new building took place in existing streets. (fn. 111) In the older part of the town it included several terraces of small houses in Mill Lane, Mount Pleasant, and Eastgate View. St. Bede's College, on the Atwick road, was built in 1895 by Henry Elsom. (fn. 112) Near the sea, several new streets were also laid out, like Victoria Avenue, near the Marine Hotel, Carlton and Carrington Avenues and Clifford Street, on the west side of Cliff Road, and Belvedere Park. The more noteworthy new houses include the ornate terraces forming nos. 59–69 Eastgate, nos. 4–14 Esplanade, and nos. 1–8 Victoria Avenue, which were built c. 1900 by T. B. Holmes and G. L. Scott, a Hull builder. (fn. 113) The children's convalescent home in Cliff Road was built in 1908. (fn. 114) Off the Rolston road, a long terrace of small houses was built in Marlborough Avenue, alongside the existing terrace of Brickyard Cottages.
The houses built in the later 19th century show considerable variety of size, style, and materials. They range from small cottages to large villas, stand singly or in pairs, short rows, or long terraces, and are built of pink, red, white, or yellow brick. Many have brick or wood bay windows to one or two floors, and some have attics or a full third floor; several are adorned with towers or pinnacles. A few have stone dressings or are faced with tiles, (fn. 115) and there is much decorative brickwork and woodwork.
Between 1908 and 1925 infilling in and around existing streets included building between Eastgate and New Road which effectively united the two inital areas of resort development. The few new streets which appeared during that period included Clifton Street and Westbourne Road. (fn. 116) Soon after 1920 the urban district council built its first houses, in Southgate Gardens. (fn. 117) A large hotel known at first as the Imperial Hydro, later Granville Court, was built in the Esplanade in 1914 by John Wilson, a Hull tin can manufacturer who then lived in Hornsea. (fn. 118) It had shaped gables and a high domed tower. The building was demolished c. 1990 following a fire. (fn. 119) By 1925, too, houses had been built on the Rolston road and near Marlborough Avenue on the Edenfield estate, and further south a few wooden bungalows had been put up in Strawberry Gardens. (fn. 120)
By 1938 building had begun on the Hull road, and the first of the wooden bungalows in Pasture Road were built, to be followed by others in Mill Lane, later Hornsea Burton Road. After the war much new building took place on the south side of the town, in Hornsea Burton, and on the north side, off Eastgate, where the Ashcourt Drive estate was developed from 1966. The southern additions included a large council estate in Hornsea Burton, begun in 1946, and Tranmere Park, Lindale Avenue, and Greenacre Park, all of the early 1960s. (fn. 121) More recent building includes two large estates of private housing, the Trinity Fields estate off the Rolston road, where work was continuing along Tansley Lane in 2000, and, on the west side of the town, the Cheyne Garth estate. An existing development off Cliff Road was also added to by the district council and housing associations, Sandpiper Court being opened in 1994. (fn. 122)
THE RESORT. Visitors were attracted to Hornsea soon after 1800, when two or three bathing machines were provided for them. There were few other attractions, apart from horse races on the beach in July and a chalybeate spring, soon to be choked up and forgotten, near the mere. (fn. 123) A dancing or assembly room was built before 1811 by John Bedell near his house in Newbegin. (fn. 124) Early in the century public fishing was allowed on the mere but that was soon discontinued. (fn. 125) Accommodation, moreover, was limited to lodgings in existing houses and to inns in the old town which could only be 'classed among ordinary public houses'. (fn. 126) The half a dozen alehouses of the later 18th century had by the 1820s been reduced to four: the Hare and Hounds (renamed the Rose and Crown by 1840), the Prince of Wales (renamed the Victoria by 1840), and the New Hotel (now the Pike and Heron), all in Market Place, and the Old Hotel in Southgate. (fn. 127) At the height of the season in 1834 every lodging house was said to be full. (fn. 128)
Lodgings near the sea were available from the mid 1830s, when two houses and the Marine Hotel were built there. (fn. 129) In 1836 the Britannia coffee and beer house provided beds and bathing machines. (fn. 130) Thomas Cunnington of Hull, who bought the Marine Hotel in 1842, was credited with making Hornsea more widely known, and during the 1840s baths, coffee, and newspapers, besides c. 70 bedrooms, were provided at the hotel; other baths were then available in the town, the Neptune coffee house was opened at Marine Terrace, where more houses were built, a boat was on hand for sea trips, and the number of bathing machines was increased to 18. (fn. 131) The natural amenities may have satisfied many visitors: Charlotte Bronte after a visit in 1853 recalled walking on the beach or by the mere. (fn. 132) The number of lodging houses rose from 28 in 1840 to 67 in 1846 and 70 in 1851; many of their keepers were part-time, but there were evidently 15 in 1848 who depended upon letting rooms for their livelihood. (fn. 133) Coaches running from Hull to Hornsea had been increased from one a day except Fridays in 1823 to four a day in the season in 1846. (fn. 134) Few of the visitors were from far afield: of those at the Marine Hotel on 6 September 1844, 50 per cent were from Hull, 33 per cent from the West Riding, and 7 per cent from the rest of Yorkshire. (fn. 135)
The opening of the railway from Hull in 1864 induced many Hull businessmen to live in Hornsea, as the vicar remarked in 1867. (fn. 136) The retiming of trains for the convenience of commuters was requested in 1869 and again in 1870, when 54 inhabitants held annual season tickets to Hull. (fn. 137) In 1873 a visitor commented upon the daily gathering of wives and children at the station to meet their menfolk returning from work. (fn. 138) The railway also clearly boosted the popularity of the resort. In 1870 there were seven trains each weekday in both directions and one on Sundays; by 1876 an extra train ran on Sundays during the summer, and in 1890 there were nine on weekdays and three on Sundays. Special excursions were run, too: on Whit Monday in 1890, for example, 2,000 people travelled to Hornsea. (fn. 139)
An additional hotel, the Alexandra, was built near the railway station in 1867; (fn. 140) it was later known as the Mere Hotel, before reverting to its original name in the 20th century. In the week ending 7 August 1869 there were 413 visitors staying in 95 lodging houses, in that ending 11 August 1870 there were 512 in 115 houses, and in that ending 10 August 1871 there were 595 in 125 houses. (fn. 141) Much lower numbers of lodging houses were recorded in directories, for example, 25 in 1872, and they may have excluded those kept part-time. There were still few facilities or attractions for visitors, although the public rooms opened in 1869 included a concert hall, besides reading and committee rooms. (fn. 142) The first steps to protect the cliffs from erosion were taken in 1869, when two groynes and a timber breastwork over 100 yd. long were built by W. M. Jackson to safeguard his estate; the Marine Hotel was also protected, and two groynes were built by J. A. Wade south of the railway station. (fn. 143)
A decline in the popularity of the resort in the 1870s is suggested by the numbers of visitors, which fell to 462 in 97 lodging houses in the week ending 12 August 1876 and 265 in 68 houses in that ending 7 August 1880. Numbers increased, however, to 423 in 97 houses in the week ending 9 August 1890. (fn. 144) The full-time lodging house keepers recorded in directories remained comparatively few: there were c. 30 in both 1879 and 1889, for example, though they increased to c. 60 in the 1890s. (fn. 145) The catchment area was still largely restricted to Yorkshire: in the first week in August in 1876, 1880, and 1890 visitors from Hull accounted for 60–70 per cent and from the West Riding 20 per cent, and of 284 visitors present on 6 August 1887 c. 55 per cent were from Hull, 18 per cent from the West Riding, and 7 per cent from the rest of the county. (fn. 146) The amenities provided during those years included a pier. The Hornsea Pier Co. was formed by J. A. Wade c. 1865, (fn. 147) but he was handicapped by the failure of the railway to make a profit and was later in conflict with Pierre du Gillon, who formed the Hornsea Pier, Promenade, & General Improvement Co. in 1876. (fn. 148) It was the Hornsea Pier Co. which eventually, from 1878, built a pier 1,072 ft. long. Before it could be opened it was hit by a ship during a gale in 1880 and c. 300 ft. was lost; the pier and later the truncated part was used as a grandstand on the day of the regatta from 1880 and seems finally to have been opened to visitors in the summer season of 1885. It was last used for the regatta in 1897, but in that year was sold for scrap. (fn. 149) Apparently in the 1880s the mere began to be used by the public. By 1887 the Hornsea Mere & Hotel Co. had obtained a lease of the mere for fishing and boating, and by 1892 more than 20 yachts were kept on the eastern part of the mere and there were pleasure boats for hire. (fn. 150) A regatta on the sea was held in August from 1876 to 1914, but the horse races on the beach are said to have ended in the 1880s. Other entertainments in the late 19th century included brass band concerts, musical promenades at the Alexandra Hotel and on North Cliff, concerts by vocal and choral societies, and a floral and horticultural show; many events took place in the public rooms. (fn. 151)
A simple promenade had been made alongside North Cliff by 1890, but land beside the cliff was bought by a private syndicate and the Promenade, later the Victoria, Gardens were laid out there by public subscription in 1897; they were taken over by the urban district council in 1905 (fn. 152) and the Floral Hall was built there in 1913. (fn. 153) The timber sea defences were seriously damaged by a storm in 1906 (fn. 154) and as a result three new groynes and a 700-ft. long sea wall were built by the council in 1906–7. (fn. 155) There were tennis courts near the boathouse at the mere by 1908, (fn. 156) and Hornsea golf club, founded in 1898, had a 9-hole course in Hall Garths and a clubhouse in Newbegin until 1908, when a new, 18-hole course, mostly in Rolston, was opened. (fn. 157)
After the First World War new facilities included Hall Garth Park, opened in 1920; a 9-hole golf course was made there two years later and tennis courts were also provided. (fn. 158) Moving pictures were first shown in the public rooms in 1900, (fn. 159) and by 1925 the building had been converted to the Star Picture Theatre. (fn. 160) The former steam laundry in Cliff Road was used as the Victoria Picture Theatre from 1921 to 1928. (fn. 161) In 1923 the sea wall was lengthened by 450 ft. on the north side and 1,240 ft. on the south, (fn. 162) and in 1930 it was continued southwards across Hornsea Gap to Hornsea Burton. (fn. 163) Both the Victoria Gardens and the Floral Hall were enlarged in 1928. (fn. 164) There were roundabouts and swings on the beach in the early 20th century, and c. 1940 a fair was held beside Hornsea Burton Road. (fn. 165) The numbers of full-time lodging house keepers recorded in directories increased to 82 in 1905 but fell to 42 in 1913, 30 in 1925, and 5 in 1937. A large hotel, the Hydro, was built in 1914, and in the 1930s there were two or three private hotels. (fn. 166) The inns in the old town all survived, along with the Alexandra and the Marine Hotel, the latter several times altered or rebuilt after erosion and fire. (fn. 167)
Cheap excursions attracted many short-term visitors to Hornsea in the 1920s and 1930s, and after the Second World War day-trippers were the main visitors. For those who stayed longer, caravans gradually replaced lodging houses. Most visitors arrived by road, still predominantly from Yorkshire. A sample survey made in 1960 showed that 80 per cent of visitors were day-trippers, that 50 per cent arrived by car and only 25 per cent by train, and that 40 per cent were from Hull and 40 per cent from the West Riding. (fn. 168) Entertainments provided for visitors included a boating lake, a 'Go-Kart' track, amusement arcades, a roller skating rink, and a small zoo. Car parks were laid out near the sea front, and among the caravan sites north and south of the town was one provided by the urban district council. Work on the sea walls was carried out in the 1950s and 1960s. (fn. 169) It was argued in 1960 that Hornsea did not want day-trippers and that they did not need Hornsea, and commercial exploitation of the sea front aroused opposition among the residential and commuting population of the town. (fn. 170) Commuting continued despite the closure of the railway line to passengers in 1964 and a reduction in bus services: (fn. 171) in 1921 commuters to Hull accounted for 88 per cent of the inhabitants who worked outside the town, in 1951 for 70 per cent, and for 62 per cent in 1981. (fn. 172) The preservation of the character of the town was encouraged by the formation of a civic society in 1966 and the establishment of a conservation area in 1969, which was enlarged in 1976. (fn. 173) The entertainments and facilities provided in 1989 were little changed.
SOCIAL INSTITUTIONS Some institutions, including places of entertainment, have been dealt with above. (fn. 174)
The Hornsea Reading and Conversation Society was founded in the 1840s. It had a library of c. 200 books in 1848, took newspapers, and provided lectures. (fn. 175) A lending library was opened in the public rooms, Newbegin, in 1872. (fn. 176) A branch county library was held in the urban district council offices, Elim Lodge, from c. 1930 until it was moved to Southfield House, Newbegin, in 1938. (fn. 177) A new building for the library was opened on the site of the public rooms in Newbegin in 1975. (fn. 178) The North Holderness Museum of Village Life was opened in Newbegin, in a converted farmhouse, in 1978. (fn. 179) An annual show was held by the Floral and Horticultural Society from 1870 to 1914, and J. A. Wade's efforts resulted in the Holderness Agricultural Show being held in Hornsea in some years from 1885. (fn. 180) Another flower show was begun in the ex-servicemen's club in 1938, was moved to the Floral Hall in 1941, and was held c. 1950 in the grounds of Elim Lodge. The ex-servicemen's premises were also used as a site for a Scout hut erected in 1924. (fn. 181)
A brass band was formed in the town in 1856. (fn. 182) The Vocal Society was formed in 1874 and the Choral Association in 1882. (fn. 183)
There have been several friendly societies in the town. An Oddfellows' lodge was founded in 1838; it had been closed or had left the order by 1860 but another lodge existed in 1862. A branch of the Druids was formed in 1862 and another for female Druids in 1912. A lodge of British Workmen was formed in 1873. (fn. 184) The former Congregational chapel in Southgate was used as a temperance hall, known as the Temple or the Templars' Hall, from 1874 until 1888. (fn. 185) A freemasons' lodge was formed by 1875 (fn. 186) and a masonic hall was built in Alexandra Road in 1899; a former coastguard store next to the hall was bought c. 1985. (fn. 187) A Liberal club was founded in 1880 and was later held in the former Wesleyan chapel in Back Southgate. (fn. 188)
The East Yorkshire Artillery Volunteers, which had a battery at Hornsea from c. 1860, built a drill hall in Back Southgate in 1884 and enlarged it in 1890. (fn. 189) The E.R. Territorial Army Association allowed the premises to be used rent-free by Hornsea Ex-Servicemen's Club from its foundation in 1920. The club bought the building in 1927 and later enlarged it further. (fn. 190)
The Hornsea Gazette was founded c. 1863 and published, at Hornsea, until 1901. (fn. 191) Less longlived were the Hornsea Telegraph and the Hornsea Guardian, mentioned in 1901 and c. 1908 respectively, the Hornsea and District Bulletin, which was published in the 1920s and early 1930s, and the Hornsea Recorder, which also appeared in the 1930s. (fn. 192) From 1982 an edition of the Holderness Gazette, published at Withernsea, was issued as a new Hornsea Gazette. A free paper, the Hornsea and District Post, later the Hornsea Post, has been published in the town since 1987. (fn. 193)
A cricket club established in 1859 was shortlived but another was set up by the Wade family in the mid 1860s; it was united in 1900 with the town's second cricket club, begun in 1875. A women's tennis club, formed in 1879, played on part of the earlier cricket club's grounds near the railway station. A cycling club was begun in the 1880s, a football club by 1899, (fn. 194) and a swimming club in 1904. (fn. 195)
Hornsea was twinned with La Grande-Motte (Hérault) in 1981. (fn. 196)
MANORS AND OTHER ESTATES
In 1066 Morkar held the manor of HORNSEA, comprising 27 carucates but evidently including land at Atwick and Arram. By 1086 the manor had passed to Drew de Bevrére. Soke of the manor comprised 2 carucates at Hornsea Burton, 1½ carucate at Southorpe, 2 carucates and 6 bovates at Long Riston, 6 bovates at North Skirlaugh, in Swine, and 5 carucates at Skirlington, in Atwick. (fn. 197) Hornsea passed, like Burstwick, to William I's brother-in-law, Eudes, count of Champagne, (fn. 198) who soon afterwards gave it to St. Mary's abbey, York. (fn. 199) It was held by St. Mary's until the abbey was surrendered in 1539. (fn. 200)
The manor was retained by the Crown and in 1665 it was assigned to trustees for Queen Catherine. (fn. 201) It was often in the hands of Crown lessees, including Hugh and Slingsby Bethell from 1674 and Peter Acklam from 1684. (fn. 202) In 1696 the Crown granted the manor to Hans Willem Bentinck, earl of Portland, (fn. 203) whose grandson William, duke of Portland, conveyed it in 1743 to Hugh Bethell. (fn. 204) The lease remained, however, with the Acklams until 1759. (fn. 205) The manor thereafter descended in the Bethell family. (fn. 206) In 1760 the Bethell estate comprised 309 a. of inclosed land and 155 a. in the open fields. (fn. 207) At inclosure in 1809 Charlotte Bethell was allotted 255 a., including 14 a. of old inclosures. (fn. 208) The estate comprised 464 a. in 1852. Almost 120 a. was sold to Henry StricklandConstable in 1874. The Bethells still had 225 a. in 1915, but the 197-a. Southorpe Hill farm was sold in 1929 and the rest later. (fn. 209)
The manor house, with lands that included Hall Garth, was let by the Crown after the dissolution of the abbey. (fn. 210) In 1650 the manor house, called the hall, contained three groundfloor and three first floor-rooms and occupied a 2-a site. (fn. 211) The house was not mentioned again, but the site was included in the grant of 1696 and the sale of 1743. Old inclosure called Hall Garths was exchanged by Charlotte Bethell at inclosure in 1809 with Peter Acklam, and later passed to the Constables of Wassand. (fn. 212) The moat within which the house presumably stood survived in Hall Garth Park in 1989.
The Acklam family also owned a copyhold estate in Hornsea, including a house in Southgate. A cottage there called Low Close was acquired by Thomas Acklam in 1665 and devised to his son Peter in 1667. In 1675 Peter (d. 1690) surrendered it, together with three cottages described as a house, reserving the garden as a burial place. His sons Peter (d. 1744) and Thomas recovered the house in 1689, and in 1730 Peter's daughter Anna Maria Acklam surrendered four cottages, described as the house where she lived. (fn. 213) The house was later called successively Low Hall, the Old Hotel, and White House. (fn. 214) It may have been built by Peter Acklam c. 1670 and was perhaps the house where John Acklam had four hearths in 1672. (fn. 215) It is of brick and boulders and has a string course; it retains a staircase and three fireplaces of the 17th century, the overmantels formerly containing contemporary paintings of biblical scenes. (fn. 216)
Nearly 1,500 a. of the commonable lands inclosed in 1809 were copyhold. (fn. 217) The largest copyhold then awarded was 215 a., along with 19 a. of old inclosures, belonging to Marmaduke Constable. Several other holdings were later acquired by the Constables: thus the Revd. Charles Constable in 1825 bought the allotments and other land of Peter Acklam, amounting in all to c. 120 a., and in 1828 most of the 130 a. awarded to Bryan Taylor; he had also bought 324 a. of the rectorial estate in 1812. (fn. 218) The estate descended like Wassand, in Sigglesthorne, and in 1910 F.C. Strickland-Constable owned more than 1,100 a. in Hornsea, in addition to the mere. The 197-a. Southorpe Hill farm was bought in 1929. (fn. 219) Many small building plots in the town were later sold but the bulk of the estate remained in 1990, when it included, besides Southorpe Hill farm, Brockholme and Northfield farms. (fn. 220)
The township of Hornsea Burton belonged to the fee of Aumale. Giles of Goxhill was the undertenant of 2 carucates there in the mid 13th century. (fn. 221) William de Forz, count of Aumale (d. 1260), had 5 carucates and 5 bovates there, much of which the heirs of Gilbert of Mappleton held in 1287 as undertenants; (fn. 222) those heirs had held 6 carucates there in 1284–5, and John of Mappleton held the same in 1302–3. (fn. 223) John was named as a lord of Hornsea Burton in 1316. (fn. 224) Walter son of Gilbert of Mappleton in 1323 granted to Stephen son of John Hautayn the reversion of certain tenements in the township. (fn. 225) At his death in 1349 Walter, who then lived at Hornsea Burton, held 1 carucate and 2 bovates and 11 tofts of the Aumale fee there by gift of Stephen Hautayn as 3/6 knight's fee. (fn. 226) William de Forz also had 2 bovates which in 1287 were held by Walter de Fauconberg, later Lord Fauconberg. They later descended like Rise manor in the Fauconbergs. (fn. 227) Hugh Baxter (d. 1346) and Richard Wright (d. 1349) also held small estates in the township of the honor of Aumale. (fn. 228)
Two or three small estates were recorded as manors of HORNSEA BURTON. Walter of Harome held 2 bovates and 2 tofts in Hornsea Burton and Hornsea Beck in 1302, perhaps as an undertenant of the Aumale fee, and was licensed to have an oratory in his manor of Hornsea Burton the next year. He was still in possession in 1319–20. (fn. 229) By 1348 land in Hornsea Burton which had formerly belonged to Geoffrey Henknol was granted by the Crown to William of Metham; in 1393 Richard of Metham lived there, as did Robert of Metham in 1414, when he was said to hold Hornsea Burton manor. John Metham lived at Hornsea Beck in 1436, and Sir Thomas Metham (d. 1498) had lands there to which his son Thomas was heir. (fn. 230) Another estate belonged to Isabel Ellerker (d. 1478), Ralph Ellerker (d. 1539), who was said to have Hornsea Burton manor, and Sir Ralph Ellerker (d. 1546). (fn. 231)
Meaux abbey built up an estate, mostly in Hornsea Burton township, from many small gifts. John de Lasceles gave a fishery in Hornsea mere between 1210 and 1220. Walter Thorn (de spineto) gave 2 bovates and 3 closes in Hornsea Burton and tolls at Hornsea Beck, Amfrey son of William Noble 1 bovate, a close, and a toft in Hornsea Burton, and Roger of Richmond 1 bovate and a close there, all between 1221 and 1235. Walter Thorn added 3 bovates, 2 tofts and crofts, and other property in Hornsea Burton between 1235 and 1249, and Swine priory then assigned lands and rents there to Meaux. Between 1249 and 1269 Meaux exchanged a fishery in Hornsea mere for rents owed to St. Mary's abbey and lost a judicial combat with St. Mary's for a fishery in Hornsea and Wassand meres. (fn. 232) In 1293 Meaux had a grant of free warren at Hornsea, (fn. 233) and the abbot was named as a lord of Hornsea Burton in 1316. (fn. 234) It was found in 1401 that 27 a. of the abbey's land at Hornsea Burton had been lost to the sea. (fn. 235) The estate was retained until the Dissolution, and in 1539–40 it comprised 1 carucate and 2 bovates and several houses, crofts, and closes. (fn. 236) In 1544 the former abbey property in Hornsea Burton and elsewhere was granted in fee to Morgan Wolff and others, the grant to be void if the purchase money was repaid within a year. (fn. 237)
In 1663 the largest landowner in Hornsea Burton was Marmaduke Constable, with 103 a. (fn. 238) The Trinity House, Hull, bought land there from Constable in 1674; (fn. 239) in 1843 its estate comprised 86 a. (fn. 240) and a further 35 a. were bought in 1867. (fn. 241) The House sold 25 a. in 1945, 9 a. in 1950, 36 a. in 1951, 8 a. in 1961, and 21 a. in 1988; 22 a. remained in 1990. (fn. 242) Much of the land sold has been used for housing.
After the appropriation of the church in 1423, (fn. 243) the RECTORY belonged to St. Mary's abbey until 1539. After the Dissolution the rectory was at first let by the Crown, (fn. 244) but it was later acquired by Francis Morrice and Francis Phillips, who in 1611 conveyed it to Michael Warton. (fn. 245) The rectorial tithes were worth £90 a year in 1650 (fn. 246) and £95 in 1684, when those of Southorpe and Hornsea Burton contributed £16 each. (fn. 247) On the partition in 1775 of the estates of Sir Michael Warton (d. 1725) the rectory fell to the share of Michael Newton. At the inclosure of Hornsea in 1809 Newton's sister Catherine and her husband Philip Blundell were awarded 25 a. for glebe and 324 a. for tithes. (fn. 248) Most of the estate was sold to the Revd. Charles Constable in 1812 and descended with the Constables' and Strickland-Constables' other land in Hornsea; the remaining 25 a. were sold to Richard Anderson in 1821. (fn. 249)
The tithes of Hornsea Burton passed in or after 1812 to Michael Newton's niece Susannah Houblon. (fn. 250) In 1839 the tithes from 35 a. in Hornsea Burton were merged and the rest sold by J. A. Houblon to Benjamin Haworth. (fn. 251) Tithes on a further 153 a. were merged in 1840–1. (fn. 252) By 1844 the tithes of 355 a. had been merged; those remaining were then commuted for a rent charge of £9 15s. payable to Haworth and another of £15 to the vicar. (fn. 253)
The rectory house is said to have been sold by Michael Warton in 1611 to Robert Moore (fn. 254) and by Moore in 1651 to Peter Acklam. (fn. 255) It may have been the house in which Peter Acklam had six hearths in 1672. (fn. 256) When Old Hall, in Market Place, was sold by another Peter Acklam to the Revd. Charles Constable in 1821, it was described as the mansion house of the rectory, and it may have been the successor of the earlier house. The Strickland-Constables retained it until 1930. (fn. 257) Old Hall is a 17th-century H- shaped building of brick with shaped gables. (fn. 258) A west wing was added in the 18th century and bay windows to the front in the 19th.
Bridlington priory was given 2 bovates in Hornsea Burton by James of Wassand between 1175 and 1185. (fn. 259) The Knights Hospitaller had 2s. rent from a toft and croft in Hornsea Burton in 1539–40, and in 1558 their lands and liberties in Hornsea and Hornsea Burton were granted to the briefly refounded order. (fn. 260) Swine priory assigned lands and rents in Hornsea Burton to Meaux abbey between 1235 and 1249, (fn. 261) but it still had a few shillings rent from the township at the Dissolution. (fn. 262) Beverley corporation had land at Hornsea Burton by 1691; (fn. 263) it later comprised 18 a. and was sold in 1907. (fn. 264)
ECONOMIC HISTORY
AGRICULTURE. There were separate open fields for Hornsea, Southorpe, and Hornsea Burton. The open-field land of Hornsea lay north of the town and from the early 17th to the late 18th century was divided into East and West fields; by 1809 it had been reorganized with North field in addition to the others. South of the mere lay the open fields of Southorpe, East, West, and Far fields, (fn. 265) the last of which was apparently used in 1758 and 1809 as pasture. (fn. 266) In 1539 the fields of Hornsea and Southorpe included 95 bovates, and in 1650 there were 80 copyhold bovates, besides 5 in demesne. (fn. 267) The erosion of North cliff steadily reduced the area of the fields. In 1609 it was alleged that the cliffs had receded 240 yd. since 1547, and the land was said in 1612 to lie daily in waste of the sea; in 1637 it was recorded that 100–200 a. of East field had been lost within living memory. (fn. 268)
Common meadows and pastures included the Tetherings, in West field, and ground called the Leys, lying north of the town. The Tetherings was recorded in 1613, when inhabitants were fined for having cows there, and the Leys pasture in 1623. (fn. 269) In 1650 the manor included 8 leys in the Leys, (fn. 270) which was evidently divided among the proprietors. In 1764 the vicar had 2 ⅘ horse gates representing a 4-a. share of the Leys, and he also enjoyed a share of meadow in the Tetherings. (fn. 271) Between the town and the sea lay other common meadows or pastures called Chrystals, Holmes, and How carr. References to individual 'lands' in Chrystals in the early 18th century suggest that it was then divided among the proprietors. (fn. 272) Common pasture also lay around the eastern end of the mere, and another common pasture called Brockhams was mentioned in 1800; (fn. 273) Brockhams, Martla Butts, and Mean Piece were dealt with at inclosure in 1809, when they were treated as part of West field and probably lay between the mere and the Seaton road. (fn. 274) A pasture called the Hold lay between the site of Southorpe hamlet and the mere. (fn. 275)
Old inclosures in the manor comprised c. 230 a. in 1650, many of the closes lying east of the town near Stream dike; the largest close was the 70-a. Lund, on the south side of the mere, which had been mentioned in 1539. (fn. 276) In 1668 the manor included four closes which were said to be often flooded by the sea in spring, autumn, and winter. (fn. 277) An unsuccessful attempt was made in 1758 to inclose the two open fields called Southorpe fields, together with pastures called Far field and the Hold. (fn. 278) Old inclosures were reckoned to comprise 379 a. in 1800. (fn. 279)
The copyholders were said in 1612 to make payments in lieu of 24 boons and day works, and later in the century their entry fines were equal to a year's rent. (fn. 280)
The remaining commonable land was inclosed by an award of 1809 under an Act of 1801. Allotments were made totalling 2,135 a. They included 409 a. from East field, more than 240 a. from North field, over 153 a. from West field, more than 100 a. from Leys, 34 a. from Mere side, 24 a. from Holmes, 23 a. from Chrystals, and 9a. from How carr. South of the mere, 351 a. were from Southorpe field, 97 a. from Southorpe Far field, and 111 a. from Southorpe field and Southorpe pasture. Charlotte Bethell, lady of the manor, received 241 a., Philip and Catherine Blundell, owners of the rectorial estate, 340 a., and the vicar 68 a. Other large allotments were of 215 a. to Marmaduke Constable, 130 a. to Bryan Taylor, 110 a. to John Kirkus, 104 a. to Peter Acklam, 103 a. to William Whitfield, and 100 a. to Cornwell Wilson. There were also five allotments of 50–99 a., five of 20–49 a., twelve of 10–19 a., and thirty-two of under 10 a. each. The small allotments included a fair ground and watering place beside the mere near the town, a public watering place on the north side of the mere, and a common landing place next to the sea. Apart from the manorial, rectorial, and vicarial allotments, all were copyhold. (fn. 281)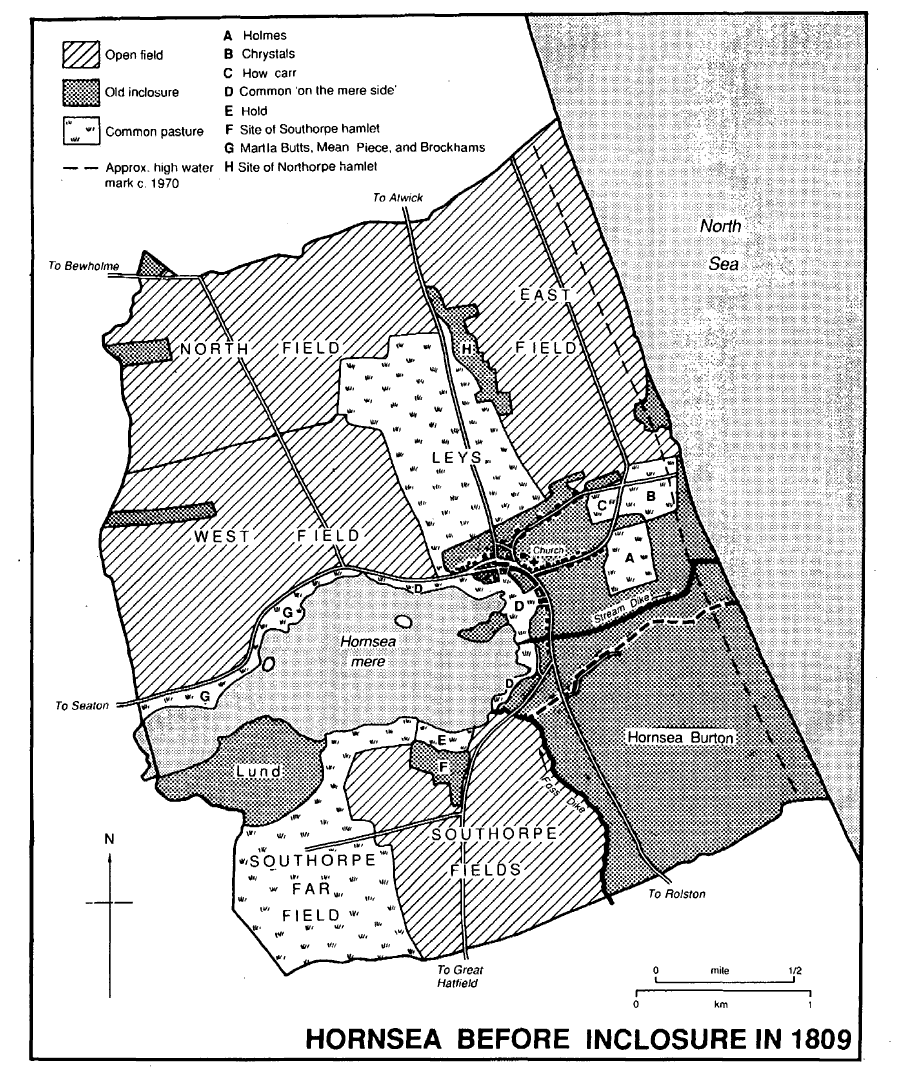 The open fields of Hornsea Burton were inclosed in or soon after 1663, when the township was surveyed for the purpose. Marmaduke Constable received 103 a. and William Audas 92 a.; there were also four allotments of 40–70 a. and two of 15–20 a. The 8-a. common was left uninclosed; four landowners had equal shares in it and two others were entitled to take their cattle to the watering place there. (fn. 282) The layout of the fields is not known but ridge and furrow survived beside Hornsea Burton Road in 1989.
The scattered farmhouses in Hornsea were built soon after inclosure in 1809. (fn. 283) Trinity House farm in Hornsea Burton was leased to the East Riding county council in 1912 for use as smallholdings; (fn. 284) the farmhouse there was demolished in the 1980s. There were usually 15–20 farmers in the parish in the 19th and 20th centuries, besides half a dozen cowkeepers and dairymen. Six farmers in 1851 and three in 1933 had 150 a. or more. (fn. 285) In 1801 there was 1,059 a. of arable in the parish, (fn. 286) in 1844 there were 315 a. of arable and 90 a. of meadow and pasture in Hornsea Burton township, (fn. 287) and in 1905 there were 1,571 a. of arable, 858 a. of permanent grass, and 45 a. of woodland in the parish. (fn. 288) Arable land was still predominant in the 1930s. (fn. 289) In 1987 some 613 ha. (1,514 a.) were returned as arable and 58 ha. (143 a.) as grassland; of 17 holdings returned, nine were of under 10 ha., four of 10–99 ha. (25–245 a.), and four of 100–199 ha. (247–492 a.); there were 5,870 fowls and 1,378 pigs. (fn. 290)
MILLS. Two windmills in Hornsea belonged to St. Mary's abbey before 1539, and East and West mills were mentioned in 1610. (fn. 291) A windmill, sometimes called the Beck mill, stood in Chrystals (fn. 292) until it was blown down in 1732. (fn. 293) Another stood near the Atwick road, close to the town, in 1772. (fn. 294) A new windmill was built nearby in 1820–1; (fn. 295) it was also worked by steam by 1909 and was mentioned until 1921. (fn. 296) Part of the tower remained in 1997. Another windmill, in Hornsea Burton, was mentioned from 1584 (fn. 297) and stood near Mill Lane, later Burton Lane, in 1663. (fn. 298)
FISHING AND SHIPPING. The fishing of the mere belonged to St. Mary's abbey, but its rights there were disputed by neighbouring landholders. (fn. 299) The abbey allowed the Ros family to have a fishing boat on the mere in the 12th and 13th centuries, (fn. 300) and Meaux abbey also claimed rights of fishery there in the 13th century. (fn. 301) In 1343 St. Mary's abbey complained of the illegal taking of swans, fishing, and damage to a fish inclosure in the mere, (fn. 302) and in the 1550s the lessee of the fishing and fowling under the Crown was molested by Marmaduke Constable of Wassand. (fn. 303) The Crown had granted the fishing and fowling of the mere to John Dudley, earl of Warwick, in 1550, and after his attainder in 1553 it was regranted to Robert Dudley, later earl of Leicester, in 1563. (fn. 304) In 1595 Anne, widow of Ambrose Dudley, earl of Warwick, conveyed them and the mere itself to another Marmaduke Constable. (fn. 305) In 1682 his successor, also Marmaduke Constable, upheld against tenants of the manor his exclusive right to the fishing and fowling of the whole of the mere, including the hills and 'batts' or islands where fowl bred, Kirkham alone being excepted. (fn. 306) A duck decoy had been made close to the later Decoy plantation by the early 18th century. (fn. 307) Since the late 19th century fishing in the mere has been let for public use. (fn. 308)
In the Middle Ages fishing and seaborne trade were carried on at Hornsea Beck. Meaux abbey claimed between 1221 and 1235 that Walter Thorn (de spineto) had given it his tolls of merchandise and 'bordtolls' of ships at Hornsea Beck, but that the abbey was unable to enjoy them because north of the beck they belonged to St. Mary's abbey and south of it, in Hornsea Burton, to the lords of Holderness. (fn. 309) In 1357 a proclamation was made for the sale of fish at Hornsea, and in 1364 the town was included in a commission concerning oversea traffic. (fn. 310) Thefts of fish and wool at Hornsea were reported in the late 14th century, and Robert Ticlot of Hornsea Beck (d. 1390) bequeathed a ship, two small boats, and several nets. (fn. 311) Fishermen and shipmen of Hornsea Beck and Hornsea Burton were recorded in the 15th and 16th centuries, and a coble belonging to a fisherman was mentioned in 1528. (fn. 312) There was a quay or pier at Hornsea Beck: the abbot of St. Mary's complained in 1537 about the cost of maintaining it. (fn. 313) It was declared to be ruinous in 1549, £1,000 was ordered in 1553 to be spent on its repair, in addition to a like sum already used, (fn. 314) and by 1556 timber had been fetched from Hull Bridge for the work. (fn. 315) In 1555 the farmer of the rectory claimed tithes called quay doles for every fishing voyage that was made from Hornsea Beck. Witnesses alleged, however, that 30–40 years earlier fishermen had promised to make the payments called doles or quay doles to the abbot to encourage him to repair the quay, and that those payments had lapsed. (fn. 316) The doles were, nevertheless, included in a lease of the rectory in 1578. (fn. 317) Hornsea was still included in a list of ports in 1565, (fn. 318) but there is no further evidence of activity there until the 19th century. The loss of the quay was held in the 17th century to have allowed the more rapid destruction of houses at Hornsea Beck. (fn. 319)
With the advent of visitors in the 19th century there was a new demand for fish. A landing place at the end of Sea Road was allotted at inclosure in 1809. (fn. 320) Salmon fishing was begun in 1844, and it was said in 1848 that fishing had been tried but discontinued because the tides posed problems and bait was in short supply. (fn. 321) There were only three fishermen at Hornsea in 1851. (fn. 322) Another attempt to revive fishing was evidently made after the opening of the railway. Some 10–15 fishermen were recorded in 1871, 1881, and 1892, (fn. 323) and there were 12 boats employing 20 men in 1894. Landings in 1896 amounted to 198 cwt. of wet fish, 69,855 crabs, 91 lobsters, and 58 cwt. of other shellfish, and in 1912 the corresponding figures were 269 cwt., 61,700, 2, and 13 cwt. There were only two cobles at Hornsea in 1922. Little wet fish was landed after 1925 but crabbing continued, numbers caught in good years reaching 11,000 in the 1920s and about 25,000 in the early 1930s. Activity then declined and there was little commercial fishing after the war, although a few part-time fishermen supplied local shops with crabs and lobsters. (fn. 324) Three cobles were worked full-time from Hornsea in 1990. (fn. 325)
MARKETS AND FAIRS. The right to hold a market on Mondays was granted to St. Mary's abbey in 1257. (fn. 326) A fair on and about 6 December was presumably that granted to the abbey by 1275; another fair, from 31 July to 2 August, was added in 1358. (fn. 327) The fair days in 1650 were 1 August and 6 December. (fn. 328) In the later 18th century the fairs were held on 12 August and 17 December, and market day was Saturday. (fn. 329) Ground adjoining the mere was allotted for a fair ground and watering place at inclosure in 1809. (fn. 330) The market, which was presumably held in Market Place, where there was a bull ring, (fn. 331) was said to be disused by 1823, but the cattle fairs continued until late in the century and hirings for servants until the early 20th century. (fn. 332) A market in Sands Lane, begun c. 1970, was still held in 1989 on 14 Wednesdays a year and every Sunday between Easter and Christmas. (fn. 333)
OTHER INDUSTRY AND TRADE. The seaside resort is discussed above. Gravel-getting from the beach employed three men in 1851. (fn. 334) A brickyard in Westgate was mentioned in 1794. (fn. 335) A brickmaker at Hornsea Burton was recorded in 1846, and there was a brickworks beside the sea at the southern end of the township in 1848, which was evidently still worked in 1864. (fn. 336) J. A. Wade was also described as a brickmaker in 1864, (fn. 337) and licence was given in 1865 for a brickworks near the Hull road, south of the railway line, on land which Wade had acquired in 1859. The works were powered by a windmill and later also by steam. A terrace of thirteen cottages was built nearby by 1881. (fn. 338) By 1890 the site also housed a hydraulic engineering works which made centrifugal pumps. (fn. 339) The brickworks was used until the First World War. (fn. 340) Another brickworks, opened near the Seaton road by 1871, was closed in 1881. (fn. 341)
Lime was burnt in several kilns in the mid 19th century. (fn. 342)
Pottery making at Hornsea was begun by Colin and Desmond Rawson at a house in Victoria Avenue in 1949. They moved to Old Hall, Market Place, in 1951, but in 1953 they bought Edenfield House and adjoining ground, formerly the brick and tile works, in Marlborough Avenue and moved their works there the next year. In 1955 they established the Hornsea Pottery Co. Ltd. The site was later much enlarged. By the mid 1960s nearly 200 people were employed and in the early 1970s nearly 300. (fn. 343) Local opposition to the further growth of the pottery caused the firm to open another factory in Lancaster, and commercial problems later resulted in the company going into receivership in 1984 and then changing hands several times before closing in 2000. (fn. 344) Various attractions for visitors were provided at the pottery, including in 1989 collections of birds of prey, butterflies, and cars. A shopping village, Hornsea Freeport, was opened on the site in 1994. (fn. 345)
A small industrial estate was created in Cliff Road in the later 1960s; another, on part of the former railway near the Rolston road, was established in the 1980s, (fn. 346) and two or three small firms were in business on each of them in 1989.
LOCAL GOVERNMENT
In the 1270s the abbot of St. Mary's, York, claimed wreck and the assize of bread and of ale at Hornsea; he also had gallows, pillory, prison, and tumbril there. (fn. 347) Wreck was still taken by the lord of the manor in the late 17th century. (fn. 348)
Estreats for Hornsea manor survive for 1609–11, 1613–14, and 1621–3, (fn. 349) and court rolls for 1623–1925. (fn. 350) The jurisdiction comprised view of frankpledge with court baron and customary court. In the late 17th century officers appointed included 2 aletasters, 2 constables, 2 leather searchers, and 2 pinders, one for Hornsea common fields and the other for Southorpe fields; 2 surveyors of highways were chosen in 1688. Two affeerors and 4 bylawmen for Hornsea fields and 2 for Southorpe fields were also appointed in the early 18th century; later in the century there were only 2 bylawmen for each set of fields, and in the 19th century only 2 affeerors, 2 constables, and a pinder were chosen.
Surviving parish records for Hornsea include a rate book of 1804. (fn. 351) In the early 19th century permanent poor relief was given to 20–30 people and occasional relief to as many as 20 more; (fn. 352) the overseers of the poor maintained four parish poorhouses in 1823. (fn. 353) Hornsea joined Skirlaugh poor-law union in 1837. (fn. 354) A vestry or 'town meeting', the minutes of which survive for 1847–95, (fn. 355) met in the vestry or the National school. Churchwardens, overseers, and surveyors were elected, and from 1852 a salaried assistant overseer was appointed. Under the Public Health Act of 1848 and the Local Government Act of 1858 a local board was formed in 1864 with 12 members; it met at first in the National school, and J. A. Wade was chairman until 1889. (fn. 356) From 1869 it had a board room and office in the public rooms in Newbegin, but from 1885 it used purpose-built rooms at the cemetery in Southgate. (fn. 357) In 1894 the local board was replaced by an urban district council; T. B. Holmes, who had been chairman of the local board from 1890, was chairman of the urban district council until 1906. (fn. 358) By 1905 the offices were again in the public rooms, which were bought by the council in 1920, (fn. 359) and they remained there until 1927, when Elim Lodge in Cliff Road was bought for a town hall. (fn. 360) In 1974 Hornsea became part of the Holderness district of Humberside, which was granted the title Holderness Borough in 1977, (fn. 361) and the town later formed two of the wards in the district. The old offices in Cliff Road were closed and in 1997 Elim Lodge was a nursing home. In 1996 Hornsea became part of a new East Riding unitary area. (fn. 362) The former police station in Newbegin, earlier acquired as a local office for the district council, (fn. 363) was used by the East Riding council in 1997. Other council offices then included Ravenswood, the former children's home. (fn. 364) From 1974 Hornsea had a town council, of 12 members, with the powers and duties of a parish council; its chairman was styled town mayor. (fn. 365) The former lifeboat station in Burton Road was used as a town hall.
PUBLIC SERVICES. The town's water was supplied by shallow wells and pumps until 1878, when a waterworks with a deep well and pumping station was built by the local government board on the Atwick road; a few private wells remained in use. (fn. 366) The works were several times improved. (fn. 367) From 1927 water was supplied to the urban district council from Hull in bulk, using a water tower in Mappleton, and a direct supply from Hull was provided from 1963. (fn. 368) The original waterworks building, of red and yellow brick in a Gothic style, was for a time used as a refuse incinerator and later for storage. A former claypit beside it was filled by refuse tipping and was still a civic amenity refuse site in 1989. (fn. 369)
The laying of a deep drainage system was carried out by the local board in 1874–5. (fn. 370) The sewers were reconstructed and a new outfall provided in 1926–7. (fn. 371) Later improvements included the making in the 1970s of a new outfall sewer, with a pumping station in the seafront playing fields. (fn. 372)
Gas was supplied to much of the town by a company founded by J. A. Wade in 1864, with works near the Hull road; by 1870 it had 30 street lights. (fn. 373) After nationalization in 1948, the works passed to the North Eastern Gas Board; gas production at Hornsea ended in 1966–7 and the works were later demolished. Gas was sup plied from Hull until the town went over to North Sea gas in 1968. (fn. 374) A gasworks built by W. M. Jackson in Hartley Street supplied the Lansdowne estate from c. 1870 and 8 of the 57 public lamps in the town in 1892; it was disused by 1899. (fn. 375)
Electricity was supplied from 1930 by the South East Yorkshire Light & Power Co. Ltd., taking a bulk supply from Hull corporation. (fn. 376) The company was succeeded by the Yorkshire Electricity Board, which used the former steam laundry in Cliff Road as a base for the electrification of much of Holderness until 1964. (fn. 377)
In 1655 the lessees of the manor gave a piece of ground on the south side of the churchyard as the site for a prison, and one end of a cottage built there was still described as a prison in 1676. (fn. 378) Stocks are said to have stood in Market Place until the early 19th century. (fn. 379) The appointment of a policeman was approved by the town meeting in 1848 but was effected only in 1850, after the adoption of the Lighting and Watching Act of 1833. The provisions of the Act were, however, abandoned in 1853. (fn. 380) The East Riding constabulary, established in 1857, had a constable based at Hornsea. He evidently lived at no. 16 Westgate. (fn. 381) In 1859 the inhabitants petitioned for a lock-up and for the constable's beat to be restricted to Hornsea, on account of the disorderly state of the town. (fn. 382) It was not until the late 1870s, however, that a police station was built in Newbegin, (fn. 383) manned in 1889 by a sergeant and two constables. (fn. 384) From 1923 some meetings of the petty sessional court for North Holderness were held at Hornsea, at first in the public rooms, Newbegin, but from 1927 in the urban district council offices, Cliff Road. (fn. 385) A new police station and court house were built in Parva Road and opened in 1973; the latter had been closed by 1997. (fn. 386) The old station was converted to offices for Holderness district council. (fn. 387)
The urban district council had a fire brigade by 1902; a station in Market Place was replaced by the former lifeboat house in Burton Road, bought for the purpose in 1924. (fn. 388) After the Second World War the brigade passed to the East Riding county council, and a new station in Southgate was opened in 1965. (fn. 389)
In 1884 the local board bought 2 a. in Southgate and a cemetery was opened there the next year. (fn. 390) The site for the Edenfield burial ground, in Marlborough Avenue, was bought by the urban district council in 1953. (fn. 391)
Hall Garths were bought by the urban district council in 1919 and opened the next year as a public park, which was later enlarged to comprise c. 24 a. (fn. 392) Playing fields west of the Atwick road were given to the town by John and Mary Hollis in 1927 and enlarged in 1947. (fn. 393) Near the beach Hornsea Leisure Centre, comprising swimming and other facilities, was provided by Holderness Borough council in 1996. (fn. 394)
The War Memorial Cottage Hospital was opened in Eastgate in 1923 with eight beds and was later enlarged. It had 22 beds in 1983. (fn. 395) A convalescent home in connexion with the Victoria Hospital for Sick Children, Hull, was opened in a house in Cliff Road in 1885; it was moved in 1904 to a larger house, which was replaced by a new building in 1908. It was closed in 1970 and has been converted into flats. (fn. 396) A holiday home for the Port of Hull Society was provided in Cliff Road by Sir James Reckitt, Bt., in 1908. (fn. 397) The Hull Guild of Brave Poor Things had a holiday home in Alexandra Road in 1908 but replaced it before 1910 with a new building in New Road, which had been closed by 1973. (fn. 398) The East Riding county council bought Ravenswood (no. 12 Cliff Road) in 1950 for use as a children's home, which was closed c. 1980, and in 1967 it built the Willows old people's home in Newbegin, which had also been closed by 1997 and was later demolished. Hull corporation bought Westgate House for the same purpose in 1953; (fn. 399) it later passed to Humberside county council. A 'camp school' was built by Wakefield corporation on the Hull road in 1938 (fn. 400) and still existed in 1989.
Beacons were erected at Hornsea to warn of enemy naval activity. There were in place in 1588. (fn. 401) One was put up in 1746 and removed in 1786, and two were erected in 1794, one in East field and the other in Pennels close; a signal station to communicate with the beacons was recommended for Hornsea in 1803. (fn. 402) After the loss of life in shipwrecks the previous year, a lifeboat was provided at Hornsea by subscription in 1852. (fn. 403) It was taken over by the Royal National Lifeboat Institution in 1854, and a new boat was presented in 1857. (fn. 404) The first boathouse stood on the shore south of New Road (fn. 405) but a new one was built in Burton Road in 1878–9. The lifeboat was withdrawn in 1924, (fn. 406) and the former boathouse was used as a fire station until 1965, then as a council garage, and in 1989 as a town hall. (fn. 407) From 1879 the Board of Trade had a rocket apparatus house in Alexandra Road. (fn. 408) A customs officer at Hornsea was recorded from 1720. (fn. 409) Tenders for building two cottages, a store place, and a watch room were invited by H.M. Customs in 1828. (fn. 410) That was presumably the coastguard station, said to have been provided in 1830, which stood on the shore at the end of New Road. (fn. 411) The coastguards later lived in a terrace of five houses in Cliff Road, and a lookout has occupied various sites on the North cliffs. (fn. 412)
CHURCH. There was a church at Hornsea in 1086. (fn. 413) In the early 12th century it was given by Stephen, count of Aumale, to St. Mary's abbey, York. (fn. 414) Licence for the appropriation of the church was granted in 1346 and thrice renewed (fn. 415) before the church was eventually appropriated and a vicarage ordained in 1423. (fn. 416) The rights of the church extended to the village of Long Riston, presumably because land there was soke of Hornsea manor, (fn. 417) and a church built at Long Riston was acknowledged in the 12th century to be subordinate to Hornsea church. (fn. 418) The two were held as united livings until Riston was made a separate parish in 1907. (fn. 419) In 1939 Hornsea vicarage and Goxhill rectory were united and the two parishes made one, with Hornsea as the parish church. That union was dissolved in 1972, when Hornsea was united instead with Atwick and the former parish of Goxhill was transferred to Mappleton. (fn. 420)
Presentations were made by St. Mary's abbey until the Dissolution. (fn. 421) A grant of the advowson to the archbishop of York in 1558 (fn. 422) was evidently ineffectual and the Crown retained the patronage, which was later exercised by the Lord Chancellor. (fn. 423)
The rectory was worth £38 6s. 8d. in 1291, including £5 a year payable to St. Mary's abbey. (fn. 424) Besides that £5 portion, the abbey also had half of the tithe of sea fish at Hornsea in 1396. (fn. 425) When ordained in 1423, the vicarage was assigned glebe and tithes in Hornsea and Riston estimated to be worth £26 13s. 4d. (fn. 426) The vicar unsuccessfully sued the abbey for augmentation of his income in 1493, when he alleged that Hornsea was worth only £6 a year and Riston £8. (fn. 427) Hornsea vicarage was worth £4 13s. 4d. gross in 1535, when the net value of the joint living was £13 3s. 2d. (fn. 428) In 1650 Hornsea vicarage was valued at £14 a year, (fn. 429) and c. 1700 the joint living was said to be worth £85. (fn. 430) The net income of the joint living averaged £382 a year between 1829 and 1831, (fn. 431) and the net value in 1883 was £287. (fn. 432)
The vicar was assigned the small tithes, 2 bovates of glebe, and a house in Hornsea in 1423. Tithes there contributed £3 6s. 8d. and the glebe and house £1 6s. 8d. to the value of the living in 1535, and tithes, glebe, and house together were worth £14 a year in 1650. At the inclosure of Hornsea in 1809 the vicar was allotted 68 a. for tithes and glebe; (fn. 433) a 4-a. allotment on the cliff top was later reduced by erosion and the remaining 2 a. there was sold in 1926. (fn. 434) George Heslop (d. 1929) devised a 65-a. farm in Hornsea Burton to enlarge the glebe; all but 2 a. of it was sold in 1930. (fn. 435) The remaining glebe still belonged to the living in 1978. (fn. 436)
The incumbent had licence to celebrate divine service in the rectory house in 1397. (fn. 437) By the ordination of 1423, a vicarage house was to be built by St. Mary's abbey next to the churchyard. (fn. 438) The house may not have been wholly habitable in 1614, when the vicar took his meals at an alehouse in the town but used a room in the vicarage house as a study. (fn. 439) The house was unroofed by a storm in 1732. (fn. 440) A new house was built in 1831; (fn. 441) it is of grey brick with a main front of three bays, the central bay recessed, and the low-pitched roof has wide overhanging eaves.
Four guilds in the church, dedicated to Corpus Christi, Holy Trinity, St. Catherine, and St. Mary, were mentioned in 1430 and 1527. St. Mary's altar was also mentioned in 1430. (fn. 442) Houses formerly belonging to the guilds were recorded later. (fn. 443)
Several rectors in the 14th century held other livings, (fn. 444) among them William Melton, 1301–17, later archbishop of York, and three foreigners who held Hornsea by papal provision from 1321 to 1337. (fn. 445) By the ordination of 1423, the vicar was to have a chaplain at Riston, and in the late 15th century he had another at Hornsea. (fn. 446) There was a chaplain at Hornsea in 1525 and 1554, and a curate at Riston in 1552. (fn. 447) Vicars often did not reside at Hornsea. There was said to be no constant preacher in 1650, when Hornsea was considered unfit to be held with Riston because of the distance between them. (fn. 448) In the mid 18th century Hornsea and Riston were held with Rise, and the vicar lived at Rise or in York. His curate occupied the vicarage house at Hornsea, whence he also served Atwick church. (fn. 449) The vicar resided and employed an assistant curate c. 1840, (fn. 450) but in 1848 a curate again officiated at Hornsea, while the vicar lived at a distance. (fn. 451) Later in the century the vicar resided at Hornsea; in 1865, 1868, 1877, and 1884 he had an assistant curate at Riston, and in 1871 another at Hornsea. There were two assistants in 1900 but none in 1921 or 1931. (fn. 452)
By 1743 two services were held each Sunday and prayers were read on three weekdays; communion was received 7–8 times a year by c. 80 people. (fn. 453) There was only one Sunday service in 1764, when communion was celebrated quarterly with 40–50 recipients. Two services were again held on Sundays by 1865, and there were three by 1877. Communion was monthly by 1865 and weekly by 1877, at first with 50–70 recipients but later with 15–20; in 1931 there were 45–50 recipients. (fn. 454)
A parish room was built in Newbegin near the church in 1887; (fn. 455) it was replaced on the same site in 1907 by a church institute, which contained club, billiards, and recreation rooms, besides a parish room. (fn. 456) The former Congregational chapel in Southgate was used as a mission hall by 1901 and was bought for the church in 1918. (fn. 457) It was later used as a parish hall but was closed in 1960 and subsequently sold; (fn. 458) thereafter the church institute served as a parish hall. A church hall in the Crescent, on the council housing estate in Hornsea Burton, was built as a Sunday school in 1959. (fn. 459)
The church of ST. NICHOLAS, so called in 1390, (fn. 460) is built mainly of rubble with ashlar dressings and stands on an eminence at the junction of Market Place and Newbegin. It consists of aisled and clerestoried chancel with crypt and north vestry, aisled and clerestoried nave with south porch, and a west tower, which is flanked by continuations of the aisles. The narrow nave and the clasped tower suggest that the plan has early origins, but there are no surviving features earlier than the triple lancets in the aisles. The arcades are of the late 13th century, and the aisles are almost as wide as the nave, suggesting that each may originally have been ridge roofed. There is a blocked arch for a side chapel in the south aisle. The tower is also of the 13th century, but has 14th-century battlements and a 15th-century west window. The line of an earlier nave roof is visible on the east wall of the tower. The clerestory was probably added in the 15th century, when the east end of the chancel was refenestrated. The east and west windows of the aisles are slightly later.
The chancel was out of repair in 1575 and 1615. (fn. 461) The tower was ruinous in 1693, and licence to sell lead from it was given in 1699. (fn. 462) The wooden spire was blown down in 1714, and the church was unroofed during the storm of 1732. (fn. 463) The north aisle of the nave is said to have been restored in 1845, (fn. 464) and the whole church was restored by Sir G. G. Scott in 1866–7, when the pinnacles were added to the tower. (fn. 465) The vestry was built in 1902. (fn. 466)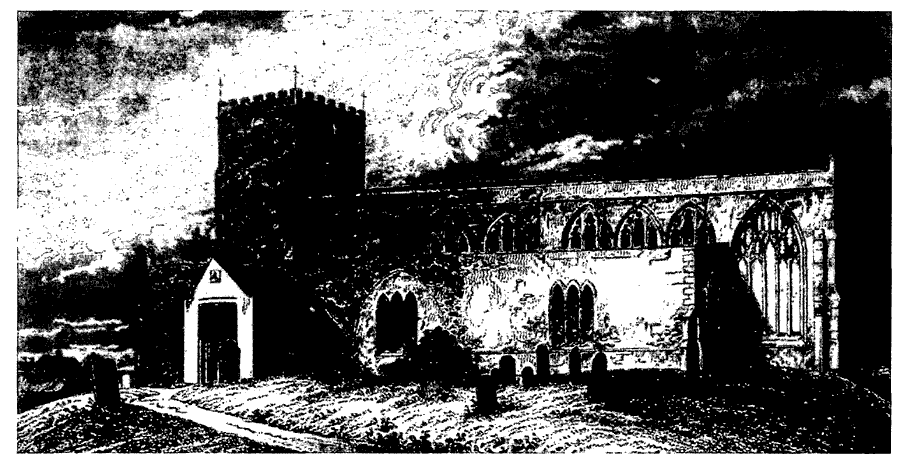 The church contains three effigies: two, one of which is said to be that of Sir William Fauconberg (d. 1294), were brought from Nunkeeling church in 1948 and the other from Goxhill church. There is a tomb chest commemorating Anthony St. Quintin, rector (d. 1430). (fn. 467) The font is 13th-century.
There was one bell in 1552, another having been sold for the repair of the pier at Hornsea Beck, (fn. 468) and still only one, cast in 1634, until two more were added in 1767. (fn. 469) A peal of eight was provided in 1919, including recastings of the three earlier bells. (fn. 470) By 1860 the tower included a clock, which was replaced by one given as a War memorial by Christopher Pickering in 1921. (fn. 471) The plate included a chalice in 1552, another having been sold for the pier work. (fn. 472) The church later had two chalices, one given by Leonard Robinson (d. 1655) and the other made c. 1670. (fn. 473) The registers of baptisms, marriages, and burials begin in 1654 and are complete. (fn. 474)
Lands held for the repair of the church were let for £21 a year in 1743 and 1764, and in the latter year there was a balance in hand of £90–100. (fn. 475) The feoffees were allotted c. 58 a. at inclosure in 1809, when they also held several old inclosures. (fn. 476) In 1823 the estate comprised two houses and 71 a. of land, producing an annual rent of £102 10s.; four cottages built on the land, partly at the expense of the feoffees, were let to the overseers of the poor for a further £8 8s. rent. (fn. 477) The income from rent was £172 in 1901. (fn. 478) Several plots of land were later sold. (fn. 479) In 1929 the estate comprised 57 a., a house and other buildings in Market Place, and £5,207 stock. (fn. 480) The income in 1951 was £402 in rent and £152 interest on £5,767 stock. (fn. 481)
ROMAN CATHOLICISM
Up to a dozen recusants and non-communicants were reported in Hornsea with Riston from the late 16th to the late 18th century. (fn. 482) Hornsea parish was said to have one popish family in 1743. (fn. 483) A Roman Catholic parish of Hornsea was formed in 1928. (fn. 484) A temporary building was used for worship in 1931 and a hut in Football Green from 1939. (fn. 485) The Church of the Sacred Heart in Southgate was built in 1956, (fn. 486) and a church hall behind it was added in 1962. (fn. 487)
PROTESTANT NONCONFORMITY
Members of the Acklam family were among recusants reported at Hornsea in 1664, and Quakers were alleged to hold meetings in Peter Acklam's house in 1665. (fn. 488) In 1675 Peter Acklam reserved the garden of the later Low Hall, Southgate, as a burial place for him and his children, and his sons similarly reserved it in 1698. (fn. 489) Burials are also said to have taken place in the garden of Old Hall. (fn. 490) A meeting house licensed in 1711 may have been that mentioned in 1743 and that in a garner in Westgate recorded in 1750; adjoining land was used as a burial ground by 1785. (fn. 491) Two Quaker families were reported in the parish in 1743 and one in 1764; seldom more than 4 or 5 people were said to attend the meeting house in 1743 and 10 or 12 in 1764. (fn. 492) The meeting house was so described in 1814 (fn. 493) but was later closed. Quaker Cottage in Back Westgate, presumably the same building, was still owned by the Friends in 1989 and was available for worship. (fn. 494)
George Whitfield's house in Hornsea was licensed for unspecified dissenting worship in 1714, John and Samuel Dunn and others obtained the registration of a barn in 1766, and John Dunn's house was licensed in 1777, Samuel Dunn's house in 1778, and Frances Savage's house in 1790. (fn. 495)
In the late 18th century Wesleyan Methodists met first in Low Hall, Southgate, and then in another building nearby. (fn. 496) A house was licensed for Methodist worship in 1808. A chapel was built in Back Southgate in 1814 (fn. 497) and replaced by Trinity chapel in Newbegin in 1870. (fn. 498) The old chapel was later put to various uses and served as a garage in 1989. A school was built beside the new chapel in 1875. (fn. 499) Trinity chapel, which was still used in 1989, was designed by J. K. James of Hull (fn. 500) and built of red brick with stone dressings.
Meeting places for unspecified dissenting worship registered by George Whitfield in 1714 and Charles Bondfield in 1716 (fn. 501) may have been for Presbyterians; one Presbyterian family was reported at Hornsea in 1743. (fn. 502) The missionary efforts of members of Fish Street chapel, Hull, included visits to Hornsea c. 1800. (fn. 503) A house was licensed for worship by the Independents in 1807, and Bethesda chapel was built in Southgate and licensed in 1808. (fn. 504) The chapel was later enlarged, and a burial ground behind it was acquired c. 1847. (fn. 505) A new chapel, designed by Samuel Musgrave of Hull and built of red and yellow brick with stone dressings, was erected in New Road in 1872–4. (fn. 506) The old chapel was later used for various purposes and in 1989 was a storehouse. The building in New Road was severely damaged by fire in 1968 and was subsequently remodelled. (fn. 507) In 1972 the church became part of the United Reformed Church, (fn. 508) and it was still used in 1989. A bequest by Ann Harrison for the Congregational minister produced £6 interest on £206 stock in 1901 and 1931. (fn. 509)
A barn near Westgate licensed in 1821, a room in 1824, a building in 1833, and a house in 1835 (fn. 510) may all have been for the Primitive Methodists, who built a chapel in Westgate in 1835. (fn. 511) A new chapel, designed by Joseph Wright of Hull, was built in Market Place in 1864, (fn. 512) and the old one was later demolished. A schoolroom was built behind the new chapel in 1897. (fn. 513) The chapel remained in use after the Methodist union in 1930, but the two Methodist congregations were united in 1981 (fn. 514) and the Market Place chapel was closed in 1983; (fn. 515) it later had various uses and in 1997 was a Pentecostal church. (fn. 516)
In the 1880s the Salvation Army held meetings in several places in the town: the public rooms, Newbegin, and the temperance hall, Southgate, were used from 1881 and the former Wesleyan chapel in Back Southgate from 1883 to 1890. (fn. 517)
The Christian Scientists met in the former Wesleyan chapel in Back Southgate from 1908 (fn. 518) until they acquired a meeting room in Cliff Road in 1922. (fn. 519) The room was closed in or soon after 1989, sold in 1994, and later converted into a house. (fn. 520)
Jehovah's Witnesses met in Westgate from 1941 until 1958 and then on Hull Road until 1959. (fn. 521)
EDUCATION
Schoolmasters at Hornsea were recorded in 1698, 1743, 1768, and 1800, (fn. 522) and in the 19th century there were several private schools in the town. (fn. 523) In 1818 there was one public school with 45 pupils, of whom 10 were taught free by virtue of a gift of £10 10s. a year from Richard Bethell. (fn. 524) It was described as a Church school in 1823. (fn. 525) In 1833 three schools had 82 pupils all told; in addition a Congregational day school, opened in 1819, and a Methodist day school, opened in 1829, had 15 and 12 pupils respectively. (fn. 526)
A National school was built in Mereside on land given by the Revd. Charles Constable and opened in 1845. (fn. 527) An annual government grant was first received that year. (fn. 528) There were 104 pupils at inspection in 1871. (fn. 529) A school board for the parish was formed in 1884. (fn. 530) The school was enlarged in 1909. (fn. 531) Average attendance was usually c. 200 until the 1920s and stood at 260 in 1931–2. (fn. 532) It was necessary to use the church institute as additional accommodation in 1924, and in 1930 the school was said to be full. (fn. 533) After the county council opened a new school in 1935, the Mereside building was used for infants. Average attendance was 124 in 1937–8. (fn. 534) The infants' school was let by the governors to the county council in 1944. Additional temporary accommodation was in use in 1952, and the parish hall was later used as a canteen. The school was closed in 1959 and the pupils transferred to the school in Newbegin. (fn. 535)
A Church of England infants' school was built in Westgate in 1848 at the expense of Lady Strickland. (fn. 536) A classroom was added in 1896. (fn. 537) Average attendance was usually 50–60 until the early 1920s and then rose to c. 70 in 1926–7. (fn. 538) The school was overcrowded in 1930 and was closed in 1935. (fn. 539) The building, of boulders and rusticated brick, was later used as a dwelling house, known as Mereton in 1989.
A new school was built by the county council in Newbegin and opened in 1935. (fn. 540) It accommo dated all children of school age, except for infants, who were duly added in 1959. (fn. 541) The school was later enlarged but the Congregational schoolroom had nevertheless to be used as additional accommodation in 1955. It was decided that year to transfer the senior pupils to the county secondary school when it was opened. (fn. 542) The primary school had 680 pupils on the roll in 1990. (fn. 543)
A county secondary school was built on the site of Hornsea House in Eastgate and opened in 1958 with more than 500 pupils; it included an institute of further education. Additional accommodation was provided in 1970 after the raising of the school leaving age, and in 1971 there were c. 800 pupils. Reorganization as a comprehensive school began in 1971 and it was renamed Hornsea School; at the completion of reorganization there were more than 1,000 pupils. Further additions to the buildings were made in the 1970s and 1980s. (fn. 544) There were 1,077 pupils on the roll in 1990. (fn. 545)
A county nursery school in the grounds of the primary school in Newbegin was opened in 1973. (fn. 546) There were 100 pupils on the roll in 1990. (fn. 547)
The Hollis Educational Trust was created in 1938 with an income of £70, which was to be used for contributions towards the fees and expenses of Hornsea boys attending Hull grammar school. When the latter ceased to be a feepaying school, the charity fell into abeyance. There were substantial balances c. 1980, and new educational purposes were then adopted. (fn. 548)
CHARITIES
William Day, by will proved in 1616, charged his land at Hornsea Burton with £2 a year to be given to the poor of Hornsea parish at Easter and Christmas; the money was distributed with the town's stock in 1823. (fn. 549) The income was still distributed in 1930, (fn. 550) but by 1980 the charity had been in abeyance for many years. (fn. 551) Robert Smithson (d. 1731) bequeathed 9s. a year charged on land in Hornsea Burton to be distributed to the poor in bread; in 1823 the money was used as directed. (fn. 552) Distributions were still made in 1919, (fn. 553) but the charity was not mentioned again. Peter Acklam, by will dated 1758, charged his estate in Hornsea, including Low Hall, with £1 a year payable to the overseers to provide gowns for two poor women; in 1823 three women benefited. (fn. 554) Clothes or materials were still given in 1955, (fn. 555) but it was found c. 1980 that no such grants had been made for 16 years. (fn. 556) Young's charity originated in surrenders made in the 1780s: Robert Byass conveyed a cottage in Hornsea for the free occupation of one or more persons in 1780 and David Austin ground to provide rent to repair the cottage and the walls of the ground in 1784. (fn. 557) Mary Young (d. 1786) is said to have bought the cottage and ground and to have settled them for those purposes. In 1823 a poor person occupied the cottage and the ground produced 16s. rent for repairs. (fn. 558) By a Scheme of 1898 the income of £4 10s. was to be used to provide a pension for a poor person. (fn. 559) In 1911 the same income, deriving from £186 stock, was still given to a pensioner, (fn. 560) but by 1980 no payments had been made for many years. (fn. 561) The town stock, the origin of which is unknown, comprised £70 which several years before 1823 was used to build four cottages for the parish on church land in Newbegin. Interest on the rent was spent in 1823 with Day's charity. (fn. 562) Income of £3 from the Church Land estate was still distributed to the poor in 1922; (fn. 563) the income was about £2 from £87 stock in 1980, but it had then not been used for some years. (fn. 564) Hannah Duke, by will of 1882, gave £2 10s. a year for flour and coal for the poor at Christmas. In 1885 stock was bought with £100 from the bequest. (fn. 565) The same income was still distributed to a dozen recipients in 1930, (fn. 566) but the charity had by 1980 been inactive for some years. The Lonsdale charity, of unknown origin, and Payne's charity, governed by a trust declaration of 1931, were intended to provide coal for the poor at Christmas. The joint income of £4.50, from £94 and £82 respectively, was administered by a coal club which was being wound up c. 1980. (fn. 567)
By a Scheme of 1980 all of those charities except Smithson's were amalgamated as a modern relief in need trust; there were then accumulated balances of over £700. (fn. 568) The Hornsea Relief in Need Charity thus established had an income of £100, (fn. 569) but it has since remained dormant. (fn. 570)
Christopher Pickering, a Hull trawler-owner who bought Hornsea House in 1897, (fn. 571) founded six almshouses on the site of the parish poorhouses in Newbegin. The houses were built in 1908 and settled on trustees, together with £2,000, and they were to be occupied by elderly women or married couples who had lived in Hornsea for not less than 10 years. (fn. 572) The income of £167 in 1930 included £5 rent from land behind the houses and £72 from £2,400 stock. (fn. 573) The land was sold in 1934. (fn. 574) In 1988 the income of £2,122 included £1,842 rent from the occupants of the almshouses. In a separate fund £803 interest was received on a legacy of Elsie M. Watson (d. 1957), who provided that, after the death of her husband, a share of the residue of her estate was to be applied for several charitable institutions, among them the Pickering almshouses; Mr. Watson died in 1981. (fn. 575)
Joseph H. Stockdale (d. 1904) left the residue of his estate for charitable purposes at the discretion of his executor. (fn. 576) Three almshouses were built in Mereside in 1907 and rebuilt as four flats in 1984. (fn. 577) The income in 1949 was £29 rent from two houses in Back Southgate; the houses were sold for £297 in 1952, and the income in 1954 was £4 from £100 stock. (fn. 578) In 1988–9 the income was £4,179 in maintenance contributions and £195 from investments. (fn. 579)
Herbert W. Hart provided for the building of homes in Atwick Road for middle-class business people of straitened means from Hull or the East Riding; the homes were opened in 1958. (fn. 580)