Pages 295-306
A History of the County of York East Riding: Volume 7, Holderness Wapentake, Middle and North Divisions. Originally published by Victoria County History, London, 2002.
This free content was digitised by double rekeying. All rights reserved.
LEVEN
The parish lies 17 km. north of Hull and 11 km. WSW. from the coast at Hornsea, (fn. 1) on the east bank of the river Hull, with which Leven village is connected by an early 19th-century canal. (fn. 2) The ancient parish comprised the townships of Leven and Hempholme. Leven township comprised the village, close to the eastern parish boundary, a large area of low-lying ground further west known as Leven carrs, and part of Baswick hamlet, 4 km. north-west of the village; the rest of Baswick lay in Brandesburton but its history is treated below. Brackenholme, recorded c. 1220, (fn. 3) was probably another small settlement. Hempholme township comprised, besides the hamlet, 5 km. NNW. of Leven village, the settlements of Hallytreeholme and Heigholme, respectively 5 km. and 2 km. northwest of Leven. Most of Hempholme township was separated from the rest of Leven parish by Brandesburton, Heigholme alone adjoining Leven township. Neither Heigholme nor Hallytreeholme have ever included more than a few farmhouses. The settlement of 'Luvetotholm', recorded in 1086, may have been in Leven, although Long Riston has also been suggested for its location; Thornholme and Nepeholme, mentioned in the 13th century, (fn. 4) were perhaps in Hempholme.
Most of the names allude to the proximity of the river Hull. Leven is an Anglian name meaning 'the slow-moving one', and Baswick, 'the farm near which perch are caught', may also be Anglian. Heigholme, Brackenholme, 'the meadow with or near bracken', and Hallytreeholme, 'the meadow with or near a holy tree', are all Anglo-Scandinavian hybrid names, as is Hempholme, meaning 'hemp field'. (fn. 5)
In 1851-2 the ancient parish contained 5,061 a. (2,048 ha.), comprising 3,709 a. (1,501 ha.) in Leven township and 1,352 a. (547 ha.) in that of Hempholme. (fn. 6) Heigholme, with c. 300 a. (121.4 ha.), was transferred from Hempholme in 1885 to Brandesburton civil parish, but in 1895 it was added instead to Leven civil parish. (fn. 7) The area of Hempholme was thus reduced to 1,051 a. (425 ha.) by 1891, and from 1911 it was 1,048 a. (424 ha.); in 1935 Hempholme civil parish was united with those of Brandesburton and Moor Town to form the new civil parish of Brandesburton. Leven's area had been reduced to 3,698 a. (1,496.6 ha.) by 1891, before the addition of Heigholme raised it to 4,009 a. (1,622 ha.); the size of the civil parish remained unchanged in 1991. (fn. 8)
There were 159 poll-tax payers in Leven in 1377. (fn. 9) In 1672 Leven had 49 houses assessed for hearth tax and 17 discharged, and in Hempholme 17 houses were assessed. (fn. 10) The parish had 53 families in 1743 and 37 in 1764. (fn. 11) The population of Leven township grew in the earlier 19th century, possibly in consequence of the building of the canal; numbers rose from 411 in 1801 to 574 in 1811 and then sharply in the 1830s to stand at 890 in 1841. The population declined in the late 19th century to 659 in 1901, despite the addition of Heigholme. There were later usually c. 700 inhabitants until Leven was developed as a dormitory village for Beverley and Hull; from 683 in 1961, the population grew to 1,504 in 1971, 1,717 in 1981, and 2,036 in 1991, 2,002 of whom were present on census day. The population of Hempholme township rose from 57 in 1801 to 93 in 1821 and 117 in 1851 but had dropped to 95 by 1871. Thereafter it rose again, to 120 in 1881 and 123 in 1891, despite the loss of c. 30 inhabitants at Heigholme by the boundary alterations of 1885; the increase may reflect the works then being carried out on the river. Later numbers fell, to 104 in 1901, 76 in 1911, and 69 in 1931. (fn. 12)
Much of the parish is covered with alluvium and lies at less than 5 m. above sea level. (fn. 13) Deposits of sand and gravel form the higher land, which rises to 8 m. above sea level at Woofel hill, north-west of Leven village, and they provided all the settlements of the parish with their sites. Sand and gravel have been extracted near Leven village and at Hempholme. (fn. 14) The open fields of Leven lay on the higher ground north and south of the village, the carrs presumably providing most of the village's grazing. At Hempholme the open fields evidently also lay north and south of the hamlet. The commonable lands of Leven township were inclosed in 1796 and those of Hempholme at an unknown date. (fn. 15)
The natural drainage of the parish has been much altered by a lengthy process of improvement and by the construction of the canal. Some of the parish drains into the river, through the westward-flowing Mickley dike, probably the Miklene fleet recorded in the 13th century, (fn. 16) and Scurf dike, which drains eastwards. Away from the carrs, however, much of the water is carried southwards. A stream flowing through the middle of the parish close to the village and on between Routh and Long Riston has been improved as the Burshill and Barf drain; it may have been that watercourse which Meaux abbey had by 1200 and the maintenance of which was disputed with the lord of Brandesburton in 1351. (fn. 17) A parallel stream further west in the carrs, improved as part of the Holderness drain, is connected with the central stream by cross drains, including one forming the southern boundary. The higher ground east of the village is drained by Catchwater drain, which flows between drains running along the northern and southern township boundaries. In 1436 the provost of Beverley claimed that the abbot of Meaux's failure to repair sewers in Leven had caused 800 a. there to flood, (fn. 18) and in 1568 land near the river was flooded and three sewers were decayed. (fn. 19) There was probably little improvement in the drainage before the late 18th century, (fn. 20) when the Holderness Drainage Board, formed in 1764, improved the Holderness drain, (fn. 21) over 2,300 a. in Leven and c. 200 a. in Hempholme were rated to the Holderness Drainage in 1775 and 1838. (fn. 22) The Beverley and Barmston Drainage Act of 1798 brought some further improvement, chiefly by the making of a new drain on the west bank of the river; 609 a. in Leven and Hempholme were assessed to the work of that system by the award of 1811. The efficiency of the Beverley and Barmston Drainage was, however, compromised by the Driffield navigation trustees, who, also c. 1800, built a lock at Hempholme after straightening the river there. (fn. 23) Despite more work to the river in the late 19th century and the installation of a pump at Hempholme, (fn. 24) regular flooding of the carrs continued until the 1950s, when two reservoirs were made west of the river in Watton parish. (fn. 25)
A 3-mile long canal was made between the village and the river Hull at the promotion of Charlotte Bethell between 1801 and 1805. (fn. 26) It carried coal, lime, corn, bricks, and tiles until the 1930s, when competition from road transport forced its closure. One of the warehouses at the village end has been converted to a private house and the other partly demolished. The lock at the river end has been sealed, and in 1993 the canal remained disused.
From Leven village roads lead north to Brandesburton and Bridlington, east to Hornsea, and south to Hull and Beverley. The last road divides in the south-east corner of the parish at a place called White Cross after a medieval stone cross, the shaft of which remained there in 1993. The road between White Cross and Beverley was turnpiked in 1761, and the trusts were continued until 1867. The proposal in 1767 to continue the turnpike from White Cross to Bridlington was ineffective. (fn. 27) Improvements were made to the Hornsea road between 1796 and 1828, (fn. 28) and to that road, the Bridlington road, and the White Cross junction in the mid 20th century. (fn. 29) In 1994 a bypass was opened for Leven and Brandesburton. Minor roads lead west from the village to the carrs and then north to Heigholme, Burshill, in Brandesburton, Hallytreeholme, and Hempholme.
LEVEN. By the late 18th century Leven village stood along a single street, now comprising East and West Streets. In 1796 most of the buildings were on the north side of the street, with a few in side lanes, including those which continued as the Bridlington and Beverley roads. A village green, comprising at least 9 a., then lay mostly on the east side of the Burshill and Barf drain. (fn. 30) The western extremity of the main street, beyond that drain and reached across a late 18th-century bridge, is called Little Leven. The early site of the village may have lain 1 km. west of Little Leven where Hall Garth, Leven's manor house, stands close to the site of the medieval church of St. Faith's and St. Faith's well, (fn. 31) now filled in.
The buildings in Leven are of brick and mostly date from the 19th and 20th centuries. Earlier houses include no. 3 East Street, built c. 1700, and Leadgate and Lamploughs Farms. After inclosure and the construction of the canal, the village began to be developed along the road to Beverley, there called Barley Gate (fn. 32) and later South Street. Among the new buildings were Canal House, the New Inn, and a dozen terraced houses. Further south still Leven Rectory, Rectory Farm, and Leven Grange were built on newly-inclosed land between 1796 and 1828. (fn. 33) The village continued to grow in the mid and later 19th century when chapels were built on East and West Streets, a school on the part of the Hornsea road called High Stile, and a new church on South Street. (fn. 34) In the 1920s three council houses were added on the Heigholme road, (fn. 35) and infilling increased sharply in the mid and late 20th century. New buildings included 48 council houses at the east end of the village and two sewage stations built and operated by the district council. (fn. 36) In 1993 several private housing estates were being built at the east and west ends of the village.
A police station with a lock-up and courtroom was built on High Stile in 1852, (fn. 37) and when the East Riding constabulary was established in 1857 a superintendant was based at Leven. (fn. 38) Petty sessions for North Holderness were held there until 1951. (fn. 39) In 1976 a police house and office in East Street were built to replace the station, (fn. 40) which was soon after sold and later used for a doctor's surgery.
Up to four alehouses were recorded at Leven in the later 18th century, (fn. 41) and c. 1825 the Hare and Hounds, the Minerva, and the Blue Bell were joined by the New Inn. (fn. 42) The Minerva and the Blue Bell, both in South Street, were last recorded in the mid and late 19th century respectively, (fn. 43) but the Hare and Hounds and the New Inn still traded in 1993. A lodge of the Ancient Order of Foresters was founded in 1838 and had 170 members in 1860; it left the order in 1868 to become Bethell's Benefit Society, rejoined in 1912, and was mentioned until 1920. In 1885 the United Ancient Order of Druids established a lodge, which had 259 members in 1910 and was closed down in 1981. The Order of the Sons of Temperance had a lodge from 1905; it had 71 members when last recorded in 1910. Another friendly society, the Leven Free Gift Society, was founded c. 1860, but no more is known of it. (fn. 44) A temperance hall was built in Middle, later East, Street in 1860 and later used as a Wesleyan school (fn. 45) and, before the Second World War, for the showing of films and for concerts; it was eventually demolished in the 1960s. (fn. 46) A library was run from the Hare and Hounds in the 1850s. (fn. 47) An agricultural show is said to have been held at Leven c. 1900. (fn. 48) A reading room, north of, and associated with, the church, was run from the early 20th century until c. 1965, when it was demolished. (fn. 49) A recreation hall in East Street, opened c. 1920, has been used by the British Legion and the Women's Institute, and from c. 1960 served as a public library; it was renovated c. 1990. (fn. 50) A bowling green next to the hall was made c. 1930, (fn. 51) and a football club played on land south of High Stile before the Second World War. (fn. 52) Leven Playing Field Association provided grounds at the north end of the village c. 1965, and in 1972 built a sports hall there. (fn. 53) A youth club on High Stile was opened in 1967, and from 1987 there was a scout and guide hut in West Street. (fn. 54) The district council provided allotment gardens at the west end of the village c. 1975. (fn. 55)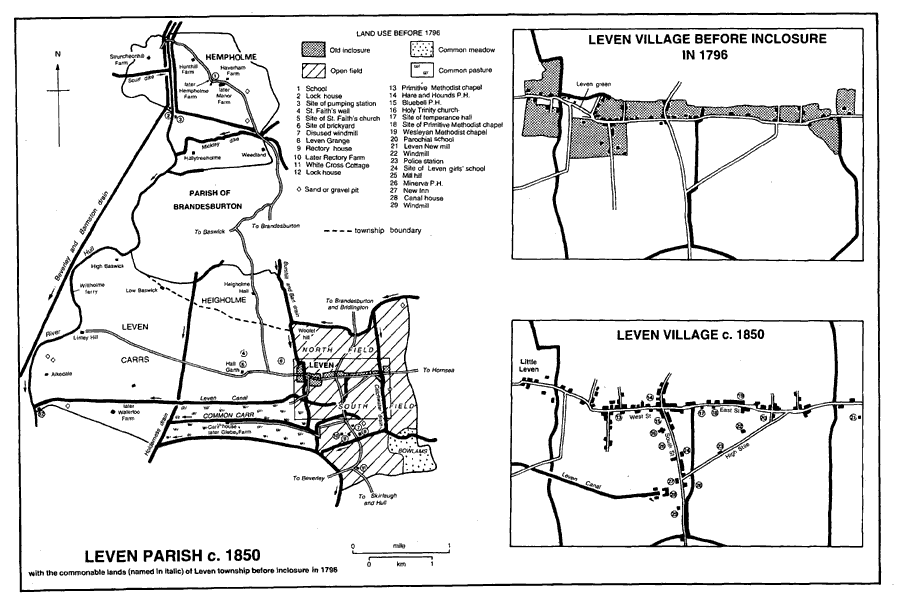 HEMPHOLME. There were only a dozen scattered buildings, mostly farmhouses, in Hempholme hamlet in the 1850s. (fn. 56) A ferry across the Hull from Hempholme to Rotsea, in Hutton Cranswick, was recorded in the 14th century and again in the early 17th. (fn. 57) After the change in the river's course c. 1800, one of the farms had to be reached by a swing bridge. (fn. 58) A schoolroom, later used as a chapel, was apparently built in 1818, (fn. 59) and a pumping station and lock-keeper's house had been added by 1890. (fn. 60) There were few other changes until the later 20th century, when two new houses were built.
BASWICK. The settlement of Baswick comprises half a dozen houses. In the mid 19th century it had a landing on the river Hull and a ferry to Wilfholme, in Kilnwick. (fn. 61) High Baswick was built before 1772 and later remodelled. (fn. 62) The Sloop public house was named in 1823 but had been closed by c. 1890 and was later a private house; it was demolished in 1987. (fn. 63)
OTHER OUTLYING BUILDINGS in the parish include Heigholme Hall and the farmhouses of Linley Hill and Hallytreeholme, all existing in 1772 but later remodelled. (fn. 64) Evidently built soon after inclosure in 1796 were Glebe Farm (fn. 65) and a house at the White Cross junction; (fn. 66) the latter has a symmetrical front of three bays, ogeeheaded windows, and an embattled parapet.
Hull Aero Club opened a small airfield 3 km. west of Leven village in 1991. (fn. 67)
MANORS AND OTHER ESTATES
Edward the Confessor is said to have given LEVEN manor to the archbishop of York's church of St. John of Beverley, (fn. 68) which in 1086 had the 6-carucate estate. (fn. 69) The provost of Beverley was granted free warren in Leven in 1281, and the manor remained with the collegiate church until its suppression in 1548. (fn. 70) The manor later descended in the Crown, like Patrington being assigned to trustees for Queen Henrietta Maria (d. 1669) and later Queen Catherine (d. 1705), before being granted in reversion to Hans Willem Bentinck (d. 1709), earl of Portland. (fn. 71) Manorial courts were held until 1736 by the lessees, the Micklethwaites and their heir. (fn. 72) The manor descended to the earl of Portland's grandson, William Bentinck, duke of Portland, who sold it in 1742 to Hugh Bethell. (fn. 73) Bethell bought another estate the same year, called Baswick Hill then but later Low Baswick. (fn. 74) At inclosure in 1796 at least 881 a. were copyhold of the manor of Leven. (fn. 75) Like Rise, Leven descended in the Bethells, (fn. 76) who had c. 2,000 a. in Leven in 1842 and 1910. (fn. 77)
After the death of W. A. V. Bethell in 1941, (fn. 78) the estate was sold in several lots. The 535-a. Hall Garth farm was sold in 1949 to Sidney Bays and by him in 1952 to Cecil Taylor (d. 1953). (fn. 79) It was thereafter held by Taylor's widow Lilian and son Derek, the owners in 1993. (fn. 80) Hall Garth was so named in 1650, when the house was described in detail; (fn. 81) it was rebuilt in the mid 18th century and a new wing added in the 19th.
Waterloo farm of 173 a., the 263-a. Aikedale farm, and the 449-a. Linley Hill farm were sold in 1946 to Percy Saul, Thomas Watson, and Albert and Herbert Plaxton respectively. (fn. 82) After several changes of ownership, (fn. 83) Waterloo farm was bought in 1964 by Charles Pugh, (fn. 84) who had purchased Aikedale farm from Thomas Watson in 1963 and who bought Linley Hill from the Plaxtons in 1966. (fn. 85) In 1970 the three farms were sold to the Equitable Life Assurance Society, (fn. 86) which then bought another part of the former Bethell estate, Low Baswick farm, comprising 494 a. (fn. 87) In 1989 Waterloo, Aikedale, and Linley Hill farms were sold to the Electricity Supply Nominees Ltd., the owner in 1993. (fn. 88)
Beverley college's estate in Leven included the manor of HEMPHOLME, or HOLME. (fn. 89) In 1309 the demesne tenant was Sir Marmaduke Thwing (d. 1323), (fn. 90) from whom the manor evidently descended, like Thwing, in the Thwings and Lumleys to Ralph Lumley (d. 1399 or 1400), Lord Lumley, and John Lumley, Lord Lumley, (fn. 91) who sold it in 1577 to Sir Thomas Heneage. (fn. 92) Heneage exchanged the manor in 1588 with the Crown, (fn. 93) which leased Hempholme in 1661 to Sir Hugh Bethell (d. 1679). (fn. 94) In 1866 the Crown sold the estate of c. 800 a. to J. S. Harrison (d. 1884), who was succeeded by his son James (d. 1923). (fn. 95) The five farms on the estate, later named as Bank, Hempholme, Haverham, Hunthill, and Struncheonhill farms, passed to James's widow Mary (d. 1932) and were sold in 1947. (fn. 96) Bank farm, with 65 a. in the parish, was then bought by John Northgraves and sold in 1951 to William and Valerie Weightman. In 1956, as Manor farm, it was bought by Harold Needler Quarries Ltd. and exchanged with Mark Stamp, who then conveyed it to his son Leonard. (fn. 97) In 1969 the farm was bought by Joseph Wright, and the Wrights evidently still had it in 1993. (fn. 98) The largest of the other farms sold in 1947, Hunthill farm, comprising 275 a., was bought by Alexander Newton and in 1968 by the Southwell family, the owners in 1993. (fn. 99) The 19th-century Manor Farm may have been built on the site of the manor house recorded in 1650. (fn. 100)
In the mid 12th century Robert de Scures granted an estate, later variously called the grange or manor of HEIGHOLME, to Meaux abbey. (fn. 101) In 1187 the abbey recovered the estate from Osbert son of Godfrey and Ranulph of Flinton. (fn. 102) The manor was held by the abbey's lessees in the 13th and 14th centuries, and comprised c. 200 a. at the Dissolution. (fn. 103) It was granted in 1564 to Edward Clinton, later earl of Lincoln, and his son Henry, (fn. 104) but later passed to John Ellerker and his son William (d. 1591). William Ellerker was succeeded by his son John (d. 1617), who left a son William. (fn. 105) The estate was sold to Arthur Noel in 1636-7 (fn. 106) and descended to Sir Andrew Noel and George Noel (d. 1701). (fn. 107) Called Noel farm, and variously said to comprise 240 a. or 309 a., it was later held in undivided shares by George Noel's three nieces. (fn. 108) One third belonged to Dorothy Hunter, whose husband Robert acquired another third in 1738 (fn. 109) and sold both to Matthew Lister in 1742-3. (fn. 110) Lister had already acquired part of the Noel estate, and in 1750 and 1752 he bought the rest. (fn. 111) Lister (d. by 1773) was succeeded by James Lister, who in 1780 settled the estate on his son, Richard Humpton Lister. (fn. 112) The last named sold the 290-a. estate in 1802 to William Harrison and John Harrison (d. by 1829). John Harrison left his estate to his nephew, John Harrison. (fn. 113) He (d. 1872) (fn. 114) was succeeded by William Harrison's grandson, William Harrison Preston (d. 1918). Preston's widow Isabel (fn. 115) sold it, as Home farm, to the Lickiss sisters, from whom John Wood bought it in 1950. (fn. 116) The estate was sold in 1978 to J. Thompson and c. 1980 to R. P. Wreathall, whose son T. F. Wreathall was the owner in 1993. (fn. 117)
The manor house at Heigholme occupied a moated site. Sir Andrew Noel may have rebuilt the house, but in the mid 19th century the Harrisons demolished it and built Heigholme Hall east of the moat, (fn. 118) which survived in 1993. North of Heigholme Hall stands the converted coach house of the former house; built c. 1800, the two-storeyed building has a symmetrical front of three bays, with a central pediment and cupola. (fn. 119)
Bridlington priory had been granted an estate at HALLYTREEHOLME by the early 13th century, when John of Octon confirmed and enlarged the gift, which included land in Hempholme, Brackenholme, Thornholme, Nepeholme, and Weedland marsh. (fn. 120) The priory was granted free warren at Hallytreeholme in 1290 and retained the estate, called a manor in 1523, (fn. 121) until the Dissolution. The manor was leased to the Bethell family, it is said by Elizabeth I for 999 years, (fn. 122) and Richard Bethell held 168 a. at Hallytreeholme in 1842. (fn. 123) The trustees of W. A. V. Bethell (d. 1941) sold the lease in 1943 to Fred Northgraves. (fn. 124) It was bought by Nellie Perry in 1949 and in 1968 by Alan and John Aconley, and the Aconleys still farmed the estate in 1993. (fn. 125)
Anne Routh (d. by 1722) devised her 41 a. at Baswick to Beverley corporation for an almshouse charity in that town. (fn. 126) As High Baswick farm, it was sold in 1918 to John Salvidge and in 1937 first to Henry Mitchell and later to Walter Clayton (d. 1951). (fn. 127) Clayton's family conveyed the farm in 1953 to Mary Fewson, who sold it in 1962 to Kenneth Voase. (fn. 128) In 1971 he sold it to the West Hartlepool Steam Navigation Co. Ltd., the owners in 1993. (fn. 129)
ECONOMIC HISTORY
AGRICULTURE before 1800. Leven. In 1086 the church of Beverley's estate at Leven included four ploughlands; one plough was then worked on the demesne and three others by 15 villeins and a bordar. (fn. 130) The tillage of Leven lay on either side of the village in North and South fields, which were named in 1608. The open fields included commonable meadow and pasture land, (fn. 131) but most of the rough grazing was probably in the carrs. Land named Bowlams in the south-east corner of the parish was also used as common meadow; it evidently adjoined meadows in Far Bowlams, one of Catwick's open fields. (fn. 132)
The commonable lands of Leven were inclosed by award of 1796 under an Act of 1791. (fn. 133) Allotments totalled 1,478 a., 597 a. freehold and 881 a. copyhold. North field then included 410 a., the common carr 383 a., South field more than 278 a., and Bowlams at least 61 a. The rector received 433 a., John Bowman 167 a., and Peter Nevill 124 a.; there were also one allotment of 67 a., twenty-two of 11-49 a., and thirteen of less than 10 a.
Hempholme, Heigholme, and Hallytreeholme. At Hempholme, too, the settlement was flanked by North and South fields, named from 1608. Common meadow and pasture lay in the open fields in the 17th century, when common meadow was also found in Ings. (fn. 134) Hempholme, Heigholme, and Hallytreeholme were evidently all inclosed early, the last two presumably by Meaux abbey and Bridlington priory respectively.
AGRICULTURE AFTER 1800. In 1842 there were 1,658 a. of arable land and 353 a. of grassland in Leven township, (fn. 135) and 970 a. and 300 a. respectively in Hempholme township. (fn. 136) Leven parish included 2,794 a. of arable land and 695 a. of grassland in 1905. (fn. 137) The proportion of arable to grassland was much the same in the 1930s, when most of the grassland was around the settlements and outlying farms. (fn. 138) In Leven civil parish 1,105 ha. (2,730 a.) were returned as arable land and 104 ha. (257 a.) as grassland in 1987. (fn. 139) There had also been 32 a. of woodland in 1905, but in the mid 20th century many trees were cut down around Heigholme Hall and by 1987 only 3 ha. (7 a.) of woodland survived, in small plantations. (fn. 140)
In the 19th and earlier 20th century there were up to two dozen farmers in Leven and half a dozen in Hempholme, where in 1851 four of the farms were of 150 a. or more. In the 1920s and 1930s there were two larger farms at Hempholme, and one or two at Leven. A cowkeeper and one or two market gardeners were recorded in the late 19th and early 20th century. (fn. 141) In 1987 of 18 holdings returned under Leven civil parish, one was of 500-699 ha. (1,236-1,727 a.), one of 200-299 ha. (494-739 a.), one of 100-199 ha. (247-492 a.), two of 50-99 ha. (124-245 a.), and thirteen of less than 50 ha.; more than 27,000 fowls and 2,000 pigs were then kept in the parish. (fn. 142)
FISHING AND FOWLING. The river and carrs in Leven and Hempholme were valued for their reeds and for the fishing and fowling which they provided. In the 12th century Meaux abbey was given fisheries in the river Hull near Heigholme, and c. 1200 Bridlington priory had three river fisheries at Hallytreeholme named Hermeregard, Prestegote, and Micclene. (fn. 143) Another fishery in the river at 'Berswyk' recorded in 1364, was presumably at Baswick. (fn. 144) Several fisheries remained at Hempholme in the 17th century, and in 1650 the fishing and fowling of Leven manor were valued at £5 a year. Duck decoys made in the carrs (fn. 145) included the Coy belonging to Leven manor in 1659. (fn. 146) The management of swans on the river was controlled by Hempholme manor court, which was held until at least the 1930s; a list of pains laid in the court in 1708 survives. (fn. 147)
MARKET AND FAIR. In 1270 the provost of Beverley was granted a weekly market on his manor of Leven and an annual fair on the eve, feast, and morrow of St. Simon and St. Jude (27-9 October). (fn. 148) The grant is elsewhere said to have been of a fair on the eve, feast, and morrow of St. Faith (5-7 October), (fn. 149) and those were the days confirmed in the 15th century, when the market day was given as Tuesday. (fn. 150) Neither the fair nor the market survived in the late 18th century. (fn. 151)
TRADE AND INDUSTRY. Two brewers and maltsters worked at Leven in the early 19th century, and Jane Turnbull brewed behind the New Inn from the 1870s until c. 1920. (fn. 152) Merchants dealing in coal and coke, lime and manure, seeds, corn, and flour traded at Leven in the late 19th and early 20th century, presumably from premises at or near the canal. (fn. 153) Bricks were made at the west end of the village prior to 1842, (fn. 154) and before the mid 20th century sand and gravel had been dug from small pits in the parish. (fn. 155) Larger-scale extraction, begun in the 1940s, (fn. 156) had ended by 1993, when several pits, most of them water-filled, remained. Small businesses operating in the village then included a motor engineering firm.
MILLS. In 1172 Meaux abbey had a mill at Heigholme. (fn. 157) A windmill recorded at Leven in 1608 possibly stood south of the village on Mill hill. (fn. 158) By the later 18th century a windmill occupied another site, also in South field, (fn. 159) but that mill was apparently abandoned between 1842 and 1852. (fn. 160) Evidently shortly before the making of the canal, another windmill was built on the west side of the Beverley road, close to the intended head of the navigation; it was apparently grinding in 1800, was later assisted by steam, and was closed c. 1890. (fn. 161) A windmill north of High Stile is said to have been put up in 1807; also powered partly by steam by the late 19th century, it was used until the early 20th century and demolished in 1919. (fn. 162) Leven New mill was built on the Hornsea road, it is said in 1847; later a wind and steam mill, it ceased to operate c. 1900. (fn. 163) In 1993 only the stump of Leven New mill remained.
LOCAL GOVERNMENT
Court rolls for Leven manor survive for 1416-17, (fn. 164) 1650-60, (fn. 165) and 1708-1940. The court, which had view of frankpledge, usually met twice a year from the 17th century; regularly appointed officers included 1-2 penny-graves, 1-2 carr-graves, 2 affeerors, 2 constables, 4 bylawmen, and a pinder. Also mentioned in the mid 17th century were 2 aletasters and a bailiff. (fn. 166) Courts were also held for the Rectory manor, for which rolls survive for 1725-1931, and for Hempholme manor. (fn. 167)
Permanent out-relief was given in 1802-3 to 10 people at Leven and in 1812-15 to c. 20; 4 people in the earlier year and 12-20 in 1812-15 were aided occasionally. At Hempholme 3 residents received permanent relief in the early 19th century, and 2-3 were helped occasionally in 1812-15. (fn. 168) Leven township, later civil parish, joined Beverley poor-law union in 1836 (fn. 169) and remained in Beverley rural district until 1974, when it was taken into the Beverley district of Humberside at reorganization. (fn. 170) Hempholme joined Skirlaugh union in 1837 (fn. 171) and was in Skirlaugh rural district until 1935, when, as part of the enlarged civil parish of Brandesburton, it was included in the new Holderness rural district. It was taken into the Holderness district of Humberside in 1974. (fn. 172) In 1996 Leven and Brandesburton civil parishes became part of a new East Riding unitary area. (fn. 173)
CHURCH
Leven church was recorded as part of the estate of St. John's church, Beverley, in 1086, (fn. 174) and the collegiate church retained the patronage of Leven until its suppression in the 16th century, after which the Crown or its lessees presented. (fn. 175) The advowson had evidently been sold by 1650, when Rowland Eyre was named as patron, and in 1667 Rowland and Anthony Eyre sold it to Michael Warton, who presented in 1669. (fn. 176) Thereafter it descended, like Beverley Water Towns manor, in the Wartons and Pennymans. The trustees of Sir James Pennyman, Bt. (d. 1808), sold the advowson in 1813 to Thomas Hull and Samuel Hall, (fn. 177) who resold it in 1815 to George Sampson, instituted that year as rector. (fn. 178) Sampson sold the patronage in 1838 to George Wray, who presented himself the next year. (fn. 179) The advowson was bought from Wray in 1863 by John Leather (d. 1885) (fn. 180) and from the trustees of Frederick Leather (d. 1890) in 1908 by Archibald Watts. (fn. 181) In 1912 Harold Staveley (d. 1928) and his wife Marion (d. 1945) bought the patronage, and their son Claude was presented as rector in 1933. (fn. 182) In 1956 Leven rectory was united with that of Catwick, and the patrons of Leven were given the right of alternate presentation to the united benefice. (fn. 183) The following year the Revd. Claude Staveley and his sister transferred the patronage, which had descended to them, to the Simeon trustees, (fn. 184) the alternate patrons in 1993. In or soon after 1982 the ecclesiastical parish of Leven was reduced by the transfer of Hempholme to that of Brandesburton. (fn. 185) Leven with Catwick was in turn united with the benefice of Brandesburton in 1997. (fn. 186)
The rectory was worth £13 6s. 8d. in 1291, after payment of a small pension to the provost of Beverley, and £16 13s. 1½d. net in 1535. (fn. 187) The improved annual value was £75 3s. net in 1650. (fn. 188) The net annual income averaged £1,190 between 1829 and 1831, and it was £1,050 in 1883. (fn. 189) Tithes were worth more than £14 gross in 1535 and almost £66 in 1650. In 1796 at the inclosure of Leven the rector received 233 a. for the tithes of the commonable lands and tithe rents amounting to £1 16s. 6¾d. for those of certain old inclosures. (fn. 190) The tithes of the rest of Leven township, comprising Hall Garth, Baswick, and the carr farms, were compounded for £15 16s. in 1764, paid in kind in 1817, and commuted in 1842 for a rent charge of £480. (fn. 191) In Hempholme township the tithes of Hallytreeholme and Weedland were paid in 1693 by compositions amounting to 13s. 4d., and 6s. 4d. more was owed for fish tithes. The former estate of Meaux abbey at Heigholme was tithe-free when occupied by the proprietor but tithable when tenanted. In 1764 the tithes of both Hempholme and Heigholme were paid by a composition of £20 13s., but by 1817 those of Heigholme were taken in kind. In 1842 the tithes of Hempholme township, comprising Hempholme, Hallytreeholme, Weedland, and Heigholme, were commuted for a rent charge of £252, almost £80 of which was payable for Heigholme when tenanted. (fn. 192)
The glebe was valued at £7 13s. a year gross in 1535, when it included 4 bovates, and at £16 gross in 1650. (fn. 193) An allotment of 200 a. was made for glebe land inclosed in 1796, and that and the 233 a. then allotted for tithes were later occupied as three farms. (fn. 194) A little land was sold in 1959, (fn. 195) the 161-a. Leven Grange farm in 1962, and in 1963 the 85-a. Rectory farm and 139-a. Carr House, or Glebe, farm. (fn. 196) The glebe also included a small manor, comprising 2 houses and 3 garths, from which the rector received yearly rents of 10s. 4d. from copyholders in 1849. (fn. 197) One of the garths was enfranchised in 1912, and a house was sold in 1931. (fn. 198)
A rectory house, recorded from 1535, stood west of the village, near the church. (fn. 199) In 1575 the rector lived in the village and the outlying house was occupied by a tenant. (fn. 200) The rectory house was demolished in 1817, shortly after a glebe farmhouse south of the village had been substituted for it; at the same time a new farmhouse, later Rectory Farm, was built nearby. (fn. 201) The replacement rectory house was enlarged soon afterwards and again in the late 19th and early 20th century. (fn. 202) Its principal fronts, facing south and west, are in early 19th-century grey brick but the rest of the house is of red brick. It was sold in 1959, (fn. 203) and, as Leven House, was an old people's home in 1993. A new rectory was built adjoining Leven House and used until 1985, when it in turn was sold and replaced by a house bought in West Street. (fn. 204)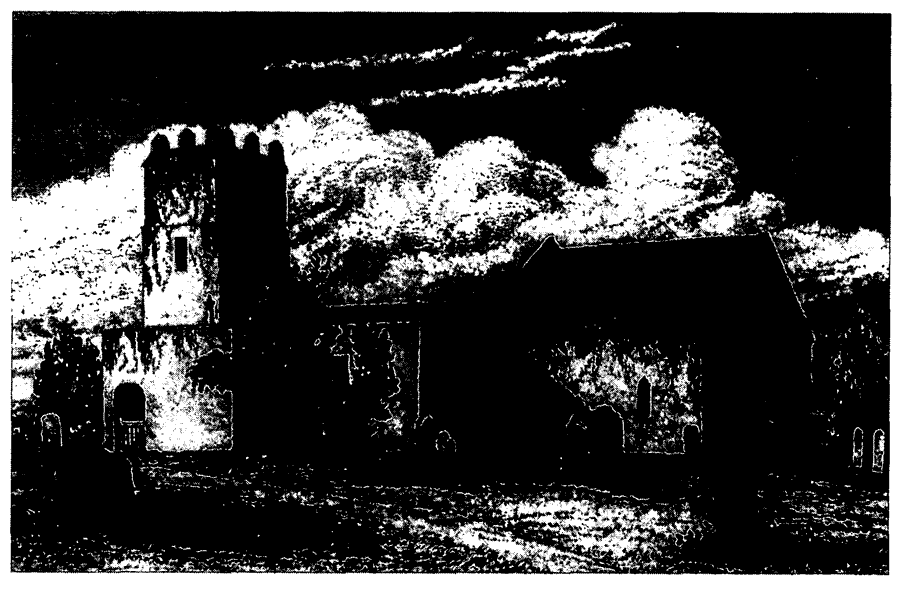 In the mid 18th century the rector lived on his other cure at Cherry Burton, and his service at Leven was performed by a curate. There was then a Sunday service at Leven and quarterly celebrations of communion with c. 30 recipients. (fn. 205) Two Sunday services were held in the mid and late 19th century, when at monthly celebrations of communion up to 25 received. (fn. 206) An assistant curate was employed in the 1870s by the aged incumbent. (fn. 207)
The medieval church stood 2 km. from the middle of the present village. It was dedicated in 1538 to ST. ZITA (Scytha), a saint popularly associated with rivers and bridges, (fn. 208) but ST. FAITH seems to have been an alternative dedicatee. Her feast day was chosen for the medieval fair and in 1567 St. Faith's church was recorded. (fn. 209) The church was of brick and boulders and comprised chancel, nave with south aisle, porch, and vestry, and west tower. (fn. 210) The building was in disrepair in the 16th and 17th centur ies, and in 1720 its chancel screen was removed. (fn. 211) The distance from the village was noted as an inconvenience in 1743, (fn. 212) and in 1844 most of the decayed church was demolished. The chancel was left and used for burial services until the churchyard was closed in 1876; it was pulled down in 1883. (fn. 213)
The new church of HOLY TRINITY was built in 1843-4 on land in the centre of the village given by Richard Bethell, largely at the expense of George Wray, rector; it was consecrated in 1845. (fn. 214) Designed by Robert Chantrell of Leeds (fn. 215) in a 13th-century style, the building is of ashlar and comprises chancel, nave with north transept and south aisle and porch, and west vestry and tower.
The new church contains part of a 9thcentury cross shaft, (fn. 216) a late 13th-century font, (fn. 217) and the head of a 15th-century cross from St. Faith's churchyard. (fn. 218) There were two bells in 1552, but only one by the early 19th century; a new peal of four bells was given to Holy Trinity in 1845, (fn. 219) when new plate was also given by the rector's family. (fn. 220) The registers of baptisms, marriages, and burials date from 1653 and are complete, except for marriages between 1673-5. (fn. 221) A churchyard for Holy Trinity was consecrated in 1868. (fn. 222)
By the early 13th century Bridlington priory had provided a chapel at Hallytreeholme, dedicated to St. Nicholas. (fn. 223) In 1871 an unlicensed schoolroom at Hempholme was used for evening services in summer; it ceased to be used for services in 1962 and was derelict in 1993. (fn. 224)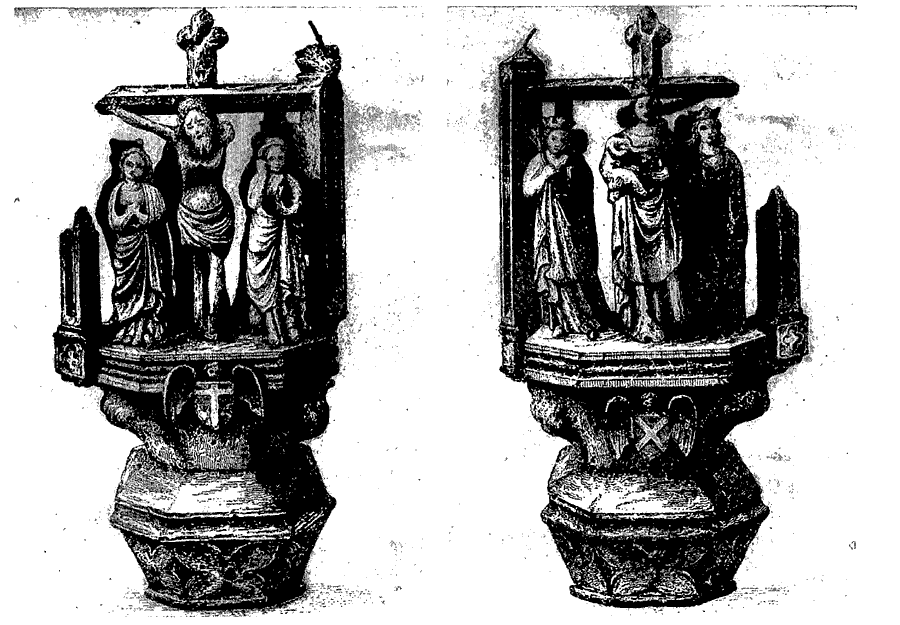 NONCONFORMITY
A few non-communicants and recusants were recorded in the parish in the 16th and 17th centuries. (fn. 225)
Unidentified congregations of protestant dissenters registered houses at Leven in 1790, 1795, 1808, 1809, and 1811. (fn. 226) The 1809 registration was perhaps by Independents, who were said to have provided themselves with a chapel that year, with encouragement from Fish Street chapel, Hull. (fn. 227) The chapel was mentioned again in 1840 (fn. 228) but no more is known of it. The Primitive Methodist chapel, in West Street, was built in 1836. (fn. 229) It was replaced in 1877 by a new building in East Street, (fn. 230) later the Methodist church, which was largely rebuilt on the same site in 1967 and was still used in 1993. The former Primitive Methodist chapel was a private house in 1993. The Wesleyan Methodists had licensed a house at Leven in 1810, and in 1816 they built a chapel in East Street, (fn. 231) which was enlarged in 1835 and restored in 1889. (fn. 232) The Wesleyans also ran a Sunday school in the temperance hall, East Street, in the early 20th century. (fn. 233) After Methodist union, the redundant Wesleyan chapel was sold in 1959. (fn. 234)
EDUCATION
LEVEN
A school at Leven had its site enlarged by Marmaduke Constable in 1812; it was presumably that later shown between High Stile and East Street. (fn. 235) In 1833 it was attended by 56 boys and girls, all taught at their parents' expense. (fn. 236) In 1866 the girls were removed to a new school. (fn. 237) The continuing boys' school, supported by subscriptions and run according to the National plan, (fn. 238) was attended by 42 at inspection in 1871. (fn. 239) The school was rebuilt on an adjacent site in 1873 and reopened in 1874. (fn. 240) A new Church school for girls was built in 1866 in South Street at the expense of the rector and his sister Harriet Wray, who endowed it with 2 a. of land. (fn. 241) An infants' room was added in 1896. (fn. 242) That school, also run on National lines, was supported by school pence and from 1867 by an annual government grant. (fn. 243) At inspection in 1871 there were 41 in attendance. (fn. 244) In 1906-7 average attendance there was 47 and at the boys' school 54. (fn. 245) In or soon after 1910 the girls' and infants' school was further enlarged and the boys transferred to it. (fn. 246) The former boys' school was sold in 1911, (fn. 247) and in 1993 was a cafè. From 145 in 1913-14, average attendance at the mixed school fell to 119 in 1918-19 and 83 in 1937-8. (fn. 248) Children from Catwick were transferred to Leven in 1949, (fn. 249) and in the early 1950s another classroom was added for infants and temporary accommodation had to be provided in the recreation hall. (fn. 250) Senior pupils were removed to Hornsea County Secondary School in 1958. (fn. 251) The school was again remodelled and enlarged in 1966, (fn. 252) and in 1990 there were 183 on the roll. (fn. 253)
By Scheme of 1911 the land given by Harriet Wray was vested in trustees and the income dedicated to the maintenance of the school building. The land was sold c. 1975, and by a Scheme of 1977 the charity became the Wray Educational Trust, which could make grants for higher education and in support of the Sunday school, the playing fields, or a nursery. In 1993-4 the annual income was £5, 196. (fn. 254) The Philip Theasby Memorial Fund was set up in 1980, in memory of a former headmaster, to provide school prizes, but in 1993 the income of £45 was used instead to buy books. (fn. 255)
A British school was recorded in 1866 and again in 1871. (fn. 256) It was perhaps that school which 24 boys attended at inspection in 1871. (fn. 257)
HEMPHOLME
A room was built at Hempholme, apparently in 1818, for a school, which was supported by subscription; it had evidently been closed by 1833. (fn. 258) On inspection day in 1871 Hempholme children attended North Frodingham school, and the former schoolroom was then and later used for church services. (fn. 259) The schoolroom was evidently being used again in 1889, when a National school at Hempholme had an average attendance of 14. (fn. 260) No more is heard of the school, and by the 1930s Hempholme children went to Brandesburton. (fn. 261)
CHARITY FOR THE POOR
One Wilkinson of Hull (d. by 1764) left £1 a year, but payment was refused and the charity was lost. (fn. 262)