Pages 40-50
A History of the County of York East Riding: Volume 7, Holderness Wapentake, Middle and North Divisions. Originally published by Victoria County History, London, 2002.
This free content was digitised by double rekeying. All rights reserved.
GARTON
THE village of Garton lies close to the sea, some 17 km. ENE. of Hull, and the parish is best known for Grimston Garth, an 18th-century mansion standing in well wooded parkland east of the village. (fn. 1) A group of houses belonging to the chief estate stands at the north entrance to the park, forming the modern hamlet of Grimston; the medieval Grimston, now depopulated, was situated c. ½ km. to the north-west. The name Garton, perhaps meaning 'farmstead in or near a triangular piece of land', may be an Anglian and Scandinavian hybrid. From the 14th century the village was often distinguished from Garton on the Wolds by the suffix 'in Holderness'. The name Grimston may mean 'Grim's farmstead', and it is also a hybrid. The suffix 'Garth', apparently referring to the enclosure in which the manor house stood, (fn. 2) has also been used for the hamlet from the 16th century. (fn. 3)
The ancient parish of Garton comprised the greater part of Garton with Grimston township and several detached parts in Owstwick township; in 1852 it contained 2,064 a. (835 ha.), of which 1,614 a. (653 ha.) were in Garton with Grimston and 450 a. (182 ha.) in Owstwick. Most of Owstwick was in Roos parish, and its history is treated below with that of Roos. The rest of Garton with Grimston township, 209 a. (85 ha.) in 1852, was also in Roos parish; (fn. 4) the boundary of the Roos part, which lay in Grimston, was defined in 1701. (fn. 5) The area of Garton with Grimston township, later civil parish, had been reduced by coastal erosion to 1,790 a. (724 ha.) by 1911. (fn. 6) In 1935 Garton with Grimston civil parish, with the same area, was added to Fitling civil parish, in Humbleton, to form East Garton civil parish, with a total area of 3,320 a. (1,344 ha.). (fn. 7) By 1991 that area had been reduced by erosion to 1,327 ha. (3,279 a.). (fn. 8)
There were 48 poll-tax payers at Grimston in 1377 but no return survives for Garton. (fn. 9) In 1672 Garton and Grimston together had 18 houses assessed for hearth tax and 4 discharged. (fn. 10) The parish contained c. 22 families in 1743 and 24 in 1764. (fn. 11) From 105 in 1801 the population of Garton with Grimston township rose to 179 in 1841, was stable at c. 160 until the 1880s, and then fell to 121 in 1901. Numbers later rose to 144 in 1931. The population of the larger East Garton civil parish was 229 in 1931 and hardly changed until the 1960s, when it began to fall; 193 were counted in 1971 and 181 of the usuallyresident 193 in 1991. (fn. 12)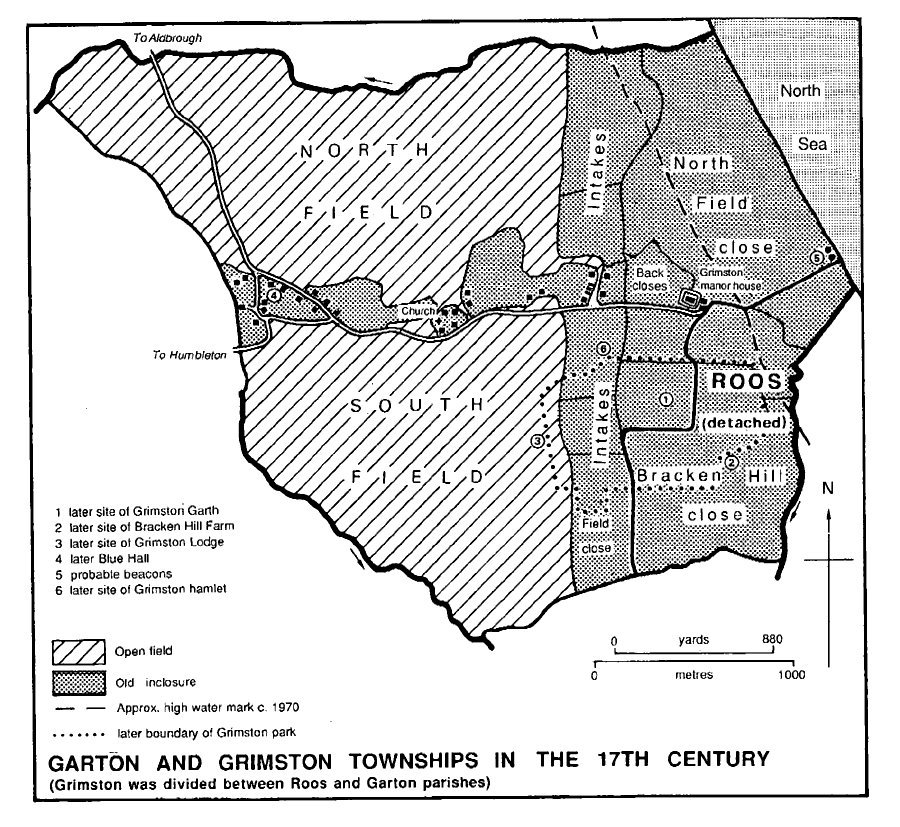 Most of the township is on boulder clay and lies at more than 15 m. above sea level, rising to over 22 m. near the coast and resulting in an almost unbroken line of steep cliffs. Lower land, c. 13 m. above sea level, in the north and west is partly alluvial, and there are several pockets of sand and gravel. (fn. 13) The open fields of Garton extended from the higher ground into the lower areas, which also provided common grazing.
A stream rising on the high ground near the cliffs and flowing westwards towards the river Humber defines the northern township boundary; it was said to be neglected in 1367. Another drain described as insufficient in 1367 was probably that which formed the boundary with Tunstall. (fn. 14) In 1618 the grounds drained by Keyingham fleet included 12 a. in Garton, (fn. 15) and under the Keyingham Level Drainage Acts of 1772 and later (fn. 16) the northern stream was improved as East Newton and Bail drains. (fn. 17) Lesser drains within the level included those running along much of the western boundary of Garton. After 1845 some 24 a. of low grounds in Garton were assessed to the drainage. (fn. 18) Keyingham Level Drainage Board still existed in 1998. (fn. 19)
The coast road from Hornsea to Withernsea runs through the west part of the township, leading northwards to Aldbrough and southwards to Hilston and Roos, and a minor road leads westwards to Fitling and Humbleton. The Aldbrough road is carried over the northern boundary drain by Bail bridge. (fn. 20) Roads formerly leading from the east end of Garton village northwards to Ringbrough and East Newton, in Aldbrough, and southwards to the Roos road were later partly represented by field roads and paths. (fn. 21)
GARTON village has a linear plan, its garths lying east-west across the township and formerly separating the open fields to north and south. The main street is formed by the Aldbrough road and a side road to Grimston. In the 17th century a dozen houses stood on both sides of the street and in a southern back lane at the west end of the village, and the church and half a dozen houses lay north of the street at the east end. Other garths were already empty. (fn. 22) Houses removed by the mid 19th century included several at the west end of the street. (fn. 23) Of the older buildings still standing in 1989 only Blue Hall Farm is noteworthy. (fn. 24) A dozen houses date from the 20th century, including eight council houses and one or two rebuilt farmhouses. (fn. 25)
GRIMSTON.The main street of Garton continues eastwards to Moat Farm, formerly Grimston manor house. Two houses at Grimston were recorded as decayed in 1517 as the result of inclosure. (fn. 26) In the 17th century half a dozen houses stood in a side lane west of the manor house; (fn. 27) their site was later known as Old Garths. (fn. 28) It was evidently proposed in 1785 to build cottages along with the new mansion at Grimston, (fn. 29) and a few stood beside the road leading into Grimston park by 1852. (fn. 30) A school was added in 1860, (fn. 31) and about the same date a lodge and three more cottages. (fn. 32) Some of the cottages have decorative bargeboards.
There were 1-2 licensed houses in the parish in the late 18th century. At Grimston the Stag's Head, presumably named from the Grimston family crest, or the Nag's Head was recorded in the 1820s, and it was probably the beerhouse mentioned in 1840. (fn. 33) A reading room at Garton was provided in 1887 in a cottage belonging to the church. (fn. 34) The former school at Grimston was used as a parish hall from 1961, and later meetings were held in the Methodist church in Fitling, in Humbleton. (fn. 35)
OUTLYING BUILDING include two farmhouses, Bracken Hill and Turmar Farm. Land called Bracken hill was recorded in the 15th century, and there was an old inclosure of that name in the 17th century. Bracken Hill was built there, possibly by 1772, and it was named in the 1820s, together with No Man's Friend, later Turmar Farm. (fn. 36)
High ground near the cliffs has been used for beacons. Three were recorded at Grimston in 1588, (fn. 37) and two structures shown on a 17thcentury map were presumably the beacons commemorated by the name Beacon field. (fn. 38) A beacon was maintained on Beacon Hill in the early 19th century. (fn. 39) Thomas Grimston (d. 1821) raised and led forces of yeoman cavalry from Holderness between 1794 and 1814. (fn. 40)
MANORS AND OTHER ESTATES.
In 1066 Morkar held 4 carucates at Grimston as soke of Withernsea manor. By 1086 the estate had passed to Drew de Bevrère, (fn. 41) and, like Withernsea, it later became part of the Aumale fee. (fn. 42) William de Ros was the tenant in the mid 13th century, and Grimston later descended in the Ros family, later Lords Ros of Helmsley (Yorks. N.R.), and their heirs, the Manners family, earls of Rutland, and the Cecils, Lords Ros, as a member of Roos manor. (fn. 43)
Grimston was held of the Ros family by the Grimstons. (fn. 44) Early tenants may have included Gilbert of Grimston, witness c. 1150 to a deed by William le Gros, count of Aumale, and Ralph of Grimston and his son Thomas, who were recorded in the early 13th century. (fn. 45) Roger of Grimston was named as a lord of Garton in 1316. (fn. 46) William of Grimston had succeeded by 1325, and held all 4 carucates by knight service in 1343. (fn. 47) Thomas of Grimston, undertenant by 1351, (fn. 48) was evidently succeeded by Sir Gerard of Grimston, and he by his son William by 1386. (fn. 49) The same or another William was lord of Grimston in 1415, (fn. 50) and Thomas Grimston (d. by 1462) was licensed to have an oratory there in the 1450s. (fn. 51) As the manor of GRIMSTON, later GRIMSTON GARTH, (fn. 52) the estate descended from Walter Grimston (d. 1544) to his son Thomas, and then possibly to Marmaduke Grimston, who was named as the tenant of the 4 carucates, held as 1 knight's fee, in 1558. (fn. 53) Walter's son Thomas or another Thomas (d. 1572) was succeeded by his son Thomas (d. 1586) and that Thomas's son Sir Marmaduke (d. 1604), whose heir was his brother Thomas. (fn. 54)
The estate, by then including a manor of GARTON, presumably part of the property formerly belonging to Thornton abbey, (fn. 55) passed from Thomas Grimston (d. 1618) to his nephew Marmaduke Grimston (d. 1623). (fn. 56) Later reckoned a single manor, GARTON WITH GRIMSTON, it descended in the family (fn. 57) to Marmaduke Grimston (d. 1879), whose heirs were his daughters Florence, who married Edward Byrom, and Rose, who married George Hobart and in 1912 assumed the additional name Grimston. The family estates were held in undivided moieties (fn. 58) until 1918. The manor house and c. 1,210 a. in Garton with Grimston township then formed the bulk of the share assigned to Mrs. Hobart Grimston and her daughter Armatrude, wife of Sir Max Waechter. (fn. 59) Lady Waechter, who took the additional name de Grimston on her mother's death in 1927, gave the estate to her cousin Norman R. Grimston in 1946, and he sold it in 1948 to St. Andrew's Steam Fishing Co. Ltd. (fn. 60)
The company later sold much of the estate. Grimston Garth mansion, with nearly 100 a., and the 106-a. Bracken Hill farm were bought in 1949 by Joan Little, who sold the farmhouse with 65 a. to Harold Cox the same year. (fn. 61) Moat farm with 119 a. was bought by Frank Beadle in 1955, and the 231-a. Poplar farm by Frank Long in 1957. (fn. 62) In 1966 the remaining c. 600 a. were conveyed to Boston Deep Sea Fisheries Ltd., which in 1967 sold the 329-a. Church farm to Frank Long and the 273-a. Turmar farm to Claude Cox. (fn. 63) Grimston Garth and part of the grounds were sold by Mrs. Little in 1964 to Reckitt & Sons Ltd., which transferred the premises in 1970 to Reckitt & Colman Products Ltd. In 1972 the house was bought by Mr. Oliver Marriott, the owner in 1989. (fn. 64)
A chief house at Grimston was implied in the licence for an oratory in the 15th century, (fn. 65) and Grimston Garth was recorded as a seat of the Grimstons in 1586. (fn. 66) The manor house, which had seven hearths in 1672, (fn. 67) is said to have been burned down during the lifetime of William Grimston (1640-1711). (fn. 68) A substantial house nevertheless survived in 1772. (fn. 69) In the 18th century it seems not to have been used by the Grimstons, who stayed at Hilston when visiting their Holderness estate. (fn. 70) The manor house, or a replacement on its moated site, was later known successively as Grimston Garth Farm and Moat Farm; it was superseded in 1956 by a new house standing outside the moat. Part of the old house stood in outbuildings on the still moated site in 1989, when a smaller moat near by surrounding an earthwork called the Mount also survived. (fn. 71)
A new Grimston Hall or Garth (fn. 72) was built by Thomas Grimston (d. 1821) between 1781 and 1786 about ½ km. south of the medieval site and a similar distance from the cliffs. It was used as a summer residence by the family, who also lived at Kilnwick. (fn. 73) The castellated house was designed by John Carr of York and built of brick with stone dressings, all of which was originally colour-washed. (fn. 74) The main block is triangular with a circular tower at each corner. The dining and drawing rooms are hexagonal and occupy the two principal floors within the triangle, with the hexagonal bedroom lantern and the tops of the towers rising one more storey. Two-storeyed wings, which also end in circular towers, adjoin the north side and enclose a narrow open court; they provided offices on the ground floor and bedrooms above. Much of the original Gothick plaster decoration and woodwork survives on the ground floor. The other principal rooms were decorated in a restrained Georgian style. The house may have been remodelled c. 1832, (fn. 75) and minor alterations were made c. 1860 to designs by W. D. Keyworth of Hull. (fn. 76) Those 19th-century changes included the addition of a three-storeyed tower against the eastern service wing and the enclosing of the service court. The house, which was not used by the family in the late 19th century, was restored by Lady Waechter de Grimston in the 1920s, (fn. 77) when the drawing room was provided with elaborate overdoors and oriental wallpaper. Further restoration, begun in the 1970s and continuing in 1990, involved the removal of the additions of the 1920s and most of those of the 19th century. The house lies close to the northern edge of a landscaped park of about 1 sq. km. which may have been laid out by Thomas White in 1782. (fn. 78) Work was continuing on the outbuildings in 1787, (fn. 79) presumably the low Gothick stable court just north of the house. To the west Grimston Lodge, a tall castellated gatehouse, was built and possibly designed by John Earle of Hull in 1812, (fn. 80) and a lodge in Grimston hamlet was described as newly built in 1861. (fn. 81)
The archbishop of York had a berewick of 2 carucates at Grimston in 1086. (fn. 82) His fee there was mentioned again in the 13th century. (fn. 83) By the mid 16th century 140 a. were held of the archiepiscopal manor of Cawood (Yorks. W.R.) by the Grimstons and later descended with Grimston manor. (fn. 84)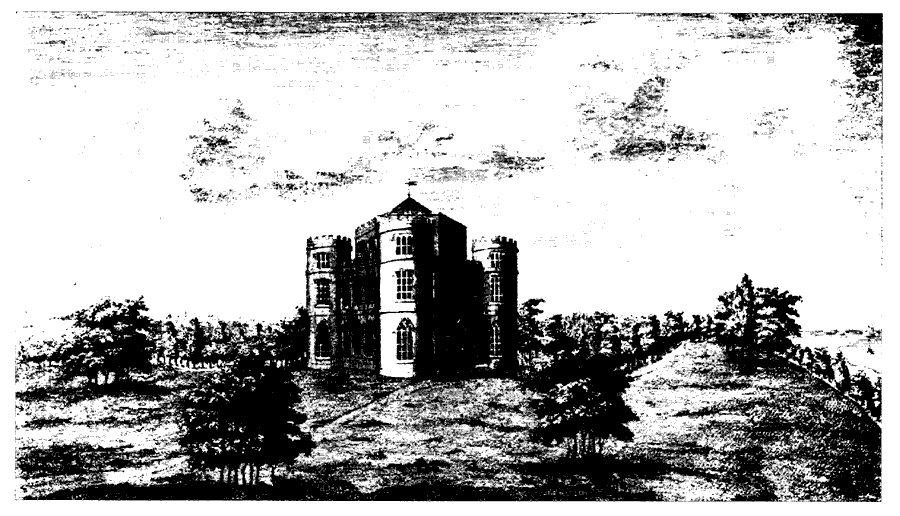 In 1066 Morkar held 6 carucates in Garton as soke of Easington manor. The estate passed to Drew de Bevrère, whose tenant Baldwin held it in 1086, and it later became part of the Aumale fee. (fn. 85) In the mid 13th century William of Etherdwick and William de Stutville held 5 carucates and 2 bovates of the estate. (fn. 86)
Some of the Aumale fee evidently passed to the Ros family, and descended as an appurtenance of Roos manor. (fn. 87) Another part was held by a cadet branch of the Ros family as a member of Ringbrough manor, in Aldbrough, with which it descended. (fn. 88) In 1351 at Garton 1 carucate of demesne and rent were held as 1/48 knight's fee, and there were 4½ bovates at Grimston. (fn. 89) In the 16th century the estate at Garton and Grimston included half a dozen houses and was wholly held by tenants. (fn. 90)
A large part of Garton evidently passed to Thornton abbey (Lincs.). By 1190 one Maurice had given 2 bovates there, (fn. 91) and gifts were later received from Geoffrey of Gunthorpe and William le Bret, and probably from Thomas Nuthill, who was licensed to grant premises at Grimston in 1392. (fn. 92) By the mid 13th century 6 bovates were held in Garton, and in 1316 the abbot was named as one of its lords. (fn. 93)
After the Dissolution the former abbey's manor of GARTON WITH GRIMSTON was granted to the short-lived Thornton college in 1542. (fn. 94) By the college's suppression the estate passed to the Crown, which sold houses and land at Garton in the 1590s. The rest of the estate was granted, as the manor of GARTON, to John Eldred and William Whitmore in 1611; (fn. 95) no more is known of it.
The manor house and 5 bovates were granted in fee farm in 1590 to Edmund Downing and Roger Rante, (fn. 96) and two houses with lands to John Wells and Henry Best in 1595. (fn. 97) Both holdings passed to Sir Henry Constable, who evidently sold them to Marmaduke Grimston in 1595-6. (fn. 98)
It was perhaps the same estate, reputed a manor of GARTON, which by the late 17th century belonged to Henry Constable (d. 1700), (fn. 99) a junior member of the Constables of Burton Constable. Henry was succeeded by the senior line, (fn. 100) and in 1774 William Constable sold the estate, then comprising 535 a. in three farms, to John Wright. (fn. 101) In 1785 Wright sold two of the farms, amounting to 384 a., to John Graves, evidently as trustee for Thomas Grimston. (fn. 102) The land later descended with the rest of the Grimston family's estate, some being used for the new park. (fn. 103)
The farm remaining with John Wright (d. by 1792), of 152 a. and later called Blue Hall farm, was devised to his son Samuel and sold to Thomas Walker in 1795 and Samuel Stocks in 1822. (fn. 104) Stocks died before 1856, when his trustee D. B. Kendell had the farm. (fn. 105) Kendell died in 1902, and the next year the estate was vested in the Revd. Samuel Hall, who had married Helen Kendell. (fn. 106) Hall died in 1942, and the farm was sold in 1943 to Bernard Hartley (d. 1961), from whose representatives Rudolph Sprinz bought it in 1964. (fn. 107) Mr. Sprinz was the owner in 1989. (fn. 108) The house was sold separately in 1990. (fn. 109)
The manor house recorded from 1718 was presumably Blue Hall, which was so called in 1749, evidently from the colour of its roof tiles. (fn. 110) The house, which is of red brick, was built in the later 17th century and has an L-shaped plan. The main west front was of three storeys and five bays with a central entrance. A two-storeyed service range ran eastwards behind its south end. The upper floor of the main range and the east end of the service wing were demolished in the 19th century, when the fenestration was also altered. The house was again remodelled in 1992-3, and the west front later looked early 19th-century in style, though the interior has panelled rooms and other fittings of the late 17th century and a possibly refixed staircase of that period with heavy, turned balusters. (fn. 111) There are remains of possible moats, and there may also have been a walled forecourt to the west front.
Tenants of Thornton abbey included the Gowers, who had a so-called manor of GARTON. Thomas Gower (d. 1522) held a chief house and 80-100 a. of the abbey by fealty, besides 20-30 a. under Burstwick manor by military service, and his family later also held land of Roos manor. Thomas Gower was succeeded in turn by his sons George (d. 1535) and Gilbert. (fn. 112) The latter (d. 1586) defended his right to the manor in 1572, and was succeeded by his grandson Marmaduke, (fn. 113) who sold all or part of the estate, then extending into Fitling, to Marmaduke Grimston (d. 1604). (fn. 114) After the purchase the Grimstons, who already had part of Thornton's former estate, (fn. 115) held the reputed manor of the Crown under either Humbleton manor or Thornton manor. (fn. 116) It later descended with Grimston manor.
After the appropriation of the church c. 1222, the RECTORY also belonged to Thornton abbey, which had 3 bovates of glebe by 1260. (fn. 117) Like Thornton's manor, the rectorial estate passed in the 16th century to Thornton college and then to the Crown. In 1604 corn and hay tithes in Garton and lamb, wool, and other tithes at Grimston were granted to Sir Henry Lindley and John Starkey. (fn. 118) They were later sold to Richard and Miles Dodson, and then to Thomas Swann, (fn. 119) whose son, also Thomas, sold them in 1635 to John Chambers. In 1650 the tithes were valued at £18 net a year. (fn. 120) They were paid by composition in the 17th century. (fn. 121) John Chambers (d. 1655) was succeeded by his widow Margaret, who in 1671 released her life interest to their son Henry. (fn. 122) In 1679 the tithes were sold to Henry Maister. (fn. 123) The rectorial tithes later comprised only those on corn, hay, and wool. (fn. 124) Maister (d. c. 1699) was succeeded in the direct male line by William (d. 1716), Henry (d. 1744), and Henry (d. 1812). (fn. 125)
In 1808 Henry Maister sold most of the tithes to the landowners: those on 1,043 a. to Thomas Grimston, on 194 a. to William Jackson, and on 100 a. to John Wilson. (fn. 126) The tithes on 1,512 a. were merged in 1843. (fn. 127) Those remaining with Henry Maister passed to his nephew Arthur Maister (d. 1833) (fn. 128) and Arthur's son, the Revd. Henry Maister, who was awarded a rent charge of £16 for those from 77 a. in 1843. (fn. 129)
Meaux abbey had a small estate at Grimston. Gifts made between 1210 and 1220 included a bovate given by Robert the butler. Further grants were made in the mid 13th and late 14th century. (fn. 130) Part of the estate was tenanted by the Grimston family in the 14th century. All of it was evidently later lost to the abbey by sale and by erosion, which was said in 1401 to have destroyed 21 a. (fn. 131)
ECONOMIC HISTORY.
COMMON LANDS AND INCLOSURE. Garton and Grimston both had their own common lands.
Garton. In the 17th century the open fields of Garton comprised 597 a. in North field and 489 a. in South field. (fn. 132) Both fields then included unspecified areas of meadow land and pasture. The fields were inclosed probably c. 1650, when a related agreement about tithes was said to have been made, and certainly by 1676. (fn. 133) The new closes included one of 50 a., mentioned in 1699, described as the westernmost part of Great, presumably North, field. (fn. 134) The location of the former tillage was also evident later from traces of ridge and furrow, and from the characteristic long, serpentine shape of some closes, which clearly followed the earlier groupings of strips. (fn. 135)
An area called the Bail, (fn. 136) in the north-western corner of the township, was used as a stinted pasture after the inclosure of the open fields. Beast gates there were referred to in 1677 and 1705, (fn. 137) but it apparently ceased to be used in common soon after. A close in the Bail was recorded in 1716, (fn. 138) and later in the century c. 70 a. lay in six Bail closes. (fn. 139)
Grimston. At Grimston the common lands included North field and other open-field land south of the hamlet. (fn. 140) The inhabitants of Grimston may once have enjoyed grazing rights in neighbouring Tunstall. (fn. 141) North field was evidently reduced by piecemeal inclosure. In 1517 Margaret Grimston was reported to have taken 40 a. of tillage for pasture and put down two ploughs; (fn. 142) part of the ground may have lain immediately west of the manor house, where inclosures called Back closes in the 17th century were later known as Great Parks. (fn. 143) By the 17th century the whole of the township lay in closes, the largest of which was the 226-a. North field. Another 100 a. lay in two closes described as 'intakes in the North field'. (fn. 144) In 1609 North field belonged to Thomas Grimston and was described as a pasture close. (fn. 145) North field had been divided by 1676, when Beacon field close was mentioned. (fn. 146) Closes lying south of the hamlet in the 17th century included three intakes, comprising 119 a., and the 129-a. Bracken Hill close. Ridge and furrow survived in 1989 in Grimston park. (fn. 147)
LATER AGRICULTURE.In 1801 Garton parish as a whole had 523 a. under crops. (fn. 148) In the smaller area of Garton with Grimston township there were 1,122 a. of arable and 596 a. of grassland in 1843, (fn. 149) and 1,150 a. and 545 a. respectively in 1905. (fn. 150) By the 1930s the predominance of arable over grassland was less marked. (fn. 151) In 1987 in East Garton civil parish 673.5 ha. (1,664 a.) were returned as arable land and 199.6 ha. (493 a.) as grassland; over 9,000 pigs, more than 600 cattle, and c. 170 sheep were then kept. (fn. 152) Much tree planting was done by the Grimstons, (fn. 153) both near the manor house and in the north-west part of the township, where the 24-a. Bail wood existed by 1829. (fn. 154) The township contained 72 a. of woodland in 1843 (fn. 155) and 84 a. in 1905. (fn. 156)
In the 19th and 20th centuries there were usually 8 farmers in the township, of whom 6 in 1851 and 7 in the 1920s and 1930s had 150 a. or more. (fn. 157) Holdings of up to 10 a. were let with their cottages to half a dozen tenants on the Grimston family's estate in the 19th century. (fn. 158) Some market gardening was pursued in the late 19th century, and there were 2-3 cowkeepers in the late 19th and early 20th century and a poultry farmer in the 1920s and 1930s. (fn. 159) In 1987 of 18 holdings returned at East Garton three were of 100-199 ha. (247-492 a.), five of 50-99 ha. (124-245 a.), three of 10-49 ha. (25-121 a.), and seven of under 10 ha. (fn. 160)
INDUSTRY.Bricks were burnt locally for the building of the new manor house at Grimston in the 1780s, (fn. 161) and there was a brick and tile works near Turmar Farm in the mid 19th century. (fn. 162) Gravel was extracted from the shore in the 1860s. (fn. 163) An animal breeding station was kept at Grimston by Reckitts in the 1960s and 1970s, (fn. 164) and in 1989 the premises were occupied by laboratory animal consultants and agricultural feed and pharmaceuticals firms. (fn. 165)
MILLS.One or two windmills stood in Garton c. 1600. (fn. 166) A mill near the southern boundary was commemorated in the 17th century by Mill Field close, and later by Millfield or Windmill hill, and ground in the south-west is called Mill hill. (fn. 167) Blue mill, near Blue Hall farm, was evidently built in the mid 1820s and worked until c. 1880; the tower survived in 1989. (fn. 168)
LOCAL GOVERNMENT.
A court was included in the grant of the manor of Garton in 1611, (fn. 169) and view of frankpledge belonged to the manor of the Constable family in the 18th century. (fn. 170) Inhabitants of Grimston were presented in Roos manor court for breaches of the assize of ale in the Middle Ages. (fn. 171)
Churchwardens' accounts exist from 1754. (fn. 172) Permanent poor relief was given to 16 people in 1802-3 and 3-5 in 1812-15 and 2-4 were relieved occasionally in the early 19th century. (fn. 173) Cottages built on land belonging to the church were used as poorhouses in the mid 19th century. (fn. 174) Garton with Grimston joined Skirlaugh poor-law union in 1837 (fn. 175) and remained in Skirlaugh rural district until 1935 when it was taken into Holderness rural district as part of the new civil parish of East Garton, which became part of the Holderness district of Humberside in 1974. (fn. 176) In 1996 East Garton parish became part of a new East Riding unitary area. (fn. 177)
CHURCH.
The church recorded on an estate in Garton and Ringbrough, in Aldbrough, in 1086 (fn. 178) was probably at Garton, and a church certainly existed there by 1190, when it belonged to Thornton abbey (Lincs.) as the gift of Hanelaci of Bydon. (fn. 179) It was appropriated to the abbey c. 1222. (fn. 180) A vicarage was apparently ordained by the mid century, when Hugh, vicar of Garton, was mentioned, (fn. 181) but it was not recorded until 1308. (fn. 182) Garton was united with Hilston in 1927 and with Roos with Tunstall in 1974. (fn. 183)
The advowson belonged to Thornton abbey until the Dissolution, (fn. 184) and in 1542 it was granted to the short-lived Thornton college. (fn. 185) Elias Asby presented in 1546 as grantee of Thornton abbey but the patronage was thereafter resumed by the Crown. A grant of the advowson of 'Garton' to the archbishop in 1558 evidently did not take effect. (fn. 186) After the union of 1927 the Crown had two turns in four in the patronage of the new benefice. (fn. 187) In 1956 the Crown's turns were transferred to the archbishop, who was the sole patron from 1960. (fn. 188) At the further union of 1974 one turn in three was given to the archbishop. (fn. 189)
The church was worth £6 13s. 4d. in 1291. (fn. 190) Thornton abbey was cited for the insufficiency of the vicar's portion in 1308. (fn. 191) The living was worth just over £6 gross in 1535 (fn. 192) and the improved annual value in 1650 was £10 net. (fn. 193) Augmentations from Queen Anne's Bounty were received in 1767 and 1787, of £200 on each occasion, (fn. 194) and the average net value in 1829-31 was £97 a year. (fn. 195) A grant of £125 from the Common Fund was made in 1863 to meet a benefaction of like amount (fn. 196) and in 1884 the net value of the living was £100. (fn. 197)
Most of the income came from tithes. (fn. 198) By the late 17th century they were mostly paid by composition (fn. 199) and in the early 18th century some were withheld as allegedly due to the rectory. (fn. 200) Except for those due from the vicarial glebe, which had been merged, the tithes were commuted in 1843; rent charges of £68 and £19 16s. were awarded respectively for those of Garton with Grimston township and that part of Owstwick township which lay in Garton parish. (fn. 201)
There was only 1 a. of glebe in 1535 and c. 5 a. in the earlier 18th century. (fn. 202) The augmentations were used to buy 5 a. in Cottingham in 1768 and 7 a. in Etherdwick, in Aldbrough, c. 1800. (fn. 203) An acre in Cottingham was sold in 1846 and nearly £6 a year was later received as interest on the purchase money. (fn. 204) Three acres in Garton were sold in 1925 and c. 2 a. in 1962. (fn. 205) In 1978 there were still 4 a. of glebe in Cottingham and 7 a. in Aldbrough. (fn. 206) A vicarage house was recorded from 1308, when it was inadequate. (fn. 207) It was no more than a cottage in the 18th and earlier 19th century (fn. 208) but by 1889 a new house had been built nearby. (fn. 209) It was sold in 1962. (fn. 210)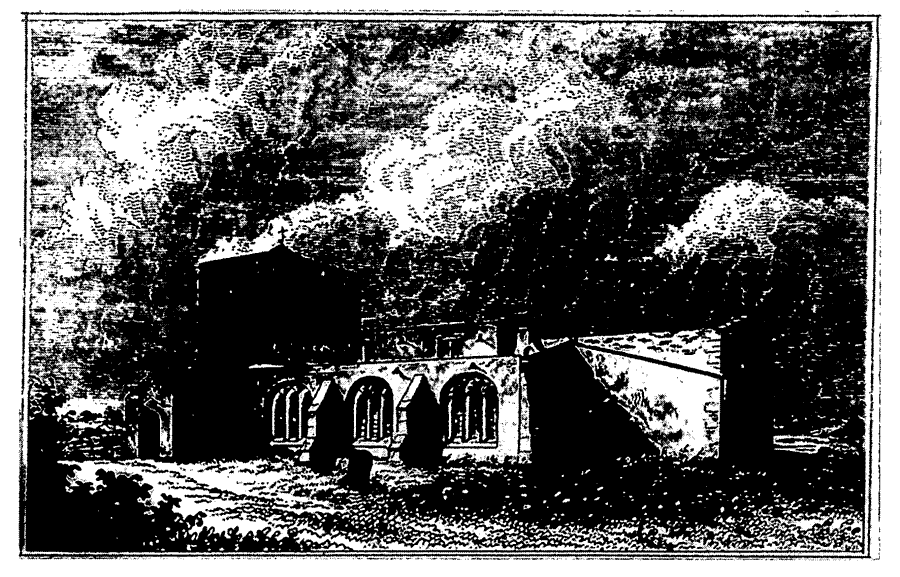 Lights in the church included a plough light in 1515. (fn. 211)
In the 17th and 18th centuries vicars were not appointed and Garton was served by licensed curates (fn. 212) who had other parishes too. In 1743, for instance, John Browne also officiated at Aldbrough, Humbleton, and Elstronwick, in Humbleton, and lived at Humbleton. (fn. 213) The incumbent of Garton with Hilston lived at Garton from 1927 until 1947. From 1948 Garton with Hilston was served by the incumbent of Roos with Tunstall. (fn. 214) There was a chaplain at Garton in 1525-6 who received £4 net a year, (fn. 215) perhaps the £4 which the impropriator was said in 1716 to have formerly paid for a monthly sermon. By 1716 and still in 1857 the vicar received £2 for the duty. (fn. 216) An assistant curate was employed in the 1830s. (fn. 217)
There was a service on two Sundays out of three in 1743 and 1764, and communion was celebrated thrice a year, with c. 20 recipients. (fn. 218) Two weekly services were held by 1865 but in the 1870s and in 1884 there was only one. Communion was celebrated about every eight weeks in 1865, monthly by 1868, every six weeks in 1884, and monthly again c. 1920, with usually a dozen recipients in the 19th and early 20th century. A weekly celebration was held in either Garton or Hilston in 1931, when generally only five people received at Garton. (fn. 219) A parochial library was mentioned c. 1920. (fn. 220)
The church of ST. MICHAEL, so called by 1468, (fn. 221) is built of boulders with ashlar dressings and consists of chancel with south chapel, nave with south aisle and porch, and west tower. The north wall of the nave, and perhaps that of the chancel, survive from a 12th-century church. The tower was added and the chancel extended or rebuilt in the earlier 13th century. The south aisle and chapel were added in the 14th century, when new windows and a doorway were put into the north wall. In the 16th century the aisle and chapel were refenestrated and the porch, which is mostly of brick, was added. The church was in disrepair in 1578 and in the later 17th century. (fn. 222)
A mausoleum was built on the north side of the chancel by Charles Grimston c. 1820 (fn. 223) and two windows were inserted on the south side of the nave to form a clerestory by 1840. (fn. 224) The mausoleum was evidently removed and the clerestory windows blocked up in the mid century, (fn. 225) when new corbel stones were also put up. (fn. 226) Restoration work in 1887, to designs by Smith & Brodrick of Hull, included the replacement of the east window and one in the nave and the insertion of another in the chancel. (fn. 227) Another window was made in the nave in 1929 (fn. 228) and at about the same date the chancel and nave roofs were rebuilt. (fn. 229)
The Grimston family is commemorated in several windows and by two hatchments. The fittings include a mutilated chancel screen, which was reported in 1567. (fn. 230) A carved Calvary was mounted on the screen c. 1929. (fn. 231) Part of a late medieval cross head stands in the porch.
Land in Garton given to the church was among concealed lands let by the Crown c. 1590. (fn. 232) Nearly 3 a. in Kirk Field close were said in 1716 to have been given for buying bread and wine for communion, but by 1743 the income was used for church repairs. The annual income was 12s. in 1716 (fn. 233) and £2 2s. by the 1830s. (fn. 234) Cottages for the poor were built and gardens made there in or shortly before 1837. (fn. 235) The endowment was later known as the Church Land and Cottages. By a Scheme of 1910 expenditure was allowed for the upkeep of church and cottages and for the support of services. The cottages and the land then produced an income of nearly £16 (fn. 236) but that sum was reduced by the demolition of the cottages; the land, then comprising under 2 a., was let for £4 a year in the mid century and £40 in 1990. (fn. 237) In 1932 N. J. Miller, vicar of Garton 1886-90, left £500 for the fabric of Garton and Hilston churches. (fn. 238) The Friends of St. Michael's were established in 1975 and later maintained the churchyard. (fn. 239)
There were two bells in 1552 (fn. 240) but later only one. (fn. 241) The plate includes a service given in 1834. (fn. 242) The registers of baptisms, marriages, and burials date from 1582 and are complete, except for 1661. (fn. 243)
NONCONFORMITY.
Religious conservatism in Garton was revealed by the visitations of 1567 and 1582. (fn. 244) The number of Roman Catholics recorded then and later rarely exceeded half a dozen; members of the Grimston family were, however, named in the 16th century, and a private chaplain was kept by Henry Constable of Garton (d. 1700). (fn. 245) Two families were Roman Catholic in 1743 and 1764. (fn. 246)
Four recusants named in 1669 and 10 protestant dissenters recorded in the parish in 1676 may have been Friends. (fn. 247) Quakers from Garton attended a meeting house at Owstwick. In 1743 there were three Quaker families, evidently including two from Grimston, and in 1764 five. (fn. 248)
The Wesleyan Methodists built a chapel at Garton in 1826 (fn. 249) which later also served Fitling, in Humbleton. (fn. 250) It was abandoned as unsafe in 1934, and later demolished. A new chapel, later the Methodist church, was built just beyond the parish boundary in Fitling in 1935. (fn. 251) In 2000 its congregation was small, but the building was also then used as a centre for meetings by various religious groups. (fn. 252)
An unidentified building at 'Garton' was registered for worship in 1827. (fn. 253)
EDUCATION.
In 1604 the curate of Garton kept a school, (fn. 254) and a school was recorded in the parish in 1743 and 1764, when it was supported by subscription. (fn. 255) A school in Garton in which 37 children were taught at their parents' expense in 1818 (fn. 256) was presumably that to which Thomas Grimston subscribed in 1819. (fn. 257) It was replaced by a school supported by Charles Grimston, which was evidently begun c. 1832 and in 1833 was attended by 3 boys and 8 girls, all said to be taught at their parents' expense. (fn. 258) The school was held in the church c. 1840. (fn. 259)
A Church school was built at Grimston on a site given by Marmaduke Grimston and opened in 1860. (fn. 260) It was supported by Marmaduke Grimston and other subscribers, (fn. 261) by school pence, and from 1861-2 by an annual govern ment grant. (fn. 262) Average attendance was 24 in 1860, (fn. 263) and on inspection day in 1871 there were 35 children at the school, (fn. 264) which was later said to take children from Owstwick township. (fn. 265) Closure recommended in 1905 because of the small roll was resisted, (fn. 266) and between 1906 and 1938 there were usually about 20 pupils in attendance. (fn. 267) Controlled status was granted to the school in 1950. (fn. 268) In 1954 the senior pupils were transferred to Withernsea High School, (fn. 269) and in 1960 the school was closed, the remaining pupils being transferred to Withernsea. (fn. 270) The school was sold for a parish hall in 1961, (fn. 271) but later the building was resold and converted into two houses.
CHARITY FOR THE POOR.
John Lamplough by will proved in 1896 left £50, with which nearly £40 stock was bought the next year. In the 1920s and 1930s the income of £1 a year was spent on fuel, clothing, and medical services, or used to make occasional money payments. (fn. 272) In 1989 the income was added to the balance of c. £25. (fn. 273)
In or shortly before 1837 half a dozen cottages were built and gardens made on land at Garton belonging to the church. (fn. 274) A reading room was later housed in one of the cottages, (fn. 275) which were rebuilt in 1894. (fn. 276) The cottages were occupied until the mid 20th century but have since been demolished. (fn. 277)