Pages 50-55
A History of the County of York East Riding: Volume 7, Holderness Wapentake, Middle and North Divisions. Originally published by Victoria County History, London, 2002.
This free content was digitised by double rekeying. All rights reserved.
HILSTON
THE village of Hilston lies 19 km. ENE. of Hull and 1 km. from the sea. (fn. 1) The name Hilston may be an Anglian and Scandinavian hybrid, and probably means 'Hildolf's farm'; the modern form was used by the 14th century. (fn. 2) In 1852 the ancient parish contained 553 a. (224 ha.). Hilston civil parish was united with those of Owstwick, Roos, and Tunstall to form a new Roos civil parish in 1935. (fn. 3)
Hilston and Owstwick, in Roos, together had 116 poll-tax payers in 1377. (fn. 4) Hilston had five houses assessed for hearth tax in 1672. (fn. 5) There were seven families in the parish in 1743 and 1764. (fn. 6) From 37 in 1801 the population of Hilston rose to 54 in 1861 before falling to 29 in 1901; it was only 27 in 1931. (fn. 7)
The parish is largely on boulder clay and mostly lies at over 15 m. above sea level, rising to more than 23 m. on the northern and southern boundaries and 27 m. at Hilston Mount. A small valley runs across the middle of the parish, close to the village, and lower land there is covered with sand and gravel. (fn. 8) The commonable lands, whose location is unknown, were evidently early inclosed.
Hilston is drained by streams flowing west towards the river Humber. That rising in Tunstall and running across the parish was in disrepair in 1367, as was a drain which evidently formed the boundary with Tunstall and Grim ston, in Garton. (fn. 9) A small area of the parish relied on Keyingham fleet for its drainage to the river: it was put at c. 6 a. in 1618, and 10 a. of low ground were assessed to the drainage of the level after 1845. (fn. 10)
The principal road in Hilston is that from Roos to Garton which passes the west end of the village and has been upgraded and improved (fn. 11) as part of the main Holderness coast road. From the east end of the village street roads run southeast to Roos and Tunstall and north-east to Hooks Farm in Tunstall. Another minor road, leading from the main road south-west to Owstwick, was perhaps recorded in 1669 as Burncroft Lane; (fn. 12) the land north of it was called Bryndcroft, meaning 'burnt enclosure', in the 13th century and Burncrofts later. (fn. 13) Much of the western parish boundary and part of the eastern are formed by the main and minor roads.
HILSTON village lies in the valley, the proximity of high ground and water presumably determining the choice of site and the relief the linear plan of the settlement. There were only six houses in 1783. (fn. 14) Two council houses were built in the mid 20th century, (fn. 15) but in 1990 there were still only ten houses, including a newly built farmhouse. The older houses include Mayfield and Mount Farms and Hilston Cottage. (fn. 16) A licensed house at Hilston was recorded c. 1755. (fn. 17)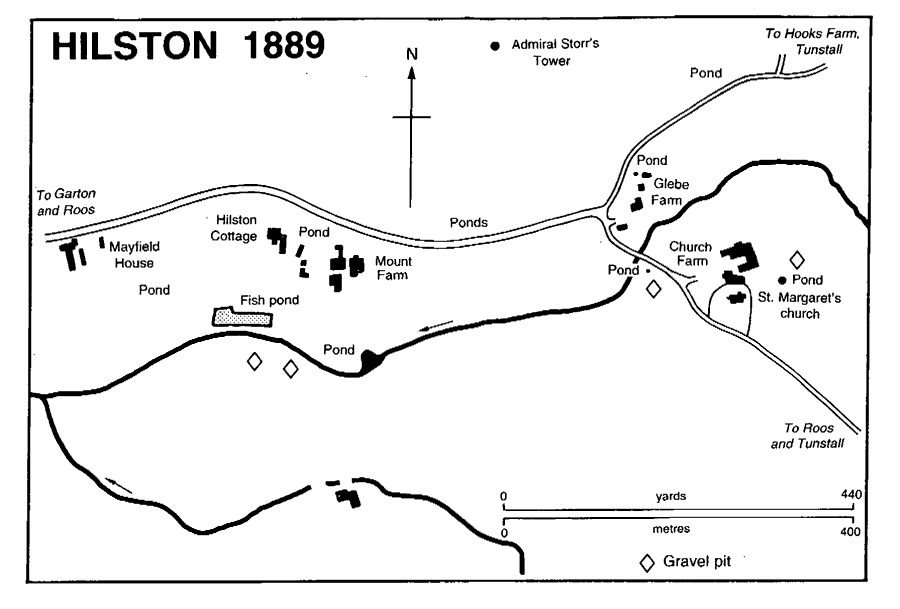 Hilston is known for Admiral Storr's Tower which stands north of the village on a knoll called Hilston Mount. The octagonal brick building is c. 50 ft. high and has a semicircular staircase turret on its northern side. It was built in 1750 by Joseph Storr (d. 1753) and was called the Mount in 1810 but by 1852 was named after Storr's son, Rear Admiral John Storr. It may have been intended as a watch tower and was reputedly a well known landmark for sailors; it served as a hospital for troops camped on the coast in 1794–5 and later as a cottage, but was disused in 1990. (fn. 18)
MANOR AND OTHER ESTATES.
In 1066 Murdoch held a manor of HILSTON, evidently comprising 42/3carucates; it had passed to Drew de Bevrère by 1086 (fn. 19) and later formed part of the Aumale fee.
Two carucates in Hilston, with land at Tansterne, in Aldbrough, Benningholme, in Swine, and elsewhere in Holderness, were evidently granted to a butler of the count of Aumale. (fn. 20) Beatrice, daughter of Amand the butler (d. by 1218) (fn. 21) and widow of Geoffrey de Friboys, held all of her father's fee in 1240 but John de Surdeval had a share by 1252, presumably as heir of another daughter, Hawise, wife of Alan de Surdeval. (fn. 22) The estate was later held by Geoffrey Berchaud (d. by 1276) and his son John. Geoffrey Berchaud's heir was said to have a mesne lordship in Hilston in 1287. (fn. 23) By then, though, Berchaud's holding had evidently passed to Simon Constable, probably by purchase from Geoffrey Vernon, and in 1285 he was granted free warren at Hilston. (fn. 24) His estate was enlarged by exchange with Nunkeeling priory. (fn. 25) At the death of Sir John Constable in 1349 he was mesne lord of the 2 carucates at Hilston. (fn. 26)
William of Routh (fl. c. 1250) held part of the butler's fee. (fn. 27) He was succeeded by Amand of Routh (fl. 1304), (fn. 28) and Amand by John of Routh (fn. 29) (dead in 1311), custody of whose son Amand was claimed by Robert Constable as overlord. (fn. 30) By the 1370s the estate had apparently been enlarged with 5¼ bovates belonging to Christine, wife of another Amand of Routh. (fn. 31) Hilston descended like Tansterne in the Rouths (fn. 32) and their successors the Cutts (fn. 33) and Michelbournes. (fn. 34) About 1500 the estate comprised 4 houses, 6 bovates, and other land and was held as HILSTON manor under Burton Constable manor, in Swine. (fn. 35) At a partition of the estates of the Michelbournes in 1614, Thomas Michelbourne released his moiety of Hilston to Sir Richard Michelbourne, thereby reuniting the manor. (fn. 36) Sir Richard sold much of the estate in 1614 and 1616. The rest descended to his son William who conveyed it to another son Henry in 1642; (fn. 37) no more is heard of it.
Sir Richard Michelbourne sold two houses, 3 bovates, and other lands to Frances, widow of Thomas Hardy, in 1616. She conveyed her purchase to her son Thomas Hardy in 1619. (fn. 38) The Hardys also bought land belonging to Thorpe manor in Aldbrough. (fn. 39) Jane, daughter of Thomas Hardy, presumably the younger, and wife successively of John Carlile (d. by 1669) and James Hewitt (d. by 1675) was succeeded in or after 1675 in part of the estate by her son James Hewitt (d. 1749) and in the rest by her son Randolph Carlile. On Carlile's death c. 1745 his share passed to Hewitt. The reunited estate descended to Hewitt's son Randolph, (fn. 40) who sold it as the manor or reputed manor of Hilston to Thomas Dixon the younger in 1770. (fn. 41) It was mortgaged to the Revd. Mark Sykes in 1772 and sold to him in 1780. (fn. 42) Hilston later descended like an estate in Owstwick (fn. 43) to Sir (Tatton) Mark Sykes, Bt. (d. 1919). In 1916 Church farm, with 126 a. in Hilston, was sold to Albert Clark and in 1920 the Sykes trustees sold the 85-a. Mayfield farm to William Wood. (fn. 44) Clark (d. 1924) devised Church farm to his wife Sarah (d. 1955); it passed to their son John Clark, who had bought c. 70 a. in Hilston, including Glebe farm, in 1954. (fn. 45) John Clark (d. 1977) was succeeded by his son J. R. Clark, the owner in 1991. (fn. 46) Wood sold Mayfield farm in 1927 to Charles Maltas (d. 1945) and his wife Alice (d. 1950), from whose executor George Clappison bought it in 1959. (fn. 47) It was sold in 1981 to D. C. Betts and his wife and in 1988 to John Waddleton and his wife, the owners in 1991. (fn. 48) Church Farm may have been the house of Mrs. Carlile and her second husband James Hewitt, which stood at the east end of the village and in 1672 had five hearths. (fn. 49) It was recorded again in 1750. (fn. 50) The house was extensively remodelled in the later 20th century, and by 1990 a new farmhouse had been built near it.
In 1614 Sir Richard Michelbourne sold a house, 1¼ bovate, other land, and the advowson to Marmaduke Marchant, rector, and 1¾ bovate and closes to John Storr. (fn. 51) Most of Marchant's purchase seems to have passed to the Storrs, in 1657 John Storr, probably another, being con firmed in a house and c. 70 a. and Jane Hardy in the advowson and an acre. (fn. 52) Storr (d. 1657) was succeeded in turn by his sons John (d. 1677) and Joseph (d. 1728), (fn. 53) and Joseph's son Joseph (d. 1753) was dealing with more than 243 a. in Hilston in 1739. (fn. 54) He was succeeded by his son, Rear Admiral John Storr (d. 1783), and John by his cousin G. W. Thompson (fn. 55) (d. by 1808). Thompson's son G. L. Thompson sold the estate in several lots in 1810. Joseph Foster then bought 120 a. and another purchase, of 95 a., (fn. 56) was added to his estate c. 1820. (fn. 57) Foster (d. c. 1835) left Hilston to his son James (fn. 58) (d. by 1845). The estate, comprising Hilston Cottage and Mount farm, was evidently devised in shares, (fn. 59) the residuary heirs being the Revd. William Foster and his sister Catherine's son, the Revd. N. J. Miller, who held it in moieties. (fn. 60)
N. J. Miller (d. 1932) was succeeded in his moiety by his daughter Dorothy Ward (d. 1966), and she by her goddaughters Mrs. Kathleen Graham and Miss Undine Moir, (fn. 61) who sold their share, comprising Mount Farm and c. 100 a., in 1976 to William Grant (Paull) Ltd. (fn. 62) The other moiety, of 109 a., may have descended from William Foster (d. 1880) to his son W. H. Foster (d. 1900) and then apparently passed to James A. Foster (fl. 1937). (fn. 63) He was succeeded by his son W. G. Foster, who sold Hilston Cottage and 7 a. to T. W. Kirtley in 1957 (fn. 64) and the rest of his half, amounting to some 105 a., to William Grant (Paull) Ltd. c. 1980. The estate was thus re-united by the company, which retained the farm in 1992. (fn. 65)
A house was included in the sale to Marchant in 1614, and in 1672 John Storr had a house of four hearths. (fn. 66) It was perhaps the same house which was illustrated c. 1720 as Storrs Hall; it was then of two storeys and comprised a fivebayed central block flanked by projecting gabled wings of two bays. (fn. 67) In 1754 the Storrs evidently remodelled or rebuilt their house, south of the street. It was demolished c. 1800 and Old Hall grounds were named in 1829. (fn. 68) A groom's cottage enlarged after the demolition (fn. 69) is probably the present Mount Farm, which comprises a range of one storey with attics, possibly of the 17th century, and extensions of the late 18th and 19th century. The successor to Old Hall as the chief house on the estate was sold with 4 a. of grounds to Joseph Foster in 1810. (fn. 70) It was called Hilston Cottage by the 1850s, when it was the house of the Revd. William Foster. (fn. 71) Hilston Cottage was possibly built c. 1700; it was extended later in the 18th century and again between 1846 and 1889. (fn. 72)
An estate extending into Owstwick belonged to a cadet branch of the Ros family. Robert son of Robert de Ros of Helmsley (Yorks. N.R.) had a grant of free warren in Hilston in 1297 and, as Robert de Ros of Gedney (Lincs.), he held a chief house, 6 bovates, and other land in Hilston at his death by 1311. (fn. 73) The estate descended to Robert's grandson Sir James Ros (fl. 1397) (fn. 74) and then to Sir Robert Ros (d. 1441), who left daughters. (fn. 75) It was evidently the same estate which was held in turn by Sir John Paulet (d. 1525) and his son Sir William, created Baron St. John in 1539. (fn. 76) As an appurtenance of Thorpe manor in Aldbrough, it passed by exchange from Lord St. John to the Crown in 1546. (fn. 77) Comprising 6¼ bovates and several houses in the mid century, it was sold in 1611 to John Eldred and William Whitmore, from whom Thomas Hardy bought two houses and 4¼ bovates in 1612. (fn. 78) That estate presumably passed to his widow Frances and was later held with the rest of the family's lands. (fn. 79)
Beatrice de Friboys gave some 2 bovates and other land in Hilston to Nunkeeling priory which later in the 13th century exchanged the estate with Sir Simon Constable. (fn. 80) Gaudin of Aseby gave another bovate, of which no more is known. (fn. 81) The Knights Hospitaller also had land there by the late 13th century. (fn. 82) After the suppression the estate, comprising a house and 2 bovates, was briefly held by the refounded order from 1558, before reverting to the Crown. (fn. 83) After 1210 Amand the butler (d. by 1218) gave to Meaux abbey a bovate and two tofts in Hilston of which the location was later unknown. (fn. 84) In the Middle Ages tithes in Hilston formed part of the endowment of St. German's chantry in Aldbrough church. (fn. 85)
ECONOMIC HISTORY.
The tillage probably lay in fields on either side of the village called North and South fields. (fn. 86) An area called the Hooks, in Tunstall, evidently extended into Hilston and may have been used as pasture with the inhabitants of Tunstall and Grimston, in Garton. (fn. 87) Common pasture in Hilston was mentioned in 1657 but the commonable lands had evidently been inclosed by agreement by 1669, when Mrs. Carlile's estate was entirely in closes, among them Oxgang close and another of c. 70 a. (fn. 88)
In 1801 there was reckoned to be 188 a. under crops in the parish. The areas of arable and grassland in Hilston were recorded respectively as 379 a. and 108 a. in 1846 (fn. 89) and in 1905 as 298 a. and 181 a. (fn. 90) In the 1930s the two landuses were more equally balanced, the grassland lying mostly around the village. (fn. 91) There were usually four farmers in Hilston in the 19th and earlier 20th century, of whom one in 1851 and two in the 1920s and 1930s had 150 a. or more. (fn. 92)
LOCAL GOVERNMENT.
Churchwardens' accounts survive for 1741–1914. (fn. 93) There was said to have been a poorhouse in 1783 but no other evidence of it has been found. (fn. 94) In the early 19th century four people received permanent out-relief and one person was being relieved occasionally in 1802–3. (fn. 95) Hilston joined Patrington poor-law union in 1836 and remained in Patrington rural district until 1935 when it was taken into Holderness rural district as part of the new civil parish of Roos, which became part of the Holderness district of Humberside in 1974. (fn. 96) In 1996 Roos parish became part of a new East Riding unitary area. (fn. 97)
CHURCH.
Re-used stonework suggests that a church was built in the 12th century (fn. 98) but it was not recorded until 1252. (fn. 99) The church may originally have been a chapel of Roos: it was called a chapel c. 1270, when one man served both places, and the rector of Roos later enjoyed a small pension from Hilston. (fn. 100) Hilston rectory was united with Tunstall in 1877 and, on further regroupings of the benefices, with Garton in 1927, and with Roos with Tunstall in 1974. (fn. 101)
John de Surdeval granted ⅓ of the advowson to William of Routh (or Rue) in 1252. (fn. 102) The Rouths later had the whole advowson and presented rectors from c. 1275; (fn. 103) the patronage descended with their manor to the Michelbournes. (fn. 104) Sir William Fitz William presented in 1535 during the minority of his ward John Cutt and Ralph Ellerker as grantee of one turn in 1545. (fn. 105) Like the manor, the advowson was held in undivided parts by the Michelbournes (fn. 106) and presentations were made by Richard and Thomas Michelbourne jointly between 1559 and 1574. Richard Michelbourne and Sir Richard Michelbourne, presumably the son and grandson of Richard, (fn. 107) presented in 1603 and Thomas Sherlock for unknown reason in 1607. (fn. 108) In 1614 the entire advowson fell to the share of Sir Richard Michelbourne, (fn. 109) who then sold it to Marmaduke Marchant, rector. (fn. 110) Marchant was named as patron in 1650 but by a fine of 1657 the patronage was assured to Jane Hardy, widow (d. 1668). (fn. 111) For unknown reason Stephen Clark and his wife Jane presented in 1684. The patronage thereafter descended with the Hardy estate to the Sykes family. Randolph Hewitt granted a turn to Henry Munby, who presented in 1759. (fn. 112) The advowson and the landed estate descended differently in the 19th century, the patronage passing to the Revd. Christopher Sykes, later rector, after whose death in 1857 it evidently reverted to the senior representative of the Sykes family. (fn. 113) From the union of benefices in 1877 the former patron of Hilston had every alternate presentation. (fn. 114) The right was later held by the Sykes trustees, (fn. 115) who after the union of 1927 had one turn in four. (fn. 116) That turn was transferred in 1960 to the archbishop of York, who thereby became the sole patron. (fn. 117) At the further union of 1974 one turn in three was given to the archbishop. (fn. 118)
A pension payable out of the church was recorded in 1291 and later (fn. 119) but the value of the living in the Middle Ages is unknown. The living was worth £5 in 1535 and the improved annual value in 1650 was nearly £25. (fn. 120) The average net value in 1829–31 was £50 a year. (fn. 121) The income was £81 net in 1877, when a further sum of £60 a year from the Common Fund was granted to the united benefice. (fn. 122)
The Easter offerings and nearly all of the tithes were paid by composition of £9 14s. a year in the earlier 18th century and just over £13 by 1764. Two bovates of the Storr estate were reckoned to be tithe-free when in hand and otherwise to owe tithe in kind. (fn. 123) Except for those of the glebe, which were declared to have been merged, all the tithes were commuted for a rent charge of £12 19s. in 1846. (fn. 124)
There were c. 45 a. of glebe land from the early 18th century. (fn. 125) The land was sold as Glebe farm in 1919. (fn. 126) The rectory house had five hearths in 1672. (fn. 127) It was dilapidated in 1714 and 'very slender and weak' in 1780, when it was rebuilt. (fn. 128) It later served as the farmhouse of Glebe farm, with which it was sold in 1919. (fn. 129)
The poor living was often held by lesser clergy, many of those presented in the 14th and 15th centuries being chaplains and vacancies by resignation then being common. (fn. 130) John Bolton, rector, was deprived as a papist in 1562, (fn. 131) and puritan incumbents were ejected in 1607 (fn. 132) and 1662. (fn. 133) Possibly also puritan was Marmaduke Marchant, rector from 1607 until his death by 1660, who was with the parliamentary forces in Hull in 1643. (fn. 134) From the mid 17th century Hilston was usually held with other benefices (fn. 135) and served by incumbents living outside the parish, in the 19th and 20th centuries at Garton, Tunstall, or Roos. (fn. 136) Christopher Sykes, patron of Hilston and Roos, presented himself to both livings in 1819 and lived at Roos. (fn. 137) From 1948 Garton with Hilston was served by the incumbent of Roos with Tunstall. (fn. 138) Assistant curates were employed in the late 18th and earlier 19th century. (fn. 139)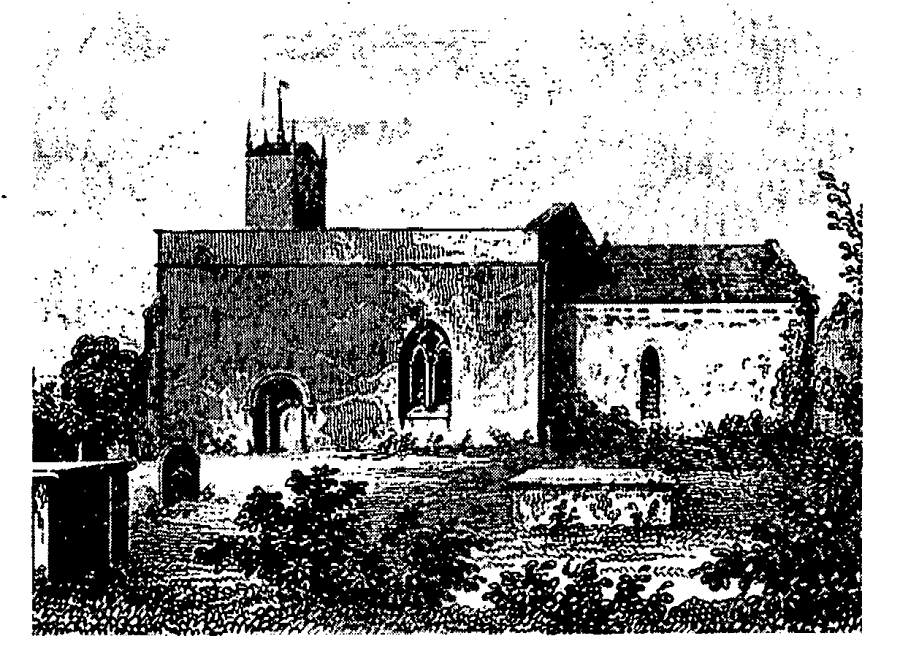 The quarterly sermons were neglected at Hilston in 1575. (fn. 140) Except for one Sunday a month, when the incumbent served elsewhere, two weekly services were held in 1743 but in 1764 there was only one weekly service on two Sundays out of three. Communion was then celebrated four times a year, with up to 20 recipients. (fn. 141) There was still only one weekly service in the mid 19th century. Communion was held monthly in 1865, seven or eight times a year later in the century, and fortnightly c. 1920, with usually half a dozen recipients in the mid 19th century and 16 c. 1920. A weekly celebration was held in either Hilston or Garton in 1931, when generally only three people received at Hilston. (fn. 142) In 1900 some 80 parishioners of Garton were said to attend Hilston church. (fn. 143) During the rebuilding of the church in the 1860s and again in the mid 20th century, services were held in private houses. (fn. 144)
The church of ST. MARGARET has been rebuilt twice. The medieval church, which was probably of 12th-century origin, was built mostly of boulders and consisted of chancel and nave with wooden bell turret. (fn. 145) The chancel was out of repair in 1596 (fn. 146) and in 1830 the church was damp and neglected. (fn. 147) It was demolished and rebuilt to designs by J. L. Pearson in 1861–2, chiefly at the expense of Sir Tatton Sykes, Bt. It was built of boulders faced inside with ashlar, and comprised chancel with north vestry and organ chamber, nave, and west tower with square spire. (fn. 148) The church was extensively damaged by a bomb in 1941 and was rebuilt in 1956–7 to designs by Mr. Francis Johnson of Bridlington. The new church is of brick and consists of sanctuary, nave with west gallery, and west tower surmounted by an octagonal lantern. A Norman doorway, with two orders of chevron ornament, was re-used for the entrance of both the 19th-and 20th-century rebuildings, and the present building also incorporates some 19thcentury stained glass. (fn. 149) In 1932 the Revd. N. J. Miller left £500 for the fabrics of Garton and Hilston churches. (fn. 150)
There were two bells in 1552 but later only one, (fn. 151) which was damaged in 1941 and replaced at the rebuilding with one from Wharram Percy church. (fn. 152) The plate includes a service given in 1860. (fn. 153) The registers of burials begin in 1654, of marriages in 1662, and of baptisms in 1663; they are largely complete. (fn. 154) An addition to the churchyard was consecrated in 1863. (fn. 155)
PROTESTANT NONCONFORMITY.
Friends from Hilston were part of the Owstwick meeting in the later 17th century, and the monthly meeting for Holderness was held at Hilston in 1686. (fn. 156) Prominent Friends included John Storr of Hilston (d. 1677), who left a rent charge in Hilston to the poor of the monthly meeting. (fn. 157) There were two Quaker families in the parish in 1743 and one in 1764. (fn. 158) An unidentified protestant congregation registered a house in 1816. (fn. 159)
EDUCATION.
Children from Hilston went to school in Roos. (fn. 160)
CHARITIES FOR THE POOR.
None known.