Pages 332-340
A History of the County of York North Riding: Volume 1. Originally published by Victoria County History, London, 1914.
This free content was digitised by double rekeying. All rights reserved.
PATRICK BROMPTON
Bruntone (xi cent.); Patricbrumtone or Brumton Patrik (xii cent.); Paterick Burnton or Paterick Brumpton (xiii cent.).
This parish, comprising the townships of Newtonle-Willows, Hunton and Arrathorne, lies in an agricultural district at about 200 ft. above ordnance datum. It covers about 4,388 acres, of which 1,400 are arable, cereals being the chief crops, 87 woodland, and the rest permanent grass and waste. (fn. 1) The soil is gravel, the subsoil various, and both sand and stone have been worked. Four arable common fields in Hunton, comprising about 720 acres, were inclosed in 1807. (fn. 2) Jervaulx station on the Northallerton and Hawes branch of the North Eastern railway was opened in 1856, (fn. 3) and is within the parish.
The pleasant village of Patrick Brompton is divided by a beck into East and West Brompton. About half of the houses are in East Brompton and are built along the grass-bordered road from Northallerton to Hawes. The church of St. Patrick stands upon a slight eminence at the north-west extremity of West Brompton. Traces of earthworks may be seen in the field to the north. Brompton Hall, formerly used as the parsonage, is now the property of Miss Elsley, to whose family it has belonged for many years. (fn. 4) It is the residence of the Hon. Edith and Evelyn Cunliffe-Lister, and was restored in 1901. Its park borders the south side of the village road both east and west of the beck. The capital messuage of East Brompton had already disappeared by 1427, its site being then occupied by a garden. (fn. 5) The public elementary school, which belongs to the church, was rebuilt and enlarged in 1856 and in 1895 by voluntary effort.
The sheriff's tourn for the Hang East division of the honour of Richmond was held in Patrick Brompton. (fn. 6) There was a mill in 1086, (fn. 7) and Margery Hawley held two parts of a water-mill in 1427. (fn. 8) What appears to have been another mill is mentioned in the 13th century. (fn. 9)
Backed by moors which rise to heights of 725 ft. Hunton lies along the junction of the roads to Richmond and Hauxwell at a level of about 350 ft. The Richmond road forms the principal street; at the north and higher end of it is the chapel of ease of St. John, rebuilt in 1894. South of the church is the Wesleyan chapel, dating from 1829. The school, built in 1876, lies half-way down the street, which turns westward further south and crosses Hunton Beck by a bridge.
The houses of the village are built of stone and extend from the church to beyond the bridge. The remains of Hunton Old Hall, (fn. 10) now occupied as a farm-house, the property of Mr. M. D'Arcy Wyvill, stands a little to the west of the road which runs due south from the village. The present house consists of the south wing and a portion of the central block of an H-shaped house with a modern archway and additions on the north side. There are remains of windows with mullions and transoms, the best example being a wellpreserved four-light window on the west side. The field on the opposite side of the road to the house is known as Chapel Garth, but no masonry is visible.
Hunton Low Hall (fn. 11) (the property of Miss D. Atkinson), a farm-house at the east end of the village, is a modernized 17thcentury building. An original gable with mullioned windows remains at the back.
The Manor House, the property of Mr. John Hammond, stands in the middle of the village on the west side of the road; the southern portion of the building is old and has several four-light mullioned windows of rather early type. A two-story porch, entered from the north side, has been added and bears a date on the lintel [A S E] 1729. North-east of the village lies Cote or Court House, which is thought to be of some antiquity; it is the property of Lady Cowell. Wyvill Grange, a farm-house situated to the northwest of the village, is now the property of Mrs. Thornhill. (fn. 12)
West of the Old Hall the beck is crossed by Scroggs Bridge; the scrog-gates were appurtenant to the manor in 1717. (fn. 13)
There has been a mill since the 13th century. (fn. 14)
Arrathorne consists chiefly of the farms of East and West Arrathorne, which are situated on the south of the road from Hunton to Hornby.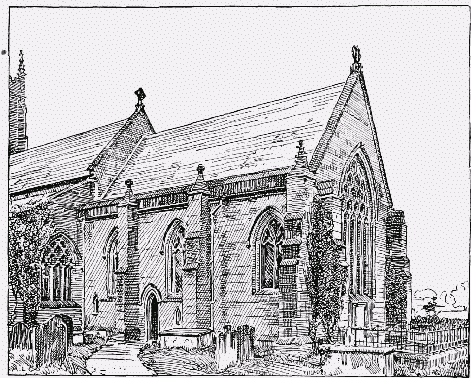 Newton-le-Willows is a straggling village lying on each side of roads from Patrick Brompton to Thornton Steward and Masham. The Manor House, which is the property of Mr. Hector Christie of Jervaulx Abbey, is on the north; the Hall, which also belongs to Mr. Christie and is the residence of Mrs. Hill, is in the middle; Newton Grange, the property of Miss Elsley, is on the west. There are both Wesleyan and Primitive Methodist chapels in the village. The church elementary school was erected in 1846 and enlarged in 1894. Aysgarth School, the well-known preparatory school for boys, originally founded at Aysgarth, was removed to Newton by the late Rev. C. T. Hales in 1890 and lies in extensive grounds on the hill side south of the village. The present head is the Rev. W. H. Chitty. Further west, at the top of the steep southern bank of Ruswick Gill, is the farm of Ruswick, sole representative of what was a vill. It was waste in 1086. (fn. 15) It seems ultimately to have passed to Jervaulx Abbey and to have become part of that estate. (fn. 16)
Manors
The 13 carucates in PATRICK BROMPTON were held by Count Alan in 1086 and remained with his successors.
Before the Conquest the tenants were Ghill and Torphin, each with a 'hall,' and Archil, who were succeeded before 1086 by three knights. (fn. 17) One knight, probably the owner of Torphin's portion, may have been Bardolf, for 5 carucates (fn. 18) forming the MANOR OF EAST BROMPTON passed to the lords of Ravensworth (fn. 19) (q.v.). In 1287 Hugh of Ravensworth settled this manor on himself and his wife for life with remainder to John their son. (fn. 20) In 1300 John and his wife apparently relinquished their claim for £100, (fn. 21) and in 1316 Henry, lord of Ravensworth, held Patrick Brompton. (fn. 22) The manor was subsequently claimed by Beatrice, granddaughter or great-granddaughter of John, and her husband Robert Hawley of Mablethorpe under the fine of 1287, (fn. 23) and Robert obtained free warren in Patrick Brompton in 1361. (fn. 24) Beatrice died about 1389, her heir being her grandson Robert, (fn. 25) who died a minor in 1397. He left a widow Margery and a sister and heir Beatrice. (fn. 26) Beatrice shortly afterwards married a Thomas Rolleston without royal licence, receiving pardon in 1400 (fn. 27); they had daughters Margaret and Ellen. Margery, widow of Robert, died in 1427 seised for life of the manor with reversion to Margaret and Ellen. (fn. 28) East Brompton appears to have passed to Ellen, then the wife of Christopher Conyers of Hornby (q.v.), which it henceforth followed in descent. (fn. 29)
Ghill's land was probably the nucleus of the manor of WEST BROMPTON. In 1286–7 a fee of 4½ carucates was held by the lords of Thornton Steward (q.v.), whose tenants were the Fittons (fn. 30) of East Cowton (q.v.). A further mesne lordship was held by the lords of Hornby (q.v.), of whom it was held in demesne by the family of Lyng. (fn. 31) Probably in the middle of the 13th century Richard de Lyng was holding a messuage and 2 carucates in Brompton, (fn. 32) and in 1286–7 4½ carucates in Patrick Brompton were held by Reynold de Lyng and his son Richard. (fn. 33) By 1304 Richard had been succeeded by his son Roger, then a minor, (fn. 34) and he was returned as joint lord in 1316, (fn. 35) this being the last mention of this family in Patrick Brompton. Their manor would appear to have escheated to the lord of Hornby before 1490, when John Conyers died seised of this manor and that of East Brompton, (fn. 36) which it has since followed in descent.
The history of the third fee in Patrick Brompton —that presumably held by Archil (fn. 37) —is obscure, and 2½ carucates only are accounted for in the return of 1286–7. (fn. 38) Of these, 1½ carucates were held by Walter (Egglesclive) of Barden (q.v.), the fee being further subdivided under him: Robert de Tateshall held 1 carucate, which was in the hands of sub-tenants, Robert de Lascelles held 2 oxgangs in the hands of the Lyngs and Michael de Borrowby held the remaining 2 oxgangs in demesne. (fn. 39) The last carucate was held under the earl by the lords of West Tanfield (q.v.), whose tenant was Ellis de Fearby. (fn. 40) Some of this land appears to have passed to religious houses. Robert de Longchamps, Abbot of St. Mary's, York, granted land here to one William de Wytewelle in the 13th century, (fn. 41) and at the Dissolution Jervaulx Abbey had land in Newton, (fn. 42) possibly that now in the possession of Mr. Hector Christie. (fn. 43)
ARRATHORNE (Erghethorn, Erethorne, xiii cent.; Arathorne, Arrowthorne, xvi cent.) in 1286–7 was grouped with Garriston and Hunton, all members of the honour of Richmond. (fn. 44) At this date 3 carucates 5 oxgangs in these places were held of Hugh son of Henry, lord of Ravensworth, by John de Hunton, who apparently had only 6 oxgangs in demesne, (fn. 45) but his tenants are not named. (fn. 46) This land was regarded as appurtenant to the manor of Hunton (fn. 47) (q.v.), which it followed in descent. The remainder of the 14 carucates in the three vills were said in 1286–7 to be held of various unspecified fees. (fn. 48) Probably part of Arrathorne was appurtenant to Garriston (q.v.), where, as at Hackforth (q.v.), Geoffrey was tenant in 1086, his successors being the family of Burgh. (fn. 49) Possibly here, as at Ruswick, land may have been held of the Burghs by Nicholas de Garriston, who is said to have confirmed to St. Martin's, Richmond, the grant of 6 acres in Arrathorne and Hunton made by Roger son of Gamel. (fn. 50) These 6 acres were subsequently known as Ellerton land and as Wycliffe land. (fn. 51) They may be identical with the property purchased by Christopher Conyers before 1426, when he divided it by will, leaving half to his son Thomas. The rest seems to have descended to his heir. (fn. 52) Early in the 16th century Christopher's descendant, William Lord Conyers, held the land given to St. Martin's, (fn. 53) and his successors appear to have been the chief landholders after this date. Henceforward Arrathorne followed the descent of Hornby (fn. 54) (q.v.).
Gospatric and Torphin each had a 'manor' at HUNTON before the Conquest; these were afterwards held by Count Alan and his successors, Gospatric retaining his 'manor' and Bodin having the land of Torphin; the whole was assessed at 3 carucates. (fn. 55) Gospatric's land may have passed to the lords of Hackforth (q.v.), of whom the manor of Hunton was afterwards held. (fn. 56) Odo de Hunton and Robert his son were tenants in demesne in the 12th century; they were contemporaries of and may have been identical with Odo the Chamberlain and his son and successor in office, Robert, (fn. 57) who were both among the benefactors to St. Mary's Abbey, York. (fn. 58) 'Robert son of Odo of Hunitone' gave land in Hunton to Jervaulx Abbey. (fn. 59) Roger son of Robert made a grant of land to Marrick, (fn. 60) and Helewise daughter of Roger confirmed this gift, as did also her husband, Roger Gulewast. (fn. 61) This Helewise, the donor of 4 acres of land to Jervaulx Abbey, (fn. 62) was a contemporary of Henry son of Hervey. (fn. 63) The heir of Helewise was her son Gilbert de Hunton, (fn. 64) who was living about 1220. (fn. 65) His son Roger, mentioned in 1240, (fn. 66) was succeeded by a son John de Hunton. John son of Roger gave to the hospital of St. Peter, York, his sheepfold on Hunton Moor within the 'court' inclosed by a stone wall. (fn. 67) About 1286–7 John son of John de Hunton held the manor, (fn. 68) and in 1316 a John de Hunton was joint lord of Hunton and Arrathorne. (fn. 69) John, 'son and heir of John de Hunton,' sold the manor in 1322 to Geoffrey le Scrope of Masham (q.v.), which Hunton followed in descent until 1517. (fn. 70) At the division of the Scrope lands Hunton passed to the youngest co-heir Elizabeth wife of Ralph Fitz Randall of Spennithorne (fn. 71) (q.v.), and was divided between her five daughters and co-heirs.
Dorothy and Lancelot Esshe seem to have lived at Hunton. (fn. 72) In 1566 Richard grandson of Dorothy (fn. 73) sold the 'manor of Hunton' to John Cholmley. (fn. 74) Twelve years later Sir Richard Cholmley, kt., conveyed it to Marmaduke Wylde. (fn. 75) In 1623 Marmaduke Wylde died seised of the manor and land which he had bought of various persons. (fn. 76) His son and successor John died in 1633 without issue. His heir was his brother Marmaduke Wylde of East Cowton, but the manor and grange passed under a previous settlement to Robert son of Marmaduke. (fn. 77) He died about 1641, (fn. 78) and Hunton descended to one of his daughters and co-heirs Isabel. She married William son of Sir William Riddell of Gateshead, and died in 1663, leaving a daughter Jane. (fn. 79) William Riddell and Jane mortgaged Hunton in 1684 and 1686. (fn. 80) Jane subsequently married her second cousin Mark son of Sir Thomas Riddell of Fenham. (fn. 81) In the spring of 1721, Mark Riddell and Edward his son being unable to redeem the mortgages, their lands in Hunton, with all manorial rights, were sold for £500 to Richard Robinson of Sunderland, perhaps as trustee for the Lascelles family. (fn. 82) In October 1725 Thomas Lascelles was lord, (fn. 83) and by 1748 he had been succeeded by the Rev. Francis Lascelles of Pontefract, (fn. 84) whose family retained Hunton until 1802, when Robert Lascelles sold it to Mr. Timothy Hutton. Henceforward the manor followed the descent of Clifton Castle, (fn. 85) and Lady Cowell is the present lady of the manor. (fn. 86)
The share of Agnes and Marmaduke Wyvill (fn. 87) followed the descent of Constable Burton (q.v.), and Mr. D'Arcy Wyvill is still one of the chief landowners in Hunton. (fn. 88)
The fifth inherited by Alice Dransfield was eventually divided as at Spennithorne (q.v.) by the will of Ralph Dransfield between Dorothy Esshe and Christopher Wyvill, (fn. 89) one-tenth of it subsequently following the descent of the manor of Hunton and the other that of Constable Burton (fn. 90) (q.v.).
In Hunton, as at Spennithorne (q.v.), the shares of Mary Batty and of Elizabeth Strelley came into the hands of Sir James Strangways, (fn. 91) who died in 1540 seised of two-fifths of this manor. (fn. 92) His heirs were his aunt Joan wife of William Mauleverer, and his cousin Robert Roos of Ingmanthorpe, each of whom inherited a fifth. (fn. 93) William Mauleverer secured a quitclaim of the Strelley moiety from Nicholas Strelley, jun., and Elizabeth his wife in 1541, (fn. 94) and probably sold it shortly afterwards; its descent cannot subsequently be traced. On the death of Robert Roos in 1583 his portion passed by the marriage of his daughter and heir Bridget to Peter Roos of Laxton, whose son Gilbert died seised of it in 1610. (fn. 95) His heir was his daughter Elizabeth wife of William Thomas, (fn. 96) but there is nothing to show that she ever had an interest in Hunton, and she may have sold it soon after this date. (fn. 97)
The land of Torphin passed from Bodin, tenant in 1086, (fn. 98) to the lords of Ravensworth (fn. 99) (q.v.). In 1279 Hugh son of Henry conveyed this manor to John son of John de Hunton, (fn. 100) after which it was merged in the manor traced above.
In 1240 Robert Arundel and Alice his wife granted land in Hunton to the master of the hospital of St. Leonard, York. (fn. 101) The hospital had probably already received gifts from Roger de Hunton. (fn. 102) It obtained a grant of free warren in Hunton in 1293, (fn. 103) and its manor is mentioned in 1364 (fn. 104); this is doubtless that grange of Hunton held by the hospital at the Dissolution. In 1545 it was granted to Ralph Croft, (fn. 105) who settled it on his son Christopher in 1570. (fn. 106) Christopher Croft conveyed it to Marmaduke Wylde of Hunton in 1621, (fn. 107) and the grange subsequently followed the descent of the manor (fn. 108) (q.v.), in which it was probably merged. Its history during the 19th century cannot, at all events, be traced.
In NEWTON-LE-WILLOWS (Neuton, xi cent.; Newton-in-the-Willowes, xiv cent.; Newton Morkarr, xv cent.; Newton Morkarr alias Newton-le-Willows, (fn. 109) xvi cent.) 12 geld carucates were held by Count Alan in 1086. They formed parcel later of the honour of Richmond (q.v.).
The three 'manors' held before the Conquest by Archil, Torchil and Asul had passed by 1086 to four of Count Alan's knights, (fn. 110) of whom one was possibly Ribald, for the lords of Middleham (q.v.) subsequently had a mesne lordship over 6½ carucates in Newton. (fn. 111) At the division of the lands of this fee in 1270 this portion was allotted to the youngest co-heir, Anastasia, then a minor. (fn. 112) On her death it was divided between Mary wife of Ralph Nevill and Robert de Tateshall, (fn. 113) who in 1286–7 held 3½ carucates and 1 carucate respectively. (fn. 114) When Robert de Tateshall died in 1306 his share passed to Mary Nevill, (fn. 115) and henceforward this overlordship followed the descent of Middleham (q.v.).
In 1270 a carucate of this fee was held in demesne by John de Scrafton and 2 by Peter de Rand, while Robert de Tortemayn had 3½ carucates, (fn. 116) 1 of which had previously belonged to Robert Marcolf. (fn. 117)
The holding of the Tortemayns was of some antiquity, for Werric and Robert de Tortemayn granted 1 carucate in Newton to Orm de Aysgarth nephew of Sunnive in 1194. (fn. 118) In 1286–7 1½ carucates 6 oxgangs were held of Robert Tortemayn, 1 carucate 2 oxgangs being in demesne. (fn. 119) Robert was apparently succeeded by 1298 by John, (fn. 120) whose heir seems to have been the Robert Tortemayn who was one of the chief taxpayers in Newton-le-Willows in 1301. (fn. 121) William Tortemayn was holding the fee early in the reign of Edward II (fn. 122); he settled tenements from it upon Robert son of Walter de Newton and Alice his wife for life, with remainder to Walter their son, his wife Maud, and their issue. (fn. 123) By 1367 John de Fleetham had acquired the 'Marcolf lands' and other land in Newton, (fn. 124) afterwards known as Fleetham land. (fn. 125) Before the close of the 15th century 'Fleetham land' was in the possession of the lord of Hornby (fn. 126) (q.v.). If not absorbed by the manor of Patrick Brompton it must have been sold soon after 1755. In the latter case it may have passed to a lord of East Witton (q.v.) or a member of the family of Elsley. Mr. Hector Christie is now sole lord of the manor of Newton-le-Willows. (fn. 127)
John de Scrafton died before 1287, (fn. 128) and his fee seems to have been inherited by his daughter Eve. Land in Scrafton and a small portion of Newton descended apparently to a son Robert. (fn. 129) The Robert de Hepple (Hephale) who was mentioned in 1301 (fn. 130) and held most of the land of John de Scrafton (fn. 131) was possibly either Eve's husband or her son. (fn. 132) He died about 1304, leaving a son Robert, aged twentytwo. (fn. 133) In 1316 Robert de Hepple was returned as sole lord of Newton-le-Willows, (fn. 134) and in 1334 he settled a mill and tenements in Newton and Hackforth upon Thomas and Margaret Lellom and their issue with contingent reversion to himself. (fn. 135) Margaret was possibly daughter of Robert, for she and her husband ultimately obtained the Scrafton lands. Before the close of the 14th century they had passed from Thomas Lellom to Richard de Aske (fn. 136) of Aske (q.v.), which they followed in descent until the death of Roger Aske in 1512. His tenement in Newton went to the elder of his two daughters and co-heirs Elizabeth wife of Richard Bowes; they appear to have conveyed it to Francis Norton, (fn. 137) for Christopher Norton died seised of the 'manor' in 1538, (fn. 138) leaving sisters and co-heirs Elizabeth and Joan. (fn. 139) Elizabeth appears to have married Henry Norton of Seacroft, for Henry and Elizabeth his wife had a share in the 'manor or capital messuage' of Newton Hall in 1547. (fn. 140) Fortyone years later a Henry Norton and his son George conveyed tenements in Newton to John Rownthwaite, (fn. 141) and in 1592 John Rownthwaite died seised of 'Norton Hall' and five other messuages in Newton. (fn. 142) His son Francis (fn. 143) granted the 'manor of Newton Morkar' to Henry and Ralph Atkinson in 1612, (fn. 144) and in 1632 Henry and Ralph and their wives conveyed it to Thomas Lord Fauconberg. (fn. 145) Dorothy Bellasis, sister of Thomas, married Conyers Darcy Lord Conyers of Hornby (fn. 146) (q.v.), after which it followed the descent of the manor given above.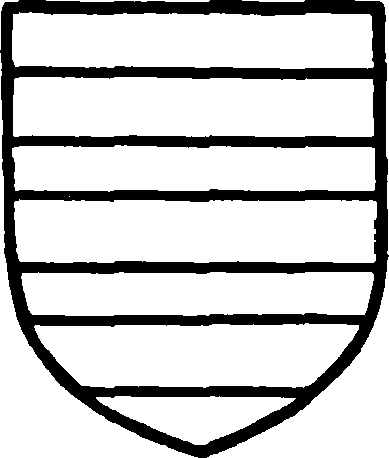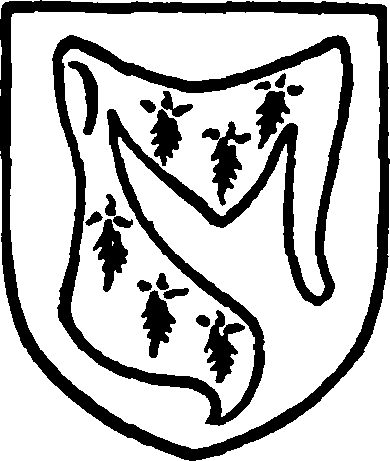 Though William de Rand paid a small amount of subsidy for Newton in 1301, (fn. 147) he can hardly have held the whole of the 2 carucates of Peter de Rand. These may have been partially absorbed by the Scrafton lands, which seem to have increased in value about this time, or they may have passed to Jervaulx Abbey. (fn. 148)
The second knight of Count Alan was possibly Bardolf, for the lords of Ravensworth held a mesne lordship of 1½ carucates in Newton. (fn. 149) Their tenants were the lords of Hackforth (q.v.), who also had tenants unnamed.
The third knight, probably tenant of Archil's lands, (fn. 150) may have been an ancestor of Thomas de Burgh, of whom in 1286–7 Richard de la Chamber held in demesne 1 carucate 2 oxgangs. (fn. 151)
Sir William Chamber, kt., held a toft and 35 acres in Newton of Ralph de Nevill in 1322 when he followed Joscelin Dayvill (fn. 152) in his rebellion against Edward II and friendship with the Scots. (fn. 153) His fellow rebel Thomas Longespy had inherited from Katherine his mother a messuage and 5 oxgangs held of Sir Laurence de Montfort. (fn. 154) Both these small holdings were granted to Iseult de Pakenham in fee in 1359, (fn. 155) but no further history of them has been found, nor can the fee of Count Alan's fourth knight be accounted for. These may, however, be represented by the numerous small holdings of various persons in the 14th and 15th centuries (fn. 156) or by the possessions of the convents of Jervaulx (fn. 157) and Marrick. (fn. 158)
The estate described in the 16th century as a hamlet in NEWTON-LE-WILLOWS, and later as the manor of Newton Morker, (fn. 159) represented the tenement of the abbey of Jervaulx. (fn. 160) It followed the descent of East Witton (q.v.) and is now owned by Mr. Hector Christie, lord of the manor.
In 1361 Robert Hawley had a grant of free warren in Patrick Brompton. (fn. 161) Geoffrey le Scrope received a like liberty in Hunton in 1328, (fn. 162) while the master of the hospital of St. Leonard, York, obtained it for Hunton Grange in 1293. (fn. 163)
Churches
The church of ST. PATRICK consists of a chancel 41 ft. by 20 ft. 6 in. with north vestry, nave 57 ft. by 15 ft. 6 in., north aisle 10 ft. 6 in. wide, south aisle about 12 ft. wide, west tower 12 ft. 6 in. by 10 ft. 3 in. and south porch. These measurements are all internal. Though so much repaired externally as to look rather dull, it is a very beautiful building within and the work is of two main dates, c. 1180 and 1310–30. At the earlier date the church had a chancel and nave with north aisle and north chapel and perhaps a south aisle. The 14th-century work involved an entire rebuilding of the chancel with a north-east vestry, a new south arcade to the nave and a rebuilding of nearly the whole of the outer walls of both aisles. In modern times the west tower has been rebuilt, leaving nothing to show the style of its predecessor, which itself replaced a former 'steeple' blown down by a violent storm in 1577; a south porch and north organ chamber have been added, new roofs put on, and the masonry generally repaired and quite unnecessarily retooled.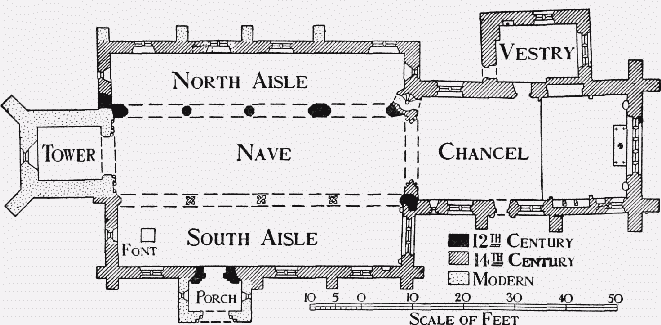 There is a curious alteration of line in the chancel walls, the eastern part of which inclines considerably to the north. All the work being of the same date and outside the lines of the former chancel, it seems to have been set out from both ends, the mistake in direction, which might easily be made, being corrected as the work went up. The five-light net tracery window in the east wall, with its jambmouldings interrupted at the springing of the arch by small capitals, is a beautiful piece of contemporary work. A heavy moulded string runs round at the level of the window sills, breaking upwards over the doorways, sedilia, and tomb recess in the north wall. On each side of the east window is a niche with a projecting trefoiled canopy, gabled and crocketed, carried by small attached shafts resting on grotesque heads. The image corbels are carved with welldesigned and executed human heads. At the west end of the north wall is a two-light window with late geometrical tracery of beautiful design and detail, and jambs of two orders moulded with sunk chamfers. In the south wall are three similar windows. The vestry has a good but much repaired east window of three flat-headed trefoiled lights with cusped rectangular openings above, and a north window with a trefoiled circle over two trefoiled lights, the mouldings being of the same character as those of the east window of the chancel. At the north-west of the vestry is a trefoiled piscina. In the east and north windows is some old heraldic glass, believed to be the shields of Dalton and Peverell.
The vestry opens to the chancel by an arched doorway with continuous mouldings, and to the east of it is a fine tomb recess with a trefoiled arch and flanking pinnacles; it doubtless served as an Easter sepulchre and is part of the original work. In the south wall are three beautiful sedilia with trefoiled heads inclosed by gabled canopies with crockets and finials resting upon the heads of a bishop and a priest, and abutting on the east and west upon the pinnacled buttresses which flank the group. To the east is a trefoiled piscina with traces of a shelf, now gone, and a single drain, and to the west is a continuously moulded priest's doorway; near the south-west is an ogee-headed low-side window, and under the middle window in this wall another small low window, trefoiled, and now blocked. The chancel arch is of very sharp pitch and beautiful detail, with moulded capitals to the inner order, the others being continuous; in its north jamb is the rood stair opening both to the chancel and north aisle.
The north arcade of the long and narrow nave is in four bays of similar detail, the easternmost arch springing from a lower level than the others and being separated from them by a pier; the arches are pointed with an inner order of an arris between two rolls, and an outer order enriched on the nave side by a roll between two lines of zigzag, but plain towards the aisle. There is also a label with indented ornament towards the nave. The columns are of eight attached shafts with octagonal capitals, their bells carved with foliage and their bases with a hollow between two flattened rolls, on an octagonal plinth and square subplinth; the responds are of the same design. The eastern bay of the south arcade is like that on the north, but has its springing at the same level as the rest. Its east respond is of the 12th-century date and does not appear to have been heightened. The other three bays of the south arcade are of 14th-century date and perhaps take the place of a 12th-century arcade, of which only the eastern bay remains. The arches are of two wave-moulded orders resting on piers formed of four large filleted shafts separated by a hollow and fitting clumsily to an octagonal moulded capital. The western respond is semi-octagonal, having a differently moulded capital, but the same base as the others.
The north aisle has a trefoiled window with a pointed segmental rear arch at the west end; those in the north wall, four in number, are all different from each other and of plainer style than those on the south. To the west is a window of two trefoiled lights with a trefoiled circle over, mostly modern, and next to it is a modern triangular opening inclosing three quatrefoils, then one of two uncusped lancets with a pierced spandrel, and, near the east end, one of two trefoiled lights with a quatrefoil over of the same mouldings internally as the chancel windows, but externally in one order only. The east wall appears to have been built or refaced at the same time as the chancel, the external plinth returning round and stopping about 3 ft. from the angle on the north side. The window is of a single trefoiled light with square shouldered internal and external heads, under which are two ball flowers on the interior.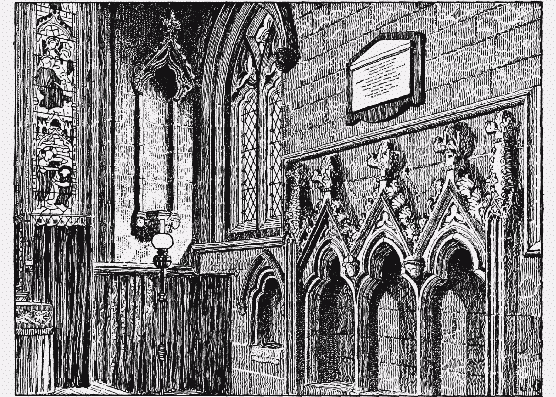 The east window of the south aisle is of three trefoiled lights with net tracery under a pointed head; it is of two wave-moulded orders inside and outside, and on each side of it are moulded image brackets. In the south wall is a trefoiled piscina with a shelf and pointed label, and over it is part of a capital of the same design as the north arcade. In the south wall are three two-light trefoiled windows with pierced spandrels and wave-moulded jambs. The pointed south doorway is of three orders, moulded with zigzag and rolls with triple-shafted jambs, having foliated capitals like those of the arcades. The label has a lozenge ornament, and the whole was 'restored' in 1864 by a son of the then rector, the Rev. Hugh Rigg. The west window of the aisle is a modern single trefoiled light with a trefoil over.
The modern tower is built of quarry-faced stone in three stages, with an embattled parapet and angle and intermediate pinnacles, and diagonal buttresses. The tower arch is also modern, and has panels on each side towards the nave.
The font is modern, and the only monument of any age is a brass inscription in the chancel to Thomas Lowden of Brunton, attorney, who died in 1666.
In the west window of the north aisle is a little old glass of the 14th century and later, containing parts of a Doom.
The bells are three in number and inscribed as follows: (1) 'My crack is cured now loud I cry have faith in Christ and live eternally 1703. Henry Rookes, G. Manfield churchwardens'; (2) 'Pervvla per magnam prebebat cima ruiam I Place 1686. (fn. 164) SA.'; (3) 'Ora pro nobis beati patrici,' in fine ornamental capitals with no stop; it seems of late 13thcentury style.
The plate includes a chalice by John Langwith of York, with date letter for 1706–7, a paten by Cattle & Barber of York, and a flagon by Richard Cooke of London, both of 1810.
The registers begin in 1558.
The church of ST. JOHN at Hunton is modern and consists of a chancel measuring internally 15 ft. by 11 ft., a nave 45 ft. by 23 ft. and a west porch (entered by a south door) 9 ft. by 6 ft. The walls are of rubble, and there is a west bellcote containing one bell.
The font is twelve-sided, with a circular stem and base moulded with half-rolls. This font belonged to Thornton Watlass, and was presented in 1894.
The doorway of the porch has a plain chamfer.
The bell appears to be of the 18th or 19th century.
The plate is modern, the gift of Mr. G. A. Macmillan, 1896.
Advowson
The church of St. Patrick was given by Bardolf to St. Mary's Abbey, York, (fn. 165) which held it until the Dissolution. (fn. 166) In 1546 Henry VIII granted the advowson in exchange for certain manors to the Bishop of Chester, (fn. 167) whose successors retained it until it was transferred to the Bishop of Ripon in 1859. (fn. 168) The living is a perpetual curacy, styled under an Act of 1868 a vicarage. (fn. 169)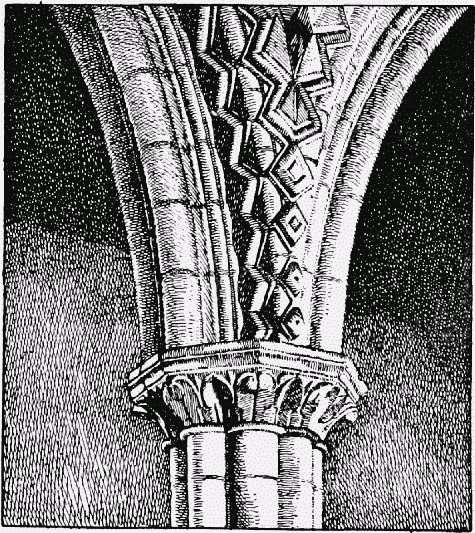 The church of St. John of Hunton, originally a domestic chapel, is a chapel of ease to Patrick Brompton. Henry son of Hervey received a confirmation of land and the 'church' in Hunton (Hinton) in 1201. (fn. 170) A century later John de Hunton established a claim to land in Hunton against the parson of Patrick Brompton on the ground that he had granted it to a previous parson by the service of finding a chaplain to celebrate mass in his chapel daily throughout the year, and that for two years this service had not been performed. (fn. 171)
The chantry of St. Edmund in this chapel was founded by Geoffrey le Scrope, who in 1329 received licence to alienate in mortmain land in Hunton and Heslerton to the parson of Patrick Brompton, for the purpose of augmenting the sustenance of a chaplain, who was to be found by the parson of the church to celebrate mass daily in this chapel. (fn. 172) At the suppression of the chantries mass was celebrated on three days a week only. (fn. 173)
Charities
The Free School.—The original schoolhouse was built by Samuel Atkinson, who, by his will 1717, endowed the same with land in Newton-le-Willows, exchanged on the inclosure of Noman's Moor for other land in Newton. In 1707 Samuel Clarke endowed the school with a field and garth at Hunton, and in 1716 Gregory Elsley by will left £60 for education. The net income from these sources amounts to about £24, which is carried to the general funds of the church school.
Charities for the Poor.—The above-mentioned Gregory Elsley also left £20 for the poor. In 1708 Francis Clarke by will charged his lands with £2 12s. a year to be applied in the distribution of bread. In 1823 Gregory Elsley left £100, interest to be distributed among the poor. In 1851 Elizabeth Elsley by will left a legacy, represented by £407 12s. 11d. consols with the official trustees, income to be distributed in coals, one moiety for the poor of Patrick Brompton and the other moiety in the township of Newton-le-Willows.
In 1905 the annual dividends, amounting to £10 3s. 8d., were distributed by the vicar and churchwardens in coals to eighteen persons, £5 at Christmas among thirteen persons in respect of Gregory Elsley's charity (1823), and £1 distributed to the poor in respect of Gregory Elsley's charity (1716). The £2 12s. for bread (Francis Clarke's charity) was given each week in the church to one person, the only applicant.
Hunton.—In 1858 Thomas Knight, by will proved at York, left a legacy, now represented by £97 19s. 2d. consols with the official trustees; the income, amounting to £2 9s., is duly distributed among the poor of the township.
The Wesleyan chapel, founded by a trust deed of 1829, is regulated by scheme of the Charity Commissioners, 1884.
Newton-le-Willows.—John Forster, by deed of 1851, declared the trust of a sum of £500 12s. 6d. consols, the dividends thereof to be applied for education or for clothing or fuel for the poor of the township. By order of the Charity Commissioners, 1895, £230, part thereof, was authorized to be applied in enlarging school buildings (founded by deed 1846), and the residue of stock to be set aside at compound interest for purposes of replacement. In July 1907 the amount of stock with the official trustees was £376 13s. 9d. consols.
Charity of Elizabeth Elsley.—This township is entitled to a moiety of the income of this charity (see above).