Pages 71-84
A History of the County of York North Riding: Volume 1. Originally published by Victoria County History, London, 1914.
This free content was digitised by double rekeying. All rights reserved.
GILLING
Ghellinges, Gellinges (xii cent.).
Gilling parish in the 14th century included the present parishes of Forcett, Hutton Magna, South Cowton and Eryholme, besides the chapelries of Barforth and Mortham. (fn. 1) In 1831 it included the townships of North and South Cowton, Eppleby, Eryholme, Hartforth and Sedbury, although these places were geographically detached from it. North and South Cowton now form the ecclesiastical parish of South Cowton, and Eppleby was united to Forcett parish before 1857. The area of the present parish is 2,072 acres of land, more than half of which is laid down to permanent grass, and 6 acres of land covered by water. In 1810 300 acres of land were inclosed in Gilling. (fn. 2) The subsoil is Yoredale Rocks with alluvium near Dalton and Gilling Becks. Eryholme is on Keuper Marl.
Lead used to be worked at Hartforth, and there are some old smelting and saw-mills. There are also several stone quarries in the parish
The village of Gilling lies at the bottom of the valley between Gatherley Moor and the moors and hills to the west. It extends along the Melsonby and Richmond road, which is here crossed by Gilling Beck. The village street is still partly cobbled. At the north end of the village the road turns up the valley and leads to Hartforth. About 1¼ miles distant is Hartforth Hall, a modern house built in the classical style, with the remains of a chapel in the grounds. A four-centred arch 12 ft. wide spans the avenue close to the house. The arch is of two chamfered orders springing from much-worn capitals, perhaps of 15thcentury work, with chamfered jambs and part of a moulded label. In the wall above is a square light with splayed sides and the remains of a trefoil in the head. To the east of the arch are the ruined walls of the chancel; in the east wall is a square opening with rebates and holes for shutters and wooden pegs. On the west of the arch are some shorter portions of wall and part of a 15th-century crocketed pinnacle. The remains are much overgrown with ivy, but from the position of the arch, which stands north-east and south-west, as well as from the appearance of the masonry, it seems that most of the present remains have been moved from their original site, which, however, is reported to have been close to the hall.
At the north end of the village, about a mile up a by-road running south-east, is Sedbury Hall, the seat of the lords of Sedbury Manor (q.v.). Behind it the land sloping up towards the north forms a large and well-wooded park. The house consists of a large rectangular block in classical style with an older west wing and a small modern court on the west. The oldest part now standing is an embattled tower about 45 ft. square, of three stories, with windows of two or three trefoiled lights under square heads, mostly modern; but on the west side are a twolight cinquefoiled window and some small single trefoiled windows which appear to be original. On the ground floor the original division wall which carried the kitchen fireplace still exists. In this stage of the tower are doorways east and west, opening to a small hall and the stable-yard respectively. In the south wall is a shield bearing quarterly (1) Darcy, (2) Aske, (3) Conyers and (4) Nevill, differenced with a molet; over all is a molet for difference. In the south-east angle of the tower is a newel stair entered from a small hall, apparently of the same date as the tower, which joins it on the east and connects it with the later buildings.
In general design the building may be compared to Mortham Tower. Over a door into the modern buildings is a painted leaden figure of a boar about 2 ft. long, brought from the Blue Boar Inn in Holborn when it was dismantled about the end of the 18th century.
Gilling was always said to have been the Ingetlingum of Bede, where Oswiu king of Deira was slain by Oswi king of Bernicia; but the scene of Oswiu's death and the site of the expiatory monastery raised by Eanfled has now been shown to be Collingham, 6 miles from Barwick in Elmet in the West Riding. (fn. 3) Gilling was, however, the chief seat of Edwin Earl of Mercia, and possibly for a time the head of the castlery (castellaria) of Count Alan, (fn. 4) though the day of its greatness was already over in the 12th century; this stronghold may have stood on 'Castle Hill.' (fn. 5) A quarter of a mile beyond the parish boundary is Scotch Corner, and the earthwork which is to be seen south of the village, and again for nearly half a mile to the north, is known as Scot's Dike. From Scotch Corner a branch of Watling Street cuts through the north of Gilling parish on its way to Barnard Castle. It skirts the extensive woods of fir, pine and larch adjoining Sedbury Park and Hall, and crosses the road that runs from Richmond to Lucy Cross through Gilling. At this point the land reaches a height of 605 ft., and a fine view is commanded over Gatherley Moor (now cultivated land) to the north; Gilling lies 300 ft. below in the valley, with the woods and hills of Aske to the south. Further on the Roman road is crossed by the high road that runs from Richmond to Staindrop through Gilling. The hamlet of Hartforth lies in a well-wooded valley by Hartforth Beck. Jagger Lane, one of the oldest roads in the country, (fn. 6) connects the Hartforth lead mines with Watling Street. A road runs from South Cowton through North Cowton to Yarm, and is joined at Atley Hill by the road from Catterick Bridge to Yarm.
Eryholme, situated on the Tees at the Durham border, commands fine views. The church is placed on rising ground above the vicarage at the north end of the village. The vicar's well at the roadside in front of the vicarage was formerly the sole water supply for the village. Eryholme station on the NorthEastern railway main line is the junction for the Richmond and Darlington section.
North Cowton village is grouped round a rightangled turn of the road, on the edge of a slight rise, and commands a considerable view to the east. The main street is wide with a small grass hollow and stream at the corner. The houses are of brick and rough-cast and extend closely along the street, those at the west end having small gardens in front. An iron church in the village was built in 1894 as a chapel of ease to South Cowton.
South Cowton, said to have been a resting-place of the bones of St. Cuthbert in their 'wanderings' during the 9th century, (fn. 7) lies about a mile to the south of the northern village and consists of a church and farm, lying in flat and rather swampy ground, with Cowton Castle standing on the end of a prominent ridge or plateau, a short distance to the south-east. This building is a single rectangular embattled tower 60 ft. by 25 ft., standing north and south on the end of a high ridge, overlooking low-lying ground to the north and north-west. There are projecting turrets at the north-east and north-west, the former being the larger, 15 ft. 6 in. by 6 ft. 6 in. as against 9 ft. by 6 ft. 6 in.; both turrets rise above the level of the tower roof and carry a slightly projecting embattled parapet of the same type as those on the tower.
The whole is rubble built with wrought stone angles, and has a low modern roof covered with stone slates. The original arrangement of its floors and rooms has been destroyed, the present floors being modern and at different levels from the old ones, and the main entrance to the tower is now by a doorway in the east wall, the original doorway opening to a newel stair in the north-east turret, being now blocked. On this turret are the Conyers' arms surrounded by an inscription in black letter smalls, which though fairly well preserved is very difficult to read. Over the present entrance doorway in the east wall are the Conyers' arms impaling Wycliffe, a cheveron between three crosslets. The north end of the building is chiefly taken up with a large fireplace, and has small square-headed windows. In the east wall the windows appear to be modern copies of the originals, single cinquefoiled lights in the turret and larger three-light windows on the main wall. The south side has also large modern windows. On the west side several original windows are preserved, one of three cinquefoiled lights under a square head and another of two lights.
The turret has a single uncusped light on the ground floor with a triangular head, and in the upper part a single cinquefoiled light with a square head. In the main wall to the north of the turret are four two-light windows one above another, the lower three square-headed and the fourth of two cinquefoiled lights.
A short distance to the north-east of the tower and on the side of the slope is a stone-built well, and to the west of the tower, where are now farm buildings, a stone gateway was in existence until comparatively recent times. There was doubtless some kind of walled area round the castle, forming a courtyard or cattle inclosure sufficient to give protection during a raid. If any stronger defences ever existed here they have been entirely destroyed.
John Arden, who lived at South Cowton in 1780, paid the tax on seven men-servants. (fn. 8)
Eppleby lies north of Forcett Beck, and has a green. There was a cross here in the 12th century. (fn. 9)
There was waste land of the wood of Gilling called Scales in the 12th century, (fn. 10) and among 15th-century place-names are Gylgarth, Benehous, Tadehale and le Scales. (fn. 11) The following names in South Cowton occur in the 13th century: Bethamflath, Huccheman, Craneswellesflath, Cotheflath, Baldinehou. (fn. 12) Among local rhymes is the weather prophecy:
'When Gilling brews, Durham rues'; and the Power of Darkness is said to have shown an unfair preference for Gilling: 'Have at thee, Black Hartforth But have a care o' Bonny Gilling.' (fn. 13)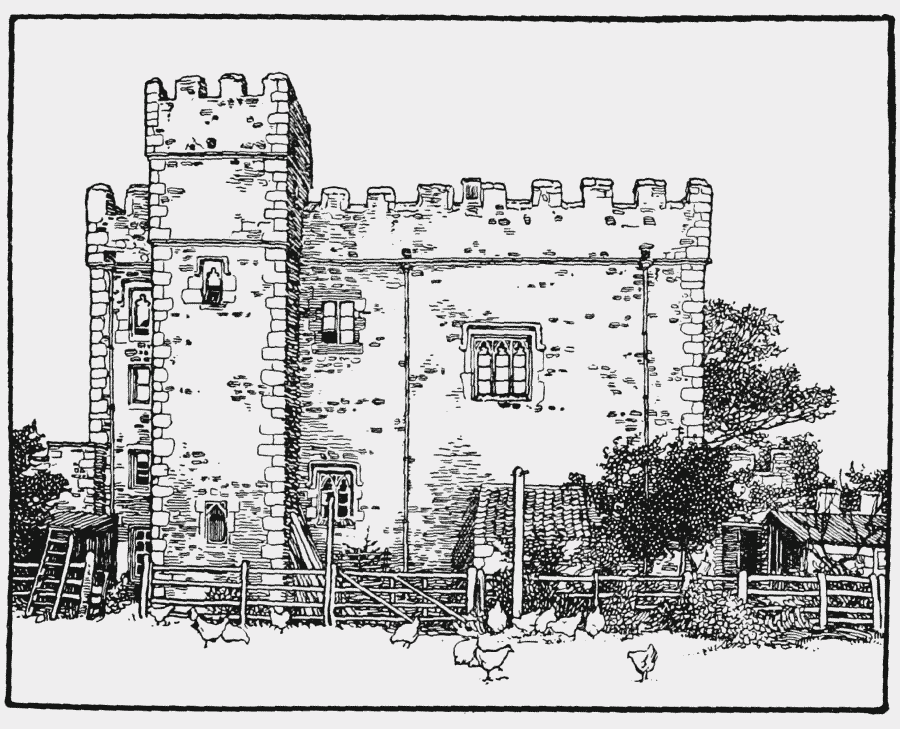 Matthew Raine, schoolmaster and divine, was born at Gilling in 1760. He was head master of Charterhouse School from 1791 till his death in 1811. His father was master of a school at Hartforth. (fn. 14)
There are Wesleyan chapels at Gilling and North Cowton and public elementary schools at Gilling (built in 1847), Eryholme and North Cowton (built in 1875).
Manors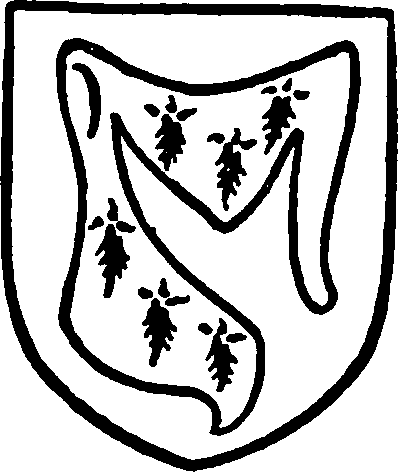 GILLING, which passed at the Conquest from the Saxon Earl Edwin to Count Alan, was at the time of the Domesday Survey the chief manor in the district afterwards called Richmondshire. Count Alan held the vill of 4 carucates in demesne. The berewicks of Hartforth, Newton, the two Cowtons, Eryholme, Hale, (fn. 15) Stapleton, Forcett and Barforth and the soke of Moulton, Barton, Eppleby, Cliff, Carlton, Barforth, Ovington, Girlington, Wycliffe, Thorp, Mortham, Egglestone, Brignall, Scargill, Barningham, East and West Layton, Manfield, Hutton and Stanwick were appurtenant to this manor. (fn. 16) Count Alan had a 'castlery' of 199 'manors' (fn. 17) —Gilling perhaps the head—but he soon made Richmond his chief seat and the head of his honour. Gilling lost all its old importance, but continued to be held by the lords of Richmond in demesne until the attainder of Richard Earl of Warwick, (fn. 18) when it ceased to be a member of the honour of Richmond. (fn. 19) It was granted in 1475 to Richard Duke of Gloucester, (fn. 20) afterwards Richard III, and in 1495 to John Norton of Norton Conyers, representative of the lords of the adjoining vill of Hartforth, and his heirs. (fn. 21) The Nortons held Hartforth and Gilling Manors until Richard Norton, one of the ringleaders of the rising in the north, lost his lands by attainder in 1569. (fn. 22) The site of the manor was in 1572 leased to William Stockdale for twenty-one years, the manorial rights being reserved (fn. 23) ; and the manor was finally granted to Robert Bowes, (fn. 24) a younger son of Richard Bowes of South Cowton, who was treasurer of Berwick and ambassador to Scotland for nearly twenty-one years, and died in 1597. (fn. 25) His son Ralph (fn. 26) in 1609 sold it to Humphrey Wharton, (fn. 27) from whom it has descended to the present owner, Mr. William Henry Anthony Wharton of Skelton Castle. (fn. 28)
In 1188 Osbert son of Fulk was surveyor of the works at the town of Bowes, (fn. 29) and held 1 carucate of land in Gilling (fn. 30); and in 1211–12 Osbert son of Fulk and Odard de Gilling held a sixth of a fee here. (fn. 31) William son of Fulk had lands here in the middle of the 12th century, (fn. 32) and Alice daughter of Fulk de Gilling, probably a member of this family, held lands in Bowes in 1294. (fn. 33) In the time of Richard II William Wawne and Margaret daughter of Thomas held this sixth of a fee. (fn. 34) The Wawnes were in possession of the manor and capital messuage of the adjoining vill of Eppleby in the 17th century. (fn. 35)
The lord of Richmond had the profits of the court held at Gilling; from 1280 he had the water-mill there, (fn. 36) and in 1440 and 1473–4 a forge and common oven, (fn. 37) and also free warren. (fn. 38)
ATLOW COWTON (fn. 39) (Atlowe-Couton, Artelhowe, xiii cent.; Atlage-Cutona, Attelou, xiv cent.; Atlow Cowton, Atclay Cowton, xviii cent.) was held in 1286–7 (fn. 40) by Edward Charles, lord of Brignall, as mesne lord under the Earls of Richmond, and the manor was still held of Brignall Manor in 1608. (fn. 41) It comprised, perhaps, the carucate in Cowton held by Godric the steward (dapifer) of Count Alan in demesne in 1086, (fn. 42) but was in that case transferred later to Wymar the steward, as he afterwards held it in demesne. (fn. 43) Wymar was succeeded at this place by the Askes, (fn. 44) perhaps his descendants, (fn. 45) but by 1286–7 Thomas Greathead held Atlow Cowton in demesne. (fn. 46) By 1347–9 it had come into the possession of Thomas de Fencotes, (fn. 47) and the following transactions may throw light on the transfer: in 1300 Adam son of Robert Arundel of Eryholme (fn. 48) leased tenements in Atlow Cowton to the Templars for the term of thirty-one years. Adam left heirs, his daughter Alice and his grandson Walter de Helmsley; Alice, and Alice daughter of Walter, in 1335 petitioned the king for these lands. (fn. 49) In 1338 John Greathead of Cleveland and Elizabeth his wife and the heirs of Elizabeth sold tenements here for 100 marks to Thomas de Fencotes, (fn. 50) who had previously in 1332–3 paid 4s. subsidy here. (fn. 51) The successors of Thomas de Fencotes, lords of [Little] Fencotes in Kirkby Fleetham parish (q.v.), held Atlow Cowton until 1558, (fn. 52) when Thomas Nevill conveyed the manor to Richard Bowes of South Cowton, (fn. 53) whose son Sir George acquired North Cowton. (fn. 54) At the beginning of the 17th century these manors with several others had been mortgaged by the Bowes for the payment of a debt, (fn. 55) and they were evidently compelled to part with Atlow Cowton, as it is found later in the hands of the Woodroffs of Woolley, who in 1605 conveyed it to Sir John Hele, serjeant-atlaw. (fn. 56) The Heles still possessed it in 1631, (fn. 57) but Atlow and South Cowton were both subsequently purchased by Robert Sainthill of Bradninch (co. Devon), who in 1650 complained that, having admitted his brother Peter as tenant to half of 'the estate at Atclay,' it was sequestered for his brother's delinquency. (fn. 58) Robert in 1657 granted half of these two manors to Jonathan Keate, (fn. 59) and must at some time have conveyed the remaining half, for in 1661 Jonathan Keate conveyed both manors to Thomas Earl of Elgin. (fn. 60) From this time both manors follow the descent of the manor of East Cowton (q.v.), and by 1719 Atlow had become synonymous with East Cowton. (fn. 61) In 1360–1 Robert Hawley had a grant of free warren in his demesne lands of Fencotes, Atlow Cowton and elsewhere. (fn. 62)
NORTH COWTON (Cudtun, xi cent.; Kuton, xiii cent.; Couton, xiii–xv cent.).—The sokes of North and South Cowton were in 1086 appurtenant to the manor of Gilling, (fn. 63) and afterwards members of the honour of Richmond.
Early in the reign of Henry III Adam de Mounchesny was mesne lord of both, (fn. 64) but by about 1260 he was succeeded by the Fitz Alans. (fn. 65)
In 1260 Alan de Layton of East Layton was under-tenant by right of his wife Lettice, heiress of Walter son of David Barry of North Cowton. (fn. 66) John son of Alan (fn. 67) succeeded him, (fn. 68) and was followed by his son Thomas, who held these lands in 1316. (fn. 69) In 1333 Thomas de Layton had a grant of free warren, (fn. 70) but after this time the Laytons seem no longer to have held lands here. In 1435–6 John Brough was returned as holding one knight's fee in North and South Cowton. (fn. 71) From him the manor descended through his son William, his grandson and great-grandson of the same name to his great-great-grandson William Brough, (fn. 72) who left daughters and co-heirs Anne and Elizabeth. (fn. 73) Anne was married to Thomas Tempest, who died seised of North Cowton Manor about 1544, leaving a daughter and heir Anne wife of Sir Ralph Bulmer. (fn. 74) Sir Ralph Bulmer died seised in 1558 in right of his wife, leaving daughters and heirs Joan, Frances and Millicent, Joan being married to Francis Cholmley in her father's lifetime. (fn. 75) In 1564, 1565 and 1566 the co-heirs and their husbands granted severally one-eighth of the manor to Sir George Bowes, (fn. 76) to whose son Sir William the whole manor came at his death. (fn. 77) The manorial rights seem from this time to have descended with the other manors of Cowton until the close of the 18th century, (fn. 78) though North Cowton was not registered among Papists' estates in 1719 as the others were. (fn. 79) In 1820 this manor was in the possession of the Earl of Tyrconnel, (fn. 80) and is believed to have been in the possession of the late Admiral Carpenter of Kiplin Hall, Catterick (q.v.), but the manorial rights have been allowed to lapse. (fn. 81)
A return of 1275–6 states that the Abbot of Fountains held 6 carucates of land in Magna Cowton by grant of Alan the Wild Earl, formerly Earl of Richmond. (fn. 82) No mention is made of any lands belonging to Fountains Abbey in any of the Cowtons in the return of 1286–7, but, as this abbey was enfeoffed in North Cowton, 'Great Cowton' must in this case have meant a wider district, comprising North Cowton. In 1316 the Abbot of Fountains was returned as joint lord of the vill of North Cowton. (fn. 83) In 1319 he obtained relief from taxation on account of the place having been burnt by the Scots, (fn. 84) and at the time of the Dissolution the abbey received 73s. 11½d. rent from North Cowton. (fn. 85)
SOUTH COWTON (alia Cudtun, xi cent.) was held under the Earl of Richmond in 1286–7 by Brian Fitz Alan, (fn. 86) whose successors, the lords of Bedale, still retained a mesne lordship in 1562. (fn. 87)
In 1286–7 William de Lascelles, probably as descendant of Conan son of Elias, (fn. 88) held the 6 carucates of South Cowton in demesne; Robert Lascelles was lord of the vill in 1316, (fn. 89) as in 1363 was John de Lascelles. (fn. 90) John in 1375 conveyed this manor and all his lands in North Cowton to Sir Thomas Surtees, kt., and others, their heirs and assigns, (fn. 91) apparently as trustees. John de Brough in 1435–6 was returned as holding it with North Cowton (q.v.), but possibly there may be some other explanation of this return, for the manor seems to have escheated to the overlord and become, like the other demesne lands of the honour, a member of the fee of Middleham. (fn. 92) Joan Countess of Westmorland held it in dower in 1440–1, (fn. 93) and, like the other Middleham lands, it was in the possession of the Crown in 1473–5. (fn. 94) The Earl of Westmorland perhaps bestowed it upon his kinsman by marriage, Richard Conyers, who was its next lord. Sir Ralph Bowes of Streatlam, Durham, married Margery daughter and co-heir of Richard Conyers, and from this time South Cowton became a frequent residence of the Bowes family. (fn. 95) Margery died seised in 1523 and was succeeded by her son Sir Robert Bowes, on whom she had settled the manor. (fn. 96) He was Warden of the East and Middle Marches in 1550, a Privy Councillor in 1551, Master of the Rolls in 1552, and inherited Streatlam on the death of his nephew Sir George Bowes. On his death in February 1554–5 without male issue he was succeeded according to the above settlement by his elder brother Richard, captain of Norham in 1548 and 1550, who married the heiress of Aske and had a daughter who married John Knox. George, the eldest surviving son, was very prominent in the suppression of the rebellion of the north in 1569. When it was found expedient to remove the Queen of Scots further from the borders he escorted her to Bolton Castle, and on his death in 1580 Christopher Rokeby of Mortham wrote: 'He was the sureste pyllore the Quens Majestie had in thes partes.' (fn. 97) His son William, crippled by his father's devotion to the queen, (fn. 98) seems to have parted with all his property. From this time South Cowton followed the descent of Atlow Cowton (fn. 99) (q.v.).
The family of Russell or Rosseuel had tenements in South Cowton in the 13th century, (fn. 100) but these were forfeited for the rebellion of John de Rosseuel and in 1306 given to Robert Hastangs for his good service. (fn. 101) In 1314 Robert Hastangs and Emma his wife and Amabel mother of Emma (fn. 102) and their heirs obtained a grant of free warren in their demesne lands in Cowton and other places. (fn. 103)
EPPLEBY (Aplebi, xi–xvii cent.; Eppleby, xv cent.; Appleby alias Eppleby, xvii cent.).—The soke of 7 carucates in Eppleby belonged in 1086 to Count Alan's manor of Gilling, (fn. 104) and the manor was still held of Richmond Castle in 1631. (fn. 105)
Eppleby belonged to what was known as the 'fee of the chamberlain' of the lords of Richmond (two and a half knights' fees in Eppleby, Askham, Fencotes and Killerby), (fn. 106) and was assessed at half a knight's fee. (fn. 107) Robert, chamberlain in the 12th century (son of Odo, chamberlain in 1086), (fn. 108) had a son Theobald, whose son Fulk had lands in Eppleby, apparently as lord of the vill in 1204, (fn. 109) but from this time the chamberlains seem to have been only mesne lords. Gale suggests that the chamberlain's fee was now divided between three sisters and co-heirs, as it was split into three parts. (fn. 110) The place of the chamberlain in Scolland's Hall in Richmond Castle came to Conan de Kelfield (fn. 111) about this time. (fn. 112) Conan was ancestor of the Fitz Henrys of Liverton (fn. 113) and Manfield (q.v.), who were afterwards enfeoffed in Eppleby and Fencotes. (fn. 114) Conan son of Henry had an interest in Eppleby in 1227 (fn. 115); Henry son of Conan was one of three mesne lords of 8 carucates of land here in 1286–7 (fn. 116); and in 1304 Richard son of Roger younger brother of Henry son of Conan brought a suit against the under-tenant, but obtained leave to recede from it. (fn. 117) Thomas Fitz Henry held this portion of the fee in the time of Richard II, (fn. 118) after which it cannot be traced.
The second parcenary of the chamberlain's fee was the family of Fitz Hugh of Ravensworth. Ranulf son of Henry (fn. 119) is mentioned in connexion with Eppleby in 1227, (fn. 120) and Hugh son of Henry was one of the three holders of the chamberlain's fee in 1281–2, (fn. 121) and, with Henry son of Conan, one of the mesne lords of the above-mentioned 8 carucates of land in Eppleby in 1286–7. (fn. 122) Henry Fitz Hugh held one-third of the chamberlain's fee in the time of Edward III (fn. 123) and Richard II (fn. 124); and of George Lord Fitz Hugh the whole 8 carucates were said to be held in 1487. (fn. 125) The third mesne lordship in Eppleby was held by the family of Coleman. John Coleman is mentioned here in 1227. (fn. 126) Eustace Coleman was one of the three mesne lords of the 8 carucates of land above mentioned in 1286–7, (fn. 127) and in 1301 John Coleman conveyed half a knight's fee in Eppleby to Henry le Scrope. (fn. 128) Sir Richard le Scrope of Bolton was the third holder in the time of Richard II, (fn. 129) but his grandson (fn. 130) only held a yearly rent of 12d. from 20 acres of land here. (fn. 131)
Maud daughter of Robert the Chamberlain was tenant of at least a carucate of land in Eppleby, and was dead by 1204. (fn. 132) She married Alexander Breton (fn. 133) (brother of Hamo the Chancellor), at one time lord of Colburn, (fn. 134) who in 1191 had mortgaged Eppleby to Aaron the Jew of Lincoln. (fn. 135) In 1204 Maud's nephew Fulk, son of her brother Theobald, granted a carucate of land in Eppleby that formerly belonged to her to Geoffrey le Breton (fn. 136) (called Chacemoyne), (fn. 137) son of Alexander Breton. (fn. 138) Geoffrey's possessions in Eppleby descended to his son and heir John, and from John, who died without issue, to Roald his brother and heir. Roald left a daughter and heiress Sibyl, married first to a member of the family of Maunby, (fn. 139) by whom she had a son Thomas, and secondly, by 1268, to Henry de Ripon (fn. 140); Sibyl was apparently dead by 1282, when Henry de Ripon was in sole possession. (fn. 141) Sibyl's son Thomas de Maunby was lord in 1286–7, (fn. 142) in 1306 (fn. 143) (when he is called knight) and 1316, (fn. 144) and paid the subsidy in 1327–8. (fn. 145) Possibly Thomas de Maunby left a daughter and heir, for in 1341 Richard Alman of Newsham and Julia his wife and her heirs quitclaimed to Edward Saltmarsh and Ellen his wife and the heirs of Ellen tenements in Eppleby. (fn. 146) In 1347–9 the heir of Edward Saltmarsh, a minor in the custody of the Earl of Richmond, was tenant of a quarter of a fee in Eppleby. (fn. 147) The Saltmarshes of Saltmarsh held Eppleby (fn. 148) until, in 1593, Thomas and Robert Saltmarsh granted it to John Gregory, senior, of Kingston-on-Hull, and his son John Gregory, junior, of Clerkenwell, Middlesex. (fn. 149) John Gregory, senior, died seised in 1595 and his son John died without children in 1601–2, his heir being Alice wife of James Gray of Cottenham, Cambridge, daughter of Joan Brat, daughter and heir of his uncle Lawrence Gregory. (fn. 150) But his father had made provision by his will that failing lawful issue of John his son and heir two thirds of the manor were to remain successively to Gregory Armitage, second son of his daughter Emma Armitage, and his heirs, and to Edward Armitage, her third son, and one-third was to remain to Edward and then to Gregory. (fn. 151) In 1602–3 James Gray and Alice his wife quitclaimed Eppleby to Gregory and Edward Armitage. (fn. 152)
There is now a break in the descent. Thomas Wawne of Aldbrough (fn. 153) died in or after 1613, leaving his capital messuage and tenements in Eppleby to Richard son of his brother Christopher, deceased. (fn. 154) Richard died seised of the manor, capital messuage, &c., in 1631 and was succeeded by his son and heir Marmaduke. (fn. 155) Marmaduke and Richard Wawne conveyed the manor in 1666 to Nicholas Shuttleworth (fn. 156) of Forcett. Richard Shuttleworth of Forcett (q.v.), Philip and Edward Saltmarsh and Philip son and heir of Edward joined in conveyances of the manor to trustees in 1676–7. (fn. 157) Robert Shuttleworth in 1785 sold this manor with those of Carkin and Forcett to Frances Michell and her heirs (fn. 158); and Eppleby has since descended with Forcett (q.v.).
William brother of Ulf de Eppleby paid 2 marks and Robert son of Ulf 20s. in 1174–5 for warranty of the lands which they held of the honour of Earl Conan. (fn. 159) Members of the family of Breton still held under Alexander le Breton's descendants in the 13th and early 14th centuries. Geoffrey Chacemoyne enfeoffed Philip son of John (le Breton) in lands here for a term, John le Breton was enfeoffed in 1268, (fn. 160) and a John le Breton held 4 carucates of land here of Henry de Ripon in 1286–7. (fn. 161) His son Philip le Breton obtained a quitclaim of these lands from John de Leyburn, possibly a trustee, in 1301. (fn. 162) Philip died in February 1305–6, leaving a son and heir John, (fn. 163) against whom Thomas de Maunby claimed them in 1322–3, as the term had expired. (fn. 164)
Six carucates in ERYHOLME (Argum, xi cent.; Ergum, Eryham, Ereholme, xv cent.; Erholme alias Engholme alias Harram alias Arram, 1784; Eryum, Naryholm) formed in 1086 a berewick of Count Alan's 'manor' of Gilling (q.v.), and were still held of Richmond Castle in 1528. (fn. 165)
Robert son of Tenay held lands in Eryholme 'of old feoffment' (fn. 166) about the end of the 12th century, and in 1211–12 Ralph son of 'Teyngus' held one knight's fee here. (fn. 167) For this knight's fee Roger Tenay owed ward at Richmond Castle in the reign of Henry III, (fn. 168) and in 1283 it was in the hands of John de Romanby. (fn. 169) There is no record of the passing of the Tenay fee to the Romanbys, but the latter had received many grants from St. Agatha's Abbey which had been enfeoffed by the family of Eryholme. John de Eryholme, (fn. 170) Philip de Eryholme (fn. 171) and Adam son of Philip de Eryholme (fn. 172) must have been under-tenants of the Tenays in the 12th and early 13th centuries. Adam de Eryholme sold his mill of 'Hales' in the territory of Eryholme, except one-third which Hucelina his mother held in dower, to Robert Arundel, who granted his share of the mill to St. Agatha's Abbey; Robert's son Adam held it and other lands of the abbey. (fn. 173) Wischard de Charron also granted to the abbey his part of a mill in Eryholme that Walter de Hurworth gave him. (fn. 174) Abbot John granted all the right of the abbey in the mill and the land near to John de Romanby. (fn. 175) Master Richard de Eryholme paid 8s. subsidy here in 1332–3, (fn. 176) but this family was no longer of importance in Eryholme.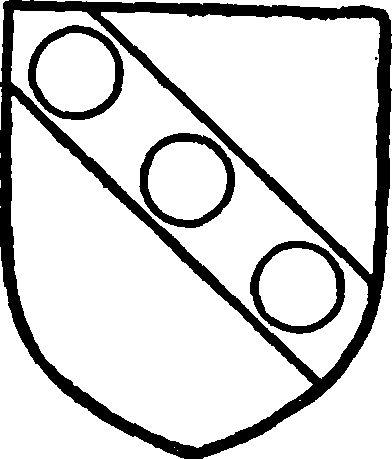 Sir Richard de Romanby, who was warden (custos) of the city of York in 1279– 81, held in 1286–7 6 carucates of land in Eryholme. (fn. 177) Very shortly afterwards, however, the Romanbys disposed of the manor to the Markenfields. The king in 1311 confirmed to John and Andrew de Markenfield and their heirs free warren in their demesne lands of Eryholme. (fn. 178) In 1312 John de Markenfield, clerk, settled two-thirds of the manor on Thomas de Romanby, clerk, for life, with reversion to himself and his heirs, (fn. 179) and in 1315 Thomas de Romanby conveyed the manor (one-third of which Richard de Kirkbride and Christina his wife held as her dower with reversion to Thomas and his heirs) to John de Markenfield, clerk, and Andrew de Markenfield, to hold to John for his life, with successive remainders to Andrew and his heirs and to the lawful heirs of John. (fn. 180) John was returned as joint lord of the vill in 1316. (fn. 181) In 1319 the king ordered that the eighteenth was not to be levied from John de Markenfield and Richard de Kirkbride, nor their men and tenants of Eryholme, owing to the ravages of the Scots. (fn. 182) Andrew de Markenfield paid the subsidy in 1327–8, (fn. 183) and was lord of the vill in 1329. (fn. 184) Thomas de Markenfield was the representative of the family in the time of Richard II. (fn. 185) In 1394 Thomas son of Thomas de Markenfield, kt., was pardoned for killing a man at Eryholme. (fn. 186) Sir Thomas de Markenfield, kt., died seised in 1497, and was succeeded by his son and heir Ninian, (fn. 187) who died seised in 1528, (fn. 188) leaving a son and heir Thomas. Thomas died in 1550 (fn. 189); his son and heir Thomas as one of the chief instigators of the rising of the north (fn. 190) was attainted and executed in 1569.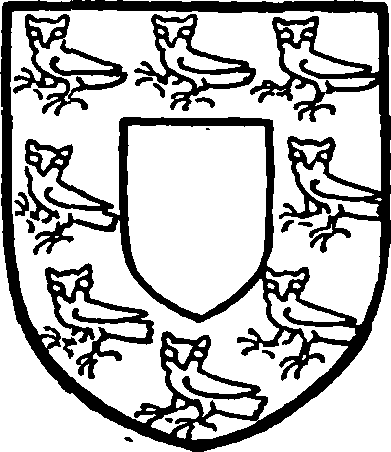 Queen Elizabeth made various leases of the site and various parcels for terms of years, (fn. 191) and in 1580 granted the manor to Thomas Calverley, his heirs and assigns. (fn. 192) The Calverleys held Eryholme (fn. 193) until Timothy Calverley of Eryholme fought on the king's side in the Civil War. It had apparently been entailed, and on its sequestration by the Parliament John Calverley the heir petitioned for licence to compound for his interest. (fn. 194) He represented in 1648 that Timothy's fine for compounding was so heavy and he was so deeply in debt that he had left the kingdom and gone to fight against the Turk. John begged and obtained discharge of the estate that he might pay the creditors. (fn. 195) Henry Calverley of Eryholme was knighted in 1675, (fn. 196) and Mary his widow and others settled the manor in 1696 on Bennet Sherard and Mary his wife, daughter and sole heir of Sir Henry Calverley. Bennet as Lord Sherard in 1714 conveyed Eryholme and its appurtenances to Sidney Wortley alias Montague. His descendant the Hon. Mrs. Wellesley in 1906 conveyed the manor to Sir Thomas Wrightson, bart., of Neasham Hall, Darlington, the present owner and a direct descendant of the Richard Wrightson who was holding messuages and lands here in 1570. (fn. 197)
Walter de Musters was said to hold one-twelfth of a fee (1 carucate of land) in Eryholme in 1283, (fn. 198) and John de Musters held 2 carucates here of the Earl of Richmond in 1286–7. (fn. 199) A John de Musters was returned as joint lord of the vill in 1316, (fn. 200) and paid the subsidy in 1327–8. (fn. 201) This family seems to be no further mentioned in Eryholme.
HARTFORTH (Herfort, xi cent.; Hertford, xii–xv cent.; Herefordsira, xiii cent.), a berewick of 3 carucates, was appurtenant to Count Alan's 'manor' of Gilling (q.v.) at the time of the Domesday Survey, and was still held of Richmond Castle in 1490. (fn. 202)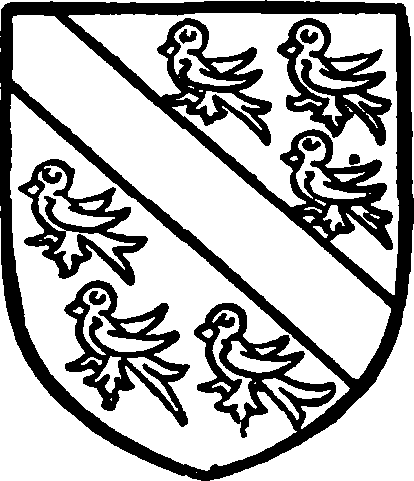 Wigan de Hartforth son of Cades is the first recorded underlord. He married Garsia daughter and heir of Alexander Musard, (fn. 203) and was dead by 1175–6. (fn. 204) In 1206 his son Wigan gave the king 10 marks and a palfrey for prohibiting the holding of a plea between himself and Warin de Fremington of 3 carucates of land in Hartforth whereof Wigan had the charter of Earl Conan (fn. 205); he mortgaged part of his land to the Jews in 1208, the year after King John took a thirteenth, and during the time of the mortgage gave this land to the Abbot of Jervaulx to hold, his other land having long since been mortgaged. (fn. 206) One Simon was then said to be the rightful tenant. (fn. 207) In 1230 Alan son of Wigan was lord. (fn. 208) He was succeeded by Robert de Hartforth, (fn. 209) father of the Thomas whose son John de Hartforth (fn. 210) was lord in 1283 (fn. 211) and still held Hartforth in 1316. (fn. 212) In 1296, at the instance of Edward Charles, he had a grant of free warren in his demesne lands of Hartforth. (fn. 213) He was succeeded by his son (fn. 214) Sir Thomas de Hartforth, kt., who was lord in 1328–9, (fn. 215) and in 1342 settled Hartforth on himself for life with remainder to his daughter Joan and her husband Richard Tempest and their issue. (fn. 216) Five years later Richard Tempest was lord of Hartforth. (fn. 217) The Tempests held the manor until the middle of the next century. In 1347–9 (fn. 218) and in 1428 (fn. 219) the Prioress of Marrick and the Abbot of Coverham each held a carucate of land in Hartforth as part of the fee that John de Hartforth formerly held; but at the end of the century the descendants of John again held the whole vill. (fn. 220) A William Tempest, kt., followed the above Richard, and was succeeded by his son William, who died in 1443, leaving a son and heir John, aged 1½ years. (fn. 221)
By 1451 John was dead, and John Norton, son and heir of John's aunt Isabel, and William Malory and Denise his wife, John's other aunt (both daughters of Sir William Tempest), were in this year parties to a settlement of the manor on John Norton and his issue, with various remainders. (fn. 222) The Nortons of Norton Conyers (q.v.) held the manor until 1569, when Richard Norton was attainted. (fn. 223) Richard had previously, in 1562–3, settled Hartforth to the use of his wife Philippa. (fn. 224) He died in 1585, and in the following year Elizabeth recognized Philippa's title in it for life. (fn. 225) In 1587 the queen granted the reversion to Anthony Radcliffe and William Gerrard (fn. 226); but the same document recites that in 1580 (fn. 227) she had leased the site of the manor to Robert Bowes for twenty-one years, and Robert Bowes or his son Ralph subsequently acquired the manor. Robert Bowes had held it at farm from Richard Norton's attainder until the recovery by Philippa, (fn. 228) and he was popularly regarded as lord of the manor. Report said in 1604 that Robert Bowes had mortgaged the manors of Hartforth and Gilling to Alderman Radcliffe of London, and had redeemed them in his own lifetime, and that since that time Ralph Bowes had sold Hartforth to Sir Cuthbert Pepper, kt. (fn. 229) Sir Cuthbert Pepper seems to have been an agent for the Whartons, and by conveyances in 1604 and 1612 the manor was assured to Humphrey Wharton. (fn. 230) In 1720 Evelyn Duke of Kingston-on-Hull, Charles Earl of Carlisle and Nicholas Lechmere conveyed it to William Cradock, (fn. 231) from whom it has descended to the present owner, Major W. S. K. Cradock, D.S.O.
SEDBURY (Sadberge, xii-xiv cent.; Sadbery, Sadberk, xv-xvi cent.; Sedber, Settbarre, xvi cent.) is not mentioned until the 12th century, but in 1286–7 there was a Nether Sedbury and, coupled with Gilling, an Over Sedbury. Nether Sedbury at this date was composed of 1 carucate, half held by John de Scargill of William de Scargill and the other half by William de Scargill of Roald de Richmond and by Roald of the earl. (fn. 232) Towards the end of the 14th century John Gracedale held this carucate of Lord Scrope of Bolton as of the fee of Roald. (fn. 233) A century later this place had merged in Over Sedbury, but the Scropes of Bolton were still mesne lords. (fn. 234)
Over Sedbury in 1286–7 was held under the earl by William de Barningham. In 1289 Richard de Barningham granted tenements and half a mill in Barningham, Sedbury and other places to William de Barningham and his heirs, with contingent reversion to himself and heirs. (fn. 235) Richard de Barningham was lord in 1319, (fn. 236) and in 1328 Richard de Barningham and Katharine his wife gave 10s. for licence to grant tenements in Sedbury to Robert de Mortham, chaplain. (fn. 237) Roger de Welles and Joan his wife and the heirs of Joan, presumably a co-heir of the Barninghams, (fn. 238) granted 2 carucates of land and other tenements in Sedbury in 1349–50 to Sir William le Scrope and Katharine his wife. (fn. 239)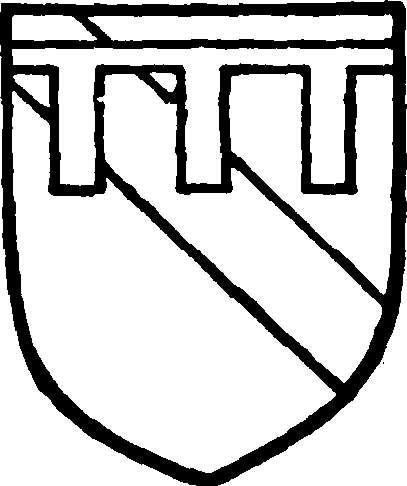 Sir Henry le Scrope of Masham died seised of the manor in 1392, (fn. 240) and Elizabeth his wife was still holding it in dower when his son Sir Stephen le Scrope, who married Margery daughter of John Lord Welles, (fn. 241) died in 1406. (fn. 242) Thomas Clarell of Aldwark (fn. 243) in 1427 held Sedbury by right of his wife. (fn. 244) Then follow the Boyntons. Sir Christopher Boynton, kt., whose father Christopher was called 'of Sedbury,' (fn. 245) married Agnes daughter of Henry Lord Scrope of Bolton. (fn. 246) Christopher and Agnes in 1468 made an agreement with John Lord Scrope of Masham by which they granted lands in Easby and Newton to St. Agatha's Abbey and received in return all the lands of the abbey north of Gilling Beck towards Sedbury. (fn. 247) Sir Christopher died seised of both vills. (fn. 248) His son Henry, (fn. 249) knighted in 1497, (fn. 250) left a daughter Isabel wife of Henry second son of Sir William Gascoigne of Gawthorpe. (fn. 251) Isabel and Henry had a son Henry, who was succeeded at Sedbury by his son Richard, his grandson Sir John, and his greatgrandson Sir William Gascoigne. (fn. 252) Sir William Gascoigne had a grant of free warren in Sedbury in 1619–20. (fn. 253) He died in or about 1641, having thirty-four years previously settled the manor on his daughter and heir Isabel and her husband Marmaduke Wyvill of Constable Burton, who succeeded to the baronetcy in 1618. (fn. 254) Isabel their daughter married the Hon. James D'Arcy, younger son of Conyers Lord D'Arcy and Conyers, (fn. 255) and although in 1666 and 1688 this manor was settled with that of Constable Burton, (fn. 256) it was ultimately acquired by Isabel's son James D'Arcy, (fn. 257) called of Sedbury Park, by purchase. (fn. 258) James D'Arcy had no male issue, and was created 13 September 1721 Lord D'Arcy of Navan, co. Meath, for life with remainder to James son of his daughter Mary by William Jessop. He died in 1731, being buried at Gilling, as was also his grandson James, who died childless (fn. 259) in 1733, having devised Sedbury to his cousin Henry D'Arcy of Colburn (Catterick) (q.v.). Henry D'Arcy left an only daughter Maria Catherine, who married in 1738 Sir Robert Hildyard, bart., of Winestead and had issue Robert D'Arcy Hildyard. Henry D'Arcy by will dated 18 December 1750 demised Sedbury to trustees for his grandson Sir Robert D'Arcy Hildyard and his heirs male with contingent remainders (1) to Matthew second son of John Hutton and Elizabeth eldest daughter of James Lord D'Arcy and his heirs male, (2) to James third son of John and Elizabeth and his heirs male. Sir Robert D'Arcy Hildyard the grandson died 6 November 1814 without male issue. Matthew had died unmarried in 1782, and James D'Arcy Hutton succeeded to Sedbury on the death of his father. (fn. 260) The manor was sold by him in 1826 to the Rev. John Gilpin, vicar of Stockton-on-Tees, (fn. 261) whose grandson Mr. George Thomas Gilpin Brown is now lord.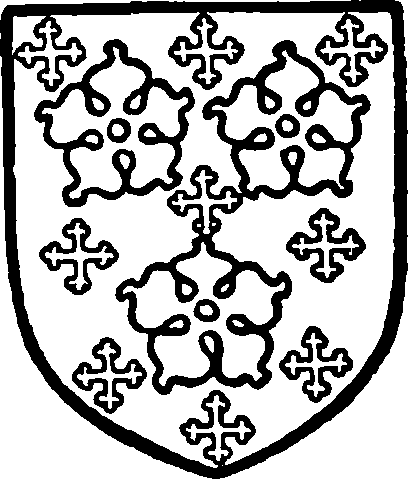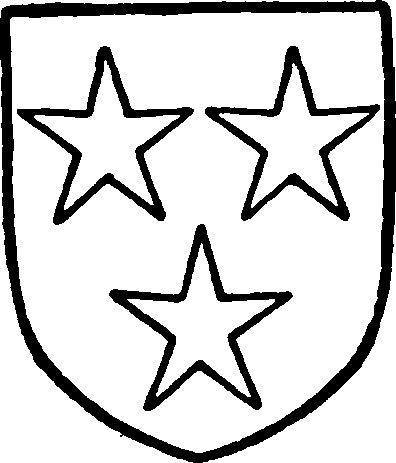 Churches
The church of ST. AGATHA has developed from an early aisleless nave about 37 ft. by 18 ft. 6 in., with a chancel probably 16 ft. wide and a west tower oblong in plan, measuring 12 ft. by 9 ft. within the walls, its east wall being built beyond and not over the west wall of the nave. Of this building the tower and parts of the nave walls still stand and date, perhaps, from the end of the 11th century. The present chancel has been so much refaced and renewed that its history is doubtful, but a blocked 12th-century arch at the west end of its north wall proves the former existence of an aisle or chapel here. In the 14th century a vaulted vestry was added to it at the north-east and about the same time a good deal was being done to the nave. The present chancel arch, south aisle and arcade were then built and a few years later an aisle was built on the north side; in each case the aisles were continued westward beyond the old west wall of the nave and the space between the old and new west walls filled in, forming great blocks of masonry on each side of the tower arch. If any older aisles existed there is now nothing to prove it. In the 15th or 16th century the tower was heightened and the old belfry windows blocked up, and windows were inserted in different parts of the church. In 1845 a second north aisle was added, and the church now consists of a chancel 33 ft. by 14 ft., a north-east vestry 14 ft. by 7 ft. with a modern extension westward, a nave 37 ft. by 20 ft., a west tower 14 ft. by 10 ft., a south aisle 43 ft. by 12 ft. with a porch which has been rebuilt, and two north aisles 43 ft. by 20 ft. and 43 ft. by 9 ft. 6 in. respectively.
The chancel has very little old work to show. In its east wall are three modern windows of 12thcentury style and there are four more and a doorway of the same sort in the south wall. The chancel arch is of two chamfered orders with a double chamfered label, and the inner order rests on corbels of the same design as those of the responds of the south arcade. Over it on the west face are two corbels to carry the rood-loft. The north wall of the chancel is old, but has been refaced internally, and the 12th-century arch already mentioned at its west end can only be seen from outside. It is 6 ft. wide, and in the masonry which blocks it is a small lancet window, perhaps 13th-century work, and now itself blocked. The vestry door has a moulded label stopped with grotesques of a man and a beast, and is of the 14th century. The vestry is covered with a stone vault, and has a two-light east window and a modern west doorway opening to a modern building which contains the sexton's tools, &c. The nave is of three bays, with north and south arcades with octagonal columns, moulded capitals and arches of two chamfered orders; the details are slightly different in the two arcades, but they cannot be far apart in date.
The north aisle, with its northward extension, from which it is divided by an arcade of three bays, has no old features, but the walls of the south aisle are probably of the date of the south arcade. In the aisle are modern windows at the east and west, and in the south wall two two-light windows with jambs and heads probably of the 14th century, and modern tracery. In the same wall is a small piscina recess, without a drain, but having in its place part of a grave slab, and to the west of this is a 15th-century recessed tomb with a large four-centred arch cinquefoiled and having a gabled hood mould and a finial. The south doorway is of the 14th century and is of two continuous chamfered orders. The south porch is modern.
The tower is in three stages divided by strings chamfered on both sides. The walls are only 2 ft. 4 in. thick, and the masonry is of an early type, with large irregular quoin stones and no buttresses. The walling is of small rubble with wide mortar joints, and the only original openings are those in the belfry stage, below the added 15th-century work, and a single oval light on the south side of the second stage. The tower arch is of the full width of the tower, a plain round-headed opening with chamfered strings at the springing, but has probably been widened and heightened and is not original. The old belfry windows are all blocked, but that on the west, now hidden by a clock face, shows that they had two narrow round-headed lights under a plain semicircular head and a central shaft. The openings were recessed in two orders and the shafts were not set in the middle of the thickness of the wall, so that the presumption of a pre-Conquest date which might be drawn from the thin walls and early masonry is not borne out by the details of the windows. The added top of the tower is embattled and has squareheaded windows formerly of two lights with tracery, but now filled with wooden louvres only; the tower stair is a modern addition on the south side, and the west window is a 15th-century insertion of four lights.
On the wall of the tower is set the fine grave slab of Sir Henry Boynton, 1531–2, and his wife Isabel; it is about 8 ft. by 4 ft., and bears within a raised border with the evangelistic symbols at the four corners the full-length figures of the knight and his lady. He wears complete plate armour with a shortskirted tunic reaching to the knees, a sword hanging from his belt, and rests his feet on a goat or roebuck. His wife wears a long gown with tight sleeves and a girdle from which hangs a pair of beads, and on her head is a large netted headdress with a veil falling from it on either side. Her feet rest on a cat. Over the figures are two shields, of the arms of Boynton and (?) Rookes: a fesse between three rooks. On the raised border is the inscription 'Hic jacet dñs he[n]ricus boyntõn myles ultim' heres de sydbery isti' nõis et essabella uxor ejus qui VII id januarii obiit año dñi mocccccoxxxioquo[..] añib[us] p[ro]picietur deus Ame[n].'
There is another slab in the north aisle floor with the inscription 'Alys bewlay 7 Sr herre boynton Knyght, Deus propicius esto nobis peccatorib[us].' At the east end of this aisle is a slab with the indent of a brass plate.
In the porch is a coffin lid with a plain cross and a sword, a shield with three muzzled bears rampant, and there are several pieces of other slabs and of early crosses here and in the churchyard close by.
There are three bells; the treble and tenor of 1707 by Samuel Smith of York, and the second by Henry Jurden of London, c. 1450, inscribed 'Sancte Thoma, ora pro nobis.'
The plate consists of a chalice with date mark 1620 and a modern copy of it, a small paten of 1624, a modern flagon and two patens. There are also two pewter dishes bearing the maker's name Robert Pennington and his trade mark, a cheveron charged with three roses between three portcullises, and a flagon with his initials r. p.
The registers begin baptisms and burials in 1639 and marriages in 1754.
The church of ST. MARY THE VIRGIN, Eryholme, stands back from the road through the village, and is on higher ground. It consists of a chancel 17 ft. by 13 ft. with north vestry, nave 41 ft. 6 in. by 15 ft. with north aisle 5 ft. 6 in. wide and south porch, and west tower only 6 ft. square, all measurements being internal. The north arcade dates from c. 1200, and though the chancel and nave probably stand on the foundations of the church which existed at that time and were older than the arcade, they have been entirely rebuilt in the 14th century or later, and the tower is a 16th-century addition.
The chancel has an early 14th-century east window of three cinquefoiled lights under a pointed arch, and in the south wall are two modern two-light trefoiled square-headed windows which are copied from part of an original window now built into the porch. The chancel arch has two chamfered orders and half-octagonal responds with bases of 13th-century detail.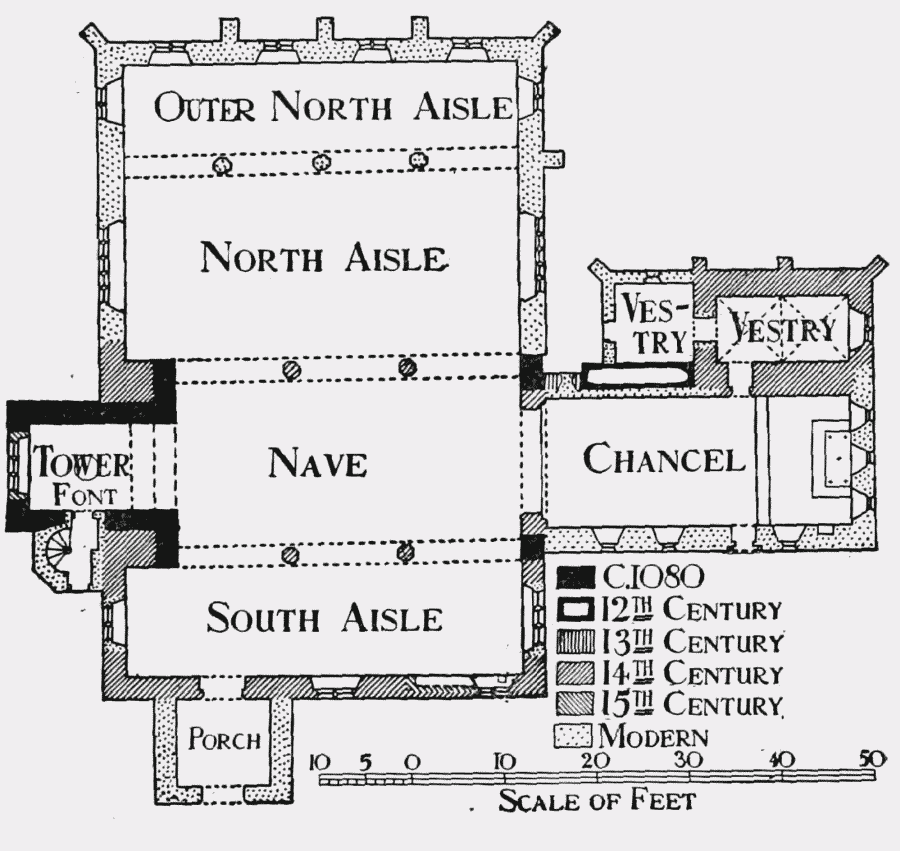 The nave has three modern copies of 14th-century windows in the south wall, a round-headed south doorway with 13th-century mouldings and modern jambs, and a modern window, like those in the south wall of the chancel, to the west of it. The north arcade of the nave is of four bays with arches of two chamfered orders, with chamfered labels, circular columns and bell capitals; one of the capitals has early 13th-century foliage. Traces of a decoration of single roses remain on the columns and capitals. The aisle has a two-light east window with modern tracery copied from one now walled in the porch, and the north doorway has a modern semicircular head.
The tower has no plinth, strings or buttresses, being entirely plain except for an embattled parapet. It has a small single-pointed west window on the ground stage and a round-headed light on each face of the upper stage.
The porch is quite modern; into its walls are built several pieces of 12th-century detail and parts of mediaeval coffin slabs. In the chancel floor is a stone to John Calverley, 1660, and his wife Margaret Jenison, 1671.
There are two bells: the treble inscribed 'Campana Johannis: QWB' in Gothic capitals; on the waist is a swastika, as on a very similar bell of c. 1400 at Terrington, Yorkshire. The second bell bears 'Jesus be our speed, 1616.'
The plate consists of two cups, two patens, a flagon and an almsdish, all presented in 1889 by William Henry Allan.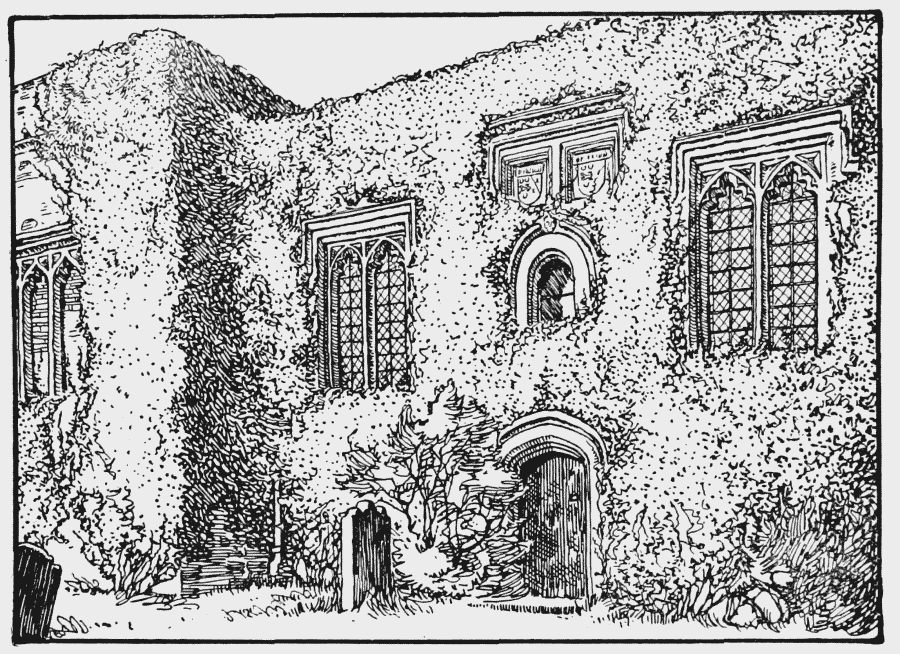 The registers begin about 1568.
The church of ST. MARY THE VIRGIN, (fn. 262) South Cowton, consists of chancel 30 ft. by 18 ft. 3 in., north vestry, nave 48 ft. by 26 ft., west tower 13 ft. 8 in. by 10 ft. 8 in. and south porch, the whole being apparently of one build c. 1450.
The east window of the chancel is of 15th-century date and has three cinquefoiled lights with tracery in a pointed head. The external label has a head carved at the apex and the rear arch is three-centred. On each side of this window is an image corbel, that on the south carved with a head. In the north wall are a three-centred doorway to the vestry and a square-headed window of two cinquefoiled lights. In the south wall are two similar windows and a priest's doorway with four-centred arch, having an external head-stopped label and a segmental rear arch. octagonal moulded basin at the east end of the wall. The chancel arch is of a low pointed form and rests on engaged shafts.
In the north side of the nave are three squareheaded windows, two of two cinquefoiled lights and the third of three lights. To the west of these is the four-centred north doorway, with a returned label. The south side of the nave is similarly lighted, and has a pointed doorway with continuous mouldings and returned hood mould. The tower arch is chamfered and pointed, and the west window is threecentred with three cinquefoiled lights and an external hood mould.
The walls are of rough rubble. The tower is in three stages, with an embattled parapet and chamfered plinth, but no buttresses. The bell-chamber windows are square-headed with two cinquefoiled lights and a label with returned ends. Over the west window is a sunk moulded panel shield charged with the sleeve of Conyers impaling a bend between three crosslets. The stair turret is at the south-east angle.
The porch has a pointed doorway with a returned label, and over it is a trefoiled niche, above which again is a panel having a label, and containing the inscription 'Orate pro anima Ricardi Conyers et Aliciae uxoris suae.' Over the porch is a parvise with a flat gabled roof, running north and south, with gabled crosses. The parvise has square-headed trefoiled lights in these gables, and is entered by a flight of stone steps from the nave leading up to a threecentred doorway.
There are no buttresses on the south side of the church, which has a parapet and chamfered plinth. Over the priest's doorway to the chancel is a roundheaded niche, formerly a trefoiled window, with a hood round three sides, and over this are two sunk and moulded panels, one bearing a lion passant on a fesse between three crescents, impaling a bend between two saltires engrailed, the other the same impaling two leopards. Over each shield is 'Xpofer Bontō' (Christopher Boynton).
The north vestry was originally in two stories, and on the west side are two plain square-headed windows, one above the other.
There is a late 15th-century chancel screen with tracery in the heads, and some of the bench ends in the chancel are old and curiously carved.
There is some old glass in the east window, collected from various windows, and including the head and clasped hands of our Lady with her monogram over, and below a shield Azure a sleeve or supported by an angel and bearing the inscription 'Cristofer Cōyers.'
The font has an octagonal bowl, on which are shields, and an octagonal stem and base; it is similar to many in the neighbourhood erected about 1620.
There are three interesting effigies, all of the late 15th or early 16th century. In the south-east of the chancel is that of a knight in plate armour, wearing a collar of roses and SS, his head resting on a mantled helm, his hair long and in a thick curl over the ears, his feet resting on a dog. A small shield behind the head of the figure bears traces of gold. On the opposite side of the chancel are the effigies of two ladies. All three show strong Italian influence, though there is no real renaissance ornament in the composition.
Outside the porch is part of the pedestal of a tomb bearing shields, on one of which is the sleeve of Conyers, on the other are three bows.
There are three bells: the first inscribed 'Venite exultemus Domino 1700 (S S Ebor),' by Samuel Smith; the second 'Gloria in altissimis deo 1712. John Welban, George Cust churchwardens (E Seller Ebor)'; and the third recast in 1883.
The plate, which is silver, consists of two cups, two patens, two salvers, one with a foot, and a flagon. The flagon, presented by W. Webb in 1858, is of 1784; one cup and one salver are of 1843 and the others of 1858; the patens are of 1902.
The registers begin in 1568.
Advowson
The church of Gilling, mentioned in 1086, (fn. 263) was given before 1093 (fn. 264) by Count Alan Niger to the abbey of St. Mary, York, (fn. 265) and held by that house until the dissolution of the monasteries. (fn. 266) It was appropriated to the abbey in 1224. (fn. 267) The Crown afterwards presented until 1585, from which time the advowson has been in the hands of the Whartons. (fn. 268) The living is a vicarage, the vicar being mentioned in the 12th century. (fn. 269)
The church is dedicated to the honour of St. Agatha, but formerly, it is said, of St. Peter. (fn. 270)
The chapels of Forcett, Hutton, Barton (now independent parishes), Cowton (South), Barforth (in Forcett parish), Eryholme and Mortham (in Rokeby parish) were dependent on the church of Gilling in 1396, (fn. 271) as those of them that remain are at the present day. In 1547 there were six priests in the parish at the finding of the vicar, besides two chantry priests. (fn. 272) A chantry of St. Nicholas in the parish church was founded by Richard Barningham and Sir Henry Boynton, (fn. 273) lords of Sedbury.
The chapel at South Cowton, according to Prior Wessington of Durham, was one of those chapels under the invocation of St. Cuthbert erected to commemorate the temporary resting-place of the saint's bones. (fn. 274) A chantry of our Lady in the chapel of South Cowton was founded in the 15th century (fn. 275) by Sir Richard Conyers, kt., for the saying of prayers for his soul and assistance of divine service in the chapel. (fn. 276) South Cowton, until 1880 a perpetual curacy, is now a new vicarage. (fn. 277) It is in the gift of the vicar of Gilling, and the chapel is dedicated to the honour of St. Mary.
In the time of King John Master John de Mallerstang, vicar of Gilling, held tenements in Eppleby of Geoffrey le Breton by fealty and the service of finding a chaplain for three days every week, on Monday, Wednesday and Friday, to celebrate divine service in the church of St. Wilfred of Eppleby. (fn. 278) This chapel existed, although in ruins, in 1586, when it, with its yard and appurtenances, was granted by the Crown to John Awbrey and John Ratcliffe. (fn. 279)
In the late 12th or early 13th century Philip de Eryholme granted to St. Mary's Abbey, York, all his right in the advowson of the chapel of Eryholme, (fn. 280) and in 1575 there is an allusion to the curate of 'the parishyng' of this place. (fn. 281) Eryholme, formerly a perpetual curacy, is now a vicarage and is in the gift of the vicar of Gilling. Its church of St. Mary is the old chapel.
A chapter of Gilling is mentioned in the 12th century, (fn. 282) a dean and chapter in the 14th. (fn. 283)
Simon Birchbeck, the divine and writer of pamphlets, was made vicar of Gilling in 1616. 'During the troubles of the Civil War he "submitted to the men in power," and therefore "kept his benefice without fear of sequestration."' (fn. 284)
Charities
Hartforth School was founded by Sir Thomas Wharton, 1678. See article on Yorkshire Schools. (fn. 285)
In 1704 the Rev. Matthew Hutchinson by his will demised land at Richmond and Reeth, income from which was to be applied in teaching two boys to read and write and in improving two other boys who could read, write and say the Church Catechism and binding them apprentices, and in giving money and clothes to four poor widows attending church. The trust property now consists of a house, 2 a. 2 r., and a plot of land at Richmond, and 12 a. 2 r. at Reeth, producing about £90 a year. In 1906 £80 was distributed among poor widows, and £4 a year is applied for the educational benefit of boys qualified in accordance with the donor's will.
This parish is entitled to benefit from Dame Mary Calverley's charity under her will, dated 1715.
George Wilson, by will proved at York 19 May 1821, left £200, interest to be distributed at Christmas to poor labouring men with families, and widows and old spinsters. The legacy was invested in £199 3s. 5d. consols (with the official trustees). In 1906 £5 was distributed to twenty poor people in sums of 5s. each.
Hartforth: Philip Swale, by will dated 29 September 1683, left £60 to augment a legacy of £40 by his aunt Ann Etherington, the income to be applied in apprenticing or otherwise for the poor of the township. The sum of £100 forms part of the funds of Philip Swale's charity, under the care of the Richmond Monthly Meeting of the Society of Friends, in respect of which £5 a year is paid to the poor of this hamlet.
Hartforth is also entitled to benefit under the charity of Matton Hutton at the Richmond Dispensary, and at the Newcastle-upon-Tyne Infirmary, and in the discretion of the trustees to share in the portion of the charity applicable in apprenticing.
Township of North Cowton: In 1659 Thomas Matteson, by will, gave to the poor 40s. yearly; this is paid by Mr. John Hawksby out of land in his occupation, and is distributed among the poor of the township of North Cowton, with the rent of the Poor's Garth, containing 3 r., producing £3 a year. In 1904–5 money was given to ten recipients.