Pages 84-86
A History of the County of York North Riding: Volume 1. Originally published by Victoria County History, London, 1914.
This free content was digitised by double rekeying. All rights reserved.
HUTTON MAGNA
Hottune, Hoton (xi–xiii cent.); Hoton Lungevylers (xiii–xvii cent.); Hutton Longviliers (xvi–xix cent.); Mickle Huton alias Hutton Longvyllers (xvi cent.); Hutton Magna (xvii cent.).
This parish is bounded on the south by Watling Street, which skirts the small township of West Layton on the south-east. A mile and a half beyond this point a lane going north from the Roman road through the hamlet of Lane Head leads to the village of Hutton Magna. The lane passes St. Mary's Church, which lies in the middle of the village, a little way back from the street, and crosses Hutton Beck by a bridge at the head of the village. Hutton Hall, now a farm, lies on low ground by the stream, north of the church. The H-shaped stone-built house is probably of late 16th-century date, and contains some carving of that period, and on the first floor some plain oak panelling, some of which has been moved from its original position. One of the rooms contains a cross of plain bevelled wood, about 2 ft. long, placed in the ceiling apparently for some special purpose and without reference to the structure or timbers of the roof.
The old manor-house of Little Hutton, now also a farm, lies in the fields east of the village and south of Little Hutton Lane.
The area of the parish is 2,062 acres, 1,011 acres being arable land, about 7 acres woods and plantations, and the rest permanent grass. (fn. 1) The chief crops are wheat, oats, turnips, barley and clover. The subsoil is Yoredale Rocks. There are several disused stone quarries, and stone is still worked at Lane Head. The average height is about 500 ft. above ordnance datum.
The house of Christopher Richardson at Layton (it is not stated whether East or West), Yorkshire, was licensed for Presbyterian worship in 1672. (fn. 1a)
Manors
HUTTON MAGNA, with 6 geld carucates, was soke of Count Alan's manor of Gilling (q.v.) at the time of the Domesday Survey and was afterwards held of the honour of Richmond. (fn. 2)
The Mowbrays and their successors the Dukes of Norfolk (fn. 3) were mesne lords from 1254, or earlier, onwards. (fn. 4)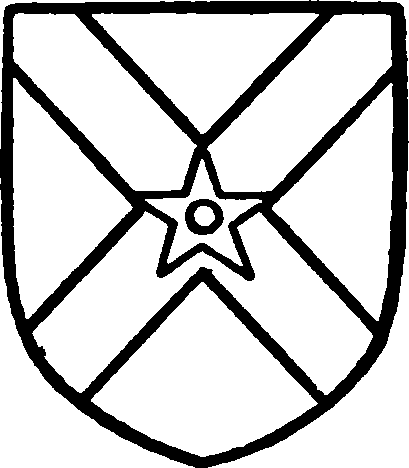 The under-tenant in 1254 was John de Lungviliers of Hornby in Lancashire, who died in this year, leaving a son and heir John. (fn. 5) Margaret, daughter and heir of the latter, married Geoffrey second son of Geoffrey Nevill of Raby and ancestor of the Nevills of Hornby. (fn. 6) In 1278–9 a jury stated that Geoffrey Nevill had warren at Hutton, by what warrant they knew not. (fn. 7) He was granted free warren by charter in 1279, (fn. 8) and died in or about 1285, leaving a son and heir John. (fn. 9) Margaret in 1288–9 settled the manor on herself for life with successive remainders to her sons Geoffrey, Robert and Edmund for their lives and to the right heirs of Robert. (fn. 10) Margaret was tenant in 1316, (fn. 11) but was dead three years later. (fn. 12) Her sons Edmund and Robert were assessed for the subsidy in Hutton in 1327–8, (fn. 13) and in 1345, while Edmund Nevill was still holding the manor, Robert as 'Robert Nevill of Hornby' settled the remainder successively on his sons Robert, Geoffrey, Giles, Thomas, William and John and their heirs and his own right heirs. (fn. 14) A Sir Robert Nevill of Hornby died in 1413, leaving a granddaughter and heir Margaret wife of Thomas Duke of Exeter, Earl of Dorset. (fn. 15) The duke survived his wife and continued to hold the manor until his death in 1426, when it passed to Margaret wife of William Harrington, paternal aunt of the Duchess Margaret, and to John Langton, son of Joan, another paternal aunt. (fn. 16) The heirs partitioned the lands in 1437–8. (fn. 17)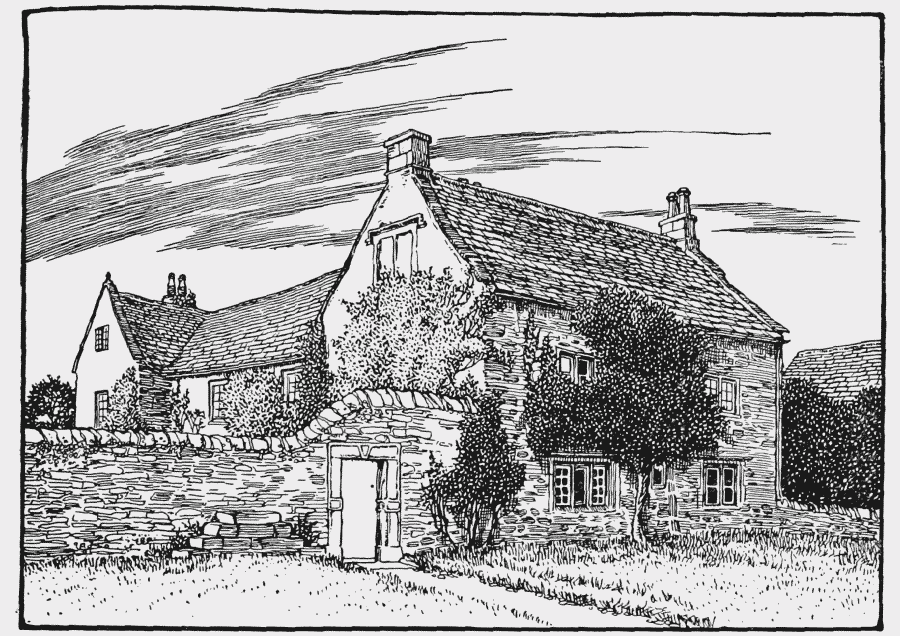 Agnes Danby, widow, granddaughter of this John Langton, (fn. 18) claimed the manor against Nicholas Girlington (fn. 19) in 1508, (fn. 20) but Nicholas apparently died seised (by right of his wife Margery) (fn. 21) in 1509, leaving a son and heir Nicholas, (fn. 22) who married Elizabeth daughter of Sir William Hansard. (fn. 23) Sir Christopher Danby of Thorpe Perrow, (fn. 24) grandson (and, since his father Christopher's death, heir) of Agnes Danby, renewed the claim in 1531, alleging that Agnes held the manor in the time of Henry VII, and that Nicholas, father of the present tenant, Nicholas Girlington, had unjustly disseised her. (fn. 25) Three years later he made another effort and this time called to warrant Ethelburga and Elizabeth Hansard, both minors, daughters and heirs of Thomas Hansard, who, according to the jury, was seised of the said manor; the case was postponed until their full age. (fn. 26) In 1559 Sir Christopher Danby, in common with his son and heir Sir Thomas Danby, kt., and with Nicholas Girlington, sen., and Nicholas Girlington, jun., made settlements of the manor of Hutton Longviliers, (fn. 27) after which the Girlingtons (fn. 28) held Hutton Magna until 1614, (fn. 29) when Nicholas Girlington sold the manor to Francis Tunstall. (fn. 30) The manor has since descended with the other Tunstall estates, (fn. 31) and is now the property of Major Walter George Raleigh Chichester-Constable of Wood Hall, Hull. (fn. 32)
A capital messuage, dove-house, brew-house and water-mill were appurtenant to the manor in 1254. (fn. 33)
LITTLE HUTTON (? Riulf Hoton, xiii cent.; Parva Hoton, xii–xv cent.; Little Hotton or Hewton, xvi cent. ; Little Hulton, Hutton or Hewton, xvii cent.) always belonged to the honour of Richmond, and it is probable that 3 carucates here were included in the 12 carucates assigned to Wycliffe (q.v.) in 1086 as soke of Gilling, but the history of the mesne lordship is obscured by the contradiction of the records. In 1282 a quarter of a knight's fee here was said to be held in chief of the earl, (fn. 34) in 1286–7 of Robert son of Thomas de Thorpe, (fn. 35) in 1347–9 (fn. 36) and 1428 (fn. 37) of the earl, in 1492 of the heirs of Robert de Thorpe (fn. 38) and in 1536 of the lord of the manor of Thorpe (fn. 39) (in Wycliffe parish, q.v.).
The earliest recorded under-tenant is Eudo de Grainsby, (fn. 40) founder of Greenfield Priory, Lincolnshire. (fn. 41) Eudo de Grainsby before 1171 granted the whole of Little Hutton to St. Agatha's Abbey (fn. 42); but he was returned in 1211–12 as holding a quarter of a fee in Riulf Hutton of the honour of Richmond. (fn. 43) Whether by his grant or that of the abbey, the lords of Barforth in Forcett parish succeeded to the ownership of Little Hutton.
In the second half of the 13th century John de Barforth, husband of Emma lady of Barforth Manor, whom Emma 'in his lifetime could not contradict,' granted it to one of the Barningham family. (fn. 44) William de Barningham held it in 1282 (fn. 45); but his successor, Richard de Barningham, after a suit had been brought against him in 1321 by Robert Hastangs and Emma his wife, successor of Emma de Barforth, (fn. 46) settled it in 1325 on himself and Katharine his wife and their issue with remainder in default to Robert Hastangs and Emma and the heirs of Emma. (fn. 47) Richard de Barningham probably died without male issue, (fn. 48) and until 1653 the manor followed the descent of the manor of Barforth. (fn. 49) In this year Ambrose Pudsey granted it with other manors to Gascoigne Eden (fn. 50) of Windlestone, Durham. In 1683 Henry Eden and Maria his wife and Maria Eden widow conveyed it to Henry Clerke, M.D., John Tempest, William Tempest and William Sudell. (fn. 51) It seems after this to be no longer called a manor, for in 1785 it was conveyed by Robert Shuttleworth with Forcett Manor (q.v.) to Frances widow of John Michell as a messuage or farm, and it has since followed the descent of the manor of Forcett.
Three carucates in WEST LAYTON were soke to Count Alan's manor of Gilling at the time of the Domesday Survey (fn. 52) and were still held of Richmond Castle in 1524. (fn. 53) The mesne lordship was held by the lords of Middleham (fn. 54) and had lapsed by the end of the 15th century. (fn. 55)
In 1286–7 John de Layton, who held half the vill of East Layton, was under-tenant of West Layton. Thomas de Layton, Henry de Layton, John son of Alexander and William de la Mare were lords of the united vills in 1316. (fn. 56) The de la Mares were connected with the Lungviliers family, (fn. 57) and this may account for their holding tenements in West Layton; there is no further mention of them by name, though they may have been included in the parcenaries or free tenants who in 1389 held East and West Layton conjointly with Nicholas de Layton. (fn. 58) Thomas son of Alexander paid the subsidy in 1327–8, (fn. 59) but this family is not again mentioned in connexion with the manor, and the Laytons seem to have been the real holders. In 1327–8 John son of John de Layton paid the subsidy. (fn. 60) In 1389 the vill was again joined to East Layton and continued to be so until 1494, when Richard Layton and Joan his wife granted it to Humphrey Sigiswick (fn. 61) of Walburn. Humphrey died in 1501, leaving a son and heir Richard, (fn. 62) who died in January 1555–6 seised of this manor, his heir being his grandson Francis Lascelles son of his daughter Anne. (fn. 63) In 1562 Francis Lascelles granted the manor to John Layton. (fn. 64)
Sir Henry Foulis, bart., of Ingleby Greenhow, who died in 1643, married Mary eldest daughter of Sir Thomas Layton of Sexhow and had by her a son Sir David, (fn. 65) who with Robert Layton was party to a deed touching this manor in 1668, (fn. 66) and died in March 1694–5. (fn. 67) During the 18th century this estate came into the hands of the Robinsons of Edgeley. Matthew Robinson, heir of the Rokeby barony, was described as 'of West Layton,' (fn. 68) and his descendant Henry Lord Rokeby and Thomas Allison were said in 1857 to be owners of the manor which belonged to John Easton in 1873 (fn. 69) and 1879, and is now the property of Miss Easton.
Church
The church of ST. MARY was rebuilt in 1878 and consists of chancel, nave, north vestry and south porch. Several old windows, &c., are re-used. In the west wall of the vestry is one of two trefoiled lights with a circle over, c. 1300, and the north-east window of the nave is of somewhat earlier date, c. 1260, being of two lancet lights with a vesica in the head.
The west window of the nave is a tall trefoiled light, and above it on the gable is a bellcote for two bells.
The south doorway of the nave is a plain piece of 12th-century work re-used, and two small round heads of 12th-century lights are built into the porch, together with what may be part of a small holy water stone and a gable cross. The font in the church is modern, but in the porch is the rough circular bowl of a font, with staple marks, which is evidently ancient.
Against the wall of the nave is set a coffin slab, probably 14th-century work, with a large cross between a sword and a pair of shears. The socket of a cross is in the churchyard. In the rectory is a bell which, together with another now at West Layton mission chapel, belonged to the old church, the two being known in the village as 'Joseph and Mary.'
The bell at West Layton is plain, but that at the rectory is inscribed 'Jesus—Maria.'
The plate includes a small cup of wine-glass shape of 1641, with a maker's mark t.w. (?) for Thomas Waite of York.
The registers begin in 1670.
Advowson
Hutton was in the 14th century a chapelry appurtenant to Gilling (q.v.), and remained a perpetual curacy till 1890, since when it has been styled a vicarage. (fn. 70) It is in the gift of the vicar of Gilling.