Pages 217-220
A History of the County of York North Riding: Volume 2. Originally published by Victoria County History, London, 1923.
This free content was digitised by double rekeying. All rights reserved.
THE WAPENTAKE OF LANGBAURGH (fn. 1)
containing The Parishes Of:— WEST DIVISION (fn. 2); Acklam; Appleton Wiske; Great Ayton; Carlton; Crathorne; Hilton; Ingleby Arncliffe; Ingleby Greenhow; Kildale; Kirkby; Kirk Leavington; Marton; Middlesbrough; Newton; Ormesby; Rudby; Seamer; Stainton; Stokesley; Whorlton; Yarm
EAST DIVISION; Brotton; Danby; Easington; Egton; Glaisdale; Guisborough; Hinderwell; Kirkleatham; Liverton; Loftus; Lythe; Marske; Skelton; Upleatham; Westerdale
The wapentake of Langbaurgh (fn. 3) takes its name from the hamlet of Langbaurgh, a quarter of a mile north of Great Ayton (q.v.). Almost immediately after the Domesday Survey the parishes of Whitby, Fylingdales and Sneaton were formed into the liberty of Whitby Strand belonging to the Abbots of Whitby (q.v.). The remainder of the wapentake became known as Cleveland. These two parts of the wapentake had at the beginning of the 13th century to supply horses for the chief serjeant of the wapentake—namely, Cleveland two horses, and Whitby Strand one. (fn. 4) Eventually Whitby Strand became separated from the wapentake. Until at least 1428 the township of Aislaby, which is in the parish of Whitby, was assessed with the wapentake of Langbaurgh (fn. 5); but about 1635 it was asserted that it was sometimes rated in the wapentake and at others in Whitby Liberty. (fn. 6) The coroner for Whitby Liberty, however, now always holds the pleas for Aislaby.
The Crown retained the wapentake until 1207. when King John granted it to Peter de Brus (I) (fn. 7) at the rent of £13 6s. 8d. and an increment of £20, (fn. 8) which, it is stated in 1651, had not been paid within memory of man. (fn. 9)
The wapentake descended with the manor of Danby (q.v.) until 1272, (fn. 10) when the Brus lands were divided among the four sisters of Peter de Brus (III)—namely, Agnes wife of Walter de Fauconberg, Lucy wife of Marmaduke de Thweng, Margaret wife of Robert de Roos of Wark, and Laderina wife of John de Bellew. The wapentake was assigned to the two former co-heirs, while each received a quarter of the wreck of the sea. (fn. 11)
Lucy granddaughter of Lucy de Thweng in 1313 settled her moiety on herself and Robert de Everingham her husband and their issue with remainder to the heirs of Robert. (fn. 12) They had no children, and after Robert's death (before 1319) (fn. 13) Adam de Everingham of Laxton his brother and Adam's eldest son Adam released the remainder of this moiety to Lucy's third husband, Bartholomew de Fanacourt, for life, with reversion to Adam the younger. In 1347, on Lucy's death, Bartholomew conveyed his interest to Adam the son, (fn. 14) who enfeoffed Walter de Fauconberg, (fn. 15) the tenant of the other moiety. (fn. 16)
The wapentake then followed the descent of the manor of Skelton (q.v.) until the death of William (Nevill) Lord Fauconberg in 1462–3. (fn. 17) It would seem that a long lease had been previously made to the cognate branch of the Nevills of Middleham, with which manor it descended until the honour of Middleham came to the Crown with the accession of Richard III. (fn. 18)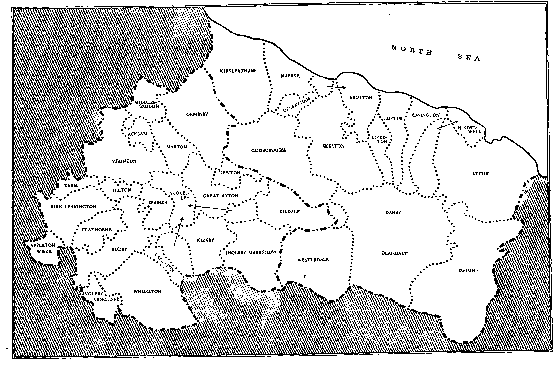 The wapentake, however, was ultimately settled on Christopher Lord Conyers, (fn. 19) whose father William, created a baron in 1509, was son of Sir John Conyers, kt., by Alice daughter and co-heir of William Lord Fauconberg. (fn. 20) It descended with the Conyers' moiety of Skelton (q.v.) until John Lord Conyers in 1556–7 left four daughters and co-heirs. Margaret died a minor (fn. 21); Anne married Anthony Kempe (fn. 22) and alienated her share, probably in 1572–5, (fn. 23) to the other two parcenaries, Katharine and Elizabeth, who divided the wapentake. Katharine, as widow of John Atherton of Atherton (Lancs.), was succeeded on her death in March 1625–6 by her granddaughter Anne wife of Sir William Pennyman, bart., and daughter of John Atherton. (fn. 24) John had conveyed his title to Sir Henry Bellasis of Newburgh, bart., in 1614, (fn. 25) and Sir William and Anne in 1639 confirmed their interest to his son Thomas Lord Fauconberg (fn. 26) of Yarm. This part was conveyed in 1666 by Timothy Mauleverer to Sir George Marwood, bart., of Little Busby. (fn. 27) Elizabeth Conyers married Thomas Darcy and was mother of Conyers created Baron Darcy and Conyers in 1641. (fn. 28) The Darcys (fn. 29) held half the wapentake until about 1660, (fn. 30) when they alienated it to Sir George Marwood, (fn. 31) whose son Henry had married in 1658 Margaret, fourth daughter of Conyers Lord Darcy and first Earl of Holderness. (fn. 32) The Marwoods (fn. 33) have ever since been lords and chief bailiffs of the wapentake; a portrait at Busby Hall shows Sir Henry Marwood, son of Sir George, holding the Langbaurgh roll.
King John's charter of 1207 to Peter de Brus is not very explicit as to what passed with the lordship of the wapentake. It provided that the pleas of the Crown should be answered before the king's justices in eyre, but that the attachments of such pleas should be made by the sheriff or coroners, and that other pleas which pertained to the sheriff should be answered before the sheriff. It would seem that the Bruses had strained their rights of jurisdiction over their tenants, for shortly after the grant of the wapentake to Peter de Brus the knights and free tenants of Cleveland obtained from him a charter whereby they were not to be impleaded in the Wapentake Court except by judgement of that court, and in case of any forfeiture they were to be fairly amerced. (fn. 34) In 1276 the heirs of Peter de Brus claimed the wapentake as a liberty with the return of writs and estreats and pleas de namio vetito. (fn. 35)
The Fauconberg moiety of the Brus fee included half the wreck of the sea, anchorage, plankage, lagan, jettage and royal fishes from Yarm on the Tees to Runswick (fn. 36) where the Mulgrave lordship begins, the other half belonging to the Thweng fee, but whether they were held in respect of the lordship of the wapentake is not clear. Quarries and all mines of stone and coal in the wapentake seem to have belonged to the lords of the liberty. (fn. 37) Sir Henry Marwood appointed a gamekeeper for the wapentake in 1716. (fn. 38)
Other lords possessing gallows in this franchise were the tenants of Mulgrave, Wilton, Kirkby Misperton, Whorlton, Stokesley, Kildale, the two Aytons and Barwick-on-Tees, and the Prior of Guisborough. (fn. 39)
Among the abuses mentioned at the return of Edward I from the Holy Land it was complained that Nicholas de Meynell of Whorlton would not permit the wapentake to be held in his fees and broke up a court at Hilton; neither the Templars nor their tenants would appear before the king's officers; sheriffs and bailiffs took bribes, one of them having made an arrangement with a thief by which he received a cow yearly; many people made cloth of the wrong width; ecclesiastical judges held pleas concerning matters outside their jurisdiction. (fn. 40) The chief profit of the wapentake is from the wapentake fines and wards or blanch farms of the free tenants, payable in the 16th century, as they still are, at the feast of St. Cuthbert. (fn. 41)