The Court of Chivalry 1634-1640.
This free content was Born digital and sponsored by AHRC and University of Birmingham. CC-NC-BY.
504 PATTRICKE V PHILLIPPS
William Pattricke of Huntingdon, co. Huntingdon, gent v Thomas Phillipps the elder and Thomas Phillipps the younger, both of the same
June 1637 - February 1638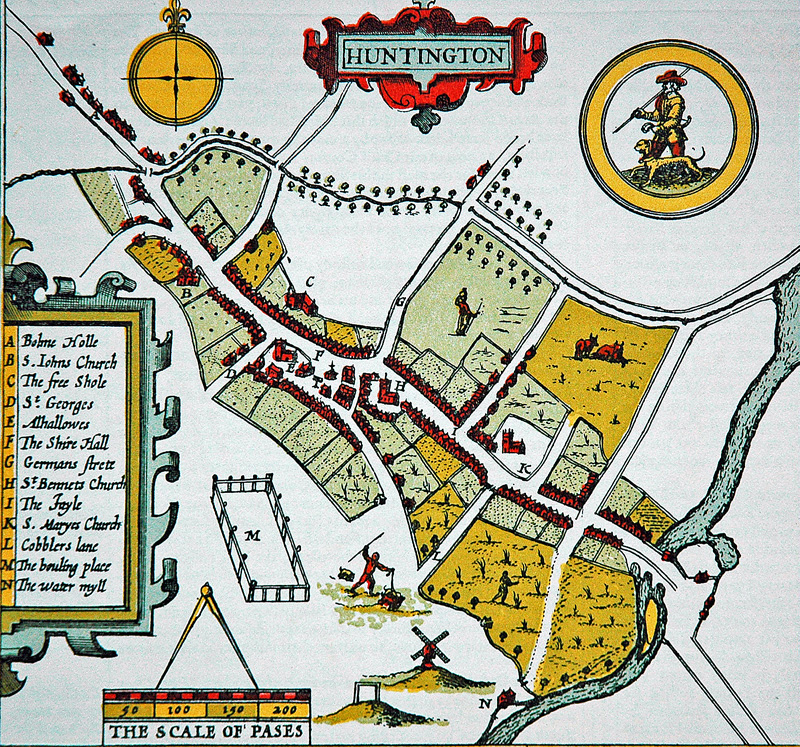 Abstract
Pattricke complained that Phillipps the younger called him 'base rascal' at a muster of Pattricke's company in the town of Huntingdon, saying that what he did in the king's service 'was basely done'. Pattricke was then struck by a bystander with 'a great cudgel' in order to raise a mutiny. Since then Phillipps's father had called Pattricke 'base fellow and base Rascall', and threatened to drive him out of town. There was a history of conflict between the families as the elder Phillipps had already commenced suits against Pattricke's father and brother. Process was granted on 28 June 1637 and in November a commission headed by Sir Ralph Beadles, bart, was nominated to meet 10-12 January 1638 in Edgemond's inn at Huntingdon. A note on 12 February 1638 revealed that the cause was to be referred to gentlemen arbiters by agreement between the two parties.
Initial proceedings
3/175, Petition to Arundel
'Your Lordship's petitioner, being a gent. and an officer in his Majestie's military service under Captayne Wauton in the county of Huntingdon, in execucon of which service in his place one Thomas Phillips the younger of the town of Hunt. in the county affronted your petitioner in the head of the company called together for his Majestie's service, and used many uncivill speeches towards your petitioner, calling him base rascall and said that which your petitioner did in the service was basely done. And further in disturbance of the company, and to raise a muteny, a stander by stroke your petitioner with a great cudgel, he all this while continuing in the prosecution of his office in his Majestie's service.
Tho. Phillips the elder father of Tho. the younger in abetment of Tho. his sonne hath also since that tyme, in the hearing of divers credible witnesses, called your petitioner base fellow and base rascall and threatened to drive your petitioner out of the towne of Hunt. (the father and the sonne both inhabiting there); and Phillips the father doe give out that he will undoe your petitioner, having already commenced many suits against your petitioner's father and brother only out of malice.'
Petitioned that both Phillipses, father and son, be brought to answer.
Maltravers granted process, 23 June 1637.
3/174, Plaintiff's bond
23 June 1637
Bound to appear 'in the Court in the painted Chamber within the Pallace of Westminster'.
Signed by William Pattricke.
Sealed, subscribed and delivered in the presence of Humphrey Terrick.
Summary of proceedings
Dr Lewin acted as counsel for Pattricke and Dr Exton for the Phillippses. On 28 November 1637 the commissioners Wheathill Hudley of St Ives, esq, Francis Beadles of Kimbolton, gent, Richard Langley of Hemingford, gent, and also Sir Ralph Beadles, bart, Robert Bernard, esq, and Robert Middlemore, esq, were nominated to
meet from 10 to 12 January 1638 in Edgemond's inn at Huntingdon. There were further proceedings on 27 January and 3 February 1638. A verdict was to be heard on the taxing of expenses on 12 February 1638, and a note that day revealed that the cause was to be referred to gentlemen arbiters by agreement between both parties.
Notes
William Pattricke did not appear in the Visitation of Huntingdon of 1684: J. Bedells (ed.), The Visitation of the County of Huntingdon, 1684 (Publications of the Harleian Society, new series, 13, 2000).
Documents
Initial proceedings

Petition to Arundel: 3/175 (23 Jun 1637)
Plaintiff's bond: 3/174 (23 Jun 1637)

Proceedings

Proceedings before Maltravers: 8/27 (14 Oct 1637)
Proceedings before Maltravers: 8/28 (31 Oct 1637)
Proceedings before Maltravers: 8/30 (28 Nov 1637)
Proceedings before Maltravers: 1/5, fos. 1-15 (27 Jan 1638)
Proceedings before Arundel: 1/5, fos. 23-35 (3 Feb 1638)
Proceedings before Arundel: 1/5, fos. 38-56 (12 Feb 1638)
People mentioned in the case
Beadles, Francis, gent
Beadles, Ralph, baronet
Bernard, Robert, esq
Edgemond, innkeeper
Exton, Thomas, lawyer
Howard, Henry, baron Maltravers
Howard, Thomas, earl of Arundel
Hudley, Wheathill, esq
Langley, Richard, gent
Lewin, William, lawyer
Middlemore, Robert, esq
Pattricke, William, gent
Phillipps, Thomas the elder
Phillipps, Thomas the younger
Stuart, Charles I, king
Terrick, Humphrey
Wauton, Captain (also Walton)
Places mentioned in the case
Huntingdonshire

Hemingford
Huntingdon
Kimbolton
St Ives

Middlesex
Topics of the case
assault
denial of gentility
military officer
previous litigation
weapon