Pages 122-123
An Inventory of the Historical Monuments in Dorset, Volume 1, West. Originally published by Her Majesty's Stationery Office, London, 1952.
This free content was digitised by double rekeying and sponsored by English Heritage. All rights reserved.
49 HERMITAGE (E.c.)
(O.S. 6 in. XXII, N.W.)
Hermitage is a small parish 4 m. N. of Cerne Abbas.
Ecclesiastical
(1) Parish Church of St. Mary, originally a hermitage and subsequently known as the free chapel of St. Mary "called the Hermitage," stands in the S. part of the parish. The Hermitage of Blackmoor appears to have been a somewhat loose association of persons following the rule of St. Augustine but not formally adhering to any regular order, which died out in the latter part of the 14th century. The walls are of local rubble with freestone dressings and the roofs are covered with stone and slates. The church, consisting of Chancel, Nave and South Porch, was built perhaps in the 14th century. It was much restored in the 17th century, and is said to have been rebuilt in 1800; the windows were remodelled at one or other of these dates.
Architectural Description—The Chancel (17 ft. by 12 ft.) has an E. window of two pointed lights in a two-centred head. In the N. wall is a partly restored 14th-century doorway with chamfered jambs and two centred head. In the S. wall is a window of two partly restored pointed lights. There is no chancel-arch.
The Nave (36½ ft. by 15½ ft.) has, in the N. wall, two windows uniform with the E. window. In the S. wall are two windows of three pointed lights with a shaped spandrel in a two-centred head; the partly restored 14th-century S. doorway has chamfered jambs and two-centred head. In the W. wall are two windows, both of one pointed light; between them is a buttress, the lower part of which has the initials and date I.M. and T.G., C.W. 1682 and on the S. face the initials I.V. and T.V.; higher up are the initials and date R.F., C.W. 1799, probably the date of the bell-cote on the W. gable.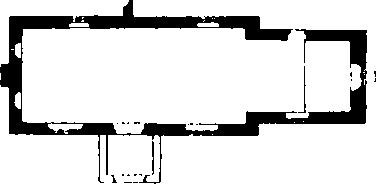 The South Porch has a late 14th-century outer archway with chamfered jambs and two-centred head.
Fittings—Bell: one, with the initials T.W.B., 1795. Chest: In nave—with panelled and enriched front and panelled ends, 17th-century. Communio Rails: with turned balusters and moulded top rail, early 18th-century. Communion Table: with turned legs, moulded stretchers and enriched top rails, 17th-century. Floor-slabs; In chancel—(1) to Jone Strowde, late 17th-century; (2) to Henry Collyer, 1654, with architectural enrichment and shield-of-arms. Font: round bowl cut back to octagonal on lower part, moulded necking, octagonal stem and octagonal to square base, probably 17th-century. Plate: includes a cup of 1791 presented in 1811 and a paten of 1718 presented in 1874. Seating: In nave—coffin-stool with turned legs, 17th-century. Sundial: On nave—on S.E. quoin, scratchdial. Miscellanea: Incorporated in E. wall, mediæval head-stop or corbel; incorporated in W. wall, mediæval; gargoyle.
Secular
(2) House, at the extreme S. point of the parish, is modern but incorporates a 17th-century key-stone with a grotesque mask, in the head of the porch entrance.