Pages 211-212
An Inventory of the Historical Monuments in Huntingdonshire. Originally published by His Majesty's Stationery Office, London, 1926.
This free content was digitised by double rekeying and sponsored by English Heritage. All rights reserved.
67. RAVELEY, LITTLE (D.c.).
(O.S. 6 in. XIV S.W.)
Little Raveley is a small parish 5 m. N.N.E. of Huntingdon. The Church is the only monument.
Ecclesiastical
Parish Church of St. James stands in the middle of the parish. The walls of the chancel have a modern brick plinth above which they are plastered, and the nave is of stone and pebble-rubble with dressings of Ketton stone; the roofs are tiled. The Chancel is probably of c. 1230, but the Nave was re-built late in the 14th century, when it was widened towards the S. The chancel was restored in 1914.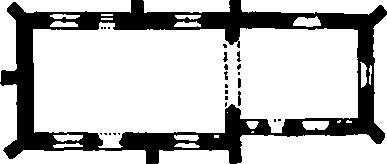 Architectural Description—The Chancel (19¼ ft. by 14¾ ft.) has an E. window of c. 1350 of two cinque-foiled lights with a quatrefoil in a two-centred head with a 13th-century moulded label and uncarved square stops. In the N. wall is a 14th-century window of two trefoiled lights in a square head with an internal wood lintel. In the S. wall is a similar window and a 13th-century doorway with chamfered jambs and moulded brackets to the lintel; further W. is a square-headed 'low-side' window. The chancel-arch is of early 16th-century date and is two-centred and of two wave-moulded orders, the outer continuous and the inner carried on half-round shafts with moulded capitals and bases; the chancel-arch has cuttings for the fixing of the former screen.
The Nave (31 ft. by 16¾ ft.) has in the N. wall two slightly repaired late 14th-century windows, each of two cinque-foiled lights with a quatrefoil in a two-centred head; the western of these windows has a modern mullion and the jambs and head are much weathered; between the windows is a 14th-century blocked doorway with jambs and two-centred head of two chamfered orders. In the S. wall are two, considerably weathered and slightly repaired, early 16th-century windows, each of two cinque-foiled lights with vertical tracery in a four-centred head; the eastern has the splays carried down to form a seat. Between the windows is an early 16th-century S. doorway with much weathered moulded jambs and two-centred head with a moulded label. The W. wall is gabled and has in the gable a bell-cote with two semi-elliptical headed openings one of which is in the form of a recess and the other contains a bell; the lines of a lower and earlier gable are visible in the wall, showing that the bell-cote formerly stood free of the gable; there are diagonal buttresses at the angles and a central buttress in three stages which stops below the bell-cote.
The Roof of the chancel is probably of 15th- or early 16th-century date, and is in three bays with three king-post trusses of simple form with chamfered tie-beams. The nave-roof is in three bays and has four chamfered tie-beams with curved braces.
Fittings—Bracket: In chancel—on N. side of E. window, in form of foliated corbel-capital, c. 1230. Communion Table: of oak, with turned legs, square bottom rail and enriched top rail shaped at ends, early to mid 17th-century. Font (Plate 9): octagonal, with plain bowl having panelled underside with alternate panels carved with (a) a bishop, top of crozier broken off; (b) an eagle; (c) a tree or bush with some object superimposed; (d) a tree with side stems; plain stem and moulded base on square step, 15th-century. Glass: In nave—in eastern window of N. wall, fragments of ruby and ornamental tabernacle-work of white with yellow ornament, 15th-century. In eastern window in S. wall, lozenge with yellow foliated centre on black, early 16th-century. Piscinae: In chancel— with chamfered edge to jambs and trefoiled head with lobed cusps and quatre-foiled drain, 13th-century. In nave, in S. wall, with trefoiled head, sunk spandrels, round drain and slightly projecting shelf, 15th-century. Plate: includes a cup and cover-paten of late 16th-century date without date-letter, and a pewter dish dated 1702. Poor-box: In nave—of oak, hutch-type with shaped bottom rail, 17th-century, partly restored. Recess: In chancel—in S. wall, plain rectangular. Scratchings: On S. doorway—various graffiti, 16th-century and later.
Condition—Of chancel good, of nave, fair.
Ripton, see Abbots Ripton and Kings Ripton.