Page 91
An Inventory of the Historical Monuments in City of York, Volume 4, Outside the City Walls East of the Ouse. Originally published by Her Majesty's Stationery Office, London, 1975.
This free content was digitised by double rekeying and sponsored by English Heritage. All rights reserved.
Muncastergate
(W. of the Malton Road)
(289) Cottage (61535345), adjoining Muncaster House which was built after 1850, appears on the OS map of 1852 and is probably of 18th-century date but it has been very much altered. It is of two storeys with rendered walls, and on plan originally comprised three rooms in line.
New Walk Terrace
(290) Houses, Nos. 12a–18, form a terrace of eight superior dwellings with fairly spacious rooms, built c. 1825. Two houses, occupied but newly-erected, were advertised for sale in YG 12/11/1831.
The houses are of three storeys with semi-basements and are set behind long front gardens with smaller yards behind, with coach-houses reached by an accommodation road at the back. No. 12a now comprises two houses from which the top storey has been removed and which have been much altered. No. 18, the end house nearest the river, has its entrance in a symmetrically designed side elevation. The entrance doorways mostly have fluted side pilasters with palmette leaf capitals and rectangular fanlights with geometrical glazing patterns (Plate 109); that to No. 17 has fluted Roman Doric attached columns (Plate 109). The basements and ground floors have shallow segmental bow windows, those to the ground floors with recessed brick panels beneath. The windows of the upper floors have flat arches of gauged brick. (Fig. 80, p. 92.)
Penley's Grove Street (Monuments 291–301)
The name of the street is derived from the Paynelathes Crofts of the Middle Ages (Drake, 598), enclosures on part of a larger area of land belonging to St. Mary's Abbey (Raine, 280; EPNS, xiv, 296). Houses in this street were first mentioned in Baines' Directory of 1823. Unless otherwise described monuments 291–301 are of two storeys.
(291) House, No. 1, dating from the 1840s, is of three storeys and attic. The windows have segmental arches of stucco with simulated voussoirs and decorated key blocks.
(292) Houses, Nos. 3, 5, 7, are a terrace of three storeys with basements, built c. 1840. The entrances of Nos. 3 and 5 are linked to form one composition with three fluted pilasters; that to No. 7 is similar. The window openings have segmental arches.

(293) No. 15 is a detached double-fronted house of c. 1845, L-shaped on plan, with low gables to each end elevation. The windows have stone lintels.
(294) No. 17, a detached double-fronted house, was designed in 1846 by J. B. and W. Atkinson (Brierley, Leckenby and Keighley). (Fig. 81, p. 93).
The central doorway has a pilastered surround and the windows stone lintels. It has a square plan with a small wing at the rear. The dining room and drawing room were on the ground floor at the front; at the back was a kitchen, with direct access by a secondary staircase to the servant's bedroom above it (stair now removed), also a water-closet, and a store-room. The main staircase remains and has very slender balusters (Plate 127). There were two principal bedrooms flanking a small 'plant room'; behind them were the servant's room and a 'lumber room'. Neither the store-room on the ground floor nor the lumber room above were designed to have any windows.
(295) House, No. 19, of three storeys, was built after No. 17.
(296) House, No. 21, of two storeys and attic, was built c. 1849. The entrance and bay window have a mixture of Gothic and Classical details. There is a passage to the rear. There is a brick corbel table at the eaves.
(297) House, No. 29, (Plate 103; Fig. 81, p. 93) was designed by J. B. and W. Atkinson for Miss Hazelwood in 1843 (Brierley, Leckenby and Keighley).
The doorway has a round-arched stone architrave and the windows hinged casements with marginal panes and stone lintels. On the first floor are balconies with anthemion pattern cast-iron railings. The plan shows a dining room and a 'small room' on the ground floor, and a very long wing at the rear containing kitchen, scullery, privy with outside entry, etc. On the first floor were two bedrooms with a servant's bedroom and lumber room in the back wing; this wing had a long lead-covered roof slope to the rear, and a staircase with turned balusters. The original cost was estimated at £500.
(298) House, No. 31, (Plate 103; Fig. 81, p. 93) which is similar to No. 29 but with differences in internal planning and details, was designed in 1847 by J. B. and W. Atkinson, also for Miss Hazelwood.
The front doorway leads to a through-passage, with access to the house itself by a door from the passage, directly opposite the staircase. The parlour and kitchen were on the ground floor, with scullery, pantry, privy, etc. in the back wing. There were four bedrooms on the first floor, and also attics above. At the bottom of the garden was a Tub House. The cost was £360.
(299) House, No. 33, was built c. 1847. The front has a continuous sill-band to the first-floor windows (Plate 103).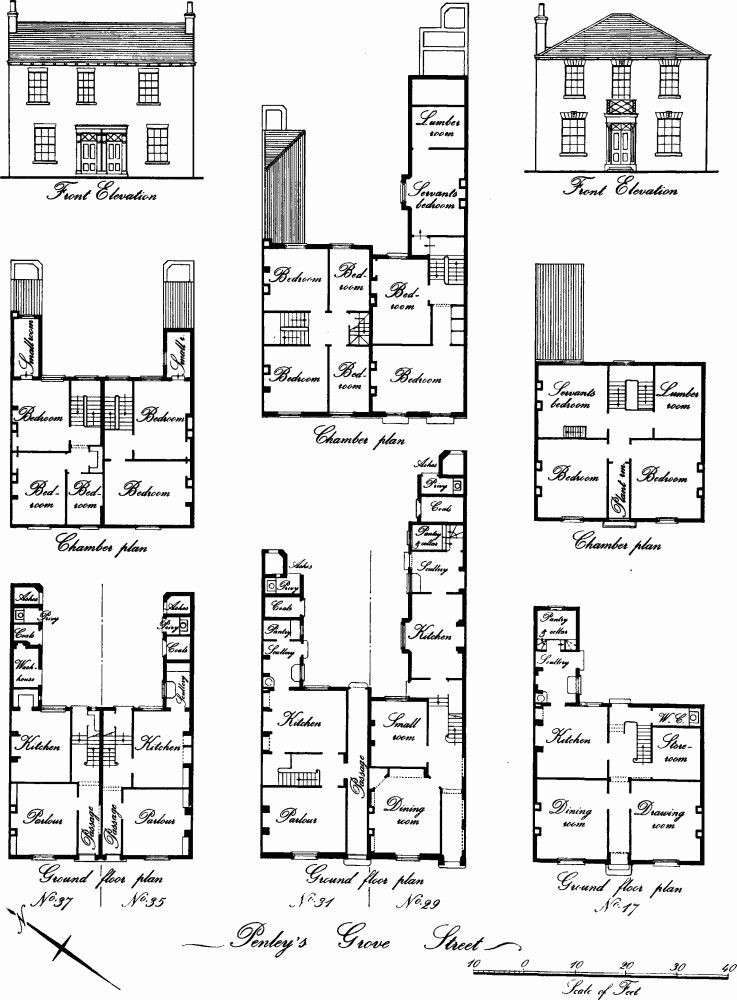 (300) Houses, Nos. 35 and 37, were designed by J. B. and W. Atkinson for Mr. Benjamin Hopper in 1845 and 1847; although built separately they form a uniform mirror pair (Brierley, Leckenby and Keighley Fig. 81, p. 93).
No. 35 retains its original pilastered door-case. The plan of No. 35 shows the parlour and kitchen on the ground floor, and also a scullery, privy, etc. in the rear wing. There were only two bedrooms on the first floor, though the frontage is only a little narrower than that of No. 31 (298). On plan No. 37 is similar to No. 35 (but reversed), though there are three bedrooms on the first floor. The cost was £220 each.
(301) Houses, Nos. 39–43 (odd), date from the second quarter of the 19th century. No. 39 has windows with cambered arches. No. 43, although ranging with the other two, was built separately. It has a carriageway with a segmental brick arch.
Tang Hall
(302) Tang Hall Hotel, formerly Tang Hall, is a two-storey house of several dates between 1800 and 1850 and is built on the site of an earlier house, of which some stone walling remains in the cellars. It is a large detached house built to an irregular plan and with widely overhanging eaves; it has been much altered.
Townend Street
(303) Houses, Nos. 44–52 (even), were built c. 1840, forming a terrace of small single-fronted dwellings. Some have been converted to shops.
Union Terrace
(304) Houses, Nos. 1–5 (odd), 13–91 (odd), 2–70 (even), of two storeys, were built in the second quarter of the 19th century. Two occupied but newly erected houses were for sale there in YG 30/10/1847.
The houses are generally uniform in design, but some have basements and there are variations in the treatment of the eaves cornices. The simple doorcases have pilaster jambs and rectangular fanlights. Nos. 1–5 and 13–91 have small front gardens enclosed by dwarf brick walls and iron railings; some have gates hung to moulded circular standards, others to flat scrolled and foliated standards, all in cast iron (Fig. 82). Inside, the staircase usually occupies the back part of the entrance passage. Nos. 1–68 and 70 demolished.
Addenda
(305) House, Nos. 68, 70 Clifton, comprises a late 18th-century house of three storeys, now divided into two tenements. It was extensively damaged in the Second World War and has been largely rebuilt. A ground floor room in No. 68 contains a late 18th-century fireplace surround reset from No. 56 Skeldergate (York 111 (117), plate 73).
(306) Bound Stones, in Clifton, of brown limestone with round heads (18th or 19th-century), inscribed ST. OL. P. (for St. Olave's Parish), two: (a) reset in a brick pier ajoining Green Tree Cottage (94); (b) built into the E. wall of No. 16 Clifton Green (89).