Pages 106-113
Thoroton's History of Nottinghamshire: Volume 3, Republished With Large Additions By John Throsby. Originally published by J Throsby, Nottingham, 1796.
This free content was digitised by double rekeying. All rights reserved.
ARAM. AVERHAM. AYGRUM. EGROM.
Swayn mentioned in Starthorp, for his manor here in Aygrum, paid to the common tax or geld, as three carucats. The land whereof was then known to be six car. Gislebert Tyson (whose fee it became after the Norman invasion) had here in demesne two car. and eight sochm. upon six bovats of this land, and twenty one villains, sixteen bordars, having twelve car. (fn. 1) Here was then a church and a priest, and one mill 5s. and eighty acres of meadow, small wood eight qu. long, four broad. In the Confessours time the value was 6l. and when the Conquerours great survey was taken 10l. There were appendant to this manor five sochm. in other hundreds: it had Soc in Crumwelle.
Adam Tysun, 5 Steph. (fn. 2) gave account of ten marks of silver for a plea of duel between him and the man of Hugh de Luvetot, and of 32l. and 2s. for the debts of his father, (fn. 3) and of fifteen marks of silver, that he should not plead concerning his land until the son of Nigellus de Albini should be a knight. Adam Tisun gave to God and St. Peter of Thurgarton, (fn. 4) (fn. 5) and the canons there serving God, that bovat of land in Egrum, which Leuric Hog held; and Henry Hoset would have the men of the honour of Egrum to know, that by the consent of Avicia his wife, he confirmed that bovat which Adam Tisun gave to that church, free and and quit of all secular service, for the safety of Henry, son of the Empress, and for his own safety, his wifes, and all his. (fn. 6) Henry Hose for the safety (or health) of the souls of his father, mother, and ancestors, his own, and his wifes, confirmed to the said monastery the said bovat, which the said Leuric Hog held, as the charters of Henry Hose his father, and those of his ancestors did witness.
(fn. 7) William Tisun gave to God and the brethren of Ruford, all his lands in Hectkus of Aghrum; Adam Tisun his father confirmed it: so did Henry Hose, son of Henry Hose, who, 13 Joh. (fn. 8) levied a fine at Westminster to Waltar the abbot of Rufford of sixty acres in Egrum, whereof there had been contention between them in the said court, whether they lay within the bounds mentioned in the charter of William Tysun, uncle of the said Henry, which the abbat produced.
(fn. 9) Hugh Hose brought to Matthew abbat of Rufford the testament (or device) of Henry Hose his brother, who with tears & grief of heart at his death repented that he had disquieted the monastery, & with tears (also) begg'd their pardon, and earnestly besought his heirs, that they should permit the monks to hold their lands in peace, whereof discord had been between them: of this the said Hugh was a most faithful witness, having the said devise of his brother sealed with the seal of Jocelin the queens brother, who by the kings command brought the body of the said Henry into this land, and the said Jocelin had the devise sealed.
Isabell, wife of William le Harper, sometime wife of Raph, son and heir of Ranulph, had land in Egrom about 7 H. 3. (fn. 10)
Raph de Chesneduyt, and Maud his wife, 27 H. 3. (fn. 11) claimed against Robert le Sauvage the manor of Egrom, except 100 acres of land in Scarethorpe, as their right and inheritance, &c. He called to warrant John de Gatesden, who came and warranted, and said, that Maud while she was sole and in lawful power, gave the said manor to him and his heirs for ever, for the service of two knights fees, whereof there was a fine between them in the kings court, before the justices at Hermondesey. Maud and her husband pleaded, that she never was seised of that manor, so that she might enfeoff the said John thereof, and said that when the said fine was made, between them, and after, the said Maud was in the custody of the said John, and the said manor likewise. Robert also produced the chartel of the said Raph, of his quitclaiming the manors of Egrum and Edling.
(fn. 12) Robert le Sauvage acknowledged that he granted to Robert de Lexington the manor of Egrum, which he held for term of life of John de Gatesden, and remised, &c. and for this the said Robert de Lexington acquitted the said Robert le Sauvage of a great sum of money, wherein he was bound to Aaron the Jew of Yorke. (fn. 13) The said John de Gatesden acknowledged that he gave to the said Rob. de Lexington the said manor of Egrum, and by his letters patent produced before the justices, commanded the said Robert le Sauvage that he should be intending to the said Robert de Lexington, as he was to himself.
Robert de Lexington had free warren here about 27 H. 3. (fn. 14) This manor was found in the time of H. 3. and E. 1. to be of the honour of Moubray. (fn. 15)
(fn. 16) Anno 1250, 34 H. 3. (fn. 17) the fourth of the kalends of June died Robert de Lexington the kings clark, and special (or spiritual) counsellour, who continuing long in the office of a justice, heaped up to himself ample possessions, and enlarged the kings treasures. The same year his eldest brother John de Lexington, (who 18 Sept. 31 H. 3. (fn. 18) undertook the custody of the seal) went from the court, and the seal was committed to P. de Rievallis, and Mr. W. de Kilkenny, but 37 H. 3. May 15, it was committed to P. Chaceport, and him again. (fn. 19) This John de Lessington was lord keeper, first in 22 H. 3. secondly, 26 H. 3. and thirdly, 32 H. 3. &c.
(fn. 20) Sir Robert de Lexington was an ecclesiastical person, and one of the kings justices, and died without heir of himself, and had three brothers, and two sisters as followeth: John, elder brother of the said Robert, and lord after him, who also died without heir of himself. Peter de Laxton, parson of Gedlinge, likewise died without heir of himself; and so did Henry de Laxton, dean, and after bishop of Lincolne. Cecilia, the sister of sir Robert de Lexington, was married to one sir Richard [rather William] de Marcham, of whom came sir Robert de Marcham. Alice, the other sister of the said Robert de Lexton, was married to Richard (it should be Roland) de Sutton upon Trent, who had two sons both knights; his eldest was sir William de Sutton, and the other sir Robert de Sutton, to whom his said uncles gave the manor of Averham, in old writings called Egrom. (fn. 21)
(fn. 22) Robert de Sutton, son of William de Sutton, granted, confirmed, and quitclaimed, to the said Robert, son of Roland de Sutton, the said manor of Egrum, with the advowson of the church, and knights fees, &c. as sir John de Lessington held it, and also the whole land of Kelum, with the appurtenances, to be held of him and his heirs, for the service of two knights fees, &c.
(fn. 23) Richard de Sutton, canon of Southwell, mentioned in that place, was son of Robert de Sutton, and Alice his wife, who also had a son called John, parson of Lexington, (fn. 24) but I find it was another elder Robert, and Alice; and in the pedigree of this family this Robert de Sutton is said to have married Isabell, daughter and co-heir of sir Hugh Picot, knight, as in Kirtlington is noted, by whom he left issue sir James Sutton, knight, and died 1286. Which sir James married Agnes, daughter and heir of sir John Barry of Torlaston, and died 1304, leaving Richard Sutton his son, who married Alice, daughter and heir of sir Rich. Bingham of Bingham the elder, knight, and died 1339, who left John Sutton his son and heir, who married Joane, daughter and heir of Henry Musters of Sierston, by whom he had Rowland Sutton his son and heir, and died 1369. I suppose he had no children that continued to succeed by her, as in Syerston is noted. And I something doubt concerning some of the rest of the heirs; yet forafinuch as this genealogical scheme comes as near the truth as the most I have seen, I shall follow it with such notes as have occured pertinent to insert.
By a fine levied at York, 30 E. 1. (fn. 25) between James de Sutton, and Agnes his wife, quer. and Hugh Barry, parson of the church of Rotyngton, deforc. the manor of Egrum was settled on the said James, and Agnes for life; remainder to Richard their son, and the heirs of his body; remainder to Robert, brother of Richard, and the heirs of his; remainder to the right heirs of James: on the back of which fine many persons put to their several claims, Adam de Kelesholt, his, John de Bray, and Cecily his wife, Thomas de Longevylers, and Joan, Margery, and Elizabeth, daughters of Agnes de S. Cruce, theirs, Hugh Huse his, William, son of Richard, son of Robert de Kelum, his, William, son of Adam de Kelum, his, Thomas de Roldeston, Thomas de Charwalton, Robert, son of John la Clerk, of Kelum, theirs.
Richard de Sutton, son of Agnes, who had been wife of James de Sutton, knight, was, 19 E. 2. (fn. 26) found her heir, and above thirty years old. King Edward the third at Clipston, 20 Apr. 9 E. 3. (fn. 27) granted to Richard de Sutton of Averham, that he during his whole life, should not be compelled to take up arms against his will.
(fn. 28) John de Averham, 21 E. 3. was found to hold lands in Averham only, whom the collectors charged with the payment of 6l. for three knights fees of John de Moubray, viz. in Averham, Kellum, and Crumbwell one, in Sterthorpe, Winkeburne and Deynthorp one, and in Alkeley and Finningley one, and therefore was only to pay his proportion for the land he held.
The jury, 50 E. 3. (fn. 29) found that John de Sutton of Averham died 44 E. 3. and left his son and heir Rouland de Sutton twenty one years of age, by some other wife (I guess) than the heir of Musters, as in the after-named scheme, which makes this Rouland marry Katherine, daughter of sir Henry Hasty, knight, and by her 1397, leave a son and heir called Henry Sutton, who married Margaret, daughter of sir Hugh Hussey of Flintham, and died 1416, having Richard Sutton his son and heir, who lived long, and married Katherine, daughter of — Fitz-Williams of Aldewark, by whom 1468, he left Robert Sutton his son to succeed him, who married Elizabeth, daughter of Thomas Stanley of Pype, by whom he had a son Henry Sutton, who died before him the said Robert, who lived till 1500.
Sir Thomas Burgh, knight of the garter, gave a legacy, 18 Febr. 1495, to Isabell Burgh, wife of Robert Sutton of Averham.
This Henry Sutton, by Alice his wife, daughter of sir Nicolas Byron of Colwick, left a son who was sir Thomas Sutton, who died 1526, and by Katherine his lady, daughter of sir Thomas Basset of Fledborough was father of sir Henry Sutton.
(fn. 30) I find Thomas Sutton of Averham, esquire, 12 R. 2. and that Henry Sutton of Averham, esquire, 14 H. 4. was the son of John.
John, son of Robert de Willughby, late lord of Eresby, and Katherine his wife, 4 H, 5. (fn. 31) granted to Henry de Sutton, and others, all his lands, &c. in Averham, tgoether with the manors of Kyrtelington, Clifton, Herdeby, and Kelum.
Sir Henry Sutton had three wives: first, Alice, daughter of Francis Hall of Gran tham; second, the lady Pierpont, by whom he had no issue; and the third Alice, daughter of sir Henry Harrington, knight, the relict of — Flower, by her he had John Sutton, and four sons more, Marc, Edmund, Henry, and Harrington, and a daughter named Anne, first, wife of Walter Haddon, master of requests; and then of Henry Cobham, bro ther of William lord Cobham; by his first wife Alice he had Edward Sutton his eldest son, who married Olivia, the daughter of William Cooper of Thurgarton, without issue; his second son, and afterwards his heir, was William Sutton, who had to wife Anne, daughter of John Rodney of Buckwell in Somersetshire, by whom he had sir William Sutton of Averham, knight, and three sons more, Nicolas, Edmund, John, and three daughters, Jane, Elizabeth, Olive.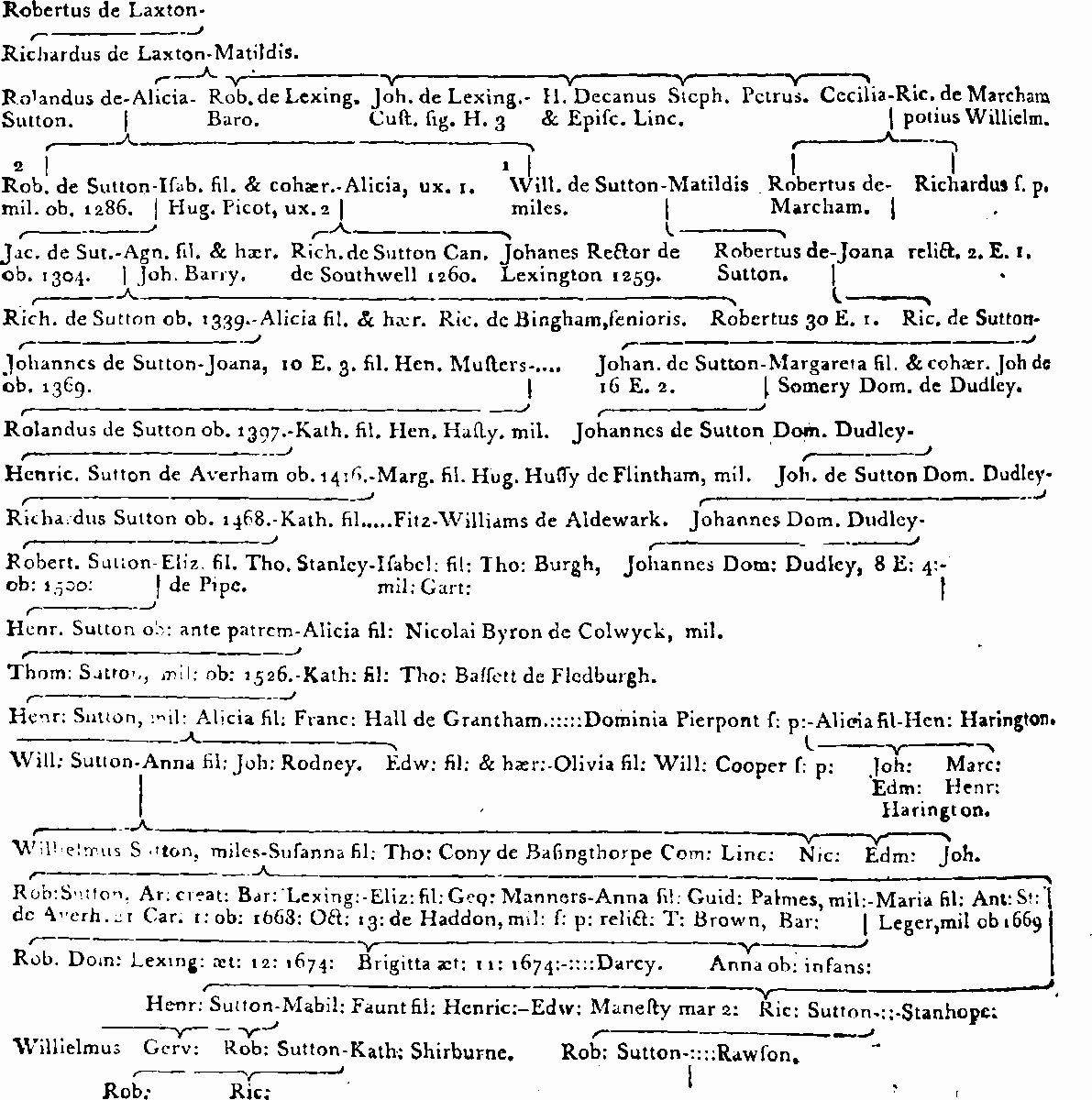 Sir William married Susan, daughter of Thomas Cony of Basingthorpe in Lincolneshire, on whom he begot Robert Sutton, esquire, and three sons and four daughters more, Richard, Henry, Gervas; Alice, Susan, Elizabeth, Mary.
Robert to his first wife had Elizabeth, daughter of sir George Manners of Haddon in Darbyshire, sister to John now earl of Rutland; his second was Anne, daughter of sir Guy Palmes, and widow of sir Thomas Browne of Walcott in Northamptonshire, baronet, by whom she had two daughters, Elizabeth, and Anne, widow of — lord Pawlett, since married to — Stroud; his third was Mary, daughter of sir Anthony S. Leger, warden of the kings mint, by whom only he left issue, Robert, Bridgett, and Anne born after his death, which was Oct. 13, 1668, his lady died at Paris Sept. — 1669, from whence she was brought and laid by him at Averham, Sept. 25, 1669. He very much increased his patrimony, ever kept a plentiful sober house, and was much out of purse for king Charles the first, who created him lord Lexington of Averham 21 C. 1.
Richard Sutton his brother married — Stanhope, half sister of Philip first earl of Chesterfeild, and had a son Robert Sutton, who was captain of a troop of horse, which he carried into Portugall: he died without issue male.
Henry Sutton, next brother of the lord Lexington, married Mabel, daughter of Henry Faunt, and hath several sons, Robert, William, Gervas. Robert married Katherine Shirbourne, and hath issue Robert, and Richard.
(fn. 32) The rectory of Averham was 16l. But is now 20l. in the kings books, and the lord Lexington is patron, as his ancestors the Suttons have been.
In the Church upon a small monumental stone, ......... obiit vi. Kal. Octobr. Ao. Dom. mo.ccco. vii°.
Upon a fair Tomb,
M. S.
Illustrissimo Do. Gulielmo Sutton de Averham Equiti Aurato, Generis nobilitate, virtutum dotibus ornatissimo, Qui post annos xxvii. cum conjuge amantissima peractos, octo filiorum totidemque filiarum pater factus, Deo dilectus, patriæ charissimus, suis desideratissimus, cita, nec improvisa morte obiit in Christo, Anno Dom. MDCXI. ætatis suæ LII. D. Susana conjux
Mæstissima, Officii & peitatis ergo P. Siste, moræ nec te pigeat, nisi nosse recuses Quo juvet exemplo vivere, quove mori. Vive Deo, patriæ, vicints, conjugi, amicis Charus: quoq; ortus sanguine vive memor.
Et quocunq; vocet fati Deus impiger ito; Alea ceu vitæ jacta suprema foret. His titulis surgit lapis hic: sic vixitt obilq; Suttonus, quali carmine dignus Eques.
Sir William Suttons Corps here Toombed sleepes, Whose happy Soul in better mansion keepes. Thrice nine years liv'd he with his Lady faire, A lovely, noble, and like virtuous payre. Their generous of-spring (Parents joy of heart) Eight of each sex: of each an equall part Usher'd to Heaven their father, and the other Remain'd behind him to attend their Mother.
On the out-side of the steeple, there is cut in stone sir Thomas Suttons arms, which was Arg. a Canton Sable. and his Ladies, viz. 3 Piles & a Canton Varry, which was Bassets of Fledaorough, nigh which was T. S. and two Tuns.
[Throsby] Averham
Park which was heretofore an ornament to the neighbourhood, and a splendid appendage to the mansion, here, now occupied by a farmer, is divided into three farms; on it remains the keeper's house and a few of the park sence. This lordship is owned chiefly by George Sutton, esq; son of the late lord George Sutton. It is enclosed, and contains about 2000 acres.
Here are about 20 dwellings. The parsonage house, which joins the church yard, stand on a fine situation. The garden was in its glory when I visited this place. The Trent from this place shows a fine fore shortened bosom; beyond which, Hawton beautiful tower, on the other side the Trent, has a rich appearance.
The church is dedicated to St. Michael, and consists of a nave and a south cemetry. On the church porch is a curious representation. (See fig. 1.) The last rector here, was the Revd. Charles Sutton, now bishop of Norwich.
In the chancel, the tomb of sir William Sutton remains, mentioned by Thoroton. Him and his lady are figured thereon. He is in armour. The figures are pretty well preserved; but I judge not modell'd in any superior stile.
Opposite to it is an ordinary monument, with two little disconsolate cherubs, one on either side, to the memory of the right honourable Robert lord Lexington, descended from the Suttons. He had three wives of honourable descent. He died Oct. 12, 1668, in the 74th. year of his age.
The inscription is prosuse in his praise. "He was a loyal subject, and lover of his country, a good husband, father, friend, landlord, master, and neighbour,"
A little monument remembers the Revd. Richard Sutton, D. D. a prebendary of Canterbury, and fifty years rector of this parish.
On a floor stone "Iohannis Smith, Rectoris," died in 1710.
In a niche, in the South wall, lies a figure, the head partly covered by the pulpit stairs, over which is a plain shield. The figure I have made out, I am fearful, but indifferently, it being difficult to come at. See plate page 112, fig. 4.
There are some other old stones with figures thereon, covered mostly by the pews. The font is sketched, fig. 3.
Patron, George Sutton, esq; in 1785. Incumbent, Robert Chaplin, Rec. K. B. 20l. 0s. 0d. Yearly tenths, 2l. 0s. 0d. Averham with Kelham, annexed. Archiepisc. pro Svn. 4s. Archidiac pro prox. 7s. 6d. Val. per ann. in ter. gleb. & prat. 1l. 19s. 6d. In dec. & pens. sol. Silby 2l. 0s. 0d. Lord Lexington presented in 1711. Sir Francis Molyneaux and others in 1734.