Pages 113-120
Thoroton's History of Nottinghamshire: Volume 3, Republished With Large Additions By John Throsby. Originally published by J Throsby, Nottingham, 1796.
This free content was digitised by double rekeying. All rights reserved.
KELHAM. KELUM.
Doomsday, Calune, And Parke Lathes.
This place the book of doomsday shows to have been of several seigniories, the most considerable was of the fee of Roger de Busli, where in Lyde Wapentac, before the conquest Turchill and Godric are said to have had in Calun ten bov. 1-3d. ad geld. for two manors. The land whereof was three car. (fn. 1) There afterwards Turold the the man (or tenant of Roger had one car. and seven sochm. on five bov. of this land, and three vill. and three bordars, having two car. ½. There were twenty two acres of meadow, small wood sixteen qu. long, and seventy four virg. broad. In king Edward the Confessours time this was valued at 60s. in king Williams at 28s. Another great parcel of this township was of the fee of Walter de Ayncurt, and soc to Rolleston, which answered the geld or tax for nine bovats, and one third of a bov. The land being two car. and an half. There eighteen sochm. and three bord had seven car. and an half, and sixteen acres of meadow, small wood nine qu. long, fifty virg. (or rods) broad. Another part was of the fee of Raph de Buron, where Osmund, before the Norman invasion, paid to the geld, as two bov. one third for his manor. There William the man (or tenant) of Raph, had one car. and two bordars, with two oxen plowing, and nine acres of meadow, small wood eight qu. long. twelve virg. broad. (fn. 2) In the Confessours time this was 4s. in the Conquerours 15s. value— Another parcel in Calum was of the see of Gislebert Tysun. which before the conquest was Alurics, who had two bov. ad geld for his manor. The land whereof was six bovats. There were two sochm. one bord. with half a car. and six acres of meadow, small wood eight qu. long, fourteen virg. broad. In the Confessours time 16s. valuc, at the time of the Conquerours survey 3s. Another parcel was of the land of the Taynes, which Ulchell before the conquest had, his manor being then rated to the geld at one bov. and two thirds of a bovat. The land six bovats. There Aldene (progenitor of the family of Crumwelle) afterwards had two vill. two bord. with one car. and six acres of meadow, small wood eight quarters long, and eight virgats broad. In the Confessours time 20s. value, in the Conquerours 10s.
That of Roger de Buslies see, lord of the honour of Tikhill, was held by Gilbert de Chelum, whose gift to the priory of Rufford king Stephen confirmed, (fn. 3) and William de Tulc, or Tuk, who for five marks sold his, in the presence, and by the consent of Raph Silvain his lord, (fn. 4) who also confirmed to the brethren of Rufford, all that land of the fee of Tikhill, which Gilbert de Kelum, and William de Tulc, held of him in the territory of Kelum, from the west side of Buggewonge, (and that also) tilled and untilled unto the bounds of Wyncheburne, &c.
(fn. 5) William del Tulc, son of William del Tulc, confirmed the fore-mentioned land, which his father gave, in which the 'sheep-house or lathe, [Bercaria] of the monks was scituate, (which I take to be the original of Parkelathes) a grange or hamlet in this lordship, belonging to that monastery, which was made up by the gifts of many several persons. William Tuke, son of William Tuke, of Kelum, gave twenty four acres of his demesne, measured by the perch of sixteen foot, lying between the wong which Malger de Rolleston gave the said monks, (fn. 6) and five bovats, which Malger de Staunton bestowed on them; which twenty four acres stretch from the west into the east, viz. from Southwell way, which is the bound between the fields of Wynkeburne and Kelum, unto the wood of Kelum.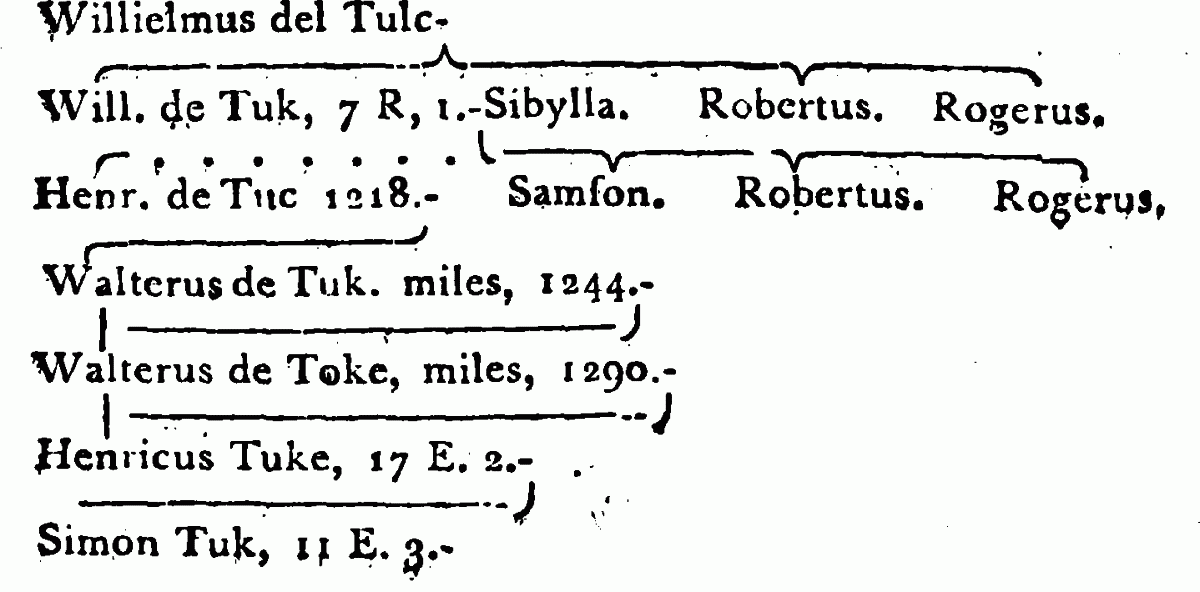 William de Toke, 7 R. 1. (fn. 7) gave account of two marks, for having his land again, whereof he was disseized for being in Nottingham castle, as most of our Nottinghamshire gentry were at that time, with earl John. William Toke, 7 Johannis, (fn. 8) owed three marks for convincing twelve jurors by twenty four, which twelve had made a false oath as was said, concerning the Novell dissesin, which Robert de Toke made him of seven bovats of land, with the appurtenances in Chelune. The same year William de Toke owed xxs. of the sixth scutage of the honour of Tikhill. (fn. 9)
(fn. 10) The next year, 8 Joh. Robert de Toke owed half a mark for having the record of the assize of Nov. disseisin.
(fn. 11) Walter Tuke, son of Henry Tuke, of Kelum, after some suits made a concord with the abbat and covent of Rufford, concerning common of pasture, the Friday after the feast of St. Alban, 1244, (fn. 12) concerning the adjustment whereof sir Walter Tuke, knight, son of Walter Tuke, made an agreement also with Henry, the abbat, at the feast of the Nativity of the blessed Mary 1290, which he refused afterwards to seal, and therefore it was preserved by the monastery to his disgrace.
The jury, 17 E. 2. (fn. 13) found that Henr. son of Walter Touk, of Kelum, and his ancestors held of Edm. de Cressy, and his ancestors, the manor of Kelum, by the service of half a knights fee, which the said Edmund, and his said ancestors held of the honour of Tikhill.
By a fine levyed at York, 11 E. 3. (fn. 14) Simon, son of Henry Touk, of Kelum, passed the manor of Kelum, to Thomas de Cophous.
John Touc, 19 H 6. (fn. 15) had a certiorari concerning lands in North-Cliston, SouthClifton, Northwell-woodhous, Ossington, Holme, North-Muskham, Sutton and Kellome, and Robert Touc, 23 H. 6. (fn. 16)
The principal manor which was Tukes, from that family came to Folejambe. where it continued till our times, and then was sold to sir William Sutton, father of Robert lord Lexington, and to — Empringham, whose share of this manor was parcelled amongst many, but was all at length purchased in by the said Robert Sutton, afterwards lord Lexington, son of the said sir William.
By an inquisition, 3 Decemb. 19 H. 7. (fn. 17) it appears that Elizabeth, Fitz-Williams widow, who had some interest in Kelom, died 22 July that year, leaving Thomas Fitz-Williams, son of her son Thomas Fitz-Williams, her cousin and heir seventeen years old. (fn. 18) By another inquisition taken in Lincolneshire, 10 Sept. 18 H. 8. it appears that Thomas Fitz-Williams, esquire, of Aldwerk, died 11 Sept. 5 H. 8. (but by another inquisition taken 20 Jan. 6 H. 8. it seems he died the Friday next after the feast of the Nativity of the blessed Mary; leaving William. his son & heir four years old, 16 August, who died 26 Aug. 7 H. 8. His sister Alice was wife of James Folejambe, and fourteen years and six months old, and his sister Margaret was wife of Godfrey Folejambe, twelve years old, 18 H. 8. heirs of the manor of Kellom, in this county, and of the manor of Ulceby in Lincolneshire, De la Hay in Hartfordshire, with lands in Therfeld, Thorp Constantin in Staffordshire, Newton upon Derwent in Yorkshire, with lands Wykensley, and in Alderwerk, besides in that county the manors of Hdwyk, Aolinghall, Ferburn, and lands in Thryber, the manors of Aldwerk, Dulton, Thorp, Astley, Penyston, Holey Hall, Huland, Swayne, Skelmerthorp, Haldenby, Steton, Milford, Lumley, Mikelfeld, Bereby, &c.
Roger de Cressy confirmed to the monastery of Rufford, all the land of his fee of his honour of Tikhill, (fn. 19) from the west side of Buggewang, to the bounds of Winkeburne, tilled and untilled, in the territory of Kelum, and in other places, which Alice, the daughter of Raph, son of Gilbert de Kelum, and Gilbert her husband, and Tecent her sister, and Maurice her husband, and Isabel sister of the said Alice and Tecent had given in that lordship, according as their several chartels expressed. (fn. 20) Alice had a second husband named James, and Isab. a son and heir called Walter, but all this part of Tikhill fee came at length to this Tecent or Tislanda, and her heirs. This Maurice de Kelum, and Tyssanda his wife, who lived in the time of R. 1. had a son and heir named Walter, who by the consent of his mother, of whose inheritance it was, gave the advowson of two parts of the church of Kelum, with an acre of land in that place, and 8s. rent in Flikisthorp, by Hodsac, to the abby of Wellebek. (fn. 21)
Walter had a son and heir named Robert, who died without issue, Oliva and Sibyll being his sisters and heirs, of which the first had no issue. Adam de Kelsold, son of William, married Sibyll, who 9 Joh. (fn. 22) gave a mark for a writ of right concerning half a knights fee in Kelum, with the appurtenances. They had first, Walter, who died without issue; and secondly, Matthew, his brother and heir, father of Adam without issue, and of Andrew, his brother and heir, without issue also; and thirdly, Roger de Kelesold, who claimed the premises, 44 H. 3. against the abbat of Wellebek, as uncle and heir of the said Andrew. Adam de Kelesolt, son of the last mentioned Roger, 9 E. 1. (fn. 23) also claimed interest in Kelum. (fn. 24)

There was a fine levyed 5 Joh. (fn. 25) between Richard, abbat of Welbek, and Alexander prior of Shelford, concerning the advowson of the church of Kelum, whereby it was concluded that the said abbat, and his successours, should have one moyety, and the said prior, and his, the other.
Maurice de Kelum had a son called Peter, who also had one of the same name, Peter de Kelum, who confirmed his ancestors, gifts as his uncle William did also, to the monastery of Rufford. (fn. 26)
Agatha de Thucke held half a knights see in Kellum, by the occasion of the wardship of the heir of Peter de Kellum. (fn. 27) Walter Thucke then was also certified to hold half a knights see there. (fn. 28)
This manor continued long in the family of Kellum. In a recovery 16 H. 8. (fn. 29) Robert Broun, esquire, and others claimed against John Kellum, and Etheldreda his wife, five mess. &c. in Kellum, Newark, &c. and in another 26 H. 8. (fn. 30) Robert Curson, esquire, Gyles Heron, esquire, John Fysher, gent. and Robert Andrew, gent. claimed against John Kelham, esquire, the manor of Kelham, with the appurtenances, and ten mess. ten tofts, twenty gardens, four hundred acres of land, &c. in Kelham.
Deyncourts fee here was held by the families of Staunton, and Rolleston, as in those places may be perceived; and Tysuns went with Averham, from whose ancient lords, viz. the Lexingtons, it descended by inheritance to the present lord Lexington, as in that place is shown.
(fn. 31) Walter de Anundevilla testified that Gilbert de Kelum, by the consent of Alase his wife, gave in pure alms to God and the monks of Ruchford, twenty acres in the territory of Kelum, nigh the Parc of Hugh de Muscam. Amongst the witnesses were R. the priest of Wymundetorpe, Mulger de Houcton, and Hawisia his wife, W. de Amundevill, I suppose him the said Walter, lord of Winthorpe, as in that place is said.
(fn. 32) Will. son of Thomas de Monteburgh, of Egram, released and quit-claimed to that monastery all his right of common of pasture, in the essarts made in the territory of Egram, on both sides the Redegate, untill the justices came to Nottingham, in 20 H. 3. and likewise in Kelum-shrubs, where the wood stood.
(fn. 33) Thomas de Roldeston, (son of Malger, I guess) confirmed the gift of his father in the Shrubs, and other places of the territory of Kelum, and promised the monks that he would make them a chartell, (or deed) sealed with his own seal, when he should be made a knight, that which he then made, being sealed with the seal of the chapter of Southwell, as very many in those times were, upon the like account.
(fn. 34) Benedict de Rolleston son of Thomas de Rolleston, confirmed to the monks of Rufford, three bovats of land in Kelum, which they had of the gift of Elias de Wytthechirche, and Ydonea his wife, aunt of the said Benedict, and the homage and service of the heirs of Walter Ormal, which they had of the gift of Alan (son of Hugh) de Rodmarthwayt, and all the lands which they had of his fee in the year 1254, whosoever gave them; reserving to himself and his heirs 5s. yearly rent; and the foreign service, at two times in the year, viz. the feast of the Holy Cross, after Easter, and St. Martin in winter.
Richard, son of James de Sutton, 3 E 3. (fn. 35) recovered against Edmund de Cressy, Simon, son and heir of Henry Touc, of Kelum, who held of the said Richard, by knights service, seven bovats of land, and half a mess. in Kelum, and by doing suit at the court of the said Richard, at Averham, from three weeks to three weeks.
Richard de Willughby, 27 E. 3. (fn. 36) had free-warren in Beeston, Sutton Passeys, Kelome and North Carleton.
At the assizes at Nottingham, 31 E. 3. (fn. 37) Roger de Bakewell recovered his seisin of two mess. two boy. of land, and twenty acres of land, and fifteen of meadow in Kelum, and Thomas, son of Eustachius de Kelum, was amerced.
In a recovery 6 H. 8. (fn. 38) Robert Lawrence, clark, George Barton, and Martin Cape claimed against Lucia Robertson, widow, two mess two tofts, three cottages, one barn, one dovecote, three gardens, one hundred acres of land, sixteen of meadow, twenty of pasture, 6s. rent, and the rent of 1l. of cumin in Newark, Kellom, and Codington, who called to warrant Henry Robertson, son and heir of Thomas Robertson.
A great part of the town and fields of Kelham, were of long time the inheritance of Robertson, an ancient gentleman of that town, all which by the death of John Robertson, the last heir male of that house, did descend to his sisters and co heirs, and their heirs, who have all since sold their inheritances to the said Mr. Sutton (late lord Lexington.)
The abby of Roughford had diverse farms there, which together with Parkelathes, and the said abby were, 6 Oct. 29 H. 8. (fn. 39) granted to George, earl of Shrowsbury, from whom by descent, and mean conveyance it came to sir William Sayvile, baronet, who sold his interest here to Mr. Sutton, the said lord Lexington, who became lord and owner of the whole township and territories of Kelham, and in effect of the whole island of excellent ground, between the two currents of Trent, that by Newark, and that by Aram and Kelham, where he hath since the wars, built and house, which he made his mansion, Aram house being ruined, but there is still a fair park well stored in that lordship.
(fn. 40) The rectory of Kellome was xx marks when the abbat of Welbeck was patron: 'tis now 19l. 8s. 4d. value, in the kings books, and the lord Lexington patron.
[Throsby] Kelham
Lordship is enclosed, and owned by George Sutton, esq. The village contains 50 dwellings. Here is a broad wooden bridge over the Trent, of singular construction, apparently the most complex, man ever formed.
The church is dedicated to St. Winfrid, has a nave and side aisles, and a handsome tower, with three bells, Within the rails of the altar is a tablet placed to the memory of Mrs Grace Fanshawe, relict of Thomas Fanshawe, esq; who died in 1763, aged 59. It has this quaint or rather useful admonition:
Stop and reflect awhile my friend, And let reflection make Thee wife; Thy years run fast, and soon shall end, Then run and strive to win the prize.
What time is past is ever lost, What is to come no one can say, Thou cans't not of to-morrow boast, Then settle thy account to day.
So shall sweet slumber close thine eyes, In death thy soul shall know no fears, And then to endless bliss shall rise, When God's eternal Son appears.
A little tablet says, that Charlotte Lockwood was born at Florence in 1790, and died at Averham in 1792.
In the south cemetery, the burial place of the Suttons, is a fine monument, in marble, to the memory of Robert Sutton, lord Lexington, who was employed in offices of state under king William, and queen Ann. He died Sept. 19th. 1723. His lady, who was Margaret daughter and heir to sir Giles Hungerford of Colston, in the county of Wilts, died April 17th. 1703,
Lord Lexington and his lady are figured in marble, reclining on a sort of matrass. They are fine pieces of sculpture; but they are not, I think, in the happiest position; a resting posture is not the best conceived for one of an active life, like that of lord Lexington's. Nor do I think their being placed back to back is agreeable with a life of mutual affection. He has one hand on a coronet, and in the other, he holds a book, open, the arm of which lies over a human scull. SHE bears in her hand the ring of eternity. At the foot of the tomb is the following:
"The familly of SUTTON has flourished in this county from time immemorial.— In the year 1251, Rowland Sutton, married Alice, one of the sisters of, and coheirs of Robert, lord Lexington; from this marriage issued in the 14th. degree, in direct line, Robert Sutton, who in regard to his descent, on the paternal side from the house of Sutton, which had given earls to Warwick and Leicester, and lord to the barony of Dudley, and on the maternal side from one of the co-heirs of Robert lord Lexington. In consideration of his steady loyalty to his Prince, was created lord Lexington, of Averham, in the 21st. of Charles the First. Upon his death, which happened Oct. 13th. 1668, he was succeeded in honours and estate by his only son Robert, lord Lexington, here interred, who dying without issue male, left his estate to his only daughter, Bridget dutchess of Rutland, for life, afterwards to her second son, lord Robert Manners, on condition that he take the arms and name of Sutton."
Patron, George Sutton, esquire. Incumbent, Robt. Chaplin, R. K. B. 19l. 8s. 4d. Yearly tenths 1l. 18s. 10d. Prox. 7s. Val. per ann. in ter. gieb. 1l. 6s. 8d. in dec. garb. molend. &c. Lord Lexington presented in 1690 and 1720.
Kelham Hall
Has a pleasant look out over the Trent towards Newark. It is an extensive brick and stone building; but not now inhabited, 1794. It was lately the abode of the earl of Lincoln, now the duke of Newcastle. The owner, Robert Sutton, esquire, resides chiefly in London.
Kelham hall is pleasantly situate upon the banks of the river Trent, within about two miles of Newark, prettily shaded by some young, but spreading trees, whose foilage shows pleasing variety; the Trent, below, by its handsome curve, is a great addition to the scene. Some offices, on the right, at this point of view, which at present are not screened sufficiently, are not indulgent to the roving eye. The wished for effect, of a little thriving plantation before them, is visible. In the view fig. 2, page 60 I have shown what that may sometime be, a complete screen.