Pages 199-203
Thoroton's History of Nottinghamshire: Volume 3, Republished With Large Additions By John Throsby. Originally published by J Throsby, Nottingham, 1796.
This free content was digitised by double rekeying. All rights reserved.
WELLEY. GRYMSTON. Doomsd. CREILAGE. CRATELA.
Welhay is not found in doomsday book, which shows that in Creilege before the conquest, Rolf had a manor which desended itself for two car. ½. to the Dane-geld. The land being then accounted four car. There after the conquest Gislebert de Gand had two car. twenty two vill. two bord. having nine car. and twenty-six acres of meadow, pasture wood half a leu. long, and so much broad. (fn. 1) In king Edward the Confessours time this was 6l. when king William made his great survey the value was but 3l.
(fn. 2) Gilbert de Gaunt earl of Lincolne gave this Cratela or Cartela to the monastery of Rufford, which he founded, which gift king Stephen confirmed, and king Henry the second, and so did Rohesia the countess his wife, sister of Roger earl of Clare, reserving to herself the service of Hugh, son of Raph, concerning the exchange which Raph, son of Remigius, his father and he took of Earl Gilbert her lord in Torp by Schendelbi, and in Barton (on Humber) one car. of land, for which grant the monks gave her eight marks of silver: Witnesses were Roger de Clara earl of Hereford, Alan de Perci, &c.
(fn. 3) Aliz the countess, and earl Simon her husband also confirmed the exchange which was perfected in the court of earl Simon at Foudringhei (now also become the possession of the lord Halifax) held in the year of our lord 1174, when the said Hugh and Raph his brother, sons of Raph, son of Remigius, granted and confirmed to the monks of Rufford all that donation which G. de Gant their lord made of Cratela his grange, with the appurtenances, for which they had not only the land in Thorp before mentioned, and the carucat in Barton; but the monks gave them thirty marks of silver, and one hundred and twenty lambs and a palfrey: Witnesses were the earl Albric de Dammartin, Philip de Kima (the steward) William Malduit, Fulc de Lisures, Gaufr. Riddel, Richard de Perc, &c.
Agnes, the wife of Gaufr. de Eicring, gave to those monks four bov. in Cratele, which were of her marriage, referring to herself and her heirs, half a mark of silver yearly: to her grant she affixed the seal of the chapter of Southwell: her son Henry de Eicring confirmed her gift; for which the monks gave him a mark of silver, and two archerser of wheat.
(fn. 4) Raph, son of Remigius, it seems held of Hugh de Muscam in Cratele lands for his life, who also confirmed them to Rufford. Raph himself gave in perpetual alms to that monastery the land which he had tilled between the waters of Hugeles and Fulsic, referving only common there, as the monks had: The witnesses were Edri, Turchill, Remigius, Hucca, Gamell, Chig. William, Ulchill, with others.
(fn. 5) William de Amundevill also released to the abby of Rufford his right and claim in Cratela, as earl Gilbert had given it, for which he was received into the fraternity of the house; and when he should die, the monks were to do for him as for one of themselves, and he had thirty marks of silver and ten cows; but he received only ten marks, and the ten cows, till he should procure the said Hugh, son of Raph, to come into the court of earl Simon to perfect the fore-mentioned exchange, which he did, as before is noted, else he should have given back both his money and kine.
(fn. 6) The abbat of Rucford, 9 Joh. accounted for ten marks for licence to make houses, and set down hedges on his land near Welhag, upon the great way to defend his wood, which the men of Welhag were wont to steal, yet so as he should not stop the kings high-way.
(fn. 7) The township of Welhah, 11 Joh. gave account of twenty marks for throwing down the houses of the monks of Rucford.
Wellhagh 'tis likely was in the great survey of king William, involved in Cratela, tho it hath usually gone with Grymeston, of which I find part was Soc to Maunsfeld, the kings great manor, viz. two car. which paid the geld for half a car. and four bov. (fn. 8) It was a Beru, and the king had in Grymeston two car. eight vill one bord. having—. The king had also a manor in Grymeston rated to the geld. at four bov. of land. The land two car. (It was, or had) a Beru in Maunsfeld. There three sochm. three bord. had two car. two acres of meadow, pasture wood half a leu. long, four qu, broad. Soc of this manor in Grimston one bov: ½. to the geld, the land two bov: There two sochm: had half a car. There was Soc also in Schidrintune, in Wilgebi, and Walesby, in Besthorpe, and Carleton, and in Franesfeild.
(fn. 9) There was an assize in the time of king John, between the abbat of Rufford, and William, son of Robert, and others, concerning common of pasture in Grymston and Willehagh, &c. The abbat pleaded that they could not claim nor have any common of pasture in the pasture of the said abbat, nor he in theirs, because the said pastures were of divers baronies (or lordships) viz. of the barony of Robert de Cundy, and the barony of Gilbert de Gaunt, and that bounds were made between them, that neither barony could have common in the other; and produced the letters of king John, which testified that he gave the monks of Rufford licence to erect a bank between their wood of Besehall, and the town of Welhagh, and between the ditch or bank and the town of Welhagh to build as many houses as they pleased for their men to lodge in, to keep their wood; and further the abbat said that it was otherwise pleaded between them before Hugh de Nevilll, and Simon de Pateshull, and their fellows concerning the same commons; and that they then fell into the kings hands, and then were adjudged to pay the abbat damage, &c. and the said men pleaded, that it never was before the said justices, and thereupon put themselves upon the jury.
(fn. 10) Henry de Say, 1 H. 3. had the manor of Grimston. which was Robert Bardolfs as long, &c. Howbeit I take the family of Foliot to have had it long before.
(fn. 11) Simon de St. Liz, the earl, confirmed to the monastery of Russord two bov. ½ in Holme, which Elias Foliot gave, which Hugh and Swane held
(fn. 12) Jordan Foliot, 13 H. 3. gave account of five marks because he was not protected. Richard Foliot, 36 H. 3. (fn. 13) had free-warren in Grimston, and 48 H. 3. (fn. 14) had power to embattel the dwelling house of his manor of Grimeston; in 52 H. 3. (fn. 15) he had market and fair at Wellehagh.
(fn. 16) In the year 1290, Richard Foliot, knight, remitted to the abbat of Rufford all complaints and exactions, which he had against the monks, so that nobody should trouble them in his name; and he promised them on his military faith, that he would procure sir Jordan his son, to confirm the confirmation he made of tenements in Welhai, if possibly he could. The jury, 27 E. 1. (fn. 17) found that Richard Foliot held the castle of Horeston for his life, and likewise held of his son Jordan, who was his heir, the manor of Grimston, and Welhawe, and hamlet of Besthorpe, with the Soc of Grimston, and members, and that Jordan was above fifty years old, and died within five weeks of his father, leaving his wife Margery behind him, and his son and heir Richard Foliot then about fifteen years old, and that he had lands in several counties, Yorkshire, Norf, &c.
(fn. 18) Margaret Foliot 4 E. 3. had mercat and fair in Wellehagh. The jury, 4 E 3. (fn. 19) found that Margery Foliot held when she died the manor of Gymeston, of the inheritance of Margery, and Margaret, daughters of Richard Folioth, of Thomas de Thornhaw, as of his manor of Thornhawe, by the service of one knights fee; and that Margery aged then seventeen years, the wife of Hugh de Hastings, and Margaret sixteen, the wife of John de Camoys, daughters of Richard Foliot, were then her heirs; and that there was at Welhawe, stallage of the market and fair on St. Swithuns day there, valued at 40s. yearly.
(fn. 20) Hugh de Hastings 21 E. 3. was found heir of his father Hugh de Hastings, who held the manor of Grimston.
An who had been wife of sir Hugh de Hastings, knight, (and of Thomas Lord Morley,) left her son Edward Hastings, knight, 5 H. 6. (fn. 21) her heir, and above fourty-four years of age.
(fn. 22) John, son of Edward lord Hastings and Stotevile, knight, 14 H. 6, released to Robert Clifton, knight, and others, and their heirs, his right in the manor of Grimston, and township of Welhawe, and in other manors in Yorkshire, Norf. & Suff. By virtue of that feoffment (which it seems Edward had made before) John Hastings, esquire, 16 H. 6. (fn. 23) was found heir of his father the said sir Edward.
(fn. 24) Hugh Hastings, knight, made his will 14 Decemb. 32 H. 8. which was proved 9 Febr. following, viz. 1540, whereby it appears that he had lands in Elsing, and Wesenham in Norfolke; in Fenwyk, Norton, Mosseley, Smeton, South Caves, Snayth, Pollington, Askerne, Elmeshall, Thorpe in Balne, Barneby upon Don, Cusseworth, and Bramwick in Yorkshire, the manors of Wellowe, and Grimston in this county, and in Whitley, &c. his wifes name was Catherin, he had a son called John, and two daughters, Agnes and Elizabeth, and a brother named Martin Hastings, a nephew called Laurence, & Hugh, and William Hastings his cousins.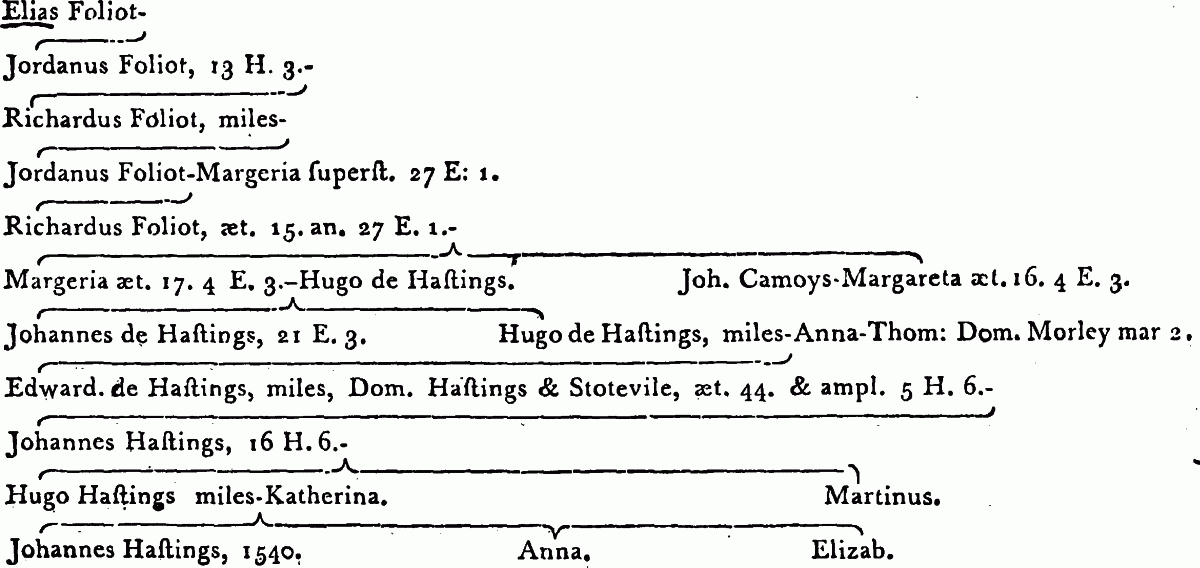 (fn. 25) The jury, in assize 10 E. 3. found that John Enneston died seized of thirteen mess. seven tofts, thirteen stalls, fourscore and ten acres of land, seven of meadow, and 3s. 10d. rent in Grimston, and Knesale, and that he had two wives, viz. Maud, on whom he begot Agnes, the wife of John in the Lane of Eckering, and Alice the second wife, on whom he begot Alice, Joan, and Margaret, which two latter dying without issue, Alice recovered their purparts as heir of the whole blood.
(fn. 26) There was a recovery 8 H. 8. wherein William Basset, esquire, Richard Basset, knight, Thomas Sutton, knight, Edward Basset, clark, and John Hall, clerk, claimed against Richard Clark, Edward Beresford, and William Robertson, the manor of Grimston, with the appurtenances; and three mess. fourteen tosts, two hundred acres of land, twenty of meadow, and 19s. 8d. rent with the appurtenances in Grimston and Welhagh, who called to warrant Richard Stanhope, esquire, son and heir of Edward Stanhope, knight.
(fn. 27) Roger Norton, and Francis Gardiner, 16 Eliz. claimed against Rowland Tayler, one mess. one garden, 46 acres of land, five of meadow, 7 of pasture, with the appurt. in Welley and Grimston, who called Edward Basset, esquire.
(fn. 28) The free-holders in Welley and Ampton, 1612, are these: Michael Clarkson of Kirton, gent. James Bacon of Welley, gent. Hugh Taylor, Seth Batcheler, John Lownd, Thomas Lownd, Simon Grange, Stephen Cramme, Richard Cooke, John Taylor, Thomas Kitchen, Robert Gibson, Richard Birket, Henry Vauntinge, Richard Radford, William Walkeden, William Smith, Miles Cosson, John Fresure, Widow Stanfeild, Robert Gillowe of Ampton.
[Throsby] Welley or Willow
Lordship is owned by the Hon. Lumley Savile, Sir Francis Molyneux, and others resident here. Sir Francis has a small hall house here, with suitable gardens, &c. Part of the fields are set apart for the growth of hops. Several of the inhabitants are hop planters. The village contains a number of little dwellings. The chapel is dedicated to St. Swithin; but indifferent: It has a tower.
Patron, Heirs of sir George Savile, bart. Incumbent, Revd. George Holt. Certified value 11l. Abbey of Rufford Propr.