Pages 1-39
An Essay Towards A Topographical History of the County of Norfolk: Volume 1. Originally published by W Miller, London, 1805.
This free content was digitised by double rekeying. All rights reserved.
THE HUNDRED OF DISS.
This hundred hath its name from the capital town, which is so called from the mere situate on its south side; dice in the Saxon language signifying a standing water, lake, or ditch. It is bounded on the south by the river Waveny, which now divides Norfolk and Suffolk, on the west by the hundred of Giltcross, on the north by Depwade, and on the east by the half hundred of Earsham, which joined with the half hundred of Diss, makes up a whole hundred, or, according to the old division, two whole hundreds, and completes the deanery of Redenhall, in the archdeaconry of Norfolk, and diocese of Norwich; the fee of it wholly belonged to Edward the Confessor, as demean of the Crown, till he granted to Ulfiet and Stigand the soc of their own lands, (fn. 1) and to the Abbot of St. Edmund's Bury (fn. 2) the half part of the soc and sac of his lands, and of all his freemen.
But by the way, it will be necessary to observe, that what we now call Diss Hundred, in the Confessor's time was a hundred and half; the hundred was called Wineferthinc Hundred which Earl Ralph held, upon whose forfeiture it came to the Crown, and was added to the King's half hundred of Dice, and continued ever after as part of it, and this is the reason that the title in Domesday is, the hundred (fn. 3) and half hundred of Dice; the fee of which, with all the jurisdiction thereof (except what belonged to the Abbot, to Ulfiet, and Stigand) came into the Conqueror's hands, and the soc (fn. 4) and sac (fn. 5) of all his freemen in the hundred, that held less than thirty acres, belonged to his manor of Fersfield, but of those that held thirty acres or more, the soc and sac belonged to the hundred of Wineferthinc, which Earl Ralph forfeited.
But as it hath always attended the capital manor of the town, and now remains with it, I have no occasion to discourse of it singly any further.
Dice, now Diss,
In the time of the Confessor, extended into Suffolk, (fn. 6) nay the town itself, was then in that county, in Hertesmere (fn. 7) hundred, as we learn from Domesday, where we find that it was in King Edward's possession as demean of the Crown, there being at that time a church and twenty-four acres of glebe; that the whole was worth 15l. per annum, which at the Conqueror's time was doubled, it being then estimated at 30l. with the soc of the whole hundred and half, belonging to it, it was then found to be a league (fn. 8) long, and half a league broad, and paid 4d. Danegeld, by which it appears that it was not so large in its bounds, as it now is, which is easily accounted for, from the same record: for Watlingsete (fn. 9) manor, as it is there called, which was as large as Diss, and seemingly fuller of inhabitants, as we may judge by the geld or tax that it paid, was soon after quite lost in Diss, to which it was appendant at that time. This was afterwards called Walcote, and includes part of Heywode, as appears from its joining to Burston, into which town this manor extended.
The manor thus joined, with the advowson and hundred, continued in the Crown till King (fn. 10) Henry I. granted them to
Sir Richard de Lucy, a Norman knight, a man of great renown in those days; the record called Testa de Nevil says, that it was not known whether it was rendered unto him as his inheritance, or for his service; but without doubt it was for the latter, it having been always demean of the Crown. This Richard (fn. 11) was governor of Falais in Normandy, the third year of King Stephen, which he manfully defended against Jeffery Earl of Anjou, who had besieged it; he was a great instrument towards the agreement between that King and Henry II. and had the Tower of London, and Castle of Winchester put into his hands, by the advice of the whole clergy, upon his swearing to deliver them up at Stephen's death to King Henry, all which he faithfully accomplished, which so far advanced him in that King's favour, that he made him Chief Justice of England, and in his absence he was appointed governour of the realm, during which time, he took prisoner, in a pitched battle near Fornham in Suffolk, Robert Earl of Leicester, together with his Amazonian proud Countess, Petronell or Parnell, and withal put to the sword above 10,000 Flemings, which the said Robert had levied and sent forth to the depopulation of his country; all or the most part of which were buried in and about Fornham, anno 1178; their sepulchres are now to be seen near a place called Rymer House, on the right hand of the road leading from Thetford to Bury, and are now called the Seven Hills, though there are many more; but seven of them being much larger than the rest, are particularly taken notice of by those that pass this way, under which most probable the commanders were buried: this memorable battle was fought in this field. But to our purpose: it appears he had two sons, Jeffery or Godfrey, afterwards Bishop of Winchester, which, Dugdale says, died before his father; but that is an errour, for Godwin tells us (p. 273) that he lived till 1204; however, certain it is, he died without issue, as also did Herbert de Lucy, the second son, so that the inheritance came to his daughters. Maud, (fn. 12) the eldest, married to Walter Fitz-Robert, the progenitor of the Fitz-Walters, to whom he gave two parts of the hundred, manor, and market, of Diss with her in marriage. Aveline, he second, married Richard de Ripariis (or Rivers) of Stanford Rivers. Rose or Rohais, the third, to Richard de Warren, natural son of King John. Dionisia, (fn. 13) a fourth daughter, not mentioned by either of the afore-cited authors, married Arnold de Mounteny, Knt. who had with her the other third part of the manor, hundred, and market; so that, from that time, there were two manors, by the division of this third part, which was Walcote and part of Hewode. In 1179, as Stow (fn. 14) in his Annals tells us, Richard de Lucy, Chief Justice of England, deceased, (fn. 15) and was buried in the quire of the abbey church at Lesnes in Kent, which he had founded, and where he had taken upon him the habit of a canon regular the year before. From this Richard the manor came to
Sir Walter Fitz-Robert, (fn. 16) son of Robert de Tonnebrigge, the fifth son of Richard Fitz-Gilbert, sirnamed de Tonebrigge, the first Earl of Clare, who came in with the Conqueror, of whose gift he had the castle and town of Clare in Suffolk, with Tunbridge in Kent, and divers other great lordships in England. This Earl was son of Gilbert, sirnamed Crispin, Earl of Brion in Normandy, and son of Jeffery, natural son to Richard I. of that name, Duke of Normandy: he bare, as the Fitz-Walters ever after did, the Earl of Clare's shield varied, which is or, three chevrons gul. The Fitz-Walters being or, a fess between two chevrons gul. He had two wives, Maud de Bocham, (as Mr. Weaver,) or rather Margaret de Bohun, (as Mr. Dugdale,) and Maud, daughter of Sir Richard de Lucy, as aforesaid, in whose right he had this manor, to which he first obtained a charter for a fair, on the eve, day, and morrow after the feast of St. Simon and Jude, and three days following. He was Justice itinerant in Norfolk and Suffolk, and died in 1198, being buried in the midst of the quire of the priory church of Little Dunmow in Essex, of which Robert de Tonebrigge, his father, was first founder; he was sometimes called Walter of Clare, sometimes Robert Fitz-Walter, but mostly Walter Fitz-Robert; he left Robert the Valiant his heir.
Sir Robert Fitz-Walter, Knt. (fn. 17) son of Sir Walter Fitz-Robert, commonly called Robert the Valiant, had two wives, Gunnora, daughter and heiress of Philip de Valoines, and Rohesia or Rose, who survived him, and had the manor of Diss, Hemenhale, (which always went with Diss,) Theye, and Diss hundred in dower. He it was that first divided this manor, by giving a moiety of the two parts which he possessed to Sir Gilbert Pecche, Knt. with his daughter Alice (some say sister) in free marriage, with the third part of the hundred and market, and so there branched a third manor, which was called Pecche's Fee. This Robert was leader of those barons that rose against King John, the beginning of which was on this occasion, as the book of Dunmow informs us.
"About the year 1213, (fn. 18) there arose a great discord between King John and his Barons, because of Matilda, sirnamed the Fair, daughter of Robert Fitz-Walter, whom the King unlawfully loved, but could not obtain her nor her father's consent thereunto; Whereupon (and for divers other like causes) ensued war throughout the whole realm; the King banished the said Fitz-Walter, among others, and caused his castle called Baynard, and other his houses, to be spoiled, which being done, he sent a messenger unto Matilda the Fair, about his old suit in love, and because she would not agree to his wicked motion, the messenger poisoned a boiled or potched egg, against she was hungry, and gave it unto her, whereof she died in 1213." Her tomb was standing between two pillars in the priory church of Little Dunmow, when Mr. Weaver published his book.
In the year following her banished father was restored to the King's favour upon this occasion. "King John being then in France with a great army, it happened that a truce was taken between the two Kings of England and France, for the term of five years; and a river or arm of the sea being betwixt either host, there was a knight in the English host that cried to them of the other side, willing some one of their knights to come and just a course or two with him; whereupon, without stay, Robert Fitz-Walter, being on the French part, made himself ready, ferried over, and got on horseback, and shewed himself ready to the face of his challenger, whom, at the first course, he stroke so hard with his great spear, that horse and man fell to the ground, and when his spear was broken, he went back again to the King of France, which King John seeing, By God's tooth, quoth he, (for such was his usual oath,) he were a King indeed that had such a knight. The friends of Robert hearing these words, kneeled down and said, O King, he is your knight, it is Robert Fitz-Walter; whereupon the next day he was sent for, and restored to the King's favour, by which means peace was concluded, and he received his livings, and had licence to repair his castle of Baynard, and all his other castles." Notwithstanding this, he afterwards joined the Barons that stood against the same King for their liberties, during his whole reign; and, at the King's death, by his advice there was an agreement made between them and the succeeding King, from which time he was always in great favour, both in court and country. Holinshed, (fn. 19) (fn. 20) that faithful historian, gives him this character, that he was "both excellent in counsel, and valiant in war." He went with Ralph Earl of Chester's army, to aid the Christians against the Infidels, who had besieged the city of Damieta in Egypt, where he performed noble achievements: "After which, (fn. 21) this strenuous knight, this Mars of men, this marshal of God's army and holy church, (for so he was stiled by the common multitude,) lived in all affluence of riches and honour, till 1234, when he died, and was buried by his daughter in the said church. Holinshed says, (fn. 22) anno 1235, in Advent, died the noble Baron the Lord Fitz-Walter." (fn. 23)
Robert Fitz-Walter, (fn. 24) his son, often called Walter FitzRobert, succeeded; he was a man of renown in those days, and in great favour with his prince; (fn. 25) he inherited the lands of his father, except this manor and those of Hemenhale and Theye, which were held in dower by Rose his stepmother, who possessed them to 1256, from which time he held them, and dying seized in 1258, was buried in the conventual church of Dunmow, leaving
Robert, his son and heir, then ten years old, who was knighted in 1274, and had a great part of his possessions in his own hands before that time, though this manor, with Hemenhale and Theye, was in the hands of Stephen Fitz-Walter, his uncle, (as I take him to be,) as guardian and trustee to the said Robert. This Stephen (fn. 26) in 1286 claimed a market every Wednesday and Friday, with all rights belonging to a market, and it was allowed in Eire. It seems that King Henry I. established this market, for he granted it to Sir Richard de Lucy, along with the manor; at this time the jury also find, that the said Stephen held a third part of the hundred, which was worth five marks yearly; that Ernald de Montiniaco (Arnold Mounteny) held of him another third part, which was worth 60s. per annum, and that Richard de Boyland held of the said Stephen another part, which was worth 28s. per annum; and that this Stephen, as capital lord of the whole, paid into the Exchequer a rent of 40d. a year, being entitled, in his part, to view of frankpledge, assize of bread and ale, infangenthef, weyf, and all other liberties which belonged to a hundred, all which soon after came to Robert Fitz-Walter aforesaid, for I find him in possession in his own name. In 1293, (fn. 27) he was summoned to attend King Edward I. into Gascoign, in order to recover his inheritance from the French King, to which place he went, in the retinue of Edmund Earl of Lancaster. In 1296, (fn. 28) he was in the Welsh expedition, and in 1299, in the Scotch wars. (fn. 29) It was this man (fn. 30) that aliened Baynard castle in London, and Montfitchet Tower, to the Archbishop of Canterbury, reserving his Barony that belonged to it, to himself and his heirs: he was the first of this family that styled himself Lord of Wodeham in Essex, where he had a seat and a fine park. He had two wives, Devorgil, daughter and coheir of John de Burgh, son of Hubert de Burgh, late Earl of Kent, and Chief Justice of England, and Eleanor daughter of Earl Ferrers, by whom he had Robert his son, who succeeded him. In this year (fn. 31) he obtained a charter of confirmation for a fair every year at his manor of Diss, upon the eve, day, and morrow after the feast of St. Simon and Jude, and three days following. He was one (fn. 32) of those parliamentary Barons that sealed the letter to the Pope anno 1301, denying that the kingdom of Scotland was his fee, or that he had any jurisdiction in temporal affairs. He sealed with his paternal coat, supported by two harpies, which seal of his I have seen affixed to several deeds, and in particular to a grant made in 1298, (fn. 33) to William Partekyn of Prilleston, (now Billingford,) dier, by which he granted, for his homage and service, and half a mark of silver in hand paid, two messuages in Diss, with liberty of washing his wool and cloths in Diss Meer, whenever he would, with this reserve, that the gross die should be first washed off, and that he should not suffer the drain of his dying office to run into the Meer. The Escheat Rolls of the 19th of Edward II. say, that he held Diss at three knights fees, and Hemenhale by barony. Dugdale (fn. 34) and others imagine that he died this year, because we find that from the 28th of January the escheator accounted for the profits of his estates till the 12th of February following, when he delivered seizin to Robert Fitz-Walter, son of the said Robert, who was of full age; but this is an errour, for at that time we find that he renounced all the temporal goods of this life, and, as Mr. Weaver (fn. 35) tells us rightly, then entered himself a friar minor in the friery at Colchester, which he himself, in 1309, had founded, and there took upon him the habit of a religious votary, where he spent the rest of his days. (fn. 36)
In the catalogue of emperors, kings, princes, and other potent persons, that have entered into this religious order, this Robert (fn. 37) was one. It seems as if the church of Diss was built by this man, his arms cut in stone still remaining several times on the south porch.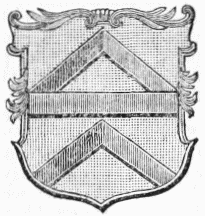 Robert Fitz-Walter, (fn. 38) Lord of Wodeham, his son, married in his father's lifetime, first (fn. 39) to Joan daughter of John de Botelort in 1304, by whom he had no issue; and after to Joan, (fn. 40) one of the daughters and coheirs of John de Moulton of Egremond, who survived him, and had for her dowry an assignation of the manors of Henham in Essex, Diss, and Hemenhale in Norfolk, &c. In 1361, this Joan (fn. 41) purchased by fine of Nicolas de Walcote and Joan his wife, one messuage 80 acres of land, 60 acres of meadow, 6 acres of pasture, 4 acres of wood, and 14s. per annum quit-rent in Diss, Frenze, and Burston, which was added to the capital manor, and was part of Walcote manor that was granted by one of the Mounteney's, to William de Walcote, the father or grandfather of this Nicolas. She it was also that brought the Castle of Egremond in Cumberland, and a third part of that manor, and many others, to this family. This Robert was in the expedition made into Scotland in 1326, and died the year following, leaving
John, (fn. 42) his son, then 13 years old, possessed of two parts of his estate, the third being held by the said Joan in dower; he was a ward of Henry de Percy's; but in the ninth of Edward III. by the King's special favour, his homage was accepted, and livery made to him; Diss manor then was valued at 31l. Hemenhale at 48l. Fincham at 6l. 13s. 4d. He was in the French wars in 1359, being one of those appointed to accompany Sir Walter Manny in that skirmish at the barriers of Paris, the Duke of Normandy then lying in that city, and was then knighted. He married Eleanor daughter of Henry Lord Percy, his guardian, was summoned to parliament from the 15th to the 34th of Edward III. exclusive, and died upon Monday the feast of St. Luke the Evangelist, anno 1360, leaving Walter, his son and heir, 16 years of age, Joan his mother surviving him; she died in 1362, whereupon Walter her grandson was found to be next heir, and 19 years of age, this manor (fn. 43) being then held at three fees as of the Barony of Baynard Castle.
Walter Lord Fitz-Walter, (fn. 44) making proof of his age in 1362, and doing his homage, had livery of all his lands. In the 44th of Edward III. he was in that expedition made into Gascoign, and there reputed one of the most expert soldiers in the whole realm; but being taken prisoner in those wars, was forced to mortgage his castle and lordship of Egremond for 1000l. towards raising his fine for his redemption. In 1372, an invasion being feared from the French, having raised what power he could for defence of Essex, he was commanded to repair into Norfolk for the safeguard of those parts. In 1379, (fn. 45) he procured the King's charter for a weekly market every Friday, at his lordship of Hemenhale in Norfolk, and a fair yearly on the eve, day, and morrow after the feast of St. Andrew the Apostle. Soon after, in 1381, he did great service in Essex against the rebels under Jack Straw, by suppressing those that endeavoured to make head there. Many other great and noble exploits of this man may be seen in the first volume of Dug. Baron. fol. 222, and in the second volume of Holinshed's Chronicle, fol. 405, 419. He was Lieutenant (fn. 46) to Thomas Duke of Gloucester, Constable of England, in the great cause between the Lords Lovell and Morley, for the arms of Burnel, in the Court of Chivalry, anno 1384, and 1386, in which year he died in Spain, on Wednesday before St. Michael, being one of those that accompanied John Duke of Lancaster, King of Castile and Leon, in his expedition thither, where the English, not able to bear the heat of the country, died in great numbers. "Among (fn. 47) others there died before the breaking up of the camp, one of the greatest Barons of all the company, the Lord Fitz-Walter." I have seen an ancient deed (fn. 48) of this Walter, in French, by which, as Lord of Diss, he granted a messuage and 8 acres of land to one William Moundry; it was dated at Henham 40 E. III. to which his seal was fastened, being his paternal coat, and an estoil between two plumes for his crest. (circumscribed, Sigillum Walteri Filtj-Walteri.) His first wife was Eleanor, by whom he had no issue; his second, as Mr. Dugdale tells us, was Philippa, daughter and coheir to John de Mohun Lord of Dunster, and widow of Edward Duke of York; she survived him. But Le Neve, (fn. 49) in his Collections, differs in this point; for, as he justly observes, this Philippa, widow of that Edward Duke of York who was killed in the battle of Agincourt, in the third year of Henry V. could never be the wife of this Sir Walter Fitz-Walter, who died the tenth of Richard II. before that battle was fought: to reconcile this we must observe, that Robert Fitz-Walter, the eldest son of this Walter, lived to be of age, though he died before his father, without issue; and he it was that married Philippa aforesaid, who, after his death, married again to Edward Plantagenet Duke of York, and Earl of Rutland, who held Diss manor, hundred, and market, together with Hemenhale, till he was killed as aforesaid, and from his death she held them till 1431, in which year it appears, by the inquisition then taken, that she died seized, and that
Sir Walter Fitz-Walter, second son, and now heir, of Walter Lord Fitz-Walter, brother and heir of Sir Robert Fitz-Walter, first husband of the said Philippa, had livery of the manors of Diss and Hemenhale, with their appurtenances, all which (except the advowsons) were held in dower by the said Philippa; but they went with the rest of the estate of the said Robert, and had been in possession of the said Walter ever since 1389, when he had livery to them, as heir to Walter his father, and Robert his elder brother; and accordingly I find, he presented to Diss, in 1390 and in 1399; Philippa aforesaid levied a fine, to Alexander Walden, Sir Richard Bouchier, Knight, and others, settling these manors on herself for life, after to the said Walter and his heirs, as his inheritance. This Walter married Joan (fn. 50) daughter of Sir John Devereux, Knight; he died in 1408, and ordered his body to be buried in Henham church, leaving Joan his wife, who soon after married to Hugh Burnel, and two sons, Humphry and Walter, and one daughter named Eleanor.
Humphry Lord Fitz-Walter, his eldest son, was under age at his father's death, and was a ward of King Henry the Fifth's, who granted the custody of him to John de Beauford Earl of Somerset; the earl dying soon after, left him to his executor, Henry Beauford Bishop of Winchester, but dying before he came of age, he never was in possession of his inheritance, but it went to his brother,
Walter Fitz-Walter, who was under age, and had not possession of his estate till 1428, at which time he had livery thereof, but not of Diss and Hemenhale till 1431, when Philippa died, who had held them all this time in dower. In this year he settled them in trust on his feoffees, (fn. 51) Richard Baniard, and Simon Cistern, rector of Berningham, who presented here jointly with him; and immediately after that settlement I find a pardon passed the great seal, for the alienation of his manors of Hemenhale, Diss, and Diss half hundred, without the King's license. (fn. 52) This Walter was one of the most active men in the French wars, in the time of that victorious prince Henry V. who in the eighth year of his reign, for the great services that he had done him, gave to him and his heirs male all the lands and lordships which Sir John Cheney, Knt. deceased, held in the dutchy of Normandy, which reverted to the crown, for default of heirs male of the said John, and were of the value of 5000 scutes. (fn. 53) He was then a very young man, not being of full age till 1422, though in 1421 he was taken prisoner by the French, but soon got released; he died about 1432, (in which year the probate of his will bears date,) and desired to be buried in Dunmow priory, ordering his executors to make an arch in the wall, near his mother's grave, allowing 40 marks to defray the expense, and requested that his own, and his wife and children's bodies should be there deposited. (fn. 54) Elizabeth his wife survived him, who held in dower Hemenhale and Diss manors, with the hundred of Diss in Norfolk, the manors of (fn. 55) Shimpling and Thorne in Suffolk, of Wodeham-Walter, Henham, Leiden, Vitring, Dunmow-parva, Burnham, Winbush, and Shering in Essex; she after married to William Massey, and lived to June 14, 1463, (fn. 56) at which time she died, leaving Anne, wife of Thomas Ratcliff, Esq. and Elizabeth, (then single,) her daughters and heiresses; Anne had no issue, but Elizabeth afterwards married to
John Ratcliff, Knt. brother of the said Thomas, who was soon after summoned to parliament as Lord Fitz-Walter, and in right of his wife enjoyed all the honours and possessions of this noble family; and though we have different accounts of this matter, the escheat roll confirms it to me (fn. 57) that this Elizabeth was the wife of John, and not of Thomas Ratcliff, as is said by some.
This family, as Mr. Le Neve thinks, came first into this county in 1411, when John Ratcliff, Esq. father of this Sir John Ratcliff, married Cecily, the widow of Sir John de Herling, by which he much advanced his family. This Sir John, after he was Lord Fitz-Walter, sided with Edward IV. against King Henry VI. (fn. 58) and being by him appointed to keep the passage at Ferrybridge, which the Lord Clifford resolved to gain by surprise, was there slain, on Saturday before Palm Sunday, 1460, as he rose from his bed unarmed, with a poll ax only in his hand, in order to appease the fray, as he thought, among his own men, leaving his estate in possession of Elizabeth his wife, and John Ratcliff, afterwards Lord Fitz-Walter, his son, all which the said
John (fn. 59) enjoyed till 1493, when he was attainted of treason, and being apprehended, was brought into England with several other knights, among which was Sir Robert Ratcliff, who was beheaded, but the Lord Fitz-Walter was pardoned; after that he went to Calais, and being there laid in hold, was beheaded, because he would have corrupted the keepers, with many promises, to have escaped out of the same, intending, as was thought, to have gone to Perkyn, at that time a pretender to the crown against Henry VII. who, at the time of his attainder, seized upon all his revenues, and among them, on this manor, hundred, and advowson, together with the manor of Watton's, or Cock-street, and Walcote in Diss, both which were become members of the great manor; (fn. 60) and in 1498, the King presented here, by reason of the forfeiture and attainder of John late Lord Fitz-Walter. They remained in the Crown till Henry VIII. restored them to
Robert Ratcliff, son of the said John, who was in so great favour with that king, that he not only restored him in blood and estate, but made him knight of the garter, Lord Fitz-Walter, Egremond, and Burnel, and afterwards, (fn. 61) on the 16th of June, 1523, created him Viscount Fitz-Walter, and on the 8th of December, 1529, Earl of Sussex: he had three wives; by Elizabeth daughter of Henry Stafford Duke of Buckingham, he had Henry Lord Fitz-Walter, who succeeded him; he died at Chelsey the 28th of November, 1542, and is buried in the church of Boreham, in London diocese, with two other earls, his son and grandson, under a sumptuous monument, as appears by their inscriptions in Mr. Weaver's Funeral Monuments, fol. 635.
Henry Ratcliff Earl of Sussex, Viscount Fitz-Walter, Lord Egremond and Burnel, held his first court in 1342; he was in great favour with Queen Mary, and of her privy council; (fn. 62) (fn. 63) and by her grant, dated November 2, in the first year of her reign, had "liberty licens and pardon to were his cappe, coyf or night cappe or twoo of them at his pleasor as well in our presens as in the presens of any other person or persons within this our relme or any other place of our dominion during his life." He died at Westminster, 17 Feb. 1556, (fn. 64) leaving issue by Elizabeth his wife, daughter of Thomas Howard Duke of Norfolk, Thomas the third earl of Sussex, and Henry the fourth earl.
Thomas the third earl, in 1557, was seized of Diss, Attleburgh, and Hemenhale, Dockyng, Southmere, Warners, Billingford, Rushton. Skerning, Shedestrond, and Sturston, in Norfolk; he had two wives, Elizabeth daughter of Thomas Wriothesley, by whom he had Henry and Robert, who both died young, and Frances daughter of Sir William Sidney, by whom he had no issue, (fn. 65) who died June 9, 1583, leaving
Frances his widow this manor, and great part of the estate, for life; and at her death, to Robert Lord Fitz-Walter, his son, who died before her, so that it came to
Henry Ratcliff, his brother, who died seized the 14th of Dec. 1593, when it descended to
Robert Ratcliff, his son, who in 1621 sold it to
Frances Shute, widow, and her heirs, who (fn. 66) held a court in 1622; in 1635 it was in
John Duke, Esq. (fn. 67) of Worlingham, in Suffolk, who about 1649 left it to
Parnell and Anne Duke, his daughters, who kept their first court in 1656: this John sold the advowson from the manor.
Parnell married
Roger Pepys of Impington, Esq. who afterwards had Anne's part also, and at his death left it to
Talbot Pepys, his son, who married Hannah daughter of John Man, alderman of Norwich; she outlived him, and held the manor and hundred till 1694, when she died, and left it to
Roger Pepys, her son and heir, who is lately [1736] dead; and Mrs. Anne Pepys, his widow, is present [1736] lady thereof. (fn. 68)
Pecche's Manor, now called Heywood Hall,
Had its rise out of the capital manor; Sir Robert Fitz-Walter, who held two thirds of the hundred and town of Diss, granted one third thereof with his daughter (some say sister) Alice, in marriage, to
Sir Gilbert Pecche, Knt. lord of Brunne, in Cambridgeshire, (fn. 69) upon whose death it descended to
Sir Hammond Pecche, Knt. his son, who died in 1240, leaving, by Eva his wife, several children; Gilbert was his eldest son and heir, but this was given to (fn. 70)
Robert Pecche, his fourth son, who held it in 1286, in which year he claimed view of frankpledge, and assize of bread and ale of all his tenants. (fn. 71) It was this Gilbert, and Agnes his wife, that in 1292 conveyed two third parts of this manor to Sir Robert Fitz-Walter, so that it was again joined to the great manor, all but one third part, which they in 1285 had conveyed by fine to
Sir Richard de Boyland, and Maud his wife, together with a third part of the demeans, and 28s. per annum quitrent; and this part constituted that manor here, which is now called
Heywood-Hall,
Of which I find a fine levied (fn. 72) in 1289, by Sir Richard de Boyland, and Maud his wife, to Stephen Fitz-Walter, lord (in trust) of the great manor, who designed to join this, as his predecessor had done the other parts to that manor, in order to make it more complete, (fn. 73) but it proved of no force, for in 1314
Richard, son of Richard de Boyland, sued Robert Fitz-Walter for it, and recovered it, it having been settled on his mother before the fine was sued, to which he was not a party; and soon after he settled it upon John de Mortimer, in trust for himself and his heirs, which John is said to hold it in 1327. At Sir Richard's death it came to
Sir John de Boyland, of Boyland Hall, in Brisingham; (in which place more will be added of that ancient family;) he left only one daughter, married to
John Lancaster, of Brisingham, Esq. senior, who left it to Ellen (fn. 74) his wife, for life; then to
John Lancaster, junior, of Brisingham, Esq.; he, (fn. 75) by will proved 28th July, 1470, left it to
Elizabeth his wife, for life, and after her decease to
William Lancaster, (fn. 76) Esq. (her son) of Catywade and Brisingham, who married Elizabeth, daughter and coheiress of William Notbeam, by whom he had
Benedicta, his sole heiress, who married to Edward Bolton, about the year 1505; and by will dated 15th July, 1528, bequeathed it to
Thomas Bolton, of Saham Tony, his second son, who died seized in 1544; it was sold to
Thomas Jermyn, Knt. and William Curson, clerk, his trustee; but it continued very little while in this family, for in 1616
William Mason, Esq. and John Beseley, Gent. sold it to
William Webb, and Charles Wiseman, Gents. from whom it came to the Fishers.
Richard Fisher, Gent. being seized in 1636;
Edward Fisher, Gent. in 1662; and in 1667, I find it in
John Buxton, Gent. till 1684; and after in
Robert Buxton, Esq. of St. Margaret's, in South Elmham, who was lord in 1715; at his death it was held by
Elizabeth his widow, now [1736] dead; and
Elizabeth Buxton, a minor, their sole daughter and heiress, is the present [1736] owner.
I must observe, that in a court roll of this manor, among Mr. Le Neve's papers, in 1423, when Elen, widow of John Lancaster senior, held her first court, there were two distinct juries, one for the part of the manor in Diss, and the other for that part in Burston; (fn. 77) it was always held of the great manor of Diss, by fealty, and 5s. per annum rent, in full for all suit and service, being estimated at 8l. per annum.
Hewode, or Heywode Manor,
Was always part of Winfarthing manor, till it was separated by Henry I. who gave it to
Sir Richard de Lucy, and so joined it to Diss; he gave a third part of the hundred, manor, and market, in frank marriage with Dionisia his daughter, to
Sir Robert de Muntenei, or Mounteney; (fn. 78) and accordingly we find, in the Black Book of the Exchequer, that in the year 1161 the said Robert held of the said Richard three knights fees, sc. in Newton, a member of Stow (market in Suffolk) one fee, and in Walcote, a member of Diss, one fee, and in Sprecton (now Sprouston, in Norfolk) one fee, and in Tacolveston two fees; and in the same town, Hugh, son of Hamel, held one fee; (this afterwards was Uvedale's manor there;) of all which knights the ancestors of Richard de Luci performed ward to Dover Castle; (fn. 79) and among Richard de Luci's knights of the old feoffment, Robert de Muntenei is said to hold five fees, of which Walcote, a member of Diss, is one.
Sir Arnold de Munteney, his son, succeeded him; and in 1230 it was found that he held it of Sir Robert Fitz-Walter at one fee, as of his barony; in 1239 a fine was levied between himself and Hamon Chevere, by which he settled it on himself and his heirs. He sealed with a bend between six martlets, circumscribed Sigillum Arnulphi de Muntenie; in 1277 he settled this and Sprowston manors on
Robert (fn. 80) his son, who, in 1286, had view of frankpledge, and died seized of this manor, with a third part of the hundred and market, leaving it to
Arnold his son and heir, who claimed liberty of free warren in all his demeans, and had it allowed. (fn. 81) In 1293 he was summoned to attend King Edward I. into Gascoign, for the recovery thereof. This Arnold granted part of this manor, viz. 17 messuages, 150 acres of land, 40 acres and an half of meadow, 3s. 4d. 1q. rent, and the rent of 14 hens, and 30 eggs, to
William, his second son, and his heirs, which at William's death were, anno 1313, (fn. 82) by fine settled on
Katharine, his widow, then married to Gilbert Baliol, for life, remainder to
Dionisia, afterwards wife of Hugh de Vere, daughter of the said William, by which Dionisia it reverted to Winfarthing manor again; and being joined in the said Hugh, it hath gone with it ever since, for which reason I shall say nothing further here, but refer to Winfarthing, with which it hath so long passed.
The customs of the manor of Diss,
confirmed by the Lord and Tenants, at a General Court of Survey, there held the 13th of September, 1636, are as follow, as appear by the original, now [1736] in the Churchwardens hands.
The fines are arbitrable upon every alienation and descent; and on every death the lands descend to the eldest son, or next allied, according to the course of the common law, and are subject to such forfeitures as the common law doth direct.
The copyhold tenants may fell timber without forfeiture on the copyhold lands.
The lord's bailiff can take but one penny for each beast's poundage. The tenants can dig gravel, sand, turf, &c. on the waste, and make hemp pits on Diss Moor, and Cock-street Green.
The tenants can plant upon the wastes against their own lands and houses, by the name of an outrun.
They can also stub furze and bushes on all the wastes.
The lord hath all the strays; he hath no warren, but liberty of hawking, hunting, and fishing, in the manor; and the lords formerly have granted liberty of fishing to divers tenants; and it is returned that John Turner, Samuel Folser, Thomas Shreve, Reginald Shuckforth, and Henry Turner, have and maintain certain pits in their yards and grounds, with inlets from them to the Great Mere, as by custom they can justify.
The tenants can make steps out of their doors into the street, and stairs out of their cellars, and also they can set up booyes, or props, at their windows, and seats at their doors, according to custom.
The lord hath a market every Friday, a fair on St. Simon and St. Jude, when his bailiff takes 2d. for every tilted stall, and 1d. for every one untilted, and no more; and for the market stalls he takes either a weekly or yearly rent; but all that stand under any houses, penthouses, &c. pays the bailiff, 4d. per annum by 1d. every quarter, and no more; but all they that sell any manner of victuals pay nothing, stand where they will, and all corn, corn carts, &c. pay nothing.
As to the extent of the manor, they say that it extends from the river dividing Norfolk and Suffolk on the south, in and through a great part of the town of Diss, and into Raydon, Burston, Frenze, Shelfhanger, and Winfarthing; and that Thomas Earl of Arundell and Surrey, Earl-Marshal of England, hath a manor here called Heywood; also John Havers, Gent. a manor that extends into this town, called Raydon Hall cum Tufts; Richard Fisher, Gent. hath a manor called Heywood Hall; and Richard Nixon. Gent. Frenze manor, which extends into this town; the manor of Diss rectory, and the manors of Brockdish Hall, and Milden Hall, in Burston, extend hither. The lord of this manor hath a mansion house, in which Samuel Pethaugh now [1736] dwells, and 35l. per annum and a part of the toll-house now [1736] in decay for want of tiling, and a piece of land called Hingelswode, and a piece of marsh in Brisingham.
The advowson belongs to the lord, whose officers are a steward, a bailiff, and a heyward.
N. B. The manors in Diss give a moiety dower.
The capital manor-house, called Diss Hall, is situated at Heywode Green, which with sixteen acres three roods of land, is held by copy of court roll of this manor.
Watton's Manor, now called Cock-street,
Was very small, being held by a freeman, of William Malet, lord of the honour of Eye, in Suffolk, though it did not belong to his fee, till
Walter de Cadomo (fn. 83) (Caam or Caux) dis-seized him; this was after called Watton's from one of its lords; it continued some time in Walter's family, and was afterwards held of the capital manor.
In 1235, Ralph de Cunges, or Canz, (fn. 84) (a descendant from the said Waiter,) was lord; he held it by the fourth part of a fee: from him it came to
Richard de Cunges, who enlarged it, by purchasing more lands and rents to it of the Fitz-Walters.
In 1322, (fn. 85) Reginald le Man, of Diss, was lord, who in 1337, left it to Alice his wife, (fn. 86) from which family it came to the Waltons.
About 1420 John Watton was lord, who, before 1431, had conveyed it to
Henry Sircok, (fn. 87) for then he occurs lord; it was soon after purchased by the
Fitz-Walters, and added to Diss manor, with which, in 1493, upon the Lord Fitz-Walter's attainder, it was seized by the King, as a member of that manor, and was then called Watton's, or Cockstreet in Disce; from which time it hath been always included in the manor of Diss. The site or manor-house abuts on Cock-street Green west, and was granted, in 1494, by King Henry VII. to be held by copy of court roll, paying 4s. 6d. per annum quitrent.
Diss Rectory Manor
Hath all along gone, and now is in the rector of the parish: the custom of which is, that all lands and tenements descend to the eldest son, and the tenant cannot waste his copyhold houses without license. The fines are at the lord's will, but in all things else the (fn. 88) tenants may do as they please.
Rectors.
The first that I find possessed, before there was any institution, was
Wulketel (fn. 89) the priest, who left it to
William his son, as his lawful heir.
Bale, in his Actions of English Votaries, (fol. 98. b.) says that Pope Alexander wrote to John of Oxford, then Bishop of Norwich, that William the now parson of Diss, for claiming the parsonage of Diss by inheritance, after the death of his father parson Wulketel, which begat him in his priesthood, should be dispossessed, and no appellation admitted. From his time to 1299, when the institution books begin, I find no more rectors; nor then, till
1304, (fn. 90) 7 kal. Dec. when Adam de Waudringfield, (or Waldingfield,) priest, was instituted, being presented by Sir Robert FitzWalter, Knt.
1316, 2 non. Nov. Thomas de Couling, priest. Walter FitzWalter, Knt. Lord of Wodeham.
King Edward III. (fn. 91) by letters patent, dated the 2d of July, presented Martin de Ixning, (fn. 92) one of his chaplains, to this church; he had several ecclesiastical preferments given him, both before and after, as the deanery of Bocking in Essex, the custody or mastership of Maidstone college in Kent, and of Dorchester hospital in Salisbury diocese, and a canonry of St. Stephen at Westminster. I take i, that it was a presentation only, for the turn when void, if he lived so long, and was obtained by the King from the Fitz-Walter family. However certain I am, that he never possessed this living, for Thomas de Couling (fn. 93) did not resign it till
1350, in which year, sc. the ides of February, William Baltrippe, priest, was instituted, John Fitz-Walter, Knt. Lord of Wodeham, being patron.
1361, 2 July, John de Berking, priest; ditto.
1496, 30 Aug. Hubert Tailour de Thorley, priest. Walter FitzWalter, Knt. he is often in evidences called Hubert de Thorley.
1424, ult. Feb. He resigned to Richard Drurywal, Walter FitzWalter, and Wodeham, Richard Bainard, and Simon Cistern, rector of Berningham, his feoffees.
Edward Atherton, (fn. 94) priest, who was clerk of the closet to King Henry VI. and by him, December 26, in the seventh year of his reign, presented to this rectory; he was succeeded in 1457, in which year he died, by
Richard Donyngton, priest, instituted 16th November. King Henry VI. as guardian to the Lord Fitz-Walter's heirs, being patron.
1452, 7 Oct. Richard Tateshale, A. M. priest, by Donyngton's death. John Ratcliff, Esq.
1465, 11 Feb. Tho. Motyng, (or Multing,) at Tateshale's death. Eliz. Fitz-Walter. This Motyng was either master or fellow of Metyngham college, where he resided much, as I find in the accounts of the said college, (MSS. T. M.)
1490, 16 April, John Wimbuche, (or Wimburle,) S. T. D. on Moutyng's death. John Lord Fitz-Walter.
1598, 16 Aug. Peter Greves, priest, presented by King Henry VII. by reason of the forfeiture and attainder of John Lord Fitz-Walter: he was succeeded by
John Skelton, the King's orator and poet-laureat, whose institution occurs not, but I find him rector in 1504, for in
1529, 17 July, Thomas Clerk was instituted, on the death of the said John, at the presentation of Robert Lord Fitz-Walter, &c. Clerk died in
1545, And William Browne succeeded, being presented by Thomas Browne, Gent. who had this turn by grant from Henry Earl of Sussex. This Browne was deprived for being married, both of this and Stonham Jarnegan, and in
1554, (fn. 95) 6 May, the Right Rev. John Salisbury, Bishop of Thetford, suffragan to the Bishop of Norwich, was presented by Henry Earl of Sussex, to this rectory, which was void by the deprivation of the last incumbent; (fn. 96) he was Bishop of the Isle of Man, and held in commendam the deanery of Norwich, the archdeaconry of Anglesey, the church of Thorp on the Hill, in Lincoln diocese, and the rectory of Diss, by license from Archbishop Parker, dated anno 1570; he was rector for some time of Lopham, and several other parishes in this county: he died at Norwich, and is buried in the middle of St. Andrew's church there, being succeeded by
John Hilton, who was instituted March 24, 1572, Thomas Earl of Sussex being patron; he died in 1587, and on October 23, in that year,
John Reeve, A. M. was instituted, at the presentation of Frances, then widow of the said Thomas; but he had no peaceable possession: for Henry Earl of Sussex, brother to Thomas, who was husband of the said Frances, brought this action against both patroness and incumbent, and ejected him in 1589; and on May 17, in that year,
Richard Cox, A. M. was instituted, as on the death of John Hilton, the last legal incumbent, at the said earl's presentation, in which he is styled Earl of Sussex, Viscount Fitz-Walter, Lord Egremond and Burnell, and captain or governor of the isle and town of Portsmouth. The dispute seems to have been this, that though the said Frances held the manor for life in jointure, yet the advowson, as the earl would have it, was not in the settlement. But it ended not here; Frances continuing her claim, Cox was ejected, and Reeve declared incumbent, but he remained so but little time, for Nov. 17, 1591, Cox was re-instituted, and very soon after ejected again, and no incumbent declared, nor none presented, so long, that it had laid from the latter end of 1591, to Dec. 1593, when one Wm. Goddard, A. M. was presented, but denied institution; whereupon
Cox, to make himself sure, and end all disputes, took the broad seal, it being lapsed to the Crown, and obtained Queen Elizabeth's letters patent to void all other presentations, on which he was instituted Dec. 2, 1593, and held it to 1596, when he died; and on Nov. 12, in that year,
John Taverner, preacher of God's word, (fn. 97) was instituted, at the presentation of Robert Earl of Sussex, in full right; all other claimants whatever being now dead, he continued rector to
1613, in which year, Dec. 23, (fn. 98) Wm. Withers, A. M. was instituted; he died in 1647, when
Edward Palgrave, B. D. succeeded, the patron being Richard Prettyman of Griston, Gent. It was not long before he was ejected by the unjust proceeding of those rebellious times, and his living given to one
Richard Moore, A. M. who signed the attestation of the ministers of this county in 1648, as Calamy informs us in his Addenda, Vol. 1. p. 481; but he was soon displaced, and it was taken by one
John Hobart, who held it by usurpation some time, but was after thrown out by Mr. Moore, who held it to
1662, when he was ejected, and Edward Bernard, clerk, instituted upon his deprivation, at the presentation of John Hobart, Esq.; he held it to 1678, and then died, being succeeded by
John Burlington, A. M. at whose death, in 1695,
June 1, Edward Bosworth, A. M. was instituted at the presentation of William Bosworth, clerk, patron for this turn. in
1713, John Briars, A. M. was presented by William Burlington, of Diss, Gent. the present [1736] patron; upon the death of Mr. Briars, the said William, in
1729, presented the Rev. Mr. Edward Bosworth, who is now [1736] rector.
Diss Rectory
Is in the deanery of Redenhall, archdeaconry of Norfolk, and diocese of Norwich, being (fn. 99) still charged with first fruits, and the following annual sums, for synodals and procurations; it hath a good rectoryhouse, and convenient out-houses, with 12 acres of glebe adjoining to it, all which abut south on Diss Moor.
King's Books. (fn. 100)
Tenths.
Synodals.
Archd. Procur. (fn. 101)
Norw. Taxa.
33
6
8
3
6
8
0
3
0
0
7
7
1q.
55 marks.
Lincoln Taxa.
Acr. Glebe.
58 marks.
12
0
0
In the dean and chapter's book (fn. 102) called Norwich Domesday it is said, that the rector then had a mansion-house much in decay, with another house which was formerly the vicar's. It may seem odd that here was ever a vicar, but we are to remember, that often in those times (fn. 103) vicars signified no more than curates, and were removeable at the rector's pleasure; indeed, when churches were appropriated to monasteries, and the religious were forced to set out a portion of the glebe and tithes for the maintenance of a vicar, such a one is called a perpetual vicar, made presentative and institutive; but there are no footsteps of any institution to the vicarage of Diss; not but that the rector might, with the consent of the bishop and patron, have at any time created a vicarage, and made his own share a sinecure, as was done at East Dearham, Terrington, &c. and this, since the Council of Lateran; nay, in the diocese of St. Asaph there are such separations of tithes made, and vicarages erected, as low as King Henry the Eighth's time.
Customs of the Rectory.
In the time of King James I. there was a long suit about the customs of this rectory, and at length it was ended, and an exemplification under seal passed Nov. 21, 1610, in which it was thus acknowledged on all sides:
(fn. 104) That the rector is to receive in kind the tenth sheaf of all corn bound up:
And of all corn not bound up, the tenth heap, ready heaped.
Of pease, he is to take the tenth stetch.
For the fall of every calf, lamb, or pig, under seven, he is to receive one halfpenny; but if there be seven, he is to take the seventh, and to pay to the owner three halfpence, because there lacks three of ten; if there be eight, one penny; if nine, one halfpenny; if ten, nothing.
For the fall of every foal, the rector to receive one penny.
Every seventh goslin, allowing one farthing for each goslin wanting of ten, and taking one farthing for each goslin under seven.
The tithe eggs are due in kind.
Tithe wool, every tenth pound.
Every tenth bate or sheaf of hemp in kind.
In lieu of tithe wood, the rector is paid one penny every Sunday, house after house throughout the town; for when holy bread was used, three pennyworth of bread was brought to the parson every Sunday, of which he distributed to the poor two pennyworth, and the third penny he had to his own use, by the name of harthage; and at the time of taking away holy bread, the inhabitants paid as above for wood and harthage.
In lieu of tithe hay, the rector receives two-pence per acre for all mowing ground, by the name of fenage.
For every milch-cow, he receives one penny per annum by the name of lactage.
For every orchard and garden plot, he receives one penny per annum in lieu of its tithe.
For every hive of bees, one penny per annum, except it be the first year they swarm, and then nothing.
For every gast heifer, steer, or colt, feeding from one year old to three, one penny.
The tithe calves are to be paid at seven weeks old, and not before; pigs at five weeks old; chickens at a month old; lambs and goslins at Lammas; eggs are due at Easter; herbages, lactages, and fenages, to be paid between Lammas and Christmas.
(fn. 105) By the church-wardens' book it appears, that upon every burial in the church they receive 6s. 8d. for breach of the pavement. In 1571, Richard Fowlser paid it for his wife's burial, and Nicholas Estowe did the same.
The church here is dedicated to the honour of the Virgin Mary, (fn. 106) and is a regular building, having a square tower joined to its west end, with six bells, a clock, and chimes; the nave, the two isles, and two porches, are leaded; the chancel is tiled; between which and the nave hangs a saint's bell, on which is this inscription,
Sancte Gabriel ora pro nobis. (fn. 107)
The vestry, which was on the north side of the chancel, is down; at the end of the north isle is a chapel, formerly belonging to Corpus Christi Gild; opposite is another, belonging to the brothers of St. Nicholas's Gild; but upon their incorporation, about Henry the Sixth's time, when they built St. Nicholas's chapel, they were forsaken by them, and left to the soul priests of the parish, who sang in them until the reformation: the organs used to stand between the first of these chapels and the chancel. The roofs of the nave, chancel, and two chapels, are stained with red and white. This building, now standing [1736], was without doubt built by the Fitz-Walters, (fn. 108) whose arms are often cut on the south porch, in stone, and were formerly in many of the windows, (see p. 7,) as were the arms of Wingfield, and De-la-pole: in other windows Fitz-Walter impales Ufford; in another were the arms of England and France quartered, and St. George; as also Bury Abbey arms; and in another shield the East Angles, all which are now lost, except Fitz-Walters.
In an upper north window of the nave is a man in a blue robe, with a red mantle, kneeling on a cushion, bidding his beads, and saying,
Jesu Christe Dei miserere mei.
Opposite, (in the same window,) a woman in the same posture, saying,
Mater Sancta Dei ora pro—
There being no arms nor inscription, we know not who they were designed for.
In the south isle is an old inarched monument, with a coffinstone lying by it; but there are no arms nor inscription. In the north chapel was such another stone, which being taken up to make a vault for Mr. William Burton, they found an entire skeleton; by its head was a silver chalice: this in all probability was some priest; it was buried again in the coffin. By this stone stands a fine altar tomb of black marble and Portland stone, on which is this inscription in gilt letters:
Underneath this stone lieth interred the body of Mr. William Burton, late of Cock-street within this parish of Diss, who was a person of known probity, justice, integrity, and charity, and very much valued for his true and hearty friendship to his neighbours; he departed this life the 14th of February, anno Dom. 1705, in the 59th year of his age; and by his last will and testament, bearing date the 26th day of December, 1705, which was proved in the Bishop's court in Norwich (amongst other charities), did devise, that his executrix should purchase lands to the value of one hundred pounds, (fn. 109) and that the same should be settled upon two trustees, to the intent that this tombstone, and the vault, should by the churchwardens of Diss be constantly kept clean, and in good repair; and what remains of the yearly profit of the estate, when purchased, or of the interest money, till the purchase be made, should upon Christmas day, yearly, for ever, be disposed of by the churchwardens and overseers of the poor for the time being, to such of the poor housekeepers within this parish, as they, or the major part, shall think fit; with a condition or proviso in the same will, that if this stone, or the vault underneath it, should be broke open, other than for the interment of Mary his wife; (fn. 110) or if the churchwardens neglected to keep the same clean, and in good repair; or to keep an account in their books how, and to whom, the money shall be yearly disposed of, then the payment of the charity to Diss is from thenceforth to cease, and to be paid to Roydon, for the like uses, and under the like conditions; and if Roydon make default, then in like manner to Brissingham.
Against one of the north pillars in the middle isle is fixed a neat small monument, on the top of which, in a shield,
Deynes impales sab. three boars heads coupee or; and this inscription:
Lector, Recede paulo Hæc dum tu vides, Conculcas Cineres venerandos, Sub pedibus jacet corpus humile Animâ humiliori prius hinc ascensâ, Martha Henrici Deynes, Gen. Uxor, Stirpis, Sexûs, Pietatis, Ornamentum, Quæ dum vivens, modestè silere solita, Jam mortua adhuc loquitur, Obijt Maij 30 Anno Ætatis 23° Dni. 1661.
On the same pillar another small monument is fastened, on which, Juxta hoc monumentum Jacet Corpus Rici. Deynes, Fil. Henrici et Marthœ, Gen. Qui obijt 25 die Julij Anno Dom. 1712. Etat. sue 56.
All the stones are robbed of their brasses; on one of which in the chancel is the impression of the chalice and wafer, under which is a priest buried.
Two black marbles in the chancel have the following inscriptions: the arms are, a lion rampant impaling a cross floree between four trefoils; crest, a plume of feathers.
Here lieth the Body of Edward Bosworth, late Rector of Thelveton, who departed this life the 14th of June 1714, aged 40 years. And also Deborah his wife, who was one of the daughters of Samuel Manning, Gent. deceased, who died the 13th of September, 1708, aged 28 years.
On the second, Bosworth's arms and crest as before.
Here lyeth the Body of Edward Bosworth, late Rector of this parish, who departed this life the 18th Day of January, 1713, aged 65 years.
In the churchyard, a large black marble lies flat on the ground, on the south side, by the chancel door. A chevron ermine, between three eagles with double heads, displayed.
To the pious memory of Murgaret Daughter of Mr. Thomas Howching Rector de Palgrave virtuous wife of Mr. Henry Shuckforte, indulgent mother of Thomas Margaret Henry Samuel and Sarah their Children she departed this life the 13th day of October 1692 aged 70 Yeares.
Also to the pious memory of Thomas their Eldest sone who departed this life the 2d Day of March 1603, aged 20 Yeares.
On an altar tomb much decayed.
— Thomæ Baylie Generosi—tatem Probitatem Charitatem conjugalem et parentalem Affectum vere spectabilis, Qui cum Prudentia, Fortitudine, Dexteritate, et indefessa in Rebus Opera feliciter gestis, Deo Patriæque diu inservisset, de hac Villa optime mæruisset, Et ad Invidiam usque claruisset, Annorum jam satur bonorum cum Luctu obijt, Jul. 18. Anno 1640 Ætatis suæ 76.
Observantiæ Et Amoris ergo posuerunt Executores, C. R. P. M.
Here lyeth interred Anne Baylie Wife of Thomas Baylie Who after shee—him 52 Yeares departed—Anno 1638.
Near this Place—Bodies of Thomas Baylie, the Younger and Martha Baylie his daughter dep. 1619. 1620.
On another altar tomb. Crest, a garb. Arms, on a cheif an eagle displayed:
Here under lyeth the Body of John Harrison, Gent. who departed this Life the 18 Day of May Anno 1665, and Mary his Wife who departed this Life the 1 Day of April An. Dom. 1673.
On an altar tomb by the south isle, Sheriff's arms, viz. az. on a fess ingrailed between three griffins heads erased or, a de-lis between two roses gul.
Thomas Sheriffe (fn. 111) Gen. et Artium Magister, Sub Tumulo a Laboribus Hic repositus quiescit.
decessit April 13, Anno Ætatis 61. Dom. 1669.
Here also lyeth the body of Charles Kett, Gent. who departed this Life the first Day of June 1696. And Charles Kett his Son who died in the same Month being about two Yeares of Age.
On another altar tomb, Sheriff's arms as before.
Conditur hic Johannes Sheriffe Charissimus Apollinis Filius Vir vere probus, et civilis Officij non ignarus, omnibus benevolus ob Peritiam in Re medicâ non vulgarem Ditioribus acceptus, ob promptum Animum tenuibus opitulandi Quot Diebus quæsitus, defunctus utrisque ploratos, obijt Prid. Id. Jul. Anno Dom. 1698.
Ætatis suæ 56.
On another altar monument:
Coggeshall, arg. a cross, between four escallops sab Crest, a back couchant sab. attired or.
Here resteth in hopes of a joyful Resurrection, the Body of William Coggeshall, (fn. 112) Gent. Late of Diss, born at Stretford In Suffolk, who departed this Life August the 9th, 1714, aged 48 Years.
And under the North Side of this Stone, lieth John, Son of William Coggeshall, Gent. And Elizabeth his Wife, who departed this Life April the 13th, 1706, Aged 6 Years.
On another altar tomb. Here lieth the Body of Elizabeth Burroughs, Relict of John Burroughs, Gent.
And Daughter of Mr. Samuel Cann, late of this Parish, who departed this life, Dec. the 2d, 1711, in the 59th Year of her Age.
Here also lyeth the body of Hugh Cann, Who departed this life The xxii. of Febr. 1688, Ætatis suæ xxviij.
Here are three coffin stones; the first for, William, Son of Robert Camell, and Elizabeth his Wife, born at Diss the 11th of April, 1634, obijt 29, Jan. 1702. Margaret Wife of Robert Camell, Gent. died 24 Dec. 1685.
Mary 2d Wife of Robert Camell, Gent. died 22 May, 1705.
Robert Camell (fn. 113) Gent. obijt xvi°. Die Novem. Anno Dom.
MDCCXVI°.
The steeple hath a passage through its arches, which serves for a west porch; on a small marble fixed in the wall is this, Near this Place lyeth the Body of Thomas Shreeve, Who departed this Life The 11th Day of February, in the Year Of our Lord 1721, Aged 34 Years.
Sheriff, impaling a chevron between three roundels. On an altar tomb, M.S. Elizabethæ Johannis Sheriffe, hujus Oppidi dudum Incolæ, necnon Medici inclyti, Viduæ pientissimæ Quorum, Sobolis Pietas, Parentum Moribus imbutæ, hoc Monumentum, poni voluit, Illa autem, pacificâ spe Beatæ Resurrectionis, ad Vitam sempiternam, Naturæ Debitum solvit.
Anno Ætatis 46 Nov. v. 1702.
In the south porch is a marble, thus inscribed:
Here lieth the Body of John Petit, (fn. 114) who died the 21st of September, Anno Dom. 1727, aged 71 Years. Also near this Place lieth the Body of Abigail his first Wife, who died the 17th of March, Anno Dom. 1708, aged 56 Years:
See here our Bodies are laid in Grave, Christ Jesus died our Souls to save, We commit both Soul and Body to his Protection, In hopes of a joyful Resurrection.
Burials Taken From The Register.
1558, 10 Feb. Sir Thomas Johnson, priest. (He was the last soul priest here.)
1579, 30 June, Thomas, the son of parson Crabb, of the plague. (The plague was here this year, 56 persons died of it.)
1613, 22 Dec. John Travenour, clerk, buried.
1626, Sussex, son of William Leak, Esq. 15th Sept.
1475, John Hungir, chaplain, buried in the church; he was a benefactor to Corpus Christi Gild, and to St. Peter's Gild at Palgrave. (R. Gelour.)
1414, 28 Sept. (fn. 115) Stephen Cowper was buried at Diss, and gave his tenement called Cheppys, in Diss, to Thomas his son, on condition that he and his heirs for ever should, out of the said tenement, keep a lamp burning in this church, in time of service, on all holidays, before the crucifix, and also his anniversary every year.
1494, (fn. 116) Ric. Edon de Diss, buried there: I will that the (town) village of Diss have my house and land in Sturston, (except my pasture at Overgate-went, and half an acre and a rood at Weteland-went,) and also my meadow in Skole, and half an acre at Sondewey there, and one acre and a half in Broome, for ever, on condition that the annual profits thereof be applied to pay the common fine (i. e. the lete fee) of the town of Diss for ever, and that they annually keep my obit for ever, for the souls of me and Agnes my wife, of Henry Edon and Margaret his wife, of Robert Avelyn and Emma his wife, and of Henry Clerk, and of all benefactors, 4d. to ryng; 3s. 4d. (pro certitudine) for a certyn.
1497, Sir John Dowe, buried in our Lady's church here, gave x. marks for a silver bason; to Sir John Peny, Sir John Colop, Sir John Pepys, and Sir William Thonder, to each 6s. 8d. to bear him to church and pray for his soul; and to the parish priest the same; and a legacy to the tabernacle of St. Nicholas in the church. (fn. 117)
1504, (fn. 118) John Herold, parson of Sterston, gave two bushels of wheat and two bushels of malt to Corpus Christi Gild, and the same to St. Nicholas's Gild, and to the priest's service in the same town, 6s. 8d. (This was to the priest that daily said Jesus mass, in one of the chapels in this church.)
1504, (fn. 119) Margery Cowper, buried in the church before the rode awter by her husbonde, to the high altar 6s. 8d.; to Corpus Christi Gild, 20d.; to St. Nicholas's Gild, 2s.; to the Gild of St. Nicolas my gretest cadern (caldron) and an ale tubbe. "I will myne executors pay the money I promysyd to the purchase of the church [this was towards Framlingham lands.] Item, to Thomas myne son, Mil Close to ringe the yereday for me and myne husband, so long as it shall please the said Thomas; but never the lesse, I constrayne him not to do it, but at his awn voluntary will be it done."
Witnessed by master John Skelton, laureat, parson of Disse, and Sir John Clarke, sowle priest of the same town; proved 6th Mar. 1504.
1505, (fn. 120) John Prikke, of Disse, sener, buried in the church of the Blessed Virgin Mary, in Diss: he gave towards the purchase of lands in Framlingham, 20s. per annum until the purchase is completed; to the Gild of St. Nicolas the bishop 6s. 8d.; to the Gild of Corpus Christi, 5s. He founded an obit for two years in the church, and gave 16 marks to the priest for it; to repair le fowle slothe [foul slough] between the pightell of Thomas Shreeve and Margery Cooper, towards Reydon, 6d.; to repair St. Spinus in Disse church, a silver spoon. Witness John Collop, chaplain; proved 25th Maij, 1506.
1506, (fn. 121) 2 Feb. proved 14th Ap. 1507. John Clarke; he ordered his executors to pay to the purchase of Framlingham, quarterly, to each of the two Gilds, 8d. He left money "to a pylgrym, a priest, to be in prayer and pilgrimage at Rome the whole Lent, there to pray and syng for me and myn children, my fader and moder, Robert and Cate, John Kew and Maut, Steven Brightled, and John Payne, the which I am in dett to."
1512, (fn. 122) Thomas Cowper, buried in Disse church. "Item, I wyll that my closen called Chepys, and the Mylleclose, shall find the lamp with, for the rood, and the certen, and the yerday, for the soulys of Stephyn Cowper, and Margery his wife, Thomas Cowper, and Agnes his wife, and all our children, for whom a priest shall be found to sing, lx. yers of my londs in Harleston."
1514, (fn. 123) Thomas Purchase, alias Spicer, of Diase, buried in the church there, gives Margaret his wife, for life, and after to Thomas his son, a medow in Diss, called Mekill Close, with a house on it, on condition to keep his anniversary yerely for evermore in the church, that is with 11s. 4d. to be given to three honest priests, and in other deeds of charitie and ryngyng, to pray for my soul, and the souls of friends and benefactours.
1563, John Rivet of Diss, 25th Sept. buried in the steeple porch; he gave a surplice: to repair the Market-street pavement, 20s.
Some of the lands that were settled on the soul priests, and to maintain the lamps, &c. (fn. 124) were seized by Edward VI. in 1547, and were granted with divers others to Roger Townsend, Knt. and some to others.
Soul Priests Of Diss.
1487, Sir John Dobbys, Sir William Alred, and Sir John Collop.
1490, William Bokynham; 1504, Sir John Clerk.
1536, Sir Reginald Wotton, and Sir Roger Birde.
1546, Sir John Collet, and Sir Dobbes; their stipends were 5l. 6s. 8d. per annum each.
At the Reformation, the church plate was sold to Henry Earl of Sussex, August 15th, 1546, at which time he gave the inhabitants a bond for 20 marks for it; and after this I find a letter from the same earl, dated at his manor of Attleburgh, July 25th, 1587, (fn. 125) directed to the chief inhabitants, signed by him, Your lovyng and assured good Lorde, (as he calls himself,) desiring them, that as he had already received part of their town plate, that he may have the nay (as we call it) of such portion more, as shall be sold, at a reasonable price, which shall be paid them, by warrants directed to his bailiff, out of his manor of Diss; at the same time intimating, that as they do by him in this affair, they may expect he should do to them and theirs. I never could meet with an account of the plate, but do not doubt but that it was fine and valuable, else so great a man as the earl would never have thought it worth his while to trouble himself about it. I find (fn. 126) that they sold all so far, that in 1572 they had only one cup of 23 oz. wt. There is now [1736] belonging to this church, a chalice, a cup, two silver dishes, a small plate, a spoon, and a silver-hafted knife and fork.
This place is said to have produced the following writers and remarkable men:
Ralph de Diceto,
Dean of St. Paul's and a great benefactor thereto, was a very learned man, and a great author; some of his works are printed: he lived in the time of King Henry II. of whom more may be seen in Newcourt's Repertorium, and in Sir William Dugdale's History of St. Paul's, 2d ed. p. 10, where by mistake (as Le Neve says) it is called Disca, in Suffolk; though in page 501 it is called Disce. (fn. 127)
Was sacrist of St. Edmund's Monastery at Bury, duly elected; but he continued so but four days, having so great fear upon him that he should not discharge his office well, that all that time he could take no rest, and therefore petitioned Abbot Samson that he might resign, who consenting thereto, Robert de Gravely was chosen in his place.
Born here, was a Carmelite friar at Norwich, one of the most ignorant of all that convent in his youth; at length he turned the reverse, continually applying himself to gain knowledge and learning, in which he so much profited, that he took his doctor's degree in Cambridge, with the utmost honour. He was afterwards confessor to John Duke of Lancaster and Acquitain, King of Leon and Castile, and also to Constance his queen; (fn. 130) and a great stickler for Pope Urban, and the other popes, that were by him and his faction named the Anti-papes, of whom he obtained, through the duke's favour, certain faculties, to be distributed to such as would pray, and pay for them, of which one was, to make all those, whom he thought good, the pope's chaplains, according to form of law, and the custom used in the court of Rome; and because such as obtained this favour enjoyed great liberties, (viz. to hold as many ecclesiastical preferments as they could get, &c.) many were glad to give largely to be so preferred. Another bull gave him power to create fifty doctors, and as many prothonotaries; to reconsecrate such things or places as had been profaned; to legitimate bastards, and such like. In 1587 he was made the pope's legate a latere, to preach up the crusade against the anti-pape's faction, granting indulgences to all those that helped or went to those wars, in as ample a manner as if they went against the common enemies of religion, the Turks: this he did in Urban's and Pope Bonniface the Ninth's time, with success, and that not in England only, (fn. 131) but in Castile, Portugal, Acquitain, Leon, Navarre, Gascoign, and several foreign parts; (fn. 132) at last he returned to his monastery, in which he died, and was buried August 14th, 1404, near the high altar of their church.
A friar preacher, was confessor to King Henry V. with whom he went to Caen in Normandy, in the sixth year of his reign, where the King hearing of the holy life and frequent miracles of one Vincent of Arragon, a friar preacher, he sent this William to him, who brought him to the King, of whom he was honourably received, anno 1417.
John Skelton, Rector of Diss,
Was a pleasant merry poet, (fn. 134) so much esteemed for his oratory, as well as poetry, that he was made poet laureat and King's orator. (fn. 135) He flourished in the times of King Henry VII. and VIII. was rector, and lived here in 1504 and 1511, (fn. 136) as I find by his being witness to several wills in this year. I take it that Skelton was not only rector, but a native of this place, being son of William Shelton, and Margaret his wife, whose will was proved at Norwich, Nov. 7th, 1512, [Regr. Johnson.] That his name was Shelton or Skelton, appears from his successour's institution, viz. "1529, 17 July, Thomas Clerk, instituted on the death of John Shelton, last rector. (fn. 137) And indeed, though the late Bishop of St. Asaph, in his notes to me upon this Hundred, observes, that Bale, Wood, &c. make him to have been born in Cumberland; and though one of both his names was admitted to the reading of the decretals, and seems to have been beneficed in Somersetshire, yet he much doubts whether it was the same with our poet, though he was an Oxonian, laureated in that university, ordained deacon April 14th, 1498, and priest the 8th of June following, by Thomas Savage, Bishop of London, "[Johannes Skelton, poeta laureatus, London dioc. ad titulum Monasterij de Gracijs juxta Turrim London, ordinatur Diac. per Thom. London, Ep. 14 April, 1498, Presbit. 8 Jun. sequen. [Regr. Savage Ep. Lond.]" Will Caxton, in his preface to his translation of Virgil's Æneids, printed in 1490, hath this; "I pray mayster John Skelton, late created poete laureat in the Universite of Oxforde, to over see and correct this sayd Boke."
Mr. Le Neve says, that his institution does not appear in the books; which is true, for often those that were collated by the pope had no institution from the bishop, many instances of which in those books occur; but it is certain, from abundance of records and evidences that I have seen, that he was rector several years. Erasmus himself gives him this character in his letter to King Henry VIII. that he was the light and honour of the British learning. (fn. 138) He was scholar enough, and no bad poet, unless for himself; for being addicted too much to satire, he created three such enemies as ruined him, both in reputation, liberty, and estate; William Lilly, the Dominican friars, and Cardinal Wolsey; the first of these was that great schoolmaster, the author of our Latin Grammar, upon him he reflected as a bad verse maker, to which Lilly replied,
Skeltone, dum tibi parare famam, Et doctus fieri, studes poeta, Doctrinam nec kabes, nec es poeta.
Whilst, Skelton, thou to get esteem, A learned poet fain would seem; Skelton thou art, let all men know it, Neither learned, nor a poet.
The Dominicans were very obnoxious to his satirical pen, for their vices, and he could not forbear exercising his wit upon them; but they, who would bear no serious reproofs, would much less endure his poetical scoffs; whereupon they stirred up Richard Nix, then Bishop of Norwich, to call him to an account for keeping a concubine, (though we ought to observe with Bale, that she was his wife.) for which the bishop suspended him from his benefice. But these were not his worst enemies, for the cardinal (fn. 139) it was that completed his misfortunes. Our poet having inveighed against some of that great prelate's actions, and charged him with too much truth, he prosecuted him so hard for it, that he was forced to take sanctuary in Westminster Abbey, where Abbot Islip treated him with much respect in his confinement, in which he died, June 21st, 1529, and was buried in the chancel of St. Margaret's church, Westminster, under a stone, with this epitaph;
Johanes Skeltonus, Vates Pierius, hic situs est.
He foretold Cardinal Wolsey's downfall; and being charged with keeping a concubine, and having several children by her, he said, in his conscience he ever esteemed her for his wife, though he did not declare it, because fornication in the clergy was thought a little sin, and marriage a great one.
Mr. Wood, in his Athenœ Oxonienses, tells us, that "the generality saw that his witty discourses were biting, his laughter opprobrious and scornful, and his jokes commonly sharp and reflecting." His character may be seen at large in Bale (fn. 140) and Pitts, (fn. 141) where there is also an account of some of his works, (fn. 142) most of which were published this year. [1736.] He wrote also a poem in English, called the Ymage of Ypocresy, being a bitter invective against the monks and friars, and some of the great men of that age: Mr. Le Neve says that the manuscript was in his own hands, and that he had it out of the Ashwell-Thorp library, and that it was allowed to be Skelton's own handwriting; it now [1736] belongs to Mr. West, who purchased it at Mr. Le Neve's auction.
JOHN BRIARS, A. M. Rector of DISS,
Was chaplain to Charles Bishop of Norwich; he published
A Sermon preached at Palgrave in Suffolk, at the first meeting of the gentlemen and clergy, for encouraging the charity school lately set up there, on Phil. iv.; 17 edit. Lond. 1711.
And also a pamphlet, entitled, the present Behaviour of Mankind inconsistent with the true Spirit of Charity, which alone can prove available to put an end to our unhappy Divisions: being a discourse on the 13th chapter I Cor.
And several poems without his name, inserted in divers miscellanies. He was also rector of Billingford by Diss, where he was buried, Jan. 1st, 1728.
St. Nicholas's Chapel.
Besides the parish church, there was a free chapel dedicated to the honour of St. Nicholas the bishop, which was built about the time of Henry V. by the brethren and sisters of St. Nicholas and of Corpus Christi Gilds, which then were consolidated. (fn. 143) It seems, by the evidences and wills that I have seen, as if these two gilds were ancient, mention being frequently made of them in the time of Richard II.; upon their joining together, it shews as if they were rich at that time, for they soon built this chapel, and began a fund to purchase land sufficient to endow it; but though they joined their common stock, yet each, to their dissolution, had a priest that separately belonged to each of them; and all gifts were given as to separate gilds; and the brethren and sisters of each were severally admitted and enrolled. The gildhall was common to them both, being the same that is now standing at the south-east corner of the churchyard, which was granted to the inhabitants, and is now used for the charity-school house. (fn. 144) It was at that time well furnished for the merry meetings of the brethren and sisters of those gilds, for I find that, in 1575, here were kept the standard scales and weights for the market; that there then was left to the use of the town, in this house, by which we may conjecture what jolly doings there had been formerly. Their chapel stood in St. Nicholas's-street, exactly where the house now [1736] stands, between the street that leads down to the steeple, and that goes on the right hand to the market-place, the chapel yard extending cast to the blacksmith's traverse, and no further. This, in the second year of Edward the Sixth, suffered the fate of all other free chapels, being then dissolved; from that time it stood in a decaying condition, and was in the Crown, by virtue of the act, until June 18th, 1584, at which time the Queen granted "All that chapel with the appurtenances in Diss, in the county of Norfolk, now in decay, commonly called St. Nicholas's chapel, which was formerly used for the celebrating masses, and other superstitious uses," to William Croft, and John Hallyet, by her letters patent dated at Westminster, the day and year aforesaid, all which they were to hold to them and their heirs, of the Queen and her successors, as of her manor of East Greenwich in Kent, by fealty only, in free soccage, and not in capite, or by knight's service, paying 3d. into the Exchequer; they held it until 1595, and then sold it to Henry Cullyder, butcher, of Diss, and Robert Haull, of Palgrave, notary publick, and they, the year after, sold it to William Chambers, of Diss, blacksmith; now [1736] it is in the possession of Jonathan Walpole.
1 Caldron.
4 Platers.
1 Brass Pot.
46 Mease of plates.
5 Spits.
40 Mease of dishes.
2 Bowls.
40 Mease of trenchers.
1 Ladle.
9 Dozen of spoons.
2 Trewets.
4 Cups.
20 Salts.
6 Table cloths, &c.
The Town Lands.
This town hath an estate at Framlingham, in Suffolk, which (as I am informed) is now [1736] let at 56l. per annum. It was purchased of William Knights of Great Glemham, and Robert Aldred of Brusyerd, anno 1500, by the fund that the brethren of St. Nicholas and Corpus Christi Gilds had made; which was, that every brother and sister should pay a certain sum every quarter into the gild chest, to be kept until it should amount to a sum sufficient to purchase lands to endow their stipendiary priest. This was so generally approved of, that few died here without leaving, some more, some less, towards this purchase; and the chief inhabitants subscribed to it, though they were not brethren; nay, several left money to be annually paid by their executors to it for years after their deaths. This by degrees raised enough to buy more than they at first intended; but yet they laid out more than at that time they had, for they bought no less than eighty acres of freehold ground, called Coldhaugh, alias Cowle-hall, in Framlingham; and Thomas Cowper, of Diss, rafman, Edward Cooper, John Lowdale, and Thomas Folser, of the same, were infeoffed therein: they in 1508 infeoffed Thomas Shardelowe and fourteen more and by an English schedule annexed, declared the uses of the feoffment, viz. "that a bailly or officer, by them or the moste part in nombre of them appointed, shall take and perceyve the yerly profites of the seide londes and tenements, and other the premises comprised within the said deed, therwith an honest and govenable seculer preest, by the moste parte of the cofeoffers to be named, hired and waged competently, yerly to synge or seye masses and other devygne service, for the sowles of the brethern and sistern of the gildes and fraternities, of Corporis Christi and St. Nicholas the bishop, in the parish churche of Disse, within the counte of Norff. by the space and terme of lxxxxix. yeres next ensewing the date of the seide present dede, and at the end of the seid lxxxxix. yeres the seid feofees their heirs and assignes, and all maner of persons that then shall be lawfully seased, or infeoffed in the premises or ony of them, at and for suche price as they or the most part of them in nombre, canne agree, shall selle alle and every of the premises with the appurtenaunces, and with or for the mony thereof or therefor comyng or growying, shall fynde annuelly, an honest govenabill seculer preest, to synge for the sowlys aforeseid, or ellis with the seid mony or londs or tenementes, and other the premises, shall make further provision for a competent levying for an honest preest for the tyme being, if it then may be, by an amortisement, or otherwise as they shall seeme best, for the most sewer and longer continuance of the fynding of the seid honest preest, to contynewe for ever, if it so may be contynued, by the ordour of the lawe, the same preest for the tyme being, to do the devygne servyce, and synge for the sowles in manner and forme abovesaid." When all the feoffees are dead but five, then they to renew again, and those five to name twelve more at least, all which are to be brothers of one of the said gilds, and none of them heirs of the former feoffees. The stipend allowed to each of these priests was, at the Dissolution, 5l. 6s. 8d. though at first it was but four marks each; or if they kept one priest only for both gilds, then he was to have eight marks per annum, and the overplus was laid out in repairing the steeple, church, and streets, every year. Thus it continued until the second year of Edward VI. when it was seized by the statute for dissolution of the gilds, chapels, and chantries; but the townsmen of Diss objected against it, and stood an action with that King; but it appearing that the term of the feoffment was not expired, they could do no good in the affair, and it continued in the Crown until the forty-third of Elizabeth, in which year the Queen granted them to Thomas Mildmay, for divers years yet unexpired, at the yearly reserved rent of 4l. and Thomas, son of the said Thomas Mildmay, of Framlingham, Gent. succeeded his father under that grant, not thinking that the townsmen knew when this term expired; but he was much mistaken in that matter; for the original feoffment and writings (out of which I collected this account) were carefully kept and preserved; and in 1608, when the ninety-nine years of the feoffment were expired, John Shreeve and the rest of the townsmen entered upon the premises, ejecting the said Thomas Mildmay, and John Wood, his tenant, pleading that these lands were settled only for ninety-nine years to superstitious uses, and that during that time the priest had but eight marks, and when there were two, they had but twenty marks yearly, and that these stipends could be no longer than the settlement, which being now out, they entered upon these premises, as the purchase of their forefathers, the then townsmen, and would employ them (as lawfully they could do) to the same uses of repairing their church and their streets, as they always did. This they proved by an inquisition, taken at Hoxue, in the very year that Edward VI. seized it; they proved that it was purchased by the contribution of the townsmen, by the book in which all the contributors names were entered; and in order to prove John Shreeve's entry good, they produced feoffments, shewing that the feoffees, in the first feoffment above specified, did infeoff Thomas Shardelowe, and others, who in 1534 infeoffed Reginald Wotton and Roger Bird, priests, and others, and they conveyed it to Thomas Shardelowe, John Baron, and others, with one Robert Fuller, alias Garblesham, who was the last surviving feoffee, and died seized thereof, and Edward Fuller, his great-grandson and right lineal heir, entered into part of the lands in the name of the rest, and then by deed in 1589 infeoffed Matthew Wilbye and Thomas Shreeve, which Thomas died seized, and John Shreeve, his son, entered into the lands as his right, and brought the ejectment. All this being plainly proved, the lands were given by verdict to the town, and in the ninth Jac. I. the King, and the said Thomas Mildmay and John Wood, renounced all right, title, claim, or demand, in the said lands, or in the 4l. per annum stipend mentioned to go and be paid out thereof. This cost the parish so much, that in 1613 they sold to George Spaldyng part of this land, called Hellbrookfield, in Framlingham, containing ten acres, for 150l. with which they paid the charges, and then settled the rest by feoffment to the uses aforesaid, and then made a lease thereof to one Edward Wickham.
But though they had such success with this affair, they met with the contrary in relation to the other lands that were under the same limitation in the same feoffment, viz. a close called Chawmpenyes, in Diss and Frenze, and three pieces of land in Disse, at 18d. rent in Disse, Frenze, and Skole; the first piece laid in Diss, in Frenze-field, and contained three acres; the second piece one acre; the third piece two acres; for it appeared by feoffments, prior to this, that these lands were given without limitation, to find lamps, anniversaries, &c. for ever in Disse churche; whereupon Chawmpeneys meadow, which at that time was in the hands of the lord of the manor of Frenze, under the King's grant, was by arbitration confirmed to him and his heirs; and the other three pieces, which were then in the hands of Mr. James Blomefield, by the same arbitration was confirmed to him and his heirs, upon his paying 10l. to the church-wardens of Diss. Richard Gwine and Nicholas Hcarne, Esqrs. were arbitrators, their arbitration bearing date Jan. 9, 1610.
The lands that were given by Richard Edon, in 1494, to pay the leet fee, or common fine of Diss for ever, and to keep his obit, &c. were seized by Edward VI. and by him granted in 1549 to Sir Ralph Sadleyr, Knt. and Laurence Wennyngton, Gent. to be held of his manor of East Greenwich, by fealty only; they gave them to Thomas Cook of Norwich, Gent. and William Nectun of the same, who sold them to Thomas Aldred, of Diss, and others.
1595. Mr. Thomas Fulcher gave 24l. with which the townsmen purchased three roods of copyhold land on the rectory manor, called Bell Acre, in Diss, which they took up this year, and settled the profits to be employed to the relief of the poor of honest conversation in the said town.
1601. Dec. 25, Richard Fisher of Diss, by his will obliged Edward his son to purchase half an acre freehold in Diss, within two years after his decease, and thereupon at his cost and charge to build a house sufficient for the dwelling of two poor people, and afterwards to infeoff the church-wardens and chief inhabitants therein, who shall have power to place what poor people they please in those dwellings. In 1610 he bought a piece of land in Dirt-street, built a house thereon, and made a feoffment according to the will. This house is now [1736] down, and the land is called the Townyard.
1605. John Ketleborough of Florden, in Norfolk, Gent. granted to John Okes of Wymondham, saddler, a pightle of two acres in Roydon, called the Gravel-pits, reserving a free rent of 6d. per annum to his manor of Roydon Hall. This pightle in 1672 was purchased by the town of Diss, and is now [1736] their gravel-pits.
1618. Ralph Chapman of Burston, granted to James Blomefield, senior, Gent. and James his son, and other feoffees, an annuity of 20s. issuing out of his meadow in Burston called Shimpling Close, abutting upon the highway leading from Burston to Shimpling north, and upon the procession-way dividing Burston and Shimpling east, which meadow he purchased of John Shardelowe, Gent. the money to be distributed by the chief part of the feoffees every Christmas-day, for the relief and comfort of sixty of the poorest householders, most comfortless and distressed poor people of Diss, viz. 4d. to each, as of the alms gift and donation of the said Ralph.
1620. Mr. Sherman gave 45l. to purchase a close of William Yewles, called Yewles's pightle, which by measure contains four acres and six perches, two acres of which are free, and pay 4d. per annum; the other two acres are copyhold on the capital manor, and pay 1s. 4d. quitrent. In 1635 James Blomefield, Gent. senior, and James his son, and others, were infeoffed to the following use, that its rent should annually be laid out to pay the common fine or leet fee of Walcote hamlet in Diss.
1636. The townsmen purchased of Thomas Deynes of Carletonrode, a parcel of ground in Cock-street, with a house thereon, being twenty-seven feet broad at the south end, and thirty-three feet at the north end; this is now [1736] the stall-house on Cock-street Green.
1658. October 15, Richmond Girling of Old Bokenham, Gent. by will proved in the Prerogative Court, gave to the poor of Diss 11s. per annum for ever, the sexton to have 1s. a year for mending the grave of his late wife; for which payment he tied his houses and lands in Stradbrook, which he gave to Ralph King, his brother.
1715. Robert Buxton of St. Margaret's, South Elmham, Esq. lord of the manor of Heywood Hall, gave to his parish a small house, called the Hopper-house, lying at the east end of Diss Moor, which he also manumised, it being copyhold before it came into his hands. This is now [1736] used as a pest-house.
John Petit of Diss, and Mr. William Burton, both which were benefactors, are before spoken of.
Mr. Robert Burroughs built an alms-house of brick, on the east side of the churchyard, for four poor widows.
Here is a good regulated work-house, which was lately [1736] built by the inhabitants for an alms-house, standing on the Moor.
The commons are many, but not large; they are called by the names of Heywode Green, Westbrook Green, Walcote Green, Cock-street Green, the Moor, (on which the custom is never to put on any sheep, as appears by the town books,) and Penning's Green, part of which, time out of mind, (as the Church-wardens' Book informs me,) hath been always inclosed at May-day, and so kept until Lammas, on which day there is yearly paid to the church-wardens, 1l. 6s. 8d. rent, by those that mow it, viz. the tenement Baxter's, that stands by it, hath always one half of the crop, and pays half the rent, the other half goes by turns to every tenement on the Green, viz. Mr. Cason's, Mr. Pettoe's, Mr. Jubb's twice, because this is two farms laid into one.
The charity school was erected first (fn. 145) at Palgrave, in Suffolk, in 1711, and two years after removed hither. Mr. Briars, rector of Diss, preached a sermon, which was published at the first meeting of the gentlemen and clergy for encouraging this school, which he dedicated to Charles Bishop of Norwich, (whose chaplain he was,) in which it appears that the rector of Palgrave began it, at whose request that parish set apart a large room belonging to the town for that purpose, and subscribed with him 10l. per annum for its maintenance, the neighbouring gentlemen and clergy had then subscribed between 20 and 30l. besides casual gifts, which then came to about 12l. The school was opened the January before. Ten boys of that parish were taught and clothed, six more taught but not clothed. This school is now [1736] kept at Diss, where the master hath his dwelling in part of the late Gild-hall, and keeps his school in another part: there are now [1736] ten boys clothed and taught.
The grammar school is kept above, in the same house, where the master hath lodgings, and 10l. per annum; but this is at the voluntary contribution of the parish.
This is a neat compact village, (fn. 146) situated on a rising hill, having a large bason of water of about twelve acres on its south part, which they call the Mere; (hence the Diss farthings have a shield wavy for their device); it is compassed about half round with houses and gardens, which look very pleasantly from the water; but it being almost a standing lake, having only a small run or two into it, and one only out, and all the filth of the town centering here, besides the many conveniences that are placed over it, make the water very bad, and altogether useless; and so foul, that when it purges itself, which it does once a year, it stinks exceedingly, and sometimes the fish rise in great numbers, so thick that they are easily taken: they are chiefly roach and eels. It is very deep: being plumbed, it was found eight yards in the deepest place, which is by the common stathe: the liberty hereof belongs to the lord of the manor of Diss, and without his leave no man can keep a boat, or fish, except at his own stathe, where every one can lay in bow-nets, leaps, eel-poles, or any other engines, to catch what fish they can there, without the lord's license. If the passage out of this Mere be stopped up, it is of great damage, by overflowing the yards that lie round it; wherefore it is viewed at the leet, and if it be not clear, the tanner, to whom it always belongs to keep it so, is amerced, as is the township if they do not keep up the rails at its mouth, for want of which in 1639, a man, as he watered his horses, was drowned, and the town was fined. It is of great use in case of a fire, as was experienced in 1640, when the great fire happened in that street; all the wells and pumps being dry, the town was saved by this water.
The chief streets are Smith-street, or Mound-street, so called from the mound or hill that rises the whole length of it; Tem-street, or Mere-street, which lies along the Mere's side; Dirt-street, properly enough so called; Market-street, and St. Nicholas's-street.
The hamlets are Cock-street, where the fair is kept on St. Simon and St. Jude, Walcote, Wolsey, Heywood, and Westbrook.
The market is kept weekly on Friday, the chief of which consists in the linen-cloth manufacture, for which this market is famous, great quantities of it being sold here; the streets being newly paved is a great ornament, as well as service to the town.
In 1602 there were 400 communicants, and at this time [1736] it contains near 240 families, and near 2000 souls.
It is now [1736] assessed to the King's tax at 2300l. In the civil wars, during the association, when the publick charges were levied by the month, there were two valuations made of this town, one at 2616l. per annum, the other at 2700l. per annum, which far exceeds the present real value. It paid 7l. for every tenth, when the taxes were assessed that way.
The leet fees for Diss and its hamlets now [1736] paid to the capital lord, is 1l. 13s. 4d. per annum.
The following arms have been born by the predecessors of, and are now [1736] born by,
The Rev. Mr. Edward Bosworth (see p. 22.)
Mr. Thomas Coggeshall (see p. 24.)
Mr. Thomass Sheriffe (see p. 25.)
Mr. John Goodwin, or, three pallets sab. on a chief gul. three martlets of the field.
Mr. William Camell, gironne of eight or and sab. a crescent. arg.
Mr. John Burroughs, az. a chevron between three horseshoes arg.
There is lately [1736] put up a mural monument in the midst of the north isle; on which is this inscription:
Near this place lyeth the Body of JOHN KETT, Gent.
Who departed this life 12 July 1692, Aged 74 Years.
Also PHILIPPIA his wife, Who departed this life 17 Jan. 1734, In the 84 Year of her Age.
Kett's arms are or, on a fess between three leopards heads erased az. a lion passant guardant arg; crest, a leopard's head erased az.
And thus much of Diss; from whence I shall proceed to