Pages 39-48
An Essay Towards A Topographical History of the County of Norfolk: Volume 1. Originally published by W Miller, London, 1805.
This free content was digitised by double rekeying. All rights reserved.
ROYDON.
This church is dedicated to the honour of St. Remigius, who flourished about the fifth century; the dedication day was kept on the first of October, being the day of his translation.
This rectory is (fn. 1) valued as follows:
King's Books.
Tenths.
Synodals.
Procurations.
Glebe.
9
0
0
0
18
0
0
2
0
0
6
8
51
3
0
Pension.
Norwich and Lincoln Taxation.
0
3
4
14 marks, besides the pension.
But though the glebe lies in the terrier as aforesaid, yet the real measure, including the site of the rectory-house, does not much exceed forty acres.
In 1603 there were 124 communicants, and now [1736] there are 60 families, and 240 souls. It is now [1736] assessed to the King's tax at 630l. 10s.; when the taxes were raised by tenths this paid 2l. 10s. and to the monthly levies during the association, sometimes at the rate of 752l. and sometimes 780l.
Rectors.
The rectors that I have met with are as follow:
In 1198, Richard, the parson of Roydon, granted seven acres of land to Roger his son. (fn. 2)
1304, 2 cal. March, Nicholas de Fyleby, priest; instituted at the presentation of William, Marshal of Ireland, Knt. guardian to Robert, son and heir of Sir William de Morle, Knt. deceased.
1321, 6 ides December, Robert de Fyleby, deacon. Robert de Morle, Knt. patron.
1328, 12 cal. August, Walter Claver, priest; Sir Robert de Morley, Knt. Marshal of Ireland.
1329, 2 cal. August, he resigned, and Robert de Morley, priest, succeeded. Ditto.
1345, 28 September, Robert de Ouneby, priest. Ditto.
1349, 2 July, William Gray, of Strapton, priest. Ditto.
1376, 21 November, Henry Smith of Diss, priest. Ditto.
1387, 18 February, John De Birlingham, priest; Thomas de Morley, Marshal of Ireland.
1412, 26 April, John Hoppe of Bathele, priest; Robert de Morley, Knt. This rector was buried in the church.
1420, 12 June, Edmund Ingland, priest; Elizabeth, widow of Thomas de Morley, son of Robert de Morley, Marshal of Ireland.
1462, ult. December, Edmund Ingland, being very old, resigned to John Newton, who was obliged to pay him a pension of five marks a year, during life; Margaret Ratcliffe patroness.
1498, 18 February, John Wymbyssch, (or Wimbuche,) S. T. D. by lapse. He was rector of Diss.
1498, 27 September, John Coppin, priest; Sir Edmund Arundell, Knt. and Johanna his wife.
1509, 31 May, Thomas Quarles, chaplain, at Coppin's death; William Rammesbury, Esq. in right of Anne his wife.
1510, 26 May, Benitius Everton, priest, at Quarles's death. Ditto.
1514, 30 March, John Coke, on Everton's death, by lapse.
1533, 8 May, Coke resigned to Henry Sturges, reserving a pension for life of 4l. a year. The King, as guardian to Elizabeth Lovell Lady Morley.
John Tuddenham succeeded Sturges, at whose death, 1560, 8 July, Robert Fordham, priest, was instituted. Thomas Sherman, Gent. of Yaxley.
1572, 26 February, John Cullyner, clerk, at Fordham's death. Ditto.
1591, 15 John Horner, A.B. on Cullyner's death: William Kettleburgh, patron.
1625, 18 December, Robert Horner, A.M. on John Horner's death; Mary, widow and relict of John Horner, clerk, by grant from Edward Havers and Laurence Lomax, Gents.
1675, 1 December, John Dawney, clerk, A.M. on Robert Horner's death; Robert Burton of Cley-juxta-mare, Gent. for this turn only.
1704, 4 June, the Rev. Mr. Rookwood Serant, the present [1736] rector, at John Dawney's death; Robert Burroughs of Diss, Gent. (fn. 3)
The enclosure that joins to the south part of the churchyard is called Chapel Close, in the midst of which formerly stood a chapel dedicated to the honour of the Blessed Virgin, in which was a chantry of three or four priests, daily singing for the soul of Sir Robert, son of Sir Matthew de Morley, their founder: the foundation deed was produced in the cause between John Lord Lovell, and Thomas Lord Morley, about the arms of a lion rampant, which being on this seal, proved that the Lord Morley's ancestors had anciently used those arms. This chapel was well endowed; many free lands in Roydon were held by paying an annual rent to it; it was dissolved in 1547, and soon after pulled down, and the site conveyed by the Crown to lay hands. It is now [1736] owned by the Rev. Mr. John Dawney. It was founded about 1282; but being a free chapel without institution, it is never mentioned in those registers.
The Prior of Eye, in Suffolk, had the tithes of about 100 acres of land here, given to that monastery by Odo de Charune, who gave two parts of the tithes of his land in Roydon, in the Conqueror's time, and by Richard Hoveel of Reindun, who gave all the tithes of his lands here; and in the charter of King Stephen, granted to that house in 1137, they were confirmed to the monks among their other revenues: (fn. 4) and in the register called Danoun, which formerly belonged to this priory, and is now [1736] in the hands of Mr. Martin of Palgrave, I find that the portion of tithes belonging to the monks of St. Peter at Eye, lying in Roydon, were let to the rector at two marks a year, and so continued for some time; until afterwards a perpetual composition was made for the rectors to pay 3s. 4d. per annum. Thus it continued until the Dissolution, and then the pension went, with the priory, to the Crown, from whence it was granted off, and hath since passed through many hands: it some time was payable to Catharine, wife of King Charles II. but belongs now [1736] to the Rev. Mr. Thomas Pyle of Lynn Regis.
Here were several freeholds held of the honour of Eye.
In 1355, (fn. 5) Sir Robert de Morley, Knt. confirmed to King Edward III. the advowson of this church, with the chapels annexed, under divers limitations. His seal was a lion rampant, in a shield, circumscribed Sigillum Roberti de Morley Militis, notwithstanding which it hath all along passed with the manor.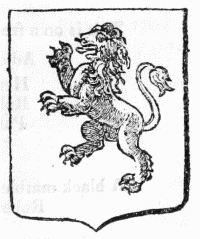 The Abbot of Sibton, (fn. 6) in Suffolk, had temporals here taxed at 3s. being part of their manor called Friers, in Shelfhanger, which extended hither.
The present building is very ancient, having its nave only standing (the south isle having been a long time in ruins.) It is covered with lead, though the chancel and south porch are tiled; the steeple (which is in a very ruinous condition) is round at bottom, and octangular at top; it had formerly four bells, but being unable to bear them, the parishioners obtained a faculty in 1680, and sold three of them: on that which is left I read this,
Petrus ad Æterna ducat nos Pascua Vite.
The chancel seems to have been built by one of the Fitz-Walters, about Henry the First's time, but which of them it was I cannot learn, though he was buried here, under an arch in the north wall, out of which the stone coffin now standing in the churchyard was taken some years ago, and the pavement, some of which still remains, was adorned with the arms of the Fitz-Walters, sometimes in a shield, sometimes in a lozenge, and several others with initial letters of saints names, the letters being all crowned.
In this church was a gild in honour of St. Peter, to which Mary Payn gave a legacy in 1488, as others did about that time, (fn. 7) among which, one gave a light to set before the tabernacle of the Blessed Virgin.
In a north window are the arms of
Ratcliff Earl of Sussex, arg. a bend ingrailed sab.
Morley and Knivet. In another north window is a broken inscription, which desires the reader to pray for the soul of one Charnbye.
The following inscription is cut on a seat:
Hoc Scammum factum fuit per Ricardum Waynforth cum suâ propriâ Pecuniâ, decimo Die Junij, Anno Domini 1643, atque locatum in Loco ubi Parentes ejus antiquitum sederunt, Ætatis dicti Ricardi quinto decimo Martij ult. præterit. 61.
In the chancel are several stones with inscriptions, some of which are printed in Le Neve's Monuments, and some are not; however I shall give you transcripts of them all.
Here lyeth the Body of John Horner, Preacher of God's Word in this Parish, which was buried the 30th Day of July, Anno Dom. 1625. How long Lord?
This is on a freestone by the altar, and is in Le Neve. (fn. 8)
Adjoining, on a black marble, Here lyeth buried the Body of Robert Horner, Rector of this Parish, who died July 7th Ao Dni. 1675, Ætatis 75. (fn. 9)
A black marble in the midst of the Chancel has this, Robertus Horner de Bresingham, Generosus, Filius Reverendi Roberti Horner, Nuper hujus Ecclesiæ Rectoris, Hic Animæ suæ Exuvias reposuit; Vir Literarum Ornamentis decoratus, Pietate, Probitate, et summa Charitate, Eximie præditus Obijt 4to Die Decembris, Ao. Dni. 1708. Ætatis 62. (fn. 10)
Another black marble: Subter hoc Marmore jacent Corpora, Henrici Deyns Generosi, qui Obijt tertio die Aprilis, Ao Dni. 1691. Ætatis 61.
Simul et Elizabethæ Redrich, prædicti Henrici Socrus, et Relicta Henrici Redrich, M. D. quæ obijt 8vo. Maij Ao Dni. 1688 Ætatis 68. Flens posuit Conjux et Filia. (fn. 11)
On a small monument over the altar, Ad Pedem hujus Monumenti sepulta jacet Martha Horner Uxor Roberti Horner.
And on a stone on the ground, under it, is this inscription, Here lyeth the Body of Martha, the Wife of Robart Horner, Clerk, who died October the 26th, Anno Dni. 1662. Ætat.—
Here lyeth Margaret the Wife of John Dawney, Clerk, Who died the 3d of Sept. 1691, aged 61.
Deynes, impaling three cocks. Here lyeth the Body of Hannah, the beloved wife of Tho. Deyns, Gent. and one of the Daughters of Clement Rolf, Gent. deceased, who was here Buried the 15th Day of October, 1663.
To mourn for her 'twer Sin, Rejoyce yee rather, For she hath gain'd an Everlastinge Father.
Here alsoe resteth the Body of the aforesaid Thomas Deyns, who dyed the 27th Day of November, Anno Dom. 1675.
On the south side of the chancel, in the churchyard, is an altar tomb, covered with a black marble, having the arms of
Burrough, (see p. 38,) with a label of three, impaling,
Camell (see p. 38,) with his crest, viz. a boar's head coupee. The inscription (composed by Dr. Camell) is as follows:
Lector, Juxta hunc Tumulum Exuvias invenies, ROBERTI BURROUGH, ROBERTI et MARIÆ BURROUGH, de Diss in Com.
Norf. Gent. Filij Natu maximi, Parentum Spem, Amicorum Desiderium, Præclusit Mors heu! nimis immatura, Obijt Collegio SStæ. Trinitatis apud Cantab.
14° die Decemb. Anno Domini Ætat. 1723. 19.
Filio dilectissimo placide obdormiunt PARENTES AMBO, Charissimæ Conjugis Conjux Ille amantissimus, Unionem conjunctissimam Mors ipsa vix, Et ne vix quidem separabat, Præivit enim Ille 28° die Jan.
Anno Dni. Ætat. 1727. 52. 46.
Consequitur Illa, 6° die Mar.
Monumentum hoc Sepulchrale Pietatis Et gratitudinis Ergo GULIELMUS, Filius eorum Natu minimus Mœrens posuit.
This village joins to Diss on the east, to Brisingham west, Shelfhanger north, and the county river south; it hath now [1736] two manors only, though formerly it had three, all which were in one in the Conqueror's time, and was then two miles and an half long, and two miles broad, and paid 9d. Danegeld. It was held by Lefriz, son of Bose, a thane, (fn. 12) or guard of the Confessor's, and was afterward given by the Conqueror to Ralph de Bello-fago, or Beaufo, of whom it was held by Hugh at the time of the survey. (fn. 13)
It after came to
Hubert de Rie, who had it in 1146, and died in 1171, without male issue, leaving his barony of Rhie divisible between his daughters Isabella and Aliva, the first of which was married to Geffrey de Chester; and at his death, to Roger, son of Hugh de Cressi, who paid a fine of twenty marks and twelve palfreys to King John, for marrying her without license, upon which the King revoked the seizure that he had made of all his lands in Norfolk, and elsewhere; it appears that he had for his part seventeen knights fees and an half, though the other part of the barony seems to have been the head, several of these fees being held of it.
In the first of King John, Robert Fitz-Roger, a great baron in Northumberland, gave 300 marks for Aliva, the younger daughter of Hubert de Rhie, to marry to his nephew; and in the thirteenth of the same King, John Marshal, the nephew, answered for seventeen fees and an half of that barony; in the ninth of King John he had obtained a grant in fee of the office of Marshal of Ireland, and had livery of it in the seventeenth of that King. He died in 1234, (fn. 14) Aliva his wife surviving him, who, by the death of Isabell de Cressi, her sister, was heiress to the whole barony of Rhie; and agreeable to this, in the record called Testa de Nevil, it is found that
Roger de Cressi held one fee in this town, of Walter FitzRobert, and that
Matthew de Morley held another fee, which was formerly Robert de Morley's, of Aliva Le-Marshal, as of her barony of Rhie, of which it was ever after held. It was this Robert that, in 1253, had a grant of free-warren to this manor, which was allowed in Eire, in 1285. At the death of Matthew aforesaid it descended to
Sir William de Morle, Knt. who died before 1304, for in that year William Marshal, of Ireland, presented as guardian to
Robert, son of Sir William de Morley, Knt.; this Robert afterwards married Hawise, sister and heiress of John, son of the said William Marshal, whereby the barony of Rhie, the marshalship of Ireland, and all the inheritance of the Marshals, came into the Morley family. William Marshal, the father, died about 1313, and John, his son, in 1316, Ela, wife of the said William, then surviving. Upon this match it was that the arms of arg. a lion rampant sab. double quevee, came to be quartered, and often born, by the Morleys, it being the arms of Roger de Cressi, whose inheritance went to the Morleys, as is before observed. This Robert, in 1326, settled the manor on
William de Morley, his son, for life, and Cecily, daughter of Thomas Bardolf, his son's wife, and their heirs, as part of the jointure of the said Cecily, with remainder, for want of such heirs, to Robert de Morle, his son, and his heirs male. Cecily outlived her husband, and enjoyed it; but for want of heirs, it descended to the aforesaid
Robert de Morley, Knt. Marshal of Ireland, who, in 1361, settled it (with his wife Cecily's consent) on Sir Thomas Felton, Knt. for life; but he lived not long; for in 1386 the said Cecily was lady; and in 1387
Thomas de Morley, son of Robert de Morley, Marshal of Ireland, was in possession, who, in 1416, died seized, and left it to
Elizabeth, his widow, for life; after to
Margaret, his daughter and heir, then one year old; she afterwards married
Thomas Ratclyff, who, in 1487, died seized, leaving it to
Jeffrey Ratclyff of Framesden, in Suffolk, Esq. his son, who was then nine years old; and dying in 1504, without heirs male, the manor came to his three daughters coheiresses:
Elizabeth, then aged fifteen years, who was married to Christopher Spilman.
Eleanor, the second, then thirteen years old, married to Thomas Lovell, junior, of Enfield.
Joan, the third, then nine years old, afterwards married to John Sturgeons of Cranwich.
Elizabeth died the 10th of December, 1518, leaving Elizabeth, her daughter, then thirteen years old, who afterwards married Edmund Dethick of Bichamwell.
Eleanor died a widow, in 1518, leaving Elizabeth, her daughter, who held her third part in 1521; in 1533, she was married to James Pergetor.
In 1546, (fn. 15) Thomas Sherman of Yaxley, Gent. purchased one third part of John Sturgeons; and in 1553, another of James Pergetor; and the same year
William Kettleburgh, Gent. purchased the other part of Edmund Dethick, and Elizabeth his wife, so that Sherman had two thirds, and Kettleburgh one; and thus it continued till 1586, at which time the courts then kept had two homages, one for this manor of Roydon Hall, and the other for Tuft's manor, which was joined to it; they extended into Roydon, Diss, Brisingham, and Shelfhanger. It went in these families till about 1600, and then the whole was purchased by
Edward Havers, who was succeeded by
John Havers, Gent. of Shelfhanger, who left it to
Thomas Havers of Thelvelon, his son, from him it came to
William Havers, Esq. then to
Thomas Havers, who died in 1697, and it descended to
William Havers, Esq. his son; who sold it to
Mr. Robert Burrough of Diss, at whose death it came to
Mary Burrough, his wife, who gave it to
William, her youngest son, who, in 1733, sold it to
Mr. Philip Dykes of London, the present lord. [1736]
The leet belongs to the hundred, the leet fee being about 2s. 5d.
The Advowson was always appendant to the manor, till Mr. William Burrough of Diss severed it, by selling it to
Mr. Edward Chafpelow of Diss, clerk, who is the present patron. [1736.]
The Custom of this Manor is, to the eldest son it gives dower, and the fine is at the lord's will. The site of the manor of Roydon Hall, and the demeans adjoining, are freehold, and were sold off about 200 years since, being now [1736] the estate of Mr. John Dawney, clerk.
Gissinghall Manor,
Which was so called from a family of that name, the ancient lords thereof, and was originally in two parts, one of which belonged to the honour of Eye and the other to the abbey of Bury; that belonging to Eye, (fn. 16) was held by Edric, the ancestor of Robert Malet, lord of that honour in King Edward's days, and by one Walter in the Conqueror's time; the other was given to Bury abbey in 962, by Thurketel the Dane. (fn. 17)
After it came to the abbey, they held it till the Conqueror, and then it was held of them by Fulcher, (fn. 18) being of the yearly value of 20s.
It was soon after joined to the other part, but was always held of the abbey, as that was of the honour, and
William de Gissing, in 1174, owned them both; from which time to 1579 it passed with the manor of Gissinghall in Gissing, to which place I refer you.
In 1579, (fn. 19) Arthur Heveningham of Heveningham, Knt. was lord; in
1590, Antony Reve had it, who this year sold it to
William Kettleburgh, Gent; in
1600, John Kemp of Flordon kept his first court; in
1602, Robert Kemp, Gent. his son, kept his first court; and in
1612, John Kettleburgh, Gent. held his first court; he sold it to
John Pykarell, Gent. in 1618; he left it in 1649 to
John Pykarell, Gent. his son; in
1707, John Pykarell of Cringleford, Gent. was lord, who left it to his son,
John Pykarell, Gent the present lord. [1736.]
The site of this manor, also with the demeans, are freehold, and were sold from the manor about 150 years since, and is now [1736] in the possession of Mr. Richard Waynforth.
The Custom of this Manor is Borough English, (fn. 20) that is, the copyhold falls by descent to the youngest son; the fine is arbitrary; but in all things else the tenants do as they please.
Tuft's Manor
Was erected after the Conqueror's time, it being then, as it is now, [1736] included in the manor of Roydon Hall; in 1272 it belonged to
Samson, son of Roger, who was son of Reginald, son of Jeffery of Reidun, who lived in the time of Henry II.; this family bare for their arms, chequy arg. and gules, a cross, and sometimes a bend az. sometimes ermine. (fn. 21) It came about Henry the Third's time to
Wydo de Verdun, lord of Brisingham; in this family it continued some time. It was owned by
William Roos towards the latter end of the 13th century, and soon after it fell into the great manor again.
It was held of the barony of Rhie, which shews that it was a part of the great manor at first granted to some younger branch of the Morley family.
The site was granted from the manor along with Roydon Hall, and is now quite destroyed; the old moats still go by the name of Tuft's Hall Yards.
Brisingham Manor
Extends into this town, and hath so done ever since the Conquest; for we read that there were then four socmen that had five acres of ground valued in that parish. (fn. 22)
Filby's Manor,
In Brisingham and Roydon, was joined to Boyland manor in Brisingham, for which reason I shall treat of it in Brisingham.
The Gifts to this parish are small, viz.
Two acres of copyhold land, held of Gissinghall, given long before 1577, as appears from the court books.
About 1609, William Kettleburgh, Gent. gave 20s. per annum to the poor, to be divided by the church-wardens, where most need shall be; and there is a small house, now [1736] the sign of the hart, with a garden thereto adjoining, tied for the payment of it, the overplus of which is the estate of Mr. John Dawney aforesaid.
Mr. Robert Horner, who died in 1708, gave the freehold close called Fuller's, joining to the east side of the rectory garden, for ever to the rector, on condition that he preaches an annual sermon on Good Friday, and distributes 40s. per annum to clothe four poor widows of Roydon.
The commons are very small, being called the Dort, Waynforth's Green, the Parsonage Green, and the Little Green; in all which they common alone, and intercommon on Roydon Green, which joins to Brisingham pound.
These Arms are born by
Mr. John Pickarell, lord of Gissinghall, in Roydon, sab. a swan proper, a chief erm.
Mr. Robert Blake, sab. on a chevron gul. between three garbs or, a de-lis of the field.
Mr. Charles Deyns, or, two bars in a bordure sab.
Mr. Richard Waynforth, or, a lion rampant az. between three hurts. Crest, a lion rampant guardant or, a hurt in his paws.
The next village on the river joining west to Roydon, is,