Pages 49-73
An Essay Towards A Topographical History of the County of Norfolk: Volume 1. Originally published by W Miller, London, 1805.
This free content was digitised by double rekeying. All rights reserved.
BRISINGHAM.
This town, (fn. 1) about 963, was given by Osulph le Sire, and the lady Laverine, or Leofrine, his wife, to the abbey of St. Edmund's Bury, to which it belonged in the Confessor's time, except that part which Almar then held of that house, which was almost half the town. This part was a manor also, and held in the Conqueror's time by Roger Bygod Earl of Norfolk, who was afterwards infeoffed in the other part, by Abbot Baldwin, as Joceline's Chronicle, in the Cotton Library, informs us, to hold it of the abbey, at one fee, (fn. 2) and to pay nothing to the ward of Norwich castle, because the abbot paid 7s. every twenty weeks for the whole town. The capital manor, at the survey, was in the abbot, who had then two carucates of land in demean, and twelve socmen who held sixty acres of land, but could not sell or give it any one without license. In the Confessor's survey, the manor was of 40s. value, but in the Conqueror's was risen to 60s. (fn. 3) The town was then two miles long, and a mile and a half broad, and paid 12d. Danegeld; it extended at that time into Shimpling, Fersfield, Shelfhanger, and Roydon.
In William Rufus's time, the earl had the whole town, all which he infeoffed in
William de Verdun; (fn. 4) and it appears from the Black Book of the Exchequer, that Roger Bygod, father of Hugh Bygod, had infeoffed this William in six knights fees of his old feoffment, among which, this old town was reckoned at two; and this is the reason that it was all along held of the Norfolk family, as capital lords, by the Verdons, and all other owners. This feoffment was made about 1100, or before, for in 1107 this Earl Roger died. (fn. 5) The next that I meet with was another
William de Verdun, who lived in 1207, and was succeeded by
Bertram de Verdun, lord here, and of Moulton, in 1212. His son,
Wydo, who is sometimes called Hugo de Verdune, (fn. 6) in 1211, gave King John 100l. that he might, with his approbation, marry Petromilla, widow of Henry de Mara, and have her land. (fn. 7) He was lord in 1226, for then the tenants brought a writ against him for surcharging the common pasture. He left it to
Sir John de Verdune, (fn. 8) Knt. and Wigona, or Dionisia de Verdon, (for so I find her called in one feodary,) and her partners; Sir John held one fee, and she another, here and in Hapeton, about 1264: in 1276, Sir John settled this manor on himself for life, remainder to Thomas, his son, and Thomasine, his wife; and for want of heirs it was to go to John, his other son, who in 1280 inherited on this settlement, and was a ward of the Earl-Marshal's. (fn. 9) In 1285 he claimed view of frankpledge, assize of bread and ale, infangthef, gallows, and free-warren in all his lands and manors in Norfolk, viz. Brisingham, Multon Magna, Saxlyngham, and Reydon; all which privileges were granted to his father by King Henry III. as the charter then produced evidently proved. How long he lived I cannot say, but
John was his son and heir, (fn. 10) who, in 1300, held this manor of the Earl of Norfolk, at one fee; for which he paid no castle-guard, but was forced to do his homage to John Abbot of Bury, at his manor-house of Redgrave, and pay his relief and scutage, as his predecessors had always done; he died soon after, for in 1302, and in 1306,
(fn. 11) Thomas de Verdon held, in Brisingham, Moulton, Saxlingham, Astacton, Tibenham, Hapeton, Shadnefield, and Forncet, eight fees of the Earl-Marshal. He died in 1315, and left them to
Sir John de Verdon, his son, who in 1328, jointly with Maud his wife, levied a fine, to settle Moulton and other manors on themselves, for life, and John, their son, and his heirs. I have several ancient accounts of this manor in his time, in which it appears, that the Prior of Blitheburgh had 12d. a year paid him out of it, and that it paid 4d. per annum to the hundred of Diss, for the leet fee, the lord of the hundred having granted this manor liberty of a leet for that payment, and for suit of the hundred court; which being troublesome, the lord paid 3s. per annum in lieu thereof. The manor-house stood near Brisingham wood, in the hall grounds; the swan-hill, and the large moat still [1736] remaining, plainly shew the site of it. In this seat the Verdons had lived many ages, but now Sir John removed hence to Mardesham in Suffolk. I have seen an inventory of the goods left in the house here, dated 1328, among which, several things for the use of the chapel are named, and a poor's box standing at the great hall-door; the custom of that time being, to put in what every one pleased, instead of giving servants, as is usual now.
He seems to have been a man of great hospitality, for he left eighty dishes, seventy-five plates, forty saucers, and twelve cups, to treat his tenants at his coming over. In 1329 he settled Briclesworth in Northamptonshire on himself, for life, remainder to his son Thomas, and his heirs, remainder to John, his second son, and his heirs; (fn. 12) and the year following he settled Brisingham in the same manner. But in 1344 this fine was revoked, and the manor settled again by him, and Maud his wife, on Thomas, his grandson, son of Thomas, his eldest son, and Margaret his wife, remainder to John, the second son; he died in 1346, as the Escheat Rolls say, and then, according to the settlement, it came to
Thomas de Verdon, (fn. 13) his grandson, who died a few months after him, upon which, according to the entail,
Sir John de Verdune, Knt. uncle to the said Thomas, and second son to the last John, became lord; he held Brisingham, with the advowson, of the Earl-Marshal, at two fees, (fn. 14) the fee that went off with Wigona or Dionisia de Verdon being joined again in his time (except those parts of it which were conveyed by her husband and self before his death, viz. the fourth part of a fee to John de Lynne, and a fourth part to Walter of Brisingham, both which were to be held of the capital manor.) It seems (though I am not certain) as if this lady after married Sir Richard Le Brewse, Knt. for he was lord here in 1315, and in 1326 the Account Rolls of the manor say, that Sir John Verdon was at 47s. 4d. expense for cloth, against the burial of the Lady Brewse. In 1335, Sir Richard Le Brewse had the moiety of swans going in Brisingham fens, and had two carried to him at Fornham. He was alive in 1354; at his death it returned to Sir John, who had the extent of the manor renewed, (fn. 15) from which it appears, that he was capital lord of the whole town, and patron of the church, all which he held of the Earl-Marshal at two fees; the earl held it of the Abbot of St. Edmund, and the abbot of the King; the said John had view of frankpledge, and all other liberties before specified. The manor-house, and three hundred acres of ploughed land in demean, being then valued at 7l. 10s. which is 6d. an acre; thirty acres of wood, valued at 7s. 6d. per annum; forty acres of mowing meadow, worth 3l. 6s. 8d. that is, 10d. an acre; nineteen acres one rood of pasture ground, valued at 6s. 5d. a year; and two windmills at 20s. per annum, besides the commons lying round the whole town, which, in eggs, hens, and days works, paid to the lord by the commoners, were worth 10s. per annum; and the lord had twenty acres of fen to dig turf in, worth 5s. a year; he had also liberty of free-warren by the King's charter, and a free fishery with all manner of boats and nets, throughout all his manor of Brisingham, and through all Roydon, as far as Diss. To the said manor belonged ninety-four copyholders, who held among them seventy-four messuages, and five hundred and eighty-eight acres two roods of land in villeinage; there were six cottagers in villeinage, and the lord pays yearly 3s. in full satisfaction of all suit to the hundred court of Diss, and the same extent saith, that Filby's manor, and Boyland manor, &c. were held of him; (but of them in their proper places.)
This John always sealed with the arms of his family.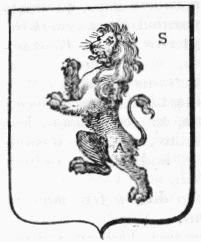 He stood to the customs and agreements which his father had made, at his going away to Martlesham, all which appear from the roll (fn. 16) made in his father's life time, in 1340, which begins thus:
"The Profits, Customs, Services, and Tenures of the Manor of Brisingham, made on Wednesday before the Feast of St. Dunstan, in the 15th Year of King Edward III. Anno 1341.
"Memorandum, That all the commoners upon the commons of this town, both freeholders and copyholders, pay hens, eggs, and days works with their plough, to the lord, except those that have liberty of faldage, and that all copyholders are obliged to have their sheep in the lord's fold, from Pentecost to St. Martin." The quitrents (in money) and freerents were 4l. 2s. 2d. 1q. and 3 roots of ginger, of 1d. value; 95 hens justly valued at 7s. 2d.; 17 capons valued at 1d. ob. each: 5 ducks valued at 10d.; 539 eggs and more, valued at 3d. a hundred; 212 days works in autumn, the workmen to be maintained by the lord, valued at 1d. a day; 174 afternoon works in autumn, 1d. each, the workmen having no victuals; 25 days work with their carts and horses, and no victuals allowed them, valued at 2d. each day; 120 alebeves, (fn. 17) or as many as will come; 183 journeys at plough, without victuals, if all come in to do their work; and if they do not, they must work half a day for every day of ploughing, the whole valued at 7s. 3d. ob.; 170 days work and a half in sharing; 174 days work in mowing, every 4 days valued at 1d. 15 haymakers to make it, as the mowers cut it, they being obliged to make and mow 59 acres 1 rood; the whole of cutting and getting up is valued at 4d. an acre; 54 days to cut and make the lord's wood, and to finish it before Christmas; 20 days to pull the lord's hemp; 120 days work of a man and horse, every day valued at 1d.; 33 days work of a man, each worth 1d. besides days made uncertain, because when they do not plough or cart, they are to do other work as the lord pleases; but there are 220 works more, of half a day each, value certain; 12 chickens one halfpenny each; 41 carriages to carry corn, worth 20d. ob.; 160 days work in carting out the muck; 41 days to carry the hay, value 20d. ob.; 3 days to cart the timber; 14 loads of hay to be thrashed, valued 2d. a load; 14 loads of corn to be thrashed, value 2d. each load; 28 days to make hurdles for the fold; 18 to clean and repair the cow bings; and 10 to repair the horses' stalls, all which services were valued at 5l. 11s. 9d. 1q.
By this account we may see the difference of the value of things then and now [1736] in what a servile condition the copyholders were, and how grand the lords must be, who had all works done without any expense.
This being as perfect an account as I ever saw of any manor, I could not omit inserting it, and do not doubt its being acceptable to some, though I must own, to others it may seem useless; however, certain it is, that the quitrents of the manor have remained to this day according to this composition.
In 1349, Sir John, (fn. 18) and Maud his wife, settled it on Adam de Buketon, parson of Yardele Hastyng, and Ralph de Crophull, parson of Harpol, their trustees, to the use of themselves for life, and then of Edmund their son, and Jane his wife, and their heirs, upon which settlement they inherited; for afterwards this Sir John Verdon, their father, married a second wife, viz. Isabell, one of the daughters and heiresses of Sir Thomas Vise de Lon of Shelf hanger, Knt. on which Isabell, in 1365, (fn. 19) he settled Martlesham, Stansted, Swiftling and Newbourne, Saxlingham and Multon manors, and Shelfhanger and Waketon advowsons, all which he entailed on themselves and their heirs, remainder to Symon Symeon in fee, for divers uses; but by this settlement they descended to
Isabell, (fn. 20) their only daughter, married to Sir Imbert Noon of Shelfhanger, in whose possession they were in 1391.
As to Brisingham, that reverted, for want of heirs, from Edmund de Verdon, and Jane his wife, to Sir John Verdon, their father, who died about 1392, leaving
Margaret, his only daughter by his first wife, his sole heiress, (fn. 21) who was lady here in 1396, and lived with her mother-in-law at Shelfhanger, at whose death, according to the uses in the settlement, (fn. 22) the manor of Stansted, the manor and advowson of Chetbury, Stagenhoe manor in Hertfordshire, Verdon's manor in Clipston, this manor, and others, came to
Sir John Pilkington, in right of Margaret his wife, who was widow of Sir Hugh Bradshaw, and daughter and heiress of Sir John Verdon; but Moulton, Shelfhanger, &c. went to the Noons. In 1399 they settled this manor on themselves and the heirs male of the said Margaret, remainder to Elizabeth, daughter of the said Margaret, by Sir Hugh Bradshaw, her first husband.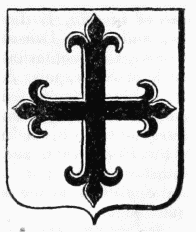 This family (fn. 23) took its sirname from a town which they were lords of in Lancashire, where they were possessed of a great estate, as is proved by the Escheat Rolls in the Tower, and in particular by a grant of free-warren to this very Sir John Pilkington, in all his manors in that shire, in which twenty at least are named; and there it is said, that this Sir John was grandson and heir to Roger de Pilkyngton, to whom that liberty was first granted in 1290, as being son of Roger, the son of that Roger to whom the grant was made. They always bore these arms.
In 1401, Sir John, (fn. 24) in an inquisition then taken, is said to hold Brisingham manor of Thomas Mowbray Earl-Marshal, (who is now under age,) at two fees and a half quarter, one fee and half quarter of which formerly was Richard de Brewse's, of which John Lancaster now holds a fourth part, which formerly was John de Boylond's, (fn. 25) though its relief was charged at half a fee; it was then held of Forncet manor, and the lord paid to Sir John Howard, for his part of the fishery by the Fen Common, 3s. 4d. a year. In 1405, the manor was let for seven years, at 24l. per annum; the fishery in Reydon for 30s. and that in Brisingham for 30s. more. This Sir John died about 1406, leaving
Margaret, his widow, in possession, (fn. 26) who this year settled it on Edmundand Robert Pilkyngton, Esqrs. in trust that she should enjoy it during her life, and at her death it should go to Sir John Pilkington, Knt. her eldest son, their brother, and to his heirs; and for want of such, to the said Edmund and Robert in tail, remainder to Elizabeth, daughter of William Bradshaw, Knt. This Margaret lived to a great age, and died in 1436, leaving the manor, according to the fine, to
Sir John Pylkington, Knt. her eldest son, who had it till 1447, (fn. 27) and then dying without issue, it went to
Edmund, his next brother, who married Elizabeth, daughter of Thomas Boothe, Knt. at whose death
Sir Thomas, his eldest son, inherited; he married Margaret, daughter of Richard Harrington, and in 1459 (fn. 28) he and Margaret his wife, William Harrington, Knt. and Elizabeth his wife, and Arthur Pilkyngton, levied a fine of the manor and advowson, 20 messuages, 600 acres of land, 40 acres of meadow, 50 of wood, and 6l. rent, by which, quit of the heirs of Elizabeth, it was settled on Sir Thomas, remainder to Roger Pilkington, his brother, remainder to Arthur Pilkington, then to William Harrington, then to John, son of Robert Pilkington, Esq. This Sir Thomas, in 1450, was admitted one of the Chamberlains of the Exchequer; he was very stedfast to the Yorkists, and all along in those civil wars took part with Edward IV. and suffered much for it. After the death of that King, and of Edward V. and Richard III. he was one of those who joined with the Earl of Lincoln, Earl of Kildare, Lord Lovell, Sir Thomas Broughton, and other Lancashire gentlemen, on the behalf of Lambert Simnell, the counterfeit Plantagenct, and fighting on his side at the battle of Stoke, near Newark, in 1487, was there slain; (fn. 29) whereupon all his lands were forfeited to the Crown, and the year following were granted to George Lord Strange, (fn. 30) son of Thomas Stanley Earl of Derby, and to his heirs male; Stagenhoe in Hertfordshire, the seat of the Pilkingtons, and this manor, being among them. But notwithstanding this, in 1493 inquisitions were awarded into Norfolk and Suffolk, as at the death of Sir Thomas aforesaid, in which it was found that
Sir Roger Pilkington, Knt. was his son and heir, who in the mean time had got his father's attainder, and the grant made to the Lord Strange reversed, and now he inherited his paternal estate; he married Alice, daughter of Sir John Savage, Knt. He it was that began to rebuild Brisingham church and tower, though he lived not to see them finished. At his death, his estate was divided among his six daughters, viz.
Margaret, married to Thomas Pudsey.
Catherine, to John Allow, or Atthow.
Alice, to Edmund Saltmarch.
Elizabeth, to William Huntley.
Margery, to Henry Pudsey.
Joan, to John Daniel of Daresbury, in Cheshire; each of which had a sixth part of the manor and advowson, in right of their wives; but for want of accounts of the separate descents of the daughters, I cannot exactly trace every part; but thus much I find in the ancient court-copies, and other evidences, (fn. 31) that
In 1546, John Futter of Stanton, in Suffolk, was lord of two parts, who, in 1550, purchased another part of
Sir Richard Southwell, Knt. who had it of
Thomas, son of William Huntley, Gent. by which he became lord of a moiety; he bought one of his first parts of
Henry Chitting, and Bridget his wife, daughter and heiress to one of Pilkington's daughters.
In 1543, Thomas Wiat, Esq. son and heir of Thomas Wiat, Knt. had a part.
John Futter left his three parts, or moiety, to
Robert, his son, who made several settlements of it in 1561, to divers uses, on
Francis Boldero and Edmund Wiseman, who conveyed it to
Thomas Andrews and William Phellips, who settled it on
Bartholomew Kemp. But notwithstanding all this, (fn. 32) when the title came to be inspected, in order for sale, some flaw or other was found, so that Wiseman and Boldero, who purchased it of Robert, were forced to have a new recovery, Sir Nicholas Bacon, Lord-Keeper, being sole feoffee, in whom the title was entirely vested. As to the other parts,
Thomas, (fn. 33) son of John Daniel, sold his to
Christopher Coe, Gent. in 1528; (fn. 34) in 1535,
John Atlow sold his to
William Skimsber; and in Sir Peter Leicester's Description of Cheshire, it is said that
Sir Ralph Leicester of Toft, in 1561, sold a part to
Francis Baldero and Edmund Wiseman, which was settled on
Sir Nicholas Bacon, in order for sale, as all the parts were. How Coe's and Skimsber's passed I cannot tell; but upon recoveries suffered, they were also vested in
Sir Nicholas, and by him sold, with the advowson, to
Thomas Duke of Norfolk, and his feoffees, sc. Sir Nicholas Le Strange, and Sir Richard Fulmerston, Knts. and John Bleverhasset, Esq. who kept their first court here, the 10th of Feb. 1564; the style of which ran thus:
"The first general court-baron and lete, of the noble Prince Thomas Duke of Norfolk, Earl-Marshal of England, Nicholas Le Strange, Richard Fulmerston, Knts. and John Bleverhasset, Esq. trustees to the use of the said Duke, by virtue of a feoffment made by Sir Nicholas Bacon, Knt. Lord-Keeper of the Great Seal of England, Thomas Andrews, Francis Baldero, and Edmund Wiseman, Esqrs. after their purchases of the several parts of this manor and advowson, of Robert Throgmerton, William Norreys, Ralph Leycestre, Knts. Thomas Tressham, Henry Lumleys, Esqrs. and Robert Futter, Gent." (fn. 35)
In 1570, the Duke leased it to Thomas Kitson, Esq. who kept court in his own name, by virtue of his lease.
1574, (fn. 36) William Dixe, Esq. and Thomas Canterell, Gent. assigns of Thomas late Duke of Norfolk for ten years to come, kept their first court here, in the style of which it appears, that the manor was entailed as follows:
On Phillip Howard, Esq. eldest son of the said Duke, otherwise called Phillip Earl of Surrey, and his heirs male, remainder to his brother, Thomas Howard, Esq. and his heirs male, remainder to William Howard, Esq. another brother, and his heirs male, remainder to Henry Howard, Esq. another brother, and his heirs male, remainder to the right heirs of Earl Phillip; and for want of such, to Margaret Howard, his sister, and her heirs.
In 1578, Thomas Duke of Norfolk kept his first court, upon whose attainder it was forfeited to the Crown, and
The Queen kept court here; she granted it to
William Cecil, Knight of the Garter, and others; whether to the use of the Howard family, or no, I cannot say; however, certain it is, that it was in
Phillip Earl of Arundell and Surrey; and, upon his attainder in 1589, was seized again by the Queen;
From which time it remained in the Crown till the first of James I. when
Thomas, son of the said Earl, was restored to his honour and estate; and in that year, the King, by letters patent dated June 17, restored the manor and advowson to
Thomas Lord Howard, and Henry Howard, to each a moiety.
In 1625, Robert Causfield of London, Esq. trustee to Henry Earl of Arundell, mortgaged this manor and advowson, and the tenements Irland and Roses, to Sir Thomas Penruddock of Hale, in Southamptonshire, Knt. and Sir Henry Bedingfield of Oxburgh, in Norfolk, Knt. with divers other large estates, which were afterwards sold; but those being insufficient to pay the debts, it was afterwards infeoffed in
John Dixe, alias Ramseye, of Wickmere, in Norfolk, and other trustees, in order to pay the rest, which John left his brother's son, John, his heir, who, in 1660, at the request of Henry Howard, second son to Henry late Earl of Arundell, absolutely granted and released to
Sir William Platers of Soterlee, in Suffolk, Knt. and Bart. and Sir Richard Onslow of West Clandon, in Surrey, Knt. and their heirs for ever, (among others,) this manor and advowson, to the intent that they should take the debt absolutely on themselves, with the title; and soon after, the debt being paid, it was conveyed to
The Duke of Norfolk, in which family it hath ever since continued; Charles Howard Duke of Norfolk, Earl-Marshal of England, being lord and patron at this time. [1736.]
Boyland Manor
Belonged to Alsius in the Confessor's time, and was in the Conqueror's hands at the survey, being by him committed to Godric's (fn. 37) custody, and was then very small.
It was after in the Earl of Norfolk, and by him united to the great manor, and so continued till the first Sir Johu de Verdon, about 1240, conveyed it to Walter of Brisingham, to be held, by him and his heirs, of the manor of Brisingham; this Walter left it to William of Brisingham, his son, and he to Walter of Brisingham, his son, (fn. 38) who, with Margery his wife, sold it, in 1268, to Sir Richard de Boyland, Knt. from whom the manor took its name. The Brisingham family were of good account, and had large possessions here and in other places, as I find by several evidences. William, son of Walter of Brisingham, lived in 1259; Richard, son of Rose of Brisingham, in 1332; John, son of Robert of Brisingham, and Joan his wife, in 1349; all considerable owners in these parts.
In 1268, Walter of Brisingham sold to Richard de Boylond, one messuage and a carucate of land, in demesne, in Brisingham, Roydon, and Shelfhanger, with all their homages, services of freemen, and villeins, reliefs, &c. (for money,) and 80 acres of land, that the said Richard granted to the said Walter and Margery, in Pulham, being all the land he had there. These arms were always born by the Brisingham family, though there were two younger branches that bore different coats, viz.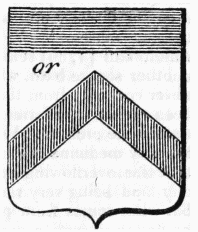 Sab. two wings conjoined and elevated arg.
Arg. three mullets sab. between two bendlets engrailed gul.
And according to this conveyance, I read in Curtey's Register, fol. 52, that
Richard de Boylond, Knt. held a messuage, 60 acres of land, 5 acres of wood, 1 of marsh, &c. of William, son of Walter of Brisingham, and the said Walter holds them of John de Verdon, by the service of a third part of a fee, and one arrow, per annum, and the said John holds it of the earl, the earl of the Abbot of Bury, and he of the King.
This Sir Richard was a very great man in Edward the First's time, being justice-itinerant in this county, and owner of many great lordships and estates, but how acquired we may easily judge, for Mr. Weaver (fn. 39) informs us from Stow, and other historians, that he being one of the commissioners for the government of the kingdom in the absence of Edward I. was, at the King's return, found guilty of manifest corruption in the administration of justice, and fined 4000 marks for his intolerable extortions. After this he retired hither, where he built a noble seat, surrounded with a large moat, which he continued round the orchards, park, and all his lands, the remains of which may be seen at this day; [1736;] but his greatest work was that subterraneous vault, or arch, now remaining, commonly called the Conduit, which was made with a double design, both for bathing and for a continual supply of water to these moats. It is situate about half a furlong SW. from the house, and is very remarkable, being arched over very strong, ceiled very smooth, and paved at the bottom; the mouth of it is about three feet wide, but when you enter beyond the rubbish which is thrown in, a man may fairly walk upright; it goes in a straight line about 30 or 40 rods in length, and near the further end is a large well, exceeding deep, beyond which there is a wall, and there the straight line of the vault ends. This well continually overflows, so that the water runs about a foot deep the whole length of the vault, occasioned by its outlet being almost stopped up with rubbish, or else it would not run above two or three inches in depth. When you have entered this vault about four rods, there are two mouths of other arches, one on the right hand and another on the left, from which the water continually flows into the great arch, so that the three currents have one discharge only; what is in these two I know not, for though the mouths seem large, the arches are not big enough for one to enter. Right over the well, in the close, is a hill, raised (as I take it) to determine the place where the well is; when the water runs out, it comes directly into a square bath, over which there was lately a bathing-house of brick, with a summer-house joined to it, the ruins of which still [1736] remain. Out of this the water runs into such another square bath, which was designed as a common one, it being never covered; from this is a small conveyance, which seems to have been arched over formerly, that leads directly into the moat that surrounds the orchard. Whether this water was heretofore remarkable for any medicinal virtue I know not, but if not, am apt to think that this overflowing spring induced him to settle here, a spring of any kind being very rare in this part, there being little water for use, but what comes from ponds and moats, which might be the reason he bestowed such a cost on it. The water is very cold, and in the extremity of frost never freezes, though the motion is but little. The people that come to see this place have pulled down most of the ruins, to throw into the vault to hear the sound, which is very great, and continues long. The meadow is called the Conduit Meadow, and is part of the estate of the Duke of Norfolk. [1736.]
In 1285, he had a charter (fn. 40) for free warren in all his demeans here, and in Wilby in Norfolk, and Chedeston in Suffolk; about this time he added to the manor divers lands and tenements in this town, which he purchased of Robert, son of Roger Le Bretun, and had them settled on himself, and Maud his wife, and their heirs, all which (fn. 41) are specified in the deed enrolled in the King'sBench. I am apt to think that Sir Richard was son of Roger de Boyland, and Alice his wife, which Roger was dead before 1256, for then (fn. 42) Alice was his widow; she lived some years after, (fn. 43) being buried in the church of the Carmelite friars at Norwich, which was not founded till 1268. In 1295, Sir Richard, jointly with his second wife Elen, daughter of Philip de Colvile, had this manor, with others in Northwalsham, Tivetshall, Wilby and Ringstead, and lands in Osmondeston, Hemenhale, Tasburgh, Wackton, and Gissing; and John (fn. 44) was his son and heir, twenty-four years old, who soon after succeeded; and, in 1314, settled it (fn. 45) on himself and Emme his wife, and their heirs, with the lands that belonged to it in Roydon, Shelfhanger, and Winfarthing. He had a brother named Richard, (fn. 46) who, in 1307, was lord of Shotisham: in 1321 he sealed with a knight on horseback, holding a shield with his arms thereon; he left it to
Sir Richard de Boyland, who, in 1340, held it at a third part of a fee, jointly with Maud de Boyland, his mother-in-law. I have a deed in 1350, to which he is a witness: at his death it came to
Sir John Boyland, of Boyland Hall in Brisingham, his son and heir, who died without issue male, leaving only one daughter, Maud, (fn. 47) married to
John Lancaster, senior, Esq. of Brisingham, who was of a good family in this country; William Lancaster, Esq. was a tenant of this manor in 1378. This John was seized of it in 1401, holding it at the fourth part of a fee, but was charged at half a fee for his relief; he added to it by purchasing Filby's manor, and uniting it to this, as he did the tenement Irland's and all the services thereto belonging, which was of his own inheritance, all which, at his death, he left to
John Lancaster, Esq. of Brisingham, who married Elizabeth, daughter and coheiress of Sir John Braham of Braham Hall in Catiwade, in Suffolk, Knt. He by his last will, dated the 20th of Nov. 1469, willed to be buried in St. John's church, (fn. 48) in Brisingham, (fn. 49) leaving the manor to
Elizabeth, his wife, for life, with the manor of Heywood Hall in Diss, and all the lands thereto belonging in Reydon. Shelfhanger, Fersfield, and Burston, all which John Lancaster, senior, his father, had settled on Sir Simon Felbrigge, Knt. Gibert Debenham, and other trustees, to the use of his will; and at the death of Elizabeth, the aforesaid premises were to descend to William, his eldest son, except Filby's tenement in Brisingham, and Roydon. John and Henry, his sons, were to have all his share in Boyton Hall manor, in Capel in Suffolk, with lands there, and several towns thereabouts; and after the death of Elizabeth his wife, and William his son, they were to have Filby's tenement, and his part of the manor of Braham Hall in Catiwade, to them and their heirs. Elizabeth lived till 1478, and then died seized of this, (fn. 50) and of a tenement, and 14 acres held of Fersfield manor, called Rose's, and of the tenement Irland's in Fersfield and Brisingham, with all its services; and William Lancaster of Boyland Hall in Brisingham, was her son and heir. It seems she married one Cator for her second husband, for by that name she is found to die seized. (fn. 51)
This William first married Elizabeth, daughter and coheiress of William Notbeam of Suffolk, Esq. and after her death, to (fn. 52) Eleanor, widow of Henry Noon of Shelfhanger, Esq. daughter of Derby of Cheshire, who survived him, and after married to Robert Wyngfield, Esq. whom she survived; and dying in 1500, was buried by Henry Noon, her first husband, in Shelf hanger chancel. By her he had no issue; by his first wife he had one daughter, named Benedicta, who married
Edward Bolton, Esq. who had two sons,
William Bolton of Boyland Hall, to whom he gave this manor, with Irland's and Rose's tenements, and all their rents and services in Fersfield, Brisingham, Raydon, and Shelf hanger, by will dated 15th July, 1528. To Thomas, his other son, he gave Heywood Hall manor in Diss, and Winfarthing, which went off with him, as in that manor at large. This William married Elizabeth, sister and heiress to William Curson of Carleton in Norfolk, clerk, by whom he had
Francis Bolton of Burston, Gent. who was lord here in 1571. (fn. 53) He married Anne, daughter and heiress of John Pykarell of London, and Anne his wife, daughter of John Fyfield of Essex, by whom he had
Edward Bolton, who dying without issue, the manor and tenements aforesaid descended to his four sisters, Ruth, Elizabeth, Susan, and Judith.
Judith married Edward Rochester of Thetford, Gent. whose son Richard joined with Eustace Tirrel, Gent. who married another, and the other sisters and their husbands, and sold it to
Phillip Earl of Arundell, who was possessed hereof in 1583, together with Rose's and Irland's. At this time the site of this manor, with the demeans, whereof part was in the park of Kenninghall, was let to the keeper of the old park, for his dwelling, and so had been ever since 1571, before which time it was hired by the Norfolk family, if not mortgaged to them by William Bolton, and Elizabeth his wife, though there was no title completed till now; from this time it continued in the Norfolk family, the present duke being now lord. [1736.]
Middleton's Manor in Brisingham
Had its beginning in 1276, when Wigona de Verdon and her partners held it, together with lands in Hapeton, at one fee; this soon returned to the capital manor, except those parts which her partners held, of which
John de Lynn (fn. 54) had a fourth part of a fee, and
John de Boyland had another fourth part, which was forced to pay a relief, as half a fee, it being charged with the relief of that part which was John de Lynn's, whose part came from him to a branch of the
Brisingham family, but not that which had the part afterwards Boyland's, for it remained in that family till it went to three heiresses, married to
Henry Baille, Peter de Mayners, and David Cumyn, as an inquisition of all the knights fees in Norfolk and Suffolk informs me: I take them to have been the heiresses of
Thomas de Brisingham, to whom King Edward I. for his great services, gave divers lands in Normandy. In Edward the Second's time, (fn. 55)
Hugh du Pool of Brisingham seems to have had it; and in 1321,
Thomas du Pool, (fn. 56) his son, who left it to
Henry de la Pool, his son, who, in 1331, (fn. 57) levied a fine of this manor, which at that time consisted of 9 messuages, 218 acres of land, and other great parcels in Brisingham, Lopham, Fersfield, Shelfhanger, and Roydon, together with the advowson of Shelfhanger, by which it was settled on Henry and Margaret, and their heirs, in tail. In 1338 (fn. 58) they had aliened it to
William de Middleton of Brisingham, and Isabel his wife, and John Howard and others; and it seems as if this Isabel was their daughter and coheiress, and had this part settled on her, as the other part of their estate seems to be on her sister, that married Bosville. However, by an inquisition, 20th Edward III. it is plain that
William de Middleton held it for life, by the fourth part of a fee, and that he was to pay no relief, because it was charged on Boyland's part, which was to pay 45s. for both, as half a fee; thus it continued to 1359, and then (fn. 59) the said William and Isabel, and all other parties concerned, joined in a fine, and conveyed it absolutely to
Mary de Brewse Countess of Norfolk, and her heirs, at which time the extent of it was 118 acres of land, 4 of meadow, 24 of wood, 20 of pasture, and 60s. rent, lying in Bresingham, Shelfhanger, Disse, Winfarthing, Burston, Roydon, and Carleton by Bokenham. This Mary was widow of William de Breose, or Brewse, lord of Brembre in Sussex, second wife to Thomas de Brotherton Earl of Norfolk; she afterward married Sir Ralph Cobham, Knt. was daughter of William lord Roos, (fn. 60) and died in 1361; but how this manor went till 1392, (fn. 61) I cannot say; but in that year
Ralph or Robert de Champayne, and Beatrix his wife, sold it to
Sir Robert Barney, Knt. and others, and his heirs. In 1401
Sir John Howard, Knt. had it, as appears by his letting the fishery belonging to it, lying by the Fen Common, to Sir John Pilkington, Knt. then lord of the capital manor. In 1425
Sir John Carbonell, (fn. 62) by his will, proved March 30, gave every one of his executors 10 marks, to be received out of the profits of the two parts of his manors of Bresingham, &c. after which I find nothing of it more, so that it shews as if it was purchased by Pilkington of these executors; but the certainty of it I dare not avouch, though well know that some way or other it was now united to the capital manor.
Filbie's Manor
Had its site in this parish, though half of its lands and rents were in Roydon; it was part of the great manor till the first Sir John Verdon gave it to his
Chaplain, who left it to his son
Bruco; soon after it was in the
Morleys, lords of Roydon, who held it of Sir John Verdon, lord of Brisingham, by the annual payment of 2s. and 20s. scutage; and in them it continued till
Sir Robert de Morley gave it to
Thomas, son of Matthew de Morley, (fn. 63) who was of a younger branch of this family; Thomas and his heirs were to hold it of Sir Robert and his heirs, by the service of 5d. a year, to be paid over and above the old services, and 6d a year for ever to the church of Roydon, to find a candle burning there; and the said Robert held it of Brisingham manor, by the services aforesaid: at this time the demeans were 30 acres, and there were several copyholders and cottagers belonging to it. From this family it went to the Filbies.
John de Filbie was lord in 1335, and paid 3 roots of ginger, or 1d. per annum. to the capital lord of Brisingham, in lieu of all services. In 1460
John Lancaster, who was lord of Boyland manor, had purchased all that part of this manor that laid in Brisingham, and joined it to his manor of Boyland; but the part that laid in Roydon in 1480
Richard Sellers (fn. 64) held of the manor of Gissinghall, by the service of 4s. 6d. per annum, which was soon after purchased by Lancaster, and joined to Boyland, with which it continued, till
John Lancaster, junior, of Brisingham, Esq. gave it by will to
John Lancaster, Gent. his younger son, who, in 1521, sold t to
William Bolton, Gent. and so it was joined again to Boyland manor, with which it continues at this day, though the demeans are sold from it. [1736.]
The Priory Manor
Was taken out of the great manor in the beginning of Edward the Second's reign, when
Sir John de Verdon granted to the Prior of St. James the Apostle, of Old Bokenham, (fn. 65) and the convent there, divers lands, tenements, rents, and services, of the fee of the said John, in the town of Brisingham, all which the King licensed, the prior, convent, and canons there, to purchase of him, after which he confirmed them to that house, together with an acre of turf-land in the Fen, which Richard, son of Robert de Scenges, gave them.
The value of this manor in 1479 (fn. 66) was 31s. 5d. ob. in quitrents, besides the demeans; the whole temporalities of the prior here was taxed at 26s. as appears by a taxation of the revenues of the religious in 1425. (fn. 67)
It continued in this house till its dissolution;
From which time it remained in the Crown till 1557, (fn. 68) when
Phillip and Mary, by their letters patent, granted it to
Thomas Guybon of Lynn Regis, Esq. and William Mynne of London, Gent. to be held by fealty only in free soccage, as of the manor of East Greenwich in Kent. In a few years time they sold it to (fn. 69)
Robert and Francis Buxton of Tybbenham, in Norfolk; and they, in 1560, to
Edmund Hoare of Palgrave, in Suffolk; he, in 1561, to
Thomas Howard of Burston, who, in 1604, left it to
Robert Howard of Burston, his son, who, with his feoffee, Thomas Harvey of London, Gent. conveyed it to
Robert Howard of Tybbenham, his son and heir; this Robert, August 24, 1613, sold it to
Thomas Howard of Burston, his brother, whose daughter and heiress married Mr. Dowe; she in her widowhood passed it to the Bringloes,
Mr. John Bringloe being the last male of that family that enjoyed it, whose daughter married
Mr. Robert Onge of Kenninghall, the present lord, who now [1736] hath the whole manor, and part of the demeans: (fn. 70) the other part, called Prior's Lands, lying at Crosgate in Fersfield, and Brisingham, were sold from the manor by the Buxtons, and are now divided into parcels, some being held by Mr. John Edwards of Winfarthing, and others, by divers persons. [1736.]
For the series of the priors who were lords, see under Bokenham Priory.
The Customs Of These Manors
are as follow, viz.
The fines are at the lord's will, and the copyhold descends to the eldest son: the tenants have liberty (fn. 71) to pull down and waste their copyhold houses, to fell and cut down wood and timber on the copyhold, without license, and to plant and cut down all manner of wood and timber, on all the commons and wastes against their own lands, by the name of a freebord or outrun, and to dig clay and turf, and cut furze and bushes, on all the commons.
The Church is dedicated to St. John the Baptist, and had 15 acres of land belonging to it at the Conquest; it is a rectory, to which belongs a manor called
The Rectory Manor,
The customs of which are the same as the other manors, except this, that the tenants cannot waste or pull down their copyhold houses without license. The glebe or demeans, in Edward the Third's time, were 40 acres; and in 1354, 51 acres and a half, but much being granted to be held by copy of court-roll, they are now reduced to about 20 acres. The patronage always hath, and now continues with the capital manor.
King's Books.
Tenths.
Synodals.
Archd.Procur. (fn. 75)
15
0
0
1
10
0
0
2
0
0
7
7 ob.
Norw. and Lin. Taxa.
24 marks.
1301, 2 cal. Febr. Thomas Hickelyng was presented.
1302, 2 cal. Nov. (fn. 72) Bogo de Cnovile, alias Cucuville, accolite; Thomas de Verdon, patron.
1316, 4 non. Febr. Thomas of Oxford, priest; Alice de Hanonia Countess of Norfolk, for this turn, as guardian to Sir John Verdon.
1330, 7 cal. Apr. Thomas de la Pole, clerk; Sir John Verdon, Knt.
1330, cal. Dec. John de Clipstone. (fn. 73) Ditto.
1331, cal. Aug. Robert de Clipstone, (fn. 74) priest, at the resignation of John de Clipstone. Ditto.
1339, 4 Febr. Ralph, son of Sir Ralph de Crophill, Knt.; Sir John le Verdoun, lord of Bricklesworth.
1341, 29 May, He resigned in favour of John de Crophill, clerk. Ditto.
1341, 4 Aug. this John resigned, and the aforesaid Ralph de Crophill, accolite, succeeded him. Ditto.
1342, 21 June, Ralph changed with John Twentimark, for Warsop in Yorkshire. Ditto.
1361, 31 July, John de Rouceby, priest; (fn. 75) Sir John Verdon, Knt.
1368, 17 Aug. Robert de Rokyngham, accolite. Ditto.
1408, 17 Nov. Richard Farthingho, priest; Sir John Pylkington, Knt.
1422, Richard Waldegrave. (fn. 76)
1457, 12 May, John Hatton; Thomas Pylkington (Scutifer.)
1457, 17 Octob. John Topclyff, canon (I suppose of Old Bokenham;) John Paston, Esq.
1461, 19 March, Nicholas Nabbe, chaplain. John Paston, Esq.
1477, (fn. 77) 4 May, John Nabbe, accolite on the death of Nicholas; Thomas Pylkington.
1482, Thomas Bulcoke, on Nabbe's resignation. Ditto.
1493, 18 Sept. Thomas Smethurst, priest, on Bulcoke's death; Roger Pylkington, Esq.
1506, 20 Apr. Henry Tayleour, on Smethurst's death; Sir Richard Ashton, Knt.
1539, 23 Nov. Thomas Bleverhasset, A. M. Margaret Puddessy, widow, the eldest of the daughters and heiresses of Roger Pylkington, Esq. deceased, true patroness of this turn.
. Thomas Briggs, (fn. 78) clerk, on whose deprivation in
1554, 28 July, William Storme, priest, was instituted; Robert Futter, Gent.
1557, Octob. 27, Storme resigned, and Thomas Goodwyn, LL. B. (fn. 79) succeeded. Ditto.
1564, 24 May, Sir John Bardolph, clerk; Sir Nicholas Bacon, Lord-Keeper.
1569, 3 Dec. William Houlden, M. A. Bishop, by lapse.
1570, 22 Jan. William Pecket, clerk, on Houlden's resignation; Thomas Duke of Norfolk.
1579, 3 Feb. (fn. 80) William Pecket; Phillip Earl of Surrey.
1618, 1 May, Edmund Baker, A. M. on Pecket's death; Edmund Gooden, by grant of the turn, from Anne Countess of Arundell, and Thomas Earl of Arundell. He died in
1667, and the 17th Febr. Francis Tilney, A. M. was presented by William Camell of Diss in Norfolk, by grant of this turn.
1715, 23 Sept. The Rev. Humphry Clayton, A. B. the present [1736] incumbent, was presented, on Francis Tilney's death, by William Clayton and Thomas Dwyer, clerk, patrons for this turn.
The following religious persons had temporalities here, which were thus taxed in 1428. (fn. 81)
The Prior of Kersey's at 12d.
The Abbot of Sibton's (being part of Frier's manor in Shelf hanger, that extended hither) at 6s. 8d.
The Prior of Bokenham's at 26s. (fn. 82)
(fn. 83) Beside these, the Prior of St. John Baptist's Commandry of the Hospitalers of St John of Jerusalem at Kerbrook had an annual payment of 1d. out of 7 acres of land lying in Thweyt hamlet in Fersfield and Brisingham, which was held free of that house by the said payment, 3 acres lying in Longland in Fersfield, and 4 acres in Oldfield and elsewhere in Brisingham and Fersfield. This land is now [1736,] owned by Francis Blomefield, clerk.
The Church here was much decayed, as should seem by the rebuilding the present fabrick, which was begun by Sir Roger Pilkington, Knt. lord of the manor, whose arms are cut in stone over the west door of the tower, quartering the arms of Verdon, on the other side of which is a single coat of some benefactor to the building, which was also in the church windows, though now lost, and is, arg. a chevron gul. between three eagles legs erased sab. (fn. 84)
But though it was begun by him, he lived not to see it finished, for it was not perfected till 1527, as the date on the north side of the nave (still remaining) discovers to us. Among Mr. Le Neve's papers I find, that against the north wall of this chancel, at the upper end thereof, was a fair raised monument, once adorned with two fair portraitures, and escutcheons of brass, but now all reaved, with the epitaphs; he observed that the inhabitants told him, it was a knight of the family of the Pilkingtons. (fn. 85) And in Mr. Anstis's book it is said, that there is a fair monument, having its brasses taken away, erected for a Pilkington. Now I take it, that this Sir Roger Pilkington and his wife were buried under it, the tradition still remaining that it was the tomb of the builder of the church; it is now [1736] taken down, and the top stone laid level with the floor, that it might not hinder the uniformity of the altar rails, the steps of which half cover the stone.
The building is very neat and uniform, having a nave, two isles, and south porch, all covered with lead; a fine lofty square tower, with a tunable ring of five bells; the chancel is tiled, which was not rebuilt with the church, it being much more ancient. Here are but few stones, and those that had brass are all disrobed. In the windows the following coats still remain, viz. In the south isle, the arms of Bury abbey, and arg. three pallets gul. on a bend sab. three estoils or. In the north windows of the nave are Verdon's arms; and in a north-isle window, Cressi, or Morley. Those that follow are now lost, Scales and Howard, Brotherton, Ufford and Beck, Vesey, Segrave, the East Angles, and St. George's. In the chancel are the following inscriptions:
On a black marble; the arms and crest of
Tilney, arg. a chevron between three griffins heads erased gul. Crest, a griffin's head.
Sub hoc Marmore, Humatur Corpus, Viri Venerabilis, Francisci Tilney, A. M. hujus Ecclesiæ, Septem plus et Quadranginta Annis, Pastoris indefessi, Objit, 13 Septembris, Anno Salutis 1715, Ætatis 81.
On a freestone.
Francis Tilney, son of Francis Tilney, Cler. and Elizabeth his Wife, buried June the 10 Anno Dni. 1682.
Adjoining, Here lyeth the Body of Elizabeth, the wife of Francis Tilney, Clerk, Daughter of Thomas Read of North Cove, Esq. who died Apr. the 23. 1691.
John Lancaster, junior, Esq. was buried here, with several of that family, whose memorials are all lost.
1569, Henry Symonds, (fn. 86) buried in the church, gave 20s. to the poor, and died possessed of a good estate here; he had purchased the site only, and two closes, of Philby's tenement or manor, from Boyland manor.
1623, William Houching paid the usual fee of 6s. 8d. to the church-wardens, for burying his father in the church.
1626, John Blomefield (fn. 87) paid for his father's being buried in the church, and a grave-stone laid, 12s. to the church-wardens; the stone is now gone. [1736.]
Two Gilds
Were kept in this church, the one dedicated to St. John the Baptist, the other to St. Peter; a fair book of their accompts and lands is still in the church chest, out of which I learned the following particulars: that in 1531, St. John's Gild had a stock of 30 cow beasts belonging to them, which they let out at 1s. a year each; that the town-house, standing on the north side of the churchyard, was their Gild-hall, one room of which they reserved to hold their gild in, and the other they let; that there were above 20 bretheren and sistern on their bead roll, their hall, when the gild was dissolved in 1547, it was vested in feoffees for the use of the poor; they had a chaplain retained, to pray for them and for all their bretheren and sistern, living and dead, for which they paid him a salary of 30s. a quarter. In 1518, Sir Wylyam was their chaplain, who was continued to this time. In 1527, Thomas Clerke of Wisbech left them a legacy of 10s. and this year Sir Henry Tayleor, rector of Brisingham, was admitted a brother; they annually chose two Gild-holders, who were to receive all the money at the church-ales, the plough-lode, and the gilds, at some of which they received between 3 and 4l. besides the legacies that were left them. In 1541 they bought a pair of chalices: every year a great many brothers and sisters were added to them, and it is plain they were not a poor society; for, before 1517, they had purchased divers grants from the following societies, that all the bretheren and sistern of this gild should be partakers of the following pardons, which was the reason of the great increase of this above the other gilds, viz.
"The pardoun of the beyds, pardonond by the Priour of the Chartur-house of Mount-grace, for every of our Ladies-sawter said ower 26000 years of pardon.
"The pardun of the beads at the Chartur-house of Schene, for saying our Ladies-sawter is for every word in the Pater-noster, Ave Maria, and Crede, 24 daies of pardon, as often as the aforesaid Sawter is said, and is 10000 years of pardon.
"The pardon of the beads at Sion, saying our Ladies-sawter, every Pater and Crede 500 days of pardon.
"The pardon of the Cross Fryerys besyde London Tower, 500 days of pardon."
St. Peter's Gild
Was a less society, and having no hall, it was kept at the Gildholders' houses; they had two pieces of land, each containining one rood, the first of which lies in St. Peter's Grove, (fn. 88) and was given, about 1463, by John Goche, a brother of the gild, who also gave the other piece which lies on the west side of Garbroad; both these at the Dissolution, were vested in feoffees for the use of the poor, and are freehold. They had a chaplain also, the same, I suppose, that St. John's Gild had, for I find one only named at once, viz. 1326, Robert Agar, chaplain; 1396, Robert Wade; 1401, John Copping; 1441, Stephen Hubbard.
1407, Henry Goman, chaplain, by will gave an antiphonal of 5 marks to the church. (fn. 89)
1417, Robert Wode, chaplain, was buried in the churchyard; he gave vj.s. viij.d. to the high altar, and xx.d. to the poor. (fn. 90)
1506, 2 Apr. Thomas Smetherste, rector here, made his will, which is a very remarkable one, as not having one superstitious bequest in it; the substance of which is; that what God gave him he bequeathed as follows: "I commend those things which are Cœsar's to Cœsar, the earth to the earth, and those things which are God's to God; that is my soul to Christ. And I will, that all the poor that come to my burial have as much money, distributed among them as my circumstances will allow, at the discretion of my executors; and if I have defrauded any one, so that he can in conscience say, I ought to recompence, I will that recompence be made him. I give to Sir Richard Beeston, parish priest of Roydon, for his constant and true friendship 6s. 8d. and one of my gowns; and I make Sir James Smetherste, my brother, executor," (fn. 91)
In 1478, John Catour was buried in the church, (fn. 92)
Benefactors to the building of the church, besides the principal ones, were,
St. John's Gild, which gave 25s. for free-stone.
Richard Medildiche of this town, who, in 1505, gave by will to St. John's Gild, 3s. to St. Peter's, 20d. and 6 marks to buy lead, and lay it in the churchyard for the use of the church. (fn. 93)
In 1517 there was a gathering in all the neighbouring towns, for to finish the roof.
Town Land And Gifts. (fn. 94)
The town-house formerly belonging to St. John's Gild, standing over against the north west end of the churchyard, is copyhold on the rectory manor, pays 4d. quitrent, and is used for the dwelling of two poor families. [1736.]
One rood of land in Peter's Grove, and another rood in Garbroad, lying on the west side thereof, are freehold; and in 1600 were dooled out, and let at 7s. per annum to Mr. Futter: the row next South or Church-field, stands on the rood in Garbroad; these are in the estate late Mr. Salter's, now Mr. Robert Martin's of Thetford, and are settled on the poor. [1736.]
1632, Henry Russels gave 10l. to the benefit of the poor.
Mr. Tirrel gave 10l. and the parish had 6l. 13s. 4d. out at use, of divers gifts; the town gave 4l. out of their stock, and sold a piece of town land which laid in Baldryes, with another piece in Winosalls, for 20l. to Mrs. Frere; these two pieces were freehold of Gissinghall manor, held at 9d. per annum, and were given in Edward the Fourth's time, by Robert Kyrkebi, and John Gooch. This they expended about paving, seating, and adorning the roof of the church, and carving the stools, what remained being kept for town stock.
A new pulpit and desk were made, and the altar railed in.
In 1638, the inhabitants petitioned the Bishop, that, Whereas the village of Brisingham grew very populous, and the parish church was large and neat on the outside, but much unbeautified within, the pavement and seats being decayed, and others wanting addition, the parishioners sitting in no order, the font standing in an obscure place behind one of the pillars, &c. that they might have license to do all things convenient, for the beauty of the church, and decent placing the inhabitants therein; upon which there was a commission to four neighbouring clergymen, who viewed it, and certified, that at the east end of the south isle, there was a sort of chapel parted from the church, in which the family from Boyland Hall used to sit, which they thought ought to be removed, and another place assigned to that family, (fn. 95) which was done accordingly. After this, it was certified that Edmund Salter, (fn. 96) A.M. had been a great instrument towards this work, and had laid out above 40l. in building the 14 upper pews of wainscot, for which they allotted the highest seat in the church, on the north side, to be annexed to his house for ever, (fn. 97) which was confirmed by the Bishop's Faculty; in which seat this is cut on the wainscot: Quatuordecem hœ supremœ Sedes, extructœ fuerunt impensis Edmundi Salter Clerici, Anno Domini, 1674.
In 1644, Apr. 7, Capt. Gilley was paid 6s. by the town for viewing the church, to abolish superstitious pictures, and immediately after, John Nun was paid for two days work for taking down glass and pictures about the church, and filing the letters off the bells; (fn. 98) and it is plain that here were many effigies and arms, for the glasing of the windows after this reformation came to 2l. 6s. But though several of them were lost, some were preserved, and put up in the Hall windows, as the emblem of the Trinity, St. John the Evangelist, St. Catharine, the Holy Virgin, and St. Margaret, together with the arms of Verdon, and Pilkington, and Bohun Earl of Northampton, viz. az. on a bend arg. three mullets sab. between two cotises, and six lions rampant, or; all which (except the last coat) are now put up in the east chancel window, at the expense of the present rector. [1736.] This church suffered much in these times, for in 1664, 54l. 11s. 8d. was raised by rate to put it in order, and to buy it ornaments, of all which it was spoiled.
About 1668 the town purchased, of the widow Lanham, certain lands called Le Holmes, with the stock that remained of Baldrio's land which was sold, and 10l. of the town money; 3 roods of it (in two pieces) lie upon Fersfield manor, and pays 6d. lord's rent, and 1 acre on Brisingham, which pays 1s per annum. It is now let at 39s. per annum. [1736.]
The town close lying against Brisingham great common, heretofore called Chedbury Close, is freehold, and is let at 2l. 10s. per annum; this hath belonged to the church many ages even before 1400.
The town-house, in which two poor families dwell, [1736,] standing on the east side of the great common, was erected about 1630, by the inhabitants, upon a piece of their common.
Matthew Walter of Bliford gave 20s. per annum to the poor. (See his Will, under Fersfield.)
Mr. John Welham, late an inhabitant here, obtained leave of the inhabitants, to enclose a cartway that led into the grounds at the east end of his orchard, and to make it a footway only; in consideration of which, he settled 40s. a year; 3s. 4d. of which to be distributed the first Sunday in every calendar month, in bread to the poor, and tied his estate in Brisingham for the payment thereof; it is now owned by Mr. John Prentice of Botisdale, and is called Welhams. [1736.]
Elizabeth, widow of Mr. John Barker, rector of Fersfield, by will dated June 18, 1728, gave to the rector of the parish of Brisingham, and the church-wardens there, who should happen to be so, at the time of her decease, 2 acres of land called Round Meadow, and one tenement, and 2 acres and 20 feet of land, and half an acre of marsh, copyhold on Brisingham manor, lying in the said town, all which they are to hold to them, and the longest liver of them: and when all three are dead, the next rector and church-wardens to be admitted, to the use and trust following: that after the deduction of charges, the profits shall be by them applied, in the teaching of as many poor children (whose parents are settled inhabitants of Brisingham) above eight and under ten years old, in reading, writing, spiri ning, and other work, and learning the Church Catechism, as the produce will pay for, the said rector and church-wardens being tied to keep plain fair-written accompts, in a bound book, which shall be produced to the minister, church-wardens, and overseers of the poor of the parish of Fersfield, or to any one of them, within one week after notice given, which notice must be on a Sabbath day, immediately after divine service, and sermon is ended; and if the accompts be not produced in the time, the whole is forfeited, and vested in the minister, church-wardens, and overseers of Fersfield, to the same uses; and further, the rector, church-wardens, and their successors, are tied to agree with all that shall hereafter occupy the premises, that they shall have no manner of commonage on the great common of Brisingham, but that the right of commonage which belongs to this tenement shall be laid to the new built house and lands called Ten Acres, (fn. 99) for ever, especially on that part of the common which comes down to the same lands; and the said tenement, as an acknowledgment that it hath no right, shall pay 1d. yearly, if demanded; and for want of such bargain, the lands are forfeited to Fersfield rectory and church-wardens, and if they fail performing it, then to be forfeited to the heir at law for ever. And in another clause concerning the Ten Acres, is this: "Item, I give unto my kinsman, Francis Tilney of Stradbrook, in the county of Suffolk, barber, all my lands, tenements, houses, and outhouses in Brisingham and Fersfield, (fn. 100) with all and every their appurtenances, now in the occupation of John Fisher only, upon condition that the said Francis Tilney, and all other owners of the said premises, shall keep up the altar tomb, now erected over my dear deceased husband, on failure of which, my will is, that the church-wardens of Fersfield, shall seize upon the same, and pay themselves, what moneys they shall be out of in repairing and beautifying the same, together, with all their charges."
The town also receives 2s. a year from the blacksmith's shop at the Cross-ways.
The vestry on the north side of the chancel was demolished in 1658.
The bell that hung between the church and chancel, in 1618, was run into the fourth bell.
In 1549, the cross was pulled down, and the materials sold, as was all the church plate, (except enough to make a new cup,) with a vestment, rochet, cross-cloth, and altar-cloth, but in Queen Mary's time, they bought a new rochet, and procession book in English.
About this time the Buts were made, and the town ordered to find a foot arms.
This town, as appears from ancient evidences, notwithstanding the common received opinion to the contrary, was most field unenclosed; for at all times, great number of licenses were granted the tenants to enclose their lands, and vast numbers of them in Henry the Seventh's time, when it seems they completed the whole, and this is the reason that all the highways and lanes in this and the neighbouring parishes are measured into the lands that lie against them.
The manors that extended into this town, besides what lie therein, are Fersfield, Roydon Hall, Gissinghall in Roydon, and Frier's Manor, in Shelfhanger, and the rector of Shelfhanger hath a small parcel of glebe here.
The Commons
Are very large, and so they were always, for in an Extent in Sir John Verdon's time, it is said, that the town is surrounded with common, the names of which, at this time, [1736,] are Boyland Green, Whitehouse Green, Piddock's Green, the Great Common, with Aldwood Green, and Jay's Green now joined thereto, Roydon Green, the Fen Commons, Derby's Green, Winley Green, and Thwayt Green.
Boyland Green is so called from Boyland Hall, which stands on the west side of it, and anciently was appropriated to be fed by the tenants of that manor only, and is now [1736] fed by the towns of Brisingham and Shelfhanger, who are intercommoners here; between these towns there was a long contest, Shelfhanger claiming common of vicinage on this green, Whitehouse Green, Piddock's Green, and the Great Green or common; which contention lasted several years, till at length, upon Brisingham's proving their driving the commons solely, and always making the Shelfhanger people pay as trespassers thereon, they were adjudged to Brisingham only, except this Boyland Green, on which they were to be intercommoners, having proved, that they had about 6 acres of land in their parish, at the north end thereof, divided by a run of water; but the drift of this green also was given to Brisingham only: all the Evidences of it (fn. 101) are in the hands of the town, with many more ancient ones, that would have set forth their sole right in a more clear manner than any they produced; and in particular the ancient Extents of this manor prove, that these commons were fed by the tenants of Brisingham only, in right as well of their freehold, as copyhold messuages, lands, and tenements, with all manner of cattle, at all times of the year, exclusive of all the tenants of Roydon and Shelfhanger, and all others, except the Abbot of Sibton, who by grant of Sir John Verdon, then lord, and his tenants, enjoyed common of pasture for 200 sheep, on the Great Green of Brisingham, paying annually 12d. to the lord of the manor, and his annual alms to the poor of the parish; this right is now [1736] enjoyed by the Duke of Norfolk, as belonging to Frier's manor in Shelfhanger, which he had with the abbey of Sibton, at the Dissolution, and the tenant that now occupies it with Shelfhanger Hall, to which it is now [1736] joined, pays bread annually on St. Thomas's day to the poor here, in lieu of the abbot's alms. The lord granted several of the tenants liberty of faldage hereon, and to drive the common sheep into their grounds to improve them, Boyland Green contains about 35 acres, Whitehouse Green about 20 acres, Piddock's Green somewhat more; the Great Green or Common, contains about 500 acres, Aldwode Green is that part of the Great Green that extends from the Round Pightle to the road that enters Piddock's-lane and contained about 20 acres, and is now [1736] laid to the Great Green, as is Jay's Green, which is that part lying from the Round Pightle to Fersfield way, on which the tenants of Fersfield have an absolute right of intercommonage; but it being with this limitation, that their cattle must have a follower, it is disused, as not being worth the while. On the Fen Commons there are no intercommoners, nor on Derby's Green, which is a small place, of not above 2 acres, and had its name from John de Derby, whose house stood against it in 1379. The Fen Commons are large, one was called Walstrete Common, and the other the Freth; Roydon Green is a small one, and is so called, because Roydon intercommons there, as Fersfield does on Winley Green and Thweyt Green, on both which each parish hath drift.
In this parish lived one Mr. Harrison, who was a curious collector of Roman coins, of gold, silver, and copper, from Pompey the Great to Honorius and Arcadius; his collection was sold by his son, to Sir Symond D'Ewes of Stow Langetot, in Suffolk, Knt. He was a very curious person, and lived in the house in which Robert Kent, senior, now dwells, [1736,] which was adorned in a very odd manner. In the parlour stood the effigies of a man which had a speaking trumpet (put through the wall into the yard) fixed to his mouth, so that upon one's entering the room it used to bid him welcome, by a servant's speaking into the trumpet in the yard: on the parlour door you may read the following distich, in brass capitals, inlaid in the wood:
Recta, patens, felix, iesus, via, janua, vita, Alpha, Docet, Verbum, Ducit, Omega, Beat.
And on the staircase door is a brass plate, with a circle engraved thereon, equally divided by the twenty-four letters, and this distich, in capitals of lead, inlaid in the wood:
Difficilis, cels----sera, porta, olympi, Fit, facilis, fidel, cardine, clave, manu.
In 1364, John Spilwan held lands here, which family always sealed with a cross flore in a shield, circumscribed Sigillum Johannis Spilwan de Brisingham; they were a family of good account in this country, though I do not find them owners of any manors.
The Boyland family always bore these arms.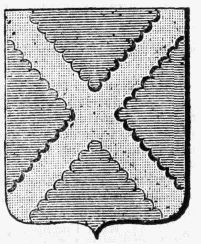 Mr. William Piddock of Brisingham bears chequy or and az. on a pale sab. a woman's breast distilling drops of milk proper.
In 1603, it was returned that there were 160 communicants in this parish, which hath now [1736] near 70 dwelling-houses, and about 400 inhabitants. It used to pay 3l. 14s. for every tenth.
Parliament valuations under the associations were 1150l. and 1104l. the present [1736] valuation being 1093l. 10s.
The Leet Fee paid to the lord, was 20s. but the leet being dropt, there is no fee paid.
Having no more to say of this place, I shall procceed to Fersfield.