Pages 74-114
An Essay Towards A Topographical History of the County of Norfolk: Volume 1. Originally published by W Miller, London, 1805.
This free content was digitised by double rekeying. All rights reserved.
FERSFIELD
Is bounded on the east and south by Brisingham, on the west by Lopham, on the north by Kenninghall; the hundred of Diss extending to the utmost limits of this parish, and no further.
I find the name of it very differently written, as Fersevella, Fervessella, Ferefeud, Fairfeud, Fairvill, and Fersfell, all which seem to signify, a Fair Fee, or Village.
One part of it was very early in the Abbot of St. Edmund's Bury, (fn. 1) being given about 963, along with Brisingham, by Osulph Le Sire, (fn. 2) and the Lady Laverine, his wife, and was valued with that manor in the Confessor's and Conqueror's surveys; this fee being not mentioned in Doomesday, under Fersfield, it is evident it must be included in that manor, with which it was infeoffed by Abbot Baldwin, (fn. 3) soon after the Conquest, in
Roger le Bigot Earl of Norfolk, and that it was so appears from an ancient manuscript of that abbey, now in Lord Carnwaleis's hands, (fn. 4) in which it is said, that Earl Roger held three fees of that abbey, one in Norton, one in Brisingham, and one in Fersfield, for which he paid nothing to the guard of Norwich castle, the abbot being answerable for 7s. every 20 weeks. And in the same book (fn. 5) it is found, that the fee in Brisingham was held of the Earl by John de Verdon, that in Fersfield by Sir Robert de Bosco, (or Bois,) and that in Nortone by Richard de Cham; the fee in Fersfield, at the death of Earl Roger, (fn. 6) who died in 1107, went to William, (fn. 7) his son and heir, and from him to
Hugh Bygod, his brother and heir, (fn. 8) who infeoffed
Sir William de Bosco in it in the time of Henry II. (fn. 9) whose heir,
Sir Robert de Bosco, held it in 1165; it was near one half of the town, and was ever after held of the Earls of Norfolk, who held it of the Abbot of St. Edmund's Bury.
The other part belonged to Alsius, a Thane (or nobleman) of Edward the Confessor's; the demeans being valued at two carucates; it was then an extensive manor, part of Burston, Bressingham, and Shimpling, belonging to it. The manor with the Berewic, (fn. 10) and that part in Burston that belonged to it, was then valued at 60s. (fn. 11) but by the Conquest was risen to 7l. 6s. 8d. and all that belonged to it was then valued at 12l. 6s. 8d. of which the freemen paid 106s. 8d. It was at the survey two miles long, and one broad, and paid to the Danegeld 7d. being at that time in the King's hands, under the management of Earl Godric, and the soc and sac of all the freemen in the hundred, that held less than 30 acres, (fn. 12) belonged to it.
Thus it passed with the Crown some time, but was after given to the Bygods, then Earls of Norfolk, to be held at one fee; and
Roger Bygod infeoffed
Sir William de Bosco in it, as Hugh his son afterwards did in the other fee, so that he had the whole town, (fn. 13) except a wood, and 19s. 4d. rent belonging thereto, which had been held a long time by the Earl of Arundell; but the jury knew not how, or of whom, this part that Earl had from the Crown, before the Bygods had the town; this also afterward came by purchase to the Boises; William du Boys aforesaid, at his death, left the whole town, manor, and advowson to
Sir Robert de Bosco of Feyrfeud, Knt. his eldest son and heir, (fn. 14) who in 1165, held it of the Earl-Marshal at two fees; his wife's name was Isolda, who brought him a manor, held at one fee in Denton. This Sir Robert at his death left
Gilbert de Boys, Knt. (fn. 15) his eldest son and heir, who married, and had an only daughter, called Joan; he died in 1249, at which time it appears that she was married to William de Bovile, who inherited, in his wife's right, all the lands and tenements of the said Gilbert, except the manors of Fersfield, Garbaudesham, &c. which descended by entail to
Sir Robert de Bosco of Fersfeud, Knt. second son of William, and next brother to Gilbert, as heir male of the family, all which lands and tenements the said William and Joan held till 1256, and then Sir Robert purchased part of them; and in 1285, (fn. 16) he purchased all the remainder of the estate belonging to the Bois family, being two carucates of land in Fersfield, Brisingham, Lopham, and Kenynghale, for 300 marks; and for the payment thereof he mortgaged all the manors, lands, &c. that descended to him, with those that he had purchased of them in Fersfeud, Garbaudisham, Denton, Newton, Bakenton, Brokys, &c. with whom John Le Bretun, and Godfrid de Beaumond were bound, and tied all their lands in England for payment thereof; so that by this purchase all the estate of Gilbert, his eldest brother, was vested in him. He was a man that purchased much, for besides this, he bought the manor of Burston, (fn. 17) in this hundred, and several other lands in divers adjacent towns. In 1285, (fn. 18) he had the following privileges allowed in Eire at Norwich, to his manor of Fersfield, viz. a pillory, assize of bread and beer, view of frankpledge, wef and stray. (fn. 19) He married Amy, (Amicia,) widow of Thomas Hastyng of Gissing, and suing for her dower, recovered, and had the manor of Gissing settled on her for life. Sir Robert (fn. 20) died in 1298, seized of Fersfield, then valued at 10l. 13s. 6d. per annum, of which there is a fine extent in the Escheat Roll, in which the Great Wood, or Home Wood, from which the family first took their name, is mentioned; he is found also to be seized of a manor in Denton, another in Burston, and of Garboldisham, &c. and
Robert, his son and heir, was then thirty years old, to whom he left all his manors, &c. (fn. 21) except an eighth part of Fersfield, or a quarter of that fee, which was held of Bury abbey, which he gave to
John de Bois, his second son: this John built a new hall upon it, married a wife named Katerine, and settled in it, calling his part
The Manor Of New Hall,
Which name he himself is called by in several Evidences, and in particular, in the Nomina Villarum of the ninth of Edward II. in which John de Nova Aula, or New Hall, is said to hold a manor here. He lived to 1335, and dying without issue, his manor reverted to the great manor again.
The Advowson Of Fersfield,
And 40 acres of land there, was given to William de Bois, clerk, third son of the said Robert; he was first rector of Fersfield, afterwards of Garboldisham All-Saints, and after that, vicar of Conerthe-Magna in Suffolk. In 1305, he granted the land and advowson to
Sir Robert, his eldest brother, (fn. 22) and by fine settled it on him and Christian his wife, and their heirs, with a remainder to William Carbonel, if they had no issue. He lived till after 1351, for in that year, by his deed he released to Dame Alice Howard all his claim in the manor and advowson, with a remainder to Robert her son, by Sir John Howard, Knt. and his heirs, and if he hath none, then to remain to the right heirs of Sir John for ever.
There were two other brothers, viz. Nicholas, who lived in 1299, whose son, (as I take him to be,) William de Bosco, and Christian his wife, lived at Cretyng St. Mary in 1310, and Richard, a fifth son, whose son, Thomas de Bosco, in 1330 was presented by Sir Robert de Bosco, his cousin; to Garboldisham. But to return to
Sir Robert de Bosco, who succeeded in 1298, being then 30 years old, (fn. 23) at which time he had two fees, which formerly were the Bygods, one of which was in Smalburgh, and the other here, (fn. 24) and another in Fersfield, held of the Abbot of St. Edmund. He married Christian Le Latimer, daughter of Sir William Latimer, and widow of Sir John Carbonel of Waldingfield, in Suffolk, who was her first husband, by whom she had William Carbonel, her son and heir to his father. Upon Sir Robert's marriage, he settled this manor upon her for life, which she held some time after his death, for it appears by the Institution Books, that she presented in 1316; and the year after Sir Robert's death, which was in 1311, she married a third time, to Sir Thomas Mose, Knt. by whom she had a daughter, Mariot, married to Sir William Botevile, or Bovile, Knt. Some pedigrees that I have seen make this Thomas (or Robert Moose, Knt. as he is called in some deeds) her first husband, but I am certain he was her last, for in 1312, the very year that she married Sir Thomas, she presented here (fn. 25) by the name of Christian de Mose, late wife of Sir Robert de Bosco, Knt. He, (fn. 26) in 1308, held the third part of the manor of Carbonels, in Waldingfield-Magna, in Suffolk, with the advowsons of that church, and Chiston, in dower, in right of the said Christian, of the inheritance of William Carbonel, on which William the manor of Fersfield was settled in tail, if they had no issue, as was the manor of Walton, and the advowsons. In 1308, they conveyed the manor of Burston to this William and his heirs. Sir Robert, at his death in 1311, (fn. 27) was seized of Fersfield, Denton, Garboldisham, &c. leaving
Robert du Boys, Knt. his only son and heir, then very young, and one daughter, Alice. Christian his mother was his guardian to her death, and then he became a ward (fn. 28) of Thomas, Earl-Marshal, Earl of Norfolk, who presented here in 1326, the said Robert being not then of age: (fn. 29) he died a bachelor in 1333, leaving his whole estate to
Alice, his only sister and heiress, then married to
Sir John Howard, junior, Knt. who was, upon Sir Robert's (fn. 30) death, possessed of Fersfield and Garboldesham manors and advowsons, with Denton, &c. She lived to 1371, and at her death left issue by the said John, to which the whole inheritance of the Boises descended.
This family, I am apt to think, was at first a branch of the Bygods, their arms varying only in field and colour.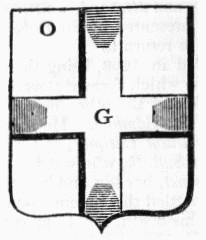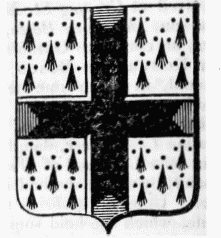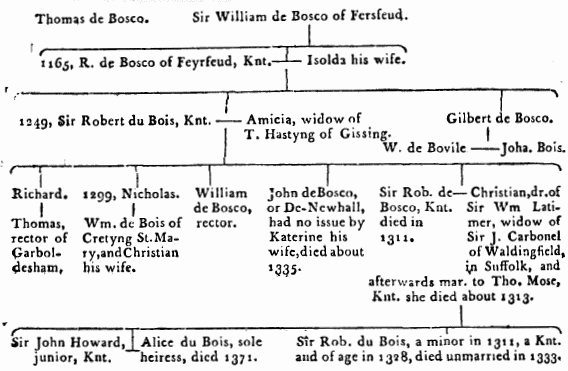 They sirnamed themselves De Bosco, or Bois, from the great wood which joined to their mansion-house, and was not cleared till Queen Elizabeth's time; Boscus in Latin, or Bois in French, signifying a wood. The crest of this family was a buck couchant, ermine. The whole generation continually resided here, from William, who was first infeoffed in it, to Alice, who was the last of that line. They were always a separate family from the De Boscos of Lincolnshire, or those of Ingham in Norfolk, which family bears a different coat from this; and because I have no where met with any pedigree of them, I have given you one collected from the Evidences before quoted, and other ancient deeds in my own custody.
In 1333, Sir John Howard, junior, Knt. was seized of the manors and advowsons of Fersfield, Garboldisham, Brokehall, &c. in right of his wife. This Sir John was grandson to William Howard of Wiggenhall in Norfolk, a Judge in the Court of Common Pleas, in Edward the First's time, and son of John Howard, Gentleman of the Bedchamber to that King. In the tenth of Edward III. (fn. 31) he was constituted Admiral of the King's whole fleet, from the mouth of the Thames northward, being then in great esteem at court, as may be collected from the many favours he obtained: he was with that King at the siege of Calais, being then Admiral, and had in pay with him 1 banneret, 6 knights, 36 men of arms, and 35 archers on foot. In 1310, (fn. 32) he had the King's letters of protection at his going into Scotland with the Earl of Cornwal, the King being then at York. In 1317, (fn. 33) he was Sheriff of Norfolk, and upon his second going into Scotland, by the King's order, he made G. de Ely his attorney, to account in the Exchequer for his office. In 1339, (fn. 34) he received 20 marks by action, against Sir John Segrave and his servants, for cutting down trees, and carrying away the soil of Fersfield manor, under pretence of cleaning the great ditch round his park, (now [1736] called Lopham Park.) In 1347, he settled Fersfield on himself and wife for life, remainder to Robert, their son and heir, and Margaret his wife, for their lives, and their heirs;
Sir John Ufford being sole trustee, (fn. 35) and as such was lord and patron.
Robert, the son, was of age in 1371, when his mother died, being then married to Margaret, daughter, and at length one of the heirs, to Robert Lord Scales, Knt. Lord Nucels; he died before his father, (fn. 36) anno 1388, the 3d of July, so that he was never possessed of the estate, leaving
Sir John Howard, Knt. his son and heir, then turned 23 years old, on whom, (fn. 37) in 1386, he had settled the reversion of Fersfield, Garboldisham, Uphall, and Bokenham's, after his own death, and that of Margaret his wife, Sir John Lovel, Sir John Tuddenham, Knts. William Ufford Earl of Suffolk, John Holkham, John Marlere, rector of Ilsyngton, and Richard de Walton, being trustees; according to this settlement, at the death of Sir John Howard the father, they descended to
Margaret his widow; and at her death they went to
Sir John Howard, Knt, her son, (fn. 38) who was retained upon his knighthood, to serve the King for his life, (fn. 39) the 10th of March, twelfth Richard II.; he married first, Margaret, daughter and heiress of Sir John Plais of Weetyng, being then above 23 years old, and had a son named John, then turned 6 years old, who was heir, after her decease, to his grandfather, viz. to Wetyng, Oclee-Magna, Benefield, and Stanstead manors and advowsons, with several fees, lands, and a park, in Alchesley in Essex; the manor and advowson of Foulmere in Cambridgeshire, and other lands and revenues, (fn. 40) all which were held by the third part of the barony of Montfitchet. She died in 1391, (fn. 41) after which Sir John married again to Alice, daughter and heiress of Sir William Tendring, Knt. and Catherine Clopton his wife, upon which marriage he settled this manor and advowson, with Brokes in Suffolk, &c. on their trustees, Sir Simon de Felbrigge, John de Rochford, Michael Beverleye, dean of Middelham college, &c. to the use of himself and Alice his second wife, for life, and his heirs; and if he had none, to the use of the trustees' heirs. This deed is dated at Fersfield 1398: (fn. 42) she died in 1426, and was buried in the south part of Stoke-Neyland church, under the same stone with Sir John her husband, and by her father, Sir William Tendring, (fn. 43) leaving to Sir John Howard her husband, if alive, the manor of Stoke-Neyland, with Bacon's manor there, for his life. Robert Howard, Knt. their eldest son, married Margaret, daughter of Thomas Mowbray Duke of Norfolk, whose son John was the first Duke of this family; Sir John did not die in 1400, as Mr. Weaver hath it, (fol. 772,) for the Escheat Roll in 1432 tells us, that Sir John Howard, Knt. then held Fersfield of John Mowbray Duke of Norfolk, of his manor of Forncet, at two fees and an half; and in 1435, he made his will, in which he gave Fersfield, Garboldisham, &c. to his grandaughter Elizabeth, then Countess of Oxford, and her issue, remainder to Robert, his son, by his second wife, and his heirs; and for want of such, remainder to Henry, his second son, and his heirs; this was dated Apr. 1: he died in 1437, (fn. 44) in which year his will was proved, (this is confirmed by the Escheat Roll 16 H. 6. No 56.) In 1416 (fn. 45) he had levied a fine of this town and Brokes, to Sir Walter Clopton, and William Clopton, Esq. in order to settle them upon himself, and Alice his second wife; and to make it effectual, John Howard, Esq. his son and heir by his first wife, in 1408 released to Sir John his father, and Alice, his second wife, and their heirs, all their right in them, they being formerly settled on Robert Scales, and other trustees, in tail, for his use after his father's death; so that by this release, the fee was wholly in his father, who did not settle it as was designed, and therefore he was impowered to give it by will, as he did, to his grandaughter. All the pedigrees, that I have seen, say he died in 1400, grounding their errour on the aforecited place of Mr. Weaver; but if we consult that author, page 773, where there is a draught of the monument of this Sir John, and Alice his second wife, we shall find that the mistake was not in the author, for there the inscription is exhibited with an imperfect date, viz.
"Orate pro animabus Johannis Howard Militis, qui objit, Anno 14--Et Allicie uxoris ejus que objit in festo Sancti Luce Evangeliste, 1426. Quorum animabus propicietur Deus."
So that in page 772, where he is said to die in 1400, is an errour of the press only, which all having followed in the pedigrees, without any further examination of their author, is the cause that we meet with so many mistakes in relation to this Sir John Howard, that we now treat of, and John Howard, Esq. his son and heir, by his first wife, who, according to the pedigrees, married Joan, daughter and heiress of Richard Walton, Knt. (though in a fine levied anno 11 Henry IV. she is said to be his sister and heiress,) he died in 1410, before his father, as his will, (fn. 46) proved October 26, in that year, evidently shews, in which his father and the Countess of Hertford were executors. His wife Joan, after his death, married Sir Thomas Erpyngham, Knt. with whom she lived till 1424, and then left Elizabeth, her only child, 14 years old, her sole heiress.
This Elizabeth married John Vere Earl of Oxford, and carried the manors of Fersfield, Garboldisham, Brokehall, and Foulmere in Cambridgeshire, with their advowsons, into that family, (together with the inheritance of the Plaises and Waltons,) all which, by the will of Sir John Howard, her grandfather, were entailed on Sir Robert Howard, his eldest son by his second wife, if the said Elizabeth had no heirs.
But because the branches of this honourable family are very numerous, I shall here shew that branch only through which this manor passed, reserving the complete pedigree for another place. (fn. 47)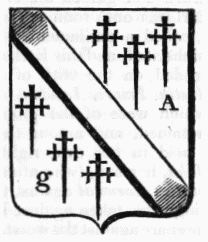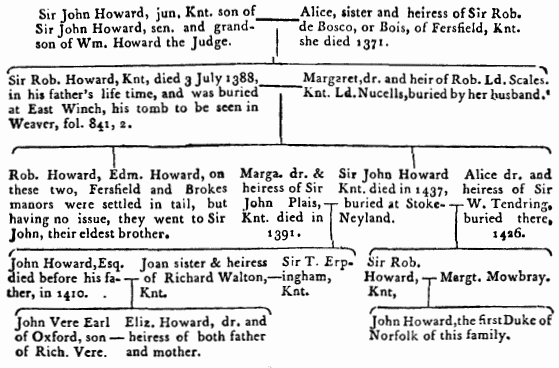 This John (fn. 48) was the twelfth Earl of Oxford of the Vere family, being (fn. 49) nine years old at his father's death, which was in 1415; he was knighted by the King at Leicester, on Whitsunday, the fourth of Henry VI. the King himself having received that honour at the hands of his uncle, the Duke of Bedford. In 1428, being then a ward, he married Elizabeth aforesaid, without license; but for 2000l. paid into the Exchequer, he was pardoned that transgression, and before the end of the year, making proof of his age, had livery of his lands. In 1434, he was licensed to travel to the Holy Land, with twelve persons in his company; the year after he went into Picardy, for the relief of Calais, and doing his homage, had livery of all those lands which, by the death of Sir John Howard, Knt. in 1437, came to Elizabeth his wife. In 1438, he was joined with John Duke of Norfolk, to treat for a perpetual peace between France and England: in 1453, he was one of those great men that undertook to keep the seas for three years next following, being allowed the subsidies of tunnage and poundage, then granted for that service; but when Edward IV. gained the crown, the Lancastrian party (of which this Earl was one) soon fell; for that King, in the first year of his reign, called a parliament, wherein Henry VI. and all his lineage, were disinherited, and this Earl, and Aubrey, his eldest son, attainted and beheaded, on the 26th of February, 1461, (fn. 50) and were buried in the Austin Friars, London. His estates were all seized, except those which were of the proper inheritance of his widow, all which she retained, and among them these manors and advowsons, which she held in her own right, and name also, till 1472, at which time John, her son, (who after was Earl of Oxford,) kept St. Michael's Mount in Cornwal against the King, which made her fear ill measures might be taken against her; and therefore, to secure her estate, and prepare against the worst, (fn. 51) she and her feoffees, William Grey Bishop of Ely, Sir Thomas Montgomery, Gilbert de Benham, Roger Townshend, and others, infeoffed Richard Duke of Gloucester (who was fourth son of Richard Duke of York, brother to the King) in the manors and advowsons of Garboldisham Howards, Fersfield, Weetyng, Toftrees, Knapton, Eastwinch, Wiggenhall, and Titleshale, in Norfolk, and Chelesworth, Eastbergholt, and Brookhad in Suffolk; Fulbourne, or Foulmere, and Haukeston, in Cambridgeshire, and several others in other counties, by two deeds, one dated the 9th of Jan. 12th Edward IV. the other the 9th of Febr. 13th Edward IV. and by this means she enjoyed them to her death, and left them to
John de Vere her son, who after became the 13th Earl of Oxford, Lord Bulbec, Samford, and Scales, Great Chamberlain, and Admiral of England, who, after his father's death, adhered to King Henry VI. in order to his restoration; and after the loss of the battle at Barnet, he entered St. Michael's Mount in Cornwal, and kept it some time against the King; but being at last taken, he and the Lord Beaumont were sent to safe custody in the castle of Hamms in Picardy, and in the next parliament was attainted, with George his brother. But in the second of Richard III. being still prisoner in that castle, and observing what hopes of aid Henry Earl of Richmond had from the French and others, in order to gain the crown; he and Sir James Blount, the Governor of the castle, and Sir John Fortescue, Porter of the gates of Calais, got thence, and came to Montarges, to the Earl of Richmond, who received him with much joy, being a person of great nobility and integrity, and very expert in military affairs; when King Richard heard that this castle had declared for the Earl of Richmond through the contrivance of this Earl, he ordered out part of the garrison of Calais to regain the castle, upon which, those within it sent a messenger to the Earl of Richmond for more aid, who sent this Earl with a number of expert soldiers, who, by his skilful conduct, drew off those in the castle without any loss; after which he went to the Earl at Paris, with whom he came into England, and marched to Bosworth, where King Richard encountered them; and by the prudent conduct of this Earl, the battle in a great measure was gained, and the Earl of Richmond crowned by the name of King Henry VII. who immediately restored him to his honour and estate. This Earl presented here in 1505. He had two wives; Margaret, daughter of Richard Nevile Earl of Salisbury, and Elizabeth, daughter of Sir Richard Scroop, Knt. and widow of William Lord Beaumont; she enjoyed this manor after his death, and presented here in 1527. Upon his dying without issue in 1512, his estate and honour went to
John Vere, the fourteenth Earl of Oxford, only son of Sir George Vere, Knt. brother of the last Earl, by Margery, daughter and heiress of William Stafford of Frome in Dorsetshire, Esq. the said George dying before his brother. This John married Anne, daughter to the Duke of Norfolk, and died in 1526, without issue, leaving all his estate to his three sisters, his coheiresses, of which
Elizabeth, the eldest, was married to Sir Anthony Wyngfield of Letheringham, in Suffolk, Knt.
Dorothy, the second, to John Nevile Lord Latimer, between which two the inheritance was divided; for
Ursula, the third, married Sir Edward Knightley; but having no issue, in 1599, when she died, her part came to the heirs of Sir Anthony Wingfield, and the Lord Latimer, as the inquisitions at her death testify.
Hitherto the manor and advowson went together, but in 1533 they were divided; for Sir Anthony Wyngfield aforesaid, and John Nevile Lord Latimer, coheirs of John Earl of Oxford, exchanged the manors of Fersfield and Garboldisham, with Thomas Duke of Norfolk, for the manor of Dalby-Chacomb in Northamptonshire, (fn. 52) and settled them on the Duke and his heirs, reserving both the advowsons to them and their heirs; all which was confirmed by parliament, in the 25th and 26th years of King Henry VIII. so that now the advowsons of Fersfield and Garboldisham were one moiety in the Wyngfields, and the other in the Lord Latimer.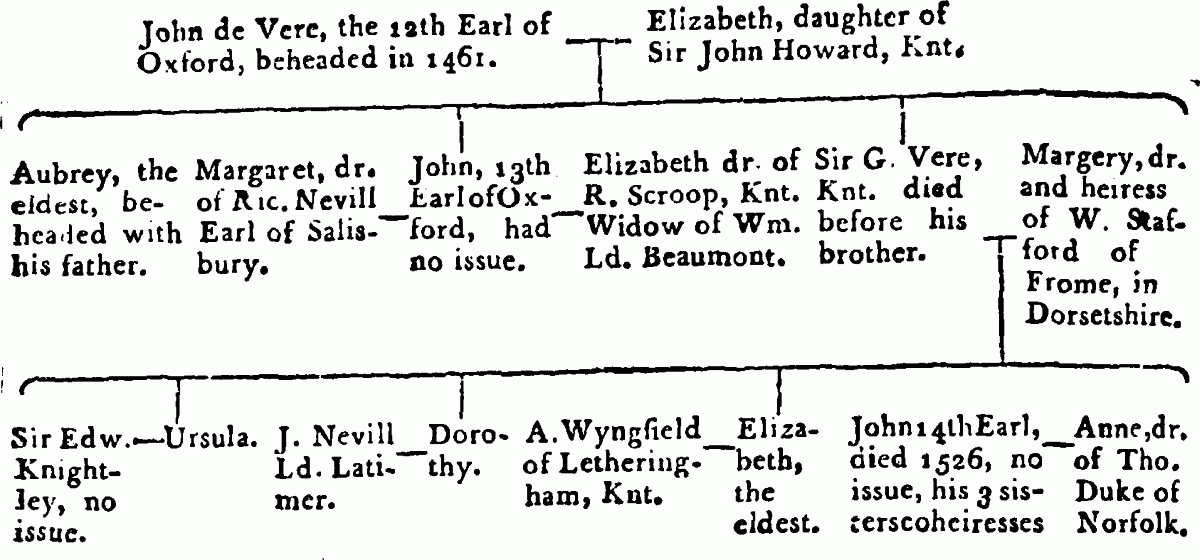 The moiety that belonged to the Wyngfields went from Sir Anthony aforesaid, to
Sir Robert, his eldest son, who, in 1558, had livery of a moiety of Weetyng manor, &c. and in 1595, died seized of a moiety of the advowsons, of Fersfield and Garboldisham, which advowsons he held jointly with Caterine Countess Dowager of Henry Earl of Northumberland. Sir Thomas Cecil, and Dorothy his wife, Sir John Danvers, and Elizabeth his wife, William Cornwaleis, Esq. and Lucy his wife, daughters and coheiresses of John Nevile Lord Latimer. (fn. 53) Sir Robert dying without issue,
Sir Anthony Wingfield of Goodin's, in Hoe, in Suffolk, inherited; he died Dec. 29, 1605, without issue, and was buried at Letheringham, (fn. 54) leaving
Sir Thomas Wyngfield of Letheringham, his brother, his heir; who, as the Escheat Roll says, was then 50 years old; he died Jan. 22, 1609, and was buried at Letheringham, leaving
Sir Anthony Wingfield, Bart. of Godwins in Hoe parish, his heir, who died July 30, 1638, seized of the moieties of the advowsons of Garboldisham and Fersfield; (fn. 55) but of whom they were held the jury knew not.
Sir Robert, his son, succeeded, and was a minor in 1642, and dying soon after,
Sir Anthony, his brother, followed him, who left it to
Sir Henry, his son, and he to his son,
Sir Henry Wyngfield of Easton, who sold his estate in 1706 to
Mrs. Anne Wroth, in trust, for William Henry Earl of Rochford, (fn. 56) who left it to
William, his son, who deceasing without issue, the Right Honourable
Frederick Earl of Rochford, the present [1736] patron, inherited.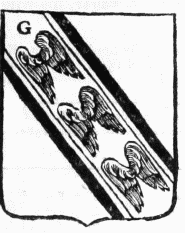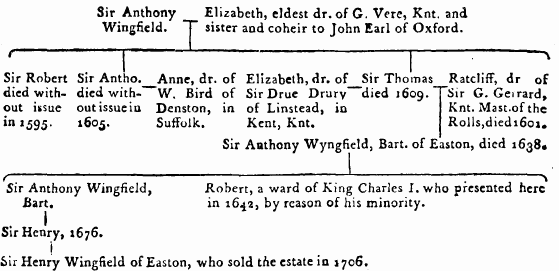 The other moiety went to John Nevile, Knt. Lord Latimer, who, upon the death of Richard Nevile Lord Latimer, his father, in 1580, had livery of his inheritance; and upon that insurrection in Yorkshire, called the Pilgrimage of Grace, he, with the Lords Scroop, Lumley, and Darcy, was made choice of by the rebels, to treat with the Duke of Norfolk, General of the King's forces, then advancing against them. He died in 1542, as appears from the probate of his will, leaving issue, by Dorothy his first wife,
John Lord Latimer, though Mr. Dugdale makes him the son of Catharine, the second wife: but Mr. Le Neve, in this Pedigree, says, that it cannot be so, for then the daughters of the last John could not have inherited the lands of Vere, which came by Howard, as Wiggenhall, Midleton, East-Winch, and other great possessions in Norfolk, of which Thomas Earl of Exon was lord, by Dorothy his wife: he died in 1577, leaving
Percy, Cecil, Cornwaleis, and Danvers, his heirs, in right of his four daughters, whom they had married, (fn. 57) who, at his death, were found to be heirs to all the manors, advowsons, &c. that he died seized of, among which the moiety of this advowson, and that of Garboldisham, with the manors and advowsons of Weeting, Midleton, Scales-hoe, Titleshall, in Norfolk, as heirs of the said John, one of the coheirs of Vere Earl of Oxford; and so it was held jointly by them till 1595, as the Escheat Roll of the 28th of Elizabeth informs us, with this difference only, that the Earl of Northumberland being dead, Catharine Countess Dowager, his wife, held her third part for life. (fn. 58)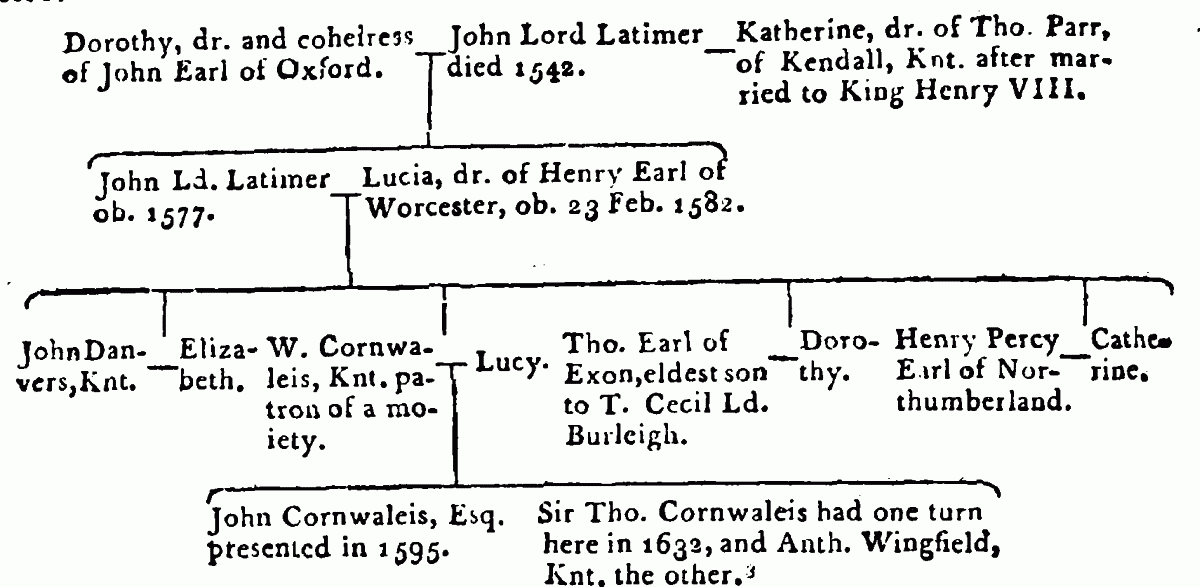 The manor being conveyed, in 1533, to the most noble Thomas Duke of Norfolk, and his heirs, he peaceably enjoyed it till the 38th of King Henry VIII. In which year, after many signal services both to his King and country, he was suddenly committed to the Tower, through sinister suggestions to the King, and was attainted in parliament the 20th of January, with his eldest son, Henry Earl of Surrey, but eight days before that King's death, and then it was seized by the Crown.
By his will, proved in 1554, in which year he died at Kenninghale in Norfolk, he bequeathed his body to be buried where his executors thought fit, leaving his estate much impaired, without any fault of his own, having suffered so much by the various ebbs and flows of fortune that he had gone through. After his death,
Thomas Howard, his grandson, son of Henry Howard Earl of Surrey, who was beheaded January 19, 1547, (fn. 59) in his father's life time, was fully restored in blood and estate, in the first of Queen Mary, anno 1553, at which time this manor, among other possessions, was redelivered to him, it having been settled, during its being in the Crown, on the Lady Mary, (now Queen,) towards the maintenance of her household, it lying very convenient for Kenninghall palace, at which she generally resided after it was settled on her. This Thomas in the second of that Queen was made Commander against the Kentishmen then in arms; in the first of Elizabeth was installed Knight of the Garter, and in the third of that Queen, made Lieutenant General of the northern parts; and six years after, honoured by the French King with the Knighthood of the order of St. Michael; but on a suspicion that he designed to marry the Queen of Scots, he was beheaded on Tower Hill, (fn. 60) upon the 2d of June, between seven and eight of the clock in the morning, anno 14th of Elizabeth, 1572, (fn. 61) being much lamented by all men, for he was a man good to all, remarkable for his hospitality, even in those times, when it abounded every where.
The names of the Peers that passed sentence upon him may be seen in Sir Richard Baker's Chronicle, (fn. 62) and his dying words, as I find them in Mr. Hare's Collections, in Caius College Library, (fn. 63) may not impertinently be inserted here, as they give light to some things that I have met with, which, in all appearance, were wrongfully charged upon this Duke.
The Words pronounced by the said Duke, at his Death on Tower Hill, the 2d of June, 1572.
"It is no rare thing, good people, to see a man come hither to die, albeit since this Queen's most blessed reigne, I am the first, I pray God I may be the last; it is a hard matter for a man of my calling to use long speech in such audience, either for that audacitie serves me not, or for that coming to such end as I do, fear of death troubleth me, and therefore I beseech you all heartily to bear with me; I will not be long, I will make a short speech, and divide my talk into three parts; and First, concerning my offence towards my Prince, wherein something I have to confess against my self, and in something to clear my self; I am not to complain against my Peers, I do acquit them; I have deserved to die. It is not unknown that I have dealt with the Queen of Scots, in very great and high matters, without making my Prince privy thereunto, otherwise than I ought to have done; there is one thing which grieveth greatly my conscience, that is, when I was first delivered out of this place, I made my submission, and promised the Queen, never to deal further in the matter, and yet contrary to my promise, I meant and did otherwise, I am sorry for it. It was reported I made a vow, and took a solemn oath, and received the Communion upon it, but that is not true, the other was too much. It was reported also, that I went about to destroy the city of London, I take God to witness, I never meant to hurt it, I have dealt with suspected persons, and such as have shewed themselves enemies to this state, specially one whom I will name, to witt, Rodolphi, whom I never talked to but once, and then I liked not his dealings: he shewed me two letters, which he said came from the Pope."
Then said Mr. Branch, the Sheriff, "Good my Lord, be short."
He said, " I will be short, I have not much to say; good Gentlemen bear witness, I come not to clear my self: I saw two letters, the one cyphered, and the other de-cyphered, I was charged to confeder with the rebels, I take God to witness, I never did so."
Then the Secondary interrupted him and said, " I pray you, my Lord, go not about clearing yourself, you have been tried as honourably as any nobleman hath ever been in this land, I pray you make haste, the hour is past, it is upon peril of their lives." (meaning the Sheriffs )
"O I pray you" (quoth the Duke) " give me leave a little while.
"I confess my fault; this is my confession. Touching my religion it hath been reported, I have been a Papist, a confederer with Papists, a friend to them, and a maintainer of them and their religion; I take God to witness I am none, nor never was a Papist, since I knew what religion meant; I have had friends, yea and familiar friends, and peradventure servants, that have been Papists, with whom I have borne, but I call God to witness I am none, I utterly defie the Pope and all his religion, and I hope to be saved only by my faith in Jesus Christ; and I utterly abhor all men's traditions, and if at anytime I did give countenance to any Papist, whereby any good man was offended, or the church, I ask them mercy, there is no man doth allow better of this religion than I do."
Then he was again desired to be short.
"Now" (quoth the Duke) "touching the goodness of the Queen's Majesty, I am much bound to her Grace, I do thank her humbly, for that she hath forgiven me all my offences, and hath prolonged my life so long, you see how good she hath been to me, I have been looked for here long e'er this time; God send her long over you to reigne: she hath promised to be gracious to my poor orphan children, God grant that my death may end all troubles, and if any one of you have any one faction, or two, or three, or more, let him give over and forsake it; many wish and desire divers things, but they know not what they wish, they seek their own destructions: if every man should have his wish, God knoweth how many would repent it, whatsoever they are, the Queen hath promised in my death to forgive all, and I pray God she may live many yeares. I remember well the words of that good father, and holy martyr, Latymer; he told the people that for their wickedness God would take away his blessing from them, I pray God the contrary, that your good life may be such, that God may turn away those plagues that he hath threatned. He spake it in an honourable place, in the pulpit, before King Edward; yet let not this place discredit my words. I pray God preserve the Queen's Majesty, and that she may live and reign over you many years, even to the world's end, which I believe some alive shall see."
Then he kneeled down, and prayed, and Mr. Nowell, Dean of St. Paul's, kneeled by him, and wept, with many others; his prayer was to God for continuance of his Truth, and of his Ghospell, and prayed also most instantly for the Queen's most prosperous reigne, and kneeling upon his knees, said two psalms, viz. Miserere, and Domine ne in furore, and in the first psalm, he prayed to build the walls of Jerusalem according to the Psalmes. Quoth Mr. Nowell, "That is meant of Christ's church:"—"I know that well," quoth the Duke, "I mean not the church of Rome, nor the walls of Rome, I abhor it; but I mean the church of England, and of all the world wheresoever it be: I have forgotten one thing, I thank thee, O God, that thou hast put me in mind of it, I forgive all the world, and ask forgiveness of all the world, and I protest before God, if I knew any particular man whom I had offended, I would namely ask him forgiveness."
Then he read the other psalm, wherein adultery is mentioned; and when he came to that point, he said, "I would I were as clear in every thing as that, save in thought, and that is yll." Then he said a Collect, and in the end he said, In Manus tuas Domine, in Latin and English, and then desired the people to pray for him while he yet lived, "For," quoth he, "I look not to have any excuse after my death;" then he embraced Sir Henry Lee, and after a few secret words between them, the Duke said to him, "As true a subject as any she hath." Then Mr. Nowell, stood up and said to the people; "He desireth you all with one voice to say, Lord have mercy upon him! and after that to say no more words, nor to make any shout or skreeking, for troubling him in last visitation."
Then the Duke kneeled down, and Mr. Dean bowed himself toward him, with many embracings, and took leave of each other.
Then the executioner kneeling down desired him to forgive him, and then he requested sight of the axe, Mr. Nowell said, "The sight thereof will trouble you;" but he answered, "No, let me see it," but he saw it not, and then he laid his head upon the block, and the executioner said, "My Lord, your head lieth not well."—"O, I will make it lie well," quoth he, and thereto lifting up his body, laid his neck again upon the block, which done, his head was stricken clean off at one blow.
At his attainder the Queen seized on this manor, and kept it some time, and then restored it to
Phillip Earl of Arundell, eldest son of Thomas Duke of Norfolk, by his first wife Mary, daughter and one of the heirs to Henry Fitz-Alan Earl of Arundell, the said Phillip being then restored in blood; but soon after, several things being laid to his charge he was sentenced to death.
At his attainder the manor was again seized, and by letters patent dated 17th April, 1582, the manor-house, lands, and demeans, all which were formerly reserved to the use of the household of the Duke of Norfolk, were let to William Dixe, and William Cantrell, the manor being in the Queen, in whose name the courts were held, as the Rolls shew us; and thus it continued to 1595, when Phillip Earl of Arundell died in the Tower, leaving
Thomas Howard, his only son and heir, who inherited the manor; for in 1599, 13th of May, he conveyed it to his trustees:
Edward Carrel of Herting, in Sussex, Knt. (whose daughter Mary was married to Sir Phillip Howard, son and heir of William Lord Howard, son to Thomas fourth Duke of Norfolk, by his second wife, which Lord was uncle, by the father's side, to this Earl,) John Holland, John Cornwaleis, and Robert Causfield, Gent. to divers uses. In 1602, the first of King James, he was restored to all the estate and honour that his father enjoyed, by which he became Earl of Arundell and Surrey. In 1611, he was made Knight of the Garter, in 1620, Earl-Marshal of England for life, with 2000l. per annum pension, and Chief-Justice of all the forests on the north side of Trent; and the 16th Charles I. 1640, General of the Army raised against the Scots; and in respect of his lineal descent from Thomas Brotherton Earl of Norfolk, (a younger son to King Edward I.) was by letters patent bearing date at Oxford 6th June, 20th Charles I. advanced to the title of Earl of Norfolk; shortly after which, the wars breaking out, and he grown ancient and unfit for military service, he obtained leave of the King to travel; whereupon going to Padua in Italy, he died there, October 4th, 1646, and was buried at Arundel in Sussex. He sold a great part of the estate in this county, and leased out other parts, for a long time. In 1604, (fn. 64) his trustees aforesaid, with
Sir William Howard of Axminster, in Devonshire, mortgaged this manor, with others, for 1800l. to
William Harvey of the Savoy, James Guiccardin of Folshunt in Essex, and Thomas Ayloffe of Lincoln's-Inn, Esq. (fn. 65) In 1608, John Holland of Kenninghall, Esq. John Cornwaleis of Earlsoham, in Suffolk, Esq. and Robert Causfield of St. Clement's Danes, London, granted to Joan Woodward of that parish, an annuity of 44l. per anunm out of this manor, for 450l. paid by her. In 1610, John Davis, Bailiff of the Earl's manor here, accounted for 9l. per annum quitrent, 5l. for the site of the manor and demeans, Thomas Brewster being farmer of the Lodge. (fn. 66)
In 1619, (fn. 67) July 13, Robert Causfield of London, and the Earl of Arundell, leased to Heneage Finch of the Inner Temple, Esq. and Philip Bell of London, Gent. the manors of Fersfield, Boylands in Brisingham, and Westwich in Thetford, the site of the priory of the Canons there, and all other lands and tenements of the said Robert Causfield, which the said Robert purchased of Sir Edward Clere of Bokenham-ferry, for ten years, at 600l. per annum, which lease was turned over to
John Dix of Wickmere in Norfolk, Esq. and was to continue for 11 years 11 months.
In 1625, 12th July, (fn. 68) Robert Causfield conveyed this manor and Boyland's, to
Sir Thomas Penruddock of Hale, in Southampton, Knt. and Sir Henry Bedingfield of Oxboro, Knt. and their heirs, in trust; and, in 1629,
The Earl, jointly with the Lady Alathea, his wife, levied a fine and suffered a recovery of several manors, lands, &c. and in particular of Fersfield Lodge, and 223 acres of land in Fersfield, after which, he vested them, the manor, &c. in
John Dixe, alias Ramseye, of Wickmere in Norfolk, Esq. in trust, to pay all his just debts; and in 1637,
John Dixe, brother's son, and heir to the aforesaid John Dixe, at the request of
Henry, son of Henry late Earl of Arundel, released it to
Sir William Plaiters of Soterley, Knt, and Sir Richard Onslow of West Clandon in Surrey, Knt. and their heirs for ever, in trust for
Henry Earl of Arundel, Lord Mowbray and Maltravers, son and heir of Thomas late Earl of Arundel aforesaid, and his heirs. This Henry died at Arundel in Sussex, leaving his estate to
Thomas Howard, his eldest son, who, in 1660, the 13th Charles II. was restored, by Act of Parliament, to the title of Duke of Norfolk, which he enjoyed during his life, and then, upon his dying without issue, it descended to
Henry Lord Howard, of Castle Rising, Earl of Norwich, his next brother, who in 1671 had the Marshalship of England limited to the heirs male of his body, at whose death, (fn. 69)
Henry Earl of Arundel, his eldest son, succeeded, and was made Governor of Windsor castle, upon the death of Prince Rupert, installed Knight of the Garter in the first of James II. In 1688, upon the landing of the Prince of Orange, this Duke being then in Norfolk, he immediately declared for him, and brought over that and some neighbouring counties to his interest, for which, soon after his Royal Higness had accepted the crown of these realms, he was sworn of his privy-council, and so continued to the time of his death, anno 1701. He left no issue, upon which his honour and estate went to his brother's son,
Thomas Duke of Norfolk, whose father, Thomas Lord Howard, upon King James's withdrawing, went with him into France and Ireland, from which last place as he returned to Brest, he was cast away in 1689, leaving five sons and one daughter, of which this Thomas, his eldest son, at his uncle's death became Duke; Henry Howard, the second son, left no issue,
Edward Howard, the third son, upon the death of Henry, his eldest brother, is now [1736] Duke of Norfolk, and is lord of this manor; Richard, the fourth son, is dead, and Philip, the fifth, is now [1736] living, and hath issue.
The lord of this manor hath court-leet as well as court-baron, which was always kept annually, till 1719, at which time Mr. Bath, then Steward to his Grace, gave notice that he would keep leet no longer, because there was no leet fee, (fn. 70) from which time there hath been no leet kept here.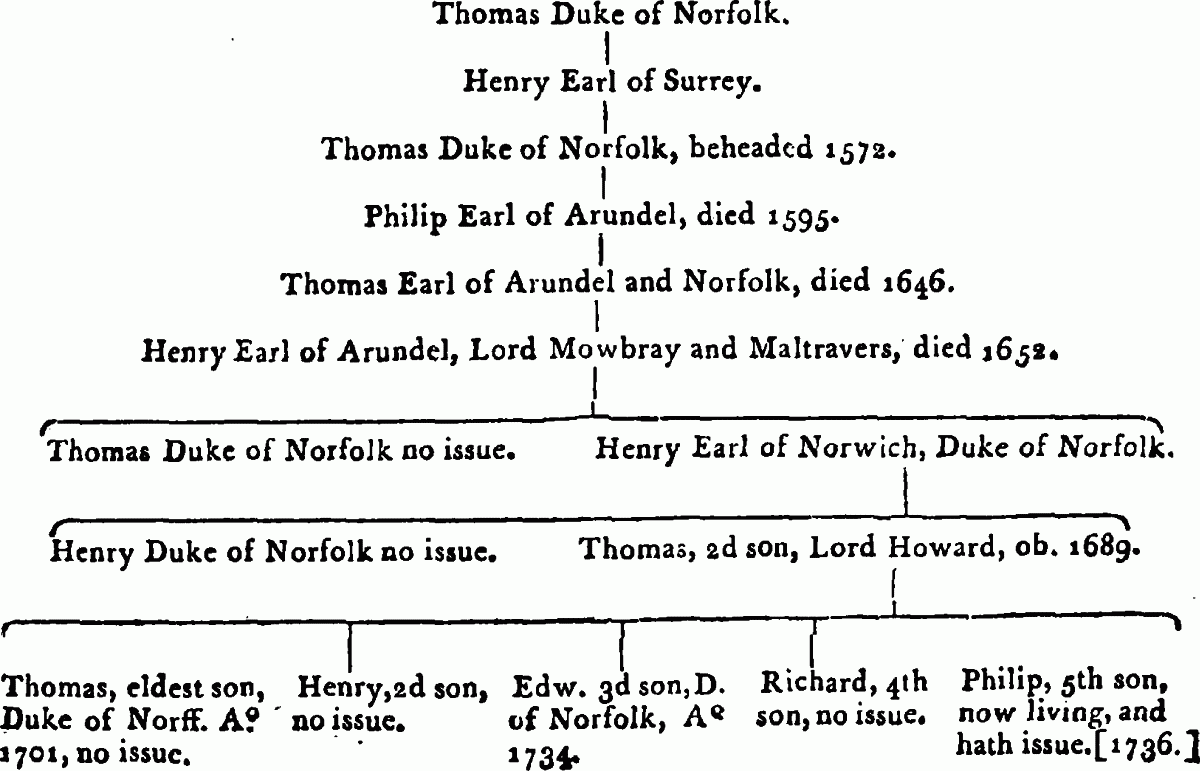 The Customs of This Manor
are as follow:
The fines are at the lord's will, and the copyhold descends to the eldest son; it gives no dower; the tenants have liberty either to erect or pull down houses on the copyhold, at their own pleasure, and to cut down timber on the copyhold, without license, as also to plant and cut down all manner of wood and timber, on all the commons and wastes against their own lands, by the name of an outrun or freebord, and to dig marle or clay, and cut furze and bushes on the commons and waste.
There were two other small manors, or tenements, in Thweyth or Whait, a hamlet to Fersfield and Brisingham; the one was called
Rose's,
To which belonged 14 acres, adjoining to the tenement, with other small rents. This was some time copyhold of the manor of Fersfield, and by the lord thereof was granted to one Thomas Rose, who was owner of it in 1443, and soon after sold it, with all its rents, services, and appurtenances, to John Lancaster, junior, Esq. lord of Boyland, who united it to that manor. (fn. 71)
The other was called (fn. 72)
Ireland's,
Being originally a part of Fersfield manor, which, in Edward the Second's time, was granted by the lord, to one Jaffery of Pesenhale, from whom it was first called Presenhale's, and from him it went to John of Ireland, from whom it had its present name. This John it was that sold several parcels of land, to be held free of his capital tenement, and others by other services, and so erected a small manor, or free tenement, as they called it; many of these tenements we meet with in several places, it not being allowed to call these Manors, that were thus erected, though they were such in reality; but wherever we meet with them, they all had their original thus. This also was purchased by the aforesaid John Lancaster, and united to the same manor: upon the purchase, it appeared that there was a capital tenement, with 20 acres in demean lying by it, with other lands and woods, lying in Fersfield in Tweyth, and divers other lands, rents, and services in Fersfield and Brisingham, all which paid a free rent of 6s. 8d. per annum to the manor of Fersfield, of which it was held by homage and fealty, and one suit of court.
From this time they both constantly attended the manor of Boyland, and with it were sold to the Norfolk family, in which they continued, till March the 12th, 1651, when
Henry Earl of Arundell, and his trustees, among other large estates, conveyed to Anne Henshaw, widow, and Thomas Henshaw, Esq. and their heirs, for ever, all the demeans of the capital manor of Brisingham, now called the Hall Farm, and Hall Grounds, and also all that tenement called Rose's, with 16 acres of land thereto belonging, lying in Brisingham and Fersfield, together with all that tenement called Ireland's, lying in Fersfield aforesaid, with a certain wood lying there, called Winley Wood, and two other enclosures called Marketfield, with all other the royalties, privileges, and appurtenances thereunto belonging, all which were to be held free, without any reserved rent whatsoever. The said Thomas and Anne, Febr. 3d, 1656, sold all the estates to
James Perrot of Ammersham, in Bucks, Esq. and his heirs, and levied a fine of the whole.
May 13, 1724, James Perrot of Northleigh, in Oxfordshire, Esq. and Henry Perrot, Esq. his eldest son, and their trustees, conveyed these two tenements, Winley Wood and Marketfield, with all their rights and appurtenances, to
Henry Blomefield of Fersfield, Gent. and his heirs; the said Henry, by deed dated the 19th of March, 1731, conveyed Winley Wood and Marketfield to
Francis Blomefield, clerk, the present owner; [1736;] and at his death, bequeathed the two tenements, with all their rights and appurtenances, to
Peter Blomefield, his second son, who enjoys them at this day [1736.]
The Commons,
In King Henry the Seventh's time, were very different from what they are now; for all the Southfield was then Common, which contained 110 acres by measure, all which was enclosed by the lord, with the tenants' consent, being divided into 8 enclosures, which are now called, Morecraft, Horseclose, Claxtonsclose, the Great Ground, or Southfield, Upper and Lower Marketfield, all now [1736] in the lord's hands, and the two other Marketfields, which were sold off by a former lord: in lieu of which, an equal quantity of that which is now called the Great Common was laid out, by which means the two greens, called Fersfield Green and Old Green, were joined together, and laid into one common, that part which is now forty acres, being part of Fersfield Green, and the part from the Town Meadow to Dow's Close, being Old Green; and thus they continued till Thomas Duke of Norfolk, in the time of King Henry VIII. desiring to make his great park at Kenninghall, in which his palace stood, every way complete, enclosed 44 acres of Fersfield Green into the said park, because it extended like a harp, as it is said in the Evidences, into it, and very near to his palace: upon this the inhabitants petitioned his Grace for relief, who ordered his bailiff thereupon to assign them other lands, to the full value and quantity of their land enclosed; but it seems this was neglected to be done; for soon after they brought an action, and seized upon their ancient common, which had been thus enclosed upon which the Duke ordered certain demean lands of his manor of Fersfield, and others of his manor of Lopham, which joined to the said common, to be laid out to the inhabitants of Fersfield, in recompense for the 44 acres enclosed, which lands were called as follow, viz. Newehall Close, or Dow's Close, containing 20 acres, abutting on Dog-Pond, west, lying in Fersfield, and also another close joining to the former, called the Coppice Close, lying in Lopham, both of them lying between Lopham Park, south, and Fersfield Common, north, and abutting east on Fersfield Common, and west on Dog-Pond; the other is called Rushie Pightle, lying in Fersfield, on the other side of the common, on which it abuts north and west, and on the town land of Fersfield, south; all which was begun to be laid out accordingly. But it happened at this very time, that the Duke was attainted, and the manor seized into the King's hands, upon which the workmen were stopped levelling the banks; upon this the inhabitants laid the case before the Commissioners for the survey of the manor when it was seized, as appears upon the survey, who took the lands that were to be laid out, to the King's use, together with the enclosed 44 acres, and permitted the inhabitants to enjoy their ancient 110 acres of common, which had been enclosed, and which they had seized again, in lieu thereof, with which all parties were satisfied; and thus it continued till James I. when Thomas Earl of Arundel and Surrey, desirous to perfect the park, and to make the demeans of his manor of Fersfield as complete as they were before this common was seized by the inhabitants, came to agreement with them in the following manner: That he and his successors should for ever enjoy the 44 acres of land enclosed into his park of Kenninghall, for which he should pay all manner of dues, whatsoever, to the parish of Fersfield, and should have the same freebord, for the use and increase of his game, upon the common of Fersfield, without the pales of the said land newly enclosed, as he had upon the commons round his park, and in that part, before it was enclosed, in lieu of which, the said Earl agrees, that the inhabitants shall have, to them and their heirs for ever, all the closes afore-mentioned, called Rushie Pightle, Coppice Close, and Dow's Close, as common for ever; and that the inhabitants shall not pay or be molested in any thing, for that part in Lopham, but that the lord of the manor of Lopham, for ever, shall answer all things relating thereto, as the lord of the manor of Fersfield shall do, for that part in Fersfield And whereas the inhabitants held a piece of ground containing 6 acres, called Monford's Close, which was formerly enclosed into Kenninghall park, with another small piece of one rood, held of Brisingham manor by the rent of 2d. a year, the lord confirms the change that had been made, by assigning other lands in lieu thereof, called the Bottoms, to the said inhabitants, together with all, and all manner of benefits, privileges, customs, constitutions, and by-laws whatsoever, to the said tenants and inhabitants, or any of their lands, tenements, and hereditaments in Fersfield aforesaid, in any wise appertaining or belonging; upon which, the said tenants and inhabitants yielded up to the said Earl, all their right in the said common, which they had seized, for themselves and their heirs for ever, on condition that the said Earl should tie that part of the Southfield called the Great Ground, lying on the south side of the church of Fersfield aforesaid, to be always unploughed, and to be seized and entered upon, at any time by the said inhabitants, for want of performance of any thing in the indentures contained, "that they may remaine, contynue, and be for ever hereafter, perpetuall, stable, and firme to posterity, for ever to endure."
These Indentures bare date the 20th of Nov. the 8th of James I. 1610, and were made between the Right Noble and Honourable Thomas Earl of Arundel and Surrey, Thomas Earl of Suffolk, Lord Chamberlain of his Highness's household, and one of his Majesty's most Hon. Privy-Council; Lord William Howard, youngest son to Thomas late Duke of Norfolk; John Cornwaleys of Earlsoham, in Suffolk, Esq.; Sir John Hobart of St. Mary Spittle, Knt.; John Holland of Kenninghall in Norfolk, Esq.; Robert Causfield of London, Esq.; Edward Hobart, and Robert Hobart, Gent. brothers of the said Sir John Hobart, on the one part: John Blomefield, Agnes Blomefield, Samuel Blomefield, Roger Seaman, and others, the townsmen and inhabitants of Fersfield, for themselves, and the residue of the said inhabitants, on the other part. To this Indenture hang the following seals; Arundel, a lion rampant, quartering Multravers, a frette, in the garter. Suffolke, in the garter. Howard, Brotherton, Warren, and Mowbray quartered. Robert Causfield, frette. William Howard, a lion rampant. Robert Hobart, the arms of Hobart. The other seals have no arms.
Twayt or Whait Green
Also belongs to this parish and Brisingham, where they are intercommoners, each having a drift; it was appropriated to Tweyth or Tweyt, a hamlet which belonged to both these towns, and was so called from Hervey de Tweyt, who lived in 1340, and had a good estate here, as had his son William de Tweyt, and Robert his grandson. It now contains between 20 and 30 acres, though it was much larger formerly; for a contention arising between the lord of these towns, and the tenants, concerning the customs of the manors, it was jointly agreed between them, that, upon confirmation of their old customs, and the addition of this new one, viz. to waste their copyhold-houses without license, (which, before that time, they could not do,) they should yield up 50 acres of this common, to the lord's sole use, which was done accordingly, and the lord enjoys it at this day, [1736,] it being let with Boyland Hall Farm, and is now called the Cow-pastures. This was about 1571, soon after the Duke had purchased Brisingham. By this addition, the old park of Kenninghale, and that late Sir John Boyland's, were joined together: and it appears by a lease made some years after, that they reserved a way from Wait Green to Boyland Green (which joined before this was enclosed.) At this time also it was, that the way which laid in a direct line to New Bokenham, from the end of the Green (which is now the further end of the Cow-pasture) was altered, and the entrance made at the Great Park gate off Fersfield Common, and so cross the Park, into the old way by the Grove.
There is no other common but
Winley Green,
To which Lopham park joins, and had its freebord on this common; all the parks hereabouts had that privilege, which was to plant whatever bushes and trees they would against the parks, which the inhabitants could not cut, (as they do and always have done, all other trees, bushes, &c. on the commons in these manors,) but were to belong to the lord for the game-keepers to kill their game from, and for to hinder escapes from the park. Brisingham are intercommoners here, and each town hath a drift, though formerly, it appears, from the Rolls, that each parish had their parts separate, and the ditches are plainly seen to this day. [1736.] The well, or pool, on this common, which divides the bounds, in evidence is called Rose's Well, and now Roe's Well.
All the evidences concerning these affairs are in my own and the inhabitants of Fersfield's hands, with many others in the Chest, from which we learn, that all the trees on the commons that are out of the freebords of the lord, or the outruns of the tenants, were always taken down and stowed by the church-wardens, for the use of the poor; and that the ponds on all the commons that are out of the freebords and outruns, are to be kept clean by the inhabitants; that the town found a foot arms; and that the manors of Kenninghall, Shelfhanger, Brisingham and Boyland's extended hither, and this manor extended into Brisingham, Roydon, Burston, Kenninghall, Shimpling, and Wortham, a great part of which belonged to the Boises, and so was granted to be held of this manor, some by bond, and others by free tenures, many of which still remain. [1736.]
The Benefactors were
Jaffry Ellingham of Fersfield, who, by will dated Apr. 18, 1493, commended his soul to God, the Blessed Virgin, and all the Saints, and his body to be buried in the church of Fersfield, aforesaid, to which he gave a wax candle of a pound weight, to be placed before the image of the Virgin Mary there, to be lighted and burnt the whole time of divine service, as long as it will last. He gave also, in honour of the passion of our Lord Jesus Christ, a cross of copper gilt, of 40s. price, and a good carpet to lie before the high altar. He also gave 4 marks to build a south porch, and ordered his executors to make a new bell sollar in the church, (fn. 73) like that at East Herling, that the procession might go under it while the bells ring. He gave also 5 marks towards building the new bell sollar at Kenninghall, and 20d. towards a new bell at Rushworth, and 4d. apiece to the brothers of the college there, to say Mass for his soul. He gave also his messuage and tenement in which he lived, lying in Fersfield aforesaid, with all his lands enclosed, and the privileges thereto belonging, together with one pightle enclosed, and half an acre of meadow lying in the common meadow of Fersfield aforesaid, to Margaret his wife, for life, and at her decease, to the use of the inhabitants of the said town for ever; all which were to be vested in feoffees for divers uses, with condition, that if those uses should fail, (as it hath happened since,) then the clear profits arising from the said premises should be laid out in repairing and beautifying the parish church for ever; and all the rest of his lands he ordered his executors to sell, with these restrictions, that the purchaser should not be a gentleman, nor have any other lands or tenements in the world, and that he or they should live in the houses, and occupy the lands themselves, to the advantage of the parish. John Caundiche, clerk, rector, was his supervisor. It was proved the same year, on the 20th of June, at Bokenham St. Matin's (or New Bokenham,) before Bartholomew Northern, bachelor of laws, commissary to James Bishop of Norwich, who was then on his visitation at Bokenham aforesaid. The probate is now in the Church Chest at Fersfield, and is entered in the register called Awbrye, in the 3d part, fol. 141. in the Bishop's Office.
The farm is now in feoffees hands, to the use of the church, about which the profits are expended, either in repairing, beautifying, or purchasing proper ornaments to it. It is now [1736] let at 18l. per annum, and pays a yearly quitrent to the manor of Fersfield of 10s. 9d. a year. The messuage, with 3 acres of land adjoining, 3 acres and an half enclosed, lying in the further close next the common, a pightle called Hoppin's of an acre and half, and half an acre in Billing's meadow, is copyhold on the said manor, 4 acres called Penscroft, and all other the lands thereto belonging, are freehold without any reserved rent; some of the lands have been changed with the Duke of Norfolk, an account of which you have with the commons of this town.
In the name of GOD Amen, 2 July 1589. I Matthewe Walter of Bliford in Suffolk, do make this my last will, &c. my body to be buried in the church yard of Bliford aforesaid.
Item. "I geve and bequeathe unto Margaret my wief, (fn. 74) all my tenement, landes, meadowes, feedings, and pastures, with the appurtenances, scituate, lying and being in Blyford aforesay'd, which I lately purchased of Thomas Back, to hold to her, and her assignes, during the tearme of her naturall lief; and after her decease, I will that the sayd tenement, together with all and singuler the aboveresited premises, with the appurtenaunces, and one close lying in Holton, conteyninge eightene acres, which I latelie purchased of W. Bonnett, and also one meadowe with the appurtenaunces, lyeing in Bulchim, in the say'd countie of Suffolk, shall ymediately after the decease of the say'd Margaret, my wief, remayne unto John Parker my cosyn, and his heires and assignes for ever, upon this condition, that is to saye, that the say'd John Parker, his heyres or assignes, or anie one of them, shall yearlye and every yeare for ever, after the decease of the say'd Margaret my wief, paie or cause to be paied unto the pore people of the townes, parishes, or hamletts, hereafter-mentioned, the somme of ten powndes of lawfull monie of Ingland, in the manner ensuing; that is to saye, to the pore people of Farsfield in the countie of Norfolk 20s. to the pore people of Bresingham in the same countie 20s. to the pore people of Holton in the countie of Suffolk 10s. to the pore people of Bliford aforesay'd 20s. to the pore people of Hallisworth 20s. to the pore people of Blitheburgh 20s. to the pore people of Bulchim 10s. to the pore people of Suthwold 20s. to the pore people of Reydon by Suthwold, in the countie of Suff. 10s. to the pore people of Wang ford 20s. to the pore people of Henham 10s. to the pore people of Uggeshall 10s. to the pore people of Stoven 10. Otherwise if the say'd John Parker shall make default of payment, of the say'd yearlie payment of ten powndes, in manner and form aforesayd, then I will, and my full mynd is, that all the premises shall go to Basingbourne Parker, brother of the sayd John, and if he makes default, then to Mr. Francis Braye, son of Mr. Saynt John Braye, under the same limitations." He gives the profits of his lands in Attleboroughe and Holton, and the lands called the Oke, (except the annuity that he gave his wife out of them,) to his executors for ten years, to perform his will, and then to be sold "to the best price, and the monie thereof cominge, to be equallie divided, the one half to and amongest my pore kindred, and the other in deeds of charitie, by the discretion of my executors. Item, I give and bequeath unto Thomas Morse, the son of Anthonie, and to his heirs, all that my meadowe or fen with all and singular its appurtenaunces in Uggishall, to have and to hold to him, his heirs and assignes for ever, upon condition, that he, his heirs, or assignes do yearly and every year for ever, after my decease, paie or cause to be paied to the pore people of Uggishall the somme of 10s." And for default thereof it is given to Henry Crowfoot the younger, and his heirs for ever, under the same limitations; Nicholas and John Walter, his brothers, executors; Thomas Morse of Uggishall, supervisor. Witnesses, Wm. Baker, John Neale, Wm. Skott, Wm. Peters. It was proved at Blitheburgh, before Mr. Bartho. Stiles, clerk, surrogate to Mr. John Maplizden, Archdeacon of Suffolk, the 4th of November, 1589.
Margaret, relict of the testator, was buried at Bliford, the 22d June, 1611, as appears by the parish register.
This legacy is yearly paid to the rector and church-wardens, and is distributed among the poor at their discretion. In 1687, the estate belonged to Robert Brodwell of Westhall in Suffolk, and now [1736] to Mr. William Crowefoot of Beccles, who pays the money, without any deduction for taxes, these lands being exempted on account of the charity.
In 1595, John Dalton surrendered half a rood of land in Billing's Meadow, to the use of the inhabitants of Fersfield for ever. This was sold by general consent, in the year 1600, and was the very piece that Billing's Gate stood on, over which, the road into the meadow (which was then Lammas or half-year ground) passed, by which purchase the whole meadow (except the half acre of town land, which Elingham gave) was got into one person's hands, who afterward, by consent of all the commoners, upon paying a sum of money to the town's use, enclosed it; from which time it ceased to be opened at Lammas, though the meadow on the other side of the lane, at the west end of it, in which there are several owners, still [1736] continues Lammas, at which time it becomes common, and so continues till the 8th of March.
There is also half an acre of land, called the Town Patch, which is freehold, let at 10s. 6d. per annum, now vested in feoffees, to the use of the church; but by whom it was given I do not find. There is another small piece of ground, which was taken off the common, to build a town-house upon, and another small piece, called Beck's Yard, on which a town-house formerly stood.
Fersfield Rectory
Is in the archdeaconry of Norfolk, and deanery of Redenhall; being under the value of 10 marks, it pays no first fruits, though it does yearly tenths, it being undischarged. (fn. 75) It hath a rectory-house, and 51 acres of glebe, all in the rector's possession at this time, and all tithes are due in their proper kind. [1736.] It paid 12d. Peterpence, and was taxed at 8 marks in the Old Valor. In the Answers of the Parsons, anno 1603, Henry Womack, A.M. rector, returned his answer, viz. that there were 75 communicants in the parish; that he was doubly benificed, holding this, with the vicarage of Great Ellingham, in Rockland deanery; that Sir Thomas Cornwaleys and Anthony Wyngfield were patrons by courses.
King's Books.
Tenths.
Synodals.
Archd. Procura.
Norw. Tax.
Pension.
Acres of Glebe.
6
6
8
0
12
8
0
1
0
0
5
0
5
0
0
0
6
8
51
0
0
The Prior (fn. 76) of the priory of the monks of St. Mary at Thetford (now called the Abbey) had two tithe sheaves out of every three, of all the wheat growing on certain lands in this parish, which portion of tithes was given them by William de Bosco, or Bois, in the 11th century, soon after their foundation, and was confirmed, among other donations, by William Bygod, the principal lord of the fee, of whom it was held by the Boises; it is called two measures in that deed, but in the Leiger Book of this house, two garbs, or sheaves. This was afterwards, with other revenues, confirmed to them by King Henry II. when he was at Thetford, in these words, Ecclesia de Tirevilla, for Firevilla, or Fersfield; the rector afterwards came to a perpetual composition with the Prior for this portion of tithes, for which he and his successours were to pay for ever, an annual pension of 6s. 8d. (fn. 77) which is now [1736] paid to his Grace the Duke of Norfolk, to whose predecessors the said priory, with all that belonged to it, was given at its dissolution: and this was the only religious house that was ever concerned in this parish, except the priory of St. James at Old Bokenham, the prior of which held lands here, that were purchased of Sir John Verdon, along with the Priory Manor of Brisingham; all which passed, as that did; and therefore I need only refer you thither. (See p. 62.)
Sir Robert de Bosco or Bois, Knt. with the consent of William du Bois, Knt. his son, and William du Bois then rector of Fersfield, gave to the Cluniac monks of St. Mary at Thetford, two parts of the tithes of all his demeans in Fersfield, which he held in his own hands, namely of all fruit, pease, and beans; the witnesses were, Roger Bigot Earl of Norfolk, Rob. de Burnevil, and others. (fn. 78)
Rectors.
Wm. de Bosco, or Bois, patron and rector.
1312, kal. March, Wm. Yngreth, de Debenham, priest. Christian de Mose, formerly wife of Sir Robert de Bosco, Knt.
1313, 9 kal. Apr. Wm. de Carlisle, accolite. Ditto.
1316, 4 kal. Oct. Thomas de Merchstone, accolite. Ditto.
1327, 7 ides Apr. Rafe de Blakesdone, priest. Thomas, EarlMarshal, Earl of Norfolk, son to the King, guardian to Robert de Bosco, Knt. deceased; the manor of Fersfield being held of the Earl, who, at the death of Christian, seized him as his ward.
1326, 18 kal. Febr. Nicholas de Aschfield, priest, at the resignation of Blakesdone. Ditto.
Nicholas Ulton, rector; he resigned, and in
1344, 22 Decem. Andrew Gylour de Wymboteshum, priest, succeeded. John Howard, Knt.
1352, 25 October, Richard Munch, priest, at Gylour's resignation, who changed with him for the vicarage of St. Mary Magdalen of Wygenhale. Sir John Ufford, Knt.
1358, 4 July, Robert Agaz, (or Agar,) priest, at Munch's resignation, who changed for Blownorton St. Andrew. Sir John de Ufford, Knt.
1381, 15 June, John Grym, priest, William de Ufford Earl of Suffolk, Sir John Lovell, Sir John Tuddenham, Knts. John Holkham, John Marlere, rector of Islyngton, and Richard de Walton, true patrons, by virtue of a feoffment in trust, made to them by Sir Robert Howard, Knt.
1391, 17 Apr. John Gate of Preston, priest, at Grym's resignation, who changed this for Garboldisham. Margaret, relict of Sir Robert Howard, Knt.
1405, 12 May, Sir Thomas Kynge of Brethenham, priest. Sir John Howard, Knt.
1406, 6 Apr. John Yutte (Gutte or Gate) of Garboldisham, priest Ditto.
1411, 15 Febr. Sir Thomas Gowthfield of Ixworth, priest. Ditto. He was instituted to the parish church of Fersfield, with the chapel of St. Anne thereto annexed.
1424, 7 Novem. John Bettys, priest. Ditto.
1477, Richard Bulle, or Boole, priest. Ditto.
1493, John Caundiche, rector.
Richard Bulle died rector, having taken it again after his resignation.
1503, 28 Aug. Henry Gayton, rector. John de Vere Earl of Oxford.
1527, 17 Jan. Thomas Westley, A.M. on Gayton's death. Elizabeth Countess of Oxford.
1532, 2 Jan. Sir William Cotney, chaplain, on Westley's resignation. Elizabeth Countess of Oxford.
1559, 13 Febr. Sir Richard Flynt, priest, on Cotney's death. Rob. Wyngfilde, Knt.
1579, 29 Apr. John Dalton, clerk, on Flynt's death. Hugh Mulley, yeoman.
1579, 30 Dec. William Pecket, on Flynt's death. (fn. 79) Robert Wyngfilde, Knt.
1595, 19 Aug. Henry Womack, clerk, at Pecket's resignation. (fn. 80) John Cornwaleis, Esq. (fn. 81)
1609, 2 Dec. Lawrence Womack, S. T. B. by resignation? (fn. 82) Lapse.
1642, 21 July, Arthur Womack, A.M. on Lawrence's death. (fn. 83) The King, as guardian to Robert Wyngfield.
1685, 3 August, John Barker on Arthur's death. Thomas Barker, Gent.
1729, 13 Sept. Francis Blomefield, clerk, the present [1736] rector, was instituted on the death of John Barker, at the presentation of Henry Blomefield, Gent. patron of this turn.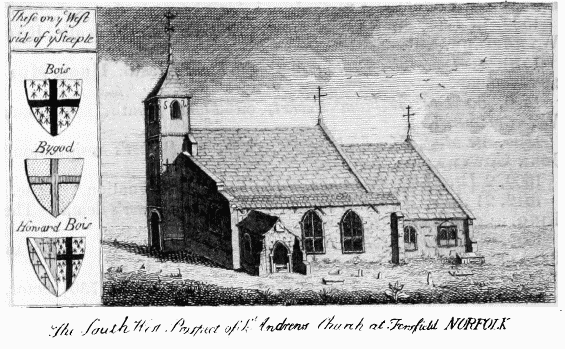 The Church is dedicated to St. Andrew the Apostle, whose effigies was painted on the wall over the north door, though now whited over. Who was the first founder of a church here I know not; but the present nave, in all probability, was built by Sir Robert, son of Sir Robert de Bosco, Knt. about the latter end of the 12th century, whose third son, William de Bosco, priest, built the chancel, and reserved an arch in the north wall for his own burial, his father, Sir Robert, being buried (as I take it) close by him. After this, about 1308, Sir Robert de Bosco, eldest son of the last mentioned Sir Robert, began to build an additionary south isle, with a chapel at its east end, in which he reserved an arch under the south window for his own grave; but dying in 1311, the work stood some time unfinished, his son Sir Robert being a minor, who lived so little time after he came of age, that he also died, in 1333, before it was perfected, Alice, his sister and heiress, being then married to Sir John Howard, junior, Knt. who finished the work, and adorned the sepulchre of the said Sir Robert, his father-in-law, and the windows of the isle, with the arms of his own and wife's family; and indeed I am apt to think that they both were buried in the chapel (which was dedicated to St. Aune) at the east end of this isle, for I do not meet with the place of their burial in any author; and by all that I can collect from evidences, they lived and died here. He it was also that built the steeple, as the arms carved in stone plainly prove; the first is a plain cross, being the arms of Bygod, from whom the Boises had the town; the second is Bois's arms single, between which is his own coat, impaling that of his wife, viz. Howard and Bois. The south porch and belfry were built in 1494, with money given by Jeffery Ellingham of Fersfield, for that use, as may be seen in his will (p. 96.)
It is a small building, but in good repair, the nave, chancel, and south porch being tiled, and the south isle leaded; the steeple is square, and hath but two bells, though it had three till the second was split by a tempest about 80 years since, together with the steeple, which is now [1736] supported by iron cramps. Part of its metal was sold in 1708, towards repairing the church, which was then new paved, together with the chancel, at the charge of Mr. John Barker, then rector, and Elizabeth his wife, by whom the chancel was new roofed at that time; she gave also a new set of clothes for the desk and pulpit, of purple velvet, with a neat purple cloth carpet, wrought with gold, and a cushion for the pulpit, of the same, with cushions to lay round the altar rails, and a large cedar chest to lay them in, on the lid of which are the arms of Tilney impaling Read, being the arms of Fraucis Tilney, rector of Brisingham, her father, and his wife, daughter of Thomas Read, Esq. her mother, under which is written,
Hâc, Lector, Cedri Clausâ conduntur in arcâ, Vestimenta quidem Consecrata Deo.
At the step of the altar lie two black marbles, thus inscribed,
Felgate, az. two fesses arg. between six mullets or, 3, 2, 1. Crest, a griffin seiant gul. its wings elevated or, its body pierced through with a broken spear:
Here Lyeth Interred The Body Of Phillipa Felgate The Wife Of Mr. William Felgate of London Skinner Who Departed This Life The 18th of January 1645.
Etate sue 62.
Frere, gul. two leopards faces in pale, between as many flaunches or. Crest, an antilope's head erased arg. out of a coronet G.
Here Lyeth Interred The Body Of Anne Frere Wife Of Mr. Thomas Frere Citezen & Skinner Of London Who Departed This Life The 25 Of January: 1643 Aged: 29 Years.
On a small black marble in the altar rails,
Here Lies Buried Henry Blomefield Gent. Who Died Nov: the 3D 1670.
Ann His First Wife Lies At His Right Hand And Diana His Second At His Left.
On the back side of the screens is this,
The Father The Word and The Holy Ghost, And these Three, Are one. 1. John 5. 7. Three in One. Luke 3. 21. 22. One in Three. Gen. 1.2. Io: 1, 3. Is Unity, in Trinity. Iohn; 15. 26.
Under an arch in the north wall, about two or three feet from the east end, lies an effigies of a priest in his habit, carved in stone, having had four priests kneeling in their surplices by him, two on each side. This lying level with the floor, had contracted moisture, and began to decay very much; and therefore, in order to hinder its decaying further, I caused it to be taken out of its place, and the whiting, with which it had been washed over, to be scraped off cautiously; upon which, I discovered the colours with which it was first adorned, and found that the large stone on which he lies was green, representing the earth; his head lies on a pillow, and that on a cushion, both which were red, the cushion being flowered with silver, and the pillow with gold; his feet lie on a buck couchant ermine, which is the crest of the Boises; his gown was black, his cassock red, gilt all over, in imitation of embroidery, and powdered all over with ermine; round his waste is a girdle, which was green, buckled with a black buckle upon his breast; from the neck to the girdle was the complete arms of the Boises, which may still be seen in two of the chancel windows; the circumscription was in French, the letters being only painted on the stone which he lies on, and is all lost but these words, ----: KI: -------:AVERA:----. However, we are not at a loss to know who he was, for from the arms and crest it is plain he was a Bois, from the habit, that he was a priest, and from the arch that he lies in, (which must have been made when the chancel was built, as any one upon sight of it must own,) that he was builder of the chancel; so that it can be nobody but William du Bois, priest, rector here, who, when he built the chancel, reserved this place for his own interment. He afterwards resigned this rectory, and was instituted to Garboldisham All-Saints, which he resigned some years after, for the vicarage of Great Conerth in Suffolk, of which place he died vicar, about 1352, At the removal of the effigies I found it was joined in the midst, and hollow, being full of burnt coals, which were put there to suck up the moisture, and keep the stone dry, that its colours might not be injured. I had it raised above a foot high from the ground, and painted in its original colours, causing this inscription to be put on a plate, and fixed to the wall:
"William du Bois, Priest, Founder of this Chancel, Patron and Rector of this Church, and of Garboldisham All-Saints, Vicar of Great Conerth in Suffolk third Son of Sir Robert du Bois, Knt. and Brother to that Sir Robert, who lies buried in the South Isle; He died about 1352."
Upon the ground, close to the arch, lies a large raised coffin-stone, with a cross on three grieces, the monument, perhaps, of his father; both which are here presented to your view.
There are two stones in the chancel disrobed of their inscriptions, but never had any arms or effigies.
On the south side of St. Anne's chapel, in the south isle, under the window, in an arch in the wall, lies an effigies of a knight, armed capà-pié, cut out of one piece of oak, which being in a dirty condition, I had it taken out and washed very clean, and upon removing it, found it hollowed and filled as the former, with burnt coals: the plank on which it lies was painted green, with flowers, grass, and leaves: the effigies is exact six feet, and proportionable in all parts; a sword hangs on a belt by his side. Under the head was a board, having on it, when I first took it up, the arms of Bois and Latimer very perfect, and in Latimer's coat was a label of three, arg. which very plainly proves who he was that was buried here. The colours of the arms scaled off in two or three days, after they were exposed to the air, for which reason I had them painted on the pillow under his head. His helmet and gauntlets were powdered with ermine, and every other folding of his military cassock, which hangs down lower than his armour, was the same, it being the field of his own coat; the other foldings were gul. the field of his wife's; his feet rest on a buck couchant arg. spotted with ermine, being his crest. His armour was mail, gilt all over with gold, and on his breast-plate was his perfect coat, erm. a cross sab. His head lies on a pillow painted with red, and flowered with silver, and that lies on a cushion painted as of green velvet, flowered with gold, with which his spurs are covered; several embellishments were gilded on a cement, and let into the wood in several places, on his belt, sword, and spurs, and on the edge of the plank that he lies on, and then covered with glass, but most were defaced: those that remained were, a man's head cooped at the neck, with leaves in his mouth, a spread eagle, a dog meeting a hare, a dog fighting a lion, a bull tossing a dog, and a lion couchant, with an eagle standing on him, picking out his eyes; all which seem to intimate, that the deceased delighted chiefly in war, and rural exercises; but on a very large one that came off the edge at his feet, was a representation of a building with arches, under which were two hands joined, holding up a book, to signify (as I take it) his founding this isle. The inscription was on the edge. After removing the seats that stood before it, I caused it to be painted in the same colours, as near as could be, and added this inscription:
"Sir Robert du Bois, Knt. Son of Sir Robert, and Grandson of Sir Robert du Bois, Knt. Founder of this Isle, Lord of this Manor, and Patron of this Church, died in 1311, aged 43 Years. He marry'd Christian, Daughter of Sir Wm. Latimer, Widow of Sir John Carbonel, of Waldingfield in Suffolk, by whom he had Sir Robert his only Son, who died unmarried in 1333, and Alice an only Daughter, who married Sir John, son of Sir John Howard, Knt. and carried the whole Estate of the Bois's to that Noble Family."
The windows of the isle, and in particular the east window of the chapel, were formerly beautifully adorned with paintings on glass, of the Twelve Apostles, the Blessed Virgin, and St. Anne her mother, to whom the clapel was dedicated. She had a famous image standing in it, and a large gild kept to her honour, (fn. 84) to which most that died, in this and the adjacent towns, generally gave something, and often left money to find wax candle, and lights, continually burning before it. From this place processions were usually made to a well or spring about 60 yards from the north gate of the churchyard, at the foot of the hill, which is still called Tann's Well, being a corruption for St. Anne's Well. There was a separate chaplain that served here from its foundation, to 1411, and then it was united to the parish church, the rector being obliged to find a chaplain, which from this time was removeable at his pleasure: I meet with but few of their names. In 1477, Sir William Manuel served here, and at his going off, Sir Reginald Cooper succeeded. The windows were glazed by Sir John Howard, Knt. whose effigies remained in the east window when Mr. Weaver published his book; (see fol. 851;) and it is very plain from the arms about it, (which were preserved in the pedigree of the Howards,) that it was that Sir John who married Margaret, daughter of Sir John Plais.
The first coat being Howard impaling Cornwall; arg. a lion rampant gul. in a bordure ingrailed sab. bezanté; the arms of his great grandfather and grandmother.
The second is Bois and Latimer; his grandmother being a Bois, and her mother a Latimer.
The third is Howard quartered with Plais, being his own and wife's coat.
The fourth is Clifton impaling Howard; the coat of Margaret Howard, his only daughter by Plais, who was then married to Sir Constantine Clifton, Knt.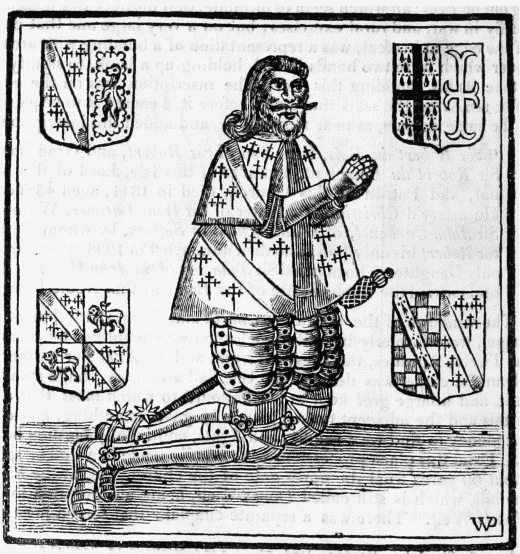 And as a further memorial of him, we find that every window is still [1736] filled with the following letters; the first is a J and an H joined, with Howard's arms in it, for John Howard. The second an M with six escalops in it, to signify Margaret Scales, his mother.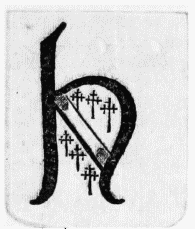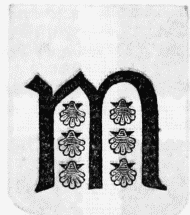 In the windows are the following arms, all which now [1736] remain, except the two last, which are gone, as also the arms of Ufford and Beck quartered; Howard impaling Spencer; Howard impaling Plais; Clifton impaling Howard; Morley, Courtney with a label az. impaling Scales; Shardelowe, ermine a cross gul. impaling Scales; and there still remain these impaled coats, Ufford and Scales, Howard and Scales, Bois and Latimer, though they are somewhat broken. The lion rampant is collared az.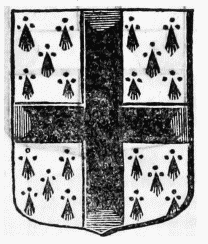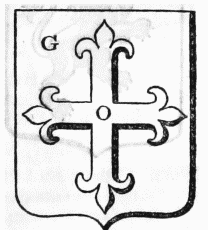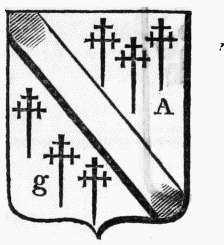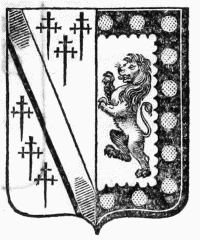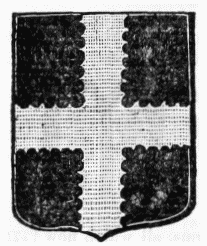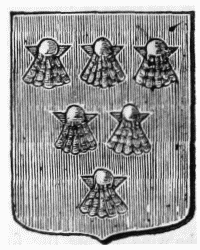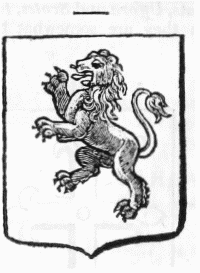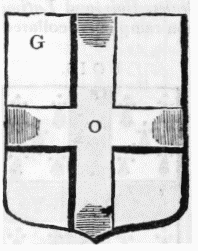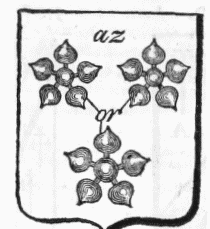 In the nave, at the entrance of the chancel, lies a black marble thus inscribed:
To the Memory of Mr. WILLIAM FLOWERDEW of Fersfield, who died February the 12th 1731.
In the 43d Year of his Age, And of Lawrence & Catherine, Two of his Children, who died In their Infancy.
This Stone is placed by Martha Flowerdew his Widow, In Testimony of her Love and Affection.
On another stone in shape of a coffin:
John Father of Jeffry Ellingham, Died Ao 1478.
He willed to be buried here, and gave 6 marks to repair the church; to the altar 3s. 4d.; to St. Anne, mother of the mother of God, 2s.; to keep up the common torches of the town, 12d.; to the friars preachers at Thetford, x.s.
Before the pulpit lies a large stone, having had a plate of brass on it formerly, which being lost, the townsmen had the following inscription cut upon the stone:
JEFFRY ELLINGHAM, of Fersfield, died Ao 1493, Who by will, dated the 18th Day of April in the same year, gave 4 Marks to build the South Porch, And his tenement and all the lands thereto belonging, lying in Fersfield, to divers Uses expressed in his will, with this clause, That if such uses should fail, (as it hath since happen'd) then the clear Yearly Profitts of the same are to be laid out in repairing, beautifying, and adorning this Parish Church for ever.
Another black marble is thus inscribed:
Here Lie Buried In This Grave John Blomefield, Gent.
Sometime Of Corpus Christi Coll: In Camer:
Afterwards An Inhabitant Of This Place, Where He Lived A Very Charitable, Humble, Peaceable, Devout, Good Son Of The Church, And Died Decembr. The 22d, 1700. Aged 55 Years.
And Also Elizabeth His Wife, With Henry And Anne, Two of Their Children.
All these following inscriptions on stones, between the north and south door; the three first in the nave, and the three last in the south isle:
Alice, Daughter Of Henry Blomefield, Gent. & Alice His Wife, Died Nov. 23, 1712.
Here Lieth The Boddy Of Mr. John Blomefield, The Son Of Mr. John Blomefield, Eliz. His Wife, Who Deceased Satarday June I, 1695.
Blomefield's arms and crest.
Repositæ sunt sub hoc Lapide in spe beatæ Resurrectionis, Reliquiæ Elizabethæ filiæ natu maximæ, Johannis Blomefield, hujus Paroch: de Fersfield Genr: et Eliz: ux: ejus (ambo juxta hunc locum
Sepulti, una cum Johanne filio natu maximo) primo nuptiæ, Roberto Shales de Oxboro Genr: Secundo Johanni George de Thetford Armig:
Tertio Antonio Neech, Rect: de Snutterton in Com: Norff: Pietatis, Charitatis, Virtutisq; Dotibus eximie præditæ, Febri extinctæ, Fato hen!
Nimium immaturo raptæ. Facilis Victoria; Vis plura Lector? Scias Natam esse xixo Jul: Ano mdclxxivo. mortuam xvio. Jul: A.D. mdccxxiii.o
Omnes eodem cogimur.
Qui legis hæc, rebus nimium ne crede caducis, Sola manet Virtus, cætera Funus habet, Inclita sincero retinebat pectore Virtus, Mens proba, Cor purum, Vita pudica fuit. Posuit Hen: Blomefield, Frater Mœstissimus.
Mrs. Elizabeth Batch, Widow Died Decr. The 2d. 1729, Aged 81 Years.
Alice wife of Henry Blomefield, Gent. Died 17 March. 1729 Aged 52 Years.
Henry Blomefield Gent. died June the 1st 1732, Aged 52 Years.
Against the south wall, to which the grave of the said Henry joins, is a mural monument of white marble, having the crest, arms, and quarterings of Blomefield, viz.
Blomefield, sab. on a chevron or, three broom branches vert, budded gul.; on a canton of the second, a spear sab. embrued, broken in the truncheon.
Crest, a demi-tiger az. the mane and tail arg. holding in his paws a sword proper, broken in the blade. Motto—pro aris et focis.
Jolly, arg. on a pile in point vert, three sinister hands of the field.
Musket, arg. two bars between six leopards heads gul. 3, 2, 1.
Peak, vert, on a chevron between three lions heads erased or, three croslets az.
Batch, arg on a bend gul. three bucks heads caboshed or.
Persons buried in the Church without any Memorials remaining over them, are:
Sir Robert du Bois, Knt. the last of that family.
1477, John Breese of this town; he gave the tenement Crows, and 6 acres 3 roods of land in Fersfield, to John Boole, then rector, to sell it, and dispose of the money in masses, and other charity, for the good of his soul. (fn. 85)
1579, Richard Flint, rector, buried 29 Apr.
1603, Febr. 18, John Blomefield, buried in the church.
1624, 10 March, Agnes Blomefield of Fersfield, widow, buried by the aforesaid John her husband.
1645, 4 March, Henry Blomefield, Gent.
1652, 20 Jan. Thomas Freere, Gent.
1687, 19 Jan. Mary, wife of John Barker, rector.
1687, Mr. John Arnold.
At the end of the beams of the roof of the south isle are two coats, now painted in false colours, but should be Cornwal and Ufford.
In the west end of the isle is a small but exceeding strong vestry, it having been the repository for the relicks, plate, evidences, and ornaments of the church, at which no one could heretofore come, without passing eleven locks; a plain demonstration that there hath been plate of good value, though now [1736] there is only one cup left.
On an altar monument by the south chancel wall in the churchyard:
Here lieth the Body of Mr.
John Barker, who was Curate Here from July the 7th 1681 untill Augt. the 2d 1685, from that Time Rector, until March the 13th 1728–9, then deceased, A good Christian, and one of the best of Husbands; Aged 72 Years.
Mrs. ELIZABETH BARKER, Widow. died Oct. the 2d, 1731.
Who by Will settled a Tenement & Lands, lying in Brisingham, upon the Rector & Church-wardens, and their Successors. The clear Profitts of which, are to be applied, in teaching as many poor Children of that parish above 8, and under 10 Years old, to read, write, spin, and learn the Church Catechism, as the Profitts will pay for; She also tied her House and Land, called ten Acres, to keep up this tomb, on failure of which, the Church-wardens of Fersfield are impowered to seize on the same, and repay themselves what Monies they shall be out of, in Repairing and Beautifying it, together with their Charges.
There are several head-stones for the Howchins, who had a good estate in the parish; the family extinguished in Mr. Robert Howchin, who died Apr. 10, 1717.
In the time of the rebellion, this church was purged of superstition, (as they called it,) by the rebels, who defaced the carvings on the heads of the seats, with their swords, and hacked the effigies, of the Boises; what few brasses there were, were all reaved, and several arms broken out of the windows, and the altar rails pulled down: the Evidences, the King's arms, &c. were taken away before by Mr. Piddock the church-warden, who justly returned them at the Restoration.
In 1658, Henry Clark of Diss, George Francis, and Robert Skurle of Fersfield, informed against Arthur Womack, rector of Fersfield, Mr. John Piddock, and Mr. Robert Howchin, of the same, charging them with endeavouring to prepare, at their cost, a horse and man for the King of Scots, (as King Charles was then commonly called,) and with harbouring malignants in all their houses; and the said Arthur was particularly charged with speaking these words: (fn. 86)
"Here is a health unto his Majesty, Pray God confound his foes, And the devil take all Round Heads, For we are none of those!"
And also that he abused the government thus:
"Hey-ho! for a two-penny halter, When you are hang'd you shall have good quarter, Oh! 'twould be a brave sight, to see All the Round Heads hang on a tree. Oh! yee rogues! ye must all come to it."
And further, that he offered to raise 500l. for the King of Scots, and often drinks the King's health, and prosperity to the Royal Family.
There was a copy of verses also laid to Mr. Piddock's charge, which were not among the other papers, though the following lines are there, and were made by some Royalist, in praise of them:
"Hail, loyal poet, thy inspired breast Doth keep the rhyme, though thou forget'st the rest, Good (fn. 87) small drink verses truly, and no doubt, They'd better been, but that the strong was out; The zeal I like, thou poet may'st commence, For though there's want of feet, there's none of sense, The things he writes are true, the verses false, The author's loyal, that's enough applause."
Upon these informations they were carried before Thomas Sheriffe of Diss, Esq. then justice of peace, who committed them to Ipswich gaol, where they continued some time; but by the assistance of the said Mr. Sheriffe, who by private letters informed them of all that was intended against them, they were all discharged, after they had gotten certificates, according to his advice, of their good behaviours, from the towns of Diss and Fersfield; upon which he had orders to examine the witnesses apart, and then they confessed, that they had maliciously informed against them, and forsworn themselves, in hopes of getting advantage by so doing; all which confessions they signed before witnesses; and thus, after much trouble and expense, they were at last freed.
This Arthur was ordained by Samuel Bishop of Norwich, 21st Sept. 1628, instituted 1642, and subscribed 15th Aug. 1662. (fn. 88)
This town contains about 40 families, and 200 inhabitants; it paid 1l. 14s. when the taxes were raised by tenths, and was valued at 750l. to the association rates, and now to the King's tax, at 557l. [1736.]
In the time of King Edward III. the great plague reached even this obscure village; for in the court rolls a year or two after, the deaths of many of the tenants are presented; and it is said, that they died in the great pestilence. At this time the parish was almost all wood, there being no less than four large woods, besides several groves, among which, Home Wood, or Great Wood, is first named, and said to contain above 400 acres, Winley Wood, Wilcox and Riche's Woods, being of no small extent, all which are now cleared.