Pages 162-181
An Essay Towards A Topographical History of the County of Norfolk: Volume 1. Originally published by W Miller, London, 1805.
This free content was digitised by double rekeying. All rights reserved.
GISSING.
The Church is dedicated to St. Mary the Virgin, and in 1209 was a rectory, a moiety of its patronage being then settled on Butley priory, (fn. 1) by John, son of Geffery; about 1217, Thomas de Hastyngs, with the consent and joint act of John Bishop of Norwich, granted to the monastery of St. Mary at Butley, in Suffolk, the perpetual advowson of the other part, and Roger de Skerning not only confirmed it, but agreed to appropriate the whole to that house; and in 1271, the 56th of Henry III. endowed the vicarge with all the offerings, the tithes of the mills, a vicarage-house and meadow, and an acre of land adjoining, and twenty acres more of the church's free land, and all other small tithes, except hay, which, with all the corn tithes, and the rest of the glebe, together with the rectory manor, and all its appurtenances, were to belong to the prior, who was always to present to the vicarage.
William of South Elmham, the first vicar, was succeeded in
1307, prid. kal. Sept. by Will. Ingereth, of Debenham, priest, who resigned it for Fersfield.
1313, 15 kal. July, Thomas of Palgrave, priest.
1317, 3 kal. Sept. Henry of Melles, priest.
1328, 12 kal. May, William of Pakenham, priest.
1344, 26 October, Walter le Palmer of Ipswich, priest.
1349, 23 Sept. Robert-dil Moor of Eye, priest.
1383, 7 October, John Ive of Pulham, priest; Robert atte Moor resigned.
1392, 25 August, Roger Wright, by change with John Ive for Little Henneye, in London diocese, which John was also rector of Shellow Bowells. (fn. 3)
1397, 2 March, Walter of West-Walton, priest.
1401, 6 June, Sir Robert Felys, priest, on Walter's resignation.
1405, 16 Dec. John Carman of Yakesle, priest.
1419, 24 Dec. Robert Therne, priest, on Carman's resignation.
1429, 6 March, Robert Smythe, priest, on Therne's resignation.
1432, 7 October, Robert Balle. Bishop by lapse.
1449, 2 Sept. Sir Thomas Blankpayn.
1451, 7 March, Thomas Goldynton, an Augustine canon of Butley, on Blankpayn's resignation.
Robert Aleyn, priest.
1468, 6 Febr. Robert Bate, on Aleyn's resignation.
1483, 1 July, Thomas Welbourne, on Bate's resignation.
1484, 4 Nov. John Winter, alias Capell, priest, canon of Butley.
1500, John Aumbler (fn. 4) succeeded, on Winter's resignation.
All the above were presented by the Prior of Butley.
1534, 16 Nov. Peter Mannyng, priest, on Aumbler's death.
1549, 7 Aug. Michael Dunning, (fn. 5) LL. B. Richard Denney, of Bawdeseye, patron of this vicarage, for this turn only, by grant from Thomas, late prior of the dissolved house of Butley, the grant being made before its dissolution.
1554, Gregory (or Geo.) Grange, on Dunning's resignation.
1561, 26 Dec. John Hiltone, priest. The Queen patroness. He had Burston.
1578, 15 Octob. Thomas Proctor, A. M. Robert Kemp, Esq.
1579, 23 May, John Savell, A. B. The Queen.
1579, 5 Sept. Thomas Proctor, A. M. The Queen; she ejected him, and presented Savell, in order to recover her patronage, which being done, she presented him again.
1613, 27 March, Robert Proctor, A. M. The King; he subscribed the articles at the Restoration, Aug. 18, 1662, being ordained deacon by the Bishop of Ely, Sept. 25, 1608, and was made a licensed preacher on the day of his institution; he died in 1668.
1668, 24 Dec. John Gibbs, A. M. presented by King Charles II.; he continued rector till 1690, being then ejected as a nonjuror; he was an odd but harmless man, both in life and conversation; after his ejection he dwelt in the north porch chamber, and laid on the stairs that led up to the rood loft, between the church and chancel, having a window at his head, so that he could lie in his narrow couch and see the altar. He lived to be very old, and at his death was buried at Frenze.
1690, 28 June, Thomas Jeffery. Robert Kemp, Bart. united to Flordon.
1694, 24 April, John Calver, on Jeffery's death. Ditto; united to Skimpling.
1730, the Rev. Mr. Thomas Kemp, A. M. presented by his father, Sir Robert Kemp, Bart. who died Dec. 1734, leaving this patronage and manors to Sir Robert Kemp, Bart. his eldest son, who is now [1736] lord and patron.
The impropriation, according to Butley Register, was confirmed by several Archbishops of Canterbury, (fn. 6) and was taxed at 16l. 13s. 4d. and paid 33s. 4d. tenths. It appears also by the said register, that Sir John Aumbler, as rector of Gissing, acknowledged a pension of 26s. 8d. to be yearly due to the Prior of Butley, out of the rectory, which was now in effect disappropriated, and united to the vicarage, all but the manor, the impropriate glebe, and its tithes, which remained in the prior, and fell to the Crown at the Dissolution, in which they continued till Queen Elizabeth by letters patent, dated the 16th day of April, 1563, granted to Edw. Dyer, and Henry Cressinor, in fee-farm, the rents, lands, tenements, woods, and portion of tithes, in Gissing, lately belonging to Butley priory, at the yearly fee-farm rent of 4l. 0s. 1d. ob. to be held in soccage; and this Edward, the 17th of Feb. 1574, sold them by deed enrolled in chancery, to Robert Kemp, Esq.; and this year, the Queen, by other letters patents dated Dec. 22, granted to Anthony Kinwellmarsh and his heirs, the rectory, or advowson of the rectory, &c. who the 9th of Feb. in the same year, sold it by deed enrolled in chancery, to Robert Kemp, Esq.; but notwithstanding this, the Queen recovered her presentation to the church, because, though the rectory was united, yet it had been all along presented to by the name of a vicarage, and so could not be included in the grant of the rectory: and from this time it remained in the Crown, till King Charles II. gave it to the Kempes, who united the tithes of the impropriate glebe, and so made it a complete rectory, and as such it hath been presented to ever since.
In 1569, the Priory Close in Gissing and Burston, containing 30 acres, and other lands of the value of 20l. per annum were granted to Nic. Yetesworth and Barth. Brokesby.
In 1364, (fn. 7) John, son and heir of William de Calthorp, held a messuage and lands in this town, by petit serjeantry, viz. by the payment of a well-feathered arrow of 1d. value, every year, to the King, by the hands of the sheriff.
It is called in the King's Books, Gwising alias Gisling, and is thus valued, viz.
King's Books.
Tenths.
Synodals.
Procurations.
Pension. (fn. 8)
Acres Glebe.
14
16
5 ob.
1
9
7 ob. q.
0
2
8
0
7
7 ob.
1
9
7
40
0
0
Here was a chantry in honour of all the Saints, in a chapel of that dedication in the churchyard, founded by Sir Nicholas Hastyng, Knt. and confirmed by William Bishop of Norwich, about 1280; for in that year the said Sir Nicholas, and Sir Adam de Gissing, Knt. endowed it with a messuage, and divers lands, which were sometime Robert of Gissing's, father of Sir Adam, and were copyhold of Sir Nicholas's manor, all which were manumised by the said Nicholas; it was for one priest only, who was bound daily to sing for their souls, and those of their ancestors: it is now quite gone, and we know not in which part of the churchyard it stood.
In 1544, it appears that the township held of Gissing cum Dagworth manor a tenement called Buckenham's, which abuts on the way leading from the church to Tibenham Long Rowe east; and of Gissing Kemps cum Dalling's manor, another tenement called Owles's, and one acre of land lying between the lord's meadow north, and the common way west: and also one piece called the MeadowPightle, which abuts on the drag-way north. This tenement and acre pay a rent of 6d. and the pightle a rent of 7d. a year. They had also a freehold cottage and garden, at Well Green; and the leet fee was then two shillings and four-pence. (fn. 9)
In 1548, Sir Anthony Hevenyngham, Knt. lord of Gissing cum Dagworth, settled three acres of land upon the church-wardens, towards the maintenance of the poor, and ordered that Bartholomew Kempe and his heirs should pay 3s. a year to the same use, out of his estate. (fn. 10)
In 1537, John Tiler gave 20s. to the church; mayster Barthyllmew Kempe, hathe in his hands to the use of the chirche lij.s. Daniel Broome hath to the use of the crosse, 35s. 8d.
1550, John Taylor gave 26s. 8d. to repair the cawnsey.
1598, Joan Freeman gave 13s. 4d. to the church.
1621, Mr. Tho. Prockter, clerke, late of Gissinge, deceased, gave 40s. for town stock, to be put out by the church-wardens, to two poor men, resident in the said town, they to have the benefit for one year, lying in good security, and then the next year, to two others, &c. (fn. 11)
Here is a very good parsonage-house, with a barn and stable, built all of brick, by Mr. Calver, late rector, (in whose time the old parsonage was burnt,) with a garden, orchard, and other conveniencies, and 49 acres of glebe.
The Church hath a low small round steeple joined to its west end, but yet it contains five bells; on the first and second is this,
god bless the church and confound her foes. Run'd out of one, by Mr. John Gibbes, Rector.
This on the third bell:
defunctos ploro, pestem fugo, festa decoro.
The nave is leaded, the chancel is tiled, and hath a chapel joined to each side of it, both which are leaded; that on the south side hath no memorials in it, the vault for the family of the Kempes being under it. That on the north was the ancient burial-place of the lords of the manor, and is full of monuments and grave-stones. There is only a cup belonging to the altar, on the cover of which our Saviour's head is poorly engraved, and this, Gysseing Ao 1567.
There is nothing in the nave, but this inscription on a free-stone:
Here lyeth the Body of Richard the Sonne of William Girling, late of St. Andrews in the seven parishes in Suffolke, he was born in December 1633, and died in April 1667, in the Service of Mrs. Mary Sone Widdow, Mother-in-Law to Sr. Robert Kemp Bart. He was exemplary good in his Life and Death.
In the chancel there are no memorials of any kind. In the north chapel, which is dedicated to the Blessed Virgin, there are several gravestones which have lost their brasses, but the arms were as follow, as Mr. Anstis's MSS. (marked E. fol. 29,) hath them:
Kemp and Curson, for Robert Kemp, who married a Curson.
Kemp and Duke, for John Kemp and Alice his wife, daughter of Duke.
Kemp and Alleyn, for Barth. Kemp and Anne his wife, daughter of Alleyn.
Kemp and Cockerham, which still remains.
Kemp and Smythwine, these arms and inscription still remain, viz.
Here lyeth buried Robert Kemp, Esquier, who Marry'd Elizabeth, the daughter of John Smythwine, Esquier, and had Issue too Sonnes, and three Daughters; he dyed the xxviith of April, in the Yeare of our Lord, 1596, Ætatis suæ LXXX.
Kemp and Le-Grey, his second wife, in colours, on a stone in the wall, with this: spero lucem.
Kemp quarters Buttreyleyn, and impales four coats quartered,
Le-Grey with an annulet.
Bainard.
Connard, ar. a fess between two chevrons az.
Berry, per pale az and gul. a cross floree between four trefoils or.
On another stone in the wall, Kemp quarters Butteveyleyn impaling chequy or and az. a fess in a bordure gul.
On a black marble,
Here lyeth the Body of Jane Kemp, wife of William Kemp of Antingham, second son of Sir Robert Kemp of Gissing, Bart. she died April 11th 1705, and in the 19th year of her age.
On a mural monument of white marble against the north wall, having Kemp's arms and crest, sc. on a wreath or and gul. a pelican vulning herself, proper, and differs from Kemp's crest on the next monument, which is a hawk standing on a garb, or.
Sir ROBERT KEMP of GISSING In the County of NORFOLK, BARONET.
Was born at WALSYNGHAM-ABBEY, upon the 2d of FEBR.
1627, and died the 26th of September, 1710, In the 83d Year of his Age.
His first Lady was MARY the Daughter of THOMAS KERRIDGE, by SUSAN his wife, she Was born in LONDON, in Febr. 1631, they were married July 15th 1650, and she died in June, 1655.
They had a Son & 2 Daughters born & Christen'd, which died young.
The second Lady of the said Sir ROBERT KEMP, Was MARY, the Daughter of JOHN SONE Of Ubbestone, in the County of Suff. Gent. by MARY, the Daughter of WILLIAM DADE, Of the said County, Esq.r. She was born April The 6th, 1637; they were married Novr. the 20th, 1657. She died July the 29th 1705, at UBBESTON, By whom they had 3 Sons and 2 Daughters.
Both these Ladies were very Prudent, and Pious, few exceeded the former, and scarce any the latter.
On another mural monument on the same side, Kemp's crest, arms, and quarterings. 1. Kemp; 2. sab. a lion rampant, arg.; 3. barry of six, az. and sab. on a canton gul. a saltire or; 4. Hastyngs; 5. Dove, az. a chevron between three doves ar.; 6. Butteveleyn; 7. az. three roses or; 8. sab. two chevrons arg.
Kemp impaling, on a bend sab. three roses or. The same quartered with gutte de sang.
ROBERT KEMP, late of Gissing, Esquire, the only Sonne and Child of Richard Kemp of Gissing, Esquier, and Alice Cockerham, (Daughter of Philip Cockkerham of Hampsted, in the Countie of Middlesex, Esquire, sometimes Officer to K. Edw. VI. & Q. Mary, in theire Custom-house at London) married Dorothy Herris, sole Daughter of Arthur Herris of Crixeth, in the County of Essex, Esquire, by whom he had viij Sonnes & iij Daughters whereof vij Sonnes and ij daughters do yet survive theire Father, who being xlvij Yeares, ould, peaceably departed this transitory Life, in the Faith of Christ, October xxiij. MDCXII. having then bene happily wedded unto hir xvij Yeares, to whose never dying Memorie, his beloved wife erected this Monument at hir owne chardges, April xxiiij M.DC.XIIIJ.
Painted in the glass of the east window:
Kemp and Buteveleyn quartered, impaling Hastings.
Ditto impaling Clifford. Ditto impaling Gray. Ditto impaling Lomnor of Mannyngton.
Sab. a lion rampant arg. painted on the wall.
There are five coffins in the vault, one is Sir Robert Kemp's, who died Dec. 1734, and his three wives, and a child by the first wife. Hatchments for them, viz. Kemp impales King of Thurlow, vert, a chief and a griffin or.
Kemp impales sab. a lion rampant ar.
Kemp impales Blackwell, pally of six ar. and az. on a chief gul. a lion passant or.
Here were several manors, free tenements, and other small lordships, of which I shall give the best account that I can, though I must own that in some of the small manors the fees and tenures are so intricate, that there may be some mistakes.
The capital manor, afterwards called
Hasting's Manor,
at the survey was included and valued as a Berewick to Titshall, with which it was given to the Abbot of Bury, (fn. 12) who was lord at the Conquest, and immediately after, the abbot assigned it for life to Fulcher, (fn. 13) at whose death, Abbot Baldwin infeoffed one Ricuard in it, (fn. 14) together with the head stewardship of that abbey in fee. From him it came to Raph de Flamavile of Aston, (fn. 15) Flamavile in Leicestershire, who was steward in fee of Bury abbey in the time of Henry I. and from him to Robert his son, who died without issue, leaving Erneburg, daughter of Hugh Flamavile, his niece, his heir. She married Hugh de Hastyngs, (fn. 16) son of William de Hastyngs, Steward to King Henry I. with whom this manor, and the stewardship of Bury, with Aston, Flamavile manor in Leicestershire, and all Robert Flamavile's estate, came to this family, which was sirnamed from the port of Hastyng, the lastage of which, with that of Rhye, they for a long time farmed of the Crown. This Hugh left William his son and heir, who was Steward to Henry II. (fn. 17) as well as to the abbey; he obtained a grant of confirmation of that King, of all the lands which William de Hastyngs his grandfather, and Hugh his father had enjoyed. He married Margery, daughter of Roger Bygod Earl of Norfolk, by whom he had William, his son and heir, who paid 100 marks for his relief. In 1194, sixth Richard I. he left Henry, his eldest son, his heir, though it seems he had several sons, and among others John, to whom this manor was assigned, and John assigned it to Thomas de Hastyngs, who was in all likelihood another brother. This Thomas had assize of bread and ale, (fn. 18) free-warren, liberty of enclosing, and liberty of faldage, throughout the town, as well in other folks lands as his own, which, upon a Quo Warranto in 1227, were allowed him, upon pleading that William de Hastyng, his ancestor, was seized of this manor, with those of Tibbenham, and others, of the fee of St. Edmund, in the time of Henry II. and that he then peaceably enjoyed all these liberties, which were confirmed to him by the charter of King Richard I. in the seventh year of his reign, Ao 1195, after whose death they were peaceably enjoyed to this time. This Thomas left it to Hugh de Hastyngs, who got a confirmation of it from Henry, son of John de Hastyngs. This Hugh married the daughter of Alan de Alvestan, (fn. 19) by whom he had Thomas, who inherited; he married Amicia, who survived him, and Nicholas de Hastyngs, Knt. who was their son and heir, had this manor, which, in 1246, he assigned to Amicia his mother, as part of her dower, she being then married to Sir Robert de Bosco of Fersfield, Knt. In 1269, he renewed his charter of free-warren; he married Emelina, daughter of Walter Heron, by whom he had six sons, Hugh, Henry, Edmund, Nicholas, Richard, and William; he died in 1285, leaving Gissing to Emeline his wife, for life, as her dower. It was this Nicholas that in 1249 granted by fine to the Prior of Penteney, (fn. 20) a messuage and two carves of land in Gayton-Thorp, and East-winch, to be for ever held of his manor of Gissing by one knight's fee and a pair of gilt spurs, or 7d. a year at Easter. This was afterwards confirmed by Hugh de Hastyngs, his son; and in 1382, there were 100s. due for a relief for the fee, to the lord of this manor, by reason of the resignation of Peter Byshop, late Prior of Penteney, for the manors of Gayton-Thorp, and East-winch. He sealed with a maunch, and a label of three for difference.
Hugh de Hastyngs, eldest son of the said Nicholas, succeeded; he married a wife named Beatrice, and died before 1301, when she impleaded Emeline, her mother-in-law, for the third part of this manor, as her dower, to which it was answered, that Hugh her husband, after his father's death, assigned this manor to his mother for her dower, upon which Emeline was dismissed. In 1299,
Nicholas, son and heir of Hugh, came to it; he released to Nicholas his uncle, and his heirs, all his right and claim to those lands in Gissing, which Nicholas de Hastyngs his grandfather gave to William his son, and in case that Nicholas his uncle should die without issue, he granted that Richard de Hastyngs, and the heirs of his body, should enjoy them, with a remainder to his own right heirs. This Nicholas, in 1276, (fn. 21) being then a knight, was retained by Ralph Lord Greystoke, (according to the custom of those times,) by covenants dated at Hilderskelf in Yorkshire, to serve him both in peace and war, for the term of their lives; viz. in time of war, with two yeomen well mounted and arrayed, and in time of peace, with two yeomen and four grooms; in consideration of which, he was to be furnished with all accoutrements for his own body, as also with one saddle, according to the dignity of a knight; and in case he should lose any great horse in the war, he was to have recompense according to the estimation of two men. Furthermore, wherever the Lord Greystoke resided, so that it was in Yorkshire, he should repair to him upon notice, having allowance for his reasonable service in war and peace. On account of this retainder, Sir Nicholas had the manor of Thorp-Basset, in Yorkshire, from this Lord, paying a fee-farm rent of 8l. a year. I could not omit taking notice of this, to shew the custom of that age, abundance of the knights then being retained in the same manner. This Sir Nicholas left two sons, Ralf and William, between whom this manor was divided, one part being henceforward called Gissing only, and the other Hastyngs in Gissing.
William, the youngest, had GISSING assigned to him, which he left to his son (as I take it) Phillip de Hastyngs, whose daughter Isabell, in 1324, married Alan Kemp of Weston, in Suffolk, Esq. to whose son John the said Phillip granted the manor called Gissing, and to his heirs for ever, from which time it hath continued in that family.
Sir Ralph, the eldest, had HASTINGS'S manor in Gissing; and in 1328, he renewed his charter of free-warren for it, after the division; he married Margaret, only daughter of Sir William de Herle, of Kirby in Leicestershire, who after became sole heir to Sir Robert de Herle her brother, in 1336. He was Governour of York castle, (fn. 22) and Sheriff of that county, and lived in great honour till 1345, in which year being in the second battalion of that Northern army raised by the invasion of David de Bruce King of Scotland, upon St. Luke's day he was mortally wounded, of which he died in a few days, and was buried, according to his will, in the abbey of Sulby, of which he was patron. This engagement was called the battle of Nevil-Cross near Durham, in which the King of Scots, and most of the nobility of that kingdom, were taken prisoners, and their army routed; and it appears by Sir Ralph's will, (fn. 23) that he had taken one of those nobles, for in it he disposed of that prisoner, whom he took in war, unto his nephew, Edmund Hastyngs of Rouseby, and to John de Kirby, to be shared between them; leaving Margaret his wife alive, and
Ralphe, his son and heir, who was a knight in 1349, and retained by indenture John Kirby of Wiggenthorp in Yorkshire, a gentleman of an ancient family, to serve him for term of life, and not to be displaced without good cause, whereof Sir Brian Stapleton, Knt. and others were to be judges. The said Ralphe was himself retained by Henry Duke of Lancaster, to serve him both in war and peace, for 40 marks per annum, out of his manor of Pickering in Yorkshire; and upon the death of that Duke, he had a confirmation thereof from John of Gaunt, son of King Edward III. Duke of Lancaster, Earl of Richmond, and High Steward of England, who had married one of the daughters and heirs of that Duke. The rest of this great man, and of his predecessors and successours, may be seen in Mr. Dugdale's Baronage, from the 579th page of the first volume, to the 589th page of that book, from whence I have extracted great part of this account.
In the year 1353, Sir Ralph sold the manor of Hastyngs in Gissing to Thomas Gardiner of Chedeston, and John Pickering, and John Allerston, his trustees, which Thomas held it to 1369, and then levied a fine to John Harcourt, and other trustees, by which this manor of Hastyngs, with Dawling's manor in this town, were settled on
Thomas Gardiner of Gissing, his son and heir; this Thomas had two wives, Cecily and Elizabeth; by the former he had a daughter, named Joan, who inherited Dawling's manor, and dying without issue in 1400, she left it to Sir Robert Buttevelyn of Flordon, Knt. who was lord of Hastyngs manor, by his marrying Katerine, daughter of the said Thomas Gardiner, by his second wife, and half sister to this Joan, so that now both these manors were vested in the said
(fn. 24) Sir Robert Buttevelyn, who was descended from an ancient family of that name in Northamptonshire, of which William Boutevelyn, before the 12th century, founded Pipewell abbey: he bare as this family ever did, ar. three crescents gul.
He left Robert his son his heir, who left another Robert, his heir, whose inheritance came to William his son, and then to Robert, son of William, which Robert was killed in Scotland, with the Earl of Gloucester, June 24, 1314, leaving a son, whose heir was this Sir Robert of whom we now speak, whose son, Sir Robert Buteveleyn, junior, in 1401, is said to hold the manor of the Lord Grey of Ruthyn, at half a fee, which was heretofore Nicholas de Hastyng's, and another part of it, of the abbey of Bury, at a quarter of a fee; and another part of it of Shimpling manor; and in 1403, he settled his manors called Hastynges, and Dallings, upon Sir Simon Felbrigge, Knt. Sir Robert Buttevelyn, senior, his father, Richard de Cotesbrook, parson of Cotesbrook, John Reynes, John Clere, Esqrs., and Henry Lomnour, junior, and others, and their heirs in trust, for the wife of Sir Robert Butteveyleyn, junior, for her life and the heirs of their bodies. Upon the death of this Sir Robert the Abbot of Bury seized his ward, by reason of the chief part of the manor which was held of him by knight's service; but this settlement being produced, he was forced to release his seizure, and at her death,
William Buttevelyn, (fn. 25) her son and heir, inherited the manors of Florendon, Hastynges, and Dawlings; he died without issue about 1465, leaving these and Cotesbrook manor in Northamptonshire, and Fenwick and Thorndich in Bedfordshire, to his sisters, Elizabeth and Julian; Elizabeth married Edmund Chaterton, and left one daughter only, named Elizabeth, who married Thomas Herteshorne, alias Hartstrong, of Gissing, Esq.; Julian married Robert Duke of Brampton in Suffolk, Esq.; and left only one daughter, named Alice, who married John Kemp of Weston, Esq.; between which John, and Thomas Herteshorn aforesaid, the estate came divisible, and by agreement they divided it; Thomas had Cotesbrook, Fenwick, and Thorndich, and John had Flordon manor and advowson, and Hastyng's and Dalling's manor in Gissing, so that now he was lord of three of the manors in this town.
The Customs of this Manor extracted from the Extent Roll in 1327, Ao 2 Edward III.) which was a renewal of the old Roll made in the 5th of Edward II. in Sir Nicholas Hastyng's time, (1311,) were as follow: (fn. 26)
A villein cannot divide his tenements, but all shall remain to the eldest issue; and if such issue withdraws out of the homage, he forfeits his tenements.
A prepositor and messor to be yearly chosen out of the tenants; the messor to have the custody of the fields, meadows, and woods; he shall sow all the lord's seed, and give an account of all trespasses to the lord, and shall keep a man all seed-time, to fright the vermin: the messor shall come to the lord's diet (or maintenance) the first day of harvest, and shall be maintained all harvest time: he is to collect the lord's rents, and profits of court, and to warn the labourers and all others to their duty; and is to be paid his wages by the tenements that are eligible into that office.
The bondmen to fine for their marriage at the lord's will.
The tenement of every copyholder, at each death is heriotable, by the best beast; and if they have no beast, they shall give 5s.
The heir of the tenant shall take his inheritance by fine, at the will of the lord.
And shall give for leyerwite (fn. 27) 2s. 8d.
All bond tenants also shall make redemption of their blood, and shall not put themselves under the protection of any other lord.
Every heir (according to the custom) is of full age at 14 years.
The jury also present, that the whole manor is held of the heirs of the lord Thomas de Hastyngs, viz. of the lord Laurence de Hastyngs, as of the fee of the Abbot of St. Edmund's, by the service of one knight's fee, and no more.
And that one fee in East-Winch and Gayton-Thorp, were lately given by the ancestors of the aforesaid lord Thomas, in pure alms to the priory of Penteney, to be held of the manor of Gissing, and the said lord Thomas gave the said manor of Gissing, with the appurtenances, and the tenants in Middleton near Lynn, and in East-Winch, and in Geyton-Thorp, to Sir Nicolas, his younger son, who was then a knight, and to his heirs; and this before the 34th of Henry III. all which he was to hold of the said Thomas, and his eldest son, and their heirs, for ever, by the service of one knight's fee; and that the said Nicholas, his heirs and assigns, should pay for the aforesaid Thomas de Hastyngs, and his heirs, to the Abbot of St. Edmund, every 20 weeks, 2s. 4d. for the castle-ward of St. Edmund, to Norwich castle, for these manors, for ever to continue. And they say, that in this manor there are certain tenements held of the heirs of Montchensie, as of the Outsoken of Winfarthing, viz. 30 acres of land, and 3 acres of wood, of which the heirs of Stephen de Brokedish held of the lord of this manor 24 acres.
The lord hath belonging to this manor liberty of faldage and closure through the whole town of Gissing, as well in other men's lands as in his own.
And also free-warren in his own lands,
And the correction of the assize of bread and ale of all his tenants; all which were allowed the said Sir Thomas de Hastyngs in an Eyre at Norwich, before Hugh Abbot of Bury, and his fellow justices, in the 12th of Henry III. which liberties the lord hath, and now doth peaceably enjoy.
In the rolls of the 39th of Edward III. the jury present, that William Goodwin, a villein by blood, (of the lord,) was a rebel, and ungrateful towards his lord, for which his tenement and all his goods in the lordship were seized: his offence was, that he falsely and maliciously said, that the lord received and maintained a thief, and knowingly kept four stolen sheep in his fold, by which the lord was damaged 30l.
In the 22d and 23d of Edward III. it appears, that all the tenements are heriotable, and 31 tenants paid their heriots this year.
Robert Roos (testator cervisiœ, or ale-connor,) was amerced for not doing his office.
Alice Le-Ward paid the lord 1s. for license to marry.
Another paid 20s. that she might live out of the lordship, and marry whoever she would.
In the 42d Edward III. a tenant forfeited all his copyhold, only because he claimed to hold it freely.
The widow of the copyholder, during the nonage of the heir, is his guardian by custom.
16th Edward IV. the manner of the lord's taking stray is thus set forth: a horse came within the jurisdiction of the manor, and was seized as a stray, and proclaimed according to custom, and nobody challenging him in a year and a day, he was appraised in open court, and sold.
I could not forbear observing these customs, because they shew us the former slavish condition of the villeins and copyholders.
Gissinghall Manor in Gissing,
Was held by Alstan, a freeman under Edric (the ancestor of Robert Malet, (fn. 28) lord of Eye) in the Confessor's days, and by William, (sirnamed De Gissing,) of the said Robert, in the Conqueror's time, (fn. 29) as of the honour of Eye, and soon after the Conquest, the manor of Gissinghall in Roydon was joined, and constantly attended this manor till 1579.
The other parcels also were afterwards added to this manor, and that is the reason that it was partly held of Eye honour, and partly of the Abbot of Bury; for in Henry the Third's time it was thus distinguished: (fn. 30)
Gissing. Pro parte Honoris Eye. Pro parte Abbatis Sci. Edmundi.
In 1179, William de Gissing held it; he left it to Bartholomew de Gissing, his eldest son, who, in 1189, sold his inheritance to Walter de Gissing, his brother; for in the Pipe Rolls of the 34th Henry II. and the 1st of Richard I. it is found, that Walter de Gissinges paid King Henry II. one mark, that it might be recorded in the great roll, that Bartholomew, his elder brother, and heir to his father, released his inheritance to him in the King's Court. This shews the regard which those times had for the Rolls of the Pipe, there being many instances in those Rolls of such entries, a collection of which hath been made, and several of them printed, by Mr. Maddox, in his History of the Exchequer. This Walter left it to
Roger, his son, in 1198, at whose death it descended to
Sir Robert de Gissing, Knt. his son, who settled Roydon on his wife Joan; by deed dated 1287, he confirmed to Thomas de Hastyngs, and his heirs, for his homage and service, and two besants fine, all the tenement which the ancestors of Thomas held of his ancestors in this town. In 1286, he settled this manor on
Sir Adam de Gissing, his son, who the year after joined in a deed with his father, to settle Roydon on Joan, his mother, for life; in 1299 he had assize of bread and ale of all his tenants in this town. Agnes his wife seems to be the daughter of Matthew of Thelvetham, of which Matthew she is said to hold her tenement here, at a quarter of a fee, on whom it was settled for her use. In 1315, Gissing and Roydon manors were conveyed by Nicholas de Stradsete, and other trustees, to
Sir Robert, son of Sir Adam of Gissing, who at his death left them to
Joan his widow, who kept court here in her own name, the two manors being settled on them and their heirs in tail. In 1322,
Sir Thomas, son of Sir Robert and Joan his wife, owned them; in 1355, he had great possessions in Cambridgeshire, being patron of Kingeston, &c. He was in the army with Edward the Black Prince in Acquitain, during which time Thomas Mintinore of Foxton in Cambridgeshire carried away his wife, for which, at his return, he recovered 500l. damages. (fn. 31) He attended the King into Gascoign; (fn. 32) he had two wives, Agnes, who, jointly with him, conveyed the manor of Stanford to Sir Constantine de Mortimer, Knt.; and Joan, who survived him. He died in 1382, and was (according to his will) buried in the collegiate church of the Blessed Virgin in the Fields, at Norwich, (now called Chapel Field.) In 1381, he granted divers lands in Gissing by deed, to Thomas Gardiner, and Thomas his son. His wife lived to 1388, when she died, (fn. 33) ordering in her will that she should be buried in the same church, near the tomb of her husband Thomas. They left only one daughter, their heiress, viz. Joan, who kept her first court in 1382, on her father's death. This ancient family bare for their arms, arg. on a bend az. three eagles displayed or, membered and armed gul.
This Joan married Sir John Heveynyngham, senior, Knt. who gave Gissing and Roydon to his sons, Philip and Thomas, for life only, remainder to his eldest son John and his heirs, but whether he possessed it or not I cannot say; but
Sir John Heveynyngham, Knt. grandson of the first John, had Gissinghall in Gissing, which was formerly Agnes de Gissing's, being partly held at a quarter of a fee of Julian, sister of John de Thelvetham, and she of the Abbot of Bury, and he of the King, together with another manor here, called Dagworth's, (fn. 34) which he purchased, it being held at half a fee of the Lord Grey of Ruthyn, as of Winfarthing Hall manor, which half fee Sir John Dagworth formerly held. This John left them to John Heveningham, Banneret, his son, from whom it went to Thomas, his eldest son, and from him to his son John, who left it to Antony Heveningham, Knt.-his son and heir, who had two wives, Katherine, daughter of Calthorp; and Mary, daughter of John Shelton. He held his first court in 1538: by the first, he left only one son, Henry, married first to Anne, daughter of Sir Edmund Wyndham, Knt.; secondly to Anne, daughter of Eden of Sudbury; but leaving no issue, (fn. 35) the manor of Gissing cum Dagworth, and the manor of Gissinghall in Roydon, which was held of the Queen as of Eye honour, at a quarter of a fee, descended divisible between his three sisters; (fn. 36)
Mary, then married to John Smyth,
Anne, to Edward Everard, and Jane, unmarried, who seems to have after married to Edward Suliard, who bought in all the parts, and then sold them to
Sir Arthur Hevenyngham of Heveningham, Knt. who was the male heir of that family, being the eldest son of Sir Antony Heveningham, Knt. by his second wife. He kept his first court in 1579, and soon after manumised the manor in Gissing, by selling every tenant their own part, so that the united manors of Gissinghall and Dagworth's were lost, (fn. 37) all but the royalties and fair, which the said Arthur sold to Richard Kemp of Westbrook in Suffolk; but the manor of Gissinghall in Roydon still continued in him, though he manumised a great part of that also. (fn. 38)
Dagworth Manor
Was, in the Confessor's time, part of Earl Algar's manor of Winfarthing, under whose sole protection the freemen then were; but upon the Earl's forfeiture, it fell to the Conqueror, with Winfarthing, with which it was committed to Godric's custody, (fn. 39) and remained in the Crown till King Henry II. in 1189, gave it to William de Munchensi, Knt. in which family it remained with Winfarthing, and went as that did, till Hugh de Vere granted it to
Sir John de Dagworth, (fn. 40) who was lord in 1315. Thomas, his son, succeeded him; and Sir Nicholas, his son, followed; all these were great men and famous warriors in their days, but designing to speak of them in Blickling, where they were lords, and where the said Sir Nicholas is buried, I shall refer you thither, and shall only add, that Eleanor, (fn. 41) widow of Nicholas, in the same year that he died, viz. 1401, conveyed it to
Sir John Hevenyngham, Knt. who held it of Winfarthing Hall manor, by the service of a quarter of a fee; from which time it always passed with the manor of Gissinghall in Gissing, till 1570, when Henry, son of Antony Heveningham, died seized, and
Anne, his wife, daughter of Sir Edward Wyndham, enjoyed it for life, as part of her settlement; at her death it reverted again to the Hevenynghams, of whom
Sir Edward Sulyard purchased it with Gissinghall in Gissing, and Gissinghall in Roydon: he sold it to
Sir Arthur Hevenyngham, Knt. who, after he had manumised great part of it, sold it with the manor of Gissinghall in Gissing, to
Richard Kemp of Westbrook, in Suffolk, and so, in 1595, it united to his other manors in this town.
Dallings's, alias Dawling Manor
Stephen Fitz-Walter, one of the lords of Diss hundred, infeoffed Walter Le-Bretone in the service of several villeins of blood, belonging to Gissing, with a messuage, and the homage and service of William Taylor, and other free tenants, to hold them of him and his successours, lords of the hundred, at the rent of 6d. a year, payable at Whilsontide and St. Andrew's, and 2d. yearly at the shrine of St. Edmund the King and Martyr at Bury. (fn. 42) This Walter married Alberia, daughter of Sir Thomas, and sister of Sir Hugh Hastyng, by whom he had Guido, or Guy, his son, who granted four of his villeins, which Sir Thomas Hastyng had granted with his mother, from his manor of Gissing, to Sir Hugh Hastyng, Knt. son of Sir Thomas. In this family it continued till Henry Le-Bretun of Stanton-Wyvil in Leicestershire, sold to
Master Richard de Boyland, clerk, and his heirs, the inheritance in this manor, which Aveline and Amy his aunts lately held; and towards the latter end of Henry III. the inquisitions say, that Matild of Boyland had it. In 1283,
John, son of Sir Richard of Boyland, after the death of Matild or Maud his mother, sold it to
Simon de Dalling, and Isabell his wife. This Simon purchased of Robert Le-Bretun of Stanton-Wyvil, and Helen his wife, an annuity of 10l. rent, which he was to receive out of this manor, by the grant of his uncle, Robert Le-Bretun; and soon after, he purchased all his right in the manor; and to augment it, bought all the lands that John, son of Sir Richard de Boyland, had here: and to complete the title, they had a release from Isabell, widow of Robert Le-Breton. Simon and Isabell left issue,
John de Dalling, or Wode-Dalling, who in 1335, settled it on Maud his wife; they left issue, a daughter, who seems to have married William of Shimpling, (fn. 43) who left a daughter by her, Joan, married to one Hervey; for in the inquisition taken at Will. de Shimpling's death, Joan Hervye is said to hold the sixth part of a fee of Will. Shimpling, which was formerly Matild of Boyland's. It looks as if she had no heirs, for
Roger of Shimpling died seized, leaving three daughters, of which
Katerine, married to Wm. Elingham, had this manor; they left Roger their son and heir, (fn. 44) from whose descendants (if not from him) it came to
Thomas Gardiner, who joined it to this manor of Hastyngs, with which it went joined to the
Kemps; and thus having joined all these manors in that family, I shall now speak of their rise and descent, observing that this manor always continued in the eldest branch, except when it was held in jointure.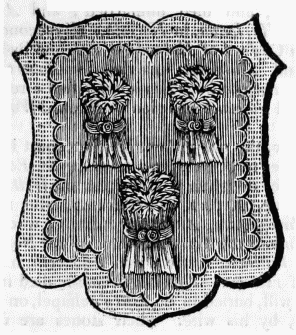 The name Kemp is derived from the Saxon word to kemp or combat, which in Norfolk is retained to this day, a foot-ball match being called camping or kemping; and thus in Saxon a kempen signifies a combatant, a champion, or man of arms. This family hath been of long continuance in this county; Galfrid Kemp lived at Norwich in 1272, Robert Kemp in 1306, and soon after, or about that time, lived,
Norman Kemp, whose son Roger, left Ralph, who married a daughter of De-la-Hant's.
William Kemp, their son, married a daughter of one Barnstaple, or Bainspath, whose son,
Alan Kemp of Weston in Suffolk, Esq. married Isabel, daughter to Sir Philip Hastyngs, and had issue John and Alexander, to which
John, Sir Philip Hastyngs, his grandfather, in 1324, gave the manor of Gissing; this John married Alice, daughter to Robert Duke of Brampton in Suffolk, coheir to Julian Buteveyleyn, and had for his share of her inheritance, the manors of Hastyngs and Dallings in Gissing, and left issue Robert, Ralph, John, Alice, and Anne. He is sometimes called in evidences John de Flordon, Esq.
Robert, the eldest, married Mary, daughter of Bartholomew White of Shottisham, Esq. He had another wife named Agnes, and a third, (as some pedigrees,) viz. Katerine, daughter of Roger Haukere of Redenhall; but left issue by Mary only, viz.
Jaffrey Kemp of Weston, Esq. who married the daughter of Sherrington of Cranworth, Esq. and left issue,
Robert Kemp of Gissing, Esq. who married Margaret, daughter of William Curson of Sturston in Suffolk, and by her had issue, Robert; and Edmund, who married Elizabeth, daughter of John Style of London; John; and William, who was rector of Sturston; Ralph; and Cecily, who married John Melton of Sturston aforesaid; and Alice, a nun at Barking.
Robert Kemp of Gissing, Esq the eldest son, had two wives: Elizabeth, daughter to John Appleyard of Braken-Ash, Esq. by whom he had three daughters; Mary, married to Thomas Jernegan of Cove; Elizabeth, who was Lady of the Bedchamber to Queen Catherine in 1523, and died unmarried; and Anne, married to Richard Bacon of Harleston, in Norfolk. His second wife was Anne, daughter to John Clifford of Holm-hale, Esq. and by her he had issue, Bartholomew, and Margaret, married to Robert Bleverhasset of Princethorp, in Warwickshire; Lewis, who had a remainder in tail in these manors; and Florence, married to Richard Woodhall of Fraunston, in Suffolk.
Bartholomew, the eldest, kept his first court in 1527, and married Anne, daughter to John Alleyn of Bury St. Edmund's, Esq. and Constance his wife, daughter and heiress of William Gedding, by whom he had issue, Robert, Bartholomew, who married Barbara Sharp of Cambridgeshire, Anthony, Edward, who married Mary, daughter to Edmund De-Grey of Merton in Norfolk, Esq. John, died unmarried, William, Francis, and Elizabeth, married to Lionel Throkemorton of Flixton. This Bartholomew died in 1554, and was, according to his will, buried in St. Mary's chapel, on the north side of Gissing chancel, by his wife. Their stones are disrobed of their brasses.
Robert Kemp, Esq. succeeded, who had two wives; Elizabeth, daughter to Edmund Smithwine (or Swiftling) of Buckinghamshire, by whom he had Richard, and John, first married to Anne, daughter of C. Cuddon of Weston in Suffolk. Secondly, to Anne, daughter to - - - - -Calthorp of Antingham in Norfolk, Margaret, married to Thomas Rouse of Cranford in Suffolk, and Anne, to Anthony Drury of Besthorp in Norfolk; his second wife was Elizabeth, daughter to Thomas De-Grey of Merton in Norfolk, Esq. by whom he had three sons and one daughter; Thomas, married to Anne, one of the heiresses of John Moore; Robert, married one of the heiresses of William Stanton, Esq.; William, married Thomazine, daughter of William Waldegrave, Esq.; Elizabeth, married John, son and heir to Robert Buxton, Esq. This Robert died seized of all the manors in this town in 1594, Elizabeth his wife surviving, who was jointured in Flordon manor.
Richard Kemp, his eldest son and heir, married Alice, daughter of John (or Phillip) Cockerham of Hamstead in Middlesex, Esq. being 55 years old at his father's death, before which time he had settled his reversion in the manors of Flordon, Gissing, Dalling's, Buteveyleyn's, and Dagworth, (which he had purchased,) together with Gissing Fair, on his wife. He was a barrister at law, and left
Robert Kemp, Gent. his son and heir, who settled Flordon, Gissing, and Dalling's on his wife Dorothy, daughter of Arthur Harris of Wodeham Mortimer, in Essex; (fn. 45) and by an inquisition it appears, that he held Hastyng's, alias Buteveyleyn's, alias Kemp's manor, of the King, as of his manor of St. Edmund's Bury by half a fee; Dagworth manor of Edmund Bokenham, Esq. as of his manor of Thelvetham; Dawling of John Shardelowe, Gent. as of his manor of Shimpling-Ellingham's, at the eighth part of a fee; Flordon manor and advowson of Henry Earl of Northampton, as of Forncet manor, at one fee; and Burnett's of William Grey, Knt. as of Hadestun or Bunwell manor. He left two daughters, Dorothy and Elizabeth, and one son,
Sir Robert Kemp of Gissing, Knt. and Bart. created March 4, 1642; (fn. 46) he married Jane, daughter of Sir Matthew Browne of Surrey, Knt. and left Robert, Thomas, Matthew, then married, Richard, and Jane, married to Thomas Waldegrave of Smallbridge, Esq.
Sir Robert Kemp, Bart. had two wives; Mary, daughter of John Kerridge of Shelley Hall in Suffolk, Esq. by whom he had four children, but all died in their minority; his second wife was Mary, daughter and sole heiress to John Soame of Ubbeston in Suffolk, Gent. by whom he had issue, Robert, John, who died young, William, (fn. 47) who had Antingham in Norfolk given him by will, Mary, married to Sir Charles Blois of Cockfield in Suffolk, Bart. and Jane, married to John Dade, M. D. of Tannigton in Suffolk.
Sir Robert Kemp of Ubbeston, in Suffolk, Bart. eldest son of the aforesaid Sir Robert, had four wives; first, Letitia, daughter to Robert King of Great-Thurlow, Esq. by Elizabeth, daughter of Thomas Steward of Barton-Mills, Esq. widow to Sir Robert Kemp of Finchingfield in Essex, Knt. by whom he had one daughter only that survived, viz. Mary, married to Sir Edmund Bacon of Garboldisham in Norfolk, Bart; his second wife was Elizabeth, daughter of John Brand of Edwardeston in Suffolk, by whom he had Sir Robert, the present Baronet, [1736,] John, a merchant, Isaac, a barrister at law, Thomas, now rector of Gissing and Flordon, and Benjamin of Caius College in Cambridge, Elizabeth, unmarried, and Jane, relict of William Blois, Esq. son of Sir Charles Blois, Bart. besides Edward, Letitia, and Anne, who died young. His third wife was Martha, daughter of William Blackwell of Mortlock in Surrey, by whom he had William, sometime of Pembroke Hall, in Cambridge, and Martha, a daughter unmarried, besides a former daughter named Martha, that died an infant. His fourth wife was Amy, daughter of Richard Phillips of Edwardeston in Suffolk, widow of John Burrough of Ipswich, Esq. who is now [1736] living; by her he had no issue.
Sir Robert Kemp, Bart. of Ubbeston in Suffolk is now [1736] lord and patron of Gissing, Flordon, and Frenze in Norfolk, and Ubbeston in Suffolk.
I meet with two great men of this name, John Kemp, born at Wye in Kent, LL. D. of Merton College in Oxford, Archdeacon of Durham, Dean of the Arches, first Bishop of Rochester, then of Chichester, then of London, Archbishop of York, and afterwards of Canterbury, Cardinal of St. Balbine, afterwards of St. Rufine, which was signified by this verse:
Bis Primas, Ter Prases, et Bis Cardine functus.
He died a very old man in 1453 (as Mr. Weaver, fol. 229, where is much more to be seen of him, as also in Newcourt's Repertorium, vol. i. p. 22, and in Godwin, p. 248.) The other was Thomas Kemp, his nephew, who was consecrated Bishop of London in 1449, by his uncle the Archbishop, of whom you may read in Weaver, fol. 361, and in Newcourt, vol. i. fol. 23, and in Godwin De Præs &c. 183; but whether they were any way related to this family I cannot say.
The Hall
was an ancient building, being the seat of the Hastyngses, after of the Kemps, till Sir Robert, (father of the present Sir Robert,) upon his removal to Ubbeston, pulled it down. The windows were adorned with the following coats:
Kemp quartered with Butteveyleyn, or Buttvelyn, impaled with
Loveday, per pale ar. and sab. an eagle displayed with two heads, counter-changed, gorged with a ducal coronet, and armed or.
Kemp and Buttvelyn quartered, impaling Bleverhasset.
The same impaling Jarnegan, ar. three mascle buckles gul.
The same impaling Throkmorton, quartering Baniard of Speckshall, sab. on a fess between two chevrons or, as many annulets united of the field.
Gul. a lion rampant ar. within a garter, a marquis's coronet.
In the parlour windows:
Kemp impaling Hastyngs. Kemp impales the following coats, viz.
Buttevelyn. Duke az. a chevron between three martlets ar.
Gurlen, erm. a bend counter-compony, ar. and sab.
Appleyard of Braken-Ash, az. a chevron between three owls ar.
St. Leger, az. fretté ar. a chief or.
Calthorp.
Alleyn, parted per bend sinister dancetté ar. and sab. six martlets counter-changed.
Cockerham, ar. on a bend sab. three leopards faces or.
Herris, or, on a bend az. three cinquefoils pierced, of the field.
De-Grey of Merton quartered with Bainard.
Smithin or Smythwyne, sab. three chevrons ar. two mullets in chief and one in base or.
Kemp and Buttvelyn quartered, impaling
White of Shottisham, gul. in a bordure ingrailed, a chevron between three boars heads couped ar. (fn. 48)
In a MSS. of Mr. Anstis's (E. 26, fol. 29) these arms are said to be in Gissing Hall, at that time the seat of Richard Kemp, Esq.; when the chapel was new glazed; in the chamber by the hall door were the arms of Gissing, Felton, and Framingham, and the pictures of two labourers thrashing wheat-sheaves, or garbs, in allusion to Kemp's arms, and this coat, viz. Kemp quartering
Duke, and on an escutcheon of pretence Hastyng's arms.
Kemp's crest is a pelican lighting upon a garb or.
In 1603, (fn. 49) here were 150 communicants, and now there are 51 houses, and about 300 inhabitants; it hath a fair yearly on St. James's Day, which in 1378, was granted to Thomas de Gissing, Knt. (fn. 50) together with a weekly market at Gissing; but that is now disused. It paid to the old tenth 3l. 10s. but 1l. being deducted, it was reduced to 2l. 8s The parliament valuation was 1252l. and the present valuation is 761l. [1736.]
The Lete belongs to the hundred, and the present leet fee is 2s.