Pages 181-190
An Essay Towards A Topographical History of the County of Norfolk: Volume 1. Originally published by W Miller, London, 1805.
This free content was digitised by double rekeying. All rights reserved.
WINFARTHING.
This rectory is capable of augmentation, being sworn of the clear yearly value of 45l. The monks of Thetford had a portion of tithes here, formerly valued at 20s. (fn. 1) It is in Redenhall deanery, and Norfolk archdeaconry.
The Church is dedicated to St. Mary the Virgin, in honour of whose assumption there was a gild founded in it, and another to St. John Baptist, to both which, in 1548, Nath. Hallyet was a benefactor, (fn. 2) who at the same time founded a light of wax before the image of our Lady of Peace yearly, to the value of 2s. for which he tied a close called, Cockkys Close, for ever: he was buried in this church, which was confirmed by Henry II. to the monks of Butley in Suffolk, to whom it was soon after appropriated by John of Oxford, Bishop of Norwich, which was confirmed by John De Grey and Tho. de Blundevile, his successours; a pension of 26s. 8d. payable quarterly, being reserved out of the great tithes to the vicar; all which was several times confirmed by the Archbishops of Canterbury; and so it continued till 1424, and then Reginald De-Gray Lord Hastyngs, &c. recovered the advowson from them, and presented a rector; from which time it hath continued a rectory. It seems they could produce no grant from the King for the advowson, nor no confirmation from the Pope of the appropriation. Here is a small rectoryhouse, barn, stable, back-house, and 24 acres glebe, and a piece without contents.
King's Books.
Clear Value.
Synodals.
Procurations.
Acres Glebe.
12
0
0
45
0
0
0
2
0
0
7
7 ob.
24
0
0
Vicars and Rectors.
1326, prid. kal. July, John de le Nelde, de Schympling, priest, at the resignation of Thomas, the last vicar, presented by the Prior of Butley, as were all the following vicars.
1337, 18 kal. June, Barth. de Banham, priest, on Nelde's resignation.
1338, 29 May, John de Beck, of Banham, priest. Matthew, Prior of Butley.
1354, 4 Nov. Will. Stannard of Diss, priest.
1366, 10 June, Will. de Wodethorp, priest.
1378, 28 April, Tho. Karman of Gissing, priest. William, Prior of Butley. He died in 1416, and is buried here.
1416, 24 Nov. John Bele of Stanton, priest; he was the last vicar, for in
1424, 8 Oct. Augustine Luce, priest, was instituted rector of the parish church of Winfarthing, at the presentation of Reginald de Grey Lord Hastyngs, Weysford, and Ruthyn, who by action at law had recovered the presentation against the Prior of Butley, by proving that it of right belonged to his lordship of Winfarthing.
1423, 10 Dec. Will. Chircheman, priest, on Luce's resignation. Reginald de Grey.
1427, 12 Feb. Will. Baldirton, alias Man, priest. Ditto.
1436, 18 Octob. Robert Cleye, priest, on Man's resignation. Reginald de Grey, &c. in right of his lordship of Winfarthing, which came to him by hereditary descent; before this institution, the prior and convent of Butley were particularly called upon to justify their right (if they thought they had any) in this rectory.
1446, 13 Aug. Sir Ralphe Veske, priest. Edmund Grey, Knt. Lord Hastyng, &c.
1446, 24 Aug. John Tuttebury, on Veske's resignation. Ditto.
1446, 3 March, John Shawe, on Tuttebury's resignation. Ditto.
1447, April, John Witton. Ditto.
1456, 6 July, Will. Spencer, at Witton's deprivation. Ditto.
1469, 24 Octob. John Cokefield, doctor of the decrees, on Spencer's resignation. Edmund Gray Earl of Kent.
1477, 28 April, Will. Banke, a licentiate in the decrees, on Cokefield's death. Ditto.
1488, 24 April, Robert Jacson, on Banke's resignation. Ditto.
1518, 5 Febr. Robert Laurence, on Jacson's death. The Earl of Surrey.
1523, 28 March, Tho. Seaman, LL. B. on Laurence's resignation. Ditto.
1535, 26 Aug. Sir Richard Flynte, chaplain to Charles Duke of Suffolk, was by that Duke presented to the church of St. Mary of Winfarthing, which he held with Blakenham in Suffolk.
1576, 24 May, Stephen Strete, A.B. Queen Elizabeth.
1594, 31 Aug. John Christian. The Queen.
1603, Will. Mobbes, rector.
1610, 20 Sept. Sam. Garey, (fn. 3) LL. B. He bare gul. two bars ar. on each a mascle of the first; on a canton or, a leopard's face az. Crest, a buffler's head quarterly, gul. and sab. charged with four mascles. He was presented by John Holland, Esq. trustee to the Howard family. He was prebendary of Norwich, and author of many sermons and other divinity tracts, some printed, some MSS.
1621, Daniel Reve of Banham, rector, died in 1628.
1628, 6 Aug. John Jewell, A.M. Thomas Earl of Arundel.
1637, 8 June, He resigned, and the bishop gave notice to the patron, and soon after Cooper Reynolds was instituted, who died rector; and in
1641, Jan. 15, Philip Flight, A.M. succeeded. Lionell Earl of Middlesex, Henry Lord Mowbray, Henry Lord Pierpoint, and Edward Lord Newbury.
1643, 1 Febr. Sam. Gardiner, A.M. on Flight's death. Lionell, &c.
John Coppin succeeded. He died Nov. 23, 1711.
1711, March20, the Rev. Mr. John Phillips, the present [1736] rector. Robert Marsham, Bart.
The tower is square, having a peal of five bells in it; the nave south isle, and north porch are leaded, the chancel thatched.
On two brass plates in the nave:
Hic iacet Matheus Hallyet qui mortem obiit 3° die Maii, A. D. 1586, anno etatis sur, 54.
post tenebras spero lucem.
Herelyeth buryed the body of Thomas Hallyat, gent. of the age of 48 yeares, who deceased the 18th day of July, A. D. 1612, being the second son of Rob. Hallyat. gent. who also lyeth buried in this church.
Post mortem vitam eternam.
Many of this family (who were considerable owners) are buried in this church, several of their stones being robbed of their brasses.
About 1600, the following arms were in the windows, all which are now defaced, except these, viz.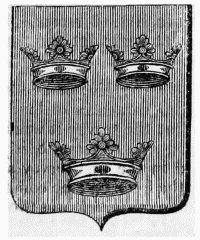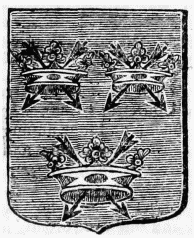 Valence Earl of Pembroke, barry of ten pieces ar. and az. an orle of martlets gul.
Montchensie, or, three inescutcheons vair.
Bohun, az a bend between two cotizes, and six lions rampant or.
Ar. a bend raguled sab. Ar three roses gul. - - two bendlets or.
Hetherset, az. a leopard saliant or.
On the wall over the communion table were the arms of Norwich bishoprick impaling Bishop Reynold's (fn. 4) (fn. 5) arms, with this date, 1676; but they are now whited over.
In the south isle there is a black marble for Elizabeth Belville, alias Michell, who died April 5, 1683, aged 43.
Modesty, sobriety, and grace, Was the orniment, of her race.
Here was a clock formerly, which now stands disused in the south aisle; and in a chapel at the upper end thereof was placed a famous sword, called the Good Sword of Winfarthing, of which Becon, in his Reliques of Rome, (printed in 1563,) fo. 91, gives us the following account.
In Winfarthing, a littel billage in Norfolke, there was a rerteyne Swerd, called the Good Swerd of Winfarthyng, this Swerd was counted so prerious a relique, and of so great birtue, that there was a solemne pilgrimage used unto it, with large giftes and offringes, with bow makings, crouchinges, t kissinges: This Swerd was bisited far and near, for many t sundry purposes, but specialy for thinges that were lost, and for horses that were eyther stolen or else rune astray, it helpid also unto the shortning of a married mans life, if that the wyfe which was weary of her husband, would set a randle before that Swerd ebery Sunday for the space of a whole yeare, no Sunbay er cepted, for then all was bain, whatsoeber mas done before.
I have many times beard (says that author) when I was a rhild, of diberse ancient men and wemen, that this Swerd was the Swerd of a rertayne thief, which took sanctuary in that church pard, and after wards through the negligence of the watchmen escaped, and left his swerd behind him, which being found, and laid up in a rertaine old chest, was afterward through the suttilty of the parson and the clerk of the same parish, made a precious Relique, full of bertue, able to do much, but specially to enrich the bor, and make fat the parson's pouch.
Algar, a freeman of Herald's held all Wineferthinc as one manor in the Confessor's time, when it contained 6 carucates of land, two in demean, and four among the tenants: at the survey it was in the Conqueror's own hands, and then extended into Burston, Shimpling, Titshall, and Shelfhanger; it was valued in the first survey at 40s. and by the Conqueror at 8l. 3s. 4d. with the freemen; he committed it to Godric's care, who answered 7l. and no more. It was two miles long, and one mile broad, and paid 9d. geld. (fn. 6)
This town is privileged as ancient demean, the tenants being excused from serving as jurors at the sessions or assizes, or any where else out of the manor, and from toll in markets and fairs, upon renewing their writ every King's reign, and having it annually allowed by the sheriff of the county.
It remained in the Crown till King Henry II. gave it to Sir William de Monte-caniso, (or Munchensie,) Knt. who gave a 100 marks to have seizin of this manor in 1189. He was grandson to Hubert Munchensy, who lived in the Conqueror's time, and son of Warine de Munchensy, and Agnes, daughter of Pain FitzJohn, his wife, and brother to Ralph, who died without issue, and left Sir Warine, his cousin, his heir, he married Joan, second daughter to William Marshal Earl of Pembrook, and in 1222, had scutage of all his tenants that held by military service in Norfolk, Suffolk, &c.; and in 1241, he was at that famous battle of Xantoine, against the French; (fn. 7) in which, by his valiant deportment, he won great renown. In the 34th of Henry III. the King ratified to him all the liberties belonging to the lands of Ralph de Montchensy, his uncle, whose heir he was, all which were first granted by King Henry II.; among which, the tenants here were excused from the sheriff's turn, and from toll, and from serving upon any juries out of their manor, and he had assize of bread, ale, and wine with courtleet (fn. 8) allowed him, and this further privilege, that the King's bailiffs should not enter his bailiwick of Winfarthing to take any distress, but the bailiff of that bailiwick should do it. He died in 1255, being then reputed one of the most noble, prudent, and wealthy men of all the realm, his inventory amounting to 4000 marks, a prodigious sum for that time. He left
William, his son, his heir, who had a park well stocked with deer in this parish. In 1259, in the 46th of Henry III. he was one of the discontented barons then at difference with the King, upon which account he received notice, that in case he did not personally repair to the court, to sign the agreement, (as divers of them did,) he might send his seal, for the better confirmation thereof; and in the 48th of the same King, having been one of the chief commanders on the part of the rebellious Barons in that fatal battle of Lewes, where the King was made their prisoner, the next year, when they sum moned a parliament in the King's name, he was one of the chief of those Barons that then sat therein; but not long after this, being taken at Kenilworth, in that notable surprise made by the forces of Prince Edward, a little before the battle of Evesham, his lands were seized, and given to William de Valence, half brother to the King, and Earl of Pembrook, who had married his sister Joan; whereupon Dionisia, his mother, who was daughter and heir of Nicholas de Anesty, undertook to bring him, before the feast of St. Hillary, in the 51st year of that King, to stand to the judgment of the King's Court, in pursuance of the decree called Dictum de Kenilworth; but being not able to perform it within that time, by reason of his sickness, she promised to bring him upon that very day, when he had such fair respect shewn him for his sister's sake, that William de Valence, her husband, freely restored him his lands again; after which, in 1277, he had a full pardon for his rebellion, and all the liberties granted by King Henry II. to his ancestors, confirmed at large, with this additional one, that he might keep dogs to hunt the hare, fox, and wild cat in his forests. In 1289, he went with the Earl of Cornwall (then governour of the realm in the King's absence) into Wales against Res Ap Griffith, at that time in the castle of Drosselau; (who had made great depredations in those parts;) and as he, with divers others, endeavoured to demolish that castle, by undermining it, he was with them overwhelmed and killed with the fall thereof; at whose death, Dionisia, his mother, had custody of his daughter and heiress, named also
Dionisia; and immediately after Hugh de Vere, a younger son to Robert Earl of Oxford, who was then the King's servant, obtained license, and married her in 1296; and in consideration of his great services in the French wars, had livery of her inheritance; Dionisia, her grandmother, being then living, who being a devout woman, founded Waterbeche nunnery in Cambridgeshire, in 1293; she died in 1303, and her lands descended to
Hugh de Vere, who had no issue by his wife Dionisia, so that her inheritance reverted to William de Valence, who had married Joan, sister to the last William de Munchensi, who, after the death of the said Hugh, had view of frankpledge, assize of bread and ale, and a tumbrel, or cucking-stool, allowed to this manor. And thus much of the ancient family of the Munchensis. (fn. 9) (fn. 10)
William de Valence Earl of Pembrook died seized, in right of Joan his wife, aunt to the last Dionisia, and sister to William de Munchensi, leaving
Audomar, or Aymer, de Valence Earl of Pembrook, his heir; who, in 1321, held it by one fee of the barony of Munchensi, and the manor or tenement called Hey-wood, of Robert Fitz-Walter, by the fourth part of a fee. He died in 1323, leaving no male issue, so that his sisters inherited, and this manor was allotted to
Isabell, who married John Hastings Lord Abergavenny, by whom he had
John de Hastyngs, who succeeded him, and Elizabeth, a daughter, married to Roger Lord Grey of Ruthin; John was succeeded by his son,
Laurence, who was five years old at his father's death, and by the King's license was in the custody of Julian his mother, who within a year after her first husband's death, married to Thomas le Blount, after whose death she married a third time to William de Clinton Earl of Huntingdon; this Earl, in 1351, is said to hold the manors of Winfarthing and Heywood, as guardian to the said Laurence, who, as soon as he came of age, was declared Earl of Pembrook, and the year following, being the 14th of Edward III. he attended the King in that great adventure against the French at sea, where he worthily shared in the glory of that victory obtained against them near Sluys in Flanders: but this was not the only brave action of this Earl, for he behaved himself valiantly all his life, as we find in Dugdale's Baronage, (p. 576,) where his brave achievements, and those of his family, are amply treated of. He died in 1347, leaving
John Hastyngs Earl of Pembrook, his son and heir, who married Anne, daughter of Sir Walter Manney, Knt. Being very active in the French wars, in 1371, he was made Lieutenant of Acquitain, at the special request of the inhabitants of that province, and was then about 25 years old; but unlucky it was for him that he had that honour, for upon his coming to the port of Rochell, which was then beleaguered by the French, no sooner was he got into the haven, but the Spanish fleet fell upon him, before he could put his men in order to fight, so that he was taken prisoner, his ships burnt, and all the English killed or taken, with no less than 20,000 marks, sent over by the King to maintain the war. After he had undergone four years imprisonment, with most inhumane usage, for a sum of money he was to have been enlarged, upon which he came to Paris, where falling sick, he hasted to Calais, but died on his journey, April 16, 1374, seized of these manors, which, among others, were assigned to
Anne, his widow, for her dower: she died in 1383, John de Hastyngs, their son, being then about eleven years old. This John, at the coronation of Richard II. (being then not five years old,) claimed to carry the great golden spurs, and shewing sufficient evidence of his right to do that service, Edmund Earl of March (whose daughter Phillipa he married) was allowed to perform it for him, by reason of his minority. He had no issue; for in the 13th Richard II. being then but seventeen years old, the King keeping his Christmass at Woodstock, and holding a tournament there, this young earl ventured to tilt with Sir John St. John, by an unlucky slip of whose lance he was run into the bottom of his belly, upon which his bowels burst out, and he soon died, to the great grief of many, being a person of so noble a disposition, that for bounty, manhood, and courtesy, he exceeded all of his age, and most of his degree. His untimely death was, at that time, thought a judgment upon his family, in regard that Aymer de Valence Earl of Pembrook, his ancestor, was one of those that passed sentence of death upon Thomas Earl of Lancaster at Pontfract; for it was observed, that after that judgment so given, none of the succeeding Earls of Pembrook ever saw his father. (fn. 11) At his death,
Reginald Lord Grey of Ruthyn was by some inquisitions found to be his cousin, and heir of the whole blood, as descended lineally from Elizabeth, sister to John de Hastyngs, father of John, grandfather of this Earl; (fn. 12) and by other inquisitions, Hugh de Hastyngs, son of Hugh, son of Hugh, son of the same John de Hastyngs, by Isabell, the daughter of Hugh Le Dispencer, his second wife, was found his heir male, but of the half blood, for which reason he did not inherit, though there was a great struggle for it, as there was for the arms of the Hastyngses, between Edward Hastyngs, great grandfather to this Hugh, and Reginald Lord Grey of Ruthyn; it lasted little less than twenty years, in the Court, before the Constable and Marshal of England; and in the end, the said Edward, though he was heir male, was not only condemned in 970l. 17s. 10d. costs, (Grey swearing that he had spent 1000 marks more,) but he was imprisoned sixteen years for disobeying that sentence, which was reputed a very hard and unjust one, and so Hastyngs thought it, for with extreme anguish of mind he died, leaving God's curse, and his own, upon his descendants, if they did not attempt the vindication of their right.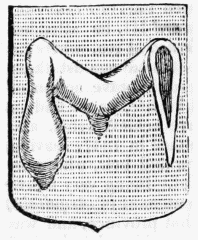 But to return; Roger Lord Grey of Ruthyn, by the said Elizabeth Hastyngs, had Reginald Lord Grey, whose son
Reginald inherited; and from an extent of this manor it appears, that here was then a hall, or manor-house, with a park well stocked with deer, all which were nothing worth above their outgoings, and repairs; and another enclosure, called a park, fenced in with pales, containing above 80 acres of arable land, worth 2d. each acre; that there were 8 acres meadow, worth 8d. each acre; that the quitrents were 10l. besides 600 days works in winter, worth a halfpenny each day; and 300 days works in autumn, worth 1d. each day, together with a wood called Hulver Wood, the underwood of which was worth 12d. a year; there was also a chase upon Winfarthing Common and Banham Green, worth 6d. a year, a windmill worth 2s. a year; the suits and perquisites of the courts worth 3s. 4d. a year clear. But though the Lord Grey inherited the rest of the Earl of Pembrook's estate, this and Heywood manors were in dower, and held by Phillipa, widow of the last earl, till 1400, in which year she died, having enjoyed it, notwithstanding Edward Hastyng's claim. He married Margaret, daughter of Sir William de Roos, by whom he had John, who married Constance, daughter of John Holland Duke of Exon, and relict of Thomas Mowbray Earl-Marshal; he died before his father, leaving two sons, Edmund and Thomas, at his grandfather's death, which was in 1440,
Edmund became heir to his honour and estate; he married Catharine, daughter to Henry Peircy Earl of Northumberland, and in the 5th of Edward IV. was created Earl of Kent; at his death in 1488, he left these manors in dower to Catharine, his widow, who died about 1399: and then they went to
George Earl of Kent, their son, who by suffering a recovery, settled it on King Henry VII. for payment of a great debt, with a remainder to himself and his heirs. After this, it was settled on Catherine, his second wife, who enjoyed it for her life; and then it went to
Richard Grey Earl of Kent, who died in 1523, having greatly wasted his estate. This and Heywood was part of the jointure of Elizabeth his wife; but in 1505, with her and her trustees consent, he sold them to
Robert Le'Strange, and his heirs, and a fine was levied accordingly, viz. of 2800 acres of land, 30l. rent in Winfarthing, Diss, Shelfhanger, Titshall, and Bokenham castle; and thus it passed from that family; (fn. 13) this Robert Le'Strange dying seized, and left it to
John Le'Strange, his executor, to sell, of whom it was purchased by
Thomas Duke of Norfolk, from which time it went with that family, till Thomas Earl of Arundel and Surry sold this and Heywood, about 1643, to
Sir John Marsham of Cuckstone in Kent, Bart. who died seized in 1692, leaving it to his son,
Sir John Marsham, Bart. who died under age, and unmarried, in 1694, so that it came to
Sir Robert Marsham, Bart. in 1697; he was one of the six clerks in Chancery, and uncle to Sir John; he was succeeded by
Sir Robert Marsham, his son, who, by letters patent, was created Baron of Romney in Kent, and, in 1720, obtained an Act of Parliament to sell this estate, and to settle another in Kent already purchased, to the same uses; upon which it was vested in
Sir Thomas Daeth, Bart. and Edmund Probyn, (fn. 14) serjeant at law, who, in 1724, conveyed it to
Humphry South of London, merchant, to the use of Mrs. Elizabeth Gray of London, (only child of John Gray, late of the island of Barbadoes, Esq.) who, by virtue of that purchase, is now [1736] patroness and lady of both Winfarthing and Heywood, which is called Winfarthing Outsoken manor.
In Queen Elizabeth's time there was a great suit for these manors, between the Earl of Surrey, who recovered, and the Earl of Kent, at which time Heywood manor was 26l. and Winfarthing 14l. per annum.
The leet belonged to the court-baron, (fn. 15) and the courts of the insoken and outsoken of this manor extended into Brisingham, Kenninghall, &c.
Here were two parks, viz. the old and new park, and the rector had the herbage of both, for the composition of which 29s. 4d. was paid him; the rent of Hulver Wood was 6d. To this manor belongs Banham Heath, a great part of which lies in Diss hundred, which is divided by the Mere called the Hundred Mere, which divides the hundreds of Diss, Shropham, and Giltcross; and the drift of it, as far as that Mere belongs to Winfarthing, and is in the bounds of that parish; and according to ancient custom, the tenants of Winfarthing always drive their part the last day of April, and impound all weyfs and strays, in a ground called the Hall-Yards, in Winfarthing great park, in which the manor-house did heretofore stand. In 1604, this park was full of deer, and Sir Bassingbourn Gawdy of West Herling, Knt. had every year a fee doe and buck, and liberty of hunting them in that park, which was then my Lord of Arundell's.
This parish hath lands belonging to it, now [1736] let at 16l. per annum, of the gift of divers persons, out of which 2l. 11s. (called Lowndes' and Alden's gifts) is annually at Easter to be divided among such poor as are not collectioners, by the rector and churchwardens; the rest was given to repair the church. They have also three town-houses, one hath an acre of land adjoining to it, and another was the old Gildhall, the lands of which gild, were seized by the Crown, and were given by Queen Elizabeth, in the 27th year of her reign, to the Hallyats.
In 1600, there were 189 communicants, and now there are 50 dwelling-houses, and about 260 inhabitants. It paid 1l. 16s. to the tenths, was valued at 1236l. to the parliament valuation, and now at 934l. to the land tax. [1736.]
The Customs of the Manor are these: the eldest son is heir; the fine is at the lord's will; it gives no dower; the tenants build up, pull down, plant on the waste, and fell timber, without license.
The leet belongs to the hundred.
The Customs of the Rectory were first exemplified A° 45 Eliz. and after that A° 8 James I. 7 June, and are these:
They pay 1d. a year for each cow, in lieu of lactage.
For every calf under seven, 1 ob. the seventh being due in kind to the rector, he allowing 1 ob. for each calf above seven, and under ten.
Instead of tithe hay, or herbage, the parishioners pay 2d. an acre to the rector, except all tithe hay growing on the common meadows, which is due in kind.
They pay for every foal 1d. a year, till it comes to work.
And for every heifer 1d. a year, till it is milked, or otherwise converted.
Every inhabitant on All-Saint's Day pays 1 ob. in lieu of all tithe for fruit, and all fuel spent in the town.
Tithe pease are due every tenth stetch, as soon as they are cut by the owner; all corn, and other small and great tithes whatsoever, are due in their proper kind, the small tithes on Lammas Day, the rest as they are separated. (fn. 16)