Pages 255-274
An Essay Towards A Topographical History of the County of Norfolk: Volume 1. Originally published by W Miller, London, 1805.
This free content was digitised by double rekeying. All rights reserved.
GARBOLDESHAM,
Gerbodes, or Gerbold's Town, is so called from some Saxon who was owner of it, [ham] in their language signifying a house or village; it is bounded by the Lophams and Kenninghall on the cast, by Market-Herling north, and by West-Herling and Gatesthorp west; it contained several manors, all which were united in Thomas Duke of Norfolk in King Henry the Eighth's time, and continue so to this day; the biggest manor was called Wica, afterwards Wykes, now Wicken; the common called Wicken Lyng is the only memorial now remaining of that name.
The capital manor, in the year 1045, belonged to the abbey of Ely, Wilfric, the sixth abbot of that house, being lord of it: (fn. 1) this Abbot had a brother called Gudmund, who proposing marriage to a nobleman's daughter, was refused, because though he was of noble extraction, yet not having 40 hides of land, he could have no place among the noblemen; the Abbot to supply this, privately makes over to him these manors belonging to his abbey, sc. Gerboldesham, Marham, Lyvermere, Nachentun, Acholt, &c.; the monks reclaim them, the Abbot retires to Acholt, and there dies with grief, and is buried at Ely: Thurstan, his successour, prosecuted the claim, and came to this agreement, that Gudmund should enjoy them for life; in the mean time the Normans invaded the land, and Hugh de Montfort, a valiant Norman who came in with the Conqueror, (fn. 2) (to whom he was sometime standard-bearer,) seized those lands, and kept them from the church.
Montfort's Manor
Had always 2 carucates of land in demean; in the Confessor's time it was worth 3l. and in the Conqueror's 6l. per annum. The whole town, with all its manors, was a league long and a league broad, and out of every 20s. Danegeld laid upon the hundred, this town paid 34d. ob. Hugh lost his life in a duel with Walcheline de Ferrers, (fn. 3) leaving issue, Hugh his son, who by his first wife had issue, Robert and Hugh, which Robert was William Rufus's general in 1098; but favouring the title of Robert Curthose, in opposition to King Henry I. he was called in question for infidelity, whereupon being conscious of his guilt, he got leave to go to Jerusalem, and left all his possessions to the King; they both died in pilgrimage without issue.
This Hugh granted the manor to William de Francheville, whose son William, in 1179, confirmed two parts of the tithes of the demeans of his manors of Wikes or Gerbodesham, Lang ford, Bodney, and Nacheton, to the monks of Bermondesey in Surrey, (fn. 4), to whom the said Hugh de Montford had given them; this portion was issuing out of St. John Baptist's church, the moiety of which advowson belonged to this manor; and in 1428, the Prior was taxed for his spirituals here, at 13s. 4d. (fn. 5) This William was called the elder, being succeeded by William his son, who in 1240 was married to Freschentia de Banham, daughter and heiress of Ralph de Banham, she being then under age, and in custody of Warine de Muntchensi, against whom Alan de Hekingham brought an action for the moiety of the moiety of the advowson of St. John's, the said William de Francheville, her husband, having presented last in her right; he recovered against Alan, by proving that it belonged to William, son of Jeffry, father of the said Ralf de Banham, as belonging to his manor, so that by this marriage he had a moiety of a moiety, another moiety belonging to him before; and in the same year the manor was charged with an annual rent charge of five marks, payable to Laurence de Boyton, and his heirs, which, in 1250, was confirmed by Ralf de Francheville, then lord, to Lauretta de Boyton, together with the manor of Langford, to be held of Ralf, and his heirs, by the service of two pair of white gloves, and one penny yearly; Ralf was succeeded by Robert his son, who sold it to
Robert de Cantilupe, who covenanted to pay 6 marks yearly out of it, to the said Robert Francheville and his heirs, so that there were now in two annuities 11 marks issuing out of it; and immediately after it was conveyed to him, he agreed with William de Banham, that he should present to St. John's one turn, in right of his manor called Escois, and the said Robert the other turn, in right of his manor, late Francheville's, which was settled accordingly by fine; and thus this advowson continued till 1280, when it was sold by Robert son of Peter de Bokenham (who had got the sole right of presentation, by purchasing the turn from this manor) to Sir Rob. de Bosco and Isolda his wife, and their heirs, from which time both the advowsons went with their manor. In this or the next year, John de Cantelupe, son of Robert, sold it to
William de Pakenham, and Joan his wife; he was afterwards knighted, and became justice itinerant; he made great purchases in this town, all which he settled on Joan his wife for life, and then on John, his fourth son; she was a widow in 1277, and at her death John de Pakenham became lord, at whose death Peter de Pakenham occurs in 1315; he was succeeded by Albred or Aubrey de Pakenham, (fn. 6) who in 1345 paid 20s. relief for half a fee, which he then held of the Earl-Marshal; he made a feoffment of it to William Curson, to the use of Henry Pakenham, who was lord in 1380, and died in 1431, part of the manor being then held by knight's service of John Hastyngs Earl of Pembrook. In his and his father's time many of the demean lands were granted off, and certain barley rents reserved, to be paid from them; he left Henry his son, who died in 1445, half a fee being now held of the Lord Grey of Ruthyn, and William Beauchamp; this Henry, just before his death, settled it on Thomas Tuddenham and Rob. Conyers, Knts. Rob. Berdewell, Edm. Bokenham, Will. Grey, Will. Warner of Thompston, Esqrs. and John Lalle, vicar of Shropham, to the use of Rob. Pakenham of Shropham, Esq. and his wife, and their heirs, remainder to William, brother of Robert, remainder to Phillippa Mownteneye his sister, remainder to Rob. Berdewelle, Esq. and his heirs. This Rob. Pakenham inherited, and died seized of this and Verly's manor in Snetesham, and a manor in Shropham, Snitterton, and the adjacent towns, in 1463 Margaret his wife being to hold it for life, and then it was to go to Henry Pakenham, his son and heir, 30 years old at his father's death; he died seized without male issue, and in 1495 an inquisition came to enquire what lands were in the King's hands at his death, and were so still, by reason of the marriage of Anne, one of his daughters and heiresses? I cannot say how many heiresses there were; but this
Anne married to John Dobbes, or Dowbes of Garboldesham, Esq. who purchased all the parts; for in 1526 he was sole lord of Pakenham's manor; he left one only daughter,
Anne, married to Sir William Barwick, who was knighted by King James at Whitehall, May 30, 1604; he, jointly with his wife, and John Mallowes of Bury in Suffolk, Gent. Thomas Traverse, late of East-Herling, Gent. and Edw. Barwick, Gent. brother to Sir William, in 1607, sold it to
Sir John Holland of Kenninghall, and Sir Tho. Holland his son, in trust for the Earl of Arundell. The site of the manor was dilapidated, and contained 5 acres; to it belonged large demeans, divers heriots, freerents, and rents of assize, barley rents, and a fold course called Pakenham's Tripp. It appears in 1571, that John Dobbes, lord of Pakenham's manor, was dead, that he held Tasebourne's lands of 100l. per annum, and was bond and regardant (as it is expressed) to Claxton castle in Norfolk, and that Henry Jernegan, Esq. had formerly an interest in this manor. By this purchase the Norfolk family became sole lords of all the manors in this town, though they had not the advowson, and so continued till 1627, and then the Earl of Arundell and his trustees sold the demean lands of this manor, and its fold-course for 300 sheep and their followers, in Garboldisham and Kenninghall, and all the barley rents, to Framlingham Gawdy, Esq. of West-Herling, and his heirs, (the weyfs, streys, and all other royalties, together with all the freerents and wastes being particularly excepted, to the Earl and his heirs;) and in 1629, the said Earl sold the manor of Pakenham Hall, (Up Hall, Wigen Hall, and Bokenham's being included in it) to
Sir Drue Drury of Ridlesworth, who kept his first court immediately after the conveyance, the said Earl charging it with the whole sum of 10l. a year rent charge, which now issued out of this and the other manors that were joined to it, and obliged Sir Drue to give security to Framlingham Gawdy, Esq. to indemnify him and his heirs against any claim that should be made for any part of the 10l. out of the said demeans, fold-course, or barley rents, which were conveyed to the said Framlingham. After Sir Drue's death it went to Sir Drue his son, then to Sir Robert Drury, Bart. who left it to his wife, the present Lady Drury, who is now owner of it [1736]
The Leet belongs to the hundred, the leet fee is 5s. the castle-ward was 12d. every seven weeks. In 1609, the rents of assize of all the manors were 22l. 8s. 3q. It extended into North Lopham, Gasthorp, Shropham, and Norton.
The barley rents being sold to Framlingham Gawdy, as aforesaid, he in 1629 sold off 40 combs, 3 bushels, 2 pecks and an half, to Rich. Peade of Bury St. Edmund's, Gent. Tho. Warren of Great Thurlow, and John Warren, Gent. of Garboldesham, his son and heir, which issued out of divers lands formerly held by the Cootes, Barwicks, Tillots, &c. the rest of them being recovered by decree in Chancery, (some of the tenants refusing to pay them), continued in the Gawdys, till Sir Bassingbourne Gawdy, the last of that name, or his executors, sold them to Rob. Haylet of Garboldisham, Gent. who hath lately sold every one their part; the whole sum at first was 51 quarters 6 bushels and an half issuing out of the demean lands of Wigen Halls, Bokenham's, and Pakenham's manors, which laid dispersedly among the tenants lands; for which reason the lords demised them to such as kept ploughs, for maintenance of their tilth, some at two bushels an acre, and some at three, some at more and some at less, according to the goodness of the land.
The rent charge of 10l. a year issued out of the manors of Pakenham's and Wigenhale's; in 1288, John de Wigenhale acknowledged that he ought to pay 5 marks 2s. 2d. per annum out of his manor to Nicholas Weyland, of whom he held it at the third part of two fees; and it appears, that the said Nicholas had the other annuities issuing out of Pakenham's manor, settled upon him; for in 1290, he was seized of 10l. rent issuing out of the manors of Garboldesham, which he settled upon Robert his son, from which time it hath passed continually with the manor of Oxboro, from the Weylands to the Tudenhams, and from them to the Bedingfields, Sir Henry Bedingfield of Oxboro being now [1736] possessed of it.
The next manor was called
Bois's, alias Up Hall,
And was held by Aluric, a freeman, in the time of the Confessor, but was seized by the Conqueror into his own hands, and by him committed to Earl Godric's care: (fn. 7) this is the only part that in Domesday is called Gerboldesham; it had two carucates in demean, was valued in the first survey at 30s. and in the second at 40s.
It was granted from the Crown to
Hugh Bygod Earl of Norfolk, and passed from that family along with Fersfield, to William du Bois, Knt. from which time it went exactly as Fersfield did, to which I refer you. (fn. 8)
To this manor the advowson of Garboldesham All-Saints wholly belonged; and in 1280, St. John's advowson was joined to it, being purchased by Sir Robert de Bosco, and Isolda his wife, as is before observed, both which continued with it till 1533, when the manor came by exchange, to the Duke of Norfolk; (the advowsons being excepted;) it was always held of the Norfolk family at one fee, its relief being 40s.; and in 1246, Sir Rob. du Bois, then lord, had these privileges allowed him to this manor, viz. a weekly market every Wednesday, (fn. 9) a yearly fair for three days, viz. on the vigil, the day, and day after, St. Luke the Evangelist, a pillory, a tumbrel or cuckingstool, with liberty of free-warren, it being obliged to do suit to the hundred court, or pay 2s. a year.
The manors of Wigen Hall and Bokenham's were both joined to this before 1386, for then the style of the court was, Up Hall, Wigen Hall, and Bokenham's in Garboldesham, and thus they continued till 1607, and then were joined to Pakenham's, the Earl of Arundell becoming lord of the whole; and so it remained till 1627, when he sold Up Hall, Wigen Hall, and Pakenham's demeans, with the sites of all those manors, their barley rents, their fold-courses for 350 ewes with their followers, with all the pastures and shackages belonging to that course in Garboldesham, (all royalties, weyfs, strays, and money rents being excepted, all which the Earl still kept whole and undivided till he sold them, in 1629, to Sir Drue Drury of Ridelsworth,) to Fram. Gawdy, Esq. in which family they continued till 1666, Sept. 14, and then Sir Will. Gawdy of West-Herling, settled all his estate on Mary his only daughter, to raise 2500l. for her fortune, (fn. 10) and made Fram. Gawdy, Esq. her uncle, executor, who sold the Garboldesham lands to Wentworth Garneys, Esq. of Boyland Hall in Morning-Thorp, the heirs of whose family at this day enjoy it [1736.]
Wigen Halls Manor,
At the survey, belonged to Bishop Osbern, (fn. 11) and had two carucates in demean; it was valued at 20s. in the Confessor's, but was risen to 50s. at the Conqueror's time, when it was in in Kenninghall soken.
This afterwards belonged to the Bygods, by whom it was granted to the Heveninghams, of which family it was always held by the third part of a fee, of Totham-Parva manor in Essex, as parcel of the barony of Tolshunt, of the honour of Hakenet, the relief being 8s. 4d.
In King Richard the First's time, John de Gerpenville was lord; at his death John de Jarpenville his son had it; he it was that confirmed the grant made by his father John, to John, son of Robert de Garbaudisham, and his heirs, as appears under Garboldesham's free-tenement; in 1239, Maud his mother being then a widow, for an annuity of 7 marks a year, released unto the said John the third part of a messuage, 160 acres of land, and 9 marks rent, which she held in dower of his inheritance; and the same year she impleaded Adam de Wygenkale for her dower, in divers lands which he had of her husband's gift; in 1249, Roger de Charpenvill was the King's ward, by reason of his land here, whose wardship the King granted to Robert de Cantilupe, who married him. How it came to the Wygenhales I do not find, though imagine it must be from the Weylands, for John de Wygenhale held it of Sir Nic. Weyland, by the service of a rent charge of 5 marks a year, payable to him and his heirs, for which Sir Nic. Weyland distrained Henry de Clerbek, to whom John de Wygenhale had granted the third part of a third part of this fee, to be held of the said John, by the service of 5 marks, 2s. 2d. a year, and doing foreign service: but upon John's satisfying Sir Nicholas, Henry was discharged. In 1304, Agnes de Wygenhall had it, and settled it on Reginald her son. In 1345, another Agnes de Wygenhale had it, after which it soon fell into Bois's manor.
ESCOIS and BOKENHAM'S MANORS belonged to William de Warren Earl of Surrey, (fn. 12) in the Conqueror's time, and had two carucates in demean, then worth 40s. it being given him by the Conqueror, as one carucate, the whole of which was then in Kenninghall soken; after he had it, it was annexed to the castle of Lewes; this was afterwards divided into two manors.
Escois Manor,
Which was the first part, was held of the Munchensies, by the family sirnamed de Banham; (fn. 13) the Munchensies had it of the Bygods, they of the Escoises, and they of the Earl Warren. In 1235, William de Banham held two fees here and in Banham, of Warin de Munchensi, of those fees which he had of Roger Bygod; and soon after Ralph de Banham had them, whose only daughter Freschentia, in 1240, was married to William de Francheville, lord of Pakenham's manor, to which this part was then joined, as was the moiety of the moiety of St. John's advowson, which belonged to it, as you may see under that manor, though the Banham family still continued to have a free tenement and many rents here, which was granted by this William, out of the fortune that Freschentia brought him; for which see Banham's tenement.
Bokenham's Manor
Was the second part, and was given by Roger Bygod Earl of Norfolk, with Adeliza his daughter, to
Aubrey de Vere, second Earl of Oxford, of whose family it was held at half a fee, and the eighth part of a fee; a part was after held of Tateshale's barony, and another small part of Munchensie's: Alan was first infeoffed, who left Elias, who had three sons, Alan, William, and Robert, who all died without issue, and Emma, a daughter, who married Ralph de Chadesgrave; she and her husband brought an action against Stephen de Gissing, whom Peter de Bukenham had called to warrant the manor to him, (which then consisted of a messuage, 100 acres of land, 19 acres of meadow, 8 of marsh, and 22s. rent in Garboldesham, and the moiety of the moiety of St. John's advowson,) upon which, Stephen comes and warrants it to the said Peter, by proving that Alan, grandfather of the said Emma, who now claims it, granted it to Simon de Blakeney, who gave it to Henry de Neketon, who left it to Henry de Neketon, his son, who granted it to Tho. de Peytenia, and he to Stephen de Gyssyng, who granted it to Sir Peter de Bukenham, and that all had released their rights in it, upon which Emma's suit was dismissed. In 1277, Peter de Bukenham was lord; he left Robert his son, to whom, in 1284, the said Ralf de Chaddesgrave and Emme his wife released all their right, by a fine then levied; and in 1286 he had weyf allowed to this manor, and the moiety of St. John's, the whole advowson of which he sold in 1280 to Sir Robert de Bosco, having purchased the parts that belonged to Pakenham's and Escois manors; in the same year, Peter son of Robert de Bukenham had it, who died before 1345, for then it was Robert de Bukenham's, and the year following was settled by Aubrey de Pakenham, and William son of Rich de Boyland his trustees, on himself and Catherine his wife for life, with the reversion of the third part, which Cecily, widow of Peter de Bukenham, held in dower, remainder to John, their son, remainder to Peter, their other son, who inherited. About 1378, Robert de Bokenham was lord, and Leonard de Bokenham in 1380, in whose time it was joined to Bois's manor; for in the feodaries in 1402, we find, that the lady Margaret Howard held the third part of a fee, which Leonard Bokenham held; but though this family parted from the manor, their descendants continued to have a good estate here, and some small freerents belonging to it. In 1454, Rob. Bokenham of Garboldesham died intestate, and Sir Tho. Bokenham, chaplain, administered; in 1476, Sir Ralph Bokenham of Garboldesham, Jantylman, desired in his will to be buried in St. Peter's church of Much Livermere.
Churche's Manor, or Free Tenement,
Took its name from its owners, who were so called from living near the church of this town; at the survey it was part of Muntfort's or Pakenham's manor, and so continued till it was granted from it by the Francheviles to
Hugh at the Churche of Garbaudesham, who is the first that I meet with of this family; but there being no date to the deed, I cannot ascertain the time; in 1290 it belonged to Gilbert at the Cherche, from whom it went to Jeffry, and from him to John atte Cherche, senior, and from him to John his son, who was lord in 1429, as the rental, in my own custody, shews me; he was succeeded by William atte Cherche about 1432, from which time I meet with no more of it till 1540, and then Richard Lothewyk had it; but the rents were now sold off, the rental being only 5s. 9d. per annum. I meet with no more of it afterwards, so that it shews as if those rents were either sold off, or the lands purchased to the tenement, one of which was generally the end of these small manors. The parish of St. John's held 3 roods of land at Hobbyn's Mill, near St. John's rectory-house, late Margery Wright's, by the freerent of 2d. a year, and the town of Garboldesham held a messuage, called the Camping-Lond, late Will. Flower's, after, Robert Heed's, by the freerent of 6d. a year.
Gerbaudesham's Free Tenement
Had its rise in Richard the First's time, it being till then part of Wygen Hall's manor, which John de Jarpenville, lord thereof, granted to Robert de Gerbaudesham, for his homage and service, and 8s. 6d. a year rent, and 4d. 3q. a year ward money to Dover castle, and 12d. 3q. scutage, out of every 20s. that should be laid upon Jarpenvile's manor of Garboldesham, and one suit of court at Easter, and another at Michaelmas, together with all his right in a fourth part of all that land which Alwyn de Garbaudesham had of the gift of Will. de Francheville, senior, and all the land of Robert the priest of Garboldesham, which the said Robert had of the same William, viz. 31 acres of land, and liberty of a fold belonging to it; and in consideration of this grant, the said John, son of Robert de Garboldesham, was to marry Maud, daughter of Thomas, son of Will. de Ravenyngham: witnesses to the grant were, William, son of Galfrid, William his son, William de Francheville, Robert, son of Tho. de Ravenyngham, Alexander, son of Will. de Ravenyngham, Walter and Humfry, his brothers, William, son of Roger of Garboldesham, and Thomas his son, Will. Curpel, Hugh, son of David, Galfrid, son of Hervy, Thomas, son of Gilbert Persen of Garboldesham, and Alan de Hekyngham, who lived in 1240, which may shew something towards the date of the deed, though there is none in it. This family was very numerous; those that I meet with I shall here add, though I do not imagine that all of them were lords of this tenement.
Alexander de Gerbaudesham, lord; Gilbert, son of Alexander, was lord; 1270, Hugh, son of David of Gerboldesham; 1290, Rich. son of Jeffry, William, son of Gilbert of Gerboldesham; 1318, John, son of William of Gerboldesham; 1345, Henry, son of Jeffry of Gerboldesham.
From this family it passed to the Monks, another numerous family in this town, so named from Alan Le-Moyne, or the monk, who had lands here very early, as several deeds without date shew me. In 1290, William, son of John Le-Monk of Garboldesham, had a messuage and 10 acres settled on him, after the death of John, son of Rich. Le-Monk, and of Jeffry and Robert, sons of John, if they had no heirs. In 1327,
John Le-Monk had this tenement, which he then held with the 10 acres aforesaid, by the service of the hundredth part of a fee, and 2s. per annum to the ward of Dover castle, and also 45 acres and two messuages, which he held of Peter de Banham at 2s. rent. In 1328,
Richard Le-Monck, his son, had it released to him by Alice, widow of John Le-Monk, his father, John and William, his brothers, being witnesses, and at this time William de Banham released all his right to him, in all his possessions in Gerboldesham, so that now he had both Gerboldesham's and Banham's free tenements; but how they went after I do not find, though the family continued somewhat longer in the town, Richard, son of Will. Monck, and Agnes his wife, John and Robert Monck, and Alice, late wife of Richard, son of Alan Monck, lived here in 1332.
Banham's Free Tenement
Had its rise out of Escois manor, since 1240, and consisted of several lands and rents of that manor, granted by William de Francheville to the Banham family, after he had married Freschentia, the heiress of Ralph de Banham; and in this family it continued till 1328, when Will. de Banham released it to Rich. le Monck, Robert de Banham, his father, having sold or mortgaged it before to John le Monck, father of Richard, by which release it fell into Monk's tenement, as before observed. Of
Hopton's Tenement
I know but little, only find it often named in evidences, and that Adam de Hopton, lord of it in 1268, was diseized by John le Diklegh, of his common of pasture in Blow-Norton, which belonged to his free tenement in Garboldesham.
The Customs of the Manor are these: the copyhold descends to the eldest son; the fine is at the lord's will; the tenants can fell timber on the copyhold, plant, and cut down on the waste without license; it gives no dower; it hath liberty of free-warren, weyf, strey, and all other privileges, except the leet, return of writs, office of coroner, clerk of the market, (fn. 14) and assize of bread and ale, all which were excepted, when it was sold to Sir Drue Drury, who after his purchase sold off his part of the demeans, and settled the rent charge of 10l. per annum upon that part, from which it is now paid by the owner of Up Hall in Garboldesham, who hath the demeans of the several manors, except those of Bokenham's manor, which belong to Sir Edmund Bacon of Garboldesham, Bart.
The Rectory Manor
Belonged to the rectors of St. John's, who were always lords of it. The Customs are the same as the great manor.
The Advowson of All-Saints wholly belonged to Bois's or Up Hall manor, and that of St. John's was purchased to it in 1280, by Sir Robert de Bois and Isolda his wife, as is before observed under that manor, from which time they both passed with it, till 1533, and then being parted, went as Fersfield advowson did, till 1632, (fn. 15) and then that advowson, or rather moiety of both advowsons, that belonged to Sir Thomas Cornwaleis, Knt. came to Sir William Withipoll, Knt.; and in 1637, Lucy Withipoll, and Tho. Cleer, presented by his grant; at his death it went to Elizabeth Withipoll, his heiress, who married Leicester Devereux Viscount Hereford, (fn. 16) he was succeeded by Leicester his son and heir, who died in 1682, and was succeeded by Edward Devereux, who died issueless in 1700, leaving Anne his sister his sole heir; she married Leicester Martin, Esq. of Christ Church in Ipswich, who sold it to the Honourable Sir Edmund Bacon of Garboldesham, Bart. the present [1736] patron.
The other advowson, or moiety of both the advowsons, belonged to the Wingfields, and passed as Fersfield, from the Wingfields to the Earl of Rochford, the Right Honourable Frederick Earl of Rochford being now [1736] patron.
The religious concerned here were, the Prior of Thetford, the Prior of Bermondeseye, and the Prior of Camps, to whom Robert Ashfield aliened lands in 1391; and in 1381, John Plais and others aliened lands and tenements here, of 40l. value, to the chantry at Ravenyngham.
There were several ancient good families inhabiting in this town, besides those already mentioned; one was sirnamed Atte Stone of Garboldesham, another De-Ponte, or Atte Brigge, another Le-Wodeward, which family hath continued to this time. The Taseburghs had a good estate here, of which John Taseburgh, Gent. was owner in 1540.
The names of the streets in 1413 were; Wykyn-street, Nethergatestreet, and Churche-gate-street; and there is a way much spoken of called the Palmer's-way; I suppose it is that which leads from Gatesthorp-gate, by which the pilgrims used to pass in pilgrimage to our Lady at Walsingham; there is also a large ditch, commonly called, Little Devil's Ditch, which runs from Gatesthorp moor to Herling moor, and, is said to have been an ancient intrenchment; but by the proper name, I take it to have been made to divide Gerboldesham from its neighbouring parishes, as it still does, it being called the Boundary.
After the Dissolution, divers small pieces of land settled to superstitious uses, as for obits, lamps, &c. were granted to the following persons:
One acre and an half in the tenure of Robert Rockett, given to find an obit and light in the church, to John Parrel, Knt. to be held of East Greenwich manor, by the twentieth part of a fee.
Other lands were given to the Duke of Norfolk, others to Edw. Fines, Knt. Lord Clinton, to be held of the honour of Hampton Court by fealty only; others to Wymark, and Clere; and others in AllSaints parish, to Grey and his heirs.
The Church of St. John Baptist is a good building, having the nave, two isles, with the chapels at their east ends, north vestry, and north porch, leaded, its chancel thatched, a tall square tower, and six bells; the church, isles, and chancel are ancient, but the tower and north porch are not so, being built about 1500, as is evident from the name of William Pece, who was then a chaplain in this church, and chief benefactor to the work; for on the front of the porch is this inscription, now partly filled up with mortar:
Orate pro Anima Willi. Pece, Capellani.
And round its bottom this,
Christe, Sancte Johannes Baptista, Zarharie, Elizabeth, Johannes.
On the tower are the names of several other benefactors.
There is only one brass plate left which is thus inscribed:
Here lyeth buried the Bodie of John Carlton, late while he lyved of Garboldesham, Mercer, who had to his Wyfe Elizabeth, t of her fower Sonnes, and nyne Daughters, which John died the third of April, in the Yere of our Lord God, 1579.
Post tenebras Spero Luccm.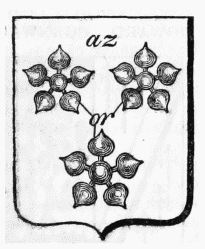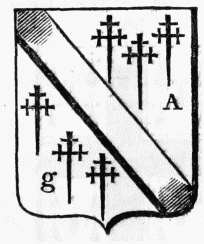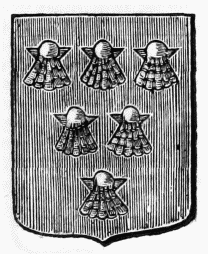 In the east chancel window were these arms, And three knights kneeling, one in a surcoat of Howard, another of Scales, and another of Bardolph, which being remarkable I shall here exhibit it to your view, it being lately destroyed, with many other arms and antiquities, when the windows were repaired.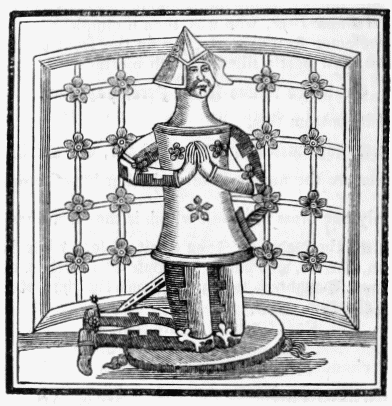 In the windows of the north isle were these arms,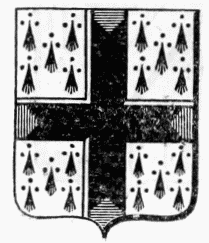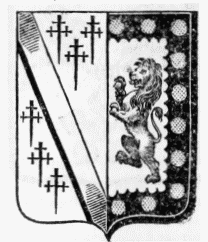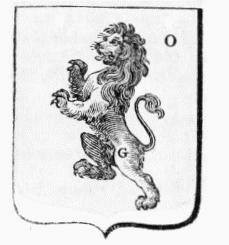 In a south chancel window, Scales's arms with an escalop for a crest; Howard and Scales impaled; Howard with a label of three, arg.
In the windows of the isles, Brotherton, Howard, and Plais.
Howard impaling, per pale indented or and gul. a bordure of the second bezanté.
Felbrigge impaling Scales.
Or, a dove vert, quartering gul. an annulet or.
The Boises arms are in many windows. At the east end of the north isle is a chapel, which belonged to that family, in which there was an officiating chaplain for the dead, and probably another in the opposite chapel, in the south isle; the names of some of them that served here, and in Bois's chapel in All-Saint's church follow, as I extracted them out of evidences of lands in this town. Sir Adam Davy; 1365, Sir John Bryan; 1385, Sir Tho. Ashley; 1408, Sir John Walsyngham; 1414, Sir Rich. Bolle in All-Saints, and Sir Peter de Griston in St. John's; 1429, Sir Tho. James; 1473, William Levy; 1500, Sir William Pece; 1505, Rob. Woodward; 1540, John James and Will. Curson; 1553, Tho. Dawes; 1554, Sir Tho. Bokenham.
In the vestry, under the east window, was an old altar standing, over which, on the wall, I saw a rude painting of the Last Judgment.
Towards the west end of the churchyard, are two altar tombs thus inscribed:
(fn. 17) In Memoriam Johannis Williamson, Gen. hic Lapis positus est, obijt secundo die Martij, 1690, Anno Ætatis suæ, 32.
vigilate et orate.
Hic jacet Maria filia Johannis Williamson, Gen. Virgo vere pia et Pura, amicis chara, omnibus benigna, desideratissima, objit 22do. die Augusti, 1697, Anno Ætatis suæ 22do. Pauperum inopiam, in Garboldisham, Lophamque septentrionali, et Waldingfield parva viventium, redditu sublevavit, moriens enim Trecentas ipsis Libras legavit in perpetuum.
Lector! abito, et tu fac similiter. Luc. cap. 10, ver. 37.
The site of the rectory-house joined to the east end of this churchyard, till the present incumbent built a new one, near a quarter of a mile north-east of the church.
All-Saints Church stands north of St. John's about half a furlong, or somewhat more, and was officiated in till the death of Mr. Vilet in 1726, from which time service was left off by degrees; and upon a petition of the patrons, incumbent, and parishioners, in 1734, license was obtained of the Bishop to suffer it to dilapidate, upon which the roof of the nave was unthatched, and that of the north isle unleaded, and both were taken down, the font and seats pulled up, the five bells were taken down, all which, with the other materials, (except the least bell, which was carried to St. John's,) were sold, and the money applied to repair and beautify St John's church. The bodies of the Bacon's buried in the chancel were taken up and carried to a vault belonging to that family in Redgrave church, and the marbles that laid over them were removed and placed in the vestry of St. John's church, where they now lie. The windows both of the nave and isle were chiefly painted glass, and very well done, but were all broken to pieces; the roof of the nave was board, painted all over with the names of Jesus and Mary, and this in the midst:
Betwer syn yis and ye Rode Loff, Ye Yongling han payd for yis cost. Yat Lord yat deyid for alle Mankynde babe merry upon bem at her Ende.
by which it appears, that it was done at the charge of the parishioners, soon after 1450, and that John de Vere Earl of Oxford, who was then patron, would not assist them, for he must be the youngling here meant; and indeed it seems as if he designed to have had this church (when he consolidated it to St. John's) fall down, it being then much in decay, as is plain from the great repairs then done to it, the parishioners not consenting to it, but on the contrary, shewed their dislike by these verses, which it will not be amiss to render into more modern language:
Between this place and the rood loft, (fn. 18) The youngling han't paid for this cost, That lord that died for all mankind, Have mercy upon them (fn. 19) at their end.
The roof of the chancel also at that time was repaired; and because it should not be too burthensome to the rector, many pious people contributed, as is apparent from these two verses still remaining on it:
Alle alle hevir holpe to yis good deed God send byer Sowle helpe to hyer mede.
All, all, [that] ever helped to this good deed, God send their soul help for their meed.
The cancelli or lattices between the church and chancel were erected about the same time, being neatly carved and adorned with the images of St. Mary Magdalen, St. German, St. Agnes, and others, and were made at the expense of William Bole, and Catherine his wife, as this painting intimated:
Pray for the Welfare of Wylliam Bole, and Kateryn his Wyffe.
The windows also were new glazed, all of painted glass, and adorned, some of them with the twelve Apostles, others with saints and confessors, others with the arms of the benefactors at whose cost they were put up, and others with their effigies kneeling, by which it appeared, that some were made at one person's cost only, others by three or four that joined, and in most of them were the donors names, all which were decayed except these in the north isle windows:
Orate pro Anfma Recardi de Brom, qui istam operam Geri fecit Anima Walteri de Brom, hanc fenestram
Their effigies remained.
On a south window,
ffer nos alme tuis, Celestia Regna Redemptis.
In another, Lucy's arms gul. crusuly three luces, or pikes, hauriant ar. impaling gul. a fess and label of three ar.
Chequy, or and sab. a fess ar.
At the east end of the isle was a chapel, which hath laid in ruins many years; it was founded (as I take it) by Thomas de Bosco, rector of this church, for his own interment, the initial letters of whose name still remain carved in stone on its buttress; the entrance out of the isle was by a large cross arch.
There is a good square tower at the west end, built much about that time, and as tradition hath it, in this manner, the foundation was laid by a tailor, continued by a woolcomber, and finished by the parish: now I do not pretend to aver its truth, but mention it, because, agreeable thereto, I find a stone fixed in the building, about 10 feet from the ground, on which is cut a large pair of tailor's sheers, and on another about 10 feet higher, is a wool comb.
On one of the bells this was to be read:
Sancta Maria ora pro nobis.
The church is almost whole as to its walls; the roofs still remain on the chancel and south porch, though great part of the thatch is gone; the doors are taken off; the grave-stones still lie in their places, some of which had brasses formerly on them, but they were lost long before the church was ruinated.
On two black marbles that were in the chancel, but now removed to St. John's as aforesaid,
Bacon, impaling a fess wavy between three de-lises.
Under this Marble is buried the Body of Sir Robert Bacon, Bart. who departed this Life on the 31st of June, in the Year of our Lord 1704. (fn. 20)
Here lyeth interred the Body of Mrs. Jane Bacon, the Eldest Daughter of Sir Robert Bacon, and Dame Elizabeth his Wife, (that was buried at Wighton in this County) who died on the 14 Day of October, in the Year of our Lord 1705.
This joined to the south side of the former, and hath Bacon's arms in a lozenge.
Sir William Barwick, who died after 1607, is said to be buried here, but I am not certain of it.
In 1506, John atte Cherche of Garboldesham was buried in the churchyard of All-Hallows there, and gave 8 marks for an obit for a year, and 40s. for a pilgrim to go to St. James in Gales, in the next year of grace; and to a pilgrim to St. Thomas of Canterbury 3s. 4d. and to a pilgrim to St. Mildred 12d. and to a pilgrim going to St. Walstone's 6d.
The Honourable Sir Edmund Bacon, Premier Baronet of all England, Knight of the Shire for Norfolk, hath a seat in this parish, at which he mostly resides, of whose family I shall speak at large under Riburgh, where he is lord.
Rectors of All-Saints,
1805, Will. de Bosco, or Bois, resigned it for great Conerth in Suffolk.
1313, kal. Dec. William Yngreth de Debenham, to All-Saints rectory. Christian de Mose, formerly wife of Sir Robert du Bois, Knt. patroness of this turn.
1330, kal. Dec. Tho. du Bois, accolite. Sir Robert du Bois, Knt.
1333, 11 kal. Oct. Tho. de Sudbury, priest. Ditto.
1351, 8 June, John Conyng, priest, to Garboldesham-Parva. John de Ufford, Knt.
1375, 29 Oct. Tho. Howard, priest. The noble William de Ufford Earl of Suffolk, Sir John de Tuddenham, Knt. John Marlere, clerk, Edmund Gurnay, and Richard de Walton, patrons. (Feoffees.)
1392, 1 March, Nicolas de Beverly, a shaveling. John Marlere, clerk, by virtue of a feoffment made by Sir Robert Howard, Knt. deceased.
1394, 3 Dec. Rich. Bolle of Garboldesham, priest. John de Thorp, John de Felbrigge, and Will. Cobbe.
1429, Thomas Erl, priest, on Bolle's death. Sir John Howard, Knt.
1433, 18 Aug. John Taylifer, priest, on Erl's resignation. Ditto. This John Taylifer died rector in 1450, (fn. 21) and John de Vere Earl of Oxford, Lord Bulbec, Samford and Scales, Chamberlain and Admiral of England, and Mr. John Halle, rector of St. John's, petitioned for a consolidation, setting forth, "That the churches were so near, that they might be conveniently served by one rector, and that both when joined would maintain a rector, but were not sufficient to do so single: and besides the tithes were so mixed that they caused disputes on all sides, and the clergy so thin by reason of the great plague, that it was difficult to procure a clerk, upon which it was agreed, that a consolidation should pass upon the following terms, viz.
"That the church of St. John Baptist be henceforward the principal and mother church, for all sacraments, for all the parishioners, and that the rectors shall be obliged to keep up only the rectoryhouse of St. John's, but should be strictly forced to keep up both the chancels, and by himself, or a stipendiary curate, have service performed duly every week in All-Saints church." This was transacted in the collegiate church of the Virgin Mary in the Fields, at Norwich, Feb. 25, 1450, by John Wygenhale, doctor of the decrees, commissary, and vicar-general.
And in the same year, (fn. 22) the feasts of the dedications of these two churches were altered; that of St. John's used to be kept the day before the feast of St. Lucia the Virgin, (Dec. 12,) and that of AllSaints on the feast of St. Peter's chair, (Jan. 18,) but were now to be kept both on one day, viz. on the day of the dedication of Norwich cathedral.
Rectors of St. John's.
Robert, the priest of Garboldesham.
1314, 11 kal. June, Robert de Bernham, priest. The Lady Christian de Mose, wife of Sir Rob. du Bois, Knt. by virtue of a fine levied in the King's court.
1356, 28 Dec. Walter Pekke, priest. Sir John de Ufford, Knt.
1383, 23 Aug. Sir John Marlere, priest. Sir Rob. Howard, Knt.
1394, 6 Nov. Master John Gryme of Tyryngton, priest. Master John De Thorp, John De Felbrigge, and Will. Cobbe, for this turn.
1415, 7 Sept. Will. Elys de Caston, priest. Margaret, late wife of Sir Robert Howard, Knt.
1430, 25 Octob. Henry Brown, bachelor in the decrees. Sir John Howard, Knt.
1447, 20 March, John Halle, on Brown's death. John De Vere, Earl of Oxford, lord of Garboldesham.
In 1450, he became rector of All-Saints, it being then consolidated to St. John's.
1478, 12 August, Edmund Albon, doctor of physick, and of all the liberal arts, was instituted to the church of Garboldesham, St. John Baptist, together with the church of All-Saints annexed; presented by Tho. Drental, clerk, patron of this turn, on the resignation of John Halle, who was incapacitated by old age, to whom the Bishop assigned a pension of 10l. a year, out of the living, during his life.
1485, 3 Octob. Rich. Chauntry to St. John and All-Saints, on Albon's resignation. John De Vere Earl of Oxford.
1500, 13 Febr. Will. Cooke, doctor of laws, on Chauntry's death. (fn. 23) Ditto.
1522, John Cokke, rector here and of Bildeston, Suffolk, died this year; and in
1522, May 22, Master Robert Fabian, alias Clerke, was instituted to Garboldesham-Utraque, at the presentation of Elizabeth Countess of Oxford.
1533, 16 Febr. Mr. John Scotte, B.D. Mary, Oxenford, widow.
1539, Tho. Thompson, domestick chaplain to John Duke of Norfolk, presented by the Duke, patron of this turn, by grant of it from Antony Wyngfield, Knt. true patron: in 1544, he had Hasketon also, which he held with this.
1557, 21 May, Rob. Dixon, priest. Rob. Wingfield, Knt.
1575, 7 Oct. Simon Facis, clerk. Elizabeth Naunton, widow, true pationess.
1579, 15 July, Rob, Grafton, A.M. Queen Elizabeth.
1589, 6 Aug. Rich. Brook, D.D. on Grafton's death, Will. Cornwaleis of London, Esq. and Lucy his wife, one of the daughters and coheirs of the noble John Lord Latimer, deceased.
1609, 3 May, Gawdy Bolton, A.M. Robert Bolton, Gent. assignee of Antony Wingfield, who is patron of this turn; he had Gatesthorp also.
1634, 14 Nov. Antony Gawdy, A.M. on Bolton's death. Mathias Mann, clerk, by grant of this turn.
1637, 24 May, Will. Geast, the Bishop's chaplain. Lucy Withipoll, and Tho. Cleer, who had the grant of this turn, from Will. Withipoll, Knt. true patron of it.
George Debden came in the rebellion, and died in 1663.
1663, 10 Febr. Theophilus Hook, A.M. The Earl of Hereford, patron of this turn.
1689, 6 April, Charles Wells, A.M. on Hook's resignation. Peter Parham, Dr. of physick, by grant of the turn from Edward Earl of Hereford. "On Thursday, Oct. 8, 1691, at noon, Charles Wells, clerk, A.M. late of Jesus Coll. in Cambridge, afterwards principal register to Anthony Bishop of Norwich, died at Garboldesham, where he was rector, deservedly lamented by his numerous acquaintance, which his merits had acquired, in the 31st year of his age, and was buried in the chancel of the lesser church at Garboldesham, (sc. All-Saints,) in the place which he had chose in his life time." (fn. 24)
1691, 27 Nov. Tho. Vilet, Edward Viscount Hereford; he was buried in St. John's.
1726, 31 May, The Rev. Henry Stebbing was institured on Vilet's death, at the presentation of Sir Edmund Bacon of Garboldesham, Bart. He is the present [1736] incumbent, being D.D. arch-deacon of Wilts, chaplain in ordinary to his Majesty, rector of Rickinghall Inferior in Suffolk, preacher to the honourable Society of Grey's-Inn, lecturer of Bow church, Cheapside, London; author of the book entitled Polemical Tracts, in folio, and of several other ingenious pieces.
This rectory is in Norfolk archdeaconry, and Rockland deanery, and is still charged with first fruits and tenths.
King's Books.
Tenths.
Lincoln Taxat.
Pension. (fn. 25)
19
16
0 ob.
1
19
7 q.
St. John's xi. marks. All-Sts. x. marks.
0
6
8
1412, John Chaloner of this town ordered his feoffees to sell all his estate here, and with it to fulfil his will, which was, that a pilgrim travel to Rome for the good of his soul, and of Joan his first wife's soul, and to have a Gregorie's trental for their souls; Cecily his wife to have a part for life, and then to be sold for the good of his wives' and his friends' souls, and to pay 40d. to some pilgrim going to St. James (sc. at Compostella in Spain) for the same purpose.
1422, Peter de Gryston, clerk, was buried in St. John's churchyard, before the north door; he ordered 200 masses to be said for his soul; he was chaplain in this church.
1530, Susan Dibney of Garboldesham buried in St. John's church, by her husband; John Taseburg and Will. Bolton were her sons-in-law, and John Curson, clerk, was her son, and executor. (fn. 26)
1531, May 1, W. Keye of Garboldesham was buried in St. John's churchyard; he gave "To the hye auter iijs. iiijd. Item, to the leddinge of St. John Baptist's cherche, whane they begyne to remove the leede, xiijs. iiijd. Item, to the gyldyng of the new candil bem in the chirche of All-Seynts, vjs. iiijd. Item, to our Ladyes fryrys in Norwich, to be prayed for, half a trental, vs. Item, to the fryres at Babwell, iijs. iiijd. Item, to eche hows of frires in Thetford, to be prayed for iijs. iiijd. Item, to the nunys in the same town ijs. Item, to an abil preest to synge divine service for my sowle, and the sowles of all my good frendes, by the space of an hoole yere in St. John Baptist's cherche, viij marks, that is to say, half a year after my discesse, and thensforth every yere, a quarter, till the seid hoole yere be complete. Item, I gif half an acr of lond lying in Lopham furlong, to find yerely evermore, v. Gawdyes brennyng before our Lady, in the chancel of St. John Baptist; at every antiphon of our Lady, and at every feste of our Lady, at maesse of the same feste, evermore: howbeit, I will that whosoever shall hold my place and londes, shall have the occupacon of the said lond, and the keepyng of the said v. Gawdyes, and they onys to be renewed in every yere. Item, I will have my Obit day kept yerely after my decesse, for v. yeres, at which obit, I will my executors brewe ij combe of malte, and bake v. bushell of whete, and [buy] chese to the value of iijs. Item, I give half an acre at Medeltred-Hegge, half an acre and half an rood at Copydthorn; j. acre j. rood at Dyche's-End, half an acre in Botonys, j. acre and half at Stanyell, j. acre at Nethir-Red-Hegge, the whiche londs I have, and hold, at the bequest of Sir Will. Pece, preest, to give to a brothir of the ordir of preachers in Thetford, to sey a sermon yerely evermore, on Tuesday in Estern week, and to synge messe of requiem in the churche of St. John of Garboldesham; and to the parson and his depute, which is, and shall be for the time, to say dirige iiijd. Item, I gif iij rodes of medewe, j. rod by the lond of Will. Curson, preest, and j. rod and half by the lond of the Countess of Oxforth, est, and iiij roods, and half and acre, for the entent to have always on Monday in Eastern week, aforesaid, vj bushels of malte brewed, and iij bushels of whete baken, and ijs. in chese, to the releef and comfort of the parishioners of Garbelsham, there being at dirige on the said Monday, to pray for my sowle, and the sowles of all my good frends, and to the fryer iiijd. to remember me in his messe." (fn. 27) He gave his capital tenement to Alice his wife for life, then to be sold, and the money to find a prest to sing a quarter in each year, till eight quarters be ended, and the rest to repair and buy ornaments for St. John's church, his wife and John Woodward being executors; Leonard Rychardson, and Will. Curson, preests, witnesses. Proved at Attelburgh, May 19, 1533. These lands still are in the hands of the parish.
Here is a town-house purchased with Mrs. Williamson's money, inhabited by three or four poor families. The town lands are let at about 22l. per annum, and lie in Lopham, Norton, and Garbotdesham.
This town paid to the old tenths 7l. 6s. 8d. and is now assessed at 978l. 9s. There are about 80 dwelling-houses, and 400 inhabitants [1736.]