Pages 274-284
An Essay Towards A Topographical History of the County of Norfolk: Volume 1. Originally published by W Miller, London, 1805.
This free content was digitised by double rekeying. All rights reserved.
RIDLESWORTH
Is a rectory, to which Gatesthorp is consolidated, and is discharged of first fruits and tenths, both being sworn of the value of
It is in Norfolk archdeaconry, and Rockland deanery, and hath a rectory-house, and 29 acres, three roods of glebe.
Norwich Domesday says, Sir John Bacon was patron, and that there was a house and 28 acres of land.
The temporals of Thetford monks here, were taxed at x.s.
Rectors.
1330, 16 kal. Dec. Nic. de Sparkeford, priest. Tho. Le Archer, rector of Elmsete, and Richard his brother.
1337, 8 non. June, Robert de Stanebrigg, priest. Agnes, widow of Roger le Archer, and Roger her son.
1344, 14 Sept. Tho. Archer of Floketon, shaveling. Roger Archer of Floketon.
1350, 4 Jan. Roger Pylleburgh, on Archer's resignation. Ditto.
1375, 10 Dec. Will. Gilbert, priest. Alexandrina Le Archer.
1384, 21 April, Stephen Mundegome, priest, on Gilbert's resignation. John Rose, Knt.
1384, 3 July, Rob. Skynnere, priest, on Mundegome's resignation. John Roose, Knt.
1387, 23 Octob. Hen. Green, priest, on Skynner's resignation. Ditto.
1393, 12 July, Greene changed with Will. Baxtere for Letterdeston, in Wales: he was buried here in 1419. Beatrix, relict of John Roose, Knt.
1419, 9 Feb. Rob. North de Coneveston, priest. Christ. Straunge, Esq.
1424, 12 March, John Gibelot de Kelshale, priest. Tho. Erpingham, Knt. Oliver Groos, Esq. Will. Ellys, clerk, John Walsham, John Clere, Rogyr Rushbrook, and Adam Nobbe, feoffees.
1428, 20 Nov. Rich. Chichele, priest, on Gibelot's resignation. Christ. Straunge, Esq.
1434, 15 March, Tho. Cole, priest. Ditto.
John Hunt, priest, on whose death in
1463, 2 May, Nic. Scott succeeded; Tho. Sankevyle, or Sackvile.
1494, Richolas Bryan, rector, died.
1494, 2 March, Robert Haldysworth, A.M. Tho. Rokes, Esq.
1495, 18 Sept. Rich. Haldysworth, accolite, on Robert's resignation. Ditto. He died rector.
1510, 29 Nov. Rob. Helperby. Sir Rob. Drury, by grant from Tho. Rooks, Esq.
1511, Will. Ward, rector.
1515, John Foldser, rector.
Rich. Wright, rector, on whose death in
1540, 14 Febr. Leonard Dent, chaplain, was instituted. Rob. Drury, Esq.
1557, 5 July, Tho. Pyke, priest, on Dent's death. Rob. Drury, Knt.
1573, 3 March, Rich. Twyn, on Pike's death. Ditto.
1579, 27 Febr. Tho. Poynter, alias Winter, on Twyn's resignation.
Sir Drue Drury, Knt.
1601, 18 Jan. Henry Michell, S.T.B. on Winter's resignation.
Ditto. In 1605, he held Redgrave with it.
1608, 22 Dec. John Pain presented by the Crown, the church being then full of Henry Mihell, or Michell, upon whom a citation was served to shew by what authority he held it; Febr. 8, Pain was instituted, by lapse to the King: Mihell having voided it.
1632, 24 Oct. Edm. Draper, A.M. on Pain's death. The relict of Drue Drury, Knt.
Jeremiah Stevens, at whose death in
1661, George Reyner was instituted. Rob. Drury, Bart.
1662, George Reyner, A.M. The King by lapse.
1681, 30 June, Tho. Barnes A.M. on Reyner's death. Rob. Drury, Bart. it was first united to Gasthorp, to which it was consolidated the 19th of Dec. following. He is buried in the chancel.
1713, 3 Nov. The Rev. Mr. James Whaley, A.M. the present [1736] rector, on Barnes's death. Bassingbourn Gawdy, Bart. for this turn; it was then united to Gnateshall, but now he holds it united to West-Herling: the Lady Drury, relict of Sir Robert, is now patroness.
This town is called in Domesday, Redelefuuorda, that is, the [ford], or village abounding with reeds; it belonged to Orgar, a freeman at the Confessor's survey, and to Humfry, son of Alberic, at the Conqueror's, who had only this in the county; it always had a carucate in demean, and was half a league long and as much broad, and paid xi.d. ob. geld. (fn. 1)
This afterwards became the lordship of Ralf Peverell, of whose honour of Peverell it was held, at the fourth part of a fee. In 1255,
Jeffry Tregoz held this manor of the King, at a quarter of a fee, of whom
Peter de Mealings, or Melding, of Burston, held it by that service; this Peter, in 1249, had settled it by fine on
Henry de Bathonia, justice itinerant, and Philip de Flegg released his right to him. Aliva de Bathonia, relict of Henry, died in 1273, leaving it to John, her son and heir. Nic. de Yatingdon was her second husband. In 1276, this John was summoned to attend King Edward I. in his expedition against the Welsh; in 1290, he held it of Remigius de Melding, and John de Bathun was his son and heir, who married Eleanor, daughter and coheir of Jeffry de Auncell, and dying this year, left only Joan, their daughter and heiress, 28 years old, married to John de Bohun, or Boon, it being settled in trust, at their marriage, on Humfry de Bohun, who released it to John de Bohun, at John de Bathonia's death. In 1279, it was held of Simon de Furneaux, as of his manor of Midle-Herling, who held it of Rob. de Montealt, and he of Remigius de Melding; at John de Bohun's death, Joan his widow, had it for life; she died in in 1316, and left John de Boon, her son and heir. In 1330,
Tho. le-Archer, rector of Elmsete, and Richard his brother, were lords; and this year they settled it by fine on Roger le-Archer of Floketon, and Agnes his wife, and Roger their son, with remainders to Thomas and Agnes, their brother and sister; I suppose Agnes the mother was heiress to John de Bohun. In 1341,
Roger, son of Roger le-Archer, married Alexandrina, daughter of William De-la-Mote, Knt. and settled this manor on her for life.
In 1345, he is said to hold it of Tregoz, and he of the King, it being the quarter of a fee, formerly Humfry de Boon's. In 1375, Alexandrina aforesaid, then a widow, had it, who was dead before 1384, for then
John Roos, Knt. presented, and had it, as I imagine, in right of Beatrice his wife, the heiress of Roger le-Archer, who presented in 1393, being then a widow; at her death their two daughters inherited,
Anne, married to Tho. Sakevyle, and
Cecilia, to Christopher L'Estrange, Esq. on whom it was settled by fine, for their lives, remainder to Tho. Sakevyle, and Anne his wife, and their heirs, it being now held of Tho. Rokes, Esq. who held it of John Duke of Bedford, as parcel of Richmond honour.
Tho. Rookes, son of the said Thomas, became lord and patron about 1456, whether in right of Elizabeth his wife, or no, I cannot say, and so continued to 1515, and then sold it, and levied a fine to Sir William Waldegrave and Sir Philip Calthorp, Knts. From which families it came to the
Drurys, (fn. 2) who took their name from a village in Normandy, whence their ancestor came with William the Conqueror, and had no other name than that of Drury; his son, John Drury, Esq. settled at Thurston in the county of Suffolk, at which place John, his son, Henry, his grandson, and John, his great-grandson, lived many years: Henry Drury of Thurston, Esq. son of the last John, had two wives; by Hawise Greene of Barkway, his first wife, he had three sons, the two youngest of which, viz. Nigell was sheriff of London, and Sir Roger was parson of Bradfield in Suffolk; John Drury, of Thurston, Esq. the eldest son and heir, married Amable, daughter of Tho. Newton, by whom he had Sir Roger Drury, parson of Beketon, and Nicholas Drury of Thurston, Esq. his eldest son and heir, who married Joan, daughter and heir of Sir Simon Saxham, of Thurston aforesaid, by whom he had three sons; Sir Roger Drury, of Rougham in Suffolk, Knt. was his eldest son; he and his descendants bore the paternal coat, as it had hitherto been always born, without a cross tau, but with a label of three points, as the cognizance of the eldest branch; John Drury, the third son, bore the same arms, with his proper difference; Nicholas Drury of Saxham, the second son, went to the Holy Land, at which time he added the cross tau to his arms, which he ever after bore, as did all his descendants; he married Joan Heath of Mildenhall, by whom he had two sons, Henry Drury of Ickworth, Esq. his eldest son, and Roger Drury of Hausted in Suffolk, his second son, who had three wives; by Amy, his first wife, he had no issue; Anne, his third wife, was daughter and coheir of William Hanningfield of Suffolk; and by Felice, daughter of William Denston of Besthorp in Norfolk, he had three sons and one daughter, viz. John, his eldest son, Will. Drury of Besthorp, his second son, from whom descended the Drurys of Besthorp, (as may be seen at large under Besthorp,) Catharine, married to Sir Henry L'Estrange of Hunstanton, and Sir Robert Drury of Halsted, or Hausted Knt. Privy-counsellor to King Henry VII.; his third son, who married Anne, eldest daughter of Sir William Calthorp, Knt. from whom the Drurys of Ridlesworth are descended, as the following pedigree will demonstrate. (fn. 3)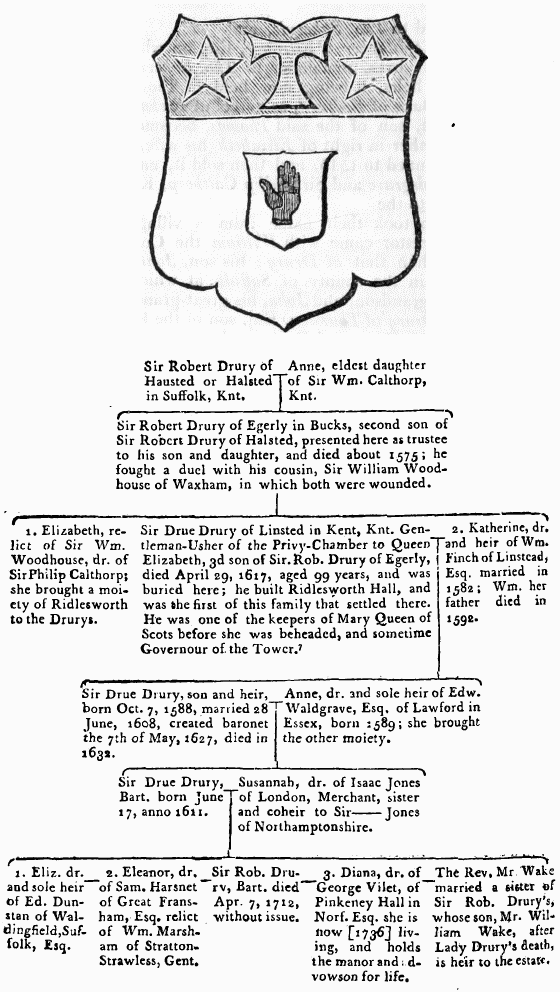 The Customs are these: the eldest son is heir; the fine is at the lord's will. This manor is become very small, the whole town being purchased in, so that there are not above 4 or 5 acres held by copy of court roll of it.
The Leet belongs to the hundred, the leet fee being 2s. and all liberties belong to the leet, the lords of this manor never claiming any, it not being once named in the returns to the quo warrantos. The manor pays a rent of 7s. per annum to the Duke of Norfolk, as to his hundred of Gyltcross: there was a rent of 1d. a year paid to the lord of Midle-Herling manor, (fn. 4) of which it is held, by the said payment and suit of court, for which Tho. Sakvyle, lord of Ridlesworth, in 1472, was distrained, as was Sir Drue Drury, Knt. in 1589, and again in 1598, when he had two horses seized for this and other rents, for lands that he held in Ridlesworth.
Here are three houses, and about 30 inhabitants. It paid 3l. 6s. 8d. to the tenths, and is now assessed at 170l. to the land tax [1736.]
The family sirnamed De Redelesworth, is very ancient, and had a good estate here, and in Gatesthorp, where they were sometime lords; they bore for their coat armour, vert, a bull passant or. Crest, a boar's head cooped sab. an oaken branch in its mouth proper, the acorns or.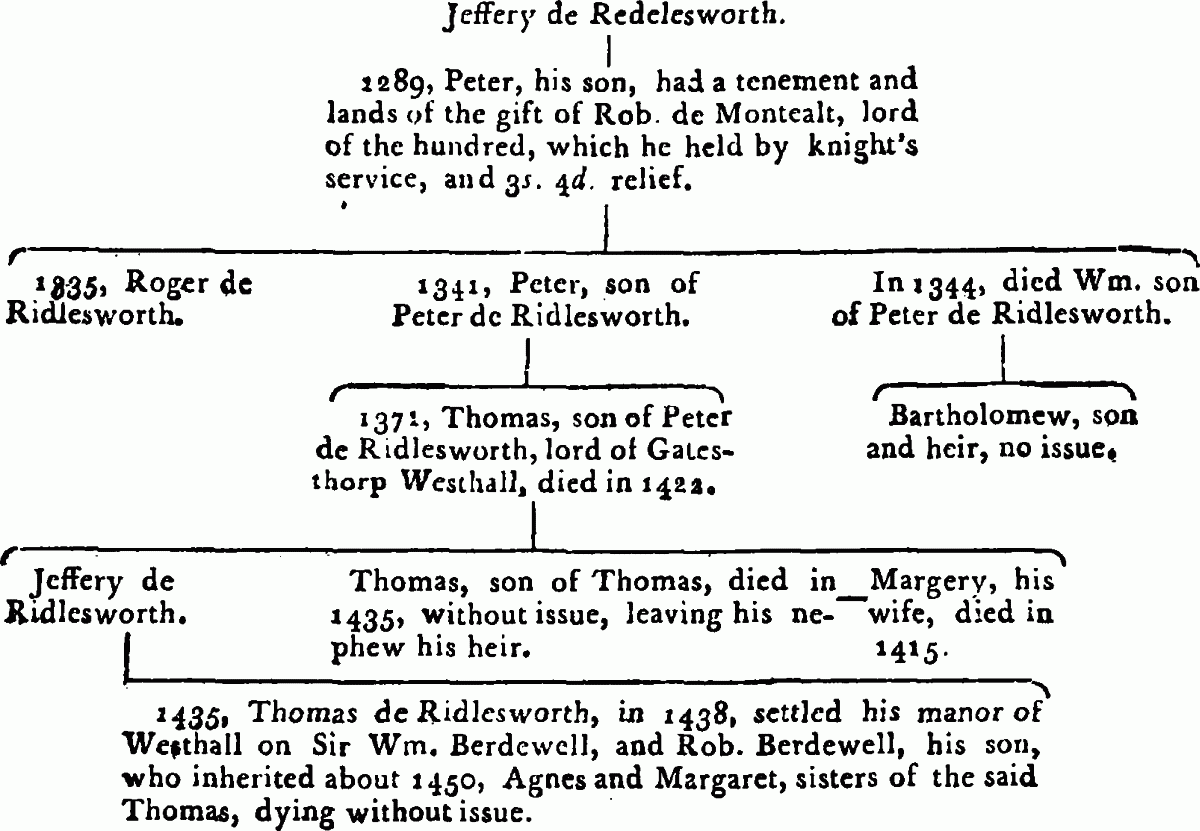 In the Hall there are several family pictures, some of which are much injured, and a curious old painting on board, containing ten persons, each having his arms, or a cipher over his head, and an inscription at his feet.
1. Johnannes de Lacy, Constable of Chester, and first founder of St. Bennet's abbey, at Stanlowe [in Cheshire.]
2. Roger de Lacy, Constable of Chester, the second founder of that abbey; his arms are, quarterly, or and gul. a bend sab. in chief a label of five az.
3. John de Lacy Earl of Lincoln, the third founder; arms, az. three garbs or.
4. Edmund de Lacy Earl of Lincoln, the fourth founder, az. a lion rampant or.
5. Henry de Lacy Earl of Lincoln, the fifth founder, who translated or removed the religious of this abbey to Whaley in Lancashire; or, a lion rampant gul.
6. St. Thomas Earl of Lancaster, son-in-law and heir of Henry de Lacy; D'Angleterre, lambel de Fraunce.
7. Henry Grismond Earl of Lancaster, brother and heir of St. Thomas; same arms.
8. Henry the first Duke of Lancaster, son and heir of Henry Earl of Lancaster; same arms.
9. John of Gaunt second Duke of Lancaster, brother-in-law and heir of Henry Duke of Lancaster; gul. a castle or, (he being King of Castile,) quartering or, a lion ramp. az.
10. Henry IV. third Duke of Lancaster, and King of England; arms of England.
James Earl of Desmond, anno 1600. Mr. Henrye Birde, preacher, anno 1583, Ætat. 66. Spero sed non Spiro.
Mr. Tho. Aldersey, gul. on a bend ingrailed arg. three leopards faces between two cinquefoils or, a crescent for difference, anno 1588, Æt. 66.
Sir Rob. Drurye, Knighte. Rob. Drurye, Esq.; Drue Drurye, Ao 1556, Æt. 24, Droit et devaunt.
Sir William Drurye, Lord Cheefe Justice of Irelande, by whom hangs an old plan of Edinburgh castle, and two armies before it, round which is this: "Sir William Drurye, Knt. General of the Englishe wanne Edenburghe-Castle, 1573." On the picture is this, "Sir William Drurye, Knt. Marshall of Barwicke, Lord Generall of this Jorny, and after Lord President of Munster, and lastly died Lord Justice of Irland, Ao 1579." The crest and arms of Drury without the tau, with fourteen coats, all which are imperfect.
The arms of the following persons are also most of them imperfect, but their names remain, all which were with the Lord General at the siege;
Mr. Henry Killigray, ambassadour; Killegrew's arms; Sir Geo. Carie, Knt. Sir Tho. Cecill, eldest sonne to the Lord Burly; Sir Francis Trusbill, Knt.; Sir Henry Lee, Knt.; Mr. Michael Carie; Mr. Henry Carie; Mr. Will. Knowles, after Knight; Mr. Dieyr; Mr. Cotton; Mr. Tho. Sutton; Mr. Kelwaye; Sir William Selbye; Mr. Tilney; Sir William Killegray.
Anne Drury, 1597, Æt. 12. Frances Drury, 1597, Æt. 11.
Sir Walter Mildmay, Knt. Æt. 52, 153-- Virtute non Vi. Sir Francis Russell, Sir Robert Bell, Lord Chief Baron, Æt. 41. Lady St. John, 1599. Lady Catharine Countess of Huntington. A picture of one of the Jermyn family on which, crest, a talbot passant collared or, on a torce ar. and sab.
Jermyn, sab. a crescent between two mullets in pale ar.
Rushbrook, sab. a fess between three roses or.
Heveningham, with a crescent sab. for difference.
Jervill, pally of six, az. and or.
Gissing, as in p. 174.
Redsham, ar. semi fleurs-de-lis gul.
Reppes, erm. three chevrons sab.
Burgoine, az. a talbot passant, ar.
Botesham, gul. three birdbolts in fess reverted ar. Motto, Nec ab Oriente nec ab Occidente.
Frances Countess of Hartford, 1596. Edward Earl of Harteforde, 1580.
Peregrine Lord Willughby of Ersebye. John Lord St. John of Bletsoe.
Mr. George Alyngton, En Dieu est Tout. Crest, on a talbot passant erm. a crescent gul.
Allington, sab. a bend ingrailed between six billets ar. impaling Le Neve.
A man writing these words: De Governoure veut Gracia.
Ao 1601, Æt. 24, and these imperfect verses:
Sardanapalus ait, pereunt mortalia cuncta, Ut crepitu — — podice disiliens Quæ pereunt — fugiuntque similima Fumo: Aurea quam — Nil nisi fumus erunt, At mens culta viro, post Funera clarior Extat — vana volat.
An Archbishop of Canterbury with this motto, Vincit qui patitur, Æt. 68.
Catherine Lady Drury. Sir Drue Drury, Knt. Æt. 68, 1599. Droyt et Devaunt.
Sir Drue Drury, that built the house, his wife on one side, a lady, daughter of Lovell, on the other side; his arms on the house are,
Drury, with the tau, quartering Finch, ar. a chevron between three griffins passant sab. and Waldegrave, with a mullet sab. impaling Derham, quartering Gul. a chevron vair sab. and arg. between three crowns of the second.
The Church is dedicated to St. Peter; it hath a square tower and one bell; the nave and south porch are thatched, the chancel tiled. In 1474, Thomas Nelde of this town held three acres freehold of Midle-Herling manor, to the use of this parish, to repair the church for ever.
In the chancel, against the south wall, is an altar tomb of black and white marble, on which is this inscription:
Memoriæ Sacræ ROBERTI DRURY, BARONETTI, Filij DRUGONIS DRURY, BAROJNETTI, antiquâ Prosapiâ oriundi, multis Retro Sæculis præclarâ Ingenij Dotibus ornati Politiore Literaturâ imbuti, Tres Duxit uxores, Tertia fuit DIANA, Filia GEORGIJ VILET, de Pinkney-Hall in Comimitatu Norfolciæ Armigeri, Quæ Pietate verâ, et Amore conjugali, hoc Monumentum posuit, obijt Vegessimo Septimo Die Aprilis, Anno Domini 1712, Ætatis suæ 78°. (fn. 5)
Crest, a grayhound currant; Drury impaling Vilet,
On two flat marbles at the altar,
Drury's arms and crest, as before impaling Harsnet.
Here lyeth the Body of Dame ELINOR DRURY, 2d Daughter of Sam: Harsnet of Great Fransham in Norfolk, Esq; the Relict of Will: Marsham of Stratton-Strawley, Gent. the second Wife of Sir Robert Drury of Ridlesworth in the County of Norff. Bart, who was unfortunately kill'd in the fatal Hurricane, Nov. the 27th in the Year of our Lord, 1703. (fn. 6)
Fisher's arms in a lozenge, viz. gul. on a chief erm. a dolphin embowed or.
In Memory of the pious and virtuous Mrs. MARY FISHER, whose Soul took her Flight to Heaven in the furious Hurricane, on Nov. the 27th 1703: This Monument of Respect is dedicated, by her true and faithfull Lover ANTHONY DRURY, of Mendham in Norfolk, Gent: (fn. 7)
Lower down in the chancel lies a marble, for
THOMAS BARNES, late Minister of this Parish, who died Oct. 29, 1713, aged 74. "He was a Person of a just, loyal, charitable, friendly, and quiet Disposition, for which, by his Life Time, he was universally beloved, and at his Death equally lamented." (fn. 8)
In the east chancel window,
Crest, on a torce or and gul. a demi talbot arg. Gul. two lions passant arg. quartering
Gul. a cross moline arg. the lions surmounted with a bend or, charged with three annulets sab.
There is a hatchment with the arms of
Drury quartering
Harsnet, az. two bars dancette erm. between six croslets or, and Marsham, arg. crusuly fitche sab. a lion passant gul. between two bendlets az. each charged with three croslets or.
Against the north chancel wall is a fine monument for Sir Drue Drury, whose effigies is in armour in a kneeling posture, under a canopy supported by two angels; a book lies on a desk before him; the monument being adorned with the following arms.
Drury's crest, a grayhound currant arg. collared or, and Drury and his quarterings, viz.
1. Arg. a chief indented, and six croslets fitche, 3, 2, 1, az.
2. Sab. six cinquefoils arg. 3, 2, 1, pierced of the field.
3. Chequy arg. and gul. on a fess az. three round buckles or.
4. Arg. a chevron gul. between three caps of maintenance az.
A coat of pretence of Finch, with a crescent or.
Drury impales Calthorp and Waldegrave with a mullet.
Wingfield.
Deane, sab. a fess erm. between three white roses.
Botler, gul. a fess chequy arg. and sab. between six croslets sab. These three last impaling Drury.
Condignæ Famæ & Memoriæ sacrum, nobilis et illustris Viri DRUGONIS DRURY, Militis, Filij tertij, Roberti Drury de Egerly in Comitatu Buckingham, Filij secundi Roberti Drury de Hasted in Comitatu Suffolke, Militum, Reginæ ELIZABETHÆ a primo Regni Anno, solius Silentiarij, Deinde JACOBO Regi nostro, & Anno 1596, Præsidis Turris Londinensis, (Annos nonaginta Novem, summa cum Laude, et Integritate complevit) bis Conjugio connexi, primo Dominæ Elizœ: Woodhouse Filiæ Phillippi Culthorp, Militis, secundo, Katharinœ Finch Filiæ & Hæredi Gulielmi Finch de Linsted in Com: Cant: Ar: per secundam uxorem relictæ, DRUGO DRURY, unicus Filius ejus, Uxorem duxit Annam Ætate primam, et unam ex Cohæredibus Edwardi Waldgrave de Lawford in Comitatu Essex, Armig: Elizabetha prima ejus Filia, nupta fuit venerabili Thomœ Wingefield Militi, de Leveringham in Comitatu Suffolke, Anna Filia secunda, Johanni Deane de Deane Aula Comitat: Essex prædicto, et Francesca Filia tertia, Roberto Botler de Woodhall in Comitat: Hertford: Militibus, ipse DRUGO DRURY Miles præclarus, singulari Integritate, Pietate, Virtute, (et nulli in Terris inferior) Charitate, præcipue præcellens, apud Riddlesworth in Comitatu Norfolke, 29 Aprilis 1617, Mortem [obijt.] (fn. 9)
On an altar tomb against the north wall,
Reponuntur hic Reliquiæ, DRUGONIS DRURII, primi hujus Familiæ Baronetti, Filij et Hæredis DRUGONIS DRURII Equitis Aurati, qui post 24cr Connubij sui cum Anna Waldegrave prædilecta sua Uxore evolutos soles, Triplici (ex octo Natis) tenera et in Minoritate, multæ tamen plena Spei superstite sobole, Drugone, Gulielmo, & Catherina, in 44to Perigrinationis suæ Anno, ex hac Miseriarum Eremo, 1632, in Cœlestem migravit Patriam, multiplici quin & Candida, Mundo Amicisque valde lugentibus, relicta fama, magnæ suæ erga Deum veramque Religionem Pietatis, assiduæ et laboriosæ pro Republica Curæ, ac integerrimæ versus Amicos, interiores præsertim ac vicinos, Fidelitatis. (fn. 10)
There is a hatchment over the north church door, with this coat:
Atwood, gul. a lion ramp. arg. in an orle of acorns or.
EX FUNERE VITA.
Hic jacet RICARDUS ATTWOOD, A. M. Vir doctus, beneficus, pius, in Rebus ludicris egregie lepidus fuit et Elegans in Serijs perspicax valde et acutus. Totum fere Tempus optimarum Literarum Studijs, Horas vere succisivas, sæpiuscule Pisciculis captandis absumpsit, Ita in Negotio laudandus erat maxime, in Otio minime culpandus, Aulœ Pembrochianœ socius fuit senior, Academiæ Cantabrigiensis Bedellus Armiger, Utriusque Grande Decus et Ornamentum; Febre correptus vehementi, non sine ingenti omnium, quibus familiariter usus est, luctu, sedaté placideque extremum Halitum in hoc Pago efflavit, Maij 3, 1734, Ætatis 56.
Juxta humatur Frater ejus GULIELMUS ATTWOOD, Mercator Indiæ Occidentalis, Qui Terra Marique, Multa passus, in Tuto jam a Malis requiescit, obijt Oct: 17, 1730, Ætatis 57.
Et prope Jacent quoque, RICARDUS, GULIELMI, Filius, qui obijt Apr: 1, 1723, et MARIA Filia, quæ ob: Sept: 19, 1727.