Pages 284-293
An Essay Towards A Topographical History of the County of Norfolk: Volume 1. Originally published by W Miller, London, 1805.
This free content was digitised by double rekeying. All rights reserved.
RUSHWORTH,
Or the place abounding with rushes, (for so I take the name to signify,) was, in King Edward's days, one league and a half long, and one mile broad, and paid 11d. 0b. geld; (fn. 1) at the survey the abbey of Ely had a carucate of land then worth 20s. but was sunk to 8s. value at the second, when it was held by John, nephew of Waleram; (fn. 2) and after, of the Earl of Glocester, at a quarter of a fee, by the heirs of Bartholomew de Beamont, who in some records (by mistake) is called Breamysson; but in Henry the Third's time, this part was in Nicholas de Gonvyle, whose son and heir John de Gonvile in King Edward the First's reign, paid x.s. relief for it to the Earl of Gloucester, from which time it continued in that family, joined to the head manor, till the foundation of the college, on which it was settled; and when the head manor came to the college, was joined to it again, and so hath continued ever since. This part was some time called Boldam's manor, and seems to lie on Suffolk side, except a part of it, which was in Shadwell.
At the first survey one Uluric had 60 acres here, which he held of the abbey, all which he forfeited to the Conqueror by not paying 8l. that he had forfeited to that King, who gave it to John, nephew of Waleram aforesaid, (fn. 3) from whom it came to Roger Bigot, who gave it to the monks of Thetford, together with Gunner of Ridlesworth and his land, when he founded that monastery. (fn. 4) Of
The Capital Manor,
Bundo was the first lord that I meet with, and then Ulketel; afterwards it came to the Earls Warren, from them to the Bardolphs, who held it by the service of half a fee of the castle at Acre; from the Bardolphs it came to the Lerlings, and was held by them, by the same service, as belonging to the Bardolphs honour of Wormegay. (fn. 5)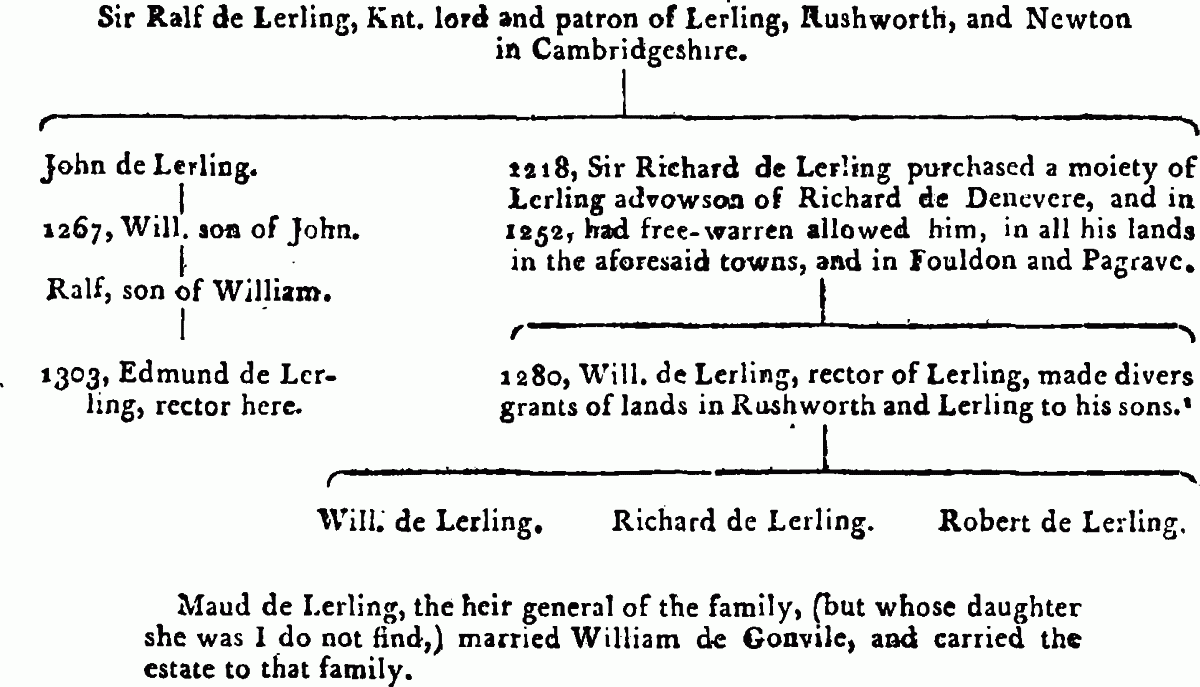 Maud de Lerling, the heir general of the family, (but whose daughter she was I do not find,) married William de Gonvile, and carried the estate to that family.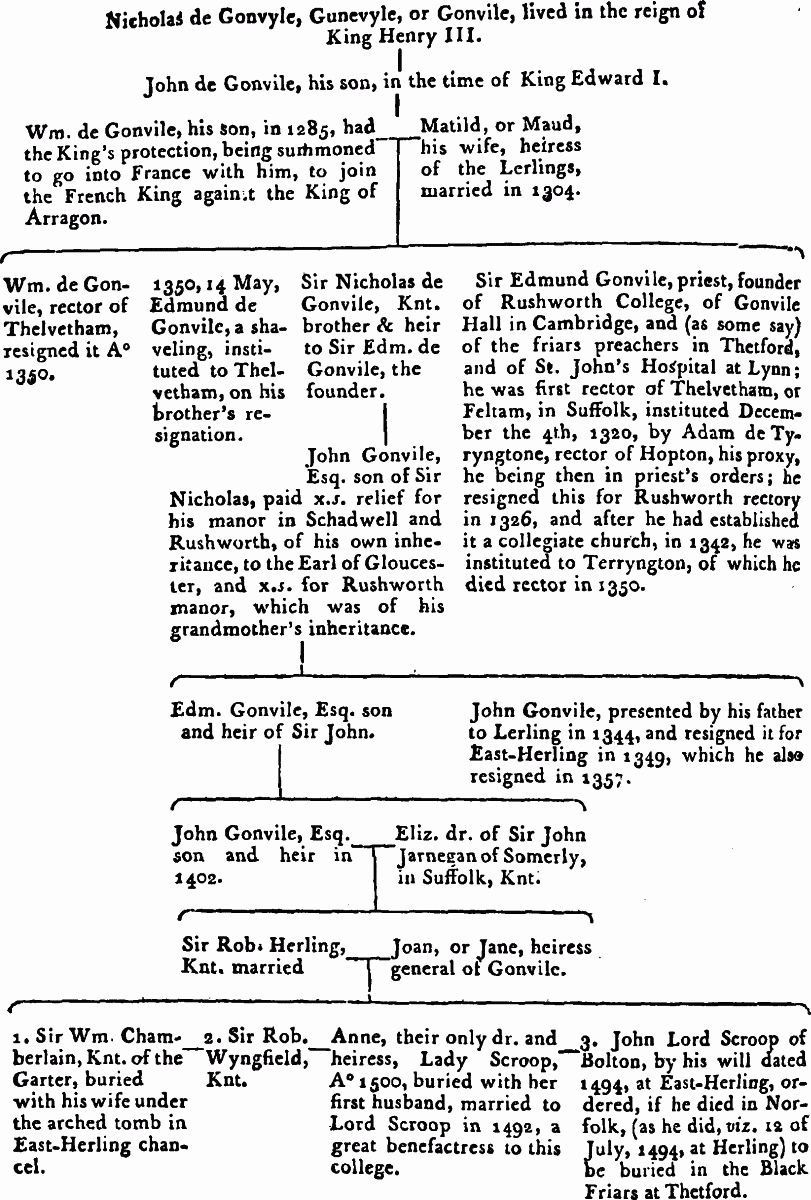 In 1470, this lady procured license for the master and fellows to receive 40 marks per annum, in mortmain, upon which she and her trustees, Sir John Hevenyngham and Sir William Calthorp, Knts. William Berdewell, jun. Esq. and Hen. Spilman, settled her manors of Rushworth and Lerling, then valued at 20l. a year, in part of the said sum of 40 marks, and thenceforward they continued in the college till its dissolution, and then passed with it to the Earl of Surrey, as you will see in the account of the college.
There was another manor or capital messuage, consisting of 200 acres of land, 8 acres of meadow, 26s. rent, a fold-course and separate fishery, in this town, and in Brettenham, Bridgeham, and Thetford, held at half a fee of the honour of Clare, by William de Brettenham, and John de Brokedish, in 1297, and by Rob. Baygnard and others, in 1333, and by William de Brettenham, Simon Fitz, and Rich. Baygnard, in 1398. In 1411, the 8th of May, King Henry IV. licensed Hugh Stoppusly to grant the whole in mortmain, to the Prior of the monks at Thetford, on condition that the King should be paid 50s. every vacancy.
In 1459, it was held of Robert Baygnard, who held it of Anne, wife of Edmund Earl of March, as of Clare honour; it went with that house, at its dissolution, to the Norfolks, and at the Duke's attainder, fell to the Crown. In 1591, Queen Elizabeth granted to William Tipper, and Rob. Dawe, and their heirs, all the manor, fishery, lands, faldages, &c. in Rushworth, Thetford, and Gatesthorp, in Norfolk and Suffolk, which late belonged to the monks at Thetford, to be held by the rent of 2s. per annum, of her manor of East Greenwich, in socage, and not in capite; and soon after it was joined to Rushworth manor, with which it now remains.
As to the separate fishery belonging to it, that laid in Schadewell, (fn. 6) (which is a hamlet to Rushworth,) and extended from Schadewell Mill, to Berdewell's Mill, in Herling-Thorp, on the south side of the river, and had liberty of a boat, and a pool, or wear; towards the latter end of the twelfth century, Philip de Schadewell, who lived by the river, owned it; in 1362, Adam de Schadewell conveyed it to William de Rothyng, parson of West-Herling, Hen. de Rothyng, and Cecily his wife, and their heirs, by the name of East-Fen Fishery; they were to hold it in as free a manner as John de Schadewell his father held it; and at the same time Agnes, widow of Philip de Schadewell, released her right in it; in 1399, James de Brettenham had it, and sold it to Tho. Gardiner, clerk, and in 1411, it was conveyed to Thetford priory, as aforesaid. (fn. 7)
In 1252, the Abbot of Waltham in Essex had lands here, and in Scarning and Geyst, in all which he had free-warren allowed him, for which he paid a rent of 12d. a year to Gonvile's manor.
Rushworth was a rectory, and so continued till Sir Edmund Gonevyle, or Gonvile, who was both patron and rector, founded a college for a custos, or master, and five chaplains, who were brethren, or fellows, and were to elect their master, and present him at Lerling, to the founder's heirs, who, if they were there, were to present him to the Bishop, and not otherwise, after which he was to be installed, by mandate to the archdeacon. Upon this foundation the church was appropriated to the college, and no vicar endowed, because the ure of the parish was wholly laid upon the master; and each of them paid 8 marks first firuits at their installation; at the Dissolution it was granted to be held in the same manner, as the master held it, so that it hath been served ever since by a stipendiary curate, nominated by the impropriator, who, in 1603, is returned in the Answers of the Parsons, to receive 15l. a year of the proprietary for his stipend, Tho. Wolf, clerk, being then curate, there being then 66 communicants in the parish, and now [1736] there are 7 or 8 houses, and about 60 inhabitants.
The church of St. John the Evangelist had a chapel, dedicated to our Lady, on its north side, which is now down.
Rectors and Masters of the College.
1301, 10 kal. Feb. John de Bukenham was presented.
1303, prid. kal. July, Edmund de Lerling, accolite. Matild or Maud de Lerling.
1320, prid. id. Mar. Will. de Calthorp, accolite. Sir Nicholas de Gunevyle, Knt.
1326, 5 id. Octob Sir Edmund de Gunevyle, priest, on Calthorp's resignation, who exchanged this for Thelvetham. Nicholas Gonvile, Knt. patron. This Sir Edmund, while he was rector, perfected his foundation, which he is said to have designed as a seminary for Gonvite Hall in Cambridge; he was the last rector, and had quitted this church before Jan. 20, 1342, for then he was instituted into Tyrington, John Powl, chaplain, being his proxy, at the presentation of Simon Bishop of Ely, where he died rector in 1350, having nominated
John Godwyk, first Master of this College, who resigned in 1349, 18 Nov. and Nicholas de Wrotham, priest, fellow of the college of St. John the Evangelist, was elected by the fellows, and presented by Sir Edmund de Gonvile, priest, their patron and founder, and installed accordingly. He resigned, and in
1351, 17 Nov. Hugh Herbert, chaplain and fellow, was elected master, and presented by Sir John de Gonvile, parson of EastHerling, and Edmund his brother, who were patrons. He was succeeded by
Tho. de Watton, who resigned, and in 1364, 2 May, Tho. Heyward (or Howard) of Rickinghall, late fellow, was elected with the consent of Edmund Gonvile, their patron. He resigned, and in
1371, 21 Jan. Sir Tho. Le-Mey was elected by the Fellows, who had no presentation, the Gonviles being not resident at Lerling: the fellows' election was returned to the Bishop, and the mandate made out upon it; at every admission the master was sworn by the Bishop to observe the statutes, to alienate nothing, to make no new feoffments, not to mortgage nor pawn any thing belonging to the college, whether moveable or immoveable, without the consent of every member.
1374, 19 July, Rob. de Asshele, priest, fellow there, elected on Le-Mey's resignation.
1376, 10 Octob. Rob. de Wrotham, fellow, elected master.
1381, Rob. Carter (fn. 8) of Asshele, chaplain and fellow, elected master.
1385, 25 June, Alexander Thelyk, priest, late fellow, obtained license from Pope Gregory XII. dated June 3, 1409, that one benefice more with cure of souls, might be appropriated to the mastership, and that he might hold it with the mastership; but if any master holds a benefice with his mastership, before one be appropriated to it, he shall not receive his stipend of 50s. per annum, over and above the benefit of the church of Rushworth, as he usually did before this license. The petition to obtain this sets forth; that the college was founded by Sir Edmund Gunvyle, late rector, the rectory being turned into a collegiate church, for a custos, or master, and five brethren chaplains, to pray for him, his ancestors, successours, and benefactors, which master was to have the cure of souls, and the benefit of the church there, and that he designed to endow it much better, but died in the meantime. The Bishop consented to this license, and in 1414, this Alexander was presented to the rectory of Lerling by the fellows, and held it with his mastership to his death; yet notwithstanding the Pope's bull, and the King's license upon it, they could never get their rectory of Lerling appropriated to them, as they designed.
1421, Edmund Cooper elected.
1436, 16 July, Tho. Sigo, fellow, elected on Cooper's resignation, by Tho. Halyday and Rob. Fen, fellows.
1443, 13 July, Rob. Crask, chaplain.
1443, 27 Sept. Crask resigned, John Wurlych, priest, elected.
1444, 29 April, he resigned, and Edmund Coupere, bachelor of the decrees of St. John's College, Cambridge, was elected, (the same man, I take it, that resigned in 1436.)
1446, 9 June, Ralph Beauford, on Coupere's resignation.
1450, at Beauford's death, Lawrence Gerard, priest, elected.
These last five, were elected by Tho. Halyday, J. Kaye, and John Barker, chaplains and fellows.
1472, 27 Feb. Gerard resigned, and Hen. Costesey was chosen. Will. Halday and John Maynard, fellows. This Costesey, Cosse, or Cossa, was also rector of Banham and Wilby, of all which he died possessed in
1483, in which year, Aug. 18, John Bulman, priest, was elected, by Halyday, Maynard, and John Kellyng, fellows.
1488, Bulman resigned, and they elected John Bandys, A. M.
1508, John Brenneys (or Bandys) died, and
John Purpett, fellow, was chosen master.
1526, 22 Aug. the Bishop collated Edward Anson, priest, to a fellowship, it having been void above six months.
1529, 17 July, George Windham, A. M. archdeacon of Norwich, was elected master, at Purpett's resignation, who was the last master, it being dissolved in his time; he continued archdeacon till 1543.
The site of this college, with all its revenues thereto belonging, sc. the impropriation, college manor in Rushworth, Lerling manor and advowson, and a manor in Elden in Suffolk, were granted to the Earl of Surrey, to be held in capite by Knight's service. In 1545, Henry Earl of Surrey, by the King's license, aliened a manor in Elveden, and two manors in Rushworth, one in Suffolk, and the other in Norfolk, together with the site of the college, and the impropriate rectory, with the other revenues of that college, in Fakenham, Thetford, Weston, and Schadewell, to Thomas Duke of Norfolk, by whose attainder they fell again to the Crown, where they continued till King Edward VI. in 1550, granted Rushworth manors and rectory to Sir John Cheke, Knt. and his heirs, who, in 1552, let them for 20 years to George Alyngton of Stoke by Clare in Suffolk, Gent. who had married his sister. In 1557, Sir Rich. Fulmerston, had the manor late the college's: in 1570, the Earl of Surrey had the manor late Fulmerston's; in 1600, the rectory and site of the college, &c. was granted to Lord Howard of Walden, who had license, in 1601, to sell it to Rob. Buxton, on whom the whole was settled by fine, and at this time it continues in his family, Rob. Buxton, Esq. being now owner of both the manors and impropriation (of whose family I shall treat under Tibbenham.)
There are a rank of ten or eleven tumuli, or mounts of earth, in the field between Rushford, Euston, Barnham, and Thetford, where (I verily believe) was fought that dreadful battle between King Edmund and the Danes, in the year 871. (fn. 9)
This indeed seems very true, for in the Abbreviation of the Life of King Edmund, in Register Curteys, (fn. 10) fol. 211, we find this account: In the 15th year of King Edmund's reign, the Danes came again to East England, to revenge themselves further of the King at which time they burnt the monasteries of Croiland, Thorney, Peterburgh, Ramsey, Seham, and Ely, with most of the religious in them, and from thence passed through the country from west to north, seizing and spoiling all they could, Ubba staying to guard their spoils, and what they had taken, at or near Ely: Ingwar with his army entered East England, and went to a city of King Edmund's, called Theodford, (fn. 11) where he encamped, and entered soon after, and burnt it, killing old and young, and ravishing both virgins and matrons; King Edmund, who was then at Eglesden, (fn. 12) received a message from Ingwar, that if he would renounce Christianity, and worship his idols, then they would divide the treasure with him, together with his kingdom; as soon as King Edmund received this message, he marched with his army against the enemies, and engaged not far off from Theodford, where they fought sharply from morning until evening, a great number being slain on both sides, for which King Edmund was much grieved, as well for the pagans deaths, as for those martyrs of his army, who died there in defence of their Faith; on the morrow the Danes departed, and the King, with what remained of his army, returned to Eglesdune, resolving never more to fight against the pagans, but if it was necessary, to yield up himself a sacrifice for the people, and for the Faith of Christ. Ingwar, much vexed for the loss of his men, went again to Theodford, where Ubba came to him with 10,000 men, and joining forces, went to Eglesdune, and there martyred the King, in the year of our lord 871, of his age 29, and of his reign 15.
At this time, without doubt, was that large mount and ramparts, called Thetford Hill, raised by the Danes, in which they encamped; for its being round is a plain demonstration it is a Danish work, raised to that height, in all appearance, to command the opposite hill, on which King Edmund's army then lay, on the extremity of which, some of these tumuli are placed. The most remarkable one is called Tut Hill, under these the bodies of the slain were buried, it being usual, in those days, to heap the slain upon the earth, and raise hills over the heaps, that being more likely to continue their memory, than interring them in a pit or grave level with the earth's surface; and usually where any commander or great men were laid, they raised the hill over them to a larger size than ordinary, which might be the reason of this hill's being bigger than the rest.
The College revenues at its dissolution were valued at 85l. 15s. It had a manor, and the impropriate rectory, (fn. 13) and 102 acres of land in Rushworth, a manor in Elveden, and Lerling advowson, (fn. 14) and other tenements of their founder's gift, who built them a college, on the south side of the churchyard, with a dormitory, refectory, chapel, and other convenient offices, part of which are still standing, and others are in ruins. About 1392, the master obtained license in mortmain, (fn. 15) for Peter Frost, Robert Aishele, Tho. Smetheson, and Rob. Fullere, (fn. 16) to settle a messuage and a carucate of land, 60 acres of pasture, 4s. rent, and the rent of a pound of cinnamon, on his college; and at the same time Roger Cornwayle, Adam Foxle, and Tho. Bray, were licensed to settle two messuages, a carucate of land, 60 acres of pasture, and 4s. rent in Elveden, aforesaid, and the said Peter and Will. de Shelton, and Tho. Balle, settled a toft in Rushworth on the college, and Peter and Tho. Fullere, 3 tofts and 24 acres of land there; Rob. Wortham, John Benhale, and Tho. Fullere, by the same license, settled a toft and 60 acres in Brethenham; and in 1470, the lady Anne Wingfield, by the consent of Sir Rob. Wingfield, her second husband, settled in mortmain, her manors of Rushworth and Lerling, called Gonvile's manors. This was the chief of its endowment, though it had other lands and tenements in Thetford, Fakenham in Suffolk, West-Herling, and Weston. It was governed by statutes, confirmed by Tho. Piercy Bishop of Norwich in his visitation, the heads of which, as they shew the state of the college, it will not be amiss to insert.
The college had a master or custos, and five brethren or fellows, who were to obey their master in all things lawful, the master to have the cure of the parish, and all of them were to pray for the souls of Sir Edmund Gonvile their founder, and of all his ancestors, successours, and benefactors, every day, and to say such daily masses and collects as are therein ordered, and to keep the founder's anniversary, in a particular manner, all which would be to no purpose to enlarge upon; as the revenues increase, the number to increase, and every new fellow to have 10 marks per annum at least, and neither the master nor fellows to be removed, unless for such crimes as would remove a rector; they are all to sleep in one room, and to eat in common together, unless in sickness; the master to receive a stipend of 50s. a year, and each fellow 30s. (over and above their other stipend.) The master to be elected by the fellows; if he be one of the college, the majority is sufficient; but if he be not, then there must be two parts of the fellows, and if the votes be equal, and two chosen, the Bishop is to choose which he pleases; every master thus elected, before he be confirmed by the Bishop, must go to the manor of Lerling, and present himself to the founder's heirs, if they be there, and if not, he may go to the Bishop, who is to confirm him; and if they do not choose in three months after a vacancy, it lapses to the Bishop, who must collate one of that college. In every vacancy the fellows are to choose one of themselves, to look after the college affairs, who is to account to the next master; the fellows to choose the fellows, and each fellowship void above six months lapses to the Bishop; every fellow that leaves the college shall leave half his goods to it, and at their admission, shall swear obedience to their master, and to promote their college; the fellows were obliged to constant residence, and could not lie one night out of the college, without their master's leave; the master was at full liberty as to his residence, but could not have any of his own family admitted to any office in the college, without the consent of the majority of the fellows; the college to have a common seal, which, with the evidences and treasure, shall always be kept in a chest, with three locks, the master to have one key, and such two fellows as all the fellows shall choose, to have the other two; the master and fellows to make up their accounts every Michaelmas, and lock up one part of the account in the chest, and the master to keep the counterpart. The Bishop reserves power for him and his successours to visit, correct, and reform, what he thinks necessary, together with all episcopal power, jurisdiction, and other rights whatever, belonging to his church of Norwich. (fn. 17) Dated at Schuldham, July 13th, 1360.
It appears from an old rental in my collection, that Tho. Sigo, master of the college, held of the capital manor of Rushworth, called Gonvile Hall, his manor called Lerling Hall in Rushworth, by the rent of 6s. 8d. a year; Purry's tenement and 30 acres, with its foldcourse, at 3s. 4d. rent, the capital tenement formerly John de Brethenham's in Brethenham, at 3s. 4d. with 2s. 8d. 0b. rent for his lands on Suffolk side, and abundance of other rents on the Norfolk side.
1492, William Halyday, senior, chaplain and fellow, desired to be buried here by his parents; he gave 6s. 8d. towards a new bell, 6s. 4d. to the light of the holy sepulchre, to the gild of St. John Baptist kept in this church 3s. 4d. His uncle, Thomas Halyday, formerly fellow, sold seven acres of land to him, which he gave to the college, after the death of Robert Schadewell his brother, and Alice his wife, the profits to keep the south porch in repair for ever, (which looks as if he was buried in it,) and to pray for him and his benefactors; he gave other 9 acres in Rushworth, to Robert and Alice for life, and Thomas their son, if he live to be of age; if he dies under age, it was to go the master to find bread and wine for the Sacrament. He gave a good stone house in Rushworth, to the college in free alms, to be used as a gild-hall, or at any time, when there was not room for the guests in the college; but the master was to find out of it a lamp burning in the choir, before the Sacrament at the high altar, for ever, to which he gave a silver chrismatory of 4 marks value, John Cavendysh, rector of Quidenham, and Will. Parysh, fellow, executors. Proved Jan. 23, 1492.
This Collegiate Church was built in form of a cross; the quire, north and south cross isles are quite demolished, though there are two grave-stones in the north cross isle, still to be seen in the yard, but no inscriptions on them; the nave is now used by the parish, and a small part of it at the east end, separated from the rest, serves for a chancel: there is a very good square tower, having only one bell, though there have been five or six, the frames still remaining; it is a good building, and seems to be of the same date with the foundation of the college. On a stone in the south porch wall the name of Jesus is inscribed; the whole is covered with reed.
There are two hatchments in the church. Buxton quarters Herne, and or, two bucks couchant gul. a coat of pretence, per pale arg. and sab. a chevron between three talbots counterchanged, a chief gul.; motto, servare modum.
Buxton impaling the former coat of pretence, quartered with, per chevron vert and or, three lions passant, counter-changed.
On a black marble on the south side of the altar, Hic requiescit quod mortale fuit Roberti Buxton, viri integerrimi, ex Antiquâ Prosapiâ de Channons in agro Norfolciensi oriundi, obijt 15° Die Julij, Ao Ætatis 32° Salutis 1691°.
On a stone by it, Eliz. Buxton, died July 4, Anno Dom. 1730, Æt. 66.
On a stone in the ruins of the quire, John Buxton, Esq. died Oct. 27, Anno Dom. 1731, Ætat. 47.
This town was in Kenninghall soken. And now having gone the length of the hundred, with the county river, which divides it from Suffolk, we must turn back, and follow that stream, which runs from Quidenham Mere to Thetford, and there joins the county river, or the Ouse, dividing this hundred all the way from that of Shropham; and the first place that we meet with nearest to Thetford, is