Pages 333-344
An Essay Towards A Topographical History of the County of Norfolk: Volume 1. Originally published by W Miller, London, 1805.
This free content was digitised by double rekeying. All rights reserved.
QUIDENHAM
Is the next town eastward of Herling; the church of this village is dedicated to St. Andrew the Apostle, and is a rectory discharged of first fruits and tenths.
Glebe.
60 acres.
It is in Rockland deanery, and Norfolk archdeaconry, hath a rectory-house, and 60 acres 1 rood and 16 perches of glebe. It was valued in the Norwich taxation at 10 marks, and the temporals of the Prior of Bokenham were taxed at 6s. 8d.
Rectors.
Will. de Swannington, rector, sold to Thomas, son of Will. de Hakeford, Knt. Walter, William, and Alice, children of Ralf Dod, (who were his villeins,) with their families.
1274, Sir Will. de Eleford, rector.
1285, Tho. de Hastynges, rector.
1305, 3 kal. March, Will. de Eleford. Miles, son of Phillip de Hastyngs.
1334, non. Jan. John Jordan, of Grafham, clerk. Maud, late wife of Miles de Hastynges.
1375, 16 Sept. Sir James de Heyham, priest. Sir John de Herling, Knt.
1400, 9 Nov. John Maundeville, shaveling. Margaret Tuddenham, late wife of John de Herling.
1400, 19 March, John, son of John Balie of Blithe, shaveling, on Maundevile's resignation. Ditto.
1401, 20 Octob. Tho. Maundeville, priest. Ditto.
1410, 8 Feb. Edmund Hemgrave, shaveling. Ditto.
1411, 5 June, John Joy of Lutcham, priest, on Hemgrave's resignation. Ditto.
1434, 14 March, Laurence Gerrard, priest, on Joy's death. John Fitz-Rauff, Oliver Groos, Esqrs. John Kirtling, clerk, and John Intewode, feoffees of Sir Robert Herling, in Quidenham manor.
1448, 1 Dec. Ralf Wode, on Gerard's resignation. Sir John Fastolf, Knt. feoffee.
John Sterre, on whose death, in
1465, 4 Aug. John Caundyssh succeeded. Robert Wingfield and Anne his wife.
1504, 5 Nov. John Butler, A.M. on Caundyssh's death. Lady Margaret Bedingfield, James Hobart, and Tim. Bachcroft.
1544, 5 June, John Reder, chaplain, on Butler's death. John Bedingfield, Esq.
1560, 6 July, Tho. Davye, priest, on Reder's death. John Sulyard and Alice his wife.
1570, 7 Dec. Rob. Newsham. John Sulyard, Knt.
1579, 28 July, Robert Downes, A.M. by lapse.
1580, 27 April, Thomas Richards, on Downe's resignation. The Bishop collated by consent of Bedingfield, the patron.
1583, 27 Nov. John Dalton, on Richard's resignation. Lapse.
1584, 8 June, Daniel Reeve, on Dalton's resignation. The Bishop, by consent of Humphrey Bedingfield, Esq. patron.
1603, Daniel Reeve, D.D. and rector of Banham, returned in his answer, that the e were 80 communicants here. Henry Bedingfield, patron.
1621, William Wood, clerk.
1636, 16 Nov. Henry Sulyard, A.M. on Wood's resignation. John Holland, Bart. He held it united to Tostock in Suffolk.
1668, 15 October, Arthur Womack, clerk. Ditto.
1685. Will. Bosworth, A.M. on Womack's death. Ditto. United to Icklingham St. James.
1705, 8 Febr. James Baldwin, A.M. on Bosworth's death. Sir John Holland, Bart. He held it with Icklingham St. James; resigned June 24, 1731.
1731, The Rev. Mr. John Hull, the present [1736] rector. Isabella-Diana and Charlotte Holland, sisters and heiresses of Sir William Holland, Bart.; the patronesses, are ladies of the manor, and owners of the whole town.
The Church is a small building, having its nave, chancel, and south porch tiled, the south isle and north dormitory leaded, a small steeple, round at bottom, and octangular at top, in which are three bells, two of them are thus inscribed,
1. Missus de Eelis, habeo nomen Cabrielis.
2.Uirgo Coronata, duc nos ad Regna beata.
On a brass in the south isle,
HERE lyeth the body of RICHARD DAVYE, who deceased the 29 of March, 1628.
On a mural monument, on the south side of the chancel,
Crompton, ar. on a chief az. three pheons or, impaling Holland.
Sub hoc Marmore jacet Katherina Uxor et Relicta Roberti Crompton, Ordinis Equestris, Filiaque Pulcherrima Thomæ Holland, ejusdem Ordinis, Quæ Katherina obijt in Edibus Henrici North de Millnall, in Comitatu Suffolciæ, Armigeri, vicesimo Novembris, Anno Dom. 1653, atque Ætatis suæ tricesimo quarto, Qui Henricus in Honorem et Memoriam Dominæ istius præclarissimæ, hunc Lapidem posuit.
En ! Pia Nata, Placens Uxor, Materque benigna, Fæmina, dum vivit, dic mihi, Qualis erat?
On a mural monument, at the north east end of the north wall,
Holland impaling Panton, gul. two fesses erm. on a canton sab. a ferdumolin ar.
In Memory of the Merits of that excellent Person, the Lady Alathea Sandys, whose Bodie lyeth in the adjacent Dormitorie, is this Monument deservedly erected; she was the Daughter of John Panton, Esq. first married with William, Lord Sandys, afterward with Sir John Holland, by whom she had 6 Sonns, and 5 Daughters, and with whom she lived happily 50 Years within 3 Months, and then in the 69 Year of her Age, upon the 22 Day of May, 1679, she Cheerfully rendred up her pious Soul to God that gave it.
Under this is an altar tomb covered with a black marble.
Holland, Knevet, and Wigmore.
Here lyeth the Body of that Worthy Knight Sir Thomas Holland, who lived highly esteemed in his Country, and died the 5. of Febr. in the 48 Year of his Age, and in that of our Lord One thousand six hundred twenty and five, universally lamented.
On a black marble on the floor, by this tomb,
Here lyeth the Lady Holland, the second Wife to Sir Thomas Holland, and Wife to Mr. Edward Barker, and buried in the Year 1648.
On a mural monument against the north chancel wall, more west,
Holland and Panton.
Sir John Holland who erected this Monument for himself, 17 Years before his Death, maryed the Lady Alathea Sandys, he was sent a Commissioner from the Parliament to K. C. the First, and received Marks of Royal Favour, he lived an Honour as well as Benefactor to his Family, being Eminent for his perticular Abilities and Integrity, and dyed 19th of Jan. 1700, after he was created Baronet 72 Yeares, and in the 98th Yeare of his Age.
There is a stone lately laid in the church for Ann, relict of Thomas Slapp of Rushford, daughter of Tho. Goddard of Wretham, who died Decem. 12, 1729, aged 57 years 11 months, and also for Sarah Slapp, her daughter, who died Nov. 25, 1729, aged 22 years 9 months.
There is an altar tomb in the churchyard for John Buckenham, who died April 22, 1731, aged 54 years.
In a south chancel window, is the effigies of the Virgin holding a wafer, on which is this,
Hi Visite ye.
On the south buttresses,
Jesus, Jesus Salbator.
Upon old stalls in the chancel are the arms of Vere, Bardolf, Herling, Plantaginet, Garnish, Ufford with a bendlet. A fess between six de-lises. Two fesses. Gironne of eight. Three roundels, on each three pales. On a bend cottised three escalops, a rose for difference.
In the parsonage window is an eagle snatching a piece of a sacrifice, with some of the fire sticking to it, which being carried to her nest, fires it, and burns her young; under the flaming nest is this,
So let him feare, who e're he be that dare, Purloin God's Tribute, and the Churches Share.
and round the oval is this,
It is Destructive to Devour That Which is Holy.
Here are 13 acres, 3 roods, and 20 perches town land, in divers pieces, all which (with the glebe) are abuttalled in a survey of the manor, taken A° 1587. The rent was 3l. per annum, (fn. 1) paid to the church-wardens, and overseers, for the relief of the poor, and repairs of the church. (fn. 2)
In the dormitory on the north side, there are seven coffins of lead, 1. Sir John Holland the first baronet of the family. 2. Lady Alathea Sandys, his wife 3. Thomas Holland, Esq. of Bury St. Edmund, their son 4. Sir John Holland, Bart. his son. 5. Lady Rebecca Paston, his wife. 6. Sir William Holland, Bart. their son. 7. Elizabeth Holland, his sister. (fn. 3)
In 1723, at the bottom of the lime-pits in this parish, was found a large copper medal, thus circumscribed, Antoninus. P.P. TR. coss. iii.; on the reverse a Genius, and S.C. by which the Romans should have worked in these pits.
This town paid to the tenths, 3l. 10s. is now assessed at 274l. 10s. and hath 9 houses, and about 50 inhabitants. Leet fee to the hundred is 2s. per annum.
Cuidenham, or Guidenham,
Undoubtedly signifies Villa Guidonis, or the country seat of one Guido or Guy, but who he was we know not; one part of it was Godwic's, a freeman, under the protection of the Abbot of Bury, who held it three years after King William came into the realm; but Godwin Awnd, a man of Earl Ralf's, unjustly took it from him: the soc was at first in Kenninghall; it was worth 15s. and after 30; it was then a mile and a quarter long, and a mile broad, and paid 17d. 1q. geld, being at the survey, in the King's hands, who had taken it from Godwin, and committed it to Earl Godric's care.
Another part was given by the Conqueror to be held at a fee and half, to Will. de Albany Earl of Arundell and Sussex, who gave one fee of it to Warine de Munchensi, who granted it to Miles Hastyngs, against whom William, son of Warin de Munchensi, in 1194, brought his action to recover it, but to no purpose; this was after held at one fee of the Munchensis, (lords of Winfarthing,) and their successours, who held it of Bokenham castle.
The other half fee was given by the said Earl, in King Henry the First's time, to the monks of Rading in Berkshire, in pure alms, (fn. 4) who were obliged to grant it to Ralf, sirnamed the Great, (Magnus,) conditionally, that he and his successours should for ever pay an annual rent of one mark, for the health of his own, his ancestors, and successours souls, to make a good dinner or repast in that convent, (fn. 5) on his uncle Joceline's anniversary. It contained a carucate of 100 acres of land in Quidenham, Kenninghall, and Atlleburgh, and 40 acres in Ridlesworth, and divers rents and services, with common of pasture on all the commons in Quidenham, and a fold-course there: from this Ralf it came to Brian his son, who settled it on William de Hocham for life; and in 1198, Wimar, son of William de Hocham, had it confirmed to him and his heirs, by William, the third of that name, Earl of Arundell and Sussex, (fn. 6) from whom it it was called
Hockham's Manor, or Free Tenement.
John son of Brian, agreed to this confirmation, on condition that he should pay 1s. a year to him and his heirs, and a mark sterling every Michaelmas Day, to the Earl and his heirs; and in 1200, Wimar and John jointly conveyed it to Miles Hastyngs of Quidenham, who joined it to his other part, with which it now continues. (fn. 7) It was always held of the manor of Kenninghall, as of the castle of Bokenham.
One manor and moiety of the advowson, belonged to Bury abbey, with the whole soc of it, in King Edward's time, and was in the Abbot's hands, till Baldwin, Abbot there, infeoffed his brother Frodo in it, in the Conqueror's time, who infeoffed Joceline, who held it at the survey; (fn. 8) this Joceline was sirnamed de Lodne, and was uncle to William de Albani Earl of Sussex, as he says in his deed. In 1196, Ernald de Charneles had it, between whom and Sampson Abbot of Bury there was a fine levied this year, by which he acknowledged, that he held it at one fee of the Abbot, by the service of 20s. scutage, and castle-guard to Norwich; it then extended into Quidenham, Aclee, Turiston, Elyngham, and Norton, and had 60 acres in demean, two villeins, and one bordarer; (fn. 9) and in 1199, it was in Miles de Hastyngs, a younger son (as I take it) of William de Hastyngs, Steward to King Henry I. (fn. 10) He sealed with Hastyng's arms, I cannot say whether with any difference or not, though I have a seal of Nicholas de Hastyng's about this time, which hath a label of five over the maunch.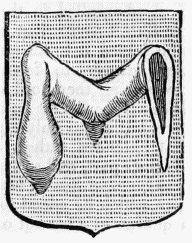 Miles, his son and heir, was lord in 1264, being then married to Dionise, daughter of Peter Goldington of Goldington in Bedfordshire. In the Roll of the Rebels and Adversaries to King Henry III. and Prince Edward his son, after the battles of Lewes and Evesham, this Miles was found to be one, being then lord and patron, and holding 80 acres in demean, all which were seized, it being proved that he had taken the barons' part; it was afterwards restored, as all those estates were which were seized upon this account. His brother Will. de Hastyngs lived here; Miles de Hastyngs, son of Miles, was lord of Stoke-Goldyngton, and Cavendish in Suffolk, Elesford in Oxfordshire, and Dayleford in Worcestershire; he settled Elesford on Thomas, his youngest son, who was rector of this parish; he married Maud, who was lady in 1280, and soon after married to Pigaz, whose widow she was in 1288; they had three sons and one daughter; Margaret, who married Richard de Noers. Nicholas, the second son, was alive in 1282, at Phillip his eldest brother's death, who left Alice his widow, who, in this year, recovered against Miles de Hastyngs, her father-in-law, 10l. a year in land, in Cavendysch, for her dower; but it appearing that those lands were settled on Thomas, Nicholas, and Margery, the younger children of Miles, with the consent of her husband, she had 20l. a year in Quidenham, with a watermill there, instead of it. Miles, son of Phillip, was 30 years old in 1304, and at his grandfather's death became heir; he had two wives, Dionise, and Maud who outlived him, and was lady in 1334, and so continued till after 1345. In 1355, John de Herling purchased a third part of the manor and advowson, of William Furneaux of Sheffield, who had married one of the three daughters and coheiresses of Miles Hastyngs, and another third part anno 1362, of William de Ingaldesthorp, Knt. and Elcanor his wife; and in 1371, the other third part of Tho. Caus and James de Hegham, by which means he had the whole manor, from which time it passed as East-Herting, (fn. 11) till Sir Edmund Bedingfield sold Herling, and continued this, in his family.
Fawconer's Manor,
Was made up of different parts; it belonged at the survey to Roger Bigot, and went to Walter Bygot of Fornsete, a younger brother of that family, and from him to Richard Bygot, his son, who conveyed a part to Ralf of Kenninghull, called the Falconer; Edmund de Bella Campo, or Beauchamp, had 30 acres of it, and the moiety of the advowson; he left it to John de Beauchamp, his son, who, in 1287, by deed enrolled in the King's-bench, granted it to Edward, son of Sir Will. Charles, Knt. of whom it was purchased by Miles Hastyngs, who joined it to his manor, and so had the whole advowson. Another part went to Simon Bygod, who was lord in 1280, John le Fauconer being then lord of Richard Bygot's tenement. In this year Richard Le Baxter and Agatha Maynwaryn are said to have a manor here, but it was only a part of Maynwaryn's manor in East-Herling, that extended hither, and soon after John le Fauconer got Simon Bygod's part, and so became lord of both; Will. Hastyngs of Quidenham gave Simon Fawconer, father of John, a messuage and lands here, which he added to this manor, and Maud de Hastyngs conveyed a quarter of a fee out of her manor to him, this whole manor being then held of her manor, at half a fee, and paid 20s. relief, and from the time it was purchased by Ralf Le Falconer, always went as Fawconer's manor in East-Herling, to which I refer you.
The manor which belonged to the family sirnamed de Quidenham, was joined to this, by one of the Falconers. William de Quidenham lived in Henry the Second's time; Adam his son succeeded him, he granted divers lands to be held of his manor, by the service of four annual suits at his courts here. Hugh his son had Gilbert, who was dead in 1319, Igred being then his widow; I take it he was the last of this family that was lord, though it did not extinguish till after 1400; for then William Quedenham lived at Quidenham. About this time also they purchased the messuage, and all thereto belonging, which Richard Bygot granted to Martin, father of Adam de Quidenham, to be held of him in villeinage; and after that Bygot sold him as his villein, to Adam Neve of Quidenham, who sold to Rob. de Sulwode of Wymondham, Adam son of Martin de Quidenham, his villein, with all his cattle, and family, born, or to be born, and all their appurtenances.
The family sirnamed De-ponte de Quidenham; or atte Brygge, (fn. 12) continued here from Henry the Third's time, to about 1500, and had a free tenement held of Kenninghall manor, at 16s. 5d. a year, which is now joined to the other manor; and thus all the manors and free tenements became joined in
Sir Henry Bedingfield, Knight of the Bath, in right of the heiress of the Tudenhams; he left it to Peter Bedingfield, his fourth son, who settled here; he had two wives; by his last, who was daughter of John Moninges of Greynford in Kent, he had John Bedingfield, Esq. his son and heir, who married Alice, daughter of Humphry Kervile of Wigenhall St. Marie's, who outlived him, and after married Sir John Sulyard, Knt. who was lord here in 1550, her first husband dying Jan. 1, 1545; (fn. 13) at her death Humphry Bedingfield, Esq. her son, became lord; he married Margaret, daughter of Edward Cocket of Ampton, by whom he had Dorothy, that died without issue, and Frances, his sole heiress, who married Anthony Twaits of Hardyngham, whose only daughter and heiress, Elizabeth, married Jeffery Cobb of Sandringham, whose son, Will. Cobb of Sandringham, was living in 1664.
This Humphry, in 1572, sold it to John Holland, Gent. and his heirs.
Holand, or Holland: this honourable family flourished in the time of the Confessor, and took their name either from Holand in West Derby hundred, in the county of Lancaster, or from Holand in Lincolnshire, both which were the ancient possessions of this house. Sir Otho de Holland, lived before the Conquest, (fn. 14) and left Sir Stephen his son, whose grandson, Sir Ralph, son of Sir Ralph, lived at the Conquest, and held divers lands of the Conqueror's gift; he married Sibill, daughter to William de Well, and left issue, Sir John, father of Sir John, and grandfather of Sir Robert de Holland, Knt. (fn. 15) who was summoned a baron of parliament, July 29, the 8th of Edward II. (A° 1314,) he founded the priory of black monks at Holand in Lancashire; by his wife Maud, daughter and coheir to Alan Lord Zouch of Ashby, he had a numerous issue; his eldest son, Robert, was a baron in parliament in the time of Edward III. and dying without issue male, left only Maud, married to John Lovell of Tichmarsh, afterward Lord Lovell. Sir Otho, Otes, or Eton Holland, Knight of the Garter, was at the siege of Calais, attended with three esquires, where he was taken prisoner; (fn. 16) he bore a cross patee gul. upon the shoulder of his lion, for his gentilitial distinction; Sir Tho. Holland also was at that siege, attended by four esquires, and four archers on horseback; he was summoned as a baron in parliament the 27th of Edward III. and was Earl of Kent, and Baron Wake of Lydell, in right of Joan his wife, sister and heir to John Plantaginet Earl of Kent, and of his wife Margaret, sister and heir to Thomas Lord Wake, which lady afterwards married the Black Prince. From this Thomas proceeded the Hollands Earls of Kent, one of which was advanced to the dignity of Duke of Surrey; and by a younger son, the Dukes of Exeter, and Earls of Huntingdon, some time enjoying the title of Earl of Ivory in Normandy, and Edw. Holland Earl of Montaigne. The line of Kent expired in the 9th of Edward IV. for want of male issue, as did also, about that time, the lines of Exeter and Huntingdon; their lives are written at large in Mr. Dugdale's Baronage, from fol. 73 to fol. 83 of the second volume, for which reason I have no occasion to repeat it here.
The fourth son of Sir Robert de Holland first mentioned was John, who by the daughter and heir of Sir Andrew de Medestede, was progenitor to the Hollands of Weare in Devonshire; his fifth son was William, of Denton in Lancashire, and from him branched the Hollands of Clifton, and from them, by a second son, the Hollands of Sutton; his eldest son was also named William, who had lssue, Richard Holland of Denton, who, by a daughter of Harington of Hornby castle in Lancashire, had a son named Thurstan, and by Amery, his second wife, daughter and heir of Adam Kenyon, (fn. 17) had another son named Richard.
Thurstan Holland of Denton, Esq. his eldest son, married Jane, daughter of John Arderne of Hawardine, in the county of Chester, Esq. and had issue five sons; Robert, who married Elizabeth, daughter of Richard Ashton of Middleton, Esq.; the second was Sir Richard Holland, Knt. who married twice, and left issue by both wives; third John; fourth Ralph; fifth Terence.
John, the third son, had issue, Brian Holland, Esq. of Denton Hall, with whom I shall begin the pedigree, his third son, John, being the first of the family that settled in Norfolk.
Among the evidences of the Hollands there is a very large genealogical table of the family of the Hollands in Lincolnshire, from which house all the families of this name are descended. It was collected by Geo. Holland, one of the family, in 1563, and continued since to 1601; it begins thus: "Estovinghall, Here ensueth the pedigree of the Hollandes of the house of Estovenhall, in the partes of Holland, in the countie of Lincolne, and do dwell there, without alteration or change, eyther of house or name, by xiijth. descent before the Conquest," &c.
Before which time they all bore, party per pale indented, of six, or and gul. which the house of Estoven always continued, and since the Conquest their descendants bore the present arms, with their proper differences.
Sir Ralph Holland, who descended in a direct line from that Sir Ralph that lived in the Conqueror's time, was entombed in Swineshed abbey, anno 1262; Sir John Holland, his great grandson, was buried in the parish church of Swineshed. In 1340, his greatgrandson's grandson was Sir Thomas Holland, who married the Devilish Dame, called Elizabeth, daughter to Sir Piers Tempest, Knt.; he spent his life in the Holy-Land, and came home but every seventh year; his son, Sir Thomas, lived about 1457, and dwelt two years at Crowland, then at Boston, Easton, and at Lynn, where he is buried, in St. Nicholas's church. His son, Thomas Holland, was buried at Bury abbey; Tho Holland, his son, was first Comptroller of the Household, and after Treasurer to the Duke of Richmond's good grace; and Hamond Holland, his brother, was first apprentice in London, and after, by great conjectures, was thought to be of great authority under the Grand Turk; this Thomas had three wives; by Jane, his first wife, he had George, Secretary to Thomas Duke of Norfork, who died without issue; by his second wife he had Tho. Holland, Esq.; and by Jane, his third wife, daughter of Henry Smith of Norfolk, he had Hen. Holland, who, in midsummer, 1563, proceeded master of arts in Gonvile Hall in Cambridge, and Christ. Holland, then student in Pembrook Hall, whose son, Edw. Holland, in 1601, was student also in Cambridge.
Note, "At the dissolucion of the abbaye of Swineshead, I my selfe, [sc. George Holland,] with my elder brother, and divers other gentlemen being there, sawe the body of Sir Ralf Holland our Ancestor, entombed there in the right-hand of the Quyre, by the High Altar, as the chief founder of the house, who was there buried A° 1262, lye as wholy to the sight of the eyes, as might be, 'till being touched with a little stone falling from the brincke of the tombe, that wholly dissolved to duste; Cuthbert Tunstall, late Bishop of Durham in his you the, near ij Yeres, was brought up in my great grand father Sir Thomas Hollandes kitchin unknowne, 'till being knowne, he was sent home to Sir Richard Tunstall his father, and so kept at schoole, as he himself declared in manner the same unto me.
"Note, Sir Robert Holland was had in great favour and reputation with Thomas Earl of Lancaster, in 1321, as my poore father was the like with the mighty Prince Henry Duke of Richmond, in the time of his father, King Henry the Eight." (This Duke married a daughter of Thomas Howard Duke of Norfolk, (fn. 18) by whose means this George Holland became that Duke's Secretary, and dying without issue, left much to John Holland, Gent. of Wortwell, his successour to his place in that family, by which means the pedigree came into this family.) "My grandfather lieth buryed at Burne abbey, he had among other children, 7 sonnes, and made them all religious, viz. Davy and Laurence to Ramsey; Daniel and George to Crowland, where I dwell next house to the late abbey; Richard to Walsyngham; John to Barkyng, after that to Newbowe; Nicholas parson of Thurleby, a bachelor of divinitye; and Sir Antony of Twynne, and this John, channon of Barkyng, twynne brother to Sir Antony, was the first that ever King Henry the VIIIth by his supremacie dispensed with, and so was secular prieste, and after that, parson of Feltwelle in Norfolk. Doctor Makeryll, Abbot of Barkynge, who in the commotion, was called Captaine Coblerne, killed him in person.
Henrye Holland was bachelor of divinitye in Cambridge, and after vicar of Boston, and so died.
Note, That the cuntry of Holland being at the Conquest very strong, by abundance of waters, the Hollands, the Welles, and the Lords of Kyme, being confederate together (as by old men, from man to man I have heard credibly reported) kept out the Conqueror by force, 'till at length he had it by composition and agreement, that they should keep their lands still, and so the grant to the Hollandes at that tyme from the Conqueror, passed in this sorte.
Notescat omnibus Anglis Francis et Alienigenis nos Willum: Regem, redidisse Radulpho Militi de Holand totum dominium suum de Esteveninge, tam libere honorifice, quiete et in pace sicut aliqui alij de Baronibus nostris de nobis tenent. Teste, &c.
This manor or lordship of Estevening continues his name and place, and never went from the Hollands since, and now Thomas Holland my brother is heire, and enjoyeth it; the same lordship hath by special charter very great privileges and liberties, viz. free-chace and free-warren, wyeffe, stray, fellons goods, and ought to pay no manner of towle, nor pays no rent, but 5s. to castle-warde, and a marke for his liberties, whereby he may keep sessions within the lordship, as Sir Thomas Holland my grandfather did, who executed two fellons at Drayton, within the lordshipp, arraingned and condemned at the said sessions.
Edmund Holland, Earl of Kent, who was killed beyond sea, was brought home and buried at Burne abbey, about 10 miles from Estoveningehall, where I see him lye entombed in the midst of the quire, with 5 or 6 of my ancestors, entombed round about him, and there did my grandfather in his latter days keep house, and lies buried hard by; the said Earl also, part of his tyme, kept house there, and was either founder, or a great benefactor to the priory of St. James at Deeping: none of the Hollands are buryed at Swyneshed church, but only Sir John, who lies flat with the Hollands quire there, the scripture of his burial being in French, the date worn out, he married Margaret, but further appears not, most of the Hollands were buried in abbeys, and friers houses; I have seen them lye in great number at Bourne, Swyneshed, Barkyng, Bardeney, Sempring, Grysted, Strikswold, Spalding, Crowland; and the friers at Boston and Stamford, now being the Dukes of Suffolk, and my father lies in Spaldynge church, to which houses of religion, my said ancestors to my knowledge, have been too great benefactors, my mother lies buried in the Holland's quere at Swineshead, and my uncle Blase at Boston. Geo. Holland was Secretary to the most worthy and mighty prince, Thomas Duke of Norfolk, grandfather to the present Duke, and served him in that calling, and Clerk of the Counsail in the warrs both in France, England, and Scotland, and when he was committed to the Tower, and his son of Surrey beheaded in the last year of King Henry the VIIIth, and being most worthily delivered thence by Q. Mary, I served him in that callinge till his death, and was with him against Sir Tho. Wiatt his godson, where he was most slenderly appoynted by his own men & capt; trayterously."