Pages 345-359
An Essay Towards A Topographical History of the County of Norfolk: Volume 1. Originally published by W Miller, London, 1805.
This free content was digitised by double rekeying. All rights reserved.
BANHAM.
There were three manors in this town, all which are now united, though each retains its name in the style of the court, which is Banham, Marshall's, Beckhall, and Grey's.
The Customs of which are, that the lands descend to the eldest son; the fines are at the lord's will; it gives a third dower; and the tenants cannot fell timber on the copyhold without the lord's license, unless to repair their copyhold premises.
Marshall's
Was the head manor, part of which was owned by the Abbot of Ely. at the Confessor's survey, of whom it was held in the Conqueror's time by William De'Schoies, L'Escois, or the Scot, (fn. 1) who in his own right then held another part and the advowson. At this time the church had 30 acres of land belonging to it; part of this manor Ordar then held of the said William, at one carucate, which, with the advowson, was afterwards given to York abbey; and in the Confessor's time was held (together with the manor and advowson of Wylby) by Fader, L'Escois's predecessor. The whole town of Banham was 3 miles long, and 2 miles broad, and paid 14d. ob. geld or tax, out of every 20s. that was laid on the hundred. (fn. 2)
In the time of William Rufus, William de Eschois, for the health of the soul of that King, his lord, gave to the monks of St. Mary's abbey by York walls, the advowson of this church, with a carucate of land here; together with the advowson of Wilby, and two parts of the tithes of his demeans, which were after valued at 8 marks per annum, and for that sum let to the rector and his successours. This pension was after granted by that abbey to their priory or cell at Rumburgh in Suffolk, in which it continued till it was dissolved by Cardinal Wolsey, who procured bulls to dissolve this and some other small monasteries, in order to erect two colleges, one at Oxford, and the other at Ipswich; and besides those bulls and letters patent that he had obtained of the King, he procured releases of them from the patrons, for the Abbot of St. Mary at York released to Tho. Capon, Dean of the Cardinal's college at Ipswich, all his right in the priory of Rumburgh, and all its possessions, lying in Banham, Wilby, Cossey, Bawburgh, and Swaffham in Norfolk, and in other places in other counties. This portion was issuing out of his demean lands in Banham and Wilby jointly, but yet the whole was paid out of Banham, that rectory being by far the best; the donation was confirmed by Henry I. and by Everard Bishop of Norwich, and Theobald Archbishop of Canterbury; after this the said William sold the manors to
Walter Giffard, who gave the advowsons to the abbey of Nutley, which he had founded in his park at Crendon, near Tame in Buckinghamshire; (fn. 3) but it appearing that William de Escois had given them to York abbey before the sale, Giffard's grant had no force.
Walter Giffard, son and heir of the aforesaid Walter, sold it to
John le Mareshall, whose son, John Le Mareschall, was lord in 1276, in which year he brought an action against the Abbot of York, in order to recover the advowson, but without success. In 1285, Havise, widow of John le Mareschall, was lady, and had freewarren, view of frankpledge, assize of bread and beer, allowed her to this manor, which was then valued at 40l. a year; she held it in dower of the inheritance of John le Marshall, a minor, then the King's ward. It seems John died under age; for in 1314 she held it in dower of the inheritance of William le Marshall. In 1332, Sir Anselm Marshall, Knt. was lord, who, in 1345, held it at the third part of a fee of the Earl of Gloucester, and paid 13s. 4d. relief. This Sir Anselm united the manors, for he held the manor which John le Grey and his tenants formerly held, at one fee, of the Earl-Marshal, he of the Earl Warren, and he of the King, and paid 40s. relief; and the said Sir Anselm, jointly with William de Banham and his tenants, held half a fee of John de Beck, who held it of Hugh le Verc, he of the Earl-Marshal, and he of the King, which manor Havise le Marshall and Will. de Banham lately held, and for this he paid 20s. relief: after Sir Anselm's death, (fn. 4)
William de Morley, Marshal of Ireland, was lord, who, in 1361, granted to Sir John de Herling and his heirs free commonage in Banham, for all manner of beasts. It was after in
Havise le Marshall, wife of Robert de Morley. In 1380, Thomas de Felton, Knt. and Joan his wife, had these and Wylby manor; Joan held them to her death, which was long after her husband's; they left two daughters their heiresses,
Mary, the eldest, married to Sir Edmund Hengrave, Knt.; and
Isabell, or Sibill, to Sir Thomas de Morley.
In 1401, the said Joan settled them after her death, on her two daughters and their husbands, and their heirs, Robert Braybrook Bishop of London, Sir Tho. de Erpingham, Knt. Sir Will. Rykill, Knt. and others being trustees.
In 1415, they were settled by John Spencer, and others, on Sir Simon Felbrigg, John Hubard, and others, in trust for Sibill de Felton Abbess of Berkyng.
In 1420, they were conveyed to Sir Lewis Robesart, Knt. who settled them on Catherine, widow of John Spencer, for life, remainder to him and his heirs, Sir Simon Felbrigge, John Hubard, clerk, Robert Ashfield, and other feoffees, releasing their rights.
In 1430, they were conveyed to John Eastfield, and Will. Alnwyk Bishop of Norwich, Sir Ralf Cromwell, and other trustees, by Tho. Chaucer, and John Arundell, Dean of the free college of St. George at Windsor, and others, John Tirrell at that time holding them during the life of Katerine his wife, who was widow (I suppose) of John Spencer.
In 1432, Sir Tho. Morley, Knt. and Isabell his wife, conveyed them in fee to Will. Alnwyk Bishop of Norwich, Sir John Tirrell, Knt. Ralf Cromwell, Knt. and their heirs; and in the same year, Tho. Greene of West-Creeting in Suffolk, cousin and heir of William, formerly vicar of East-Dearham, released to them all his right in the manors of Marshall's and Crey's, and the moiety of Beckhall, which formerly were the said Thomas Green's, and extended into Banham, Wilby, Quidenham, Old Bokenham, Winfarthing, and Tibenham, from which time they went with Bokenham castle, till they were sold to
Thomas Duke of Norfolk, in whose family it still continues, the Duke of Norfolk being now [1736] lord. (fn. 5) In 1558, Sir John Tirrel of Gipping granted all his right in the manor, with many lands here, to the Duke, who gave him Cotton and Bacton manors in exchange.
Grey's Manor,
At the first survey, belonged to Lessius a freeman, who had one carucate in demean; it was William Earl Warren's, at the Conqueror's survey, and belonged to his castle at Lewes. (fn. 6)
It went from William, the second Earl Warren, who died in 1135, to Reginald de Warren, a younger son, whose chief seat was at Wirmegay, or Wrongay, in Norfolk, which he had by marrying Alice, daughter and heiress to William de Wirmegay; at his death, William his son succeeded, who died in 1209, leaving Beatrice his daughter, then widow of Dodo, or Doun Bardolph, his heir, by which marriage this manor came to the said Doun, who very soon after parted with it to Hugh Bardolph, his cousin, who was son of Hameline, brother to Will. Bardolph, grandfather to the said Doun. This Hugh was sheriff of Cornwal anno 1184, one of the King's Lieutenants in England, when he was in Normandy in 1186, associate to the Bishop of Durham and Ely, to administer justice in the realm, during the King's absence in the Holy-Land, being in such high esteem with King Richard, that in the third year of his reign, (1191,) when he was in the Holy-Land, and suspected his Chancellor, (to whom he had chiefly committed the charge of governing in his absence,) he wrote his letter to Hugh Bardolph and others, requiring them, that if the Chancellor did not do as he ought, they should take upon them the rule in all things; from which time he was one of the King's justices for some years, as also justice itinerant, of whose warlike actions and honours more may be seen in Mr. Dugdale's Baronage. (Vol I. 284.) He died in 1203, (fn. 7) the 5th year of King John's reign, without issue male, leaving Robert Bardolph, his only brother, his heir, and a widow, who after married John de Brahose, whom she outlived. This Robert was a priest, and parson or rector of no less than thirty churches, an argument of his interest with the Pope at that time, who usually used to grant, by way of proviso, (as it was called,) many rectories to one man, under pretence that the income, over and above serving them, should go towards the expenses of the holy war, the darling enterprise of that age. Robert died in 1224, leaving his inheritance divisible among his five sisters, of which Isolda (as the Latin Records) or Odoyne, (as the French,) the eldest, married Sir Henry de Grey, Knt. to whose share this manor, with others, was allotted; by Isolda he had six sons, to the second of which he gave this manor, viz. John, some time justice of Chester, progenitor to the Greys of Wilton and Ruthyn; he was a most remarkable man in King Henry the Third's time, of whom you may see a large account in Dug. Bar. Vol. I. 713. In 1265, he held it of the Earl Warren at one fee, and died this year, leaving it to Reginald his son, who, in 1277, had free-warren allowed him; he died in 1307, leaving Henry his son and heir, 40 years old, and Roger, a younger son, by a second wife, (fn. 8) from which Henry the Greys of Wilton descended, and from Roger, those of Ruthyn. Roger died in 1352, but long before had parted with this manor, for in 1328, Sir Robert de Morley had an interest in it, if not the fee; and in 1345, Sir Anselm Marshall was sole lord, and held it united to Marshall's manor.
Beckhall Manor
Was in two parts in the Conqueror's time, the chief of it belonged to Aluric, a freeman, who held it of Bishop Osbern, who owned it in King Edward's time; it had then one carucate in demean, and woods that would maintain 100 hogs, the whole of that part being then worth 20s. and 40 at the survey. (fn. 9) The other part was only one socman, and his services, of 2s. value, which formerly belonged to Ely abbey, but after the Conquest, Roger Bygot's ancestors had him, of whom Berard held him. (fn. 10)
This manor afterwards came to the Crown, for when King Henry II. (anno 1175) assessed his demeans, his tenants of Banham were taxed at half a mark. (fn. 11)
It was after in the Bygods, and then in the Munchensies, of whom John de Jerpenville held it, who divided it; for William, son of Will. de Banham, in 1218, held a good part of it of the said John; and in 1235, the said William held it of Warin de Munchensi, as part of the fees of Roger Rigot. (fn. 12)
In 1237, Peter de Kenet and Isolda his wife, settled a moiety on Amy, widow of Ralf de Banham, in dower.
In 1249, Warin de Munchensy and John de Plessy, had that part called Banham Haugh, which was excepted when the manor was sold.
In 1288, Robert Rose, Wm. Genner, and Wm. le Parker held it.
In 1305, John de Bek (fn. 13) of Banham settled it on Nicholas de Stanhou, and Isolda, wife of the said John.
In 1311, John, son of John de Bek of Banham, divided it into several parts; he conveyed to Richard le Forester (or Foster) of Herling 25 acres, with a part of the manor, and divers bondmen; Isolda de Bek, his mother, conveyed her right in 40 acres of land, to the said Richard, which John de Bek her husband had settled on her, and Nicholas de Stanhou, her trustee; soon after the manor was settled by John and Isolda, on Robert Cleryz, (or Clere,) of Stokesby, who had another conveyance of it from John, son of James de Eggemere, at which time he settled it on himself and Maud his wife, Robert Cleryz, his son, and John, his second son. In 1317, John de Bek conveyed a part to Will. de Crungethorp and Alice his wife. In 1323, it was held of Will. de Banham, but was divided by this John, into so many parts, and each called Bekhall manor, that it is impossible to know how they all went, except the biggest part, to which all the rest were afterwards joined; and that in 1329, was owned by William de Claydon, and Eleanor his wife, and soon after was settled by Thomas de Newton, and Elizabeth his wife, (daughter and coheiress of Claydon,) on John Oliver of Stanway in Essex, to whom Bartholomew de Bek released his right in 1338. In 1345, the heirs of John de Claydon, and his tenants of the other part, viz. Walter Snovile, Simon Le-Cotere, Nicholas de Stanhowe, and others, held a moiety of it of Hugh Le-Vere, he of the Earl-Marshal, and he of the King. (fn. 14) In 1374, Peter de Bekhall conveyed his right in the moiety (which was now reckoned as a whole manor) to Thomas Asty and his heirs, Tho. de Chaunticlere being trustee; and soon after it was settled in reversion on John Oliver of Stanway, in Essex, after Thomas de Hardell's death, who held it by the courtesy of England, after his wife's death, who was heiress to it.
In 1381, Tho. de Newton, and Elizabeth his wife, settled a moiety of Bekhall on John Clervaux, clerk, &c.
In 1401, John Darlington had it, and from that time till it came to the Duke of Norfolk in Henry the Eighth's time I am ignorant how it went; but at his attainder, it was given to Sir Francis Calthorp of Ingham, and in 1558, Will. Calthorp of Hempstead had it, after which it soon came to the Norfolk family again, Sir John Tirrell releasing it as aforesaid. (fn. 15)
In 1226, Stephen de Ebroic, lord of Wylby, (who held part of the carucate of land in Banham, that was given to York abbey, which part always was included in Wilby manor, after he had purchased it of Walter, son of Walter Giffard, who sold the rest to the Marshalls,) had a grant for a fair and market in Banham; the market hath been disused time immemorial, but the fair is still kept on St. Barnabas's day.
In 1285, Roger Bigot Earl of Norfolk claimed assize of bread and ale in Lopham and Banham, but as to Banham, he acknowledged that it belonged not to him, but to Roger de Montealt, lord of the hundred. It was thought to belong to him on account of Bekhall manor, which was held of him; the Countess of Arundell had liberty of a gallows here in 1256, and Grey's manor was then held of her.
The Hawe
Was part of Beckhall manor which was excepted when it was sold, and therefore that passed with Winfarthing manor, (fn. 16) in the Munchensies, Veres, and other families that owned it; it was no manor, but was originally part of the demeans of Beckhall, and contained 220 acres of wood and pasture, with a messuage thereon built; it abuts east and south on Banham Heath. In 1311, Sir Hugh Le-Vere and Dionise his wife, then owners of it, purchased of Richard Le Forester of Herling a parcel of land of Overhaghe in Banham, under the said Hugh's wood, called Banham Haghe, extending itself from the common pasture, lying at the head of the said land, and was only 10 feet broad, it being in order to enclose the Haghe. This came with Winfarthing manor to the Norfolk family, and was farmed under them by Sir Henry Dye, Knt. in 1607; it was after sold off, and hath continued in private hands ever since.
Banham Heath
Is a large common containing above 1200 acres of land, lying in the parishes of Banham and Winfarthing, and in ancient evidences is divided into three parts: the whole that lies in Winfarthing is called Winfarthing Chase; (see fol. 189, 190,) the part that joins to Tibenham, Carleton, and New Bokenham, is called Banham Outwood, and contains 300 acres; the part that joins to Banham is called Banham Green, and contains 300 acres more; on all which the tenants and inhabitants of Banham and Winfarthing only have right of commonage, and are intercommoners, each having the drift of their separate parts, and can common all manner of great cattle, as well as sheep, at all times of the year. In King James the First's time, viz. 1618, there was a long suit between the townsmen of Banham, and the townsmen of Tibenham, concerning the right of commonage upon this heath, the substance of which was this; the townsmen of Tibenham claimed an original right of commonage on the 300 acres called Banham Outwood in Banham, in right of their copyhold lands and tenements, held of the manor of Tibenham, and common of vicinage on Banham Green, there being no fences or ditches between Banham Outwood and Banham Green; but upon the trial, the townsmen of Tibenham were cast, and paid 30l. damages and costs, it being found by the jury that the lord of Tibenham manor, and his tenants, had no original right on Banham Outwood, nor no common of vicinage on Banham Green; and whereas there were divers tenants of the manor of Tibenham, that claimed right of commonage for set numbers of sheep, going on this heath, by the giants of divers of the former lords of the manor of Banham, all which commonages were held by copy of court-roll (fn. 17) of the manor of Banham in fee, by a fine of 10s. paid at every death, and two hens a year for the pasturage of every six score sheep thereon, John Clark of Banham (in behalf of the parish of Banham) brought his action against Mathew Buxton of Tibenham, for feeding 60 sheep and one ram on the heath, according to the grant of the lord of the manor of Banham, made to the owner of his tenement, called Easthangles in Tibenham, and recovered damages and costs, it being found by the jury, that such customary pasturage and commonage was not to be demised, neither was it to be demisible by copy of court-roll, by the lord of the manor of Banham, to any customary tenant whatever: upon which all the commonages.of this nature were set aside. An exemplification of the whole under seal, dated Febr. 13, 1625, now lies in Banham Town Chest.
In 1611, there were three separate juries, one for each manor, and the leet belonged to the manor, the leet fee being 3s. 4d.
This town paid 4l. for a whole tenth, and is now assessed at 1439l. 5s. to the land-tax. In 1603, it had 400 communicants, and now [1736] there are 126 dwelling-houses, and 650 inhabitants. It is a pretty village, standing round a small green, the church being on its west side.
This rectory is in Norfolk archdeaconry and Rockland deanery; it hath a good parsonage-house joining to the west side of the churchyard, and 37 acres 2 roods of glebe.
King's Books.
Tenths.
Synodals.
Archd. Procur.
Lincoln Taxat.
Thetf. Pens. (fn. 18)
York and Rumburgh Pens. (fn. 19)
6
3
6
1q.
0
18
4
1q.
0
1
0
0
7
7ob.
36 marks.
0
13
4
1
16
0
Rectors.
1310, kal. March, Sir James de Salucijs, son of the noble Sir John de Salucijs, was instituted by his proxy, Belingarius de Quibano, rector of Clippestone in Lincolnshire, at the command of R. Abbot of Messendene, in Lincolnshire, (fn. 20) executor of the apostolic indulgence, granted to the said Sir James, by Pope Clement V. The Abbot of St. Mary at York.
1329, 18 kal. Jan. Robert de Caue, priest. The King, on account of the late vacancy of the abbey, in his father's hands.
1331, 17 kal. June, Thomas de Staunton, priest; Caue resigned. The King, the abbey being void.
1344, 4 October, Will. Galeys, priest; Staunton resigned. The Abbot.
1350, 21 March, James Bek, priest. Mary Countess of Norfolk.
1360, William de Hawe, parson of B. (fn. 21)
1361, 13 Aug. William de Cotyngham, priest.
1361,11 Octob. John Clervaux, priest, on Cotyngham's resignation. (fn. 22) They exchanged for a prebend in the chapel of St. Mary and all the English Saints at York. The Abbot.
1378, 4 Dec. Mr. Adam de Lakinhith, priest; Clervaux resigned. He exchanged for Groundesburgh in Suffolk.
1391, 7 August, Andrew de Bondeby, priest.
1393, 3 April, he changed with Henry Harburgh, for the rectory of Collingbourne Abbots, in Salisbury diocese.
1393, 20 Dec. Harburg changed with Tho. atte Ende for a canonry in Wells, church, and the prebend of Codeworth there.
1394, 8 June, atte Ende exchanged with John Juel, for Anneport vicarage in Winchester diocese.
1394, 5 July, Thomas Jewel exchanged with Nich. Saresbury, for Stockton, in Salisbury diocese.
1401, 12 June, John Pygot, shaveling, on Saresbury's resignation.
1443, 8 April, John Cotyngham, priest.
1445, 8 October, Stephen Cloos, priest, scholar in divinity, on Cotyngham's death. John Abbot of York.
1452, 18 July, Cloos resigned, and Henry Cossey (fn. 23) succeeded.
1483, 24 Sept. Richard Hoog, on Cossey's death.
1496, 24 Febr. John Longe, A.M. on Hoog's death. William Bishop of Carlisle, Abbot of St. Marie's at York.
1516, 9 June, Roger Darley, on Longe's resignation.
1518, 4 June, Sir Brian Stapleton, on Dorleigh's death.
1520, 26 Octob. Rowland Lee, doctor of the decrees, on Stapleton's death. In 1534, he was consecrated Bishop of Litchfield and Coventry, and so voided this living.
1534, 23 May, George, or Gregory Greves. (All these were presented by he abbot)
1539, 14 Aug. Barnaby Kirkebride, on Greves's death. Percivall, Michael, and John Kirkebride, and John Snell, by grant of the turn from the late Abbot.
1562, 14 July, William Tompson, priest, on Kirkebride's death. John Eglesfield, Esq. by grant of the turn, from William, late Abbot of York.
1577, 18 July, Richard Stokes. Queen Elizabeth; from which time it hath been in the crown, and so continues.
1587, 27 June, Daniel Reeve, S.T.B. in 1603, D.D. and rector of Quidenham.
1628, 9 May, Humfry Tovey, B.D. buried here.
1640, 23 June, Robert Caddiman or Cademan, on Tovey's death.
1671, 13 June, John Gibbs, A.M. on Cademan's death, who was succeeded by
Mr. Charles Kidman, who held it united to Twait in Suffolk, of which he is now rector, having resigned Banham.
1735, 12 April, the Rev. Mr. John Kerrich, the present [1736] rector, on Mr. Kidman's resignation. The King.
Mr. Kerrich bears sab. on a pile in point ar. a caltrap of the field, a martlet for difference.
The Tindals, alias Kendals, had a very good estate here, to which family Cambden, Clarencieux, granted arms in July 1611, viz. to John Tindall of Dicleburgh, son of John Tindall of Banham, son of John Tindall of Bokenham,
Or, five mascles in cross, and a chief indented gul. Crest, a hand proper, holding a cross of five mascles gul.
This grant, in 1685, was in the hands of Mr. Tindall of Banham. The heir male of this family is Mr. Robert Tindall, who lately sold the estate at Banham, and lives at Ratlesden in Suffolk [1736].
The family of the Kendals, Clarks, Leches, and Colbys, (fn. 24) were all considerable owners in this parish in 1483, and none of them are yet extinct.
The Church is dedicated to St. Mary the Virgin, and is a regular building, 45 yards long, having a nave, two isles, chancel, south porch, and vestry, all leaded; a square tower, with a spire of wood covered with lead, on its top, and in it five bells, a clock and saints bell.
In the south isle is an altar tomb for Mr. Robert Clark, who died June the 18, 1685, aged 59. But is Clark dead ? What dost thou say, His Soul's Alive, his Body here doth lie, But in a Sleep, untill the Judgment Day, And live he shall unto Eternity. Men Say he's dead, I say so too, And e're a while, they'll say the same of you. (fn. 25)
On stones in the chancel,
Hic jacet Humfridus Tovey, in Theologiâ Baccalaureus, nuper hujus Ecclesiae Rector, qui obijt Vicessimo primo die Maij Anno Domini 1640. (fn. 26)
John Bringloe, Gent. died the ninth of March, 1683, John his Eldest Son July 3, 1714, aged 60 years. Also Awdry, wife of the last John, 26 Jan. 1713. (fn. 27)
In the north isle, at the east end, is a chapel or chantry, divided from the church by screens handsomely painted; in a niche in the wall lies a knight in armour; (founder of the church, if not, of this isle at least, though I am apt to think the former, because the whole building appears as if built at one time;) it is oak, carved; there is, no inscription remaining, but yet it is plain that it was made for Sir Hugh Bardolph, Knt. some time lord of Grey's manor in this town, who died 1203, for under his left arm is a large cinquefoil, which is the badge of that family; and in the adjoining window are his arms, impaling Morley, which induces me to think he married one of that family. This Sir Hugh was with King Richard I. at Messina in Sicily, being one of those who, on the behalf of that King, undertook that the articles of peace and friendship, which were then agreed on betwixt King Richard and Tancred King of Sicily should be firmly kept, in order to carry on the holy wars, as they were called. This tomb is very antique and perfect, as the following representation will shew you, for which I own myself much obliged to the Rev, Mr. Kerrich, the rector.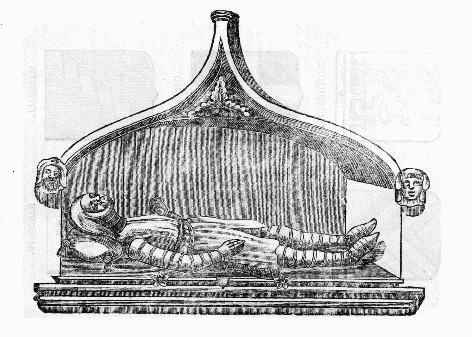 The windows of the chapel, and those of the church, were adorned with the following arms, of the lords of this town, and others related to them, many of which now remain.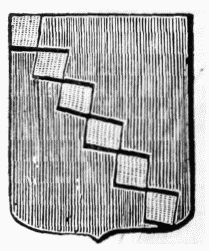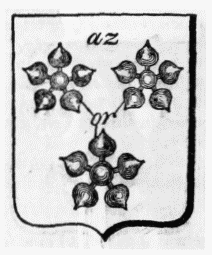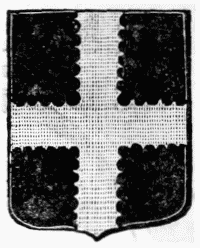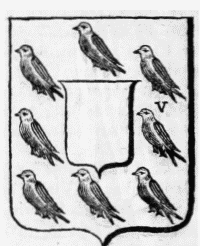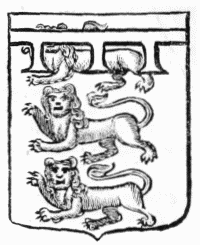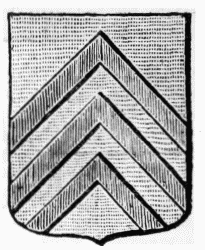 And besides these, there were the arms of Morley, Kerdeston, Caily, Bavent, impaling arg. a cross ingrailed az. Marshall impaling Tirrell. Tirrell single. Bassingbourne and Gawdy. Clare impaling Plantaginet.
In the east window a broken effigies of Bardolph.
This chapel belonged to the lords of the manors, who founded a chantry priest to sing for the dead in it: and in 1419, Will. Morley was chaplain; in 1392, Hen. Colred; and in 1474, Tho. Sething.
Opposite, in the south isle, was another chapel, heretofore belonging to the gilds of the Holy Trinity and St. Mary in this town, to both which William Gye was a benefactor in 1479.
1410, Reginald Manifrey, chaplain.
1474, John Wisse, chaplain.
1479, Reginald Btnitownne, was chaplain here.
1505, John Glover, chaplain, to whom Roger Midilton, who was then buried in this church, gave a legacy, and 53s. 8d. to repair the church.
In the chancel, in a north window, was an effigies in a religious habit, with a broken scroll from his mouth, on which,
Supplicat hic Ehomas (fn. 28)
Here was a parcel of land given in Henry the Seventh's time, to find lamps before Trinity altar, called Lamp-Loud.
The ancient names of the streets are, Cherchegate, Tycknald, Freschenale, Westmor, Hardwick, and Westgate.
The crosses were Smalmor Cross, White Cross, Atte Borghe, and Alforthe Cross. Seynt Maries-Meer, and Banham-Gap are often mentioned in evidences.
1429, Peter Payn of Banham gave to West-Acre prior 6s. 8d.; to the canons there 13s. 4d.; to the brethren of every house of friars in Norwich x.s. to say 100 masses for his soul; to each house of the friars at Thetford x.s. for 100 masses for his soul; to the prioress of the nuns at Thetford 6s. 8d.; and to the convent 6s. 8d.; to the chapel of the Blessed Virgin at Thetford 6s. 8d.; to the repairing St. Peter's church 6s. 8d.: he ordered to be buried in Banham churchyard, and gave 40s. to be divided among the poor at his burial; to every lazar-house at Norwich 3s. 4d.; to the chapel of the Blessed Virgin at Buckyngham 13s. 4d. to mend Hardewyk way in Banham 40s. and 40s. more to set up a cross at the end of it, where the way parts; Edmund atte Welle, clerk, and others, were executors; the will was proved the same year.
In 1437, John Ropere of Banham gave 12s. to the lamp that burns before the image of the Virgin Mary in the church.
In 1462, Jeffry Canne was executor to Bartholomew Canne, senior, of Banham, who gave 5 marks to buy a new vestment to the red cope.
Mr. Kidman hath two brasses, which came off a stone in this church, containing inscriptions of the same purport, one in Latin, the other in English, viz.
Hic iacet Dna. Elizabetha Wounteneye, quondam Driorissa, huius Loci, que obiit rro die Mensis Aprilis, Anno Dom: MCCCCCo rbiiijo ruius aic: propicietur Deus.
Praye for the Somle of Dame Elizabethe Mountemey, sometime Prioress, of this Place.
It hath occasioned much surmise how this inscription should be true, when there was never any priory in this place; but the mystery lies in the impropriety of the wording the inscription, for the words of this place, do not refer to her being prioress, but to herself, she being born here, where her family for many generations had a good estate, and afterwards removed to Wilby, for she was prioress of the monastery of nuns, of St George the Martyr at Thetford, for in the 12th Institution Book I read thus: in 1498, the 15th of Sept. the Bishop confirmed the election of the lady Elizabeth Mownteneye, a nun of the priory of St. George at Thetford, of the Benedictine order, who was elected prioress there, at the death of the lady Joan Eyton, by the president and convent of the said house.
Town lands.
In 1631, Thomas Canne, only surviving feoffee of the freehold town lands of Banham, renewed the feoffment to Thomas Colby, son and heir apparent of Thomas Colby, S.T. P.; Thomas, eldest son of Richard Tindal, Gent.; Robert, son of Daniel Clark, Gent.; Warwick, son and heir of Robert Dade of Thelvetham, clerk, and heir apparent of Rowland Warwick of Banham, his grandfather, and others, settling all the following lands on them and their heirs, " for the profit and advantage of all the inhabitants of the town of Banham for ever."
A close of pasture by Oxneye Meere, in three pieces, the whole containing one acre, one rood and an half, abutting on Banham Great Green east. One rood of it was purchased in 1438, the rest in 1471.
One acre in two pieces in Banham; the first lies at Langcroft, and abuts on the way leading from Alforth Cross to Banham Moor, south, and upon Wilby-Lawnd, now called Wilby-Warren, north; the second piece lies at Thwart-Furlong, this was given in 1473 by Edward Knith, clerk.
Two roods in Banham, in two pieces; the first rood lies at Muspese, and the second in Brimli-wong. This was town land in 1484.
Two acres in Broad-Meadow at Wanfen in Lancroft-Furlong; one acre of this was purchased by the inhabitants in 1571, and the other acre was town land in 1512.
One pightle, called Le Leete pightle, containing one acre and an half, abutting on the common called Grissell-Moor. The leet fee is to be paid yearly out of the rent of this land.
One close called Semere-Wong, containing 7 acres and three roods in Banham, abutting on Nete-Gale way, which leads to the Moor, east. This was town land in Henry the Eighth's time.
One close called the Breche, and now the Town Close, containing 10 acres in Banham, which formerly was Edward Cann's, and then abutted on the land of Ambrose Norris, jun. west, the lord's lands, east, the lord's wood, called the Great Wood, south, and the land of Tho. Reve, senior, north. The inhabitants had it of Sir Tho. Tirrel of Gipping in Suffolk, Knt. A° 1564.
In 1544, (fn. 29) Henry Cotessey, or Cossey, clerk, rector here, settled a messuage called the Gild-Hall, (which was copyhold on Grey's cum Beckhall manor,) on Edward Colby and Tho. Canne, who were to hold it to this intention and use, viz. to keep the obit of the said Henry in the church of Banham, on the vigil and day of St. Margaret the Virgin, and to cause mass to be celebrated for him on that day, &c.; they held it till 1549, for that use, and then it fell to the lord by vertue of the statute, who seized it accordingly, and then granted it to divers feoffees, who were to hold it "to the use and profit of all the copyhold tenants of Banham manor, inhabiting in Banham, upon condition, that the lord of the manor and his heirs, by himself, his servants, officers, or deputies, shall for ever have liberty to hold and keep his courts and leet for the said manor, in the said messuage, with free ingress, egress, and regress, for all the tenants, to do their business at such courts, without the contradiction or molestation of any one."
The feoffees also hold by copy of court-roll of the said manor, a' parcel of ground, with a house thereon built, being 27 feet broad, and 13 feet long.
Here was a small oratory or hermitage, at a place called Stonebridge, the foundation of which may still [1736] be seen.
The half of this hundred towards Thetford is champaign, the land being very light and sandy; the other is heavy ground, and enclosed; it produces plenty of grain of all kinds, and in the champaign part there are good flocks of sheep; the soil there is chiefly a chalk under the sand.