Pages 119-123
An Essay Towards A Topographical History of the County of Norfolk: Volume 8. Originally published by W Miller, London, 1808.
This free content was digitised by double rekeying. All rights reserved.
GUNTON.
This town was granted to William Beaufoe Bishop of Thetford, by the Conqueror, and held in his own right as a lay fee. Agelmar, or Almar, Bishop of Elmham, bought it in the reign of the Confessor.
It consisted of 2 carucates of land, 8 villains, 6 bordarers, one carucate in demean, 2 among the tenants, 4 acres and an half of meadow, one mill, one beast for carriage, one cow, &c. and 7 socmen had half a carucate of land with one bordarer, a mill, and half an acre of meadow; and 2 carucates valued then at 20s. at the survey at 4l. per ann. was half a leuca long, 6 furlongs broad, and paid 6d. 3 farthings gelt; of the 2 carucates, William Denvers held one, and there was one besides his, valued at 12s. (fn. 1) and accounted for in the Bishop's manor of Langham; Agelmer Bishop of Elmham, who purchased it, being deprived by a synod in 1070, and dying probably soon after, William Beaufoe obtained it of the Conqueror, and on his death gave it to his see. In 1122, Matthew de Gunton was lord of it; Sir Roger de Gunton and Thomas de Gunton, probably his sons, succeeded him, and each held a moiety or manor called Overhall, and Netherall, held of the Bishop.
Sir Roger de Gunton, son of Sir Roger, was father of Matthew de Gunton, (living in the 19th of Henry III.) and gave in marriage with his daughter to Roger Barr, 100s. rent here. Mathew de Gunton, son of Sir Roger, by deed, sans date, granted to William, son of William de Stalham, with Isabel his daughter, in free marriage, 100s. rent in Uurdestede, (Worstede) and Dalling, with several homages, services, customary dues, &c. to be held of him and his heirs, and if he cannot warrant it, to exchange it for lands in Gunton, or Martham manor; witnesses, Sir William de Kerdeston, Roger his son, Alexander de Vaux, Regind. le Gross, Simon de Noers, &c. His seal to it is about the size of a crown-piece, and is three lozengy-buckles, and made of rye dough, circumscribed, Sigillum Mathei de Gunton; and in 1323, Sir Roger de Gunton, as lord of a moiety, presented to this church, and John de Gunton in 1343 and 1349.
Sir Walter de Gunton, by Adelicia his wife, left a daughter and heir, Milecentia, who brought it by marriage to Sir Walter de Walcot, whose son, Sir Walter, marrying Joan, daughter and heir of William, 2d son of Sir William Clopton, left 4 daughters and coheirs; Margaret, the wife of Sir Robert Berney of Wichingham, relict of Roger de Welesham; Elizabeth, wife of Ralph Bray, or rather of William Wylton of Wichampton in Norfolk; Catherine, of John Dorward, Esq; and Margery, a nun, at Carhow abbey near Norwich. Joan, after the decease of her husband, Walcot, married Sir Roger Beauchamp; and on May 15, 1374, letters of administration of all the goods, &c. of Sir Roger Beauchamp, were granted to her.
Sir Robert Berney purchased by fine, in the 19th of Richard II. the part or share of Elizabeth, wife of William Wilton; and before this, John Dorward, and Catherine his wife, conveyed all their right to him in the 11th of the said King, and was found to hold half a fee of the Bishop of Norwich; in the 17th of Edward IV. John Berney, Esq. died seized of it, of Streto, and Cley Hall in Wichingham, Holbrook's in Seething, &c.
Robert Berney dying lord in the 2d of Henry VII. that King granted in the following year to Sir Ralph Shelton, the custody of the lands and marriage of Ralph Berney, his brother and heir; this Ralph married Ann, daughter of Richard Southwell, Esq. of Wood-Rysing, and died about the 27th of Henry VIII. held of the Bishop by one fee. Robert was his son and heir, who by Susan his wife, daughter of Sir Henry Fermour, Knt. of East Barsham, had several sons and daughters. He was lord of Gunton-Overhall and Netherhall, Cley Hall, and Strete Hall in Wichingham; in his will, dated October7, 1558, he requires to be buried in the chancel of Gunton church by his wife; names Martin, John, Thomas, and Kenelm his sons, (d) Margaret and Winefred, his daughters; appoints Robert Holditch, his brother, John Berney, his brother-in-law, John Corbet, Esq. and Henry Baynell, executors, and Sir Richard Southwell, supervisor. Margaret, his daughter, married to Edmund Lyndsey, and Winfred to Philip Lewgar; he died September 29 following; Martin was found to be his son and heir, aged 23, who by Margaret, daughter of Robert Flynte of Elingham, Gent. was father of Francis; he married Mary, daughter of Thomas Farmer, Esq. of East Barsham, and was father of Thomas Berney. This Francis sold Gunton to John Jermy, Esq. councellor of Norwich, son of Robert Jermy, of Antingham, and Ann his wife, daughter of Richard Calthorp, of Antingham, Esq. John married first, Mary, daughter of Thomas Moulson, by whom he had Ann, married to Arthur Turner, Esq. of Parendon in Essex; his 2d wife was Elianor, daughter of John Jermy of Stutton, in Suffolk, Gent. by whom he had Francis his eldest son, and John Jermy, Esq. his 2d son, lord of Gunton, who was father of Francis, and married —, daughter of William Payne of Norwich, attorney. Francis sold this lordship to John Harbord, Esq. (4th son of Sir Charles Harbord, Knt. surveyorgeneral,) colonel of the militia, who died by a fall from his horse, September 28, 1710, leaving the greatest part of his estate to Harbord Cropley, Esq. son of Colonel William Cropley, who married Catherine, his sister, daughter of Sir Charles Harbord.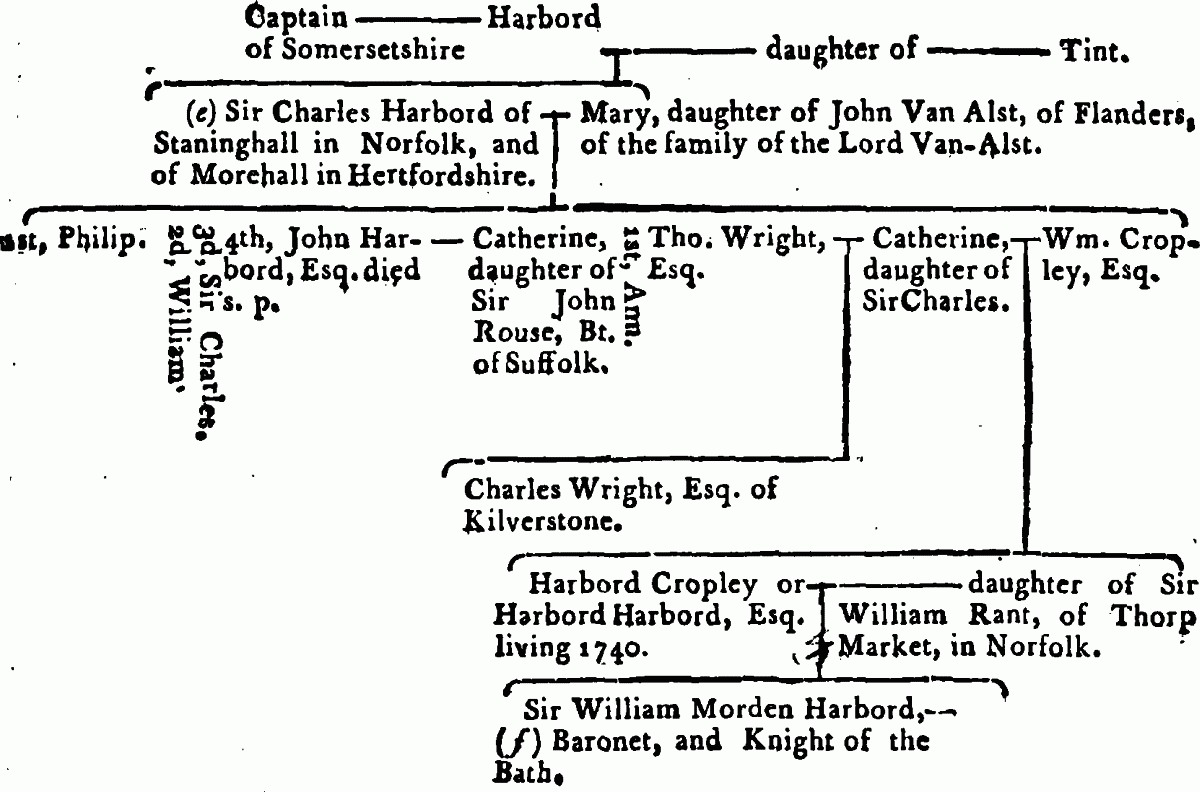 Sir Charles Harbord was surveyor-general to King Charles I. and II. he died in 1679, aged 84, and was buried at Besthorp, in Norfolk, where, against the north wall, is a monument in remembrance of him.
(e) Sir Charles, by Mary his wife, had several children; Philip, his eldest son, married Ann, daughter of Sir William Drury of Besthorp in Norfolk, and coheir of Anthony, her brother.
William Harbord, Esq. the 2d son, and surveyor - general, was of Cadbury in Somersetshire, married first, Mary, daughter of Dr. Duck of Cadbury, LL. D. by whom he had three daughters and coheirs; and by his 2d wife, Catherine, daughter of — Russell, sister of the admiral who was Earl of Orford, left one daughter; he built an hospital at Thetford, and settled 30l. per ann. for 6 poor people, and died at Belgrade in July, 1692.
Sir Charles Harbord, the 3d son, was captain of a man of war, and killed in a sea fight against the Dutch, in 1672, and buried in Westminster abbey.
John Harbord, Esq. 4th son, lord of Gunton, died without issue, and left his estate to his nephew, Harbord Cropley son of William Cropley, Esq. by Catherine, his sister, 3d daughter of Sir Charles Harbord, and reliet of Thomas Wright, Esq. of Kilverstone in Norfolk; William Cropley, Esq. was of Stelland-Hall in Suffolk, and of Thetford in Norfolk.
Anne, the eldest daughter of Sir Charles, married — Newman, Esq. and Hester, the 2d daughter, — Britiffe, Esq. of Cley.
(f) Sir William, created baronet in 1446, March 29, and also was Knight of the Bath; he bore quarterly, argent and gules, four lions rampant, counterchanged, and in the fess point, a cap of maintenance.
Harbord Harbord, Esq. his son and heir, married in 1760, a daughter of Sir Ralph Ashton, Bart. of Lancashire, and is member of parliament for Norwich.
The arms of Gunton were azure, three buckles lozengy, or, Welesham, sable, two bars, and in chief, three cinquefoils, or. Lyndsey bore, or, an eagle displayed, gules, beaked, &c. azure. Lewgar, argent, a raguly, vert. between three escallops, gules. Flynt, sable, on a chevron engrailed, argent, two lions combatant, gules, between three crescents, ermin.
Bartholomew de Gunton had an interest or lordship in this town, in the reign of Richard I. as appears by a roll in the Exchequer; (fn. 2) as had John de Gunton, who was brother of Matthew, who died without issue in the 5th of Edward I. his sisters and coheirs, were Isabella, married to Roger de Bavent; (fn. 3) Margaret, to John de Melwode, alias Methwold; Catherine to Simon de Lenne, alias de Lincoln; Sibilla to John de Gymingham, and Juliana to Simon Peche.
John de Methelwold was patron in right of his wife, in the reign of Edward I. and in the 20th of that King, Simon de Lincoln, and Catherine his wife, conveyed a moiety of the manor of Gunton and advowson, to Robert Burnell Bishop of Bath and Wells; Sir Philip Burnell, the Bishop's heir and nephew, enjoyed it, and left it to his son, Sir Edward, who in the 6th of Edward II. released to Sir Walter de Norwich, for 80 marks, this manor, with lands and tenements in Thorpe Market, &c. Sir John de Norwich was lord in the 29th of Edward III.
After this, it came to the Berneys, and so was united to the other moiety.
At the survey, Alan Earl of Richmond had a socman with 12 acres of land, an acre and an half of meadow, valued at 5s. (fn. 4) This was held by the lords of the aforesaid manor.
The tenths were 2l. 0s. 6d.
Several towns take their names from the word Gun; as Gunton in Suffolk, Gunby in Yorkshire, Gunthorp in Norfolk, the name probably of some adjoining rivulet.
The Church is a rectory dedicated to St. Andrew. In the reign of Edward I. the rector had a manse and 30 acres of land, it was valued at 12 marks, and paid Peter-pence, 10d. The present valor is 8l. and is discharged.
Rectors.
Roger de Gunton, rector, died in 1323, and
Nicholas de Castleacre was instituted, presented by Sir Roger de Gunton.
1343, Richard de Westacre, by John de Gunton.
1349, Roger Bacon. Ditto.
1352, John de Waburn, by Sir Walter de Walcote.
John Boton, rector.
1353, John Jacob, by Sir Bartholomew de Antingham, Thomas de Clopton, &c.
1372, Robert Atte-Bure, by Sir Roger de Beauchamp.
1396, John Hales, by Sir Thomas Erpingham.
1431, Henry Swayn, by Oliver Gross, Edmund Winter, John Bacon, and Sir Thomas de Erpingham.
1443, William Fuller, by John Berney of Wichingham.
1458, Henry Bolt, by the Bishop, a lapse.
1458, Regind. Steyne. by John Paston, William Alyngton, &c. Esq.
1464, Thomas Messenger, by John, senior, &c.
1469, John Stanton, by Sir Thomas Brews, and Ralph Shelton, Esq.
1477, William Broke, by John Bernard, Esq. and Joan, his wife.
1516, William Toke, by Ralph Berney, Esq.
1521, John Delehaut. Ditto.
William Buck occurs in 1550.
1558, John Ridley, by the Bishop's vicar general, a lapse.
1563, John Stout, by Giles Fenn, on a grant from Mart. Berney.
1576, William Harmer, by Mart. Berney, Esq.
1579, William Bentley, by the Queen, a lapse.
1580, William Vowell. Ditto.
1580, William Hall. Ditto; he returned in 1603, 60 communicants.
1614, Robert Flight, A. M. by Ambr. Randolph, Esq.
1620, Christopher Gosse, by John Jermy, and Alianore his wife.
1638, John Farey, A. M. by Alianore Jermy, widow.
1661, Anthony Jermy, A. M. by John Jermy, Esq.
1724, Robert Cremer, by Harbord Harbord, Esq.
1732, John Tayleur, by Harbord Harbord, Esq.
1757, John Tayleur.
On a gravestone in the chancel, a plate of brass,
In memory of Robert Berney, Esq. and Susanna his wife, who had 21 children: Robert departed this life November 25, 1558, and Susanna December 25, 1557.
Orate p. a' i' a. Johs. Codon filii Georgii Codon armig — Cuddon, argent, a chevron, gules, on a chief, azure, three bezants, impaling Berney.
In 1509, Thomas Martyn, Gent. buried in the church of St. Andrew of Gunton; another register, ao. 1374, (fn. 5) called St. Peter's of Gunton.
In the church windows, Berney impaling Fermer—sable, a bend ingrailed, between thirteen billets, argent,—Allington.—Berney impaling Allington.—Berney impaling Southwell.—Erpingham.—Argent, a fess dauncy, gules, between three eagles displayed, sable, Elmham or Leeds.—Two grey hounds endorsed, reguardant, sable, collared, gules, Bernard.