Pages 180-183
A History of the County of Chester: Volume 5 Part 2, the City of Chester: Culture, Buildings, Institutions. Originally published by Victoria County History, London, 2005.
This free content was digitised by double rekeying. All rights reserved.
OTHER CHURCHES
The churches in this chapter are arranged in chronological order of their appearance in Chester.
Many Protestant refugees from France and the Rhenish Palatinate passed through Chester in the late 17th and the early 18th century en route for Ireland, (fn. 2) notably a party of over 3,000 Palatines who arrived in the city during a three-week period in 1709 and were assisted by the Presbyterian minister Matthew Henry. (fn. 3) Others were in transit in 1713–14. (fn. 4) Some must have stayed, at least for a few years, since there was a French church at Chester in the 1710s. Jacques Denis was its minister in 1713, (fn. 5) but left for Ireland to serve the French church at Waterford in 1716. (fn. 6) His successor at Chester was M. Cortail, who was granted a royal pension in 1717 for the duration of his tenure. (fn. 7) The congregation was evidently conformist and its ministers presumably held services in one of the city churches.
Unitarians
Unitarian beliefs took hold in Trinity Street, at Matthew Henry's chapel (originally Presbyterian) in the mid 18th century and the remaining Trinitarians seceded in 1768 to a new Congregational church. (fn. 8) By 1778 the number of Unitarians had greatly declined, (fn. 9) and in 1822 the congregation, though 'highly respectable', was still small. (fn. 10) Maintenance of the minister, chapel, and Sunday school was assisted by charities established in 1640 and 1797. (fn. 11) The congregation remained small in the mid 19th century, (fn. 12) when the morning service on Census Sunday 1851 was attended by 102 adults and children. (fn. 13)
The Unitarians, as in other towns, were socially select, drawn from leading families in business and the professions, including the Frosts, the Moulsons (tobacco manufacturers), the Woods (of the anchor works at Saltney), the Brasseys (ironmongers), and the Johnsons (of the Hydraulic Engineering Co.). (fn. 14) Their wealth allowed for frequent improvements to the chapel, notably in 1862 when it was virtually rebuilt with a new front facing Trinity Street. (fn. 15) In 1902 the chemicals magnate and M.P. Sir John Brunner, Bt., a chapel trustee, paid for windows commemorating Matthew Henry and the prominent Unitarian James Martineau (d. 1900), and the galleries were rearranged in 1908. (fn. 16) The minister for much of the later 19th century, J. K. Montgomery (1860–96), was an influential figure in the city, notably in educational matters. (fn. 17) He introduced a congregational form of chapel government, an issue over which his predecessor had been forced to resign. (fn. 18)
In 1962 the chapel was closed for demolition during the redevelopment of the city centre, and the congregation worshipped at no. 16 Upper Northgate Street, (fn. 19) before building a new church to an uncompromising modernist design in the middle of a new housing estate at Blacon, but incorporating many of the fittings from Trinity Street, including the pulpit of 1700 and Brunner's windows. It opened in 1965 with the old name of Matthew Henry's chapel. (fn. 20) By the mid 1980s the dwindling congregation was unable to maintain the building, which it sold in 1989 to an evangelical church. (fn. 21) The Unitarians continued to meet fortnightly under the name of the Matthew Henry Fellowship, alternating between Stanley Palace and Waverton village hall, and in 1995 shared a minister with the Unitarian church at West Kirby and had c. 15 members. (fn. 22)
Church of Jesus Christ of Latter-day Saints
A Mormon evening service in Chester on Census Sunday 1851 drew 250 people, one of the largest gatherings anywhere in England in relation to the city's size. Morning and afternoon services were attended by 30 members. (fn. 23) The branch probably faded away through emigration to Utah. Services were again being held in 1908, over a shop in Northgate Street, with baptisms at the corporation baths, (fn. 24) but again they did not last. A third missionary effort resulted in the establishment of a church c. 1961. It met initially in the Newgate Street assembly rooms, from c. 1964 at Stanley Palace, and in 1965 built a church in Clifton Drive, Blacon. Before 1965 baptisms were held in the corporation baths, and later in the church at Rhyl (Flints.). The Chester branch was large enough by c. 1967 to have its own bishop, and in 1995 had c. 350 members and an average attendance of c. 110. (fn. 25)
Catholic Apostolic Church
Members of the Catholic Apostolic church worshipped in a room over the post office in St. John Street before opening a church seating 250 in 1868 at the corner of Lorne Street and Church Street, off Garden Lane. The church, designed in an Early English style by O. Ayliffe of Manchester, was built of red brick with bands of blue brick and stone and had mostly lancet windows with a traceried west window and a west porch (Fig. 102, p. 182). The congregation had its own priest, (fn. 26) who held daily services in 1871. (fn. 27) The church was evidently still meeting in 1941 (fn. 28) and probably disbanded in 1946, when the registration was cancelled. (fn. 29) The building was sold in 1952 and demolished to make way for the inner ring-road in 1964. (fn. 30)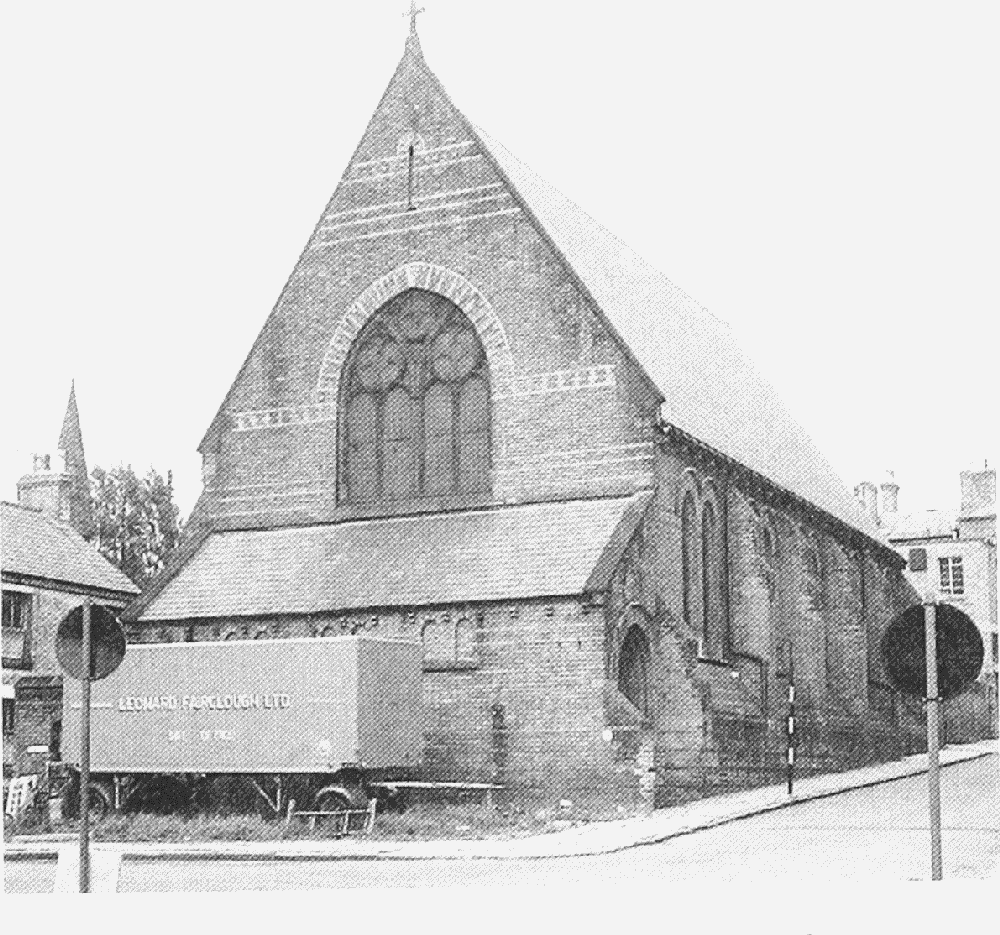 Protestant Episcopal Church
The Revd. Dr. Tudor Rogers, editor of The Protestant, a magazine 'established to oppose ritualism and sacerdotalism', was minister of a congregation in Chester calling itself Emmanuel Protestant Episcopal Church, an 'unattached Church of England', which registered the Music Hall for worship in 1883 and moved to Pepper Street in 1885 but evidently disbanded in 1887. (fn. 31)
Swedenborgians (New Jerusalem Church)
The New Church formed a congregation in Chester in 1900 after two years of occasional lectures. The church at first rented a room in the Temperance Hall in George Street, then an old chapel in Victoria Road from 1906 to 1927, when it opened a small brick church in Newton at the corner of Brook Lane and Dickson's Drive. The site was said at the time to be ideal for the church's members, implying that they were largely drawn from the newer suburbs to the north of the city. It had a resident minister from 1936 (sometimes shared with Wallasey) and remained at Dickson's Drive in 2000. (fn. 32)
Spiritualists
The First Spiritualist Church registered the former Salvation Army barracks in Commonhall Street for services in 1908, putting up a new church in the same street in 1956. (fn. 33) It was still there in 2000.
A second group had a Spiritualist Temple in Brook Street by 1912, which was called a Christian Spiritualist church in the 1940s and was registered as a church and healing sanctuary in 1982. (fn. 34) In 1995 it operated as the Spiritualist Psychic Centre and Healing Sanctuary in rooms over a shop. (fn. 35)
A third Spiritualist church in Egerton Street, presumably occupying the old mission hall, was recorded only between 1934 and 1941. (fn. 36)
First Church Of Christ, Scientist
Christian Scientists were meeting in Chester by 1908 and began public services at no. 68 Watergate Street in 1909 or 1910. They formed a society in 1921 and a separate church in 1926. Meetings were held in Pepper Street 1925–36, at Forest House in Love Street 1936–40, and in rooms above the Falcon cafe in Lower Bridge Street 1940–7. The church bought the elementary school behind St. Olave's church in 1946, and began holding services there in 1947. Another church was recorded in Hough Green in the 1960s. There were reading rooms at premises in St. Werburgh Street in 1940, a house in White Friars later in the 1940s, no. 3 Newgate Street in the late 1950s and early 1960s, and the redeveloped Pepper Row from the mid 1960s until 1993, when they were moved to the church building in St. Olave Street. (fn. 37)
Christadelphians
A meeting room in the Masonic Hall at no. 2 Queen Street was in use from the mid 1920s (fn. 38) and moved to the old mission hall in Egerton Street in 1950 (Fig. 103), (fn. 39) which was rebuilt in 1985 (fn. 40) and where the Chester Christadelphian Ecclesia still advertised weekly meetings in 2000. (fn. 41)
Jehovah's Witnesses
The Jehovah's Witnesses who congregated in Chester in the later 1930s were drawn from an area extending as far as Mold (Denb.) and Deeside (Flints.). They met successively at no. 68 Watergate Street (formerly used by Christian Scientists), Eastgate Street, where a Kingdom Hall was registered in 1941, and a room in no. 3 Lower Bridge Street. Separate churches were later formed in Mold and Deeside, and the Chester group was itself large enough eventually to form three congregations, each numbering c. 100 in 1995. Northgate and Blacon congregations met separately in the Kingdom Hall purpose-built in Melbourne Road, Blacon, in 1969, and the Saltney congregation in its own Kingdom Hall in Boundary Lane, opened in 1990. (fn. 42)
Greek Orthodox
Orthodox services were begun in 1985 at the Anglican mission church of St. Barnabas, Sibell Street, by the Community of St. Barbara the Great Martyr. In 1987 they moved to the Anglican cemetery chapel at Overleigh, where in 1995 the liturgy was conducted in English and Greek three times a month for a congregation mainly composed of English converts but also including Greeks, Russians, and Romanians. (fn. 43) Similar services continued weekly in 2000.