Pages 139-143
A History of the County of Essex: Volume 10, Lexden Hundred (Part) Including Dedham, Earls Colne and Wivenhoe. Originally published by Victoria County History, London, 2001.
This free content was digitised by double rekeying. All rights reserved.
COPFORD
The ancient parish of Copford four miles west southwest of Colchester, which covered 2,492 a. (1,034 ha.), was an irregular shape, stretching c. 5 miles from north to south. (fn. 1) Between 1756 and 1818 there were boundary disputes with Birch over Copford's claim to land along their complex shared border. (fn. 2) In the 1880s detached or almost detached parts of the south of Copford comprising 343 a., and ranging in size from less than ½ a. up to 313 a., were transferred to Birch, c. 4 a. to Easthorpe and c. 1 a. to Marks Tey; a detached 10 a. of Birch and two parts of Stanway, of 105 a. and c. 3 a., were transferred to Copford. (fn. 3) In 1949 most of Easthorpe parish (872 a.) was transferred to Copford, and an area of 844 a. of Copford north of the railway line was transferred to the new civil parish of Eight Ash Green. (fn. 4)
The part of the parish south of London Road, which includes Copford Green, with the Hall and the church at the eastern edge, occupies a plain of fertile boulder clay 30-40 m. high, which falls away eastwards to below 20 m. at Roman river, and northwards to the same river north of London Road. Bands of sands and gravels run alongside the river. North of Roman river the land rises to more than 40 m. and the soil is a mixture of glacial sand and gravel with bands of London clay. (fn. 5)
Copford was an agricultural parish, described by the poet Matthew Arnold c. 1870 as having a 'deeply rural character'. (fn. 6) In 1923 it was promoted as an attractive residential area for 'a City gentleman desiring the delights and pursuits of the country'. (fn. 7) In 1998 the Copford Green area retained a rural aspect, whilst the London Road area was more suburban.
The placename Copford may mean Coppa's ford, presumably the ford across Roman river where the London road crosses it on the eastern parish boundary and where Stanway bridge was later built. (fn. 8) That road was the Roman road from London and Kelvedon which joined Stane Street at Marks Tey before crossing Copford parish from west to east to continue east to Colchester. Two other minor Roman roads appear to intersect each other west of Copford Green. (fn. 9) A road known as Colneweye in 1401 was probably the road from Colchester to Halstead and Cambridge, turnpiked in 1766 and disturnpiked in 1866, which formed a section of the northern parish boundary. (fn. 10) School Road runs south from London Road through Copford Green to Birch, perhaps the road called Grenestrete in 1390; it can probably be identified as Coldbolteslane recorded in 1406 or Godboltstrete in 1409, presumably associated with Godbolts mentioned in 1422 on the site of the later Godbolt's farm. (fn. 11) Other minor roads and footpaths lead to Copford church and Hall and to neighbouring parishes. Part of the Colchester bypass, built at Marks Tey in 1969, provided relief from through traffic for Copford. (fn. 12)
Copford has no railway station, but Marks Tey station, on the main line from London to Colchester built in 1843, and at the head of the branch line to Sudbury built in 1849, is just ½ mile outside Copford's western boundary, and the railway crosses the north of Copford. (fn. 13) There was a daily postal service from Colchester by 1848, and by 1878 a post office at Copford Green and by 1906 another at Eight Ash Green. In 1863 a carrier went to Colchester four times a week. The carrier service was discontinued in the late 1920s. (fn. 14) Horsedrawn omnibus services ran along the Halstead and Colchester roads to Colchester by 1848, but were apparently withdrawn after the railways opened. There were motor omnibus services by 1914 which were increased in the mid 20th century, one route running through Copford Green to Easthorpe. (fn. 15)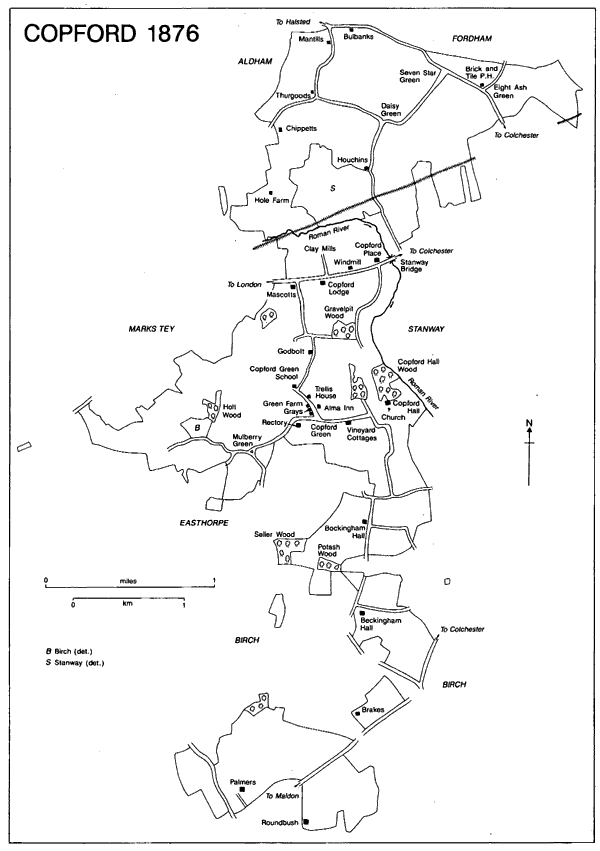 Wells provided water, and Charke well, Goos well, and Porte well were recorded in 1386, 1462, and 1467. In 1463 a well was made in the king's way at Alevenasshes (Eleven Ashes), perhaps connected with Eight Ash Green. (fn. 16) By the 19th century some wells had a pump. (fn. 17) In 1905 the water was still chiefly supplied from shallow wells, and at the rectory house a windmill raised water to a tank to supply the house and neighbouring cottages. (fn. 18) About 1920 some houses had loft tanks, but many people still drew water from shared wells. (fn. 19) The Colne and Stour Valley scheme supplied mains water in 1935. (fn. 20)
In 1931-2 electricity was supplied at Copford Green and Eight Ash Green under an unemployment relief scheme, and was subsequently extended to other areas. (fn. 21) Some street lighting was provided in 1965. Lexden and Winstree Rural District Council collected refuse regularly from 1946, (fn. 22) and provided a sewerage scheme in 1963. (fn. 23)
A prehistoric palstave was discovered in the west corner of Copford and there have been Ironor Bronze Age and Roman finds northwest of Copford Hall, in the Hall grounds, and in the churchyard. A Roman villa stood north of the church and Hall, (fn. 24) and the foundations reported beside the Hall may be Roman or later. (fn. 25)
In 1066 there were 16 bordarii, 5 servi, and 12 sokemen (totalling 33 households); in 1086 there were 14 bordarii, 3 servi, and 10 sokemen (totalling 27 households). (fn. 26) In 1377 as many as 120 people paid the poll tax. (fn. 27) There were 59 house holds in 1671, of which 17 were exempt from hearth tax. (fn. 28) In 1696 there were at least 80 adult men. (fn. 29) Sixty families were reported in 1723, and c. 70 in 1778. (fn. 30) Smallpox was recorded in 1754, 1769, 1809, and 1812. (fn. 31) The population was 495 in 1801, rose steadily to 775 in 1861, then fell to 706 in 1871; it was 684 in 1901 but by then the boundaries had changed. (fn. 32) It fluctuated slightly in the early 20th century and was 746 in 1931. After 1949, when the Eight Ash Green area was excluded, the population increased from 727 in 1951 to 1,106 in 1981. The combined population of Copford and Easthorpe was 1,334 in 1991. (fn. 33)
In the Middle Ages there were scattered cottages and farms. (fn. 34) Piecemeal early woodland clearance is indicated by woodland place names and the existence of several greens: (fn. 35) Copford Green or Tye, recorded in 1467, Eight Ash Green in 1606, (fn. 36) and Mulberry Green in 1776. (fn. 37) In 1973 the lord of Copford Hall manor gave to Eight Ash Green parish Seven Star Green, called Seven Stears in 1749, and Daisy Green, both between the London and Halstead roads. (fn. 38) By 1606 cottages had been built on some small pieces of manorial waste. (fn. 39) In the later 18th century and early 19th further small pieces were inclosed, mainly at the greens, and by 1834 only 3 a. of waste remained. (fn. 40)
Copford was described as 'a pleasant parish of scattered houses' in 1848, (fn. 41) and several houses were clustered at Copford Green. Earliest is Pink Cottage, formerly Grays, recorded in 1467 and probably built about then. Thatched and timberramed with tensionracing, it is of three bays, with a onebayed hall and two floored ends in line, not the two bays recorded in 1606. (fn. 42) The hall has a threecentred arch from the screens passage, a mid 16th century stack on the rear wall, and an inserted 17th century floor.
Vineyards, Church Road, which is on the site of Pakes, recorded in 1400, incorporates late 15th or early 16th century fabric in the east cross wing but the west three two-storeyed bays are late 16th century or early 17th. The fa¸ade is plastered and there is said to have been an oval medallion with the initials LRA 1702. (fn. 43) Tenemented in the 19th century, Vineyards was turned back into a house c. 1936 for C. C. F. Harrison. (fn. 44)
Trellis House is a two storeyed three roomed house of the later 16th century, with an 18th century north extension and sash windows, and two early 19th century south bays, rebuilt in the 1940s after a fire. (fn. 45) Green Farm is a small three bayed one and a half storeyed 17th century house to which a two storeyed, three bayed, timberframed front range was added at right angles in the early 19th century. Round the green are some 17th century farm buildings: a cattleshed and barn associated with Copford Green farm and on the west side of the road a cartlodge with hayloft.
Mascotts Farm, School Road, is recorded from 1350 as belonging to Aldham manor. (fn. 46) Its cross wing, which has multiple bracing and an ogee doorhead, appears to date from the 14th century. The rest of the house was replaced in the late 16th century by a taller two storeyed range with a two bayed hall and one bayed end rooms. (fn. 47) It belonged to George Wegg (d. 1777) in 1768. By 1890 it was much extended south and west; it was altered again subsequently. (fn. 48)
There were isolated houses along the lanes north of London Road and along the Halstead road. Bulbanks, Halstead Road, associated with the Bolebek or Bulbeck family in the 13th and 14th centuries, (fn. 49) was part of Little Fordham manor held by St. John's abbey, Colchester, by service of half a knight's fee. (fn. 50) In 1546 Henry VIII gave it to Sir Thomas Darcy who apparently exchanged it with John Lucas for other lands. (fn. 51) The existing house apparently dates from the mid 20th century.
Chippetts Farmhouse, Chippetts Lane, is perhaps associated with Richard Chepet, mentioned in 1350; Chepettes lane was recorded in 1401. (fn. 52) In 1606 Robert Pilgrim held a three bayed house called Chepitts. (fn. 53) Green Acres, Foxes Lane, formerly Thurgoods in Aldham manor, is associated with Sayer Thurgor in 1327. (fn. 54) In 1606 it was a fivebayed house. (fn. 55) Mantills Farmhouse, Foxes Lane, is presumably associated with John Mentyll in 1466. (fn. 56) It was a two bayed house in 1606. (fn. 57) Chippetts, Green Acres, and Mantills are all Lplan two storeyed timberframed houses, the first two of the late 16th century, Mantills probably mainly 17th century. (fn. 58)
Lampitts Farmhouse, Turkey Cock Lane, was called Houchins in the 18th century and the 19th. (fn. 59) In 1606 there were five parcels of land and pasture called Lampitts. (fn. 60) The house is late 16th century, of four bays with a floored east bay and a crownpost roof, to which two west bays and chimney stack were added in the 17th century. Of the late 17th century is the brick built lobbyentrance Bakery Cottage, Halstead Road, and, slightly later and one bay longer but similar in type, is Malting House, Seven Star Green.
In the south of Copford, William Tey (d. 1502) held Bedyngham (Beckingham) Hall, described as a manor in Great Birch, of the bishop of London. (fn. 61) Perhaps it can be associated with the 25 a. of Copford manor held of the bishop by Roger in 1086. (fn. 62) A 17th century cartlodge predates the almost square two storeyed house, built in the early 19th century of grey gault brick in the plainest classical style. Round bush Farmhouse, formerly Cranmers, Maldon Road, is associated with a tenement and 10 a. land called Cranmeres recorded in 1461. (fn. 63) The house is late 16th century, of three bays and two storeys. Brakes Farmhouse, Maldon Road, may be slightly earlier behind its 19th century grey brick front, and has a formerly jettied crosswing. (fn. 64) Palmers, Maldon Road, can be identified with a holding of that name mentioned in 1401; the house was bought in 1771 by the actor, David Garrick (1717-79). (fn. 65)
In London Road the earliest houses are the 17th century three bayed Brook Cottage at No. 1 and Brewers Cottage at No. 35. Apparently late 17th century but on a larger scale is the two storeyed, sevenbayed, doublepile house that forms the south range of Copford Place; it contains a chimneypiece dated 1698 and other fittings of about that date. The house probably then faced the road and was of red brick like the stable to the north. In the early 19th century the house was extended northeast by two bays to create an east entrance and given plain classical white brick fa¸ades. In 1947 it was converted into private accommodation for elderly people, and in 1980 taken over by Help the Aged which in 1998 refurbished the house as selfcontained flats. (fn. 66) Of the early 19th century are the former rectory (fn. 67) and, of the same type, Copford Lodge, built as a square, two and a half storeyed classical villa in white brick, afterwards a hotel and by 1970 a nightclub. (fn. 68)
Further examples of the considerable building activity of the earlier 19th century are Shrub House in London Road, Mulberry Green Farmhouse in Rectory Road, and Little Gore at Nos. 118-20 School Road, all smaller houses.
From the 1870s parcels of farmland beside roads was sold for building: in 1876 about 84 a. of the Brick Stables estate along the Halstead road, and in 1896 about 6 a. of building land close to London Road. (fn. 69) Similar piecemeal ribbon development continued in the early 20th century: in 1917 land along the London road near Mascotts, part of the Round family's Birch estate, was sold for development, and in 1919 the Ambrose estate which included Copford Lodge and adjoining building land in London Road, was sold, as was Godbolt's farm. (fn. 70) Glebe lands were sold in 1918. (fn. 71) Between the World Wars c. 25 council houses were built. (fn. 72)
After the Second World War infilling continued. (fn. 73) Private houses were built in 1963 at Allendale Drive and Ashwin Avenue, east of School Road, and also in the 1960s at Orchard Close off Church Road. By 1971 there were 44 council dwellings in Copford (excluding Eight Ash Green). (fn. 74) Between 1971 and 1991 the proportion of households in council accommodation fell from 13 to 5 per cent. (fn. 75)
The former rectory house became a private school, Copford College, from 1958 until 1985 when the building was taken over by the neighbouring Springfields home for the elderly. (fn. 76) Help the Aged built flats and bungalows for the elderly west of Copford Place at Dorothy Curtice Court in 1985, (fn. 77) and in 1996 took over a home alongside, which had been built in 1990. (fn. 78)
Between 1987 and 1996 detached houses were built on a 24a. site off Foundry Lane, formerly an infilled brickworks pit to which building waste had been added. The developers agreed to provide 5 a. of open space to serve as a permanent green wedge between Copford and Marks Tey. (fn. 79) In 1998 eight detached houses were built in St. Michael's Chase, north of Church Road.
From the 16th century many of the lords of the manor and rectors were resident. (fn. 80) The Harrison family had relatives at Kelvedon, Little Bardfield, Olivers in Stanway, and at Thorpe Morieux (Suff.), and colonial links. T. H. Harrison farmed in New Zealand in the late 19th century, and his nephew Cyril established Copford farm in Saskatchewan, Canada, which attracted young emigrants from Copford. (fn. 81) A. B. C. Harrison, born in Australia, came to Copford in 1946. (fn. 82)
Tennis was unlawfully played on an unidentified piece of common land in 1476. (fn. 83) In 1773 two Copford men belonged to an Association for Apprehending and Punishing HorseStealers. (fn. 84) Between 1886 and 1906 there was a coffee and reading room in London Road, and between 1902 and 1929 a working men's club at Copford Green. (fn. 85) A detachment of the Home Guard, of at least 26 men together with two female catering assistants, was established in Copford during the Second World War. (fn. 86) The village hall, built in the early 1920s, was replaced by a new one in 1991. (fn. 87) Local organisations included a women's institute, a cricket club, and the British Legion. (fn. 88) In 1953 an avenue of limetrees leading to the church was planted to commemorate the coronation of Elizabeth II. (fn. 89)
There was an unlicensed alehouse in a husbandman's house in 1622. (fn. 90) The Brick and Tile inn, Halstead Road, existed by 1754, (fn. 91) and before 1828 was owned by Coggeshall Brewery. (fn. 92) The redbrick Alma inn, Copford Green, which was trading under that name by 1870, was probably the house built c. 1860 with a small brewery and with a shoemaker's shop at the back; in 1908 it was a free public house leased from Messrs. Greene, King & Sons. (fn. 93)