Pages 143-146
A History of the County of Essex: Volume 10, Lexden Hundred (Part) Including Dedham, Earls Colne and Wivenhoe. Originally published by Victoria County History, London, 2001.
This free content was digitised by double rekeying. All rights reserved.
MANORS.
The manor of COPFORD HALL was part of the possessions of Aethelric (d. c. 995) which he devised to Aelfstan, bishop of London, and his successors. (fn. 1) Before 1086 the king gave 17 a. of it to Robert Gernon, who held lands in Birch. (fn. 2) The rest of the manor remained in the see of London until it came to the Crown, presumably on the deprivation of bishop Bonner in 1559. (fn. 3) James I sold it in 1610 to John Argent and John Phillips, both of London. (fn. 4) Argent, who in 1593 had married the widow of the tenant, Reynold Mountjoy (d. 1589), had sold the manor by 1612 to Reynold's elder brother, Edmund Mountjoy of Wethersfield (d. 1623). Edmund was childless and exercised the lordship jointly with his nephew, William Mountjoy, son of Edmund's other brother Alan. William had presumably died by 1614 for there after Alan Mountjoy (d. 1625) was described as the lord. (fn. 5)
John Haynes had bought the manor by 1626, but was in America from 1633 until 1651, where he became governor of Massachusetts and then of Connecticut. Emanuel Haynes acted as lord in his absence. In 1654 John was succeeded by his son Robert Haynes (d. 1657) and then by Robert's brother, Hezekiah, who had been one of Oliver Cromwell's majorgenerals and who was imprisoned in the Tower of London from 1660 to 1662 for alleged treason. Hezekiah died in 1693. (fn. 6) His son John, on whom he had settled Copford, predeceased him in 1692 and the manor passed to his grandson John, who died childless in 1713, and then to John's younger brother, Hezekiah. That Hezekiah Haynes, who died childless in 1763, devised it to his cousin John Harrison, who conveyed it in 1783 to his son John Haynes Harrison (d. 1839). (fn. 7)
J. H. Harrison's son, Fiske G. F. Harrison (d. 1872), succeeded, then Fiske's nephew Thomas H. Harrison (d. 1895), Thomas's brother William T. Harrison (d. 1920) who was bishop of Glasgow and Galloway 1888-1903, William's son C. C. F. Harrison (d. 1937), and C. C. F.'s widow, Mrs. A. G. D. Harrison. She held the lordship until 1946, when A. B. C. Harrison, a descendant of Hezekiah Haynes (d. 1693), succeeded; he was Conservative M.P. for Maldon 1955-74 and was still lord in 1998, although much of the land had been sold in 1979. (fn. 8)
The manor house, Copford Hall, stands north of the church. John Argent was living in a 6-bayed house in 1606, perhaps Copford Hall. (fn. 9) The Hall was apparently built, or perhaps rebuilt, on an Lplan by Alan Mountjoy (d. 1625), (fn. 10) and in 1662 tax was paid on ten hearths. (fn. 11) The present redbrick building is roughly square but has classical east and west façades of different characters: the west, entrance front, plain with spare Portland stone dressings, is of two and a half storeys; the east front is entirely brick and of two storeys with broad halfhexagonal bays. The storey heights of the west range and of the four northeast bays are less than those of the southeast section, and early 17th century mural painting has been found on the timberframed wall between the northwest and southwest rooms, suggesting that at least part of Mountjoy's house is incorporated. The west range was probably refronted c. 1720 with a sevenbayed brick çade of two storeys and an attic within a hipped roof. The early 18th century features included rusticated quoins, windows with rusticated lintels and aprons, pedimented dormers, and a blind arcaded screen wall to the northwest. The façade seems to have been altered by 1787 and given a pedimented central bay with a pedimented doorcase; (fn. 12) this was presumably done to match the recasting of the east front made necessary by the addition of three bays in the southeast angle of the Lplan. (fn. 13) A curved, cantilevered staircase was inserted in the centre of the east front, open to an entrance hall with a screen of Ionic columns; the staircase ceiling is composed of three shallow domical vaults with fine neoclassical plasterwork. The high quality of that and of the chimneypieces with painted panels in the southeast rooms, suggests the involvement of a notable architect. (fn. 14)
The west front, and probably the east one, were remodelled again, after 1801 (fn. 15) and almost certainly before 1831 when Copford Hall was described as a handsome mansion. (fn. 16) It was raised to two and a half storeys, the original roof being retained and the dormers engaged to the heightened front wall. Perhaps slightly later the west range was extended north to level with the slightly longer east range, (fn. 17) and south as a shallow projection. Both west groundfloor rooms were redecorated, the dining room with an apsed end and a column screen, similar to that in the hall. By 1874 the house was reported to be much neglected. (fn. 18) During the First World War it was requisitioned by the army. (fn. 19) In 1919, a two storeyed north service wing, sunk a storey, was built, (fn. 20) and a columned portico was added to the pilastered stone entrance. The house was completely renovated in 1970. Since 1979 it has been leased as offices to a Norwegian shipping company. (fn. 21)
Close to the north side of the house lies the former farmhouse of one storey and attics; (fn. 22) the south three bays of the west front and the two parallel east bays are timberframed and may be 16th century or earlier. The west side was refronted in brick in the 18th century and later linked to the stable block. (fn. 23) The stable block's classical front in white brick with red brick dressings conceals a timberframed structure, the east part of which was demolished after 1919. (fn. 24)
In 1768 there were good gardens and fine canals and fishponds, (fn. 25) probably based on water features of the 17th century and earlier. An early 18th century redbrick building with an ogee roof, north of the house, may have been a privy or pump house. The grounds were landscaped by Richard Woods from 1784 (fn. 26) with a series of pools, based on the existing canals and ponds, stepping down from west to east. On the lowest pool a classical boathouse in white brick with flint quoins may have been there by 1766. The grotesque arch northeast of the house is by Woods; the cascade it spanned and the pond above it had gone by 1817. (fn. 27)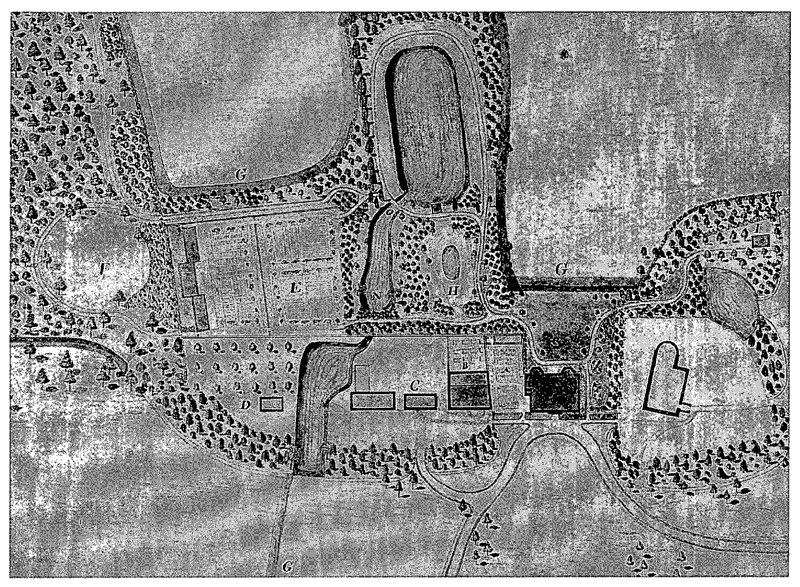 The estate of BOTTINGHAM or BODDINGHAM HALL, in the south of Copford bordering on Stanway and Birch, (fn. 28) was held in 1066 by a free man. After the Conquest it was seized by Hugh de Montfort and was held from him by William son of Grossa in 1086. (fn. 29) Before 1208 the overlordship was apparently acquired by St. John's abbey, Colchester, which retained it until the mid 15th century; thereafter the bishop of London held it. About 1208 the estate was probably held by William of Bottingham, and continued in his family. About 1300 Christine Bottingham married Edward Tey, and thereafter the manor remained in the Tey family, descending with Aldham Hall from 1426. (fn. 30) Thomas Tey (d. 1586) sold the estate in 1585 to Catherine Audley of Berechurch (d. 1611) and her second son Thomas (d. 1611). The manor descended to Thomas's daughter and coheir, Anne, and her husband, Theobald Butler, and continued in the Butler family. (fn. 31) Francis Butler by will of 1704 devised it to his sister Mary Butler. Mary devised the estate to Ambrose Mandeville, but his younger brother, John, claimed it, and to prevent further disputes, Ambrose sold it in 1727 to his third son, Valentine. In 1728 Valentine sold it to Charles Gray. (fn. 32) Charles Gray (d. 1782) devised it to his stepdaughter Thamar and her husband James Round. (fn. 33) It continued in the Round family until the late 20th century. (fn. 34)
Bockingham Hall is an Lplan two storeyed house, apparently all of the 17th century except the 19th century service wing. The south wing, which was given a three bayed brick front in the later 19th century, is probably that described in 1823 as being of brick and tile, 'a modern building' having 'four front rooms'; the five bayed east wing was then the 'old part of the house', part brick, part lathe and plaster, and tiled. (fn. 35) The west side became the entrance front when it and the interior were remodelled in Georgian style in the 1960s by the Cottrells whose arms are over the door.