Pages 38-44
A History of the County of Essex: Volume 10, Lexden Hundred (Part) Including Dedham, Earls Colne and Wivenhoe. Originally published by Victoria County History, London, 2001.
This free content was digitised by double rekeying. All rights reserved.
BIRCH
THE parish of Birch, (fn. 1) about 5 miles south-west of Colchester, which covered 3,105 a. (1,257 ha.) in 1801, comprises the adjacent ancient parishes of Great and Little Birch which were adminis- tered together for civil purposes from the 18th century or earlier. (fn. 2) Birch extended about three miles from east to west and was a very irregular shape with detached parts, its boundary frequently crossing fields, and coinciding with natural features only on part of its east side where it followed Roman river. In 1610 the rector of Great Birch claimed tithes on Newards (Nevards) farm in Layer-de-la-Haye, 60 a. of land of Little Birch Hall estate, c. 8 a. in Messing once part of Cantfields (or Canfields), c. 5 a. in Layer-de-la-Haye park, and c. 5 a. of Easthorpe glebe. (fn. 3) There was a dispute in 1684 over whether a ½-a. field called Chippetts garden belonged to Great or Little Birch. (fn. 4) In 1758 in another dispute it was decided that 60 a. of Newards farm still belonged to Birch but that other lands belonged to Layer-de-la-Haye. From 1756 Copford claimed land along its shared border with Birch, and an arbitrator adjudicated in 1818. (fn. 5) Birch's boundaries were rationalized in 1888 when two detached parts in the north-west were transferred to Easthorpe and another detached part in the south was added to Layer-de-la-Haye, and small areas from Messing, Easthorpe, and Copford were added to Birch; and in 1889 when Canfields Farm from Easthorpe and detached parts of Copford were transferred to Birch. That in- creased the area of Birch to 3,401 a. (1,376 ha.). (fn. 6)
Birch was always an agricultural parish. Its western half lies on a plateau of boulder clay 30-40 m. high and the eastern half on sand and gravel which drops to below 20 m. at Roman river. (fn. 7) The place-name Birch, formerly Brich, is probably derived from the Old English 'bryce', meaning breaking, in the sense of newly cultivated land, indicating that the parish was a series of woodland clearings, further suggested by the existence of greens like Birch, Hardy's, Dawsons, Porters, Sandford Hall, Pudding, and Craxe's greens. (fn. 8)
The Colchester-Maldon road crosses the parish running south-westwards. Other minor roads and footpaths connect the houses and farms. In 1623 the roads from Messing Hall to Sandford Hall green were in a dangerous condition. Little Birch bridge, presumably over the stream east of Birch Hall, the responsibility of the lord of Birch Hall manor, needed repair in 1615. (fn. 9)
By 1848 there was post from Colchester daily, and by 1863 a post office. In 1863 there was one carrier to Colchester four times a week, and by 1886 three on four days a week. In 1917 only one carrier remained and by 1929 none. (fn. 10) There were motor omnibus services from 1914 to Colchester and Kelvedon. (fn. 11) Water was obtained from wells or springs, but for some people in 1884 the supply was poor and had to be carried a distance. (fn. 12) In 1920-1 wells and cesspits were provided for new council houses. In 1930 the South Essex Waterworks Co. supplied water to the C. G. Round Trust's Birch estate and c. 1936 the Colne and Stour Valley water supply scheme was extended to Birch. Electricity was supplied from 1933. (fn. 13) Mains drainage was provided in the 1960s. (fn. 14) There was a resident police officer in the later 20th century.
Cropmarks may indicate prehistoric settle- ment, including a possible long barrow west of Hellens. (fn. 15) Neolithic flints were found at Birch Park and Birch Green, and there were Roman finds near Little Birch church, and north of Whitehouse Farm, at Birch school, and at Birch castle. (fn. 16) The site of a possible Roman villa was discovered in 1998 at the former gravel pit, Maldon Road. (fn. 17)
In Great Birch between 1066 and 1086 the recorded total of free and unfree tenants and servi rose from 25 to 28, and in Little Birch decreased from 18 to 17. (fn. 18) In 1377 most of the 198 people in Birch and Easthorpe who paid the poll tax, presumably lived in Birch. (fn. 19) The number of burials in Birch was higher than usual in 1637, 1678, and 1720. There were 63 house- holds in 1671, of which 22 were exempt from the hearth tax. (fn. 20) In 1723 there were reportedly 61 families, and in 1766 c. 40 dwellings. (fn. 21) Between 1733 and 1800 baptisms usually exceeded burials each year. (fn. 22) Between 1801 and 1851 the population increased from 560 to 962, then declined to 749 in 1901. Of the people counted in 1851 most had been born nearby in Essex, a few in Suffolk or London, and a very few from further away in England. Boundary changes from 1888 affected recorded population totals. In the period 1901-71 the population fluctuated between 636 and 772, and in 1991 it was 845. (fn. 23)
In the Middle Ages there were scattered farms and cottages, and probably a very small settle- ment around Great Birch church and the Gernon family's Birch castle. (fn. 24) The lord of the manor had a deer park, probably the Heckford park recorded in 1276. (fn. 25) In the early 17th cent- ury most of the poor people lived near the church. Archery butts stood on an unidentified piece of church land. (fn. 26) Little Birch church and Birch Hall were about half a mile north-east of Great Birch church. (fn. 27) Several place-names may indicate medieval habitation: for example, John Chemin recorded in 1293, Robert Helyoun in 1275, and Robert de Winterford recorded in 1276 may have been associated with the sites of the farmhouses called Shemmings (formerly Claypit Farm), Hellens (formerly Scotts), and Winterfloods; (fn. 28) a holding called Garlands was recorded in 1427. (fn. 29)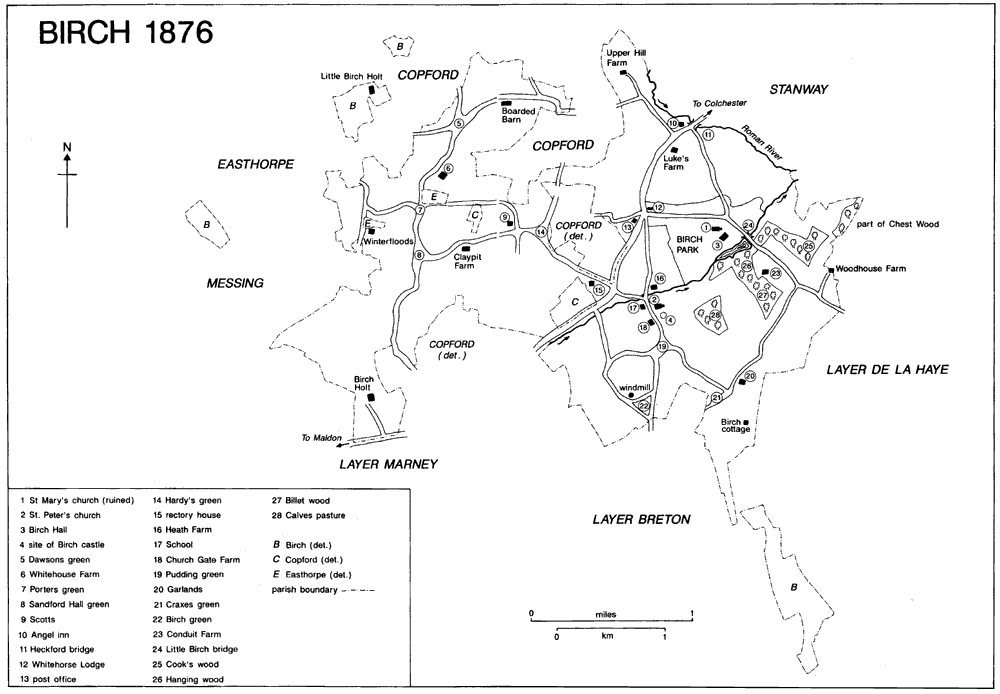 By the 17th century or earlier there were also a few houses at Heckford bridge and at Birch Street. (fn. 30) In the 18th century and the 19th pieces of waste along the roads and on the edges of heathland were inclosed and some new cottages were built. For example, in 1810 manorial waste totalling 15 a. at Pudding, Birch, Wadley, and Sandford greens, and roadside waste in the centre of the parish were inclosed. (fn. 31)
From the 18th century members of the Round family of Birch Hall, who had social contacts in Essex, London, and Oxford, took an active part in public life and had great influence on the social and economic life of Birch. The Evan- gelical and paternalistic Charles Gray Round (1797-1867) and his wife Emma (1819-92) pro- moted religion and education in the parish, were diligent in charitable works, and provided some housing for estate workers. (fn. 32) Nevertheless in 1884 the houses of many of the agricultural labourers were poor and overcrowded. (fn. 33) In the later 19th century there was a working men's club, for which a reading room at Birch Street was built in 1890, financed by public subscription. The building was demolished in the 1960s but the club continued until 1970. Birch Social Club existed in the 1970s. (fn. 34)
In the 20th century more houses were built and in 1921 a hall was erected c. 100 m. south of the church as a war memorial. (fn. 35) Birch had a choral society which won a choir competition in 1914, (fn. 36) and Birch Farmers' Club held annual shows with competitions and prizes. (fn. 37) A branch of the Women's Institute was started in 1918. (fn. 38) A pensioners' club was formed in 1967. There was a doctor's surgery from c. 1984. (fn. 39) In 1999 a general store with post office survived.
There was an alehouse in the 'main', presumably Maldon, road where in 1614 the landlord failed to accommodate travellers who arrived late, 'partly because of his lack of ability but chiefly through nastiness'. (fn. 40) That alehouse may have been the Angel and Seven Stars, formerly called the Cock, and later the Angel inn, recorded in 1733. (fn. 41) About 1750 Birch Friendly Society met monthly there, and also held an annual feast and sermon; its rules excluded payments for illness caused by 'quarrelling, drunkenness or whoring'. (fn. 42) Two bays at the north end of the Angel inn, built in the late 17th or early 18th century, were concealed from the street in the early 19th century when the building was extended by three bays and given a rendered five bayed facade with two full height canted bay windows. Another inn, called the Victory, existed by 1866. (fn. 43)
Birch airfield south-west of Sandford Hall Green, built by the U.S. 9th Air Force, was opened in 1943. Control was passed to the 8th Air Force and it was used as a base for assault gliders. (fn. 44) In 1946 it was handed over to the R.A.F. and closed, and the land reverted to agri- cultural use. (fn. 45)
DOMESTIC BUILDINGS. No medieval hallhouses survive intact. The earliest fragment is at Shemmings, where the east cross wing is late 14th- or early 15th-century and retains evidence of two service rooms and a smoke blackened centre-purlin roof. (fn. 46) The east end of Whitehouse Farm incorporates part of a 15th- century cross wing with two groundfloor rooms. Gate House Farm, formerly Church Gate or Birch Gate Farm, lay close to the castle bailey, and in 1582 was called The Gatehouse and was said to be divided from John Smythe's main mansion. (fn. 47) It has a jettied 15th-century cross wing at its east end. Winterfloods also originated as a hall and cross wing, (fn. 48) and one bay of an end-in-line hall-house remains at Little Birch Holt, formerly Little Holts or Holts, recorded in 1588. (fn. 49)
From the mid 16th to the late 17th century many hall ranges were entirely rebuilt. Few halls seem to have been converted by the insertion of floor and chimney stack though that may have been done at Whitehouse Farm. There, a chimney stack inserted in the cross passage is shared between the hall and a large west cross wing, rebuilt in the late 16th century. At Shemmings the stack is shared between hall range and west wing, both of which were rebuilt in the late 16th or early 17th century; contemporary painting on the parlour chimneybreast includes a Roman letter M. (fn. 50) At Gate House Farm, the rebuilt hall range of two storeys and three bays has a central brick chimney which divides each floor into two rooms; a jettied west wing was added, probably in the late 17th century or the 18th. At Upper Hill Farm (on Copford Hall manor), which at least one late medieval cross wing, the hall range was apparently rebuilt with two tall storeys in the 17th century. (fn. 51) One or two houses were newly built with two storeys in the mid to late 16th century, notably Garlands of four bays, which has a lateral north-west chimney stack, and the two-bayed west part of Boarded Barn House, which is presumably associated with the 'bawdes barn' mentioned in 1554 and 1669, and Beldam's or the Boarded Barn in 1768. (fn. 52) A barn was attached to its east end later, probably after 1777. (fn. 53) The whole building was converted to cottages, probably in the 19th century, and has since been turned into a house. Another 18th- century barn, which stands by the road, remains from the former north-east farmyard.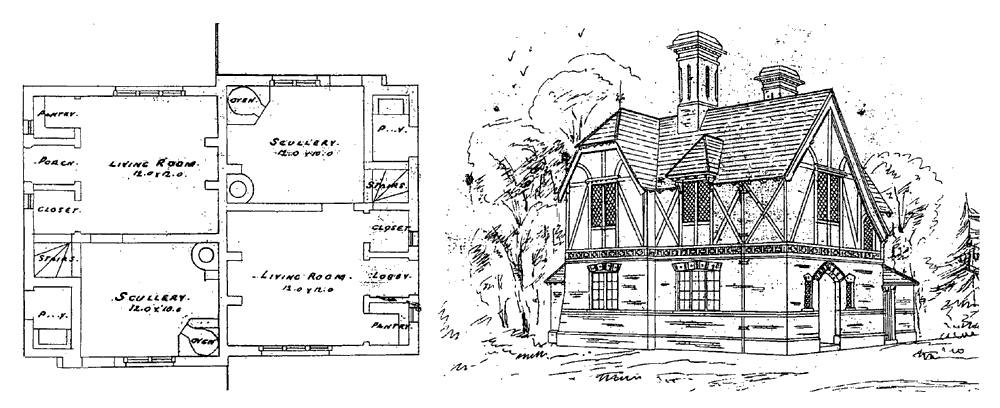 Houses built or much remodelled in the 17th century have lobby plans. Most are quite small, of three and four bays and, usually, one and a half storeys. They include Wishing Well Cottage, near Heckford bridge, made Gothick in the 19th century, Hellens Cottage, and Glebe Cottage, Pudding Green, and there are other single examples in School Hill and at Birch Street and Hollington Row. Little Birch Holt seems to have been partly rebuilt as a lobby- entry house at that period.
Building in brick seems to have been well established by the end of the 18th century. In 1781 the blacksmith's new house near Heckford bridge was built of brick, timber, and tile. (fn. 54) In the 18th century and early 19th at least three two-storeyed, sash-windowed brick farmhouses of three bays were built: Conduit Farmhouse, south-east of Birch Hall, the house at Birch Street called The Surgery in 1999, and White- croft, Mill Lane. Of similar design but timber- framed and weatherboarded are White House, Mill Lane, and the range added to the front of Heath Farm, Orpens Hill, before 1750. (fn. 55) Hellens, first mentioned as a messuage or tenement in 1599, (fn. 56) has a plastered, timber-framed front range of five bays. Houses of villa type are rare, most prominent being the early 19th-century Curate's Cottage, off Rectory Lane, in a large park-like garden. The 18th-century one an a half storeyed building in School Hill, known as Church Cottages, was built as the workhouse and had two large rooms flanked by two small ones on each floor. (fn. 57) Converted into cottages in the mid 19th century, when dormers and porches were added, the four houses were reduced to two c. 1980. Alterations were also made at Shemmings, where the hall range was raised and a flue was added in the late 18th or early 19th century and an east wing was built slightly later; at Little Birch Holt, which was raised to two storeys with the central chimney stack replaced by a staircase; and at Gate House Farm, where in 1866 Joseph Grimes, a Col- chester builder, partly demolished the chimney and diverted the flues to serve rooms flanking a new central hall. The facade was probably also remodelled about that time. Garlands was enlarged in 1855, the work probably including the brick block west of the 16th-century range, which was recased in gault brick after c. 1843. (fn. 58) The whole house had been plastered by 1981. (fn. 59) Pairs of 19th-century weatherboarded cottages stand at Birch Green, together with some redbrick detached villas.
The Round family greatly influenced the appearance of the parish by rebuilding Birch Hall, the school, St. Peter's church, a new rectory house, (fn. 60) and by adding some distinctive new houses. Home Farm, and Orchard Cottage opposite it, are in High Victorian domestic revival style with tall ornamented chimney stacks. Such stacks, together with carved barge- boards and triangular bay windows, are also found at the singlestoreyed Lukes Farm and apair of estate cottages at Heath Farm. The ter- race of redbrick cottages with haltimbered centre on the Maldon Road is different in style. Designed for C. G. Round by F. Chancellor c. 1860, (fn. 61) it resembles a pair near the church, converted into the Dower House c. 1952. (fn. 62) Plainer, but presumably built by the Rounds, are Creffeild Cottages at Birch Street, which bear the same lion-with-axe emblem as the Maldon Road cottages and have been much altered. The emblem also appears on a plain cottage called the Beehive. The red-brick late 19th- or early 20th-century villa on part of the site of Birch castle may also have been built by the Rounds. (fn. 63)
Some of the houses of the period 1918-39 were built by Lexden and Winstree rural district council. Cottage-style council houses, rendered and with gambrel roofs, appeared at Birch Street, where there are six pairs. (fn. 64) Council houses built after 1945 are also semidetached but very plain, the majority being the Greenfield houses at Birch Green. There are also five pairs of concrete construction, some later clad in brick, and two pairs of brick bungalows for the elderly at Hardy's Green, where in 1876 there were only three or four houses. (fn. 65) There are also post-1945 brick-built estate workers' houses at Hardy's Green, and near the east lodge to Birch Hall. The largest group of speculatively-built houses is off Mill Lane, where there is a close of small 1960s detached houses in Birch Way, a small estate of terraced houses in Luard Way of 1970-1, and two or three red-brick houses of the 1990s. Otherwise private houses have developed piecemeal. (fn. 66) Among the larger private houses is Sandford Hall, which was a small red brick cottage extended c. 1990. (fn. 67) In 1993 Birch village was designated a conservation area. (fn. 68)