Pages 44-46
A History of the County of Essex: Volume 10, Lexden Hundred (Part) Including Dedham, Earls Colne and Wivenhoe. Originally published by Victoria County History, London, 2001.
This free content was digitised by double rekeying. All rights reserved.
MANORS
The manor of GREAT BIRCH with Birch Castle (sometimes referred to as Birch Hall) was held in 1066 by Edric, and afterwards by Ingelric, and in 1086 of Count Eustace of Boulogne by Hugh who held Easthorpe of the count. Great Birch manor owned two houses in Colchester in 1086, which perhaps served as the lord's town houses, but their use declined after the 11th century. (fn. 1) The overlordship was still in the honor of Boulogne in the 14th century, but by 1407 the manor was held of the king in chief. (fn. 2)
Hugh's successors held Great Birch in the late 12th century. The manor was granted, with Easthorpe, to Ralph Gernon in 1228, and the demesne lordship of Great Birch descended with Easthorpe to the Gernon and Peyton families and their successors, certainly until 1576 when Arthur Golding succeeded his brother Henry, and possibly until 1586 or later. (fn. 3)
Before 1276 one of the Gernons granted the mesne tenancy of Great Birch to a member of the Baynard family, lords of Messing Hall and Harborough manors in Messing. (fn. 4) John Baynard died in possession of the manor in 1344, and was succeeded in turn by his son John (d. 1349), John's son Thomas (d. 1375), Thomas's son Richard (d. 1433) whose second wife was Grace, widow of John Peyton, who held the manor of the king in chief. (fn. 5) When Richard and Grace Baynard were lord and lady of both Great Birch and the Messing manors they administered those manors and Easthorpe together. (fn. 6) They were followed by Richard's son Richard Baynard (d. 1473) whose heir was his daughter Grace, wife of Thomas Langley. Grace died in 1509 and was succeeded by her son from her second marriage, John Daniell (d. 1556) and then by his son Edmund Daniell (d. 1570) who held Birch as of Easthorpe manor. (fn. 7)
Edward Elliott (d. 1595) held Great Birch manor in 1586, apparently of the lord of Easthorpe manor, and was succeeded by his son Thomas Elliott. Mark Mott (d. 1631), probably the rector of Rayne, acquired Great Birch manor, and left a third each to his three youngest daughters. (fn. 8) Thomas Kemp was lord in 1669. The lordship was held in 1708 by Henry Hene and his wife Jane in Jane's right, between 1732 and 1752 or longer by Ralph Mansell, Jane's second husband, in 1770 by Richard Whitfield, and in the period 1789-1804 by James Hodgkin. (fn. 9) In 1811 the manor was bought by Charles Round and was thereafter held with Little Birch manor. (fn. 10)
Birch Castle, which stood a few yards south of St. Peter's church, was probably a motte and bailey castle. In 1768 only a mound surrounded by a ditch remained, and in the 20th century just a short section of rampart and ditch. (fn. 11) In 1430 the bakehouse at Birch Hall, presumably belonging to the castle or a manor house, was repaired. (fn. 12) By 1768 the manor house was said to be a cottage two miles north-west of the church, 'opposite to Gernons, otherwise called the White-house', presumably Whitehouse Farm, Porters Green; it was probably the one used in 1863 then called the White House. A pound was apparently opposite, perhaps the hundred pound. (fn. 13)
The manor of LITTLE BIRCH was held in 1066 by Ulwin, and in 1086 of Robert Gernon by Robert de Verley. (fn. 14) Robert Gernon's fief escheated to the Crown, and Henry I granted it to William de Munfitchet. On Richard Mun- fitchet's death without issue in 1267, the overlordship passed to Evelyn (d. 1274), daughter of William de Forz count of Aumale, and wife of Edmund earl of Lancaster, (fn. 15) who also died without issue, and from whom, presumably, the overlordship came to the de Vere family, earls of Oxford, as part of the honor of Castle Hedingham. The overlordship continued in the de Vere family and was last recorded in the 18th century. (fn. 16)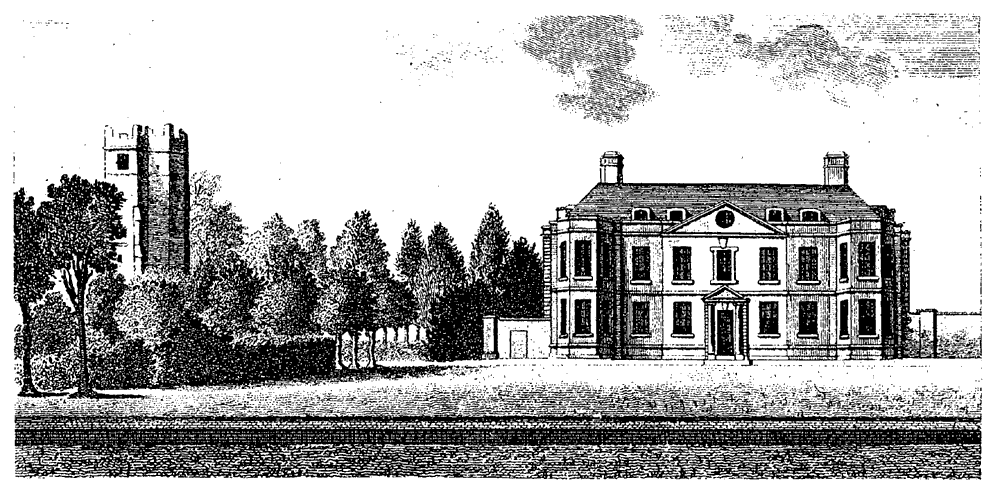 The undertenancy was held in 1276 by Robert Verley, (fn. 17) and from 1325 or earlier by the Tendring family. (fn. 18) William Tendring (1435-90) was M.P. for Maldon in 1478. (fn. 19) William Tend- ring (d. c. 1500) had two daughters, Margaret and Dorothy: Margaret's husband Robert Forster (d. 1545) acquired three quarters of the manor and in 1514 bought the remaining quarter from Dorothy, then Dorothy Southwell. Robert's heir was his son George Forster (d. 1556). (fn. 20) Little Birch descended with Great Birch and Easthorpe manors until 1598 when Arthur Golding sold it to John Petre, Lord Petre. (fn. 21) In 1605 John settled it on his son Thomas, who sold it in 1608 to Sir John Swinnerton (d. 1616), lord mayor of London 1612, and the manor descended with Stanway until 1631, when Thomas Swinnerton retained it. (fn. 22) Thomas was succeeded by his son John, who died without issue, then by his daughter Thomasin (d. 1697), and her second husband John Hopwood. (fn. 23) Hopwood sold the manor in 1724 to James Round (d. 1745). James was succeeded by his nephew, William Round (d. 1772), and then by William's son James (d. 1806), M.P. and J.P. The succession continued through James's son James (d. 1809), that James's brother Charles (d. 1834), Charles's son Charles Gray Round (d. 1867), M.P. 1837-47, recorder of Colchester. Charles Gray Round was succeeded by his nephew, James Round (1842-1916), M.P., J.P., and Essex county council alderman. (fn. 24) The estate then passed to Lt. Col. C. J. Round (1886- 1945), J.P., and his son Lt. Col. J. G. Round (1913-97), who had three daughters. (fn. 25)
Little Birch Hall, the manor house in 1605, was said to have been built mainly by the Tend- ring and Golding families. In 1727-8 James Round (d. 1745) rebuilt it 'in a handsome manner' and his nephew William made further improvements. The 18th-century house was of two storeys with dormer windows behind a plain parapet. The east and west facades were each of seven bays, with the centre three bays broken out under a pediment. On the west front the end bays had full-height canted bay windows. (fn. 26) In 1777 there was a garden divided into symmetri- cal plots to the east, (fn. 27) and by 1800 outbuildings between house and church, orchards south of the church, a plantation north of the house, and a ha-ha west of it.
In 1843-8 C. G. Round built the new Birch Hall, to designs by Thomas Hopper, as 'a hand- some mansion in the plain Ionic order' in beautiful grounds south-west of the site of the old Hall, which was still standing in 1846. (fn. 28) It was Italianate, ashlar faced with a prominent balustrade and, though the use of the Ionic order was constant, each elevation was different: the seven-bayed north-west front had a portecochère of paired columns, the south-east front a colonnaded verandah along its length, and the sixbayed south-west front was Palladian in inspiration with giant columns broken forward. Attached to the north-east side was a service court and in 1876 (fn. 29) a conservatory. Inside, the centre of the house resembled a covered colonnaded court with an imperial staircase. (fn. 30) The stable court lay north-east of the house, with to its south a kitchen garden, in which a forcing wall formed the north boundary. The grounds, laid out from 1843, (fn. 31) included plantations north-west and north-east of the house, which screened the church and outbuildings, a south- east garden, and open prospects to the west and north-west. The house was demolished in 1954 except for a plain three-bayed, two-storeyed brick wing, which formed part of the service court and in 2000 contained a flat, and a former servants' hall of one tall storey. The stables, to the north-east, have become part of industrial premises and the walls of the kitchen garden survive to the south of them. A late classical style lodge survives at the entrance to the drive, which in 1876 led from crossroads to the north-west. There is another lodge to the south-east and a third on the Maldon road. (fn. 32) In the plantation east of the house is a mid 19th-century house, which was two cottages in 2000, with the remains of an Italianate belvedere.
The manor, known in the 11th century as LEGRA (i.e. LAYER), held in 1066 by Liwin, a free man, and in 1086 by Hugh de Montfort in demesne, can be identified as WILLIAM A BIRCHES. (fn. 33) The estate was held in chief, prob- ably originally in socage, and owed castle ward at Dover. In 1292 it was held by Richard of Birch and it descended in his family to Hamon Birch, then Hamon's son Robert (d. 1342), (fn. 34) Robert's brother Nicholas (d. 1369), Nicholas's son John (d. 1415), (fn. 35) John's son Richard (d. 1474), and Richard's son William. The estate was acquired by William Tey (d. 1502) and descended with Aldham Hall to William Tey who sold it in 1593 to Humphrey Burton and William Sibthorpe. (fn. 36) Christopher Sibthorpe (d. 1605) left it to his daughters, Elizabeth and Anne, then minors. In 1768 it was held by Col. Brown, and in 1789 apparently by Montagu Burgoyne and others. (fn. 37) The manor house was presumably the building called William a Birch's recorded east of Layer Breton Heath in 1777, where Birch Cottage stood in 1876. (fn. 38)
Another manor in Little Birch was held in 1066 by Wlward as a manor and half a hide and 15 a., and in 1086 Hugh de St. Quentin held it of the queen's gift. (fn. 39) Hamon de St. Quentin, who died between 1216 and 1272, held it and sold it. (fn. 40)
Birch Holt, formerly Old Holt, in Great and Little Birch, Messing, Layer Marney, and Copford, sometimes referred to as a manor, may be associated with William atte Holte recorded in 1327. (fn. 41) It came to the Tey family before 1384, being held of the Tendring family, and de- scended with Marks Tey until the death of Thomas Tey in 1540 when it passed to his daughter Mary wife of Sir Thomas Nevill. (fn. 42) John Haynes held it when he died in 1605. His son John Haynes sold it in 1647 to William Tanner, a clothier of Great Coggeshall. It sub- sequently came to Sir William Abdy and in 1768 Sir John Shaw had it. (fn. 43) In 1814 it belonged to the Wright family who sold it in 1907 to the Round family; they sold it in 1918 to N. N. Sherwood. (fn. 44)
The timber-framed and rendered house at Birch Holt, which looks mainly early 19th- century, is L-plan and two-storeyed, with attics on the north-east side. The house on the site in 1676 and 1683 (fn. 45) was a large, irregular courtyard house within a triangular moat crossed from the south-east. The main south-east front was apparently late 15th- or early 16th-century, probably built by the Teys. The hall was of brick, with a high-end bay window with arched lights and angle buttresses, and two other bays divided by a buttress and clerestorey level windows. The doorway, which had a four centred head, was at the north-east end. The timber- framed cross wings had two jettied upper storeys; the low north-east service wing had mullioned windows, the south-west parlour wing mullioned and transomed windows and a lateral stack. South-east of the moat lay a farm yard, a moated orchard, and an avenue running south-westward. In 1876 (fn. 46) the east and south sides of the moat and the moated orchard remained and, although much of the house had been demolished, more buildings were standing than in 1999. At that time all that survived were remains of the north-east wing, raised and extended north-west in the 19th and 20th cen- turies but with old roof timbers at first-floor level and a large central chimney stack, probably inserted in the late 16th or early 17th century. The hall was demolished before 1876 and replaced by a block two bays deep and two bays wide, in the roof of which two massive 16th- century moulded beams were reused.