Pages 179-198
A History of the County of Essex: Volume 9, the Borough of Colchester. Originally published by Victoria County History, London, 1994.
This free content was digitised by double rekeying. All rights reserved.
ECONOMIC DEVELOPMENT
The Nineteenth-century Market Town
In 1835 Colchester was primarily a market town for the surrounding agricultural area, in addition processing some of the produce and providing retailing and professional services. Nevertheless the town's proximity to the London market, its position on the road to Harwich and the Continent, and its port encouraged wider trade. The silk industry had partly replaced the earlier trade in bays and says but never assumed comparable scale or importance. Trade with the surrounding rural communities was affected by the state of agriculture, which gradually recovered from depression following the Napoleonic Wars to greater prosperity from the 1850s. (fn. 1) The re-establishment of barracks in the town from 1855 (fn. 2) was a valuable stimulus to the local economy.
The port at the Hythe was an important centre of local trade with many warehouses, but because it needed improvement by c. 1840, Maldon was importing all the materials for Colchester's railway-building. (fn. 3) In 1838 the gasworks were built at the Hythe, and in 1848, a year after a railway goods station was built there, local traders included 26 coal merchants and 9 corn merchants, some of them owning their own ships, 3 lime-burners, 3 maltsters, 2 brickmakers, and 2 whiting manufacturers. There was one shipbuilder, P. M. Sainty, in 1848 but none in 1863, local shipbuilding being just outside the borough at Wivenhoe. (fn. 4) In the mid 19th century the coasting trade brought coal directly from northern England, and goods from the colonies and manufactures by way of London; exports were corn, malt, flour, and oysters. More than 50 ships belonged to the town, but small craft from other places along the Colne also operated from the Hythe. The comparatively insignificant foreign trade consisted chiefly of wines from Spain, oil cakes from Holland, and timber from the Baltic. W. W. and C. H. Hawkins were important timber merchants. Business improved after the channel was deepened from the Hythe to Fingringhoe in 1854, allowing larger ships to berth, essential if trade was not to be lost to other ports, especially Ipswich, where a wet dock had been created in 1842. Local businessmen were able to exploit the competition between providers of transport by sea and by rail to keep down the prices charged for heavy freight. (fn. 5)
The occupational structure in 1851 reflected Colchester's position as a market town. Most people still worked in small shops, small commercial premises, or workshops, although a few were already working in larger industrial units, like the silk spinners at Brown & Moy's four-storeyed silk factory. (fn. 6) Only about one person in 20 of the employed population could be considered an industrial worker, whereas a third worked in crafts, a fifth as servants, and a tenth in trade. The leading male occupations were in agricultural and general labouring, market gardening, processing and retailing food and drink, shoemaking, tailoring, carpentry, bricklaying, upholstery, drapery, and seafaring; women and girls worked predominantly in domestic service, tailoring, millinery, laundry, and the silk industry. The employment structure was similar in the rival town of Ipswich, except that Colchester, because it covered a larger area, had proportionately three times as many agricultural labourers, equivalent to nearly a tenth of employees, most of whom worked in its outlying rural parishes. Unrecorded casual and temporary employment, and domestic and part-time work, particularly of women and children, add complexity to the apparent pattern of employment. (fn. 7)
The town's silk industry, never of great importance, had been declining from the 1820s. In 1840 the remaining 40 to 60 weavers, employed as outworkers for London firms, were earning less than farm labourers, and some at times were forced to enter the workhouse with their families. Some weavers worked at part of the former Napoleonic barracks in Military Road. Spinning was carried on mainly by low-paid young women and girls, at Brown & Moy's riverside factory in Dead Lane, but the silk industry had ceased by 1881. (fn. 8)
Many people were employed in occcupations connected with the supply of food and drink. Market gardening remained important in the borough and its hinterland, and garden seeds were produced for sale. From the 1840s trains could carry perishable produce rapidly to the expanding London markets. (fn. 9) After the repeal of the corn laws in 1846 cheaper foreign corn could be imported by river to conveniently sited mills, whilst other mills gradually went out of business. East mill had been acquired in 1840 by a branch of the Marriage family, who introduced steam power in 1844, an innovation which other mill owners adopted over the next 10 years. (fn. 10) An additional corn exchange was built in 1845 in High Street to cope with the increasing local corn trade. (fn. 11) Colchester was famous for oysters, but the fishery provided no direct employment for the town. (fn. 12)
In 1851 there were three maltings at the Hythe, convenient for the import of barley and for the export to London of malt. (fn. 13) Kimber, Gross & Nicholl's, founded in 1830 as a porter brewery behind St. Botolph's Street, had by 1851 become Charrington Nicholl's, and had moved to the bottom of East Hill. St. Botolph's beer brewery north of St. Giles's church was bought by J. P. Osborne c. 1835 and converted to a vinegar brewery, but ceased manufacture c. 1854. A brewery which C. Stopes had established at East Hill in 1828 was given to R. Hurnard in 1866 and became the Eagle brewery. Cobbold's, founded c. 1823, continued at North Hill. Daniell and Bishop were operating at the Castle brewery by 1863, and by 1869 had absorbed the small Northgate brewery off North Hill. (fn. 14) Of the two distilleries existing in 1835, the large Colchester Distillery at the Hythe run by George Savill, Robert Maitland Savill, and William Carrington closed in 1841, but the one in Culver Street survived until the 1870s. (fn. 15) In 1859 seven of the nine soda water and ginger beer makers in Essex were in Colchester, but by 1874 there were only four out of 17. (fn. 16)
Clothing and footwear were still supplied by small craftworkers and traders in 1851, when more than 1,100 people were employed in the clothing industry, many presumably working in their own homes, and almost 400 in boot and shoe manufacture in small workshops. (fn. 17) The introduction of bootmaking machinery, chiefly American, from the 1850s was encouraged, often with financial assistance, by F. W. Warmington & Co., tanners and leather merchants. Small and mediumsized firms could hire machines on lease, but production remained small-scale at first. The number of footwear businesses increased from 72 in 1848 to 97 in 1863 as population increased. (fn. 18)
Firms in the building industry were also small. In 1848 eight small brickmaking works, five of which were at Mile End, employed 26 men. In 1851 there were 455 tradesmen besides an unknown number of labourers employed in c. 38 building businesses. (fn. 19) Some of the supplies needed by the construction industry were provided by the town's early ironfoundries. The foundries, which maintained close links with the wider ironmongery trades and shops, had not been established solely to supply agricultural needs; farm implements retailed by local ironmongers were often bought from outside manufacturers. (fn. 20)
The foundries formed the basis for future expansion in the engineering industries. Wallis & Coleman's was one of the earliest ironfounding partnerships, but in 1834 Richard, son of the late Richard Coleman, set up on his own, converting former maltings in St. John's Street into engineering premises called the Abbeygate works. He remained involved with the building industry, erecting several iron bridges, including Colchester's new North bridge in 1843, and the Coggeshall gasworks, besides making agricultural implements which he exhibited at agricultural shows. He was bankrupted in 1846, but was able to resume business by 1847 having taken over premises in the Castle bailey. He ceased operating in Colchester in 1848 when he took over a Chelmsford foundry. (fn. 21) Charles Wallis continued his father's business at the north-west end of High Street; after his death in 1849 the foundry was taken over by Thomas Catchpool, a local ironmonger and jobbing engineer who had close links with local farmers and whose foreman in the early years was James Paxman. (fn. 22) There were two other foundries, one operated in 1835 and possibly later by John Oakes and his son, and another set up in St. Botolph's Street by William Dearn, a nailmaker and ironmonger, by 1843, when he made the gates for the new town hall. (fn. 23)
The number of professionals was relatively small; in 1851 there were only 32 clergymen, 28 medical men, and 34 solicitors and lawyers. (fn. 24) Nevertheless the influence of the network of leading professionals and businessmen was very great, not only in the town's economic life but also socially and politically. Edward Williams, for example, honorary physician to the Essex and Colchester hospital 1837-49, was mayor four times. (fn. 25) F. B. Philbrick, who worked for the Liberals 1836-7 and 1880-4 and advised several public companies, was one of a succession of solicitors who exercised considerable power in the office of town clerk. (fn. 26)
Banking and insurance services became increasingly important in underpinning the local economy. In 1848 there were two small private banks, both in High Street: Mills, Bawtree, Errington, Bawtree, & Haddock, and Round, Green, & Co., the banking connexion of the Egerton Green and Round families dating from 1827. (fn. 27) The London & County Bank, which opened a High Street branch in 1852, was the first of the large amalgamated joint stock concerns to come to the town. (fn. 28) Banking services had also been extended to the working classes who could deposit small sums in Colchester Savings Bank, founded in 1817, which was also used by friendly societies. (fn. 29) The Essex & Suffolk Equitable Insurance Society, founded early in 1802 to provide fire insurance, continued as an influential institution. Charles Henry Hawkins, prominent in local politics, was one of its chairmen. (fn. 30) Specialized marine insurance was offered in 1846 by the Colchester Mutual Marine Insurance Society, which insured 70 ships, 17 of them from Colchester. The society was still operating in 1851. (fn. 31) The Colchester Permanent Benefit Building Society was founded in 1856, and the Colchester Co-operative Mutual Permanent Benefit Building Society in 1869. (fn. 32)
Industrial Growth to the Second World War
ECONOMIC CHANGE.
In the late 19th and early 20th century Colchester remained an important market town for the surrounding rural area. Agriculture continued to prosper until c. 1875, after which it became depressed as food imports from overseas became increasingly competitive. (fn. 33) Even so, helped by the demands for goods and services of the increasing garrison in the town, (fn. 34) the local economy was able to diversify and expand, and by 1885, as agricultural depression deepened, new manufacturing enterprises were gradually helping to loosen the ties with farming. Provisions and equipment were needed for horses as well as for men at the garrison: in the 1870s, when there were c. 4,000 soldiers, there were also more than 500 horses. (fn. 35) Demand for housing, clothing, and footwear, as for food and drink, retailing, laundering, and other services, was stimulated by population increase. Engineering developed substantially from the few small ironfoundries to become the leading industry by 1911. Firms in engineering, in the other leading manufacturing industries of footwear and clothing, and to a lesser extent in brewing, milling, and printing, gradually widened their markets at home, and some also abroad, especially in the Empire, and increasingly sought economies of scale in larger factories with modern machinery. (fn. 36) Boot and shoe manufacturers were among the leading firms in the 1890s but had disappeared by 1914, the factories mostly being taken over by clothing companies. The number of artisan workshops decreased in many different trades, but the expansion of the service sector, including the growth of both private and municipal public services, created new employment, some of it administrative and clerical. Because the town's industrial growth came later than in places in the north and midlands, it was less dependent on staple industries like cotton and iron and steel, which were threatened by competition from more recently industrialized countries in Europe and from the United States. Nevertheless, despite overall growth, there were periods of much economic uncertainty and frequent unemployment.
Railway services continued to improve, and local firms were keen to use them, capitalizing on the advantage of a fast link with markets in London and beyond. Some businessmen were already commuting daily to London before 1914. (fn. 37) The industrial centre at the Hythe expanded further, encouraged by the corporation's navigation improvement and the building of the King Edward quay between 1909 and 1912, and also because there remained a little space for new factories beside the railway. (fn. 38) In 1895 ships from London, the east coast, and South Wales brought wood, grain, stone, and coal to the Hythe; oysters, linseed oil, oil-cake, and general merchandise went to north European ports. (fn. 39) Between 1901 and 1912 Colchester was losing its share of the nationally increasing overseas trade, but gaining coastal trade. By 1912 nearly half of the small import trade was in timber, with Groom, Daniels & Co. the principal merchants. Parry's was an oil cake manufacturing and seed crushing firm. (fn. 40)
Cyclical economic fluctuations, increased mechanization, and more intense international competition caused variations in the demand for labour. (fn. 41) Deputations of unemployed men attended council meetings on many occasions demanding work not charity. Many families were reported in 1905 to be on the verge of starvation because of the breadwinners' lack of work, and some limited public works schemes were initiated by the council. (fn. 42) By 1910 the council considered local unemployment less serious than before, though the view was not shared by the unemployed. (fn. 43)
The First World War gave temporary stimulation to the production of food, the manufacture of munitions and uniforms, effective demands for higher wages, and the employment of women, but afterwards the problems of overcapacity in some parts of industry and of unemployment in the 1920s and 1930s were less severe in Colchester than they were in other parts of the country. (fn. 44) In 1921 the town had 2,282 registered unemployed (nearly 13 per cent of the total occupied population over 12, excluding men employed in defence), mainly because of depression in the wholesale clothing and engineering trades. (fn. 45) The local council undertook many schemes to provide work for the unemployed, claiming central government grants and loans where possible: in 1924-5 schemes included the widening of Ipswich and Mile End Roads, and the construction of a new quay and a railway siding extension at the Hythe. (fn. 46) Between 1930 and 1932 an average of c. 250 men a week were employed by the council in building the new bypass road, and another c. 20 were employed by contractors in haulage, quarrying, and other tasks; only c. 5 per cent of the men were brought in from depressed areas outside the borough. (fn. 47) The numbers unemployed nationally peaked in January 1933. In Colchester in the first half of 1933 on average 18 per cent of male industrial workers were out of work, but local unemployment was still increasing in early 1934 because of the discharge of men from the army. Recovery came in the later 1930s with changes in the national and international economy, and some changes in central government policies, including eventually rearmament, and some industrial reorganisation. (fn. 48) Colchester was well placed to take advantage of the growth of the new light industries in the south and east of England, and further expansion at the barracks was an additional stimulus to local trade. As conditions in more deeply depressed towns improved, the multiplier effect contributed to better economic prospects in Colchester.
Between the wars the port was further improved, King Edward quay being extended in 1925 and Haven quay built in the late 1930s, allowing larger vessels to berth, and port traffic increased during both World Wars. In 1935 grain, coal, special clay for making partition blocks, cement, linseed, timber, petrol, and road-making materials were imported by sea. Nevertheless rail and road communications were more significant for local manufacturing industries. St. Botolph's and the Hythe railway stations were used mainly for goods transport, and there were also private sidings. The Hythe district was an increasingly important industrial centre for the town, the new electricity power station being opened there in 1926 and new firms moving in during the 1920s and 1930s. (fn. 49) The coastal coal trade, carried on in ships owned mainly by northerners, continued until the mid 20th century. (fn. 50)
By the 1930s, despite the further expansion of the barracks, the town had lost ground to Chelmsford, which, as a county and cathedral town and an important centre of the new electrical and light engineering industries, was seen as the main economic rival. Although small businesses and larger family firms still dominated the private sector, the concentration in some industries into fewer and larger firms and the introduction of new technology had already begun. In Colchester as elsewhere the public sector continued to grow. Employment opportunities were starting to widen, although most unskilled workers and women still had very limited choices. (fn. 51) During the late 19th and early 20th century as a whole, despite economic depression and periods of unemployment, the standard of living at all levels improved, with a wider range of goods and services available, and working class people, when in employment, increasingly had money for pleasure as well as for necessities. The effects of periods of unemployment and sickness were mitigated by improved public services and less severe poor-relief policies. (fn. 52)
OCCUPATIONAL STRUCTURE.
By 1911 (Tables XI and XII) the structure of local employment showed some significant changes from that of the mid 19th century, with engineering and machine making becoming the leading male occupational category (not counting defence, which occupied more than a quarter of the men in the town). Conveyance of men, goods, and messages took second place, the railways alone employing 367 men, whilst numbers in the construction industry, which came third, remained about the same as in 1901 (when it had narrowly been first) but constituted a smaller proportion of the increased population. Employment was growing in food, tobacco, drink, and lodging, and also in agriculture because of increased market gardening and flower growing. Dress (clothing and footwear) employed fewer men than in 1901 because of the decline of the boot and shoe industry. In 1911 most employed women and girls were in domestic service, while tailoring and other dress trades were increasing slightly, as new clothing firms started up. More women worked in shops as retailing expanded, and clerical work was becoming a significant occupation, with 259 women employed. A few women, 231 by 1911, were able to follow careers in teaching, provided they remained unmarried, but employment opportunities for women of all classes remained much more limited than those for their male counterparts. (fn. 53)
Percentages have been calculated to the nearest whole number
Source: Census, 1901
Percentages have been calculated to the nearest whole number
Source: Census, 1911
In 1921 (Table XIII) engineering was still the leading industry. Transport and communications were still in second place, with 688 men working in road transport, many of them on trams and buses. The construction industry had lost ground, the war having brought building almost to a standstill. New employment opportunities were opening up in the service sector with growth in commerce, finance, and insurance, and in public administration as central and local government expanded. More than a third of working women worked in personal service, over half of them (1,455) in domestic service although the number had already started to fall slightly. The clothing industry was still the second greatest source of female employment, but office work, usually of a routine type, was increasingly available. Already in 1921 retailing employed 495 men and 498 women, and by the early 1930s as many as 50 motor buses and coaches daily were bringing people from a radius of c. 25 miles for shopping. (fn. 54) In Chelmsford developments were similar, except that clothing was a minor industry and work was available instead for men and women in the growing electrical industry and, for women particularly, in offices. (fn. 55)
Percentages have been calculated to the nearest whole number
Source: Census, 1921
ENGINEERING.
Thomas Catchpool & Son in High Street, later Catchpool, Stannard, & Stanford, and then Stanford & Co., continued to specialize in farming equipment. The firm grew into a small manufacturing company, and by 1890 was exporting to home and foreign markets, and had also diversified into marine engine repairs. It closed in 1924. (fn. 56)
Dearn's foundry, near St. Botolph's station, was taken over in 1861 by Joseph Blomfield, an ironmonger, and his partner Thomas Mayhew Bear, who developed the Britannia works alongside Dearn's. The firm also had a London depot and showroom for c. 20 years. It made sewing machines, and in 1871 employed 105 people, but by the 1880s the Singer Co. dominated the sewing machine market, and the Britannia works switched to making machine tools and oil engines, supplying markets all over Britain and accepting government contracts. By 1900 the firm was in difficulties and was taken over by Victor, Hugh, and Percy Nicholson, who also made motor cars on the site, but without much success. The works were closed c. 1912, but reopened in 1914 for munitions work. In 1918 the Britannia Lathe & Oil Engine Co. was operating again, still owned by the Nicholsons. It closed in 1938. (fn. 57)
In 1865 James Paxman, who had been Catchpool's chief engineer from 1851, set up Davey, Paxman & Co., an engineering firm, in Culver Street, helped by capital provided by C. M. and H. M. Davey. In 1873 he opened a second factory, the Standard ironworks, off Hythe Hill, but continued to operate at Culver Street simultaneously until 1877 when, faced with a major liquidity crisis during a recession in engineering, he sold that business to A. G. Mumford. Paxman took over the entire remaining Davey Paxman business when the Daveys retired. Many new types of engines and steam boilers were made for export, being exhibited at international exhibitions and winning prizes. Paxman's engines lit the 1889 Paris exhibition, and from 1898 were used in Colchester's municipal electricity undertaking. The firm's products included engines for South African mines, refrigerating equipment for ships, and generators for factories and tramways. In 1898 Paxman's became a limited liability company, the shares being held mostly by Paxman's friends and family. Wilson Marriage joined the Paxmans in the directorship, and Percy Sanders was managing director from 1912. In 1915 the works covered more than 11 a. and employed nearly 1,000 people. During the First World War women were employed and new machinery was built to carry out secret war work for the government. (fn. 58)
The wartime interruption of international trade caused Paxman's to lose many of its overseas markets. In 1920 it joined with other firms to become Agricultural and General Engineers Ltd., which in 1926 was critical of the outdated methods used at the Standard ironworks. A.G.E. collapsed in 1932 and the Colchester part was re-formed as Davey, Paxman (Colchester) Ltd., which in 1940 acquired the derelict Britannia Works. Improvements made under the leadership of E. P. Paxman resulted in the successful production of diesel engines, large quantities of which were produced for military purposes in the Second World War. (fn. 59)
A. G. Mumford, having bought Paxman's building in Culver Street in 1877, traded as the Culver Street Ironworks, employing c. 300 people by 1907 and specializing in steam pumps and small marine engines, many for British and foreign governments. (fn. 60) The firm closed in 1933, partly because the next generation of the Mumford family did not want to continue the business; the pump work continued under Truslove's in Brown's old silk factory. (fn. 61) Four engineering firms established between 1899 and 1907 at the Hythe survived the depression: Brackett's, the Colchester Lathe Co., the Pasley Engineering Co., and Wood's. Engineering firms benefitted in the 1940s from the demands of a wartime economy. Wood's, manufacturers of fans, expanded its workforce to nearly 1,000, including many women, to supply large quantities of equipment for ships, and also wireless and transmitting sets. The Lathe Co. mass-produced lathes on a larger scale. Colchester firms co-operated closely in wartime, with Paxman's providing engines and Wood's ventilation for tanks, and Mason's, a printing firm, supplying other tank components. (fn. 62)
FOOTWEAR.
In the 1860s T. Harbour increased his workforce to c. 50 when he added a second workshop in St. Botolph's Street to his existing one in High Street. About 1860 S. G. Knopp obtained machinery from Warmington & Co., tanners and leather merchants, to make shoes in Hythe Street, and, pleased with mechanization, he built his 'Time Will Tell' factory in 1870 in Portland Road, where in 1871 he was employing 61 people, making high quality footwear for retail outlets in London and other large towns. The premises were enlarged in 1889-90, when the home demand was so great that the firm was unable to accept foreign contracts. A. C. George built a boot and shoe factory in 1881 at the corner of Kendal Road and Charles Street, and in 1890 employed more than 120 people and sold his boots and shoes all over England. W. Warren, who had a shop in High Street, another in Short Wyre Street, and a factory in Eld Lane, employed about 50 men in 1890. John Kavanagh started in the trade by repairing army boots and renovating rejected ones for resale. (fn. 63) He set up a factory in part of St. Botolph's brewery in Stanwell Street, and by 1889, when it was seriously damaged by fire, he was employing 300 people, and supplying nine London shops and a Liverpool trader. He opened a new factory lit by electricity, and had 370 employees in 1892, overtaking Knopp as the leading footwear manufacturer. (fn. 64)
The industry declined locally in the early 20th century, and by 1907 only Knopp's and George's remained of the earlier large firms. (fn. 65) G. S. Knopp, who had become sole proprietor in 1900 and made Knopp's a limited liability company in 1906, died in 1907, and the firm apparently closed soon afterwards. (fn. 66) George's factory had been sold by 1910 to E. Rose & Co., calendar-makers. (fn. 67) The 64 boot- and shoe-makers and 24 repairers remaining in 1914 were mostly very small businesses. Buckingham's in Head Street and Potter & Fisher's in Priory Street were relatively large, but footwear manufacture was no longer a great source of employment. (fn. 68)
CLOTHING.
Some of the tailoring firms, who had been supplying outwork in the area set up factories. Moses and Simon Hyam, sons of Hyam Hyam, continued his clothing business; based in London, the firm was trading from St. Botolph's Street in 1863, but by 1870 had opened a new factory in Abbeygate Street with modern cutting and sewing machines. (fn. 69) Messrs. Hammond & Co. started in 1854 and by 1871 had c. 500 employees, some at their Stanwell Street factory and others working at home. H. E. & M. Moses, another London business, traded in Colchester between 1855 and c. 1898, opening a factory in Priory Street by 1863. In 1865 six large firms were reportedly employing 2,500 females and 200 males. (fn. 70) The clothing trade expanded as the footwear industry declined. By 1907 when Hyam's was employing 300 people at the Abbeygate Works and many others on outwork, it was considered the largest English wholesale firm dealing exclusively in ready-made clothing. Several other new local firms followed Hyam's model, including Senior, Heap & Co. established in 1890, which was taken over by Crowther's in 1900. (fn. 71) Hollington Brothers of Aldgate took over Kavanagh's boot factory in 1899 for ready-made clothing manufacture. H. Leaning & Co., wholesale clothing manufacturer specializing in men's wear, took over Knopp's 'Time Will Tell' boot factory by 1913. (fn. 72) Hart & Levy were wholesale clothiers in Magdalen Street. (fn. 73) In 1911 the Colchester firms probably employed thousands of outworkers within a radius of 20 miles. (fn. 74) Between the wars the large firms survived the depression. The Colchester Manufacturing Co., previously Hammond's, was run from the 1890s by members of the Turner family, specializing in summer clothing, often for government contracts. Peake's in East Stockwell Street, the only new firm to appear, specialized in bespoke men's wear. (fn. 75)
BREWING.
The larger breweries, using new mechanized methods, grew at the expense of the smaller ones. The Stopes family, owners of Eagle brewery on East Hill, took over Cobbold's on North Hill in 1882. Those two breweries were merged in 1886 with the firm of Arthur T. Osborne, son of J. P. Osborne, which had 70 tied houses, to form the Colchester Brewing Co. which in 1894 owned 319 licensed houses, 63 of them in Colchester. (fn. 76) In 1887 the Daniell brothers at Castle brewery merged with Daniell & Son at West Bergholt, and by 1892 production was entirely at West Bergholt. The larger breweries competed with each other for control of tied houses whose numbers were limited by the licensing laws. (fn. 77) Charrington Nicholl's at East Hill remained a family firm supplying its own public houses until it was taken over c. 1920 by Colchester Brewing Co., which in turn in 1925 became part of Ind Coope's, which merged with Allsopp's in 1934; the takeovers were designed to accumulate more tied houses rather than more brewing plant. (fn. 78) Mallison's in William's Walk, a mineral water manufacturing business previously owned by Charrington Nicholl's, in 1890 produced 1,500 dozen bottles a day using modern plant and had works and stores in other towns in eastern England; (fn. 79) by 1914 it was known as Colchester Table Waters Ltd., one of five mineral water manufacturers based in Colchester. (fn. 80)
MILLING.
Milling became concentrated in a few larger, mechanized mills. (fn. 81) The Marriage family's business at East mill became a leading firm in the region, keeping abreast of the latest developments. In 1878 the 10 pairs of millstones were augmented with two sets of rollers, and by 1890 at least 2,500 sacks of finished flour were produced every week. The firm was controlled by the government in the First World War, and afterwards had problems of excess capacity because bread consumption fell as the standard of living improved. It managed to modernize and diversify to produce a wide range of goods: feeding stuffs, biscuit flour made from home-grown wheat, bread flour made mostly from colonial and some Russian wheat, and, until the millstone mill was dismantled in 1931, special stoneground Passover flour. Between the wars it took over Chopping's of Fingringhoe and Marriage and Hicks's at Bury St. Edmunds. (fn. 82)
PRINTING.
The publication and printing of local newspapers provided a base for later expansion in the printing industry. By 1870 Benham's, a general printing firm which also produced the Essex Standard, employed 25 men. Newspaper proprietors included J. B. Harvey, John Taylor, and members of the Benham family, all influential figures in the town. (fn. 83) Wiles's was founded in 1869 and expanded, as did the general printing side of both the Essex Standard and the Essex Telegraph newspapers. Cullingford's printing firm was founded in 1885, and by 1913 employed 36 apprentices and printers at the works in East Stockwell Street and also had a shop in High Street. Mason's was started in 1905 as a small photographic printing business, which also produced the blueprint paper and drawing office equipment needed by local engineering firms; it pioneered photocopying. The firm grew large, diversifying into a wide range of office supplies, and opened the Arclight works in Maidenburgh Street in 1921. Rose's, calendar printers on North Hill, took over George's shoe factory in Kendal Road but remained a small-scale business. In 1908 Spottiswoode's, a large London printing firm, came to the Hythe. The printing industry survived the depression reasonably well and the number of local firms increased from 11 to 15 between 1922 and 1937. Cullingford's opened a new works in East Stockwell Street in 1927, but had some difficulties during the worst years of the depression and in 1932 temporarily reduced employees' wages. It introduced new technology from the late 1930s. Mason's expanded, in 1933 opening a branch factory in Magdalen Street for manufacturing sensitized paper, and in 1938 moving the Arclight works to a new factory in Cowdray Avenue. (fn. 84) During the Second World War Mason's developed greatly, producing equipment for cameras for aircraft reconnaissance, for war maps, and for tank landing craft, as well as supplying office furniture. (fn. 85)
GROWTH OF OTHER SECTORS.
The manufacture and retailing of food and drink continued to expand, and the range of food was widened with imports from the Empire by retailers like Evatt Sanders & Son. (fn. 86) Many new shops and public houses were established to serve the barracks, and most food was still sold in small neighbourhood stores. (fn. 87) By 1911 the Colchester Co-operative Society was one of the largest retailers and wholesalers. It had been founded in 1861 by John Castle, a foreman in the silk industry; other skilled men including James Paxman were trustees, and the first shop opened in Culver Street. The business moved to new premises behind St. Nicholas's church in 1864-5. Much of the Co-op's growth was in New Town, which was developed from the 1880s, and by 1889 a bakery, the first grocery branch, and a butchery had opened there, besides two other butcheries in North Station Road and at the town centre site. In the 1890s the Co-op opened grocery stores at Lexden and Rowhedge, and coal depots at St. Botolph's and the Hythe. By 1911 when the first motor van was added to the 27 horse-drawn vehicles already in use for deliveries to Co-op shops, there were shops in High Street and Wyre Street, and in 1926, when a modern bakery was established in Kendall Road, transport consisted of 36 horse-drawn and 16 motor vehicles. In 1928 the Co-op opened a dairy in Wimpole Road. (fn. 88)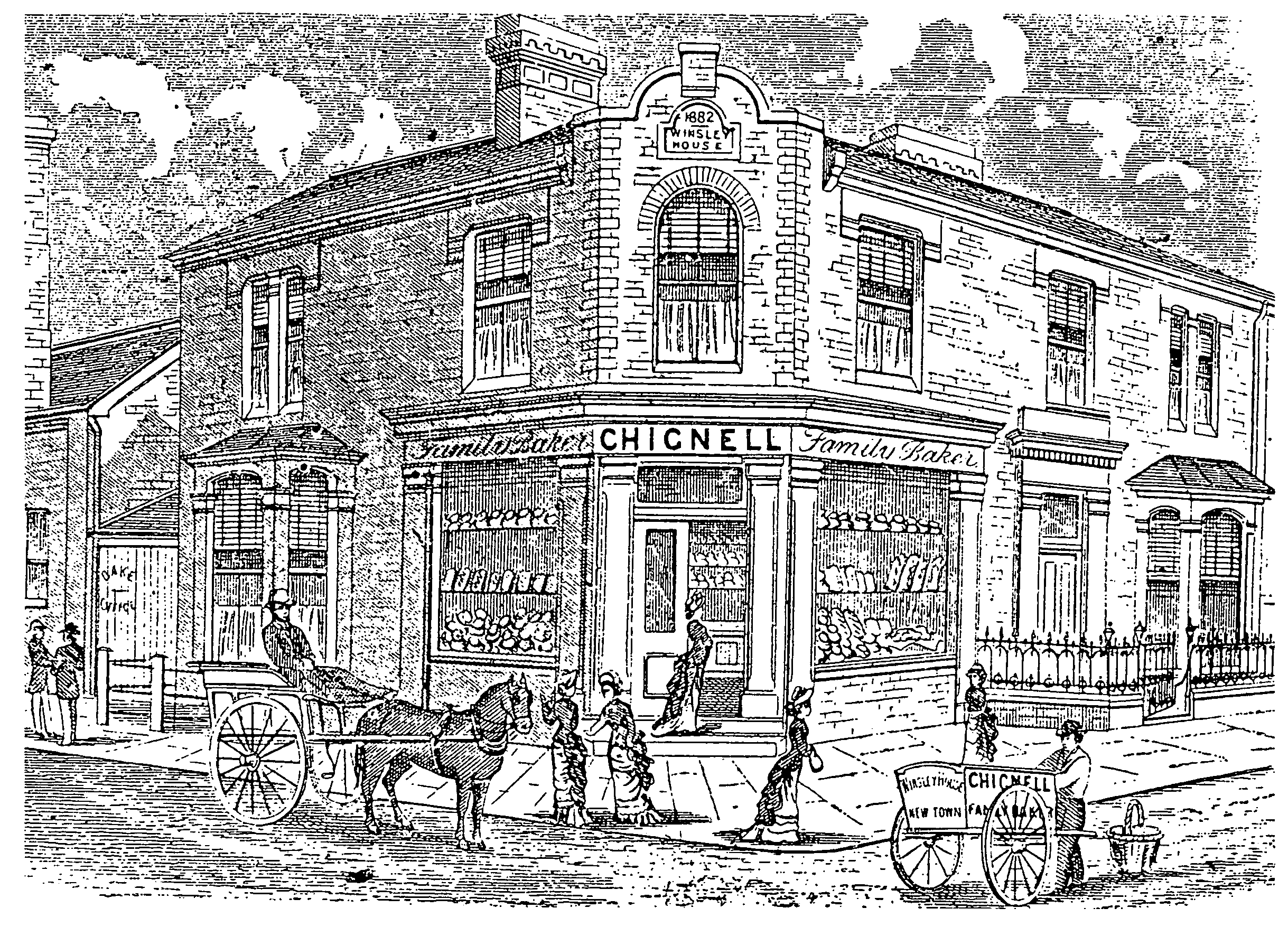 As the built-up area of the town grew, not only in New Town, the construction industry provided many new jobs, mostly in small family firms, though the work was often casual. In 1871 Everett's, one of the largest, employed 45 skilled men, 41 labourers, and 2 boys. (fn. 89)
The cultivation of fruit, vegetables, and flowers by small family businesses was still widespread, and produce could be transported quickly by railway to London. (fn. 90) Benjamin Cant's nursery business, which was established in 1853 and moved to Mile End in 1879, and his nephew Frank Cant's rose farm, established at Braiswick in 1875, both developed into specialist rose-growing enterprises of national and international repute. The work was still labour intensive in the early 20th century; at Mile End c. 50 people were employed outdoors and a few more in the office, and extra, temporary, workers were taken on seasonally for budding and other tasks. (fn. 91) The bulk of business was in field roses and seedlings, but supplying petals for rose-tipped cigarettes was an unusual sideline; as newer methods were introduced the number of employees fell from more than 50 before 1914 to 30-40 by the 1930s. (fn. 92)
The service sector, which included public services and hospitals, gradually employed more people. By 1899 the borough council had c. 280 employees; by 1907 about half of its wages bill was spent on its 200 teachers. In 1912 new jobs were provided when the Post Office made Colchester a regional telephone centre. (fn. 93) Banking was increasingly centralized in national banks. In 1891 Round, Green, Hoare, & Co. merged with Gurney's of Norwich, and later the same year took over the business of Mills, Bawtree, Dawnay, Curzon, & Co. which had collapsed. Barclay's of London in turn took over the business of Gurney's and Round, Green, & Co. in 1896. Parr's bank opened in 1899. By 1911 there were five banks: Parr's, two branches of Barclay's, London & County, and Capital & Counties; there were two building societies, the Equitable and the Permanent Benefit. In 1918 Parr's bank was absorbed by the London & County which amalgamated with the Westminster bank. Insurance services were provided by the Essex and Suffolk Equitable, Colchester Mutual Plate Glass, and the Association for the Protection of Property. (fn. 94)
Business and professional people, as well as the gentry, invested their capital in new ventures both at home and abroad. Leading shareholders in the Colchester Brewing Co. included London merchants and bankers, besides notable local people like Thomas Osborne, merchant of Lexden, Thomas Moy, coal merchant of Stanway Hall, and Arthur Stopes, brewer of East Hill; a few shares were held by working men like T. Moy's butler and his gardener, who probably received them as gifts from their employer. (fn. 95) The far-reaching investment interests of the physician, Alexander Wallace, were probably similar to those of other local professional and business men: he acquired brochures about photographic apparatus in Britain and Italy, timber in Australia, goldmining in Canada, and the development of the Chinese imperial railway. (fn. 96)
INDUSTRIAL RELATIONS.
The growth of trade unionism locally had been hindered in the mid 19th century by the effects of low wages and by the fact that most workers still worked in small, relatively isolated units. Wages were kept low by the recruitment of factory workers from the depressed surrounding agricultural area, especially in Suffolk, by the use of women, including soldiers' wives, and young people, and by the continuing prevalence of tailoring outwork in the clothing industry. (fn. 97) Low wages were likewise widespread in Norwich where there was a similarly declining agricultural hinterland. (fn. 98) Colchester's developing engineering industry, however, like that at Chelmsford, also recruited some skilled workers from other parts of the country. (fn. 99)
In 1844 skilled men formed a branch of the Tailors' Protection Society and in 1867 were connected with the Amalgamated Society of Tailors. Shoemakers were organized long before 1840 and in 1853 they gained a wage increase from most employers. In the same year local carpenters, aware that building workers could command higher wages in London, successfully went on strike for more pay. The Colchester United Assistants' Association was formed in 1844 and its efforts together with middle class support achieved a gradual reduction in the opening hours of shops. The poorly paid girls at the silk factory in St. Peter's Street between 1843 and 1872 occasionally took industrial action but with little result in a declining industry. Skilled workers were usually better organized. A small local branch of the Amalgamated Society of Carpenters and Joiners was formed in 1863 by John Howe, but it functioned more like a friendly society than a union, with no rules about strike pay. Although there was a dispute in the engineering industry in 1872, a branch of the Amalgamated Society of Engineers was not established until 1882, probably because of the paternalism of James Paxman at the Standard ironworks and Joseph Blomfield at the Britannia works. A branch of the National Union of Boot and Shoe Riveters was set up in 1882. (fn. 100)
Factory work brought changes in working practices and the possibility of greater control by employers, but also provided better opportunities for workers to promote trade unionism. By 1891 workers at three of the largest factories were summoned to work and dismissed by a steam whistle, a sign of changing work patterns. (fn. 101) In the early 1890s trade union membership increased among unskilled as well as skilled workers, and Colchester Trades Council, founded in 1891 by John Howe, set rates of pay in 1894 ranging from 4d. an hour for labourers to 7d. for skilled building workers, which were agreed by the men and the employers' association. Union membership declined between 1896 and 1900, mainly because of economic recession but also because of political divisions in the labour movement. (fn. 102)
Most Colchester trade unionists were not militant, and disputes were few. The 1892 dispute at Kavanagh's boot factory, caused by his imposition of fines for lateness and absenteeism, resulted in union blacklisting of his firm. Knopp's was able to modernize its working practices in a less threatening fashion. (fn. 103) In 1906 a borough council employee, supported by his union, successfully took court action for alleged unfair dismissal; thereafter unions could assert that even council employees could benefit from trade union protection. (fn. 104) Paxman's factory was unexpectedly brought to a standstill for a few days in 1910 over the appointment of a 'speediator' or rate-fixer to reduce the price paid for piecework. The strike ended when the speediator resigned, as had happened in a similar dispute three months earlier at Hoffman's in Chelmsford. The Paxman's strikers were commended for their orderly behaviour, and many of them felt that the strike could have been avoided if the paternalistic James Paxman had not been ill at the time. (fn. 105)
Trade unions were able to negotiate wage rises and improved conditions in the days of full employment, high food prices, and inflation during the First World War, and immediately afterwards. A 48-hour week was agreed for council manual employees in 1919, but a few months later tramways employees were apparently conceded an extra 4s. a week only after they threatened to strike. (fn. 106) National disputes, like one in the engineering industry in 1922, sometimes affected local firms, but unions were inevitably in a weak position when unemployment was high, and militancy was not the preferred style of employees who still mostly worked in family businesses run on paternalistic lines. Even after James Paxman's death in 1922 his firm retained much of his personal style. (fn. 107) The General Strike of 1926 had far less impact than in places where labour relations were more abrasive. (fn. 108)
Employers responded to growing trade unionism by forming their own organizations. Colchester Chamber of Commerce was founded in 1904, encouraged by E. H. Barritt, a dispensing chemist, one of the many mayors who were active businessmen. (fn. 109) In 1911 it was amalgamated with the Colchester Trade Protection Society to promote members' interests and regulate local trade. (fn. 110) Freemasonry was also an important organ of mutual help for employers, and a significant local economic and political network, the number of masonic lodges increasing from 8 in 1917 to 11 in 1927. (fn. 111)
The Pre-eminence of the Service Sector
The Second World War, like the First, brought full employment and further state intervention in industry, and was a great stimulus to the town's manufacturing industries. The local engineering and clothing firms again played an important part in the war effort. (fn. 112) In the immediate post-war period interventionist reconstruction policies, particularly in housing, transport, and health and welfare, initiated and partly funded by central government, enabled full employment to continue locally. The town still provided an agricultural market for the surrounding rural area where large quantities of milk, fruit, and vegetables were produced, and was increasingly also regarded as as an administrative, commercial, and cultural centre for northeast Essex. (fn. 113) The local economy prospered in the general expansion of the 1950s and 1960s, with the engineering firms enjoying their heyday in the 1960s. The service sector grew especially fast, supported by rapid population growth. The public sector gradually employed a greater proportion of the occupied population until the late 1980s. Commuting, both in and out of the town, increased. Manufacturing was affected adversely by the fuel crises of the 1970s and subsequent periods of recession, and suffered a serious decline in the 1980s. Policies of rationalization and technological change often reduced the demand of firms for manpower. The garrison, the large number of hospitals, and, from 1961, Essex University, were stabilizing influences in a rapidly changing economic structure. (fn. 114)
Percentages have been calculated to the nearest whole number
Source: Census, 1951
In 1951 (Table XIV) engineering and metal manufacture was the leading male occupational category (excluding the 20 per cent of the male working population in defence). The service sector, however, was growing fast, with commercial and financial occupations now in second place, ahead of transport and the construction industry, and with other white collar jobs well represented. The leading occupations for women and girls were in personal service, in which category about half of the jobs (1,004) were in domestic service, a declining number. Routine office jobs, and professional and technical work, particularly nursing and teaching, had overtaken work in clothing firms in the league of female occupations, and nearly as many women and girls worked as shop assistants (744) as were employed in the clothing industry (769). (fn. 115) In 1952 in Colchester and small areas of adjoining parishes 58 per cent of all insured workers were employed in the service industries, 30 per cent in manufacturing, and 12 per cent in extractive industries. (fn. 116)
The shift from manufacturing to service industries continued in the later 20th century. In 1977 extractive industries occupied 4 per cent of the working population in the new Colchester local government district, manufacturing accounted for 25 per cent, construction 4 per cent, and service industries 67 per cent, following the national trend; 82 per cent of female employment was in the service sector. (fn. 117) By 1987 only a fifth of the total district workforce was in industrial manufacturing. (fn. 118) Tourism, promoted from as early as 1903, and the leisure industry expanded significantly. (fn. 119)
The electrification of the railway in the early 1960s and improvements to the road network in Essex and East Anglia, besides helping local businesses, enabled more people to commute to work. In 1951, from a total working population of approaching 30,000, nearly 6,000 came into Colchester and c. 1,500 of the resident population travelled out to work. (fn. 120) During the following decade in-commuting increased by 43 per cent and out-commuting by 23 per cent, with a net balance of 6,700 workers coming in. (fn. 121) In 1982 only c. 10 per cent of the central area residents worked outside the local government district. (fn. 122)
The Hythe was the largest industrial area in 1952, but its 108 a. were only partially developed. Paxman's occupied a site of c. 22 a., and there were several small engineering works, a manure and skin-and-bone works, and a barge repair works. Molar clay was imported and made into fire bricks. Some sites, but not Paxman's, had railway sidings; road access was bad. Elsewhere c. 16 a. of industrial land south of Bergholt Road beside the railway was occupied by the Windifan works and the British Railways laundry, and c. 10 a., between Cowdray Avenue and the railway, by the Arclight works and a small electrical firm. (fn. 123) During the 1950s land at Gosbecks Road was allocated for light industry, but most of it was used for distribution depots. (fn. 124) Trade at the port, predominantly imports, increased until 1982, but most of the growth was below the Hythe. (fn. 125) The workers were not unionized, and so the port was used in the late 1960s during the London dockers' strikes, and in 1984 for coal imports during the national miners' strike. (fn. 126) In the later 1980s trade decreased and overheads increased, making the port's future uncertain. (fn. 127)
As new businesses moved in and existing ones expanded or amalgamated, the character of local firms increasingly changed from comparatively small family-run concerns to larger national and multinational undertakings. (fn. 128) The Colchester Lathe Co. was taken over by the (George Cohen) 600 Group after flood damage in 1953. (fn. 129) In 1964 G.E.C. bought control of Wood's, Britain's largest manufacturer of electric fans. (fn. 130) Brackett's engineering was taken over by Hawker Siddeley in 1967. Mason's, which made drawing office machinery and equipment at the Arclight works, was taken over by successive companies, eventually becoming Ozalid's in 1969; the firm had declined after the retirement of Bernard Mason in 1962. (fn. 131) Marriage's milling business was taken over by Hovis McDougall in 1961 and merged with Rank's in 1962; the Colchester mill closed in 1976. (fn. 132)
Paxman's expanded in the earlier part of the period, under the direction of Sir Percy Sanders and Edward Paxman. In the 1960s, when the company was pioneering off-shore oil-drilling equipment, the workforce was c. 2,500. The firm faced difficulties later with problems of recession and industrial relations, but there were still 2,000 employees in 1980; however in 1992 only 650 remained. Other manufacturing firms had similar experiences, and technological change often reduced the demand for labour. The Colchester Lathe Co., which c. 1987 still employed c. 500, closed in 1992, new firms abroad having developed their own lathe-making machines to supply their own markets. Nevertheless Wood's, having become part of G.E.C., remained very successful, being one of the foremost electric fan companies in the world in 1992 when it employed 920 people. (fn. 133) The Colchester Co-operative Society, however, also stayed successful, continuing to diversify and to expand beyond the town. (fn. 134) Cheap clothing imports, particularly from the Far East, and the revival of the East London sweated clothing trade after the war affected the clothing industry adversely: Crowther's wholesale manufacturing business closed in 1968, and Hollington's closed its Colchester factory in 1983. (fn. 135)
Shops and offices were restricted in the 1950s by lack of space in the town centre. The central area was redeveloped from the 1960s to improve retailing facilities, and new sites were provided for shopping along main roads and on the outskirts of the town. Industrial zones were designated from the 1950s, and the Severalls industrial estate was developed in the 1970s. (fn. 136) The Trebor sweet factory built there c. 1976 was known nationally for the design of its factory buildings and for its new participative methods of work organization. (fn. 137) Efforts were made from the 1980s to encourage small businesses. The Cowdray Centre, containing small and medium sized units, was opened in 1982. (fn. 138) In 1990 a business park of 35 a. was opened off Severalls Lane and another at the Hythe to provide units for small firms. (fn. 139)
The local economy was increasingly affected by wider national and international developments, and in the early 1990s particularly by Britain's membership of the European Community and by industrial recession. By the late 1980s Colchester had developed from an agricultural market town to a potential leading regional service centre for eastern England, viewing its proximity to Europe as an asset. (fn. 140)