Pages 279-284
A History of the County of Essex: Volume 9, the Borough of Colchester. Originally published by Victoria County History, London, 1994.
This free content was digitised by double rekeying. All rights reserved.
PARISH GOVERNMENT AND POOR RELIEF
PARISH GOVERNMENT. (fn. 1)
Except for some 17th-century vestry minutes of All Saints' and St. Leonard's parishes, surviving parish records consist of 18th- and 19th-century vestry and select vestry minutes, overseers' rates and accounts, churchwardens' rates and accounts, surveyors' accounts, and some bills and settlement papers.
Vestry meetings to appoint parish officers were held usually at Easter, and in some parishes also at Michaelmas or Christmas. There were additional meetings: up to 10 a year were recorded in the later 17th century in St. Leonard's and All Saints' parishes, but meetings in the 18th century in all parishes where the records survive were fewer. (fn. 2) Usually from 2 to 20 male parishioners of high status attended, with a larger attendance at the Easter meeting; women were seldom present. (fn. 3) Between 1798 and 1809 in All Saints' parish a monthly meeting, composed mainly of parish officers, acted as a small executive committee. (fn. 4) Following the second Sturges Bourne Act of 1819 select vestries of c. 20 members, incumbent, parish officers, and local gentlemen and traders, met at least once a month in All Saints', St. Botolph's, St. James's, St. Giles's, and St. Runwald's parishes, to consider applications for poor relief. (fn. 5) The rector or vicar, if present at ordinary or select vestry meetings, took the chair; otherwise a churchwarden or another parishioner of standing presided. Meetings were usually held in the vestry, and sometimes adjourned to a private house or an inn; members of the All Saints' monthly meeting met alternately at the Castle inn and the Seahorse, St. Botolph's vestry meetings were held at several different inns and at the parish workhouse, and in the 1820s St. Runwald's monthly meetings were held at three different inns. (fn. 6)
Two churchwardens and usually two overseers, but sometimes three or four, were appointed. A Quaker served as overseer in Holy Trinity in 1761 and again in 1770, and another one as overseer in St. Mary Magdalen's in 1782. (fn. 7) A woman was appointed overseer in St. Botolph's in 1754, in St. Nicholas's in 1780, and in Holy Trinity in 1786, but each time the work was done by a male deputy or deputies. From the 1820s parishes normally employed an assistant salaried overseer; St. Giles's had two in 1830 and 1831. (fn. 8) Two, or occasionally three or four, surveyors were appointed annually; Holy Trinity had a salaried one from 1836. (fn. 9) Usually two parish constables were appointed, but in June 1757, during the national unrest that preceded the elder Pitt's recall to the government, there were four additional constables in St. Botolph's and in All Saints' parishes 'for suppressing all riots and disorders'. (fn. 10) From c. 1800 officers were appointed to assess and collect taxes for the central government.
Vestries, besides looking after their parish churches and answering for watch and ward, undertook other public services, such as maintaining fire engines and parish pumps. (fn. 11) St. Nicholas's had a parish cage from 1760 to 1810, and St. Leonard's erected one in 1783. (fn. 12)
PARISH POOR RELIEF TO 1834.
Except between 1698 and 1745, (fn. 13) the parish's main responsibility from the Tudor period was poor relief, supervised by the borough justices. In 1678 the justices ordered parish officials to badge the poor, and the poor were being badged in St. Mary's parish in 1690. (fn. 14) In 1783 the ratepayers of St. Peter's parish agreed to badge the poor, except the blind or lame or those over 70 years of age. (fn. 15) Overseers gave relief in regular or casual cash doles, or sometimes loans, supplemented by grants of clothing, shoes, bedlinen, cloth, fuel, soap, and, occasionally, tools for work. Rents, rates, or fees for burial or nursing care might be paid. Widows, children, the sick, and the aged were always amongst recipients of poor relief, but, especially in times of high unemployment, able-bodied men were also relieved. An incomplete survey of St. Botolph's parish poor in 1794 included many weavers; only a few of the families receiving relief had more than four children. (fn. 16)
Medical care was provided on a casual basis in the 18th century, but by the early 19th century many parishes had a salaried medical officer. Smallpox inoculation at parish expense was provided occasionally in the late 18th century in one or more inoculating houses: in 1776 a man was nursed at an inoculating house at the expense of St. Leonard's parish; (fn. 17) in 1779 St. Nicholas's parish paid for the treatment of a parishioner in the inoculating house. (fn. 18) There were no local facilities for the treatment of mental handicap and illness until the 1850s. (fn. 19) Occasionally parishes sent lunatics to the Bethlehem hospital (Lond.) and paid for their maintenance there. (fn. 20) St. Botolph's had a standing arrangement in the early 19th century to send insane paupers to Holly House lunatic asylum, Hoxton (Mdx.). (fn. 21) The pantry in St. James's workhouse was altered in 1826 to provide a lock-up for a deranged and very dangerous woman. (fn. 22) In 1830-2 St. Runwald's boarded out two harmless idiots at a house in Maidenburgh Street, (fn. 23) but presumably such paupers often remained with their own families.
Besides the overseers' difficulties in distinguishing between the workshy and those eager to support themselves, there were the perennial problems of unemployment and low wages. (fn. 24) The parishes' intention was to provide work within workhouses, but lack of workhouse accommodation often forced them to find work outside. All Saints' bought a bay loom in 1690 and bay work was given to the poor. (fn. 25) In the 1740s St. Runwald's provided spinning wheels for some female paupers; in 1779 St. Nicholas's lent a man some weaving equipment from the workhouse; and in 1801-2 St. Leonard's lent parish spinning wheels to poor people. (fn. 26) Unemployed men were sometimes given paid labouring work: in 1826-7, in a decade when jobs were particularly scarce, St. Botolph's parish employed men on the roads and at the parish gravel pit. (fn. 27) Overseers of several parishes successfully offered the improvement commissioners tenders for sweeping streets, to occupy occasionally unemployed men. (fn. 28)
Children were expected to work as soon as they were old enough. In 1771 children of applicants in St. Leonard's were to spin all day, with just a half hour break for breakfast and an hour for dinner, otherwise relief would be witheld. (fn. 29) Similarly in 1827 St. Botolph's denied relief to parents refusing to send their children to work in the town's silk mills, the millowners having requested children, presumably as cheap labour. (fn. 30) In St. Mary's-at-the-Walls, however, many parents were encouraged by the town gentry not to allow their children to work at the local silk factory for fear of corrupting their morals. (fn. 31) Younger children were sometimes boarded out by a parish, and older ones apprenticed. Before 1800 boys were apprenticed mainly to fishermen, oyster dredgers, and mariners, near Colchester or further away at Southwark, Deptford, South Shields, or Sunderland, and to weavers, mainly in Colchester. After 1800 no children were placed with weavers, but a few boys still followed nautical trades and nearly a third were apprenticed to cordwainers. (fn. 32)
Sometimes lodgings were found for paupers, (fn. 33) or houses rented for their use. (fn. 34) The large number of unendowed almshouses in the various parishes were presumably used to house paupers. (fn. 35) Ten of the 12 town parishes had their own small workhouses in the 18th century and the early 19th. Some parishes converted existing almshouses into workhouses, but many of those may have been used as pauper housing rather than as places where paupers were set to work. The former St. Catherine's hospital in Crouch Street, which had been used as a borough workhouse in the later 16th century, was used as a parish workhouse for St. Mary's-at-the-Walls in the later 18th century. (fn. 36) Almshouses on the north side of Bucklersbury Lane became St. Nicholas's workhouse by 1748. (fn. 37) In 1834 St. Mary's workhouse held 8 inmates on average. (fn. 38) A workhouse in St. Martin's from 1770 to 1788 was probably in Hospital Yard, Angel Lane, where a pest house was said to have stood. (fn. 39)
Some or all of the other parish workhouses were also converted buildings. Three houses near East bridge in East Street became St. James's workhouse in 1755; there were 14 inmates in 1834. (fn. 40) All Saints' equipped a six-roomed house as a workhouse c. 1753; the outbuildings were being let by 1774 and the house was being used for pauper housing by 1799; in 1801 the vestry planned to create another workhouse and by 1822 one was in use. (fn. 41) St. Botolph's had a workhouse in 1782 which may have been the one in Moor Lane (Priory Street) mentioned in 1825. (fn. 42) Between 1829 and 1831 there were 17-27 inmates. (fn. 43) St. Giles's had a workhouse in 1775 which admitted paupers from St. Leonard's also, and which may have been the large workhouse in Stanwell Street recorded in 1833. (fn. 44) St. Leonard's had its own workhouse by 1768, which may have been the one recorded in 1834 on the south side of Hythe Street opposite Knaves Acre. (fn. 45) Holy Trinity had a workhouse by 1749 and a poorhouse, perhaps the same house, on the north side of Eld Lane in 1818. (fn. 46) St. Peter's had a workhouse in 1779, probably the one in North Street mentioned in the 1830s; in 1820 there were 31 inmates. (fn. 47) St. Mary Magdalen's parish had four houses on the north side and two on the south side of Magdalen Street, all sold in 1837, described as a workhouse but which probably functioned rather as pauper housing. (fn. 48) St. Runwald's had no workhouse of its own, but apparently used those in neighbouring parishes. (fn. 49)
The workhouse masters usually received an annual salary and a weekly allowance per inmate, which in St. Botolph's was reduced from 3s. 9d. in 1829 to 3s. in 1832. (fn. 50) St. James's reduced the workhouse master's allowance from 3s. 6d. in 1821 to 3s. 3d. in 1832. Sometimes masters were also allowed proceeds from work done by inmates, or free coal or other extras; by the early 19th century their terms of service were sometimes set out in writing. (fn. 51) Spinning, weaving, and carding were the main forms of work until the beginning of the 19th century. (fn. 52) Thereafter, apart from the training of girls for household service, inmates seemed to do little more than make, repair, and launder their own clothes and help with the running of their own workhouse and garden. In 1821 the inmates of St. James's poorhouse were allowed a diet of wholesome food with 'a comfortable and hot dinner' of meat and vegetables three times a week. (fn. 53) The parishes were well aware of the expense and inefficiency of running so many small workhouses separately, and in 1818 discussed combining their resources to convert part of the garrison hospital to a shared house of industry, but it was not until after the Poor Law Amendment Act of 1834 that a union of parishes was again effected. (fn. 54)
In spite of significant differences between parishes in size of population and proportion of poor inhabitants, trends in poor relief expenditure were similar. In general, the cost of parish poor relief rose gradually in the 17th century, possibly in line with the gradual rise in population. In 1602 the total amount raised by poor rates ranged from c. £40 in St. Giles's to less than £3 in St. Mary Magdalen's, a very small and poor parish. (fn. 55) In 1665-6 Colchester suffered so badly from plague that parish poor rates had to be supplemented. In St. Leonard's, where the cost of poor relief had ranged from £50 to £100 a year between 1653 and 1664, almost £158, c. £100 of it given by the borough, was spent during the first quarter alone of 1666. (fn. 56) In 1629 All Saints' parish subsidized the poor of St. Botolph's, and in the 17th century St. Mary Magdalen's received poor relief contributions from Berechurch. (fn. 57)
In 1776 net expenditure ranged from £41 in St. Mary Magdalen's to £423 in St. Peter's, and over the period 1783-5 averaged from £76 in St. Mary Magdalen's to £552 in St. Peter's. (fn. 58) The rate of increase in expenditure accelerated in the last decade and high costs continued in the opening years of the 19th century, as the Napoleonic Wars destroyed the remnants of the local cloth industry. Between 1800 and 1805 the All Saints' overseers complained of the great distress caused by the high price of food; relief to dependants of militia men was a further wartime expense. (fn. 59) Average expenditure per head in the town and outlying parishes rose from 12s. 5d. in 1803 to 16s. 10d. in 1813, and in 1814-15 annual expenditure amounted to £8,560, ranging from £75 in St. Mary Magdalen's to £1,019 in St. Botolph's. (fn. 60)
After the end of the wars in 1815 average expenditure per head declined slightly to 16s. 3d. in 1821, and it fell further to 13s. 9d. a head in 1831. In the decade before the 1834 Act some parishes were making efforts to reduce spending, believed by many ratepayers excessive, partly because of the inefficiency and inequity involved in providing relief separately in the 12 parishes of the town. (fn. 61)
Some parishes, as St. Botolph's in 1826-8, paid higher allowances than others to the mentally handicapped and aged. (fn. 62) At the same period St. James's officers were apparently hardening their attitude towards paupers: from 1824 relief was withheld from paupers who kept dogs, in 1829 there was a plan to provide bread and flour instead of money, and from 1831 rents were no longer paid. By 1829 applications for relief in St. James's had dwindled to none. (fn. 63) In St. Runwald's on the other hand between 1829 and 1834 twenty persons on average received regular payments. (fn. 64) The use of indoor as opposed to outdoor relief before 1834 probably depended on relative costs and on the availability of workhouse accommodation within a parish. All 12 town parishes and the 4 outlying parishes became part of Colchester poor law union in 1835. (fn. 65)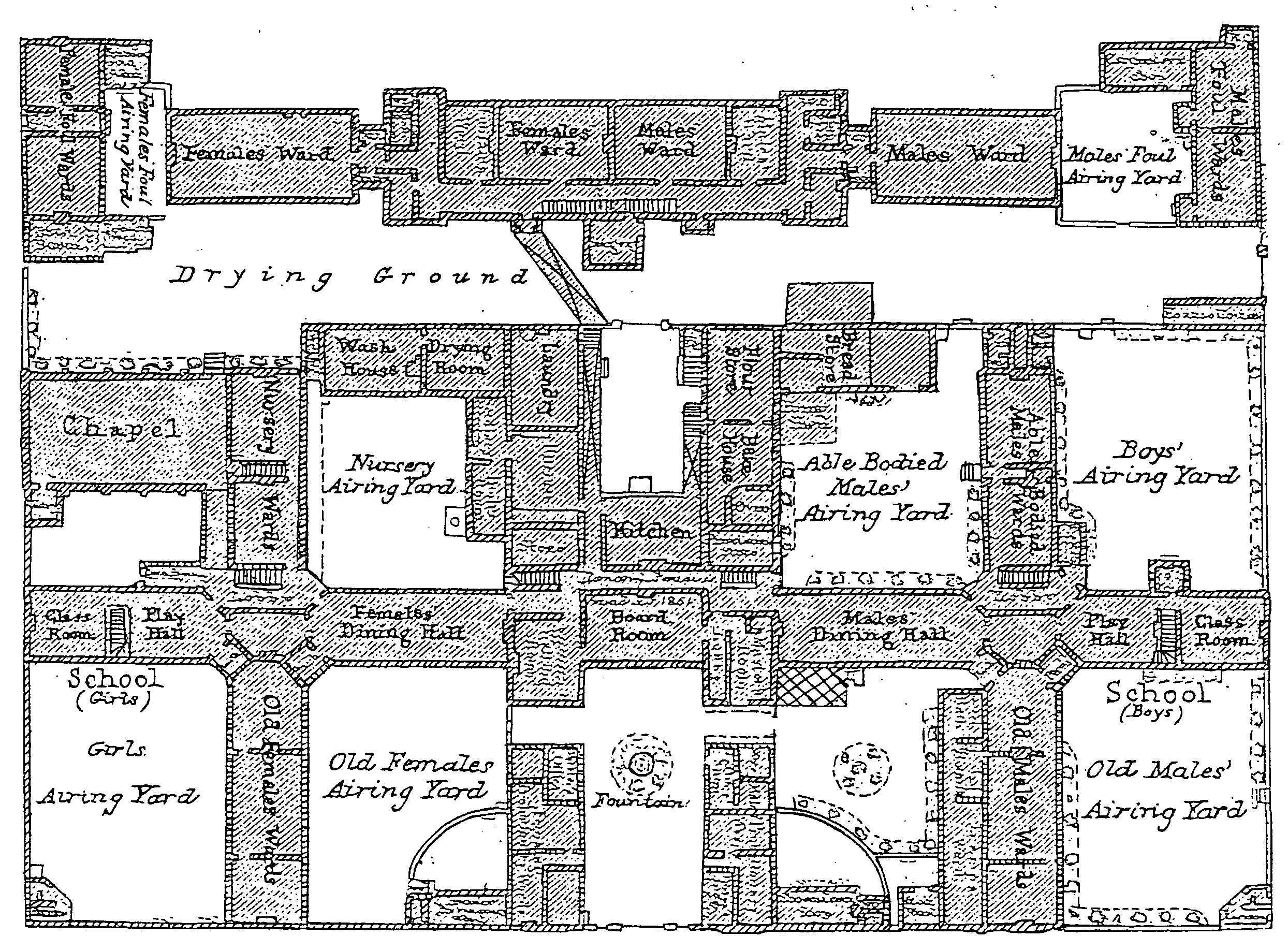 POOR RELIEF AFTER 1834. (fn. 66)
Colchester poor law union was administered by a board of guardians composed of two elected representatives from each of St. Botolph's, St. Giles's, St. James's, St. Mary's-at-the-Walls, and St. Peter's parishes, and one from each of the 11 remaining parishes, together with the J.P.s ex officio. The guardians, who appointed a clerk, treasurer, relieving officer, and an auditor of accounts, met weekly. From 1836 rate collectors replaced the salaried assistant overseers of the parishes. In 1836 the borough was divided into four medical districts, each served by one or two medical officers; another two medical officers were responsible for midwifery and workhouse cases.
In 1835 and 1836 relief in the separate parishes was gradually brought under the control of the guardians. The existing parish workhouses, containing 79 inmates in 1835, were rented by the guardians and re-equipped. St. Mary's took the able-bodied, St. Giles's the infirm women, St. James's the children, and St. Peter's the infirm men. St. Botolph's received any overspill from the other houses. St. Nicholas's was too small to be useful, and St. Martin's too old and exceedingly dirty. The guardians tightened their supervision of the accounts after some confused bookkeeping by the clerk in the 1840s and by two rate collectors in the 1850s. After 1894 some women were appointed guardians.
In 1836 the guardians bought 9 a. at the top of Balkerne Hill for a union workhouse, and in 1837 paupers were moved into the new grey brick building, designed by John Brown. The parish workhouses were sold. (fn. 67) In 1848 an infirmary, later extended, was built north of the workhouse, a detached laundry was added in 1896-7, and separate casual wards in 1898. (fn. 68) The workhouse staff were a master and mistress, schoolmaster and mistress, porter, and later, nurses, all resident, a chaplain, and, from 1842, a workhouse medical officer of health. Numbers of workhouse inmates increased in 1837 to 133 and 156 in 1857. In the early 20th century there were 200-300 inmates, but about half were patients in the infirmary. There were 755 outdoor paupers in August 1837, none of them able-bodied, and another 103 wives of the sick and aged; in 1857 there were 1,245, only 97 of them able-bodied. In 1909 the number receiving outdoor relief was 569. By then the provision of other hospitals, homes, and schools, besides old age pensions and the expansion of workers' insurance schemes, had relieved the poor law of some of its burden.
Annual expenditure on poor relief for all 16 parishes, which averaged £10,155, equivalent to 12s. 5d. per head of population, in the years immediately before the union, decreased by about a quarter in the first few years of the new poor law with its new deterrent measures. In 1840-1 expenditure on the poor was £7,517, equivalent to 8s. 5d. per head. Thereafter costs gradually increased, and by 1858-9 expenditure on poor relief was £8,567; nevertheless, with a rapidly increasing population, that represented only 7s. 5d. per head. (fn. 69)
The Colchester guardians apparently resented their subordination to the poor law commissioners and their successors, particularly in the early decades. Their opposition focused on the imposed rule that denied relief to able-bodied men unless they and their families entered the workhouse, a policy which ignored problems of involuntary unemployment. In 1838 the chairman of the board of guardians resigned over the issue, although he remained a guardian, and the board wrote to the poor law commissioners expressing the fear that great suffering would be caused at a time of high prices. (fn. 70) In 1840 the guardians considered making loans to ablebodied men, and in 1870 preferred to employ men in stone-breaking rather than send them to the workhouse. Loans were frequently made by the 1850s.
Workhouse regulations ensured a regimented life-style, with uniform diets and clothing; visitors were allowed only on Wednesdays. In the early years unmarried pregnant women were distinguished by close mob caps over shorn heads and by blue and yellow clothing. Specific diets were intended for different classes of paupers. In 1836 the amount of meat for ablebodied inmates was reduced. In 1856 one meat dinner a week and half a pint of beer a day was added to the diet of the aged and infirm. Plum pudding was allowed for Christmas dinner, and Christmas day rations were allowed on the prince of Wales's marriage in 1863, Queen Victoria's jubilees in 1887 and 1897, (fn. 71) and the coronations in 1902 and 1911. An inspector in 1923 criticized the monotonous infirmary diet of meat, presumably boiled, and vegetables six days a week, and the guardians then allowed roast dinners at least twice a week. The workhouse diet was also improved, and in 1927 inmates were allowed 2 ounces of beef sausages, breakfast sausage, or brawn twice a week for breakfast or supper.
Workhouse inmates were set to work as far as was practicable. In 1838 children learned strawplaiting. Boys learned shoemaking and tailoring, but from 1842 did gardening instead, probably because the house clothing store was already well stocked. Children were sent out to work in the silk factory in Dead Lane. (fn. 72) Work for adults was not meant to be pleasant, and included working hemp, picking oakum, and breaking granite, besides tasks connected with the daily running of the institution. Pigs were reared. The guardians provided oakum and granite until the First World War.
Discipline in the workhouse was meant to be strict. There were frequent cases in the early years of inmates absconding, a punishable offence if workhouse clothing was taken. The workhouse master resigned in 1846 because he no longer felt able to keep order. Men and women were not supposed to mix, and in 1849 screens were fixed to the upper parts of the facing windows of the men's and women's bedrooms so they could not make signs to each other. As late as 1900 all visits to able-bodied male and female inmates were stopped to ensure that the workhouse remained unattractive.
Some aged couples were allowed to share a room, especially if one of them was nursing the other. Old people could walk or sit outside the workhouse at certain times, and in 1844 three benches were provided. From 1892 old men were allowed an ounce of tobacco a week, and from 1893 the aged and infirm were allowed extra tea and sugar and butter or cheese for supper.
Until 1853 mentally ill paupers who could not be cared for at home were taken to lunatic asylums in neighbouring counties, many to Warburton's asylum, Bethnal Green (Mdx.). Between 1853 and 1913 the new Essex asylum at Brentwood was used, and thereafter Severalls mental hospital within the borough. In the 20th century some young mentally handicapped poor were given places at the Royal Eastern Counties' institution. (fn. 73)
Children were kept separate from other workhouse inmates as far as possible, and in 1841 came under the complete control of the schoolmaster and mistress. In 1842 the children were healthy and clean but the boys were flea-ridden and the girls short of clothing. In 1847, though, they were filthy and beyond the schoolmaster and mistress's control outside lessons; the guardians consented to the mistress's request for an assistant in 1848 when there were 54 children in the workhouse schools. In the 1860s because the children frequently suffered from ophthalmia the medical officer recommended more exercise and fresh air and more meat, bread, butter and milk, and an allowance of beer or porter.
Older boys were occasionally apprenticed, usually to mariners, and older girls and boys sometimes went into service. From 1869 orphaned and deserted children were boarded out if possible, supervised by weekly home visits. From 1873 the boys were drilled by a sergeant four times a week, from 1892 they went swimming regularly, and from 1895 went out to play football. By 1892 there were 70 children in the workhouse school, but from 1894 they attended the new board school in North Street, and were allowed to wear ordinary clothes there. (fn. 74)
In the early 20th century efforts were increasingly made to remove children from the workhouse to other institutions and to foster homes, but the guardians' attempts to provide children's homes were unsuccessful. Some boys went to Dr. Barnardo's and Dr. Stephenson's homes, whence before the First World War some joined emigration schemes to Canada, and boys were regularly placed on the naval training ship 'Exmouth'. Other children went to Greenwood industrial home, Halstead, St. James's orphanage, Colchester, and Lexden and Winstree union's cottage homes. In 1934 only 5 children remained out of 114 inmates in the workhouse side of the institution. (fn. 75) Under the Children Act 1908 (fn. 76) the guardians and their successors occasionally assumed parental rights on behalf of a child, and some children were placed for adoption.
The guardians tried to keep vagrants apart from other indoor poor. In 1841, when there was an influx of filthy and diseased wayfarers, some lodgings were found to supplement the inadequate workhouse accommodation. The police superintendant was appointed an assistant relieving officer in 1849 to keep a record of vagrants and issue tickets for the workhouse. Increased accommodation for vagrants was provided in 1885 and 1898. In spring 1935 there were 63 casuals on average, most of them men, comprising about a quarter of all inmates. The casual wards were closed in 1939. (fn. 77)
Outdoor relief continued after 1834 in both cash and kind: 570 loaves were allowed in one week in 1837. In the winter of 1840-1 able-bodied men were relieved on at least 29 occasions because of their own or their families' sickness, that being a way the guardians could circumvent the workhouse test. Loans were given for midwifery, nursing, food, medicinal brandy, and coffins. In 1868 a committee of guardians reported that the relieving officers had been too lax and were encouraging pauperism. Applications were henceforth to be investigated more carefully, relief being paid to applicants on certain days in a shed at the workhouse, except for the aged and infirm who were to be visited weekly by the relieving officers. In 1869 the three medical officers attended 1,930 cases of sickness.
By 1900 extra cash was always allowed to the outdoor poor at Christmas. From 1921 the board of guardians met fortnightly for general business and once or twice weekly to deal with the large numbers of unemployed applicants. In 1924 the guardians paid the Colne drainage board a quarter of the wages of men whom they referred to it for labouring work. By the 1920s the workhouse test was no longer applied to men unable to find work during economic depression.
In 1929 the boards of guardians were abolished and the poor law was administered by Essex county council until 1948. The union workhouse was renamed Colchester public assistance institution in 1920, and St. Mary's hospital in 1938. (fn. 78)