Pages 284-290
A History of the County of Essex: Volume 9, the Borough of Colchester. Originally published by Victoria County History, London, 1994.
This free content was digitised by double rekeying. All rights reserved.
HOSPITALS
Before the 19th century no voluntary hospital was established which survived more than a few years. (fn. 1) Alexander Fordyce, a speculative banker, built a hospital in Colchester c. 1768 but apparently it had closed by 1772. Other shortlived attempts at medical provision included the establishment by Dr. Loftus Woods in 1797 of a dispensary for the poor which may have closed when he died in 1804, and the setting up by four local doctors in 1816 of an eye infirmary which closed in 1818. (fn. 2)
When the Essex and Colchester hospital (later the Essex County hospital, Colchester) was opened in 1820, sick paupers remained the responsibility of the poor law authorities. Following the Contagious Diseases Acts of 1864, 1866, and 1867, which attempted to limit the spread of venereal diseases in certain military towns, including Colchester, by the compulsory treatment of infected prostitutes, a government lock hospital was built in 1867-8 in Port Lane at the east end of the town; it was closed in 1886. (fn. 3) Early attempts to contain infectious diseases included the provision of two pest houses, one at Mile End probably between Mill Road and Clay Lane, and another in St. Mary's parish, built during the severe outbreak of plague in 1665-6. (fn. 4) The borough maintained a hospital ship, apparently for infectious diseases, between 1877 and 1921. (fn. 5) In 1884 a borough isolation hospital was built (below, Infectious Diseases, later Myland, hospital).
Facilities were provided for local mentally handicapped patients, mainly children, from 1859 when the Eastern Counties' asylum for idiots and imbeciles, later the Royal Eastern Counties' Institution, was established at Essex Hall. Mentally ill patients were sent to various asylums in London and neighbouring counties until 1853; thereafter they went to the new Essex lunatic asylum at Brentwood until Severalls hospital was opened in 1913. (fn. 6) A maternity hospital was opened in 1932. (fn. 7)
In 1948 the voluntary hospitals in Colchester became part of the North East Metropolitan regional hospital board of the National Health Service. The isolation hospital was renamed Myland hospital and no longer used exclusively for infectious cases; together with the Essex County, Colchester Maternity, and St. Mary's hospitals, it was managed by the Colchester group hospital management committee. The Royal Eastern Counties' and Severalls each had its own separate management committee. Severalls and the Colchester group were combined in 1964 to form the St. Helena group with its own management committee. In the 1974 health service reorganization the hospitals in the St. Helena group joined with the Royal Eastern Counties' and the Tendring district hospitals, to form the new Colchester district with its own management team responsible to the Essex area health authority (an intermediate tier) and the North East Thames regional health authority. When the area authorities were abolished in 1982 the Colchester district became responsible to the North East Essex district health authority. (fn. 8) In 1992, under large-scale reorganization of the health service, three hospital trusts were established in Colchester, the Essex Rivers Health Care Trust (general), the North East Essex Mental Health Trust, and the New Possibilities Trust (learning disabilities). In 1993 the North East Essex, Mid Essex, and West Essex district health authorities merged to form the new North Essex Health Authority, with power to buy health services from hospital and other trusts. The three district health authorities had been working as one organization, the North Essex Health Consortium, since 1991. (fn. 9)
The first stage of the new District General hospital, planned to replace eventually all the existing public hospitals, was opened in 1985.
The military hospital established at the barracks in the 19th century relieved some of the pressure on the health service hospitals from 1959 until its closure in 1976. St. Helena hospice, financed by voluntary contributions, was opened at Myland (Mile End) Hall in 1985 to serve north-east Essex; the Joan Tomkins day centre opened there in 1988. (fn. 10) A private nursing home, set up by a consultant c. 1950 in his home in Lexden Road, became a charity, Colchester Nursing Home Ltd., in 1959. It moved in 1969 to new premises in Oaks Drive, which were extended in 1977 and 1984. Community Hospitals Ltd. took over the accommodation in 1989 to replace it with a new larger hospital. (fn. 11)
ESSEX COUNTY HOSPITAL, COLCHESTER. (fn. 12)
In 1818 the Essex and Colchester hospital (renamed in 1907) was launched as a general infirmary for the poor on the initiative of Joseph Jefferson, archdeacon of Colchester. He persuaded seven other men to join with him in subscribing to buy the materials of the south wing of the military hospital. The following year, when 3 a. of land on the south side of Lexden Road were bought, the south wing was removed from the barracks and re-erected there to plans by M. G. Thompson. (fn. 13)
The hospital was financed by subscriptions, gifts, and interest on investments; receipts exceeded expenditure until the mid 1860s. By the late 19th century income was also derived from collections on Hospital Sunday from 1871, Hospital Saturday from 1883, and bazaars. The Ladies' Linen League raised money to supply linen from 1910, and the Colchester Ladies' Collection Association raised money from 1911. The hospital continued as a voluntary hospital until 1948, but there were financial problems. From 1920 in-patients were charged £1 a week for maintenance, reduced to 10s. for contributors to an insurance scheme started in 1910.
The management committee was under the presidency of the lord lieutenant of Essex; it was composed of a number of 'life governors', including the bishop of London, the Chancellor of the Exchequer, M.P.s representing the Essex constituencies, the mayor of Colchester, subscribers of 30 gn. or more, and executors of legacies of over £100; the ordinary governors were annual subscribers of 2 gn. or more and the overseers of subscribing parishes. The committee appointed two honorary physicians, three honorary surgeons, and a salaried staff of a house apothecary and secretary, a matron, nurses, and a porter. The building, of white brick in the classical style, was opened in 1820 with an operating room and beds for more than 80 patients in eight wards.
In 1825 a portico with double pilasters, designed by William Lay, was built on the front entrance. Two wings, designed by J. Hopper, county surveyor, were added in 1839. An isolation block of two wards with a nurses' room was built at the back of the hospital on the west side in 1847. There were major alterations to the building in 1879-80 to designs by J. H. Wyatt of London: an additional storey, to provide bedrooms, was built over the existing two floors in the centre of the building and square projections were added at each corner to contain washrooms with baths, and water closets; the existing windows were enlarged. Further extensive alterations were undertaken in 1897 to commemorate Queen Victoria's diamond jubilee, providing a new laundry and a nurses' home, converting nurses' accommodation in the central block to a children's ward and the nurses' dining room into an isolation ward, modernizing the operating theatre, and converting the porter's rooms into a casualty room.
For most of the 19th century usually only non-infectious non-pauper poor patients with a good chance of recovery were admitted, although accident cases were accepted. Patients, nominated by subscribers at weekly board meetings, were accepted on the advice of medical staff. From 1824 free vaccination was available. The hospital chiefly served the labouring population of Colchester and the surrounding countryside. In 1863 there were 90 beds but the average daily number of patients was 50 and the average stay was 63 days. In the early days treatment was mainly by drugs, although a few operations were performed without anaesthetic. By 1870 up to 70 out-patients were attending weekly. Patients who broke the hospital rules were reprimanded, or discharged and put on a blacklist. Conditions for patients gradually improved. In 1869 part of the grounds were laid out as recreation areas. In 1877 the lower wards were painted grey and the upper ones buff, colour being used for the first time; pictures and upholstered chairs were provided; non-betting games, such as draughts and dominoes, were allowed; and fish and additional tea and sugar were added to the unimaginative diet. From 1881 the senior consulting physician and surgeon, and the chairman of the medical board sat on the committee. Admission meetings doubled to two a week from 1882. Paying patients were accepted from 1889, and in 1891 the hospital committee agreed to admit paupers in exceptional cases.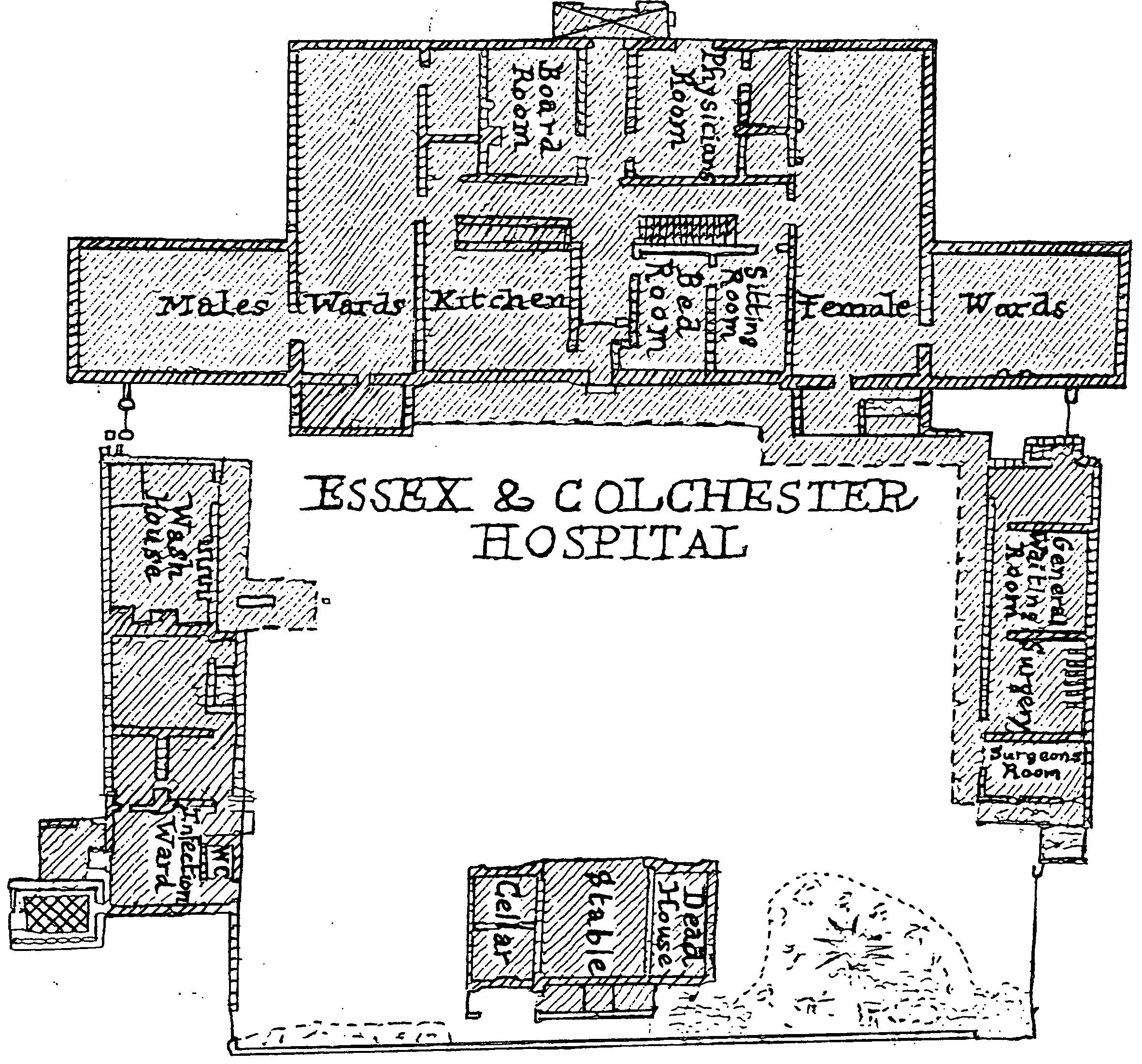 Official hospital policy was against private admission, but a private ward (not previously mentioned in reports) was abolished in order to provide a new children's ward which was opened in 1908. In 1911 a chapel and adjoining mortuary, and in 1912 a disinfecting chamber, a new isolation ward, and a new pathology laboratory were built. During the First World War the military authorities commandeered 50 of the 100 beds in the hospital, and female patients were transferred to the girls' high school in Wellesley Road. Two wooden huts were erected as temporary wards for 150 soldiers, and additional nurses and many voluntary helpers were used. In 1918 marquees in the grounds provided another 52 emergency beds. Following an inspector's criticism of the monotonous infirmary diet in 1924 at least two roast meat dinners a week and cake for Sunday tea were introduced for patients. Miss L. Jones raised funds to provide a wireless for the infirmary in 1927.
In the 1920s and 30s there were further additions and improvements. In 1924-6 a new block was built for outpatients, including dental surgeries, casualty and X-ray departments, and, on the upper floor, private patients' rooms, and doctors' quarters. In 1927 one of the wartime huts was refurbished and divided into two wards, increasing the number of beds by 20 to 160. In 1937 the hutted wards were closed and two new wards containing 40 beds were opened. During the Second World War the Essex County was graded as a first class non-teaching hospital for all types of cases and became part of the emergency medical service with its capacity temporarily increased to 269 beds.
In 1948 the hospital became part of the National Health Service. During succeeding decades facilities were further improved and the number of patients increased, though capacity was unable to keep pace with the demands of a rapidly rising local population. In 1950 the wooden huts were taken over for blood donor sessions, and were finally removed when new operating theatres were built on the site in 1955. A new radiotherapy block was opened in 1964. By 1968 there were 201 acute beds. (fn. 14) In 1969 a postgraduate medical study centre was built in Gray Road behind the hospital and the out-patients' department, pharmacy, and X-ray department were enlarged. A new children's wing was opened in 1972. (fn. 15) The number of beds at the hospital fell to 89 by 1988 as a result of the opening of the District General hospital. (fn. 16) In 1992 the postgraduate medical centre moved to a site adjacent to the District General hospital. (fn. 17)
ST. MARY'S HOSPITAL. (fn. 18)
The hospital was built in 1837 as the Colchester union workhouse for sick besides destitute and aged paupers. Accommodation for the sick was already inadequate by 1844, partly because the workhouse was the only refuge for infectious cases, and a new workhouse infirmary was built in 1848. Cases of smallpox were noted particularly in 1845, 1863, 1868, and 1872, and of typhoid in 1861 and cholera in 1866. Usually lunatics were not allowed to remain in the house, but a straitjacket was provided in 1855 to be applied only by the workhouse master. In 1860 the guardians agreed to treat non-pauper women suffering from venereal disease in a building behind the workhouse, but in 1861 the poor law authorities vetoed the arrangement and in 1865 refused to agree to the workhouse's registration as a lock hospital. A 'foul ward', apparently for contagious diseases, existed by 1865 and was crowded in 1868, but the government lock hospital brought some relief from 1869. The workhouse infirmary was extended in 1869 and a dispensary established.
A detached fever ward was built north-east of the hospital in 1870. (fn. 19) In 1882 the corporation allowed the board of guardians to treat infectious cases at Hales' House on the Severalls estate. After the closure of the lock hospital in 1886 additional buildings were provided at the workhouse for cases of venereal diseases. A lying-in ward was mentioned in 1898.
From 1901 infectious paupers were accepted at the borough isolation hospital, releasing some beds at the workhouse. In 1911-12 a twostoreyed extension was added to the east end of the male infirmary, providing 40 additional beds, and the 16 beds in the former schoolhouse used for the sick since c. 1895 were allocated to contagious and tuberculous cases. The average number of patients in the workhouse infirmary increased from 105 c. 1870 to 135 in the summer quarter of 1899. By 1916 there were 10 nurses.
On the abolition of the board of guardians in 1929 the workhouse passed to Essex county council; it was taken over by the National Health Service in 1948. (fn. 20) By 1950 there were 208 beds, mainly for the chronic sick, but about a third were occupied by aged residents who were allowed to stay and for whom homes had been found by 1955. In 1958 more than half the cases were chronic sick, about a quarter acute medical, and the rest non-acute medical; the hospital secretary asserted that the idea of St. Mary's as a public assistance institution was 'a thing of the past'. (fn. 21)
By 1968 the hospital had been considerably modernized and a chest clinic built in the grounds. Medical and surgical facilities were wide-ranging, but of its 170 beds 102 were for geriatric in-patients, and there was a day centre for geriatric out-patients. (fn. 22) The day centre was extended in 1974, rehabilitation services improved in 1984, and a stroke unit was provided in 1985. (fn. 23) After the opening of the District General hospital St. Mary's became a geriatric hospital and had 125 beds in 1988. (fn. 24) The hospital was closed in 1993. (fn. 25)
INFECTIOUS DISEASES, later MYLAND, HOSPITAL.
In 1884 a farmhouse on the Severalls estate at Mill Road, Mile End, was converted into a borough isolation hospital for non paupers. From 1888 infected paupers were also accepted. (fn. 26) Three small brick wards, each containing four beds, and two temporary pavilions were built, one of wood, and the other of corrugated iron. Another corrugated iron building was erected c. 400 m. from the main hospital with permanent accommodation for 20 patients and for a further 50 in an emergency, to serve as a smallpox hospital for north-east Essex. Three more blocks were added in 1910, 1913, and 1915. Four temporary buildings were built during the First World War for troops. The smallpox building was demolished by the fire brigade in 1936 and a new smallpox block was opened in Mill Road, Mile End, to serve the whole of Essex. In 1938-40 two new permanent blocks were built to replace a small pavilion and two temporary military wards. (fn. 27)
The hospital was taken over by the National Health Service in 1948 and renamed Myland Hospital. A hospital entirely for infectious diseases was no longer considered necessary and only 65 beds in two wards were retained for that purpose. The smallpox ward was adapted for ophthalmic patients and the remaining wards were used for general medical and surgical cases. One of the temporary blocks soon afterwards provided additional accommodation for tuberculous patients, another was used for supplies by the ambulance services. The remaining temporary block was reserved for use in any possible smallpox outbreak. Additional beds were provided for tuberculous patients in 1952, but from 1955 the demand for such beds decreased and a greater proportion of chronic sick patients were taken instead. (fn. 28) Kershaw House, a unit for 19 physically handicapped people, was opened in 1975. By 1977 the hospital contained 181 beds, almost a third of them geriatric. (fn. 29) By 1988 the number of beds had fallen to 77, for ophthalmic, geriatric, younger disabled, and infectious diseases cases, (fn. 30) and in 1989 the hospital was closed and demolished. (fn. 31)
ROYAL EASTERN COUNTIES' INSTITUTION, including TURNER VILLAGE.
In 1850 the former hotel south of the main railway station was, with the help of its owner S. M. Peto, converted into a branch asylum of Park House hospital for idiots, Highgate (Mdx.), and 28 children were sent there from London. The number of mentally handicapped patients at the branch asylum, called Essex Hall, had increased to 150 by 1855 with an additional 50 accommodated elsewhere in Colchester, but between 1855 and 1858 all the patients were transferred to the newly built Royal Earlswood hospital, Surrey. In 1859 a separate Eastern Counties' asylum for idiots and imbeciles was established, based at Essex Hall, only the second such institution in England. (fn. 32) It received voluntary subscriptions and contributions from some patients, and served Essex, Norfolk, Suffolk, and Cambridgeshire. Patients, mainly but not exclusively children, were admitted by votes of subscribers and no paupers were allowed. The average number of resident patients gradually increased from 66 in 1862 to 189 in 1891 and to 245 in 1897. Patients were accepted for five years, and after 1865 up to 20 per cent of cases could be re-selected to give them a permanent home. (fn. 33) Before the institution was handed over to the National Health Service in 1948, Essex, Norfolk, Suffolk, and Cambridgeshire county councils contributed towards the costs of their own patients. (fn. 34)
From the beginning the regime was claimed not to be merely custodial but to emphasise training and teaching. In 1862 a cottage was built on the lawn near the main building to provide special care for c. 20 children. Some of the higher-grade patients were instructed in reading, writing, and arithmetic; others worked at tailoring, housework, gardening, and, from 1863, in the specially equipped laundry. Recreations included cricket, football, croquet, keeping animals, and watching magic lantern shows. In 1867 a detached wooden building was built for infectious patients. A new laundry was built c. 1882, and in 1883 a new recreation hall. In the 1890s patients made all staff uniforms, repaired shoes, clothing, and bedding, did carpentry, and made mats and mattresses. Poplar's Hall, a small farm opposite Essex Hall, was leased in 1892 and bought in 1895; cows and other livestock were provided, so that men and boys could do farm work. A seaside home, Crossley House at Clacton, was acquired in 1894 with financial help from Sir Savile Crossley, of Somerleyton (Suff.). (fn. 35)
In 1901 the Peckover schools, given by A. Peckover, lord lieutenant of Cambridgeshire, were opened on an adjoining site; they contained classrooms and workshops. Essex Hall was extended in 1903 to provide an additional 20 beds. A new block, Bristol House, named after Frederick William John, marquis of Bristol (d. 1907), a previous chairman, was opened in 1915 for another 100 patients. By that date the asylum was called the Royal Eastern Counties' institution for the mentally defective. In 1916 Hillsleigh House, East Hill, was bought to house 34 patients, and in 1918 Lexden House was leased as a school for high grade females, increasing the institution's beds to 630. Greenwood school, Halstead, was opened for 86 girls in 1922, enabling Lexden House to become a hostel; about the same time East Hill House was obtained as an upper boys' school, and Hillsleigh was then used as a school for the younger boys. In 1923 Bridge Home, Witham, was bought to provide 233 beds for patients from the institution. (fn. 36)
In 1935 eight villas for male patients were opened at Turner village in Turner Road, Mile End, with workshops, assembly hall, kitchen, laundry, administrative buildings, and playing fields; they were named after the Turner family whose members, notably J. J. C. Turner (d. 1913) had been closely involved with Essex Hall. From that date Essex Hall with the Peckover schools was used for female patients. The institution then had 1,850 beds in its different centres, a boys' school at Littleton House (Cambs.) and a home for young women at Great West Hatch, Chigwell, having been added. (fn. 37) In 1946 a large modern hospital was completed at Turner village to serve the whole institution, and the hospital's administrative centre moved from Essex Hall to Abbeygate House, St. John's Green, where it remained until it moved c. 1972 to new headquarters opposite Turner village. In 1947 Handford House, Ipswich, was acquired for 22 female patients, and Kingsmead at Lexden for a girls' hostel. Handford House was replaced c. 1970 by no. 1 Queen's Road, Colchester, which was used for the elderly mentally handicapped in 1989. (fn. 38)
Two additional villas were opened at Turner village in 1964 providing another 100 beds. In 1975 a 28-bed unit was built in the grounds of Lexden House off Cooks Lane. (fn. 39) An educational adventure playground of 4 a. for the mentally handicapped was created at Turner village in 1977. (fn. 40) Between c. 1950 and the early 1980s Barker House, Clacton-on-Sea, was used as a holiday home, and Brunswick House, Mistley, was used from c. 1950 to c. 1986 as a male hostel. (fn. 41) Essex Hall was closed and demolished in 1985, and its 12 a. site sold in 1988. Many patients had by then been moved out into the community, some to group homes, and only 640 patients remained at Turner village. (fn. 42) The home at Lexden House was closed in 1990. (fn. 43)
SEVERALLS HOSPITAL.
In 1904 the corporation sold 300 a. of the Severalls estate at Mile End to Essex county council for a site for Severalls county mental hospital which opened in 1913 for 1,800 patients. The red-brick building, designed by F. Whitmore and W. H. Town, had a large central hall, wards and adminstrative offices, connected by a network of corridors, and there were villa-style wards around the highfenced perimeter. The hospital was transferred from Essex county council in 1948 to the National Health Service under the Ministry of Health. (fn. 44) The medical superintendant had sole responsibility for all staff and patients until 1971 when departmental committees took over his tasks. (fn. 45)
Until 1930 only certified patients were admitted and the regime was severe, with force feeding and clothing restraints. By the 1960s the staff at Severalls were at the forefront of new developments in psychiatric treatment: large wards were divided, and new drugs and rehabilitation projects enabled patients to have more contact with the outside world. A psychogeriatric unit was established in 1961 for 145 men and 229 women. (fn. 46) In 1962 a laundry serving nine hospitals in the area was opened to provide employment for Severalls patients, and by 1966 there was a day hospital for 100 elderly people who attended 2 or 3 times a week. The first group home for former patients was established in 1967 by the charity Phoenix Group Homes. (fn. 47)
Increasing co-operation between Severalls and other local hospitals led in 1964 to one ward and a new operating theatre at Severalls being allocated to 30 male surgical patients from Essex County hospital's waiting list, and in 1971 an adjoining ward was designated a medical ward to take 28 patients. Larch House alcoholism unit was set up at Severalls in 1977. (fn. 48) From 1988 Severalls garden centre, with its shop staffed by the League of Friends, raised money for the hospital. With the increasing emphasis on rehabilitation in the community from 1959, the number of beds at the hospital decreased to 1,024 by 1977 and to 726 by 1988, by which time there was also more provision for the mentally ill in other Essex towns. (fn. 49)
COLCHESTER MATERNITY HOSPITAL.
In 1932 an eight-bed maternity home was opened in a converted house in Lexden Road; its cause had been championed for many years by Dr. Ruth Bensusan-Butt, a general practitioner specializing in midwifery. By 1935 it had been extended to take 20 patients; the adjoining house was acquired and used as a nurses' home. Further alterations and additions enlarged the hospital to 52 beds by 1950, 22 of them in an obstetric unit opened in 1949. (fn. 50) An extra storey was built in 1967 to house a special care baby unit with 11 cots; by then the hospital had 79 beds, including 40 in an obstetric unit. A two-storeyed extension on the south side was opened in 1981; the ground floor became the special care baby unit with 18 cots, and the first floor contained delivery rooms and an operating theatre. The hospital had 86 beds in 1988. (fn. 51)
MILITARY HOSPITAL.
There was a hospital in Colchester barracks during the Napoloeonic Wars. The new barracks established in 1856 included 20 hospital huts. (fn. 52) By 1870 an officer's hut had been converted into a lying-in institution. (fn. 53) In 1896 new hospital buildings in red brick replaced the huts, providing for 221 patients in eight large wards and some smaller rooms. (fn. 54) A pathology laboratory was added in 1934, a reception annexe in 1951, and twin operating theatres in 1963. In 1959, after the garrison had been reduced, some patients were accepted at the military hospital from Essex County hospital's waiting list. There were 90 beds in seven wards in 1972, by which time about a third of all beds were used for civilian patients. (fn. 55) By 1975 there were 114 beds in eight wards, cared for by 150 military and 100 civilian staff. Despite local attempts to save it the hospital was closed in 1978, (fn. 56) although it temporarily reopened in 1991 during the Gulf War. (fn. 57)
COLCHESTER DISTRICT GENERAL HOSPITAL.
The first stage of the Colchester District General hospital, Turner Road, containing 283 beds, was officially opened by Queen Elizabeth II in 1985. The nine wards and various departments were built in groups around landscaped courtyards. (fn. 58)