Pages 604-606
A History of the County of Hampshire: Volume 4. Originally published by Victoria County History, London, 1911.
This free content was digitised by double rekeying. All rights reserved.
HARBRIDGE
Herdebrige (xi cent.); Hardebrygg (xiii cent.); Haberigge (xiv cent.); Harebrigg (xv cent.); Hardbridge (xvi cent.).
The parish of Harbridge contains over 4,000 acres, comprising 650 acres of arable land, 986½ acres of permanent grass and 356½ acres of woodland. (fn. 1) The height above sea level is for the most part above 100 ft. and below 200 ft. The soil is sandy, the subsoil gravel, which has been considerably worked. (fn. 2) The western and south-western parts of the parish comprise the great uncultivated tracts of Plumley Heath with its tumuli and Nea Heath. In the south-east is Somerley, the seat of Lord Normanton, with its magnificent picture gallery and its park of 900 acres. Nearly the whole parish together with Ibsley and Ellingham belongs to Lord Normanton's estate.
The little village of Harbridge, with its church, lies about 2 miles north-east of Somerley, at the edge of the low meadow land to the east of the River Avon. North again are Harbridge Green and North End Park and Farm. Old Somerley is on the northern border of Somerley Park.
There was an inclosure award at Harbridge in 1817. (fn. 3)
There is a tithing of Harbridge, Efford, in Milford parish and Christchurch Hundred (q.v.).
Manors
In 1086 HARBRIDGE was held of the king by Bernard the Chamberlain, having been held by Ulveva in the days of the Confessor. The assessment had fallen from 5 hides to 3 hides and 1 virgate. (fn. 4) The subsequent history of Harbridge is not easy to unravel. Gilbert de Clare Earl of Gloucester and Hertford, the last of the Clares, was receiving a rent of 25s. 8d. held of the king by knight service at his death in 1314. (fn. 5) This was then committed to the charge of Lawrence de Rustiton, and afterwards of Richard de Rodeneye, Ithel de Keyrewent and Richard de Byflet, keepers of the earl's lands, (fn. 6) the places of the last two being subsequently taken by Bennet de Cokefeld and William de Aylmere. (fn. 7) It was probably by virtue of the Clare possessions that the king's name occurs in the Nomina Villarum of 1316. (fn. 8)
The king's parcenary in 1316 was Isabel de Acton. (fn. 9) Her holding may be traced in the messuage and virgate the reversion of which Sir John Poyntz conveyed to Sir John de la Hale and his heirs in 1364. (fn. 10) John Palmer was then holding the estate of the hereditament of Poyntz; after his death it was to remain to Joan wife of Sir John de Acton, deceased, and after her death to remain to Poyntz or by the terms of the conveyance to Sir John de la Hale.
By the early part of the 15th century Harbridge, then known as a manor, had come into the hands of a Henry Smith who was unjustly disseised by John Poole. (fn. 11) However, in January 1500 Thomas Poole of Holwall (co. Somers.), a descendant of John, sold and quitclaimed to John Smith of Askerswell (co. Dors.) grandson of Henry, both for himself and Margery, late wife of Thomas Trowe, and possibly sister or mother of Thomas Poole, (fn. 12) all right and title in the manor of Harbridge, together with all the possessions of the late Margery Trowe, and those occupied by Jane widow of John Poole, uncle of Thomas, and by Edith Poole widow. (fn. 13) The full sum due on this sale was not paid off, however, until 1504, (fn. 14) and meanwhile Poole conveyed the premises to Sir John Turbervyle and to Richard Kemer. (fn. 15) Nevertheless Nicholas Smith, heir, presumably, of John, died seised in 1538, (fn. 16) leaving a widow Sybil, on whom Harbridge was settled in dower for life, and a son and heir George. Sybil apparently married as her second husband John Okeden, (fn. 17) with whom she was holding the manor for the term of her life in 1541, (fn. 18) in which year Jaspar Smith, presumably brother of Nicholas, settled all his reversionary right on Thomas Whyte. Sybil died in 1551, leaving as heir her son George Smith before mentioned, then sixteen years old. (fn. 19) However, by 1567 Harbridge was carried by coheiresses Elizabeth and Jane to their respective husbands John Rose and Francis Poyntz. (fn. 20) The remainder was to Ambrose Rose of Ringwood, who sold it in 1601 (fn. 21) to John Wykes of Harbridge. Francis Poyntz quitclaimed to the new lord a few years later. (fn. 22) The Wykeses continued to hold during the greater part of the 17th century. John Wykes had been sequestered in 1649 and in 1654 he was still awaiting redress. (fn. 23) In 1688 Lewis Bampfield and Elizabeth his wife and Margaret Wykes, spinster, were party to a conveyance of the manor, when, however, one John Wheeler seems to have been in actual possession. (fn. 24) Elizabeth and Margaret would seem to have been the co-heirs of the Wykeses and Margaret was probably the Margaret wife of William Bowreman who with her husband and Lewis and Elizabeth Bampfield sold three messuages and land in Harbridge, Ellingham, Hurst, Blashford, Rockford, Ringwood, Lyndhurst, Linwood and the New Forest to Henry Hommige in 1689, warranting him against the heirs of Elizabeth and Margaret. (fn. 25) By 1693 the manor was in the hands of Edward Twyne (fn. 26) and in 1700 Joseph Hussey and Mary his wife sold it to Joseph Gifford. (fn. 27) Early in the 18th century Gifford must have sold the manor to James Whitaker, (fn. 28) who in 1733 conveyed it to Dayrell Hawley. (fn. 29) No further mention of Harbridge Manor has been discovered until 1810, when it was held by Percival Lewis. (fn. 30) Soon after that it passed to the Earl of Normanton (see Somerley) and now forms part of the Somerley estate.
The Punchardons had an estate in Harbridge for a considerable period. In 1263 Robert de Punchardon and Alice his wife quitclaimed from themselves and the heirs of Alice a messuage and a carucate of land to William de Punchardon, Maud his wife and Hawis her sister and the heirs of Maud and Hawis. This seems to have been the same estate of which in 1375 John de Boyland of Eling and Alice his wife, holding it of the hereditament of Alice, conveyed a moiety to William de Athelyngton and a moiety to Oliver de Punchardon, the whole estate being in the actual possession of John Bereford and Denis his wife for the life of Denis. (fn. 31) Oliver de Punchardon died seised of lands there in 1417. (fn. 32) Like Ellingham (q.v.) the Punchardon moiety of Harbridge passed to the Okedens, (fn. 33) and in 1604 William Okeden sold it to Thomas Worsley, (fn. 34) who died seised in 1620, (fn. 35) leaving an infant grandson Thomas Worsley as his heir. Thomas Worsley's daughter Barbara was the wife of a William Bowreman, whose namesake, possibly himself or a son, was dealing with land in Harbridge in 1689. (fn. 36) From that date this moiety of Harbridge undoubtedly merged in the manor proper and belongs at the present day to the Earl of Normanton.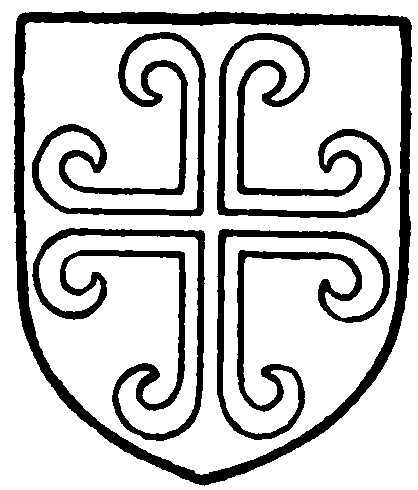 The earliest discovered reference to SOMERLEY is in 1272, when Thomas Baldwin granted Nicholas son of Philip le But an annuity from a messuage and land there. (fn. 37) It is possible that the third holding in the vill of North Ashley (see Ringwood) assigned in the Nomina Villarum of 1316 (fn. 38) to John Marshall refers to Somerley. At any rate, that estate always descended with Somerley Manor. In 1336 John son of William de la Penne conveyed to John Marshall of Bovingdon and Constance his wife and the heirs of John a messuage and land in North Ashley, Somerley and ' La Penne' (fn. 39); and five years later Thomas Marshall and Ralph Marshall of West Chin nock settled an estate in the same places on John Marshall of Bovingdon and Maud his wife, with remainder to John's son John and Katherine his wife and the heirs of their bodies. (fn. 40) Early in the 15 th century Henry Keswick took the place of the Marshalls. In 1412 William Park granted John Fromond and Henry Keswick a messuage, a carucate of land, &c, to hold for the life of Henry, with remainder to John Morris, clerk, and his heirs. (fn. 41) In 1417 Michael Marshall quitclaimed the same estate to Fromond, Park and Keswick and the heirs of Keswick (fn. 42); two years later John Gyles of Winchester released to Henry Keswick and his heirs all his right in the manor of Somerley and all lands and tenements in North Ashley, Somerley and ' La Penne,' which had once been John Marshall's (fn. 43); while in 1438 John Frampton and Joan his wife, presumably the Marshall heiress, quitclaimed to the new lord. (fn. 44) In the inquisition held on John Frampton's death it is stated that the manor of Somerley was formerly held by John Marshall and Agatha his wife, from whom it passed to their elder son Walter. (fn. 45) In 1442 Henry Keswick granted an estate, comprising four messuages, 2 carucates of land, 30 acres of meadow and 26s. rent, to Thomas Luyt and heirs. (fn. 46) In 1529 Philip Baskervyle and Agnes his wife created trustees of the manor of Somerley during their lives with remainder to the heirs of Agnes. (fn. 47) She must have been the Agnes daughter and heir of John Hamlyn who had been the wife of William Okeden of Ellingham (fn. 48) (q.v.), for in 1542, when John Okeden, William's son, was settling the manor on himself with remainder for life to his second son Henry, Philip Baskervyle was said to be holding for life from the hereditament of John. (fn. 49) At his death in 1558, Henry having predeceased him, John Okeden left the manor to his grandson William son and heir of his son Philip. (fn. 50) In 1604 William Okeden son of the last-named William sold the manors of North Ashley and Somerley to Sir William Dodington of Breamore, (fn. 51) who settled them on his son Herbert on the marriage of the latter with Elizabeth daughter and co-heir of John Colles. (fn. 52) Herbert Dodington died in 1633 in his father's lifetime, his brother John being his heir. (fn. 53) Edward Dodington was lord of the manor in 1653. (fn. 54) John Dodington left two daughters (see South Charford), of whom Anne, the younger and eventually sole heir, married as her second husband Thomas Hoby. (fn. 55) He was probably the uncle of Sir Thomas Hoby, third baronet, to whom by 1728 the manors of Somerley and North Ashley had passed. (fn. 56) Sir Thomas Hoby died in 1730 and was succeeded by his son and namesake. (fn. 57) The immediate subsequent history of the manors is unknown, but in 1781 Ambrose St. John, a younger son of John tenth Lord St. John of Bletsoe, was holding the manors of North Ashley juxta Ringwood and North Ashley Nea. (fn. 58) This last-named is obviously Somerley, for in a deed of the following year 'Somerley and North Ashley alias Nea' is the form found. In 1782 Ambrose St. John with his brother, the Rev. St. Andrew St. John, sold the manors to Daniel Hobson, (fn. 59) and in 1814 Edward Hobson conveyed them to Henry Baring. (fn. 60) Shortly afterwards they passed to Welbore Ellis (Agar) second Earl of Normanton, whose son, the third earl, was created Lord Somerton of Somerley in 1873. Sidney James (Agar) fourth and present Earl of Normanton is the present lord of Somerley.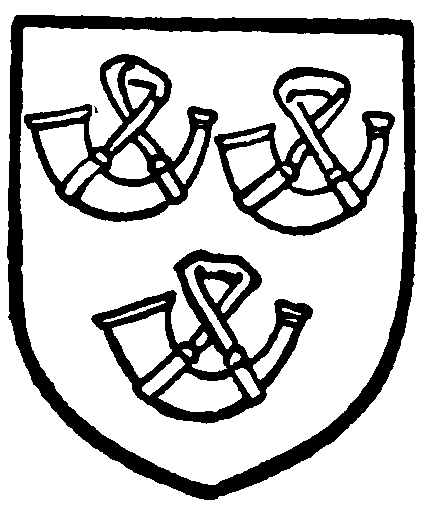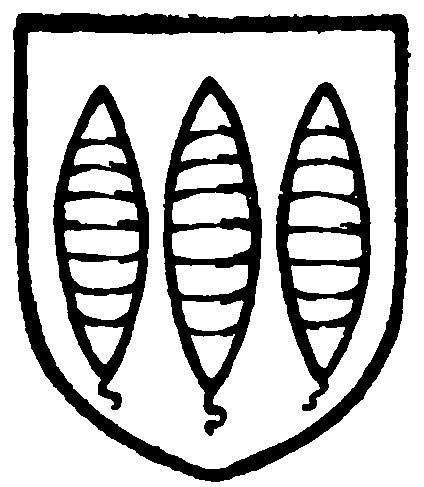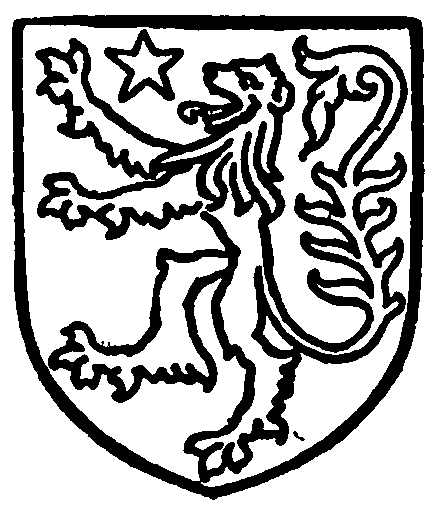 Church
The church of ALL SAINTS is an ashlar-faced building consistingof chancel, nave and west tower, rebuilt in 1838 in 15th-century style, but part of the tower masonry appears to be older. There is a small wall tablet to Edward Dodington ob. 1656, with a quartered shield.
The bells are three in number, all by Thomas Mears, 1839.
The plate consists of a silver chalice, paten and paten cover, undated, a flagon of 1754 and a silvergilt paten of 1869.
The registers are in four books: the first has burials 1571 to 1720, marriages 1616 to 1717, and baptisms 1679 to 1719, but they are incomplete. There is a gap in the baptisms 1682 to 1695, and from 1696 to 1719 they are irregular. There are gaps in the burials 1635 to 1654 and in marriages 1644 to 1654 and 1657 to 1713. The second book has baptisms and burials 1720 to 1792, the third marriages 1754 to 1812, and the fourth baptisms and burials 1792 to 1812.
Advowson
The living of Harbridge is a rectory attached to the vicarage of Ringwood and in the gift of King's College, Cambridge.
There is an elementary school built with class-room and residence for mistresses by the late Earl of Normanton, with the aid of a voluntary rate, for 90 children.
Charities
John Dodington by deed of 16 February 1638 charged certain grounds called Sandy Balls in Fordingbridge with an annuity of £5 for binding out apprentices of poor children in this parish, Breamore, Fordingbridge and Ringwood (alternis vicibus) for ever.
The sum of £5 is received every fourth year and duly applied.