Pages 200-208
A History of the County of Lancaster: Volume 3. Originally published by Victoria County History, London, 1907.
This free content was digitised by double rekeying. All rights reserved.
LYDIATE
Leiate, Dom. Bk.; Lydyate, 1276; and Lydeyate, 1292; the usual spellings. Liddigate occurs 1202, Lichet, c. 1240; Lydegate, 1296; Lidgate, 1299; Ledeyate, 1414; Lidezate, 1481. (fn. 1)
This township has an area of 1,995 acres. (fn. 2) Lydiate proper is bounded on the south by small brooks which divide it from Maghull, and on the east and north by the Sudell or Lydiate Brook; while on the west the 25 ft. level is almost coincident with the boundary. The township also includes the ancient Eggergarth, (fn. 3) to the north of the Sudell Brook, and forming a wedge between Aughton and Downholland. In 1901 the people numbered 1,024.
The highest point in Lydiate is near the southern boundary, where the windmill stands, about 87 ft. above sea level; Eggergarth rises to 80 ft. on the northern boundary. The country is chiefly agricultural, occupied by market gardens and fields, where potatoes and cabbages alternate with wheat and oats. The soil is sand loam over a subsoil of peat. Pastures are found principally in the low-lying parts westwards.
The Liverpool and Ormskirk road passes northeastwardly through the southern end of the township; another road branches off from this at the southern boundary and goes north to Downholland and Halsall. The houses are scattered along this road; the ruined chapel popularly called 'Lydiate Abbey' is on the left side of it about a mile north of the boundary; the old hall is just to the north. The Leeds and Liverpool Canal winds its way through the township.
There is a parish council.
'From the tower steeple' of the ruin, wrote a visitor in 1813, 'the view over the low meadows of Lydiate and Altcar, which are frequently flooded after sudden and violent showers by the overflowing of the River Alt, is very extensive, embracing the whole of Formby Channel and part of the River Mersey, and bounded only by the chain of mountains terminating with the Ormshead.' (fn. 4)
Traces of seven crosses were known or remembered recently. The base of one remains near the hall; another, the School Brow cross, is buried beneath the footpath; it is reported that funerals used to stop there while the mourners repeated the De Profundis. (fn. 5)
The wake was held in Ember week. (fn. 6)
MANORS
Uctred held LYDIATE proper at the death of Edward the Confessor. It was a border township of the privileged three hides, was rated as six oxgangs of land, and had woodland a league in length by 2 furlongs broad. (fn. 7) The value was 64d., a great advance on the normal 24d., due perhaps to the wood. Early in the twelfth century it was granted to Pain de Vilers as part of his fee of Warrington, to which it continued to belong, (fn. 8) and Pain in turn granted it to William Gernet, to be held by knight's service as three-fortieths of a knight's fee. (fn. 9) In 1212 his six oxgangs in Lydiate were in the joint tenure of Benedict and Alan, sons of Simon. (fn. 10) That Alan was the elder brother seems clear by the order of the names in a quitclaim in 1202 by Simon Blundel and Siegrith his wife to Alan and Benedict de Lydiate, after an assize of 'mort d'ancestor' had been summoned between them, concerning two-thirds of two oxgangs in Gildhouse and Sureheved. (fn. 11) As Alan 'de Lydiate' he granted to Cockersand a portion of his land in the townfield in pure alms. (fn. 12)
His nephew William, son of Benedict de Lydiate, gave his share of Orshawhead to Cockersand in alms, (fn. 13) and added a further piece of land. (fn. 14) William le Boteler, as overlord, ratified the Orshaw grants, giving the bounds thus: In length from the cross on the north side of Orshaw to the ditch on the south side, in the further part of Orshaw field; and in breadth, from the brook on the west to the ditch under the law on the east. (fn. 15)
William de Lydiate was holding Lydiate of the heir of Emery le Boteler, in 1242. (fn. 16) He seems to have been still living in 1255, but to have died shortly afterwards, leaving as his heir Benedict, probably his son, whose widow Alice about 1270 made over to Sir William le Boteler all her dower and whatever claim she might have in land in the vill of Lydiate. (fn. 17)
In the middle of 1277 the same Alice prosecuted her claim against Robert de Halsall. The defendant called William son of Benedict to warrant him as to part; as to the mill he denied that Benedict her husband was ever in seisin, all his interest being 4s. yearly rent. (fn. 18)
In 1292 Emma, widow of William the Pinder, claimed dower in a small holding from Robert de Lydiate, and the latter called upon William son of Benedict to warrant. This he failed to do. Emma therefore recovered her dower against Robert, who was to have the value of it out of William's lands. (fn. 19)
Who this Robert de Lydiate alias de Halsall was there is nothing to show; he seems to have held a small subordinate manor of William de Lydiate. (fn. 20) In 1303 Thomas son of Robert de Halsall gave 20s. for licence to agree with Robert de Halsall of Lydiate. (fn. 21)
The double lordship of Lydiate again comes out in 1313 in a suit brought by the abbot of Cockersand for common of pasture of which he had been disseised, as he stated, by Benedict son of William de Lydiate and Thomas son of Robert de Lydiate. (fn. 22) Two years later the succession to what may be called the junior moiety of the manor was settled by fine between Thomas de Lydiate and his son Gilbert, the remainders being to Gilbert's brothers William, Adam, and John in succession. (fn. 23)
About the same time (1315) Richard son of Benedict de Lydiate settled an oxgang of land, &c., on his daughter Cecily, married to Elias de Occleshaw. He had received this oxgang, which lay in Gildhouse, from his brother William, and it had previously been held by Adam de Churchlee. (fn. 24)
Benedict de Lydiate, at Easter, 1325, complained that Gilbert de Halsall, John del Wolfall, and Denise his wife, and others had disseised him of ten acres of pasture in Lydiate. In this complaint he was joined by Gilbert son of Thomas de Lydiate, and Margery his wife; also by Alice, widow of Thomas; as representing the other moiety of the manor. (fn. 25) The defence was that the land was 'wood, not pasture.' Benedict and the others had enclosed the wood and so sought to deprive the defendants of the right to send their pigs there in mast-time. The jury took this view. (fn. 26)
This case introduces another family into the history of the township, the Wolfalls. (fn. 27) A settlement was made by fine in 1323 of two messuages, eighteen acres of land, and 19d. rent in Lydiate upon John del Wolfall and Denise his wife for life. (fn. 28) From this time the Wolfalls constantly appear in the neighbourhood in various relations.
Benedict de Lydiate must have died soon afterwards, (fn. 29) for though he paid to the subsidy in 1327 he is not named in 1332. For a time Gilbert de Lydiate was the foremost man in the township, as in the assize of 1331 and the subsidy of 1332. (fn. 30) John son of Benedict becomes prominent about 1350. (fn. 31) In that year he pleaded that Sir William le Boteler of Warrington, Elizabeth his wife, and many others, including the Wolfalls and Elias de Gildhouse, had unjustly disseised him of his free tenement in Lydiate, viz. two-thirds of the manor. The recognitors decided in his favour, saying that he was seised of it until the defendants ousted him by force and arms. (fn. 32)
Shortly afterwards, in 1352, John de Lydiate and two others were charged with having disseised Margery, widow of Robert de Lydiate, of her third of the junior moiety. (fn. 33) A year later Elizabeth daughter of Robert de Lydiate claimed certain lands as her inheritance, of which John de Lydiate and his tenants were in possession. Their defence was that she was a bastard, and the matter was referred to the bishop for inquiry. (fn. 34) From this time the 'junior manor' disappears from view. (fn. 35) John de Lydiate had suits later with Otes de Halsall, (fn. 36) Robert de Wolfall, (fn. 37) and Adam Tyrehare, a chaplain and trustee, (fn. 38) concerning various claims as to lands in Lydiate.
One other family may be noticed at this point. Simon son of Richard de Ince in 1306 claimed from William del Halgh of Lydiate a tenement in the latter place. (fn. 39) William del Halgh enfeoffed William Blundell, clerk, of his holding in Lydiate and Maghull, who reenfeoffed him and his wife Anabel, with remainder to John their son and his wife Agnes. John died, leaving an infant daughter Isabel, who in 1359 claimed it from Henry de Bickerstath of Aughton, senior, his wife Agnes (Isabel's mother,) and others. (fn. 40)
John de Lydiate's daughter and heir Katherine married Robert son of John de Blackburn of Garston; and as a release to his father of lands received from him in Downham and Much Woolton was made by Robert in 1389, (fn. 41) the marriage probably took place then. There were at least two children—a son born about 1400 and a daughter Agnes, eventually the heir of both father and mother. (fn. 42) She married Thomas, a younger son of Sir John de Ireland of Hale, who thus became lord of Garston and Lydiate.
Katherine the heiress seems to have died in 1435. (fn. 43) Her grandson Lawrence Ireland, son of Thomas, would then come into possession of the manor. He was a minor, and his mother had in 1433 married as her second husband David de Standish. He married Katherine, daughter of Henry Blundell of Little Crosby, and by her had a son and heir John, who in March, 1469, is described as 'lord of Garston,' so that his father Lawrence probably died before that time. (fn. 44)
John Ireland of Lydiate, who married Beatrice daughter of William Norris of Speke, died in May, 1514, holding the manor of Lydiate of Sir Thomas Butler by the tenth part of a knight's fee; it was worth 10 marks annually. He also held the manor of Garston and lands in Downham, Allerton, Woolton, Halewood, and West Derby, which were the Blackburn inheritance, the annual value being a little over 14 marks. George, his son and heir, was fortyseven years of age. (fn. 45)
George Ireland held the manors for some twenty years, (fn. 46) being succeeded about 1535 by his son Lawrence, who in 1540 made an exchange of lands with Thomas Lydiate of Lydiate. (fn. 47) In 1539–40 he had a grant of lands in Garston from Thomas Ireland of the Hutt, and four years later he surrendered all his lands in Garston and the neighbourhood to Sir William Norris of Speke, receiving the Norris lands in Lydiate and Maghull in part compensation. (fn. 48) About the same time he purchased from Thomas Holt of Gristlehurst that portion of the possessions of Cockersand Abbey which lay in his own neighbourhood—in Lydiate, Thornton, Melling, and Cunscough; and in 1546 he acquired Eggergarth from the Scarisbricks. (fn. 49)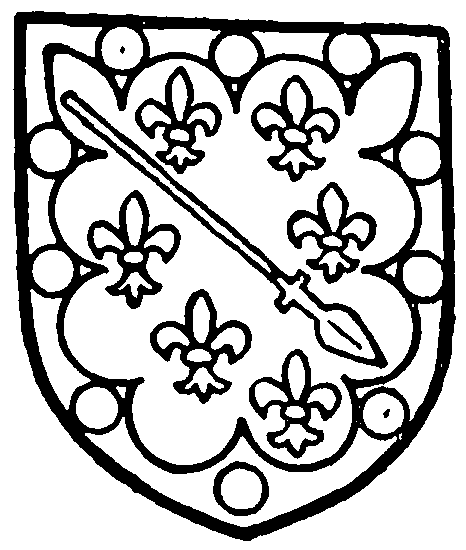 He died in March 1566, holding the manor of Cunscough of the queen in chief; the manor of Lydiate of Thomas Butler of Warrington by the twentieth part of a knight's fee, paying a rent of 5s. 4½d., the clear value being 40 marks; the manor of Eggergarth of the same Thomas Butler, as the twentieth part of a knight's fee, paying 7s., the value being £11; also lands in Aughton of the earl of Derby. His son and heir was William Ireland, who was fortysix years of age. (fn. 50)
William Ireland died about three years after his father. In 1567 he granted the reversion of Cunscough and Eggergarth to Gilbert Halsall and William Ireland, (fn. 51) his youngest son, for ninety-nine years. He had a dispute with his younger brother George of Gray's Inn, who claimed everything under a feoffment made by their father. (fn. 52) A pedigree was recorded in 1567. (fn. 53) The inquisition after his death records only a messuage and land in Cunscough, in the tenure of Thomas Tatlock, held of the queen in chief by the service of the sixtieth part of a knight's fee, the value being 23s. 4d. Lawrence Ireland, his son and heir, was eighteen years of age. (fn. 54)
The heir was engaged in many lawsuits. (fn. 55) He died 6 May, 1609, leaving a widow and ten young children, for whose benefit he had in 1605 enfeoffed Sir Richard Molyneux and others, of Lydiate Hall, Lydiate chapel near the manor-house, the dove-house, barns, &c. Lydiate and Eggergarth are stated in the inquisition to be held of Thomas Ireland of Warrington in socage by the rent of a rose yearly, their value being £5 clear; he also had tenements in Cunscough, Melling, Aughton and Maghull. (fn. 56)
Edward Ireland, his son by his second wife Mary Scarisbrick, was his heir, but only sixteen years of age, and his wardship was granted by James I to Barnaby Molyneux and Hugh Nelson. (fn. 57) He was twice married; by his first wife he had two daughters; by his second—Margaret Norris, a granddaughter of Edward Norris of Speke—he had a son and heir Lawrence. (fn. 58) He died on 1 April, 1637, (fn. 59) and the inventory of his property has been preserved. (fn. 60)
His son and heir Lawrence was only about three years of age, (fn. 61) and was still under age in 1651, when his mother Margaret sent a petition to the Parliamentary Commissioners touching the sequestration of his estate. Like many others of his faith he was sent to one of the colleges abroad to be educated. On account of religion two-thirds of the Ireland estate was sequestered, and the widow was allowed a fifth in 1651, to be increased to a third should she prove that she was not a delinquent; (fn. 62) Gilbert Ireland of the Hutt, a distant relative and a strong partisan of the Parliament, was made guardian. Mr. Ambrose, the Parliament's agent, 'had given reasons which induced him to believe that young Mr. Ireland was being brought up in popery; namely, that his mother demanding from him how her son should be maintained, he answered that if she would please he should be brought up in the Protestant religion he might be provided for according to his rank and quality, she replied "she had rather see him hanged"; that he could never hear of him going to church, but that he had been kept secret and conveyed from one papist's house to another, whereof Mr. Ditchfield, a papist at Ditton, was one; and that it had then lately been given out that he had been sent beyond the seas, where Mr. Ambrose believed he then was.' It was replied that he had been educated at Oxford, (fn. 63) and only sent abroad by licence from the Council of State. Colonel Gilbert Ireland refused to stir; 'he had heard they were about to marry him (Lawrence) with Mr. Ditchfield of Ditton's daughter, an arch-papist, signifying his dislike thereof.' It appears therefore that the widowed mother secured no better terms. (fn. 64)
Lawrence came of age in 1655, in which year he granted a lease of Cunscough Hall to John Tatlock. He married, about the beginning of 1658, Anne, daughter of Edward Scarisbrick, but she died within six years, leaving two daughters, Margaret and Katherine. In 1664 he settled his estates on his elder daughter and her heirs, with remainder to the younger daughter and her heirs, and further remainders; gave the children into the guardianship of his mother, and for himself sought admission into the Society of Jesus. He made his profession in 1666, and was ordained priest, but there is little further record of his career, (fn. 65) and his only connexion with Lydiate was his settling a messuage in the place upon his younger daughter Katherine in 1673; she afterwards became a nun at Dunkirk. He died at York, 30 June, 1673. His mother survived him, being buried at Halsall in 1695. (fn. 66)
The manor of Lydiate now went to Charles Anderton, (fn. 67) who had married Lawrence Ireland's elder daughter. He had first to meet claims to the estates by William Ireland, brother of his wife's grandfather Edward, and by William's son Francis; these claims were based on a feoffment made by Lawrence Ireland (d. 1609), the father of Edward and William, but never executed. It is not certain whether Charles Anderton ever resided at Lydiate; on succeeding his father in 1678 he lived at Lostock, and Lydiate was leased to Thomas Lydiate; old Mrs. Ireland lived in part of it. (fn. 68) He died in 1691. His eldest son Charles was then at St. Omer's, where he died in 1705, being succeeded by his brother James. The manors of Lydiate, Melling, Cunscough, and Eggergarth and other Ireland lands were in this year settled to the use of his mother Dame Margaret for life, with remainders to Francis and to his brother Joseph in tail male; then to his sister Mary, the wife of Henry Blundell of Ince Blundell. James, the legal owner, had entered the Society of Jesus in 1703, and drew a pension of £50 from the family estates; he died in 1710, having in 1708 executed a conveyance in order to enable his younger brother Francis to make a marriage settlement. (fn. 69)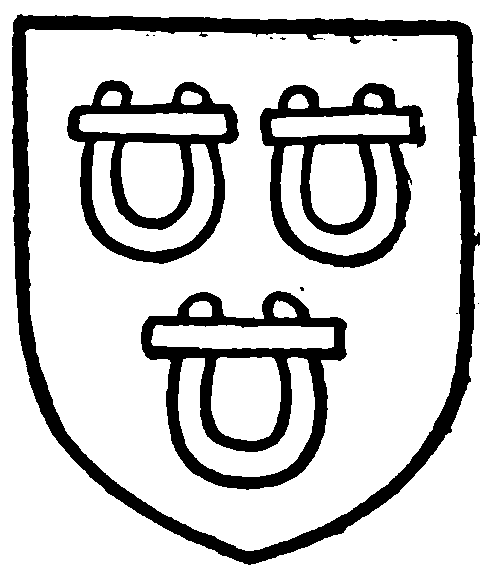 Francis Anderton took part in the rising of 1715, and was taken to London and condemned; (fn. 70) he was pardoned, but the forfeited estates were recovered by an elder brother Lawrence, who had been a Benedictine, renouncing his vows and his religion in 1724. He died very shortly afterwards, and by his will left his estates to his brother's children, with remainder to the Blundells. Under this will the Blundells of Ince Blundell succeeded to the Lydiate manors and estates after the death of Sir Francis Anderton in 1760. Sir Francis, after his pardon, had lived very quietly at Lydiate Hall, devoting himself to country sports, and especially to cock-fighting. (fn. 71)
A very singular dispute followed his death without issue. By the will of his brother, as stated, the Blundells of Ince Blundell were the heirs to the Anderton properties; but Dame Margaret, who died in 1720, had also by her will made a settlement of the Lydiate estates as follows: 'As for and concerning my manors or lordships of Lydiate, Melling, Cunscough, Eggergarth, Aughton, Maghull, and Aintree, &c., I do hereby give, devise, and bequeath the same unto Nicholas Starkie, his heirs and assigns for ever, and to and for no other use, intent, trust, or purpose whatsoever.' Mr. Starkie was a lawyer of good repute, who though a Protestant had long been concerned in her affairs. (fn. 72) Her desire was to secure the estate for her son Francis, but as he had been convicted of high treason to have named him directly would only have led to forfeiture. After Lawrence Anderton's death a settlement was drawn up in accordance with Dame Anderton's known wishes. Her daughter Mrs. Blundell, then a widow, refused to sign it, on account of a clause indemnifying Mr. Starkie; the latter, who was receiving the rents and was apparently the legal owner, could not see his way to relinquish the clause, but after some negotiation and the payment of £1,000 he in 1728 made over the Lydiate estates to three trustees, his son being one, for the use of Sir Francis Anderton during life and then to the heirs of his body, all mention of the Blundells being omitted. Mrs. Blundell and Mr. Starkie died before Sir Francis; and Robert Blundell of Ince, as heir, was met by the claims of Edmund Starkie the son, the only surviving trustee, who insisted that Dame Anderton had made an absolute gift to his father, of which he intended to avail himself, the allowance to Sir Francis having been an act of compassion to him personally. The Blundells, however, took possession, but it is supposed they had to compensate Edmund Starkie by a heavy payment. (fn. 73) Since that time the manor of Lydiate has descended with Ince Blundell. (fn. 74)
The Halsalls of Halsall preserved an interest in Lydiate, derived perhaps in part from Alan de Lydiate of Halsall. In 1414 Archdeacon Henry de Halsall acquired a quarter of the manor from Owen de Penerith and Joan his wife; the origin of their title is unknown. (fn. 75) Seven or eight years later (1422) Sir Gilbert de Halsall bought lands there from William Fletcher of Lydiate and Joan his wife. (fn. 76) At the death of Henry Halsall in 1472 he was said to have held half the manor, but the tenure is not stated. (fn. 77) Sir Thomas Halsall, who died in 1539, is stated to have held the 'manor' of Lydiate by the tenth part of a knight's fee. (fn. 78) In the next inquisition, in 1575, the lands in Lydiate and Eggergarth are said to be held of Lawrence Ireland. (fn. 79)
The Molyneux family bought small parcels of land here as early as the fifteenth century. Sir William Molyneux in 1543 acquired from Sir William Norris a fourth part of the manor of Formby in exchange for lands in Lydiate (fn. 80) and Maghull. Then at the beginning of 1561, John, son of Sir Edward Warren, and Sir Richard Molyneux agreed to take all the Halsall lands in Lydiate, charged with 20d. payable to the chief lord, in exchange for the fourth part of the manor of Formby; the 20d. was divided into 9d. and 11d. to correspond with the purchasers' shares. (fn. 81) In 1595 Edward Warren, son of John, sold his share of Lydiate to Sir Richard Molyneux; (fn. 82) and in 1623, at the inquisition after Sir Richard's death, he was said to have held the 'manor' of Lydiate and various lands there, but the jury did not know by what services. (fn. 83) It remained in the possession of the family till the end of the eighteenth century, when it was sold as 'the moiety of the manor,' to Henry Blundell of Ince, who thus became sole lord; the price paid was £460.
EGGERGARTH
EGGERGARTH is not mentioned by name in Domesday Book, being at that time probably included in Halsall. Like Halsall and Lydiate it formed part of the Warrington fee. In the survey of 1212 it is stated that Richard le Boteler had given the two oxgangs in Eggergarth to Matthew de Walton by knight's service (one-fortieth of a fee), and that Henry son of Gilbert was holding it at the date mentioned. (fn. 84) Henry de Walton granted to the monks of Cockersand a ridding in Eggergarth. (fn. 85)
William de Walton and William de Lydiate held Eggergarth and Lydiate of the heir of Emery le Boteler in 1242 for the tenth part of a knight's fee. (fn. 86) In 1355 Gilbert de Scarisbrick was holding it of the lord of Warrington, (fn. 87) and it continued in this family until, as stated above, it was purchased about 1546 by Lawrence Ireland from James Scarisbrick, possession being given in 1547. (fn. 88) The delay in payment of the purchase money caused much disputing, the matter remaining unsettled for twenty years. (fn. 89) From this time Eggergarth has descended with Lydiate, in which it has become merged, though mentioned separately in inquisitions and settlements.
It seems to have possessed a mill from early times, situated on the brook dividing it from Lydiate proper. William son of Benedict de Lydiate in 1296 granted 4s. of annual rent from the mill to Gilbert son of Richard de Halsall; (fn. 90) and four years later contention having arisen between Sir William le Boteler, Adam de Pulle and Alice his wife on the one part, and Gilbert son of Gilbert de Halsall on the other, respecting the diversion of the course of the Alt, (fn. 91) which flowed to the injury of a certain mill in Eggergarth and Lydiate, an agreement was in June, 1298, made for a diversion of the course. (fn. 92) The Halsall lands in Lydiate adjoining the brook were in dispute early in the reign of Henry VIII, when Nicholas Longback, tenant of Sudell Close, complained that William Molyneux of Sefton, out of his covetous mind and malice towards Sir Henry Halsall, had caused Katherine Male to claim them in the wapentake court, where William Molyneux was steward, and the twelve suitors who tried the case were his tenants and forced to do as he told them. (fn. 93) A little later Sir Henry Halsall made further complaint as to this aggression. (fn. 94)
It was in respect of Eggergarth that Sir Thomas Butler early in the reign of Henry VIII claimed the wardship of Thomas son and heir of Gilbert Scarisbrick from the earl of Derby; by the first award the custody of the manor was allowed, but about 1517 the wardship of the heir was confirmed to the earl, and the custody of the manor was transferred to him, Sir Thomas receiving £40 as compensation. (fn. 95)
Robert Blundell in 1598 asserted that from time immemorial the lord of Ince Blundell and his servants and tenants and all the people of the manor had had a right of way from Ince, over Alt Bridge and through Altcar, and thence 'through Lydiate to certain lands called Eggergarth, and thence to Aughton, and so to Ormskirk church and the market, and back again the same way by and near to a watermill in Eggergarth.' Of late the tenant of Lawrence Ireland had stopped plaintiff's servants and tenants near the mill, on their way to the market, and told them that in future they would not be allowed to pass through Eggergarth. (fn. 96)
The Orshaw family appears from time to time. In 1529 Henry son and heir of Richard Orshaw, deceased, complained that Thomas Halsall and others had ousted him from his free holding in Lydiate. It appeared that the lands had been bought in 1520 by Sir Henry Halsall and given to found a chantry in Halsall church. (fn. 97)
Families in the neighbouring townships also held lands in Lydiate, as the Maghulls, Molyneuxes, and Walshes, but the only freeholders recorded in 1600 were Lawrence Ireland and—Lydiate. (fn. 98) Descendants of the Molyneuxes of Melling were settled here in the seventeenth and eighteenth centuries. (fn. 99)
James Dennett of Lydiate registered in 1717 a small estate in Cunscough and Sutton; his son James became a Jesuit. (fn. 100) Among the returns of 'Papists' Estates' at the same time occurs the name of James Pye of Lydiate, yeoman. (fn. 101)
In 1530 the Hospitallers received a rent of 2d. from the heirs of Kirkby for Hollins Acre in Lydiate. (fn. 102)
In connexion with the Established Church St. Thomas's was erected in 1839; a district was formed in 1871. (fn. 103) The rector of Halsall presents.
Lydiate Hall was originally a quadrangular building enclosing a small court, but the eastern range of buildings was destroyed about 1780. The other three sides still remain, but the house is empty and dismantled, and in spite of some amount of repair not many years ago, is rapidly falling into decay. This is all the more to be deplored because the chief rooms, the hall and great chamber, have been but little altered since they were first built, and preserve several charming pieces of detail. The exterior is very picturesque, with its panelling and bands of quatrefoils of white plaster set in black wood, and the grey stone roofing slates make an agreeable contrast to the varied patterns of the walls.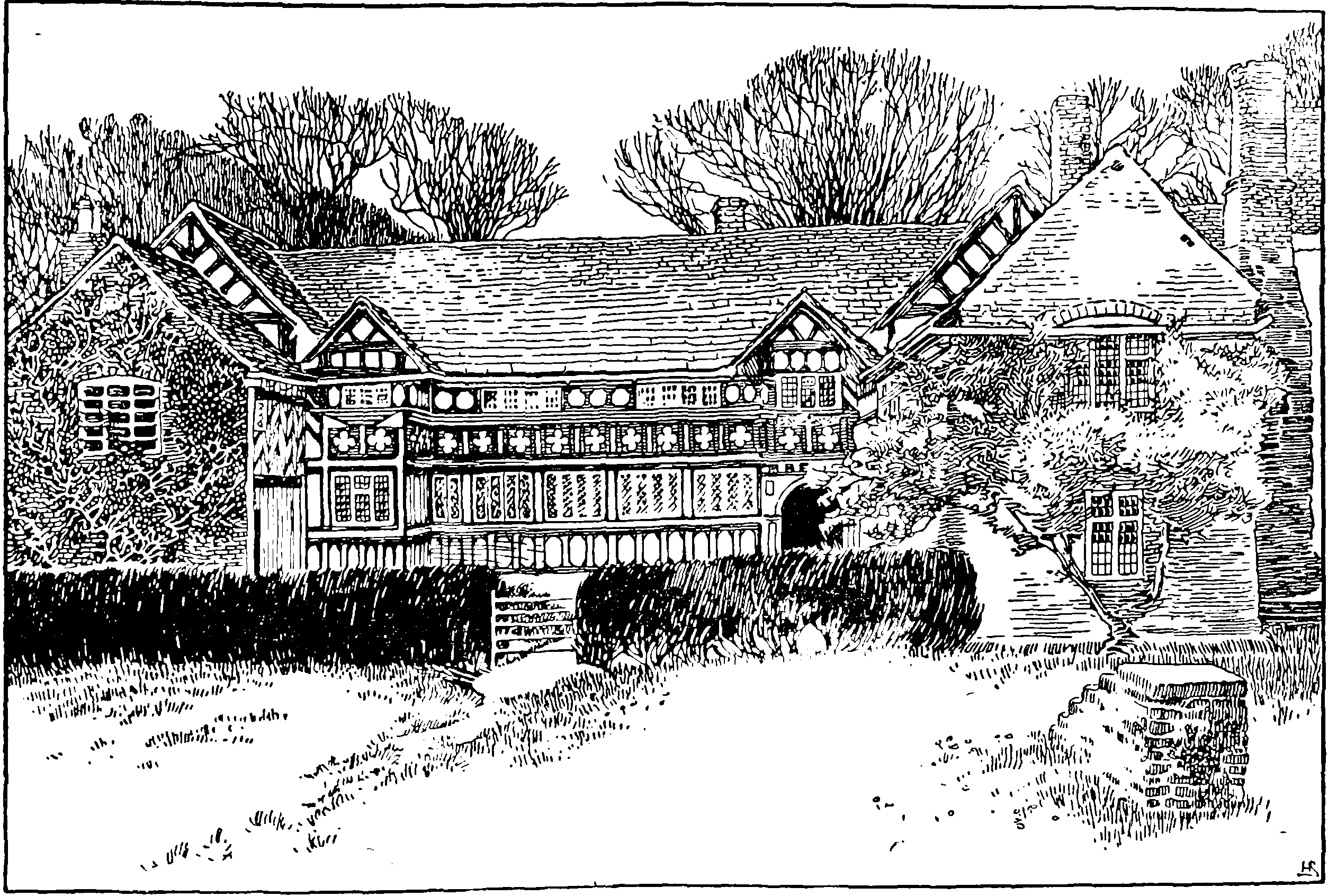 The house is of two stories, the hall occupying the west wing, with a range of rooms over it, while the great chamber is to the south, and the kitchen wing to the north. The destroyed east wing is said to have been the oldest part of the house, and stone built, but unfortunately nothing is left of it. What remains is of timber and plaster on a low stone base, and its earliest part seems to belong to the end of the fifteenth century, having probably been built by Lawrence Ireland, whose initials are on the doorway from the hall into the screens; he was living about 1470. The screens are at the north end of the hall, and are entered through a projecting porch, altered in the eighteenth century, and bearing the Anderton arms, above which is a small room with a three-light window, setting forward on carved brackets on which are three roses. The entrance door is probably original, closely studded with nails after the fashion of many others in old Lancashire houses, and immediately to the left on entering is the door of the hall with Lawrence Ireland's initials in the spandrels of the arched head The hall has a flat ceiling with moulded beams, and is lighted by a continuous row of windows on east and west. It has a large masonry fireplace at the north end on the line of the screen, probably an early sixteenth-century addition to the plan. At the south end is the canopy over the daïs, a plaster cove panelled with wooden ribs, having carved bosses at the intersections. On the bosses are a variety of devices of which some are armorial, but many seem to be merely decorative. Among them are two with the initials J. I. and B. I., for John Ireland and Beatrice (Norris) his wife. He died in 1514, and the date of the canopy is probably a few years before this. It is a beautiful and valuable example of its kind, but in the present neglected state of the house, is in no small danger of damage.
An earlier example from Boultons in West Derby parish is now set up in safety in the Liverpool Museum.
At the west end of the daïs was formerly a projecting bay, now destroyed, and the opening to it blocked up; while at the east end is a projection balancing the porch at the other end of the hall, and containing the stair to the chamber on the first floor. In the south-east corner of the hall is a door to the rooms on the ground floor of the south wing, which now contains little of interest except two good late seventeenthcentury fireplaces. In the larger of these rooms, and in the hall, the sixteenth and seventeenthcentury panelling which formerly lined their walls is carelessly stacked, at the mercy of any chance comer who may see fit to carry off anything that takes his fancy.
The great chamber has a ceiling panelled with moulded wooden beams and light ribs crossing the panels diagonally, the beams being slightly cambered. This room has been lined with sixteenth-century wainscot, full of good detail, and in it were inserted two elaborately carved panels with figures in low relief said to represent Henry VIII and his wives. Only one of these panels now remains, leaning against the wall.
The rest of the south wing is gutted, and ends in a plain brick gable.
The north wing has been nearly rebuilt, and retains nothing of its old fittings, its eastern half being now used as a farmhouse. On the north are some picturesque brick farm buildings, built by Sir Francis Anderton in 1744.
To the south of the hall in an open field stands the ruined chapel called 'Lydiate Abbey.' It was dedicated in honour of St. Catherine. Its plan is of the simplest form, a rectangle 46 ft. 9 in. long by 16 ft. 4 in. wide, internal measurement, with a small west tower. Weather and the arch-enemy of ancient buildings, ivy, are slowly destroying its ruins. It has had an east window of five lights, and four threelight windows on the south side, with stepped buttresses between the windows, formerly capped by pinnacles, which, with an embattled parapet, are shown in Pennant's view, noted below. There are no windows on the north side. There are north and south doorways near the west end, with a south porch, over the outer arch of which are the arms of Ireland, and on the dripstones of the label the initials LI and CI. There are stone seats on both sides of the porch, and in the north-east angle is a holy-water stone, while the remains of a niche and corbel, formerly over the outer arch, lie near by. The tower is of three stages with diagonal buttresses, and a three-light west window. In the belfry stage are two-light windows with tracery, and the tower has an embattled parapet with angle pinnacles.
Parts of a broken altar-slab lie in the church, enough remaining to show that the altar was 3 ft. 4 in. high by 8 ft. 6 in. long and 2 ft. 6 in. wide.
The date of the building is probably fixed by the initials on the porch of Lawrence Ireland, ob. before 1486, and Catherine (Blundell) his wife, though the details would suggest a later date, especially the absence of cusps in the window tracery.
Pennant thus describes it in 1773: 'A small but most beautiful building, with a tower steeple, with pinnacles and battlements venerably overgrown in many parts with ivy.' (fn. 104) Gregson also notices the building, but was of opinion it was never completed. (fn. 105) This however, is a mistake, fragments of stained glass and roofing flags having been found within the walls.
The chapel was no doubt dismantled when the worship for which it was erected was prohibited by law. Four alabaster groups attributed to the Nottingham school, and representing the story of St. Catherine, probably formed the reredos; they were preserved at the hall, and are now in the pulpit of the church opposite. An alabaster figure of St. Catherine, which has been supposed to have occupied the niche over the porch, has also been transferred from the hall to the church. (fn. 106) The interior of the chapel was used for burial occasionally—five priests lying there. (fn. 107)
No details are known as to the continuance or revival of the Roman Catholic worship in Lydiate, but Francis Waldegrave, S.J., was in residence at the hall in 1681. Margaret Ireland of Lydiate, widow, and many others, occur in a list of recusants fined or outlawed in 1680. (fn. 108) The mission was served by the Jesuits down to 1860, (fn. 109) when the late Thomas Ellison Gibson, a secular priest, was appointed. (fn. 110) He was a diligent antiquary and author of the work frequently quoted in this account—Lydiate Hall and its Associations, issued in 1876. He also edited the Cavalier's Note Book, Crosby Records, and N. Blundell's Diary. Edmund Powell, appointed in 1885, must also be mentioned. (fn. 111)
Gregson in 1816 records that 'the neighbourhood still abounds with Catholic families, and mass is regularly performed in the old hall.' (fn. 112) This domestic chapel has been superseded by the church of St. Mary (commonly called 'Our Lady's'), built in 1854 by the late Thomas Weld Blundell, and consecrated in 1892. A burial ground was opened in 1860. Besides the alabaster groups and statue already mentioned the church has the figure of a bishop seated (said to have been brought from Halsall), a pre-Reformation chalice, and an ancient processional cross. A roadside cross, found buried in the neighbourhood in 1870, has been erected as the cemetery cross. (fn. 113)