Pages 208-215
A History of the County of Lancaster: Volume 3. Originally published by Victoria County History, London, 1907.
This free content was digitised by double rekeying. All rights reserved.
MELLING
Melinge, Dom. Bk.; Melling, 1224, usual; Mellinge, common; Mellyngg and Mellyngge 1292.
This township has a total area of 2,137 acres; (fn. 1) of which 1,395½ acres belong to Melling proper or the south-western half, and the remainder to Cunscough (fn. 2) in the north-east. The ground rises gradually from the Alt, the western boundary, towards the north-east, reaching 120 ft. near the centre of the township, where is the hamlet of Melling Mount. The hamlet of Waddicar is to the east of Melling village. The church and its few attendant buildings stand upon a slightly elevated knoll of sandstone rock, whence the surrounding country appears in a level panorama. Fields of corn, potatoes, and varied market-garden produce make patches of different colours on every hand, whilst trees and bushes are of the scantiest description. The country in the northern portion of the district is rather richer in appearance; there are a few more trees than in the south. The soil throughout is sandy and loamy and fertile.
The principal roads are the main road from Liverpool to Ormskirk, passing from Kirkby through Melling Mount, and another but circuitous road connecting the same places, coming from Aintree through the village and thence to Maghull. The Leeds and Liverpool Canal winds through the township. The Lancashire and Yorkshire Company's railway from Liverpool to Preston crosses the western corner.
The population in 1901 numbered 947.
There are stone pottery works and a gun-cotton factory.
The township is governed by a parish council.
A cross is marked on the 1848 map at Waddicar.
Among the field names here in 1779 were Knotsfield, Cannock, Meakins Hey, Dyers Carr, and Poolers Meadow.
MANORS
Godeve held MELLING in 1066; it was rated at two plough-lands, and valued at 10s. There was a wood a league in length by half a league in breadth, measurements agreeing fairly well with those of Cunscough. It was part of the privileged three-hide area, though physically separated from the main portion. (fn. 3)
A century later it was held in thegnage, paying a rent of 10s. to the king. Siward de Melling seems to have been tenant about that time; his son Henry was in possession in 1193, and having shared in the rebellion of John count of Mortain, next year made peace with King Richard, his fine being a mark. (fn. 4) Several grants by Henry son of Siward de Melling are recorded in the Cockersand chartulary. (fn. 5) The manor seems to have been divided with his brother Thomas, who at the petition of his wife Maud made a grant to the same house. (fn. 6)
The survey of 1212 records that Henry de Melling held four plough-lands (fn. 7) of the king. Thomas held one of the plough-lands—the moiety of Melling referred to in charters just cited—'and the said Henry and Thomas have given Northcroft and Hengarth and Routhwaite, small cultures, to St. Mary of Cockersand in alms.' (fn. 8)
The notices of Melling in the thirteenth century are scanty. Randle son of Adam de Quick, with the consent of Alice his wife, granted the homage and service of William son of Robert de Lund; (fn. 9) Thomas de Routhwaite quitclaimed all his right in three selions lying between the land of St. James of Birkenhead and that of Amery son of the chaplain; (fn. 10) William son of Alan de Melling gave two 'lands' to Cockersand, one between the land of Robert de Molyneux and the other in Melling Wood. (fn. 11)
Henry de Melling died in or before 1225, when his son Thomas paid the king 22s. as relief on succession to the four plough-lands. (fn. 12) Besides Thomas his 'heir' he mentioned his 'son' Roger in one of the Cockersand charters. (fn. 13)
For the next hundred years the succession is uncertain. The heirs of Jordan de Hulton held Melling, paying the ancient 10s. in 1297, (fn. 14) and in the extent of the lands of Thomas earl of Lancaster made in 1324 it is stated that 'Peter de Burnhull (Brindle) holds the manor of Melling by the service of 10s. for all services.' Jordan de Hulton had occurred in connexion with Melling in 1259–60, when Henry de Melling claimed 8 marks from him, the arrears of an annual half-mark due. (fn. 15) There is nothing to show how the manor passed to Jordan, or to Peter de Burnhull. (fn. 16) Peter's two sisters were his heirs—Joan, who married William Gerard of Kingsley in Cheshire, ancestor of Gerard of Bryn; and Agnes, who married another Cheshire man, David de Egerton. (fn. 17) The Egertons disappear, and in the feodary of 1483 it is stated that 'Thomas Gerard [and others] hold Melling.' It is to be noted, however, that the inquisitions relating to the Gerards do not claim any 'manor' there, but only a rent of a few shillings. Thus Sir Peter Gerard, who died in 1446, had 5s. and 15s. rents in Melling, (fn. 18) and Sir Thomas Gerard in 1523 held land there of the king in socage worth 3s. clear. (fn. 19)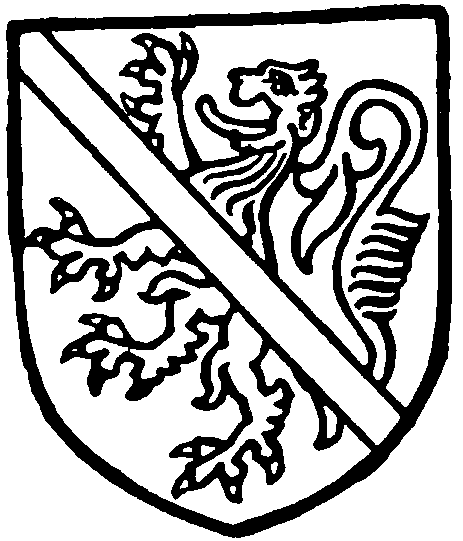 Although this succession is supported by the sheriff's accounts, it is not quite satisfactory. The Byron family or a branch of it had certain manorial rights in Melling; and as Jordan de Hulton, rector of Warrington, is found to call Geoffrey de Byron 'my cousin' (fn. 20) it appears probable that their right originated through him. (fn. 21) Again, the Molyneuxes of Thornton had a fair estate here from an early time, and claimed a share of the manor. (fn. 22) In 1292 Robert son of Robert de Molyneux appears as claimant of a tenement against Henry son of Henry de Bootle, and the latter Henry's widow Alice, (fn. 23) and as defendant in suits brought by William son of Adam de Sefton, the 'Demand' of Sefton, as to tenements which he claimed in right of his grandfather Award de Sefton. In one of these claims, which included a share of the wood, Robert de Byron was the other defendant. (fn. 24) Robert de Molyneux relied on a technical plea—that his mother Margery held a third in dower; but Robert de Byron denied that Award was ever in possession, and the plaintiff withdrew his claim.
Some years later (1300 onwards) Adam the Forester of Melling made a number of claims against various people of the vill, (fn. 25) in respect of the inheritance of his wife Anabil, daughter of Bernard son of Richard. One of these suits placed Robert de Byron, Robert de Molyneux of Thornton, Margery late the wife of Robert de Thornton first among the defendants. Their defence was that they were lords of the town of Melling, holding the waste in common; Adam the Forester had enclosed part of this waste, and they had pulled down his hedge, as it was lawful for them to do. The jury accepted this defence and dismissed Adam's claim. (fn. 26) Robert de Byron, Henry and Nicholas de Bootle and others were in 1303 charged with assaulting one Henry de Moss, and carrying him off to prison at Lancaster, for which he claimed £1,000 damages. (fn. 27)
Robert de Byron was succeeded by two daughters —Isabel, who married Robert de Nevill of Hornby, and Maud, who married William Gerard of Kingsley, father of the William Gerard above mentioned. (fn. 28) The latter thus had a double right in Melling, by his mother as well as by his wife. The Nevill share descended with Hornby to the Harringtons, and in the division of Sir John Harrington's (fn. 29) estate between his two daughters, Elizabeth and Anne, Melling went to the former. She married John Stanley, son and heir of John Stanley of Weaver, in Cheshire (a younger brother of the first earl of Derby), (fn. 30) and Jane, one of their three daughters and co-heiresses, brought it to Sir Thomas Halsall, who died in 1539. His widow afterwards married John Osbaldeston of Osbaldeston, and died at this place 19 August, 1567. (fn. 31) Inquisitions taken after the death of her son Henry state that she held the manor of Melling and ten messuages, 200 acres of land, &c., in Melling and Liverpool. The manor was held of the queen by knight's service, and was worth £4 clear. By indenture and fine in 1566 the succession was arranged to Henry Halsall and his heirs, or in default to Jane's other children, or to her right heirs. Henry Halsall accordingly succeeded to the manor, and on his death in 1575 without issue—his grandson Cuthbert being illegitimate—it passed to Maud, wife of Edward Osbaldeston, one of the daughters of Dame Jane Halsall, and to Bartholomew Hesketh as son and heir of her other daughter Joan, who had married Gabriel Hesketh, the former being thirty-six years and the latter twenty-two. (fn. 32) In 1587 Bartholomew Hesketh purchased the Osbaldeston share, (fn. 33) but no further mention is made of it after 1598 (fn. 34) in the known inquisitions or settlements of this family, nor does any claim seem to have been made to it.
The Molyneuxes of Sefton claimed a manor here also. Sometimes it is described as Melling simply, at others as 'half of Melling,' and at others is joined with Lydiate. Sir William Molyneux purchased the Swifts' share of Elizabeth Harrington's inheritance in 1521 and the Grimshaws' share in 1554. (fn. 35) In the inquisition of 1623 'the manor of Melling' is said to be held of the king by knight's service, viz. by the tenth part of a fee. (fn. 36) The family continued to hold it down to the end of the eighteenth century, when it was sold to John Foster for £1,050; eight small chief-rents were payable, ranging from 1d. to 1s., and amounting to 5s. 8d.
The manor-house in Melling now belongs to a family named Cartwright.
A charter by Robert de Byron granted land in Melling to Nicholas son of Henry de Bootle, at the yearly rent of 1d.; and a further grant at the same rent was made in 1309. (fn. 37) Another charter granted Adam son of Richard de Thorp land which Robert de Brookfield formerly held, extending between Alt and Melling Moor, and pannage of his pigs in the common wood. (fn. 38) This same Adam de Thorp had from William son and heir of Henry de Lea a grant of all his lands and tenements in Melling, including the homage of Richard de Lund (with 8d. rent), Adam del More, Robert de Byron (2d.), Richard son of Robert (10d.), and Amery the priest's son (6d.), at the yearly rent of three grains of pepper. (fn. 39) In 1280 Baldwin de Lea granted all his lands in Melling with various homages to William his son. (fn. 40) In 1305 Emma de Aintree and her daughters Alice and Margery, Alice de Parr, and others were charged with having disseised Randle de Aintree and Hawise his wife of their free tenement in Melling, but it was found that the real holder was William son of Adam Barret of Aintree, who had demised certain tenements in Melling for a term of years to Gilbert the brother of Emma, and that she had entered as successor. (fn. 41)
It thus appears that Melling was much divided from early times, making its lordship somewhat uncertain. Hence the vague expression of the extent of 1346, 'all the tenants and abbot of Cockersand,' is easily understood. (fn. 42)
About the beginning of the fifteenth century the Molyneux family of Thornton, who, as already shown, had long claimed a manor, (fn. 43) made Melling their principal residence, their house being known as The Wood, or Hall of the Wood. Robert de Molyneux, the first described as 'of Melling,' (fn. 44) had a son John who married Agnes daughter of Henry Blundell of Crosby, (fn. 45) and was succeeded by his son Robert and his grandson John. (fn. 46) The latter's son and heir Robert died 5 July 1541, leaving a son and heir John, then aged twenty-three, and younger children. (fn. 47)
John Molyneux was one of the eight Lancashire gentlemen and yeoman recusants who at the beginning of the Elizabethan persecution in 1568 were singled out by the royal commissioners in the hope of terrorizing the rest. John Molyneux stated that he had attended service at Melling chapel 'divers times' within the year, and once received the communion there. He had, however, entertained various persecuted priests at his house—Vaux, Murren, Marshall, Peel, and Ashbrook; also Foster, an Oxford scholar, and Allen, afterwards cardinal. He was thus one of the numerous class who put in an occasional attendance at the new services to escape the heavy fines. By the report of his neighbour Edmund Hulme of Maghull it appears that he had more recently repented of this degree of compliance and had 'taken a corporal oath on a book' to acknowledge the pope's supremacy. Though he appears to have been dismissed with a warning and injunction, 'he was afterwards committed to custody and is said to have died in prison. His death took place on 21 July, 1582, Edmund Molyneux his son and heir being thirty years of age. (fn. 48)
Edmund Molyneux adhered to the religion of his ancestors, though like his father he saved his estate by occasional conformity. In 1584 he was returned by an informer as a recusant and in 1590 was 'in general note of evil affection in religion and noncommunicant.' (fn. 49) He died 13 July 1605, Robert his son and heir being twenty-five years of age. (fn. 50) By his will he left his lands to this son and £300 to his daughter Ellen. (fn. 51) For a time Robert appears to have avoided conviction for recusancy, but two-thirds of his estate was under sequestration for this offence in 1631 when he compounded for knighthood. (fn. 52) When the Civil War broke out he joined the royal standard and was killed at the first battle of Newbury, 20 September, 1643. Two of his sons, Robert and John, fought on the same side at the second battle there (October, 1644), and the former is said to have been killed or mortally wounded in it. (fn. 53)
It was inevitable that the property should be seized by the Parliament. The last-mentioned Robert had left a son about four years old, whose guardian, Cuthbert Ogle, compounded for him in 1650. (fn. 54) The petition presented on behalf of the heir, desiring to compound for certain lands 'then lately come to him by the death of his grandfather and father,' stated that they 'were never sequestered, but he feared they might be liable for some delinquency of his father.' The Lancashire commissioners, however, stated that the estates had been sequestered for the delinquency of Robert the grandfather before the death of Robert the father—this latter being a 'papist delinquent' and never in actual possession—and that Robert the petitioner, then about twelve years of age, was being educated in popery. (fn. 55) The reply sent in for the petitioner alleged that 'his grandfather and father so far from being "convict" had both lived and died Protestants, and were never till this questioned for popery, and petitioner was being brought up under a known Protestant his guardian.' An allowance was requested for himself and his brothers and sisters (four in number). (fn. 56)
In spite of this reply—which appears to be quite untrue—Robert Molyneux was brought up in the proscribed faith. He married Frances, daughter and heiress of William Lathom of Mossborough in Rainford, a zealous adherent of the same religion. (fn. 57) They had two sons, Robert and William; the former died without issue in or before 1728, the latter in 1744, leaving an only child Frances, who married (about 1753) Edward Blount of Sodington, who succeeded to the baronetcy in 1758. They sold their Lancashire possessions, and as they had no children the families of Molyneux of Melling and Lathom of Mossborough became extinct. The Hall of the Wood became the property of the earl of Derby, but much of their land in Melling was sold to Thomas Bootle of Melling and Lathom.
The Bootles of Melling, ancestors of Lord Lathom, are traceable from about 1300. Roger son of Dobbe de Melling in 1317 quitclaimed to Henry de Bootle certain lands of which he had enfeoffed him. (fn. 58) A few years later (1324–5) Adam son of Richard de Bootle granted to Adam son of Richard the Serjeant all his land in Melling lying between Thorpsbrook and the moor. (fn. 59) In 1327 Henry de Bootle made provision for his sons, granting Abulthwaite in Melling to Thomas his son and heir, with remainders to his other sons John and Henry; while to John he gave Northfield, with remainders to his brothers. (fn. 60) Nicholas son of Henry de Bootle has already been mentioned; he was living in 1324–5, when Goditha widow of Thomas de Thorp claimed from him dower in 3 acres in Melling. (fn. 61) Robert son of Nicholas de Bootle in 1364 gave to Richard de Rainford a house and some land in Melling (in a field called Lounstowne), and the reversion of a third part held by his mother Cecily in dower. (fn. 62)
Thomas Bootle, who died at Melling on 10 October, 1597, held of Edmund Molyneux of The Wood by a rent of 5s. 4d. two houses, 30 acres of land, &c. in Melling, besides lands in the neighbouring townships. His son and heir was Robert Bootle, then aged thirty, who was the father of two sons, Ferdinand and Edmund. (fn. 63)
CUNSCOUGH
CUNSCOUGH seems to have been almost entirely the property of the abbey of Cockersand. (fn. 64) After the dissolution the abbey land here was granted to Sir Thomas Holt of Gristlehurst; (fn. 65) he soon afterwards sold it to Lawrence Ireland, and it has descended with Lydiate. (fn. 66) In the inquisition after Lawrence Ireland's death (1566) is recited a lease from him to Thomas Tatlock and John his eldest son of a messuage and land in Cunscough, with right of turbary, which had been held previously by John Tatlock, father of Thomas. (fn. 67) Lawrence Ireland, a younger son of the owner, seems also to have settled there. (fn. 68) The estate was called a manor, held of the queen in chief, and of the clear annual value of £10. (fn. 69)
A complaint by Thomas Knowles, one of the Ireland tenants, led to an inquiry in which some of the usages of the old time were stated. For the plaintiff it was alleged that the tenants had their holdings 'by the custom of the manor,' and besides their yearly rent used to pay to the abbot certain capons at Christmas. As a 'fine' the abbot used commonly to take of an incoming tenant a year's rent, and the cellarer then entered the name in the court roll and in the rental, so that he might have the tenement for life, with remainder to his widow so long as she did not marry again, and then to his eldest son. It was never known that the abbot had ever put any tenant out, and the present complainant had succeeded his father Thurstan and his grandfather Ralph. On the other side it was stated that this Ralph had come in by marrying the former tenant's widow, thus taking away the succession of the sons of her former husband, by favour of her brother, then bailiff of the manor. Sometimes also a younger brother succeeded, as in the case of John son of Henry Tatlock, whose elder brother William was passed over. In the end it was decided that the plaintiff had not proved the custom by which he claimed to succeed. (fn. 70) The crops on the land were oats, barley, and flax. (fn. 71)
Richard Molyneux, grandson of Sir William, married a daughter of John Molyneux of The Wood and settled in Cunscough, being returned as a freeholder there in 1600. (fn. 72) He was a justice of the peace. An abstract of his last will is preserved by Kuerden; he desired to be buried in the chapel at Melling; he mentioned his son Richard, who was to buy the capital messuage called Cunscough, and his daughters Mary Wolfall, Frances Lathom, and Elinor. (fn. 73)
The Mossocks of Bickerstaffe also obtained a holding in Cunscough. Thomas Mossock in the time of Elizabeth married Margaret, a daughter of Lawrence Ireland of Lydiate, and in the visitation of 1664–5 the family is described as Mossock of Cunscough. (fn. 74)
The Tatlocks can be traced from the thirteenth century down to recent times, especially in connexion with this portion of the township. (fn. 75) The following notes on their later history are taken from the monograph by A. Patchett, (fn. 76) in which may be seen the evidences for the statements made. John Tatlock, who died in 1598, had by his wife Katherine five sons and two daughters. The eldest son Richard was of sufficient standing to be called upon for a composition on refusing knighthood in the time of Charles I; (fn. 77) and he bequeathed £20 to the poor of Melling. By his wife Margaret he had a son John and six daughters. He died in 1640, and was suc ceeded by John Tatlock, who lived at Cunscough Hall and recorded a pedigree at the visitation of 1664. (fn. 78) He added £10 to his father's gift to the poor, and left a charge of 40s. a year for 'a preaching minister' at Melling. He died in 1675, leaving by his wife (Ellen Mercer) a son and heir John, born in 1653, and five daughters. John, who matriculated at Oxford (Brasenose College), but did not graduate, gave £20 to the school at Melling, and on his death in 1712 he was succeeded by his son Richard. This last, who died about 1737, had three daughters, of whom Mathilde died in infancy, Ellen died unmarried, and Elizabeth, eventually sole heiress, married the Rev. William Johnson, vicar of Whalley. Their representative in estate is Major Hughes of Sherdley, near St. Helens.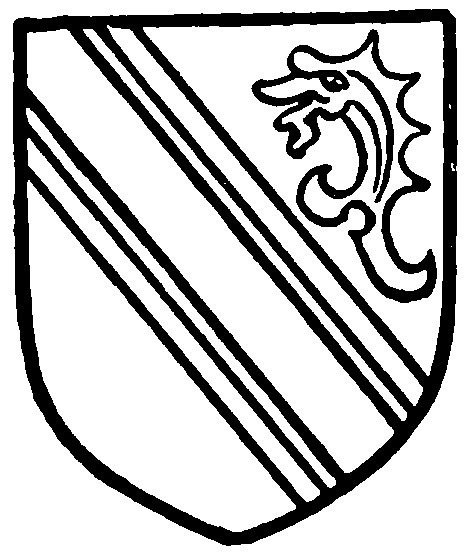 The Hospitallers about 1540 had a rent of 11d. from a toft held by Thomas Halsall. (fn. 79)
The Halsalls of Melling recorded a pedigree at the visitation of 1664–5. (fn. 80)
In 1374 the royal commissioners reported that Robert de Westhead and his mistress Margery had some years previously murdered the latter's husband, John the Palmer, in his bed at Melling; and that Henry de Chaderton, the king's bailiff, had compromised the matter for a house and 10 acres of land in Uplitherland and Aughton. (fn. 81)
The land-tax return of 1794 shows that the principal owners, Richard Wilbraham Bootle, the earl of Derby, and Henry Blundell, between them contributed £30 out of £80 raised.
CHURCH
A view of the old chapel shows a double nave, (fn. 82) with two fourteenth-century windows at the west end, and a late square-headed window at the side. There was a square embattled tower at the eastern end of the nave; the chancel went eastward from this tower. (fn. 83) The church (fn. 84) was rebuilt in 1834, and has been enlarged since. There are monuments to Sir Thomas Bootle of Lathom and others. (fn. 85)
The chapel is mentioned in a charter dated about 1210. (fn. 86) The bishop, hearing that the cemetery had been polluted by the effusion of blood, in August, 1322, directed the vicar of Childwall, as dean of Warrington, and the rector of Halsall to inquire whether or not the cemetery had ever been consecrated, and for how long burials had taken place there, as well as into the circumstances of the alleged pollution. (fn. 87)
It appears that there was in 1556 a house in Melling called 'the priest's house,' with lands pertaining to it; this had been set apart in former times for the perpetual maintenance of a priest to celebrate divine service in the church of Melling. It was granted by Philip and Mary to Sir John Parrott, knight. (fn. 88)
A complaint by Rector Halsall about the end of 1554 stated that in consequence of the chantry commissioners having erroneously described Melling as a 'free chapel' he was in danger of losing his rights there. The chapel (fn. 89) had always been considered as dependent on Halsall, though the curate, appointed by the rector, was called the 'curate or parish priest of Melling.' (fn. 90)
In 1592 the wardens of the chapel were ordered to 'make up' the churchyard wall, and to provide a communion book and a pulpit. (fn. 91)
Probably a lay 'reader' was employed more or less regularly; (fn. 92) in 1590 the report was that there was 'no preacher' there, (fn. 93) and later, about 1610, there was neither service nor preacher. (fn. 94) As the registers begin in 1613 it is probable that this neglect was noticed by the bishop, who insisted upon some improvement.
The parliamentary committee in 1645 ordered Melling to be made a semi-independent chapelry, the tithes of the township to be given to the minister who should be appointed. (fn. 95) This was accordingly done, and Mr. John Mallinson was there by the election of the township in 1650, when the Commonwealth Surveyors recommended that the chapelry be made a parish of itself. (fn. 96) In October, 1654, Mr. Christopher Windle was minister there. (fn. 97) Soon afterwards notice was given of the intention to erect Melling into a parish, but nothing seems to have been concluded. (fn. 98)
Bishop Gastrell about 1717 found that the curate's income was £28 10s., of which £20 was paid by the rector, and £5 was the estimated value of the house and grounds. The remainder was the interest of some small legacies and the fees. There were two wardens. (fn. 99)
Among the curates and vicars of Melling, who are presented by the rector of Halsall, have been:—
| | | |
| --- | --- | --- |
| | | |
| oc. | 1665 | Cuthbert Halsall |
| oc. | 1671 | John Lowe |
| oc. | 1676 | Joseph Dresser |
| oc. | 1689 | Peter Dean, B.A. (fn. 100) |
| oc. | 1733 | Thomas Harrison |
| c. | 1760 | Glover Moore (fn. 101) |
| | 1777 | Benjamin Whitehead (fn. 102) |
| | 1817 | Matthew Chester (fn. 103) |
| | 1829 | Miles Formby, M.A. (Brasenose Coll., Oxford) |
| | 1849 | John Kirkland Glazebrook, M.A. (Magdalen Hall, Oxford) |
| | 1900 | Joseph Sturdy Gardner, M.A. (Trinity Coll., Dublin) |
It appears that mass ceased to be said at Melling when The Wood was sold about 1750. (fn. 104) It is now occasionally said by the priest in charge of Maghull.